While there are hundreds of millions of blogs online, many bloggers are still not monetizing their sites. If you happen to be one of these bloggers, a good place to start is affiliate marketing. Affiliate marketing for bloggers is a popular tactic to drive revenue for your blog through directing readers to a product or service in exchange for a commission on the sale.
Blogs with quality content attract a lot of readers, and they grow to trust the author over time. Once trusted, a blogger can promote relevant products to their reader's without compromising the quality of their content.
Affiliate marketing for bloggers is all about generating quality content, obtaining a large amount of web traffic, and directing readers to a product or service in exchange for a commission.
With continued success for both bloggers and advertisers, the future is bright for affiliate marketing:
What Is Affiliate Marketing for Bloggers?
Affiliate marketing for bloggers is the process by which a blog earns a commission for marketing another website's products or services. The practice is fairly simple. The affiliate blogger simply searches for products or services they want to promote on their blog, then markets those products or services so others can benefit from them as well.
Bloggers with influence in a specific niche can profit by showcasing products that help solve their audience's pain points. Meanwhile, the blogger receives a piece of the profit from each sale resulting from their promotions.
How Does Affiliate Marketing for Bloggers Work?
This system works by spreading the responsibilities of a seller's marketing across multiple websites, leveraging the abilities of a variety of individual bloggers to engage their audiences for a more powerful marketing strategy.
To make this process work for bloggers, three different website properties must be involved: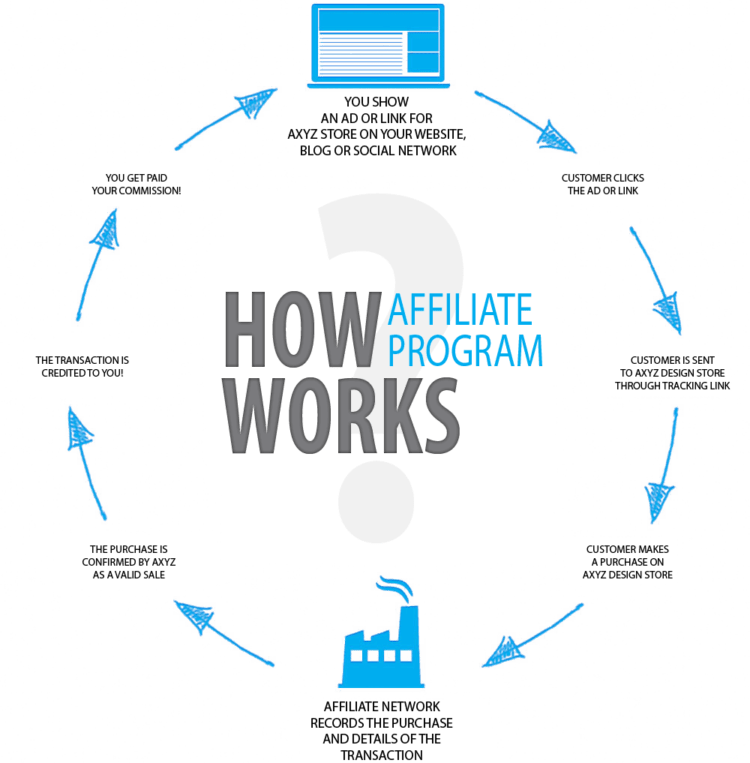 Source: bigcommerce.com
The merchant, or advertiser

The blogger

The consumer
Let's delve into the relationship these three parties share to ensure affiliate marketing is a success for all parties involved.
1. Merchant, or Advertiser
The seller, whether an ecommerce retailer, service provider, or large company, is a website with a product or service to sell. The product can be either a physical object, like camping supplies, or a digital product, like an online course.
The seller markets their products and services in various ways, whether through search engine optimization (SEO), pay per click, paid social advertising, or in our case, affiliate marketing.
2. The Affiliate Marketing Blogger
Also known as a publisher, an affiliate blogger leverages their audience to market the seller's products in an enticing way.
In other words, the blogger promotes the advertiser's products to their audience with the intention of helping their readers solve a pain point. If a reader ends up buying the product, the blogger receives a commission based on a percentage of the product's price.
Bloggers often have a very specific niche to whom they market, generally adhering to that audience's interests. This creates a defined personal brand and influence that helps attract users who will be most likely to act on the promotion.
3. The Consumer
Whether the end consumer knows it or not, they are the main driver of affiliate marketing.
When the blogger shares a seller's product information on their website through videos, social media posts, emails, or other channels, the consumer clicks through their affiliate link and the blogger gets credit for the sale.
Bloggers need to be upfront with the consumer by disclosing that they are receiving commissions for the sales they generate. Many times the consumer is completely oblivious to the affiliate marketing infrastructure behind their purchase.
Either way, they never pay more for the product purchased through affiliate marketing – the affiliate blogger's share of the profit is included in the retail price. The consumer completes the purchase and receives the product as normal, unaffected by the affiliate marketing system in which they are involved.
How Do Affiliate Marketing Bloggers Get Paid?
Affiliate marketing is a great way for merchants to make money online without paying advertising fees up front, as affiliate commissions are paid out after a sale has been completed.
How does an affiliate get paid after linking the merchant to the consumer? The answer can get tricky. The consumer doesn't always need to buy the product for the affiliate blogger to make money.
Depending on the affiliate contract, the blogger's contribution to the seller's sales could be measured in different ways.
An affiliate marketing blogger can get paid in the following ways:
1. Pay Per Sale.
This is the standard affiliate commission structure. In this model, the merchant pays the blogger a percentage of the sale price of the product after the consumer buys the product as a result of the blogger's promotion.
Said another way, the affiliate blogger must actually get the website visitor to purchase the product before they receive any payouts.
2. Pay Per Lead.
This model compensates the affiliate blogger based on the generating leads for the merchant. This includes completing a desired action — for example filling out a contact form, signing up for a free trial, registering for a webinar, or downloading content.
3. Pay Per Click.
This model focuses on incentivizing the affiliate blogger to generate a large amount of traffic for the merchant. This means the affiliate must focus on creating outbound links and sending their loyal reader's to the seller's site.
The affiliate is then paid based on individual clicks from the blog to the seller's site.
Why Should a Blogger Become an Affiliate Marketer?
So what are the main reasons a blogger should engage in affiliate marketing?
1. Passive income
While most 9-5 jobs require you to be at work to make money, affiliate marketing offers you the ability to make money online 24/7.
By investing an initial amount of time into writing good content, developing a loyal audience, and building an email list, you will see steady returns on that time as users purchase products from your affiliate links. You receive money for your work long after you've finished it.
Even when you're not in front of your computer, your marketing skills earn you a continuous cash flow into your bank account. There are a lot of high paying affiliate programs that you can join for free.
2. Work from anywhere
If you're someone who hates maintaining the same routine everyday, affiliate marketing is the perfect solution.
You'll be able to create quality content on your site and receive revenue from other website's products while working from anywhere you want. All you need is internet access to manage your blog and receive affiliate revenue.
3. Choose your niche
Since you're essentially a freelancer, you get ultimate independence in choosing your niche, setting your own goals, choosing products and services that you want to promote, and even determining your own hours.
Bloggers are successful when they create quality content over a long period of time, and choosing a niche that you're passionate about is the key to maintaining momentum.
4. Affiliate incentives and rewards
With other careers, you could work a 60-hour week and still receive the same salary. Affiliate marketing is totally based on your performance.
Honing your product review skills and writing engaging content will convert into direct revenue for your blog. Plus, when working with merchants, the more sales you drive, the higher the payout tiers become.
5. Place your affiliate links anywhere
Affiliate marketing bloggers can choose from a number of different places to put their affiliate links. Links can be placed in blog posts, video descriptions and overlays, email newsletters, social media posts, and tons of other places.
Revenue is created in an evergreen fashion by placing affiliate links anywhere you create content.
Common Ways for Affiliate Marketing Bloggers to Make Money
As described above, there are a number of different ways a blogger can drive sales through their affiliate links. Here are the top four places to put them for maximum impact:
1. Blog posts
This is a fairly obvious one. When writing content about a product or service, place affiliate text links on the product titles and send traffic to the merchant's website.
Each merchant also has a specific cookie duration, so you may get create for a sale 30, 60, or sometimes 90 days after the initial click.
2. Video descriptions or overlays
If you are a vlogger that wants to take part in affiliate marketing, you can place affiliate text links in your video description, or even in the video overlays that lay on top of your videos.
Product review videos are an great way to interact with your audience and generate affiliate sales.
3. Email newsletters
One of the most important strategies a blogger can partake in is creating an email list.
When a user visits an affiliate blogger's website, there should be clear and easy ways to sign up for the blogger's newsletter, including on the home page, in modal pop-ups, and throughout blog posts.
Just because a blogger generates traffic does not mean they are engaging or converting their audience. By building a loyal email list, you can continue to engage with your audience over time. An excellent strategy is to create an automated welcome email series for new signups and place affiliate links in the emails to relevant products.
That way, whenever a website visitor joins the list, there is potential to drive affiliate revenue.
4. Social media posts
Many affiliate marketing bloggers, vloggers, and influencers have a large following on Facebook, Twitter, Instagram, Pinterest, YouTube and more.
After creating a piece of content, be it a blog post, video, infographic, or product review, you should always share it across your social channels and use affiliate links where appropriate.
Tips to Help You Become A Successful Affiliate Marketing Blogger
1. Build a loyal audience
When beginning your affiliate blogging career, focus on cultivating an audience that has very specific interests. This allows you to tailor your affiliate content to that niche, increasing the likelihood that they'll convert into paying customers.
By establishing yourself as an expert in one area instead of promoting a large array of products, you'll be able to market to the people most likely to buy your affiliate products.
2. Make it personal
There is an endless amount of products you'll be able to promote on your blog. You'll have the chance to choose products that you personally believe in, so make sure that your content is authentic, gives a personal opinion, and delivers quality information.
You'll establish your personal brand and simultaneously increase your conversion rates.
3. Start reviewing products and services
Focus on reviewing products and services that fall within your niche. Then, leveraging the loyalty you have with your audience, tell your readers why they would benefit from purchasing the product or service you're reviewing.
Comparing products in the same category is another type of post many users are looking for; for example, the latest iPhone vs. Android phones. Most importantly, make sure you are generating detailed, quality content that you can't find anywhere else.
4. Build real relationships with merchants
Sure, it's easy to join a merchant's affiliate program and paste in their links into your content without ever interacting with them.
However, in order to maximize your revenue and increase commission rates, reach out to the website's affiliate manager if they have one. Be building real relationships with sellers, you'll be able to better understand their products, get helpful content templates, and possibly increase your commission rates over time as your relationship grows.
5. Stay current with search trends
Competition among affiliate bloggers is fierce. When searching Google for relevant terms that could generate affiliate sales, 7 out of 10 first page results may already be affiliate websites.
Make sure to use search engine tools to understand your target keyword's search volume and competitive metrics to ensure you can actually rank and generate traffic.
6. Participate in link building
Once you develop a positive relationship with a seller, you may be able to leverage that rapport into link building opportunities.
Sellers are always looking to add new content to their site via guest posts, and who better to write quality content that a blogger who is already reviewing their products and driving affiliate revenue?
Link building is one of the best ways to increase your search rankings, get found online for product reviews, and make money with your blog.
7. Join an affiliate marketing network
In order to find sellers, view their commission rates, and sign up for their affiliate programs, look into joining an affiliate network.
Many are free to join and you can find new merchants to work with, grab your affiliate links to paste into blog content, and view your affiliate performance metrics like clicks, leads, and sales generated through your blog.
Affiliate Marketing for Bloggers: Summary
Affiliate marketing for bloggers is an ideal solution for those looking to make money online and not have to manufacture or develop products themselves.
A motivated blogger will be able to generate a passive income from anywhere in the world while creating content around their own interests. By building a loyal following, writing quality content, and providing engaging product reviews, bloggers can generate affiliate income that increases as their audience grows.
A growing and profitable marketing platform, affiliate blogging via reviews, blog posts, video content, email newsletters, and social media posts is a new area in marketing that is easy to get started in.
If you want to make money online and begin affiliate marketing on your blog, please follow the tips included in this article.
You'll be able to engage your audience, convert your readers into active consumers, and increase your earnings one sale at a time.