What is Agile Methodology in Project Management?
As a team that needs to deliver a product by a certain date, there are many things that can go wrong.
The last you want is to be using an outdated way of working that serves no one.
If you're using project management tools and want to compliment them with a methodology that works – one that allows you to deliver value fast – an Agile Methodology might be something to look into.
Embracing an agile methodology allows software development teams to learn from their mistakes quickly so they can keep delivering releases in increments and provide value without wasting time on big launches that take forever to execute.
With a recent survey finding that embracing project management allows organizations to be 28 times more productive (compared to those that don't), Agile can be the way forward for many businesses.
Let's dive deep into what makes agile work.
What is Agile Methodology?
The Agile Manifesto of Software Development, which was established in 2001, has sparked a paradigm shift in the software development industry by promoting the notion that value and collaboration with customers should come first. Here's a definition from the Agile Manifesto of Software Development to give you an idea of what Agile is all about.
"We are uncovering better ways of developing software by doing it and helping others do it.
Through this work we have come to value:
Individuals and interactions over development processes and tools
Working software over comprehensive documentation
Customer collaboration over contract negotiation
Responding to change over following a plan."
Image Credit: http://nvisia.com
There are many different interpretations (also known as flavors) for Agile Methodologies as well as certifications today, but usually, they fall into one of two categories: Scrum or Kanban.
Both Scrum and Kanban revolve around the concept of continuous improvement and sustainably delivering the right amount of work results.
What is Scrum?
Scrum is a framework that helps you build products in incremental stages of development intending to deliver value and increase customer satisfaction more quickly. Here's one way to understand what Agile Scrum Methodology looks like at a high level:
Product owner defines and prioritizes product backlog
The team works in sprints to deliver functionalities/features/value
At the end of each sprint, the team demonstrates working functionality
Sprint planning is based on a typical span period of two weeks
By releasing often, teams mitigate risk by getting feedback early
The best projects keep software development teams focused on meeting customer needs throughout all aspects of the product development life cycle.
Even though we've summarized Scrum as a single software development process, it's important to realize that this process has many moving parts with a complex set of dependencies.
Each team will discover the best agile practices that work for their environment, but the main premise is to keep small teams focused on delivering working functionality at the end of each sprint.
What is Kanban?
Kanban is an Agile Methodology works slightly differently from Scrum in a few ways:
It's not prescriptive in how you manage test-driven development and delivery
It typically doesn't prescribe how developers should track progress
There are no strict phases or handoffs between Development and Operations
The team tracks work and adapts processes to meet changing needs
Workflow visualization (kanban boards) highlight bottlenecks in your process
Instead of focusing on time-based sprints, Kanban teams focus on continuous flow
Since Kanban is more flexible and adaptable than Scrum, many people use it to manage remote teams.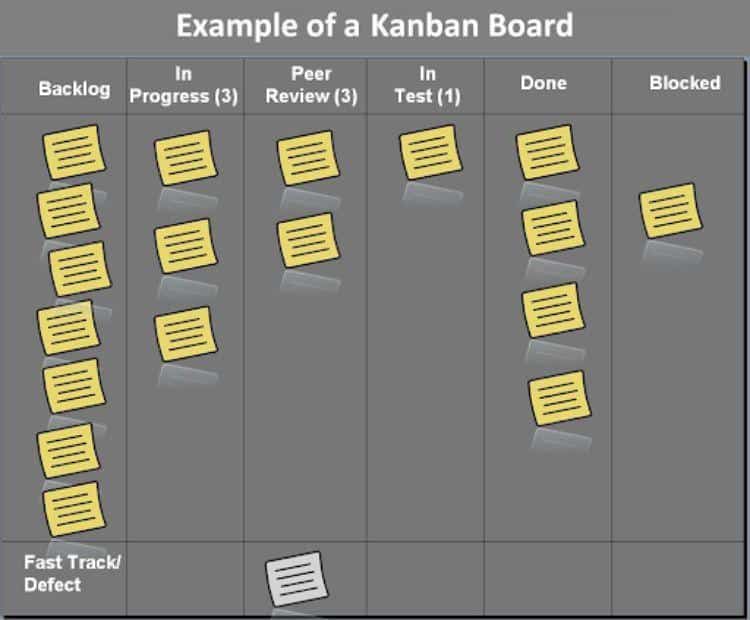 Image Credit: http://en.wikipedia.org
When you're working with a distributed team (especially if they are contractors or freelancers), the main goal should be to ensure that everyone understands which work items are being worked on at all times – in fact, here's a list of the best remote desktop software and access tools to check out – tools that can be remote work even better.
That's why we recommend using Kanban boards like JIRA Software or Trello where everyone can see what the team is doing at any given moment and take action accordingly.
The Benefits of the Agile Methodologies to Project Management
When it comes to sustainable development, giving team members more autonomy means that they are empowered to make decisions in line with overall project goals.
Because they are closer to what's happening on a day-to-day basis, the team can reallocate resources or apply different tactics as needed instead of waiting for management approval or relying on out-of-date task schedules.
Let's be honest here: It can be tough to convince a manager that, at times, it's okay for the team to produce documentation and not code. However, agile teams do benefit from working in phases (as defined by the product owner) with short iterations for testing and feedback instead of long phases of work followed by even longer phases of bug fixes.
By developing software, testing it, and releasing software features more quickly, cross-functional teams can incorporate changes and feedback from users early on which reduces the time to market for new products. This means that agile teams can address customer concerns or pain points quicker than competitors who don't release often enough.
For example, if a travel company wanted to add "Uber-like" functionality where passengers could book rides with their mobile phones as opposed to hailing a cab on the street, it would be beneficial for them to develop and test that feature while their app is still in development.
If iterations take too long, then the target market might have all moved onto another method (e.g., booking through ride-sharing companies like Lyft) by the time the travel company can develop their new feature.
By breaking tasks down into smaller pieces from the start, teams can make sure that they are focusing on delivering the most critical functions to keep users engaged.
Let's have a look at another example. When you're developing a mobile app for passengers who rely on public transportation, it doesn't matter how many features the app has if no one is using it because of technical issues like connectivity or battery life. By building and testing each feature as an independent piece of functionality before moving onto the next phase, agile teams mitigate technical risks and ensure project success in less time.
By releasing often throughout development (e.g., every week), product owners can gain valuable feedback much earlier in the lifecycle which reduces wasted effort completing work that may never be used.
For instance, if an agile team is developing a messaging app and the product owner discovers that most users prefer to send photos using WhatsApp instead of their current feature, they can stop building it and focus on other features that will benefit users immediately.
By collaborating with stakeholders along the way (e.g., marketing teams and graphic designers), teams have more insight into what's possible from the start which prevents them from over-promising and under-delivering in the future.
Agile teams also focus on delivering quality work in addition to meeting deadlines so teams can maintain long-term relationships with clients or customers who know they can count on them for new projects.
These are just some of the benefits you get when you use Scrum, Lean, or any other agile methodology for project management.
What Agile Project Management Is Not
When you hear the word "agile" in regards to project management, it may cause you to think of flexible processes where developers have a lot of freedom and can deliver new features quickly without much oversight from managers.
While this collaborative setting is one reason why many people prefer agile over traditional methods like Waterfall, there are some distinct differences between the two approaches that product owners should understand before choosing a method.
While it's true that agile software development delivers faster results than Waterfall, teams still need regular check-ins with stakeholders throughout each iteration so they know what features or functionality they're building and how they will benefit users.
Agile projects also aren't easy to manage for organizations that have a strict development process in place where a project manager or executives need to approve every action before moving forward.
Lastly, agile projects don't suit every team or organization so you should make sure each member is familiar with the approach before deciding your project's future.
What Agile Project Management Is
By breaking down tasks into smaller pieces from the start and adding user feedback throughout development, agile teams can deliver new features faster than competitors who may take months to release similar products.
Teams also collaborate more closely with stakeholders during each phase of development which helps them proactively address their pain points upfront instead of wasting time creating unnecessary functionality.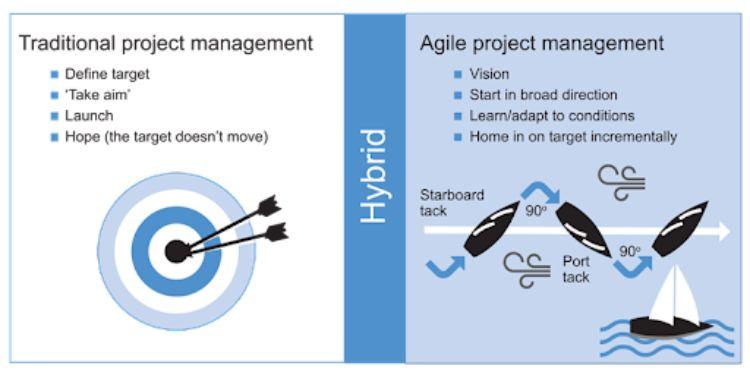 Image Credit: http://apm.org.uk
Finally, when you use Scrum or lean methods for project management, you'll be able to develop high-quality products in a short time frame without sacrificing your users' long-term success.
With the right approach, agile can deliver better results than traditional methods so product owners should give it a chance before making their final decision.
By focusing heavily on collaboration and involving stakeholders throughout each phase of development, Scrum and lean approaches have successfully helped many product teams iterate faster than ever before.
Requirements before using agile development as part of your team process
Agile processes, especially Scrum, require buy-in from the entire team before becoming an official project management method.
This means that all product owners, managers, and stakeholders need to understand why agile is better than other methods and what they can expect in terms of deliverables.
Without support from every member of your organization, switching to a new methodology could cause morale issues within teams or make it harder for managers to manage them without feeling like they're missing out on something important.
The agile framework also requires product owners to handle more communication with stakeholders throughout each step of development. This can be a challenge because product managers may not be as familiar with agile methodologies compared to developers who have used Scrum or lean in the past.
While this won't pose a problem for junior members who are new to project management, it may make it harder for senior team leads to being more adaptive if they haven't worked closely with agile teams before.
Finally, every developer should be well-versed in his or her role and responsibilities when working on an agile project because there shouldn't be any guesswork about what he or she needs to do at any given time.
If software developers don't know their tasks in advance, they may struggle to meet deadlines or think that they aren't being productive until they know what's expected of them. Speaking of tasks, using task management software will allow you to make the most out of Agile when it comes to project success.
Who should use Agile Project Management?
Anyone who wants to get results as quickly as possible with minimal input from stakeholders will enjoy using Scrum or Lean approaches for project management. Both methods offer many benefits over traditional Waterfall models. On the flip side, these approaches rely heavily on teamwork during development, so you should only use them if your team is willing to learn and adapt as needed.
If you already have a scrum team that's comfortable with iterative workflows and minimal requirements, Scrum or Lean may be one of the best project management options for your next product.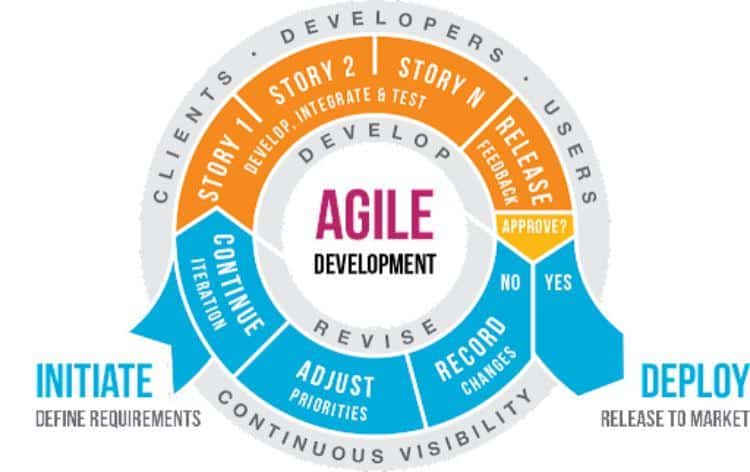 Image Credit: http://apm.org.uk
They require much less commitment from stakeholders while still getting results quickly so they're ideal for businesses who want to release a new feature every few weeks without sacrificing speed or quality.
Also, agile project management works well when using software from this list of the best PLM software – they do go hand in hand.
How do Agile development methods save you money?
The biggest benefit of using the Agile framework is that you'll save money in your budget by getting features out faster without working overtime.
Many organizations spend months and even years on projects with a long list of requirements before ever releasing them to the end-user.
This not only increases the chance for creating buggy or unusable products but also requires more time from DevOps who have to address a constant flood of feedback from every department within the company before they can move on to the next task.
With Scrum or lean methods, product teams focus heavily on collaboration so tasks are completed much faster because everyone knows what's expected of them ahead of time.
Product owners won't waste as much time gathering feedback either which saves money since they won't need to hire as many consultants to monitor the project.
Instead, they can focus on developing new features, getting them approved by their team, and distributing them to customers quickly without having to wait for feedback from different departments before moving forward.
Finally, agile development models offer fewer risks for businesses because teams can release products with minimal requirements which will save money in the long run.
By getting out smaller releases every few weeks or months, you won't have to update your product as much once it's released so you won't need to hire any additional developers or spend the extra time testing updates.
Dealing with distributed teams when using agile software development methodologies
You might be thinking that having a scaled agile framework in your software development projects might be difficult if your development teams are not working from the same location.
However, the agile values state that communication is of the utmost importance, and you can adapt your team structure to work around this management model.
For example, if you have geographically distributed teams it would be difficult to meet together in person daily. You should use tools such as video conferencing software so that everyone can stay up-to-date with what their colleagues are doing.
You'll need to ensure that your feature-driven development is happening and that the teams involved understand how important transparency is, since having a scaled agile framework means that everyone must know what's going on at all times. If they don't feel like they're part of the process then there may be communication issues later on which could lead to problems when releasing new features.
A great way to promote early and continuous delivery of value with your team is to ensure that you have a backlog.
Some teams create user stories so that everyone knows exactly what they should be working on at any given time and feel more connected to the project. This can also help minimize bottlenecks if one developer gets stuck on a task by making sure that others are always available to handle other features.
How do I get started with Agile development?
If you've decided that using an agile management method would be best for your company, you'll need to consider having a scrum master come in to help set up specific company policies. It also helps to know which type of framework is best suited to your software development projects.
For example, Scrum allows for self-organization within the team while Lean promotes continuous improvement through regular reflection and getting customer feedback.
You should also consider the size of your development team as some frameworks will work better for smaller teams while others may be more suited to larger organizations.
Once you've decided on a specific management model, you should create a backlog and assign tasks to developers accordingly so that everyone has a solid understanding of what they're expected to accomplish.
You should also post any code updates in an online repository so that all members can see what their teammates are working on instead of just relying on verbal updates which could lead to miscommunication.
Now you know exactly what agile software development is, how it works, and even how to get started applying these concepts to your project management process.
Agile methodology FAQ
What is an Agile methodology?
In a nutshell, an agile methodology is a framework for managing software development projects that prioritizes communication and collaboration over documentation.
The specific implementations of this management model will vary depending on the team's preferences, but it usually includes some sort of flexible framework that can be adapted based on the type of project your team is working on.
Agile frameworks generally include techniques such as creating user stories and splitting large tasks into smaller units to make them more manageable. The idea behind using this kind of model is so that the development teams can release products with minimal requirements which will save money in the long run.
By getting out smaller releases every few weeks or months, you won't have to update your product as much once it's released so customers will be more satisfied.
What are the benefits of an Agile methodology?
There are many benefits to using an agile development framework, including:
Faster software development – using the best roadmap software along with an Agile methodology means that your developers don't have to spend a large amount of time writing extensive documentation, they'll be able to cut down on release time and get products out to market faster. It also makes continuous integration that might be needed easier to do.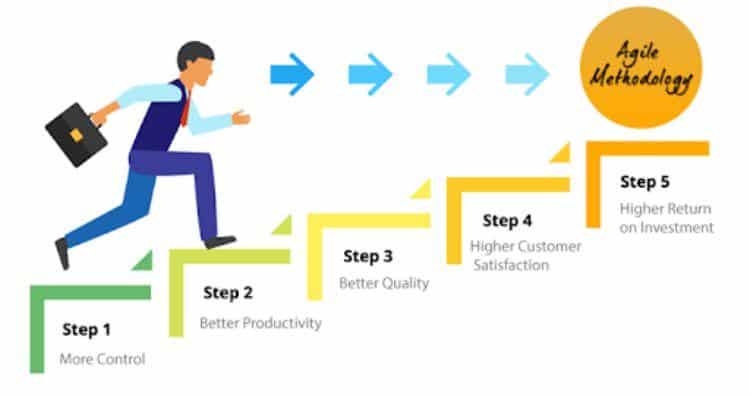 Image Credit: http://denysys.com
Improved communication between team members – with constant updates throughout the entire lifecycle of a project, everyone should be kept up-to-date with what their colleagues are doing so there is very little room for miscommunication or redundancies in tasks.
Team members become committed to completing tasks instead of putting them off until later as responsibility for each task is assigned to the respective developers. This helps promote a sense of ownership in the work that is being done so developers will be more motivated to do their best.
Improved client relationships – if you're working with external clients, agile models can help streamline communication between them and your development team so everyone knows what they should expect from each other and when those expectations are due.
Product quality is improved over time as this model allows for constant refinements to your product as it's being built.
The above benefits represent only some of the many reasons why there has been an increase in the number of organizations choosing to adopt agile software management methodologies.
What Is Waterfall Software Development?
This is a traditional approach to software engineering which follows a linear path from the initial project plan, design, implementation, testing, and maintenance phases.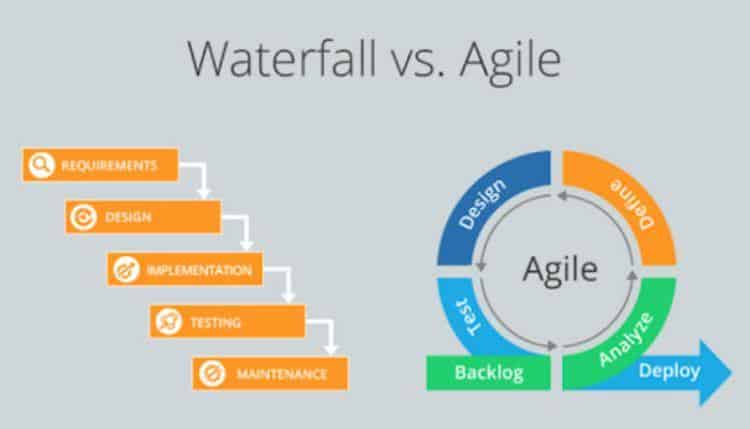 Image Credit: http://yugasa.com
Many organizations still use this model in some capacity or another as it offers a clear sense of progression when completing tasks.
However, since most projects cannot be completed in one sitting without requirements along the way, there is potential for errors to occur.
Wrap Up.
In conclusion, you should now have a better understanding of what agile methodology is and why you or your company may want to use it for future projects.
Some common misconceptions surrounding this model are that it can be used for any type of project and that it's just another word for a chaotic application development environment without structure.
However, by splitting up large tasks into smaller ones, you're able to bring products to market faster which can save your organization time and money.
As long as those working on the team have the right tools, there's no reason why an agile framework shouldn't be on every organization's radar in this day and age.
Disclosure: I may receive affiliate compensation for some of the links below at no cost to you if you decide to purchase a paid plan. You can read our affiliate disclosure in our privacy policy. This site is not intending to provide financial advice. This is for entertainment only.