7 Best Agile Project Management Tools of 2023 (Ranked)
Want to jump straight into my top choices when it comes to agile project management tools? The answer is Monday.com or ClickUp.
As a project manager, it's your job to streamline the work process to balance teamwork and productivity. Which usually means you will need some type of project management software in your toolkit.
Only then will you be able to meet deadlines and deliver quality products. But without the right project management tools to automate and integrate your workflow, the process can be cumbersome.
That's one of the reasons why companies are adopting the agile methodology in recent times. It has helped over 98 percent of companies so far and is estimated to generate even more revenue and profits in the coming years.
There are a couple of different types of project management tool categories like workflow management software, BPM software, and agile software which we will be covering extensively today.
Today, I'll be highlighting some of the most widely used agile project management tools for you to try out. I'll also mention what these tools are best for, their features, and subscription plans.
Then I'll move on to discuss agile project management software. And to wrap everything up, I'll answer a few of the most frequently asked questions related to the agile methodology.
Looking to compare some project management software tools?
What Are The Best Agile Project Management Tools?
Here are my top picks for the best agile project management tools on the market.
Best For All Projects and Teams
Monday.com is a project management platform that works for all agile team sizes. Be it simple or complex projects, it can help plan, execute, and track all assignments on a priority basis. Just set the project timelines, dependencies, and milestones.
This also helps team collaboration across different departments, increasing visibility into the progress of work. Moreover, keeping team members aligned with this intuitive and user-friendly software ensures the smoother execution of ideas.
Monday.com can give you a clear overview of your overall workflow. It also allows you to shape workflow in a way that works for your team, clients, and project. And with data-driven insights, high-level dashboards, ad charts, you can take the guesswork out and focus on taking action.
Features:
From creating user stories, making assignments, to serving as a product management tool Monday.com makes agile project management easy with its diverse functionalities. It also saves time by automating repetitive tasks to avoid human errors and focus on more important tasks.
I'll now be listing some of the features this agile project management tool offers:
Seamless integration with third-party tools
100 percent flexible and customizable
Reflects changes automatically on the Gantt chart
Automation of repetitive work
Tracks project development via charts, timelines, and kanban boards
Fosters team collaboration and communication
Pricing:
Money.com supports both monthly and yearly billing cycles, depending on the team size. You have to select the team size based on the number of seats and choose any of the following subscription plans:
1. Individual Plan (free for life)
Up to two seats
200+ templates
Unlimited boards
2. Basic Plan at $8 seat/month or $24/month (billed annually)
All of the individual plan features
Unlimited free viewers and items
5GB file storage
Prioritized customer support
3. Standard Plan at $10 seat/month or $30/month (billed annually)
All of the basic plan features
Automation and integration (250 actions/month)
Timeline and Gantt views
Calendar view
4. Pro Plan at $16 seat/month or $48/month (billed annually)
All of the standard plan features
Automation and integration (25,000 actions/month)
Private boards and time tracking
Chart view
5. Enterprise Plan
All of the pro plan features
Enterprise-scale automation and integrations
Advanced reporting and analytics
Tailored onboarding
Get started with Monday.com today.
Want to see how Monday stacks up against Trello? Read my Monday vs Trello comparison post.
Best For Work Management
Asana is an all-in-one work management software where you can connect and collaborate no matter where you are. It's a shared workspace where you can find all of your team's work, including projects, goals, files, docs, and more.
And with over 50+ templates, it helps fine-tune your workflow to ensure that no one misses a step in the project. This also helps keep your team aligned and rowing in the same direction.
Additionally, you get the big picture without having to host meetings. After all, Asana provides real-time status updates to track potential bottlenecks, identify the projects at risk, and monitor the overall work in progress.
You can also use this collaboration tool to automate routine tasks to spend more time on other important work.
See how Asana stacks up against Monday.com in my Asana vs Monday comparison post.
Features:
From simplifying work requests to keeping track of the project progress, Asana can do it all. You can also manage who sees what so that someone doesn't accidentally change sensitive data.
I'll now list a few other features Asana has to offer:
Advanced search reports
Subtask assignments
100+ integrations for better communication and collaboration
Customizable dashboards with 50+ templates
Timeline and social media calendar
Milestones mark critical points
Pricing:
Asana provides the power and control you need to customize and manage your team projects. Just select any of the following payment plans depending on your team size and requirements:
1. Basic Plan (free forever)
Unlimited tasks, projects, activity log, messages, and file storage
Collaborate with up to 15 team members
iOS and Android mobile app
Assignee and due dates
Calendar view
2. Premium Plan at $10.99 per user/month (billed annually)
Monthly billing at $13.49
Timeline
Unlimited dashboards
Advanced search
Custom fields
3. Business Plan at $24.99 per user/month (billed annually)
Monthly billing at $30.49
Includes premium plan features
Advanced integration with Power BI, Salesforce, and Adobe Creative Cloud
Portfolios, goals, workload
Custom rules builder
Asana also offers an enterprise plan at custom pricing with unlimited features and more.
Best For Real-Time Team Collaboration
ClickUp is a cloud-based project management platform that helps bring a team together to plan and collaborate on a project. Accordingly, you can organize projects at a glance and track their progress and goals from start to finish.
In fact, with resources like calendar view, Gantt charts, and lists, managing your workflow becomes easier. You can also customize plans, assign tasks, chat, share attachments, and more with your team in real-time to ensure that everyone is on the same page.
Whether it's mind maps, checklists, task dependencies, or templates, ClickUp can help keep your team aligned with every feature imaginable. It allows you to plan out projects with the ultimate visual outline to convert ideas into actions in no time.
Features:
ClickUp ensures streamlining of your project so that your team follows each step to complete a task precisely. It can also shuffle tasks to help the team adjust to new responsibilities as required.
Here is a list of features Clickup has to offer:
Customized workflow with statuses
Manages processes with templates
Agile board view
Manages sprints and automatically moves tasks
Can create wikis and docs
Scrum points
Workload chart
Creates recurring checklists
Multiple assignees
Pricing:
Clickup is one of the only "free forever" agile project management tools that support unlimited tasks and members with two-factor authentication. But for unlimited storage, integration, and dashboards, you'll have to opt for its paid plan.
1. Free Forever Plan
100 MB storage
Unlimited tasks and members
Two-factor authentication
2. Unlimited Plan at $5 per member/month (yearly)
Unlimited storage, lists, and calendar views
Guests and permissions
Unlimited dashboards and integrations
Portfolios, custom fields, and goals
Get started with ClickUp today.
Want to see how ClickUp stacks up against Monday.com? Read my ClickUp vs Monday comparison.
Best For Strategic Project Planning
Wrike offers the best-in-class tools to help in intuitive and strategic high-level project planning. Customizable dashboards, Gantt charts, and Kanban boards provide a detailed overview of tasks, analytics, and project life cycles to deliver on-time and on-budget outcomes.
It also allows you to give feedback and collaborate with your team across departments. You won't need to keep outdated files and clunky spreadsheets with dynamic request forms and document proofing approvals.
Another beneficial aspect of Wrike is its easily customizable dashboards that may best suit your organization. It can automate team-specific workflow to streamline the process with your needs in mind. Plus, you get complete control over the data with unparalleled security.
Features:
The versatility of Wrike makes it a trusted platform among the popular names in the industry, including Google, Dell, and Siemens. It can tailor and transform the way your team works.
Here I'll briefly list the features Wrike has to offer:
Supports 400+ cloud-based and on-site app integrations
Creates and shares custom reports with clients
Document version control
Detailed analytics with Wrike Analyze
Intuitive and customizable interface
Pricing:
Be it marketing and creative teams or service delivery teams, Wrike offers custom subscription plans for all.
You may create an account and get started for free with centralized task management for unlimited users. Or, opt for any of the following payment options for access to more features.
1. Professional Plan at $9.80 user/month
For fast-growing teams
Five to 200 users
Shareable dashboards
One to two GB storage per user
Interactive Gantt charts
2. Business Plan at $24.80 user/month (most popular)
All professional plan features
For all teams across any organization
Custom field and workflow
Real-time reports and report templates
3. Enterprise Plan
All of the business plan features
For large teams
Single sign-on (SSO)
Ten GB storage per user
Two-factor authentication
Along with the points mentioned above, you may add a set of premium features to your Wrike account for an additional fee.
Get started with Wrike today.
Best For Complex Project Management
Celoxis is an all-in-one agile project management tool that offers enterprise-class features and dynamic dashboards. It also comes with a simple and intuitive user interface that will help you solve complex project management problems.
You can build dynamic project plans while allocating resources to tasks based on demand, availability, and skills. Celoxis also allows you to collate project requests from different sources and organize them based on KPIs.
Additionally, the platform provides real-time visibility into profits and budget spends across portfolios and projects. You can gather the required information using its customizable dashboards and plan strategies with clients and colleagues accordingly.
Features:
Celoxis comes with all of the required features so that your team can focus on productivity. It prevents the hassle of switching between different tools, saving both your time and energy.
I'll now be listing some of the features Celoxis offers:
Powerful and customizable dashboards
Advanced scheduling of reports
Risk management and time tracking
Portal for team and client collaboration
Project accounting and resource tracking
Pricing: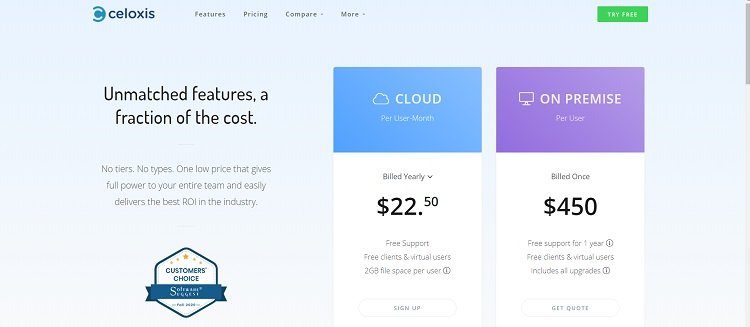 You can access Celoxis' unmatched features at a fraction of the price by opting for its one-time payment plan of $450. If that's not feasible, you can opt for a monthly, yearly, two-yearly, or three-yearly billing plan.
Here is a quick breakdown of its cloud-based subscription plans:
Monthly billing at $25 per user-month
Yearly billing at $22.50 per user-month
Two-yearly billing at $21.25 per user-month
Three-yearly billing at $20 per user-month
Get started with Celoxis today.
6. Atlassian Jira.
Best For Software Development Teams
Atlassian Jira is a popular agile software development tool used by all teams. You can plan sprints, create user stories, and distribute tasks across the software team. Additionally, you can prioritize and discuss the workflow of the team in full context with visibility.
Consequently, all of the information and metrics you have will be up-to-date. Your team can put the visual data to use to aid the software development process. Of course, project managers will also be able to use the information to monitor and improve team performance in real-time.
Jira can also improve workflow by integrating with tools and platforms you already use, including Trello, Bitbucket, Microsoft, and Slack (some Slack alternatives). This will automate the work process and keep the software up-to-date so that you can focus on collaboration and improving teamwork.
Features:
With Atlassian Jira's roadmaps feature, you can build smarter plans for the team and organization. It helps release software more predictably to stay on target and achieve desired goals.
Here are a few more features Atlassian Jira has to offer:
Automatically updates issues
Streamlines workflow with automation
Customizable scrum team boards
Agile reporting with velocity charts, flow diagrams, burndown charts, etc.
Flexible Kanban boards
Backlog management
Sprint planning
Pricing:
You can get started with Jira's free plan if you have a small team of ten members. But for growing teams and larger organizations, you'll need to opt for a monthly or annual billing cycle. Here's a quick breakdown of its subscription plans:
1. Standard Plan at $7 per user/month or $700 yearly
User limit per site: 20,000
One site limit
Single project automation
Basic roadmaps and dependency management
2. Premium Plan at $14 per user/month or $1,400 yearly
Includes standard plan features
Global and multi-project automation
Advanced roadmaps and dependency management
3. Enterprise Plan
Available for 801 users or more
Includes premium plan features
Unlimited site limit
7. Pivotal Tracker.
Best For Team Management And Tracking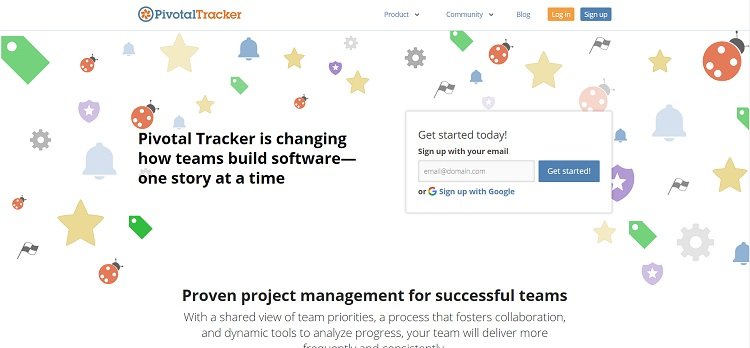 Pivotal Tracker can help keep track of and analyze your team's progress. Consequently, all of your team members will remain organized and focus more on delivering project results frequently and consistently.
Additionally, it offers dynamic tools that foster team collaboration and provide a shared view of team priorities. So, everyone can view the real-time workflow, including the project status and who is responsible for what.
You can also adapt and evolve with Pivotal Tracker's iteration planning. It will help break down tasks and responsibilities into manageable chunks to maintain the team's productivity. All that needs to be done is focus on teamwork and remain vigilant about the changes on the market.
Features:
With Pivotal Tracker's time-tested process and a modern workflow, your team will be able to adapt and keep up with the evolving tech landscape. It also makes project and team management easier with automatic planning and multi-project workspaces.
Here are some of Pivotal Tracker's features:
Easy to use API
Story blockers for team collaborations
GitHub integration
Visual representation of team health
Drag and drop feature for presentation and file sharing
Track progress of team from start to finish
Pricing:
Pivotal Tracker is free for educators and public projects with unlimited core features and a project limit of five. But you may also avail of its paid subscription plans as and when your team size grows.
1. Startup Plan at $10 (monthly rate)
Six to ten collaborators
Unlimited core features, read-only seats, and projects
Flat rate price structure
2. Standard Plan at $6.50 per collaborator/month
More than 11 collaborators
Bundled collaborators
Volume discount
3. Enterprise Plan
Custom pricing
Single sign-on
Full project history
What Is Agile Project Management Software?
Agile project management software is a platform or tool used by project managers for software development.
It can divide tasks into multiple smaller subtasks, attaching them with incremental work phases known as sprints. This helps adaptive project planning, frequent reassessment, improvement, quick delivery, and prompt response to change.
The tool can also manage teams across departments and automate processes to improve productivity and workflow.
Frequently Asked Questions
1. What is the agile project management methodology?
The agile project management methodology is a management approach that breaks down a project into different phases. It focuses on improvement at every stage of the project with continuous collaboration with stakeholders and team members.
Once work on the project begins, you can allocate planning, execution, and evaluation responsibilities to your team. Consequently, with the right initiatives and focus on business value and quality, the agile management process leads the way to success.
2. What is one of the most popular agile methods?
The Scrum Method is one of the most widely used agile methodologies that focuses on the customer. It's a framework that promotes team collaboration to help structure and manage a project.
Scrum boards allow team members across different departments to work together and develop solutions to complex problems.
3. What is the difference between the agile and waterfall methodologies?
Both agile and waterfall are two process methodologies to complete a project or work. Agile is an iterative method incorporating a collaborative approach with a cycle time.
On the contrary, waterfall is a sequential approach, which can also be collaborative. However, it's more of a linear process that's easy to manage.
4. Why is the agile project management model the best?
Agile is the right approach when it comes to project management because of the numerous benefits it offers. It helps teams manage their work efficiently while delivering the best results within budget constraints.
Here are a few of the other advantages of agile project management:
Improved and rapid team collaboration
Important project metrics
Issue tracking
Optimizes the development process
Customizable team structure
Better success rates with focused efforts
Values customer needs
Adaptive to change
Streamlines project work
Tracks marketing campaigns
Wrap Up.
With Agile methodology gaining popularity, the agile project management software industry is more competitive than ever.
If you wish to manage a team and track the progress of your project more systematically, then choose from any of the following:
Monday.com: Best For All Projects And Teams
ClickUp: Best For Real-Time Team Collaboration
Wrike: Best For Strategic Project Planning
Celoxis: Best For Complex Project Management
Atlassian Jira: Best For Software Development Teams
Pivotal Tracker: Best For Team Management And Tracking
Asana: Best For Work Management
I'm confident that you'll find a project management tool to meet your requirement from the options listed above.
Disclosure: I may receive affiliate compensation for some of the links below at no cost to you if you decide to purchase a paid plan. You can read our affiliate disclosure in our privacy policy. This site is not intending to provide financial advice. This is for entertainment only.