7 Best AI Development Software of 2023 (Ranked and Reviewed)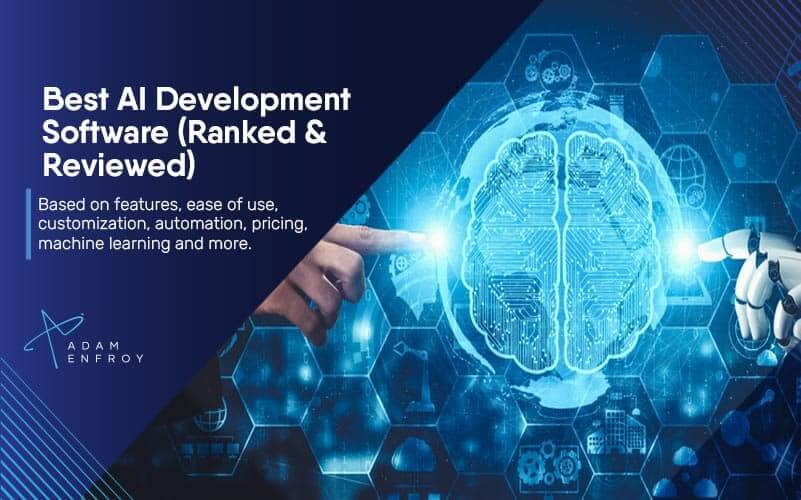 Business intelligence tools are constantly becoming more sophisticated, and artificial intelligence (AI) plays a significant role in the process.
With concepts and tools such as augmented reality software allowing for more immersive and realistic data visualizations, predictive analytics providing better future trends, and machine learning used for detecting data patterns, businesses can gain insights that were once hidden.
As businesses increasingly use AI development software to create solutions, the software is becoming more complex.
In this article, I rank and review the best AI development software right now that can help your business succeed in this rapidly growing area.
Let's get right into it.
What Are The Best AI Development Software?
The following are the best AI development software to consider.
1. Salesforce Einstein.
Best Overall For AI Development.
Salesforce Einstein allows businesses to innovate and automate their sales processes by providing access to predictive analytics and machine learning models.
With the various modules Salesforce offers (such as marketing, service, and commerce), businesses can automate tasks and get real-time insights to help them drive their sales strategy.
Provide your employees with built-in intelligence that helps them do their jobs faster and gives your customers the best possible service.
You can also use the information gained through this platform to connect with customers from a place of understanding while using predictive models to identify trends and customer needs.
Key Features:
Deliver faster, more personalized customer service to your customers.
Work better with Einstein as your intelligent assistant, helping you to automate tasks and get real-time insights.
Use intelligent case classification to help you route and prioritize cases to resolve them faster.
User Experience:
The ability to use Einstein on various devices is one of the best features, as it means you can access it wherever you are.
With visuals unique to the platform that include easy-to-understand bar charts, calendar heat map charts, column charts, and more, data is easy to interpret.
Pricing:
You may sign up for Sales Cloud free for 30 days and see if this software can help you convert more prospects into customers.
What I Like/Dislike About Salesforce Einstein
Like:
No previous coding knowledge is needed, so it is easy to get started.
Opportunities can be tracked and related events attached to them so you can get the complete picture of your sales pipeline.
Dislike:
Though you do not need programming knowledge, having so would help you accomplish more advanced tasks with the software.
Product Updates:
The use cases for Einstein AI are constantly increasing, with sales, marketing, commerce, and more uses being added all the time.
2. Vertex AI.
Best For Scaling Models.
Vertex AI is great for building, deploying, and scaling machine learning models.
The software makes importing data from various sources easy, ensuring that only relevant data is used to train your models.
This makes it one of the more efficient AI development software on the market, as it can help you get your models up and running quickly without worrying about data cleanliness.
Using a unified artificial intelligence platform also allows businesses to monitor, version, and manage their models from a single place.
With tools developed by Google Research, you'll be working with some of the most cutting-edge technology in the industry.
With this Google AI platform, you can quickly train and compare models using AutoML or custom code to help you achieve your desired results.
Once you're happy with your model, you can deploy it in a few clicks and start seeing the benefits immediately.
Key Features:
Train models without code and with minimal expertise required so that you can deploy them quickly and see results right away.
Build advanced ML models with custom tooling to get precisely the results you're looking for.
Manage your models confidently, knowing you can execute the actions you want as needed.
User Experience: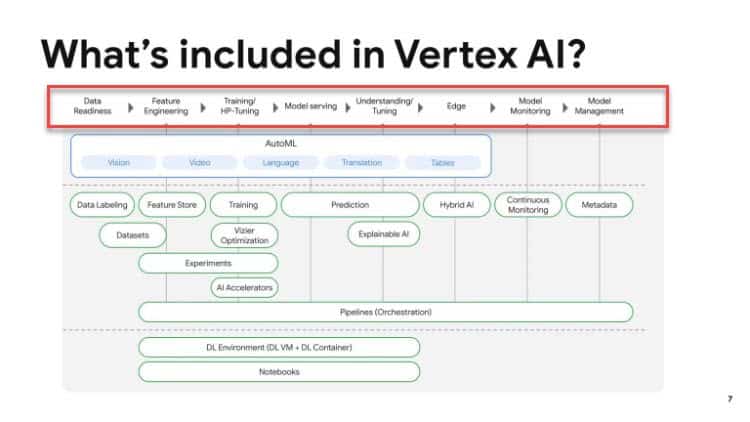 The number of features included as part of this software can be a bit overwhelming at first, but once you get used to where everything is, it's pretty easy to use.
Previous knowledge of coding and other technical aspects would be helpful.
Pricing:

Google Cloud pricing allows you to start running workloads for free as you get $300 in free credits.
Then you'll only pay for what you use, which is excellent for businesses of any size.
What I Like/Dislike About Vertex AI
Like:
Pre-trained APIs allow for quick and easy deployment of models.
Support for all open-source frameworks means you're not locked into a specific technology.
Dislike:
The need for previous technical expertise can make it difficult for some users to get started.
Product Updates:
The Pipeline Templates feature is now available in Preview, which will help you to easily and quickly build, deploy and manage your machine learning models.
Pre-built containers can be used to execute custom training.
3. Wipro Holmes.
Best For Automated Workflows.
Wipro Holmes uses augmented intelligence solutions to help businesses automate their workflows.
The software is designed to help you reduce the time it takes to complete tasks and improve accuracy and quality.
Business leaders across the C-Suite and various functions such as HR, finance, and marketing can all benefit from using Wipro Holmes.
The software is also scalable, so it can grow with your business as you adopt more AI-powered processes.
If you can reimagine your processes with AI, Wipro Holmes can help you make it a reality.
Wipro Holmes can help you accelerate growth and be at the forefront of your industry.
Key Features:
Work with an extensive, integrated AI ecosystem to quickly develop and deploy new models while maintaining compliance.
More intelligent business processes with human-centered AI help shape business outcomes.
Improve IT compliance while reducing outages with intelligent process automation.
Human intervention can be applied as needed, ensuring that your business processes are designed for people, by people.
Pricing:
Book a meeting to get a demo and find out more about pricing.
What I Like/Dislike About Wipro Holmes
Like:
It can be integrated with logistic products to optimize the delivery of items.
There are various analytics tools to evaluate and strategize the data.
Dislike:
The product is a bit complex when starting, so it may take some time to get familiar with it.
Product Updates:
Wipro Holmes AI-based decision support solution can now provide results and insights based on various data points. This will help you improve your decision-making processes and better understand why a particular decision was made.
4. IBM Watson.
Best For Expertise And Reputation.
Having been around for quite some time and built a reputation in the industry, IBM Watson is still one of the best AI development software on the market.
IBM Watson helps operationalize AI and transform the way you do business.
The platform provides a secure environment for developing, training, and deploying your models.
With over 100 million users across various industries, IBM Watson can help businesses of all sizes.
The software constantly evolves, with new features and capabilities always added.
Transparent processes provide insight into AI-led decisions and help you build trust with your customers.
There's also a focus on data privacy, compliance, and security to feel confident when using IBM Watson in your business.
Key Features:
Supervised deep learning ensures that your models are accurate and reliable.
Build robust machine learning-based solutions that can be deployed quickly and easily.
Use AutoML to find and deploy the best models in minutes without coding knowledge.
Take control of your data with Watson Studio, so you can monitor and make changes as needed.
User Experience:
A general overview screen shows the status of the training process and metrics for each of your models.
There is also a leaderboard where you can compare the performance of different models against each other.
Pricing:
Lite: $0
Plus: Starting at $140/month
There are also Enterprise and Custom solutions available.
What I Like/Dislike About IBM Watson
Like:
You can manipulate data without writing code which is always a huge time saver.
Various model algorithms are available, so you can find the one that works best for your data.
Dislike:
Accuracy with some data might need to be improved to get more reliable results.
Product Updates:
Customers that contact your call center may now have their queries answered by no-code Watson Assistant.
5. TensorFlow.
Best For Open Source Software.
TensorFlow is an open-source machine learning platform that's designed for developers.
It can be used for various tasks, such as image and sound recognition, natural language processing, and time series analysis.
TensorFlow provides an end-to-end platform that makes it easy to develop and deploy your models.
There's also a large community of developers constantly creating new resources and sharing their knowledge.
Being a mobile library for deploying models on mobile, microcontrollers, and other edge devices, the solutions that you create can be taken anywhere.
The platform also offers a comprehensive, flexible ecosystem of tools and libraries so that you can build the solutions that you need.
Key Features:
Build and train ML models easily using intuitive solutions that are easy to use.
Efficiently train and deploy models in the cloud, on-prem, browser, or edge devices.
Providing solutions to common ML problems means that you can focus on your business goals.
User Experience:
While the input options can become as complicated as you want them to be, the interface remains user-friendly.
A general menu down the center of the screen provides all the different features and options.
Pricing:
TensorFlow is a free and open-source platform.
What I Like/Dislike About TensorFlow
Like:
It's easy to get started with The TensorFlow ecosystem – the platform has vast resources, making it easy to get going.
It supports the right tools that allow you to load data, manipulate it, build models, deploy them, and monitor their output in one place.
Dislike:
Some APIs seem inconsistent in their function, which can cause confusion.
Product Updates:
Adding machine learning to your developer toolbox is now possible with TensorFlow and TensorFlow.js.
6. H20.ai.
Best For Driverless AI.
H20.ai empowers data scientists to quickly and easily build, train and deploy machine learning models.
The platform allows for faster automation and deployment of models so that you can get results quickly.
With features that include model valuation, tuning, selection, deployment, and more, H20.ai provides a comprehensive solution for machine learning.
The visual interface makes it easy to use, even for those without coding experience.
The tool also delivers a comprehensive and customizable data science platform that's easy to use and can be deployed in various ways.
Key Features:
Delivers insights and interoperability to data science teams.
Customize and extend with 130+ open source recipes or your domain expertise to operationalize data science at scale.
Automatic feature engineering helps you engineer features from raw data automatically so that you can focus on model building.
Bring your recipes allows you to apply custom recipes or algorithms to the platform and share them with your team.
Model deployment and operations help you deploy models quickly and easily, so you can get results faster.
Pricing: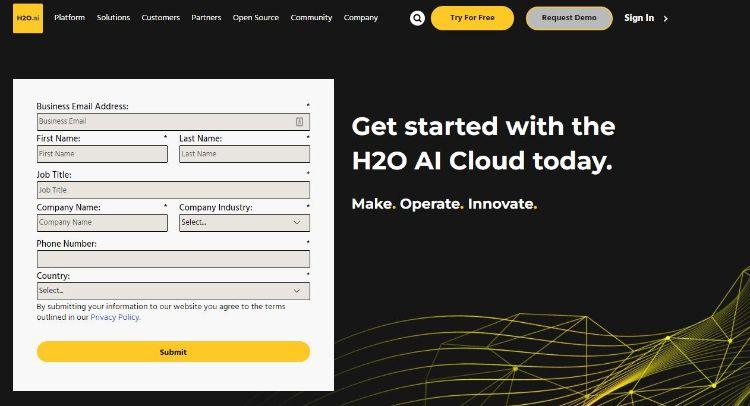 Users get 90-day free access to the H2O AI Cloud.
With no credit card required and no commitments, you can use the platform to its fullest during your free trial.
You can also request a demo if you prefer so.
7. Observe.ai.
Best For Contact Center Excellence.
Observe.ai is an Intelligent Workforce Platform that transforms contact centers by combining the power of AI and human expertise.
The platform provides a suite of tools that help you optimize your contact center operations, improve customer satisfaction and reduce costs.
You can also empower your agents with the help of AI so that they can provide an excellent customer experience.
If you want to understand and improve contact center performance, then Observe.AI provides the necessary tools.
Key Features:
Conversation intelligence helps you to understand customer sentiment, intents, and emotions.
Quality assurance & coaching helps you monitor and coach your agents to provide an excellent customer experience.
Agent performance provides insights into your agent's performance to identify areas for improvement.
Reporting allows you to generate reports that can help you improve your contact center operations.
Highly accurate transcription means you get the most out of your data.
Pricing:
Schedule a demo to see how Observe.AI can help you to improve your contact center operations.
What Is AI Development Software?
Artificial intelligence and software development are two areas where machine learning algorithms can shine and provide many benefits.
Data scientists and developers can use many AI development software platforms to build, train and deploy machine learning models.
As companies develop software that is more complex and the demand for faster results constantly increases, AI development software platforms provide a way to automate the process and get results quickly.
Benefits Of AI Development Software
While some benefits will automatically show as your company grows accustomed to using AI software, others will require effort to ensure they're realized.
Here are some of the benefits you can expect from implementing AI development software into your business model.
Improved Customer Service
AI software development helps improve customer service by allowing employees to find answers to customer questions and problems quickly.
With unstructured data, software solutions used to be needed to make sense of it.
This is no longer the case with AI software, which can quickly read and analyze data to find the most relevant information.
With automation tools using artificial intelligence software, making sense of this data is now possible.
In addition, speech recognition found within many on-premises (or even cloud-based) AI software can be used to streamline the customer service process.
Faster Development Cycles
Software engineers can now provide artificial intelligence platforms to help with AI app development.
Using natural language understanding with AI software, for example, can help you create faster development cycles.
With this functionality, you can tell the software what you want it to do, and it will take care of the rest.
This type of meta-programming is still in its early stages, but it has the potential to revolutionize the development process as we know it.
Increased Efficiency And Product
The focus on efficiency in any aspect of the business is as high as it's ever been.
This is especially true when it comes to the development process.
Whether dealing with a web service that can handle a large number of requests or an AI software solution that needs to be able to process a lot of data, the goal is always the same: do more with less.
With AI software, this is now possible.
Higher Quality Data
Using AI algorithms, high-quality data can be extracted from digital images for further analysis, allowing for computer vision.
Computer vision refers to the ability of a computer to interpret and understand digital images.
In addition, through such technology, artificial intelligence software helps with the decision-making process by allowing employees to find answers to customer questions and problems quickly.
Artificial intelligence software can also improve over time using frameworks incorporating machine learning.
Reduced Costs
AI solutions also help with reducing the costs of customer support.
With various APIs that connect data and help with forecasting, businesses can save a lot of money.
Whether it's healthcare, startup optimization, or even retail sales, AI software can help you reduce costs in several ways.
Greater Scalability
Using neural networks as part of Big Data solutions can help you achieve greater scalability.
With more datasets available for analysis, AI tools can use such information to improve the accuracy of their predictions.
This means that DevOps, software developers, business owners, and other stakeholders don't necessarily need to have the complete picture to make decisions.
Instead, they can rely on the AI software's data and predictions.
Improved Risk Management
Data analysis within AI applications is excellent for improving risk management.
AI technology can dig deep into data sets to find trends and correlations that humans might not be able to see.
With problem-solving capabilities, AI software can help you develop new solutions to old problems.
The use cases here are endless, but some examples include fraud detection, financial risk assessment, and even insurance claims processing.
Factors To Consider When Selecting AI Development Software
Here are a few key factors to keep in mind before choosing your AI development software.
Functionality
Features such as NLP, computer vision, predictive analytics, and deep learning are essential.
Consider that some platforms may be better suited for specific tasks than others, especially when it comes to the functionality that is most important to you.
Integrations
A development company that offers a wide range of integrations is always a good option.
This way, you can be sure that the software will work well with the other tools and platforms you are using.
Ease of Use
Whether considering the software's available programming languages or a company's mobile app integrations, ease of use is essential.
If it's the former, a language such as Python is prevalent in AI development.
If it's the latter, consider Android and iOS platforms to ensure that you're covered no matter what device your employees use.
Pricing
As data analytics becomes increasingly important, the demand for AI software will only grow.
This is good news for businesses as it means that the price of AI solutions will continue to drop.
However, it's still essential to consider pricing when selecting a platform.
Look for a company that offers a variety of pricing options to fit your budget, and be sure to get a demo of the software before making a purchase.
Customer Support
When dealing with complex software, it's always essential to have access to good customer support.
Look for a company that offers 24/7 customer support – this can ensure you're never stuck if you encounter any problems.
It would help if you also looked for a company that offers training and tutorials to help you get the most out of the software.
Wrap Up.
AI development software is a crucial part of any Big Data solution.
The right platform can help you achieve greater scalability, improved risk management, and better predictions.
When selecting a platform, consider the above factors to find the best solution for your business.
Do you have any experience with AI development software?
Is there a platform you would recommend?
Let me know in the comments below.
Further reading on AdamEnfroy.com: AI chatbots are becoming more and more common when it comes to customer service.
If you're considering implementing a chatbot for your business, check out my post on the best AI chatbot platforms.
Moreover, did you know that as many as 79% of interviewed sales and marketing departments stated that AI adoption helped them make more revenue?
If you'd like to know more about artificial and business intelligence in the present and future, check out the latest artificial intelligence statistics.
Augmented reality and virtual reality are two other technologies that are growing in popularity.
Using the right software, businesses can create amazing experiences for their customers and employees.
Disclosure: I may receive affiliate compensation for some of the links below at no cost to you if you decide to purchase a paid plan. You can read our affiliate disclosure in our privacy policy. This site is not intending to provide financial advice. This is for entertainment only.