7 Best AI Investing Software and Apps of 2023 (Ranked and Compared)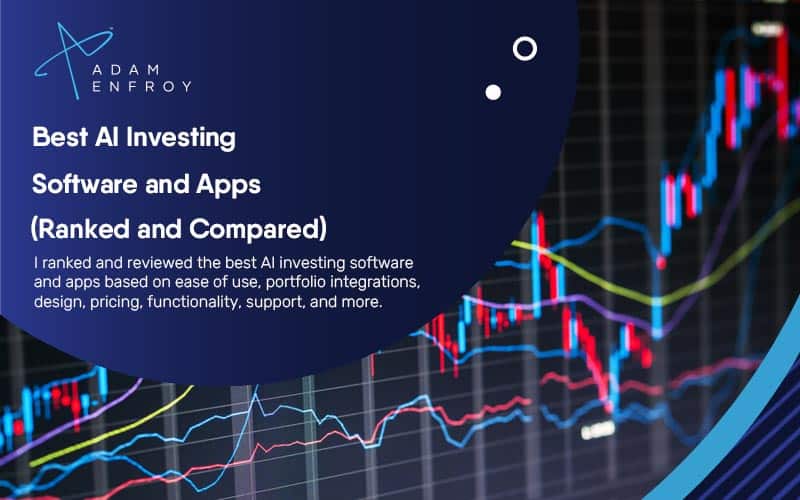 AI investment apps and software are quickly influencing the way people invest. When done correctly, investment apps and software are powerful tools for increasing your potential income.
They're also useful when used in combination with software such as crypto portfolio trackers in understanding how your investment strategy can be diversified.
This can be accomplished by potentially investing in traditional items as well as newer ones.
These can include assets such as NFT stocks and virtual real estate.
However, there are several factors to consider when opting to use AI programs of this nature. It's important to do your research before choosing the one you feel is best for you.
Understanding what AI can and cannot do, and therefore being aware of the point at which human input is needed, is crucial to ensuring you're making the right decisions when investing.
In an industry where the sum of investment made by corporations totaled close to $68billion, it pays to pay attention to what is happening.
With concepts such as peer to peer lending sites for retail investors becoming a reality, it's important to understand both current and future trends.
In this article, I rank and review the best AI investment apps and software on the market.
I've included information about their usefulness, which individual tasks they're most suited to, how much they cost and how to get started when using them.
Let's dive deep into this topic.
What are the Best AI Investing Software and Apps?
The following is the list of the best AI investment software and apps out there today.
Best for having an AI tool that also teaches you how to trade.
Trade Ideas is an advanced AI trading app that can be used to teach yourself how to trade and invest.
With an advanced simulated trading platform, Trade Ideas offers a range of tools that will help you to better understand the nuances of stock market trading and investing.
With the risk of losing actual money minimized by using play money, beginner traders can use the Trade Ideas' proprietary Holly AI software, to gain a foothold in the market while staying away from risk.
In addition, you can connect directly to your eTRADE account for a $0 commission trade with this platform's brokerage account titled "Brokerage Plus".
This is where you can automate your trading strategies using the most advanced artificial intelligence available at the moment.
No matter what level of investment knowledge you have, this software offers possibly the most versatile trading option on the market today.
Key Features:
Trade using A.I.-powered automation technology, which means you can set up trades to happen whenever the market meets specific criteria. You can also completely manage your account by using Trade Ideas' brokerage plus platform.
Trade Ideas also offers the best and latest ALERT stock index newsletter, which offers you five fresh trade ideas about stocks that you can buy and sell throughout the week.
With a Trade Ideas membership, you may engage in simulated trading, allowing you to practice trading with play money. This is a great way to test out new strategies without taking any financial risk.
Pricing:
With two pricing plans, you get various features and options to make trading easier, as follows:
Standard: $999 per year
Premium: $1999 per year
The annual plan gives you a savings of $468 when compared to the monthly plan.
Get started with Trade Ideas.
Best for developing a technical investment strategy that works.
TrendSpider's technical analysis software is a great choice for people who want to automate their trading strategies. TrendSpider is software that can help you build, test, and optimize your custom trading algo with ease.
Making smarter and more efficient trading choices using advanced machine learning is made possible using this tool. In addition, you can also set up specific automation when it comes to how the trading tools function.
This allows you to develop, back-test, and optimize technical strategies with minimal human supervision because there are no other limitations on how many markets or securities can be traded.
By removing bias from your trading, it is possible to boost your win rate and potential profits significantly.
Key Features:
You can automate your trading strategies using TrendSpider's automated software and explore the equity market in an automated way.
Finding winning chart setups is easier with the latest version of TrendSpider's charting AI systems.
TrendSpider is a great choice for people who want to build and test trading strategies without limitations. It helps you learn how to program your own trading rules, so you can avoid human error during the trading process.
Time your trades with accurate precision based on your system's performance or market values.
Pricing:
Trendspider has three different pricing plans available. These are:
Premium: $440 per year
Elite: $870 per year
Advanced: $1310 per year
You'll get two months free when you go with the yearly version.
Best for getting pre-market alerts before the stock market opens.
Black Box Stocks is one of the most user-friendly software for trading. The software provides a very simple platform that allows you to enter a stock symbol and run a screener based on your pre-defined criteria.
Black Box Stocks are different from other systems available in the marketplace right now because their system finds and posts alerts that allow you to explore the best opportunities in real-time.
Using their special algorithms, Black Box Stocks brings to your attention a list of stocks that meet your criteria.
You can then decide if you want to purchase those stocks with their automated trading system.
Analyzing over 8,000 stocks and 90,0000 options, Black Box Stocks uses real-time alerts to find the best opportunities out there.
Key Features:
The pre-market scanner gives real-time alerts on specific symbols, allowing you to filter and find the best opportunities
Whether you're scalping options, day trading, or even looking for the best entries and exits for swing trading, real-time quotes are delivered to you by Black Box Stocks.
Watch top traders execute their trades so you can learn from them
The top forty stocks with the most significant price hikes and decreases after the market close are revealed by the BlackBox Post-Market Stock Scanner, allowing you to watch them closely and observe their movement.
Pricing:
Black Box Stocks comes with a 5-day free trial waitlist, which you can get on by filling in a simple form on their website.
If you want to get started immediately, you can do so for $79.97 for your first month.
4. Zignaly.
Best for having cryptocurrency AI bot performing your trades.
Zignaly is a crypto bot that performs robo trading for you. Paying only when the bots make a profit, Zignaly has many appealing features.
Unlike most trading bots available right now, there is no need to spend much time learning about their platform because this is very simple, intuitive, and straightforward.
Zignaly takes care of everything for you so you can focus on the bigger picture when it comes to trades that might be worthwhile investing in.
With direct integrations with Binance, VCC Exchange, KuCoin, as well as BitMex (and more blockchain platforms on the way), Zignaly offers you the ability to connect to your favorite exchanges and let the bot do its work.
You can choose the mode in which the bot works to ensure that you get the best possible returns. From semi-automated to 100 percent delegated, trading is performance-based from beginning to end.
Key Features:
Follow Zignaly's professional crypto traders to get the same results as them, which means there are no complex learning curves or strategies to wrap your head around.
Trade on the exchange of your choice directly through Zignaly's platform, or allow them to do it for you.
See your earnings on the crypto portfolio tracker of your choice from one dashboard
Zignaly incorporates a performance-based model and a high watermark feature into the copy trading functionality; this enhances all procedures using one single position for both traders and investors.
Once you've chosen your desired total balance, the platform will replicate trading activity proportionally.
Pricing:
Zignaly is a free trading platform that offers performance-based copy trading.
There is no fee for using them, but you must pay the fee charged by the exchange that you choose.
5. Tickeron.
Best for getting signals for both swing and day stock trading.
Tickeron gives you signals for a variety of different trades. From getting signals for day and swing stock trading, day and swing crypto trading, and even signals for day and forex trading, Tickeron does it all within one platform.
Tickeron claims that real-time pattern trading is the simplest method to determine entry and exit prices; however, you must be able to scan hundreds of cryptos in minutes. Since this is impossible for humans, AI comes to the rescue.
Tickeron utilizes AI to not only find these trends but also to see if such trends worked out well in the past. Understanding past performance gives you a higher probability of having winning trades in the present.
In addition, the combination of all available data also helps when it comes to future performance.
Key Features:
The platform analyzes a large number of signals daily to select the best ones for its users. They compare these with the stocks' historical data points and only send accurate signals.
Tickeron's Real-time Patterns feed (RTP) scans hundreds of cryptos every minute in search of patterns.
With both bullish and bearish pattern scanning, Tickeron has specific data that lets you trade just the way you like.
With information about crypto, stocks, and forex, you will always have access to the best trading opportunities.
Pricing:
Tickeron offers various plans available for its members. With a free version for all following plans (apart from Advisor), Tickeron's paid plans are listed as follows:
Swing Trader: $60 per month
Day Trader: $50 per month
Investor: $100 per month
Advisor: $50 per month
6. Kavout.
Best for performing machine learning investments.
Kavout puts all of the information you need to bring you educated financial decision-making in one place.
It combines machine intelligence and machine learning to suggest what the best stocks to invest in are.
You'll get access to equity factors and trading signals that have been proven and validated via the right research.
These factors and signals have been tested by machine intelligence and have a high probability of being profitable.
Kavout is a finance and data science company with a world-class team of experts and engineers.
Their employees have had experience at companies such as Microsoft, Google, Thompson Reuters, Baidu, and others, making them the best at what they do.
For you, all this means is that you will get high-quality and accurate signals that follow strict research methodology.
Key Features:
Kavout provides access to equity factors, which are unique financial instruments that provide exposure to stocks.
You'll get personalized factor-tilt portfolios from numerous stocks industries and sectors, as well as the ability to create and analyze your portfolio from scratch. Portfolio management is a key aspect of successful trading and Kavout is great at doing that.
Factor loading market analysis, sector exposure, and detailed sub-factor level statistics are all researched and diagnosed, increasing your chances of success.
The most popular options are evaluated in every pool, and the stock pool's selection is determined by five key elements, 60+ sub-variables, or a mix of both. This all means that you'll have access to the best potential results via Kavout.
Pricing:
You'll have to get in touch with them to get more information on their pricing.
7. VectorVest.
Best for having a simple approach to a complex industry.
VectorVest gives you all the tools needed to profit from fluctuations in the market. As a tool, it tells you what and when to buy the right stock. Conversely, you'll also know when it's time to sell. That's pretty much it.
The leverage of expert stock analysis and market advice is paired with easy-to-read charts and graphs.
All the data VectorVest provides you is up to date, accurate, and presented in a way you can understand.
They provide stock market assistance, time-tested investing methods, and personal stock recommendations. Top-notch stock analysis and market guidance provide you with an edge over others.
If you want a simple approach to picking the right stocks, then VectorVest is the system for you.
Key Features:
VectorVest provides a holistic approach to investing, that considers market patterns as well as fundamental values to determine the best stocks and sectors to go for.
With their rankings features, investing is no longer a guessing game; instead, it provides the finest investment possibilities for you to rise to the top.
Investing methods that have been developed and tested for success are clearly shown, increasing your chances of making positive returns.
Their forecasts are designed to help you identify precise trading entry and exit points, as well as provide useful information about the current market.
Pricing:
With a 30 day trial at just $0.99 available on all their products, you'll be able to see for yourself the benefits VectorVest provides.
After that, they offer 3 pricing plans, with different features that come with the different plans. The plans are priced as follows:
Basic: $69 per month
Enhanced: $99 per month
Premium: $149 per month
Other AI trading software not mentioned in this article include Equbot and Meta Trader 4.
What are AI Investing Software and Apps?
An effective AI stock trading software or app should serve one main purpose: Provide accurate information on how the market is performing over time so that its users can make investment decisions accordingly.
This means that artificial intelligence (AI) investing software is mainly designed to make investment decisions for you.
Stock trading bots have three components:
Data input – They collect and analyze data related to your investment situation and set conditions as well as the market as a whole.
Algorithm – A "translator", interprets the data fed by you in terms of different possible decisions eg., whether or not to invest right now, the stocks to invest in, how much you're willing to invest, etc.
Output – A report generated by the AI bots allows you to see what potential choices are available. Some bots will actually go ahead and invest for you based on the amount of risk involved as well as potential rewards.
Using AI to invest may not be the right choice for everyone. It depends on your current financial situation and general attitude towards risk.
If you're looking to make a long-term investment, then using AI is worth considering. It's cost-effective and acts as an unbiased review of the market at any given time.
Who is AI stock trading software for?
AI trading software is best suited for people with a certain type of mindset.
Long-term investors – Someone who doesn't buy and sell stocks at short intervals but rather is looking to hold for the long-term.
Someone looking to invest a large amount of money. You don't need to be willing to invest huge sums of money to start off, but if you do, AI stock trading software might be the right choice for you.
People who are new to stock trading – If you're new to stock trading, it's better to invest via AI as opposed to directly in the market without any knowledge on the subject matter.
People looking to trade stocks and want an advantage over others – If you want to profit from investing in stocks, then AI is always a good choice for you.
What features should an AI stock trading bot contain?
The following features should form part of any stock trading bot you might be considering.
Stock trading strategies
As mentioned above, an effective AI trading software should include algorithms designed to make decisions for you. This means that the bot should contain at least the following 3 stock investment strategies.
Algorithmic trading – Invest in small amounts across a wide range of stocks to avoid risk or volatility in any one particular stock.
Market making – Starts buying and selling when its algorithm identifies different price points in the marketplace.
Arbitrage – It uses information about transactions taking place between two parties to make a profit on high-volume trades within seconds.
Real-Time and Reliable Financial Information
Just like with other financial tools, there are limitations to what can be achieved solely based on data inputs alone. The only difference is that with AI-powered tools, this fact has been realized much faster.
To run your deep learning algorithm correctly, you need a lot of financial data about the constantly-updating market.
If this data isn't provided in real-time or if there's a delay in its delivery, then it may lead to inaccurate predictions and decisions being made by the bot.
This would be a major shortcoming with any AI investment tool.
To avoid such a situation, effective trading software should provide access to reliable and up-to-date financial information that can be easily integrated into your bot's model.
Technical indicators
Technical indicators are tools that help you make better predictions about stocks by looking at historical data and trends.
Useful in a variety of situations, technical indicators can help when looking at past trades, using bitcoin mining software, or even making a decision about a particular company to invest in.
For example, if you are thinking about investing in one or two companies out of a list of multiple ones, understanding which companies have reported good financial results consistently for the past year, is crucial to shortlisting which ones to go for.
As such, the right technical indicators are paramount if you want your machine-learning algorithm to make accurate predictions about future stock price movements.
Caters to your trading style
In the stock trading world, everyone has their unique style of trading. Some people prefer high-risk, high-reward investments while others look for low-risk and steady returns.
It's important to find an AI software that caters to your needs and matches the type of investor you are.
This may be extremely difficult if you're new to stock trading or don't have much technical knowledge about investing in stocks.
In such trading scenarios, you should stick to AI tools that were designed with less experienced users in mind.
Such tools typically provide support through wizards, online forums, and even access to mentors who can guide you every step of the way.
User experience
It's important for both a beginner trader and a veteran to consider user experience as one of the topmost factors when choosing the right AI investing software.
After all, the user experience directly impacts how effectively you can control your bot when it comes to giving directions.
In turn, this affects the bot's ability to perform well when maximizing the returns on your investments.
It's advised that you don't use tools with a complicated user interface and those which require you to have an in-depth knowledge of the stock market before getting started.
Instead, choose a machine learning trading software that keeps things simple and can be used by anyone, even those without much prior experience in trading stocks.
Trading fees
Many online stock trading websites claim zero trading commissions but don't include hidden charges at first glance. These can include expenses such as withdrawal fees, wire transfer fees, etc.
Such hidden charges could significantly increase the cost of your investment and may result in losses over time.
Make sure that any AI investment tool you plan on using involves low or no minimum fees.
One good way to judge if there are any hidden fees when using investment software is to check for reviews and testimonials online. You can also speak directly to the software's customer support to get an idea of what's involved.
Dynamic learning capabilities
If you're looking forward to investing in stocks using AI tools, then your software must constantly learn from what's working and evolve with the changing market conditions.
Software that doesn't constantly re-evaluate its strategy can become obsolete very quickly.
Make sure that your AI investing software has dynamic learning capabilities and is capable of revising its trading algorithm frequently.
It's also important to note that while this type of software may require initial investments for creating reliable software that gives good predictions, it'll be worthwhile in the long run.
Since financial markets are considered to be one of the most volatile markets in the world, they can result in heavy losses if you trust the wrong software. On the other hand, the right type of software can yield a great return on your investment.
Performance history
You'll need access to historical data about how well your software performed in previous years so that you get an idea about its effectiveness before investing real money into it.
If your software has been performing well in recent years and has been constantly updated to keep up with market changes, then there's no reason why it should stop working anytime soon.
Stock charts are strong indicators of an investment tool's reliability so if you have access to this data, it will be worthwhile to check it out.
Reputation
If your AI software is new or relatively unknown in the financial markets, then it's probably not a good idea to invest too much money into it as there may be some bugs that haven't been discovered yet.
The people that are behind the software are also crucial.
Experienced technical analysts that work on specific software play a huge role in the reputation of their tools.
Do thorough research before investing in any trading software to make sure that it has a reputation for delivering high-quality results for its customers.
Best AI Investing Software and Apps – FAQ
What are ETFS?
An ETF, or exchange-traded fund, is a marketable security that tracks an index, a commodity, bonds, or a basket of assets like an index fund.
ETFs are relatively cheap when compared with mutual funds and can be bought and sold via brokerage accounts. Also, they can be shorted like stocks. ETFs typically experience lower transaction fees than other types of mutual funds, and they provide tax advantages to investors by acting like a trust or partnership.
Can a startup use AI investing software?
A startup is a company that is in the process of being set up and has not officially started selling any services yet.
The fund required for setting up a startup are usually very limited so it's recommended to look into other forms of financing rather than tools with high initial investments.
Why are hedge funds starting to use AI for stock trading?
Investing is a huge business and the first step to stock investing is to make a large investment in AI software.
Hedge funds have the money required for this type of investment so they're breaking ground with their usage of these tools.
Do I need a financial advisor to invest?
Not necessarily, but having one on your side can help to give you an unbiased opinion about the AI software that you have chosen.
What's a breakout when investing?
A breakout is when prices rise above an established level of resistance or fall below an established level of support in the market.
Traders will often look to invest in price movements that are breaking out of these levels.
Wrap Up.
AI bot trading software can be a great way to get better returns and minimize risks on your trades.
Although using a software solution isn't a substitute for doing your research, monitoring trends, and having your eyes open, it's often said that professional traders are those who do their homework and rely on artificial intelligence at the same time.
In addition, there are now fewer problems with supply, fuel costs, energy prices, and other issues when investing (due to less influence by the pandemic on the markets).
This means that A.I. investing tools might become more reliable.
To summarize, the best AI investing software and apps on the market right now are:
Trade Ideas: Best for having an AI tool that also teaches you how to trade.
TrendSpider: Best for developing a technical investment strategy that works.
Black Box Stocks: Best for getting pre-market alerts before the stock market opens.
AI investing is no longer a fad you see on social media; instead, it's something that should be looked into and used appropriately.
By using the power of AI, combined with your own knowledge when trading, you'll begin to see a very impressive increase in the results you get through investing.
What do you think? Do you think AI trading bots can help you save time and money? Have you ever used such bots to help with trading? Let me know in the comments section below.
Further reading on AdamEnfroy.com: Want to know about another use case of AI investing?
Check out my post on the best Forex trading apps to see how this technology can make investing even better.
In addition, here's a post I wrote about the best risk management software on the market right now.
Also, if you're interested in diversifying your investment portfolio, here's how to invest in precious metals IRA to help boost your retirement income.
Disclosure: I may receive affiliate compensation for some of the links below at no cost to you if you decide to purchase a paid plan. You can read our affiliate disclosure in our privacy policy. This site is not intending to provide financial advice. This is for entertainment only.