7 Best AI Recruiting Software of 2022 (Ranked and Reviewed)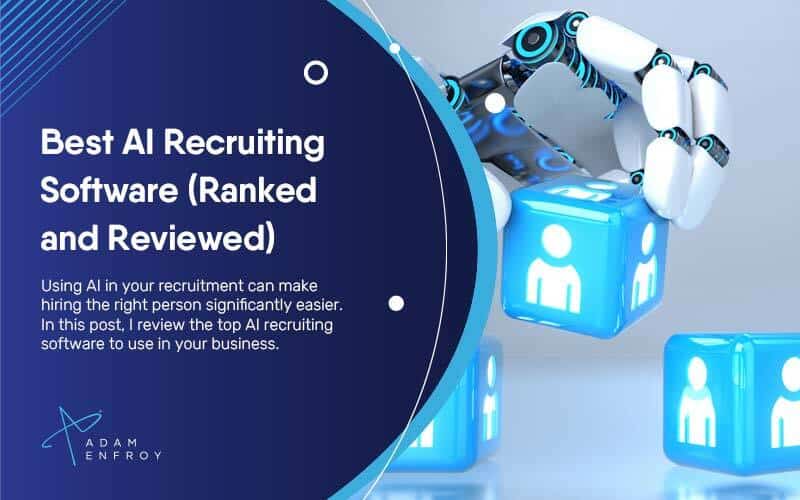 Today more and more companies are focusing on improving their talent acquisition process. For this reason, most of them are using third-party software which will help them shortlist good talents.
One key difference between recruitment in the past and now is the introduction of AI (artificial intelligence) in the recruiting process. In fact, some believe that artificial intelligence will help determine if someone will get their next job – or not.
By using AI software, companies can easily find the right candidate that fits in well with other employees and can successfully fulfill the required job tasks and duties.
Outside of AI recruiting software, AI writing software is making massive strides every single month and is becoming hard to tell the difference between human and AI quality.
However, finding and utilizing the right AI recruiting software is not an easy process.
As with any of the other processes in your business, recruitment must fit in with the company vision, integrate with the right business process management tools, and help push the company in the right direction.
To help you make the right decision before choosing the tool for you, I have listed the top AI recruiting software along with their features and pricing.
Let's have a look below.
Disclosure: I may receive affiliate compensation for some of the links below at no cost to you if you decide to purchase a paid plan. You can read our affiliate disclosure in our privacy policy.
What is the Best AI Recruiting Software?
Below are my top picks for the best AI recruiting software right now.
Best for intelligence-driven talent acquisition.
Arya is a revolutionary AI recruiting platform that delivers better hires, faster. The company has developed an easy-to-use tool that leverages artificial intelligence to find top talent and connects you to employees you'll love.
With Arya, recruiters can reduce their time spent on sourcing and sifting through resumes, enabling them to focus more of their efforts on interviewing and hiring the best talent available.
The company provides tools that empower recruiters to find the right candidate quickly without spending hours upon hours searching themselves. If you want recruitment done right the first time, then Arya is definitely one tool to consider.
Key Features
Quickly identify the best talent (faster than your competitors) so that you can hire the best people fast.
Avoid spending time searching through resumes by letting Arya do all your job for you.
Arya provides tools to identify top talent quickly and easily so that you can focus more of your efforts on interviewing.
Find people who have the skills you need and are similar to your current candidates with this hiring software.
Build high-quality candidate pipelines that are ready to move and automatically engaged with personalized communications so that you can make better, faster, and more accurate hiring decisions.
Price
With two different plans available (Arya Pulse and Arya Quantum), you will find what you need – both if you have limited recruitment human resources and need affordable assistance or even if you are seeking to empower your recruitment pros with accurate insights.
When it comes to Arya pulse, there are 4 types of plans available:
Free
Basic: $199 per job
Full service: $599 per job
Multiple-job plans: Contact Arya's sales team for a quote
On the other hand, you can ask for a demo of Arya Quantum if you believe that plan is better suited to what you need.
Best for discovering your next best hire.

Hiretual is a job search engine that connects recruiters with the best talent in their industries. The company has helped more than 5,000 leading recruiting teams hire faster and smarter by sourcing qualified candidates from a diverse network of over 50 million resumes and profiles.
Hiretual's proprietary matching algorithm matches resumes to jobs based on skill sets, experience, location, education history, and other factors important to employers.
Key Features
Their contact-finding success rate is about 85 percent, which means you'll get the right personal emails, business emails, phone numbers, and social media connections.
Hiretual does not believe in cluttered data which means that they maintain the integrity of your candidate data across all the systems you use so that you have access to the latest information.
Hiretual includes everything you need for the right candidate experience – no extra fees or surprises included.
Your data will be kept safe. Hiretual is certified by the CCPA, GDPR, and SOC 2 Type 1 and Type 2 standards, as well as the EU-US Privacy Shield program. All this means Hiretual is committed to protecting data and ensuring customer trust.
Price
With 4 different price plans, both new and seasoned recruiters can use this AI tool to help with the hiring process.
The plans are as follows:
Starter: Free – Great for a single recruiter
Standard: $40 per month
Professional: $99 per month
Enterprise: A custom plan based on specific needs.
Best for integrating recruitment into one process.
TurboHire is a data-driven, structured, and collaborative recruiting process to find the best candidates for your company.
The TurboHire platform integrates with your current CRM software, hiring site, and other systems so you can be confident in every candidate that you hire. This means that you will be using AI to dramatically reduce the time spent interviewing candidates.
TurboHire's platform improves the traditional recruiting process by using an intelligent algorithm to match qualified applicants with jobs based on their skills, interests, and availability without relying on resumes or job interviews.
With a collaborative approach that meets hiring managers halfway through the interview process, TurboHire allows for more efficient candidate assessments while giving them a chance to express themselves in ways they never could before.
Key Features
Get a bird's-eye perspective on recruiting process workflows, so you can arrange your hiring well in advance.
Create a talent pipeline for all of your open positions so that your business can continue to grow.
Put a candidate at ease through a personalized interview experience that meets them on their terms by allowing them to complete the process from any location.
On the same platform, engage all stakeholders, keep track of your talent pipeline, and produce powerful hiring reports.
Price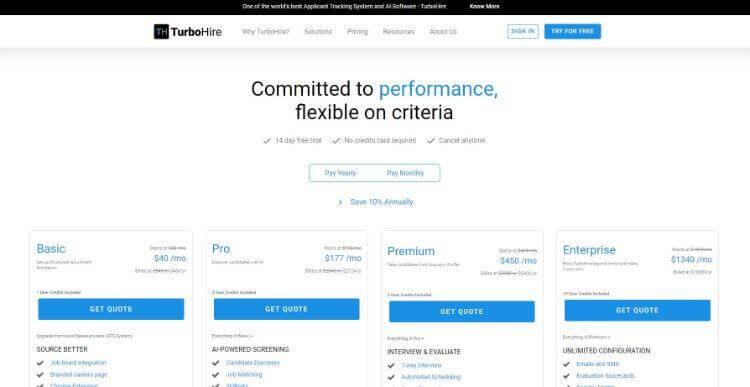 With a 14 day free trial, you can take TurboHire for a test drive and see for yourself how a more collaborative approach to interviewing can improve your hiring process.
After that, you have 4 plans to choose from:
Basic: Starts at $40 per month
Pro: Starts at $177 per month
Premium: Starts at $450 per month
Enterprise: Starts at $1340 per month
4. Fetcher.
Best for hiring diverse and top talent, faster.
Fetcher is a recruiting automation platform that fuels diversity and inclusivity. They combine AI with human monitoring to provide an internal team that monitors your data to ensure a diverse pipeline of qualified, interested candidates in no time at all.
You can then use their training and validation data to create a successful candidate funnel.
Grooming your talent pipeline is key to accelerating the recruitment process. Without it, you will need to sift through more resumes and spend more time on interviews – and still not be sure if you're making the right choice.
A hiring platform like Fetcher ensures that a more diverse and higher quality of hires will be on your radar.
Key Features
No more going through random resumes to find out who you should interview. Fetcher helps you cut down time spent on mundane tasks so you can make the most of your valuable time.
When you're overwhelmed by the sheer number of tasks that need to be completed, focus on what you do best.
Outsourcing tedious hiring activities allows you to devote more time to essential operations that will help your company develop.
Get insights and reports so you can keep track of your candidates and ensure that hiring decisions are made fairly.
Price
If you're interested in learning more about Fetcher and their AI recruitment automation platform, you'll need to schedule a call with their team.
5. Humanly.
Best for building better candidate conversations.
Humanly is a unified conversational AI for recruiting platforms where automation and people work seamlessly together to bring to light the most qualified, diverse applicant pool at scale.
With Humanly, recruiters can save time by automating tasks like screening and scheduling interviews on a position basis; they can also make more informed decisions with automated insights on candidate experience scores.
This all leads to a high volume of diverse candidates at the top of the funnel.
Key Features
Through equitable screening automation and interview insights, humanly can enhance diversity by design. Humanly can help you reduce time spent on administrative tasks so that your time can be better utilized on the company's needs.
Have a more diversified candidate pool filled with the best talents that are available in the market.
With Humanly, hiring managers are also given insights into how candidates are interacting with their online applications. This allows your hiring managers to make better decisions and focus on the candidates that best fit your company's values.
Next-generation AI interview analytics assist in the selection of better and more fair-minded candidates so that you can find the right people for your company.
Price
If you'd like to learn more about Humanly, you'll have to request a demo by filling in the simple form found on the company's website.
6. Xor.
Best for making the hiring process simple.
XOR is a talent platform that does the heavy recruitment lifting so you can focus on the actual people. They do everything from candidate sourcing and interviewing to offer negotiation and onboarding – just so you don't have to.
Xor is not your typical recruiting company because they take care of all those things that are time-consuming for recruiters, like pre-screening candidates or scheduling interviews.
With XOR's platform, you'll be able to spend 100% of your time speaking with amazing talent – no more wasting time doing repetitive tasks.
Achieving your hiring goals has never been faster or more effective.
Key Features
Hire virtually any employee using a virtual career fair. With virtual interviews, you may find and nurture talent from all over the world.
Reduce hiring times and spend more time focusing on serving customers better.
Increase interaction and convert skilled individuals faster with text, chat, phone, email.
Use the right processes so that you can ensure that no candidate ever slips through the cracks.
Price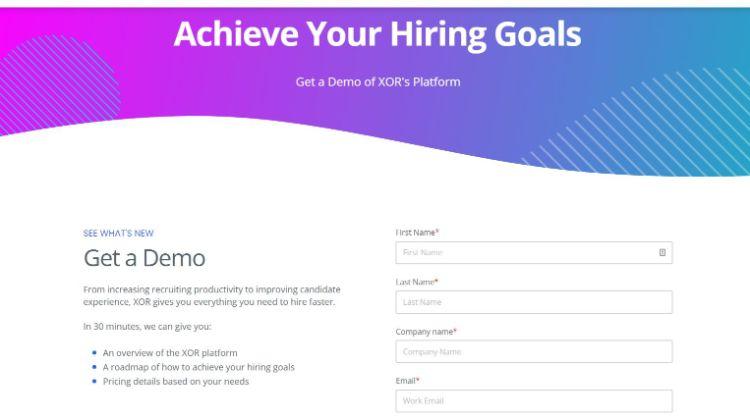 Similar to some of the above products, XOR requires you to schedule a (30 minute) demo to have a better understanding of the platform.
Following this demonstration, you'll learn what XOR is all about and how it may help you get the best talent for your organization. You'll also receive a roadmap for achieving your hiring goals and pricing information based on your specific requirements.
7. Seekout.
Best for recruiting hard-to-find talent.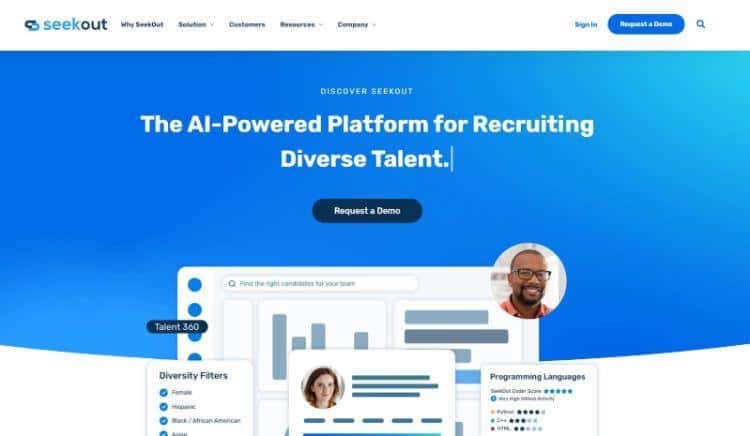 SeekOut is a company that specializes in advanced talent analytics. One of the ways they do this is by offering deep talent analytics so companies can diversify their pipelines, reduce bias, and improve candidate engagement to achieve recruiting goals faster.
SeekOut's Talent 360 platform offers a personalized experience for each individual with an extensive range of data points from both objective and subjective sources.
To provide candidates with an optimal experience when applying for positions, SeekOut provides access to user-friendly tools such as video interviews and resume parsing which allows them to customize their application process according to their needs.
Moreover, SeekOut provides executive-level insights for hiring managers so that they can make the best decisions possible.
Key Features
SeekOut's verified contact information, hyper-personalized content, and automated drip campaigns help you successfully engage with qualified individuals and get faster answers.
SeekOut can make recommendations based on your business input so that you'll make the best hiring decisions possible.
Assist hiring managers and management in making more knowledgeable decisions by deeply examining talent pools.
Create an actionable recruiting strategy to meet your company's diversity and inclusion goals by easily creating diverse pipelines with highly qualified staffing.
Price
You can book a real-time demo to let one of their experts show you how Seekout can be the best AI tool when it comes to recruiting top talent.
You'll also learn more about Seekout's solution and their talent analytics so you can make a more informed buying decision.
What is AI Recruiting Software?
AI recruiting software uses machine learning algorithms to undertake data mining, natural language processing, and semantic reasoning to learn more about you, your company's culture, and the type of employees you need.
AI recruiting software then analyzes this data to provide you with the best-qualified candidates for your open positions. However, not all tools are equal when it comes to making talent acquisition easier.
For example, many platforms focus on the wrong tasks; tasks that should be completed by actual recruiters or hiring managers. In turn, this actually adds time to these individuals as well as hinders their ability to find top talent.
It's good to note that task management software (along with AI) can also help with focusing on the right tasks.
To ensure employers have a great experience while looking for new hires, companies must put humans first by creating a unique digital candidate journey loaded with personalized information.
They can then use AI to help monitor these hiring journeys and make the automated tasks on the sourcing side more efficient.
The recruitment process is more complex than most companies realize. For example, top talent may not be actively seeking employment at that moment in time or may not use professional social media profiles (such as those on Linkedin) when applying for positions online.
These passive candidates can be some of the best talent that a company can recruit. Without the use of the right AI software, these candidates would never be found, which means that the company would be losing out on achieving its full potential.
To make this process easier, AI recruiting software can be used to reach out to these individuals with personalized messages.
Another issue related to recruitment as well as one of the biggest reasons why people lose interest in job opportunities is because they become too difficult to apply for.
Using AI recruiting software will ensure you're able to deliver a positive candidate experience every single time.
When it comes down to it, AI essentially just means computers are making decisions based on information provided by humans. Depending on the program's degree of automation, AI can be used to take on a wide range of duties.
For example, the software may sift through online resumes to find suitable candidates or track certain traits that are associated with top employees.
How talent acquisition teams are using AI software
Today, candidate profiles are created on a company's career site by using a database of information about job seekers, potential employees, and even places where they might be looking.
By developing this information, companies are better able to attract top talent because individuals can easily self-identify themselves as well as their preferences without actually having to go through the hassle of filling out multiple applications.
Currently, most AI recruiting software is used by large companies that are looking for ways to streamline the process of finding the best talent.
This software is constantly evolving and it's likely we'll start seeing several new, innovative uses for it in the coming years.
The possibilities are truly endless when it comes to how this type of program may affect both employers and employees, which means now is a great time to get involved.
AI and job descriptions
AI can also be used to create job descriptions that relevant candidates would be interested in viewing. This will all be built by using past patterns to understand what works and what doesn't when it comes to recruiting top talent.
For instance, rather than having job postings along the line of " 8 years of experience required " or " Bachelor's degree preferred," AI can pass along a more effective version like:
"Candidates must be experienced and qualified to work with the following: _________ and _______ ".
In addition, AI recruiting software may also use applicant tracking to rank applicants based on their skills, experiences, education levels, and even personality traits.
In doing so, companies can find top talent that doesn't just have the right qualifications – but is also a good fit for both the role and corporate culture.
By taking this extra step to ensure satisfaction from every hire, employers will save money in terms of turnover costs while employees will have a greater opportunity to succeed.
As with anything, there are also benefits and downsides to using AI recruitment software. For instance, this AI technology can provide companies with increased accuracy when it comes to finding qualified candidates.
Furthermore, by removing bias from the hiring process, businesses are sure to hire more diverse workforces that better represent their target demographics. This, in turn, can lead to higher revenue as well as greater profits.
Hiring teams can also benefit from using AI recruitment software as it helps to increase productivity and efficiency. Since most of the hard work is done by these programs, recruiters will have extra time to spend on more important tasks.
That being said, hiring managers can also save even more time by implementing a system that automatically tells them which applicants are worth following up with.
This technology indeed provides major benefits for companies looking both to hire and retain high-quality talent.
AI Recruiting Software – FAQ
What is AI recruitment software?
The most basic definition of AI recruitment software is that it's a computer application that helps with the recruitment process through artificial intelligence capabilities.
This means these programs can learn and adapt based on data provided by humans about what works and what doesn't.
Why do companies use AI recruiting software?
Many large-scale organizations have already begun using this technology to streamline the hiring process. By implementing automated candidate resume screening, businesses are better able to find top talent through online job boards within minutes.
Of course, applications can also be automatically saved for later, which allows recruiters to review applicants at their convenience.
Furthermore, once an employer has approved a candidate, they may then use applicant tracking to schedule interviews as well as employee performance.
What is a talent intelligence platform?
A talent intelligence platform is a platform that helps companies to manage their applicant tracking systems, data, job boards, and more. This technology also provides recruiting teams with the opportunity to report metrics and analytics to improve overall productivity.
A talent management system is one that allows businesses of all sizes to streamline their recruitment process.
For instance, this platform may include an intelligent system that can match applicants with jobs based on keywords.
Other features might include automated candidate vetting, which ensures that only qualified workers proceed through later application steps (such as interviews).
What is the best recruitment software?
The best recruitment software is tough to quantify.
Recruiting solutions all depend on the industry and company size. In some cases, hiring managers may prefer a package that can manage their online presence as well as streamline the application process.
However, those who want to use AI chatbots (as well as other live chat software) may opt for an entirely different system altogether.
Wrap Up.
In conclusion, if you are looking to hire or upgrade your talent acquisition software, consider using an AI recruiting tool.
These systems can help streamline the process while also increasing company transparency. Furthermore, this technology can answer questions about the company itself, which ultimately saves recruiters time during their busy work schedules.
To recap, the 7 Best AI Recruiting Software are:
Hiretual: Best for sourcing, engaging, and discovering your next best hire.
Arya: Best for intelligence-driven talent acquisition.
TurboHire: Best for integrating candidate discovery, interviews, and recruitment in one process.
Fetcher: Best for hiring diverse and top talent, faster.
Humanly: Best for building better candidate conversations.
Xor: Best for making the hiring process simple.
Seekout: Best for recruiting diverse, hard-to-find talent.
I hope that this list will help you get the most out of AI when it comes to recruiting the top talent for your organization. Which one seems to be the most aligned with your company? Let me know in the comments below!
Disclosure: I may receive affiliate compensation for some of the links below at no cost to you if you decide to purchase a paid plan. You can read our affiliate disclosure in our privacy policy. This site is not intending to provide financial advice. This is for entertainment only.