Asana vs Monday: Which is Best in 2023? (Detailed Breakdown)
Asana vs Monday is really the battle of the best all-around project management tools.
Both of these tools are way more than just project management software tools but that is their most common use case.
In this Asana vs Monday comparison, I am going to take you on a tour of the most important features, use cases, pros, cons, pricing, and more.
This is going to be a comprehensive guide so that you can make the best decision for your business. and choose the right project management software.
Looking to compare other project management software tools?
Asana vs Monday: Overview.
Asana and Monday are two of the best project management software tools.
They offer ease of use and core features you would expect from a project and task management system.
Besides, they provide features for team management, resource management, workspace collaboration, etc.
Asana is a lightweight yet powerful project management tool and task management software for managing all your projects.
It allows you to create projects, tasks, subtasks, add team members, add attachments, and much more.
Asana's key features include:
Task management and workflow management.
Automation rules to avoid repetitive tasks.
iOS and Android mobile app.
File sharing in multiple formats.
Suitable for small businesses, managing teams and medium-sized businesses.
Gantt chart, kanban view, timeline, calendar layout, and more.
Threaded comments, email reminders, and notifications.
Real-time reporting to monitor your team, projects, and workflow.
All of these features make it easy for your team to set goals, discuss them using comments, assign tasks, and get back to work.
Monday.com is a project management software and collaboration tool that you can use with your existing calendars and email.
It lets you organize tasks, build better schedules, and increase productivity.
Monday's key features include:
Project and workflow management.
Inventory tracking.
iOS and Android mobile app.
Automation builder.
Kanban boards, list view, calendar view, timeline, etc.
Drag-and-drop Gantt chart.
Threaded comments and notifications.
Workload tracking.
All team members and employees from your company can work together on projects, post ideas, share feedback, and more.
Asana vs. Monday: Detailed Comparison.
Both Monday.com and Asana are powerful project management systems. Let's see how they stack up against each other in detail.
1. User Interface.
Asana:
Asana has an intuitive and colorful user interface – with everything available to you in a few clicks.
You can start by creating a project, welcoming your team, and setting the flow.
It also lets you add meeting details, communication channels, among other essential information.
Either start from scratch or use ready-to-use templates by Asana.
In addition, you can also import a spreadsheet from a third-party tool.
Plus, you can view your project in four layouts for your dashboard: List, Board (Kanban View), Timeline, and Calendar.
Each layout has its benefits.
For instance, the list view helps you immediately view your tasks, see priority tasks, and when work is due.
On the other hand, the timeline layout lets you visualize how different tasks map out over time.
Asana also lets you add company goals to help teams prioritize and connect work to your organization's objectives.
You can plan different business goals with your team, including the company goal planning process, market share goals, business objective goals, corporate goals, etc.
Monday:
Monday has a similar user interface to Asana.
You can create a board and name it whatever you want.
A board can be a project, marketing plan, sales pipeline, quarterly roadmap, or anything you'd like.
There's also an option to organize your work by grouping items together.
A group can be a project phase, a time frame, deal stage, or anything you define.
You can further add items to the group you created.
An item can be a task, a campaign, a lead, a feature, employees, or anything else you define.
One of its key selling points is that you can assign a single item or task to as many members as you want.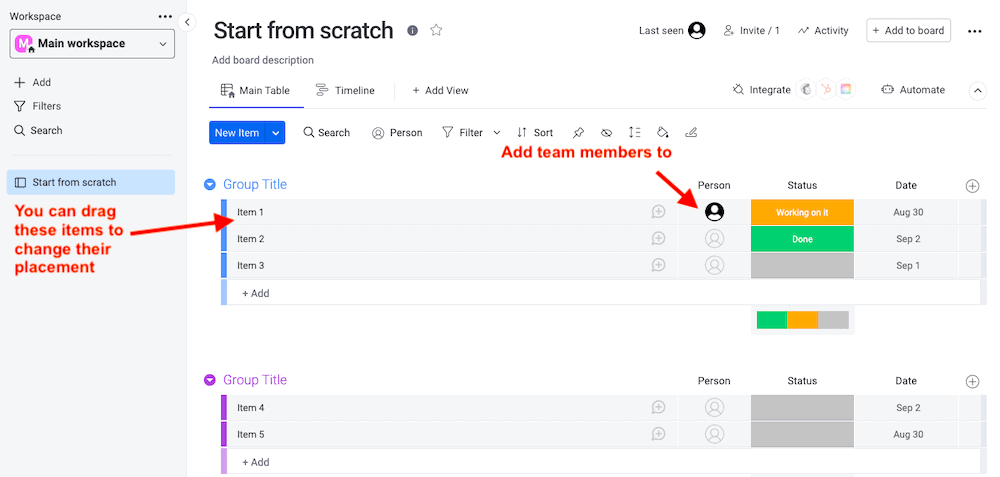 While this is the main table, you can also get a timeline view and many other viewing options.
Here are all of the views you can add:
Table
Calendar
Gantt
Chart
Kanban
Form
Workload
Files
Timeline
Here's an example of the Chart view:
You can customize every part of your dashboard and different viewing options, including the colors, count items, and more.
For more options, Monday.com lets you add third-party apps like Airtable, Word Cloud, Pivot Board, Collaborative Whiteboard, etc.
What's more, you can view complete board activity, last viewed, and updates.
There are also options to filter them by time, group, column, team member, name, among other attributes.
If you don't want to start from scratch, you can use Monday's pre-built dashboard based on your requirements.
Monday provides templates for:
Marketing
Content Production
Project Management
Docs
Sales and CRM
Freelancers
Design
Manufacturing
Startup
Real Estate
And more…
And you'll further get multiple templates for each of these scenarios.
For example, the "Freelancer" category has four templates for different scenarios, including campaign planning, event planning, customer requests, and "single project."
You can also preview the templates before launching them.
Here's the preview of the "Customer Requests" template:
Here's the Kanban View of the same dashboard: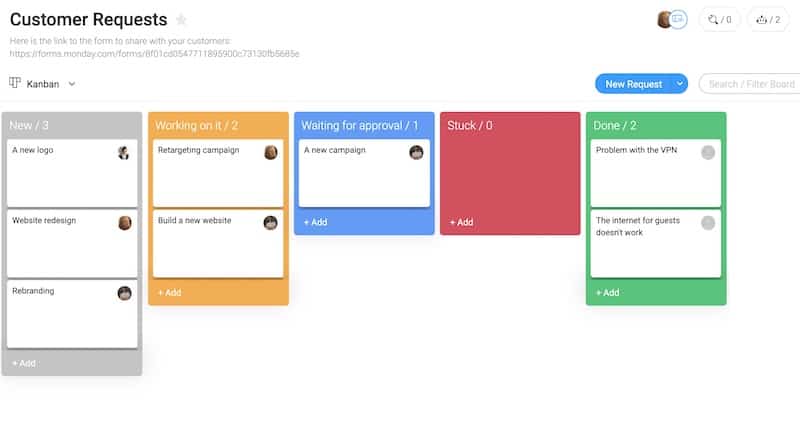 This template comes pre-built to help you manage all incoming customer support requests in one place and boost your customer satisfaction.
Create an efficient and standardized workflow for any Customer requests.
Since the dashboard is ready for you to use, you can start creating a standardized workflow for any Customer requests.
Monday.com also introduced a new feature called "My Work," where you get everything assigned in one single place.
You can also customize it to match your needs.
Here, your team members will find the tasks you assign to them on all boards collectively.
Winner: Monday.
Asana and Monday are both user-friendly and have lots of integrations. You can use them to track tasks, collaborate with your team, and revise the organization's workflow.
However, Monday offers more features and is easier to use, making it the winner here.
2. Project Management and Task Management.
Project and task management are the foundations of productivity.
And Asana and Monday are two of the most popular task management software tools available.
Let's see how they perform in this department.
Asana comes with over 50 templates to help you plan and manage content calendars, campaigns, creative requests, events, product launches, and more.
To create a new project dashboard, you can either:
Start from scratch.
Use one of Asana's pre-built templates.
Or import spreadsheets from another tool.
The templates make the process quick and straightforward. Although, creating a project from scratch yourself is also pretty easy.
Take this IT Project Plan, for instance:
This template helps you start your next IT project.
Break work into sections and tasks with due dates to clarify what work needs to happen and when it's due.
You can then categorize work by priority and stage to keep your team aligned as work gets underway.
Plus, you can add new sections and tasks with the click of a button.
The only downside is that you can assign one item to only one team member at a time, which stifles team collaboration a bit.
But other team members can still see the project and track its progress.
You can also create a project brief to explain the "what" and "why" of the projects to your team.
Either drag built-in sections from the rightmost side of the "project brief" screen or let your words flow.
Plus, you can embed rich objects like sigma files, YouTube videos, and even highlight text to convert it into a task. This helps you relay essential points in detail.
You can also send messages to members directly from your dashboard. Either type "@" to mention tasks, projects, etc., or drag projects and tasks into your discussion from the given list.
You can even send messages directly from your email to it-project-plan@mail.asana.com
To give you an overview, Asana's project management suite also helps you with:
Real-time status updates and reports.
Mapping out goals and prioritizing tasks.
Streamlining conversations with clients, team, and vendors.
Sharing files and feedback with your team.
Store project brief and other details for easy reference.
Monday:
Just like Asana, Monday also allows you to break your projects into smaller tasks that need to get done.
It's worthy to note that Monday has a separate template category called "Project Management," making it easier to build your dashboard for project and task management.
Take the Single project template, for instance.
It lets you plan, track, and manage complex projects across multiple teams and departments.
You'll also be able to streamline project requests and get a 360-degree view of your entire portfolio.
Monday provides more layout options than Asana.
Aside from the regular Kanban board, calendar view, list view, and dashboard, it also provides workload view, chart view, etc.
Workload view helps you see who's busy and who's not and quickly re-balance their work.
There's also a timeline view that breaks down your team's workload by time.
Every layout has its specific uses, and you can switch between them within seconds.
Monday.com also lets you start conversations with your team members on specific boards.
The conversation feature lets you:
Keep your content, files, and conversations in one place
Update your team about your progress
Attach relevant files
Notify specific team members by mentioning them
You can also add as many columns as you want and even pick from pre-defined columns and customize them.
In addition, there are columns with combinations that perform two tasks simultaneously: Date + Status and Timeline + Status.
​​
Monday.com also lets you assign a single item to multiple assignees, making team collaboration even more effortless. This removes every communication barrier and keeps everyone on the same page.
Winner: It's a Draw.
3. Workflow Management.
Workflow management is the process of planning, implementing, and evaluating different methods flowing in an organization.
You can use both Asana and Monday as workflow management tools as well.
Let's compare them in detail.
Asana:
Asana doesn't have a specific workflow management feature.
That said, its "list view" and the "timeline view" helps with the transition from one task to another.
For instance, the timeline view lets you map project plans on a timeline, visualize the relationship between tasks, and keep up with the work and changing schedules.
Plus, the ability to add due dates to all of your tasks helps you prioritize your work.
You can also mark your boards by Today, Upcoming, or Later.
Then there's the "Calendar view" that lets you spot overlaps and holes in your schedule and make adjustments.
The functionality "Company Goals" is also convenient for workflow management.
Here, you can set up company goals to help your team prioritize and connect work to the organization's objectives.
Monday:
Monday also has templates that let you execute ongoing tasks in one central place, together with your team.
Most of them combine boards divided by quarters and a weekly to-do board for your team's day-to-day tasks.
Monday.com is also big on automation so that you can run all your workflows on autopilot.
Automation features reaching milestones with automated notifications that you receive right before the deadlines are approaching.
Your team members working on the task can confirm whether they're on track and rearrange the schedule after every notification.
Monday's Workflow automation features also include:
Automating recurring tasks.
And moving the items through the workflow.
It also comes with tons of pre-designed workflow templates that help you ​​plan, manage, and track every stage in the workflow.
Take the "Single Project" template, for instance:
The template brings stakeholders, deadlines, budget, and more in one place and helps you execute tasks one after another.
These templates also help you manage tasks sequentially.
You can also categorize tasks based on status (complete, incomplete, etc.) and priority, so you and your team are privy to the real-time status of your work.
Plus, all of the views like Kanban view, calendar view, charts, timeline, and more help you move from one step to another in a streamlined manner.
Winner: Monday.com.
While Monday and Asana both offer similar features for workflow management, Monday.com offers more layout options and template variety.
4. Tracking Your Projects and Team.
Tracking your team and projects lets you see how your tasks are progressing and who is driving the most engagement.
Reports also let you know if what you implemented is working as expected.
Let's see how Asana and Monday perform here.
Asana:
Asana gives you a complete overview and multiple in-depth reports to monitor your team's and projects' task progress.
Here are the three types of reports you'll get access to:
Resourcing: All the tasks by assignee this week, this month's tasks by project, and custom field total.
Work Health: Upcoming tasks by custom field, overdue tasks by project, upcoming tasks by project.
Progress: Manage projects with the most completed tasks and tasks by completion status this month.
These charts automatically get populated as you work with Asana.
You wouldn't need any other tracking tool since they are more than sufficient to track projects, tasks, employees, and more.
And if these don't suit your needs, you can also build custom charts to monitor your projects and team.
Asana also lets you set the due date for each task and automatically notifies your team member near the due date.
Additionally, Asana offers a workload feature that helps you determine each team member's workload.
This feature gives you a complete picture of every team member's capacity at a glance.
The workload features also let you assign a specific number or value to each task. Estimating the time and effort required becomes more manageable this way.
It even helps you see who has too much work and who is underperforming.
Another helpful feature in this category is "Portfolio management."
Portfolio management includes creating portfolios to track all projects and goals simultaneously in real-time.
You can also manage multiple project timelines and get a visual snapshot of your team's work.
In addition, you can directly collaborate with your team using task comments, team conversations, status updates, and more.
All these options streamline your communication, team, and projects and provide clarity about where work stands.
Monday:
Like Asana, Monday also helps you track time, monitor project task status, and set project timelines.
While Monday doesn't provide advanced reports like Asana, it does have the "My Work" section.
My Work section helps you monitor everything your team needs to accomplish.
It collects all projects and tasks from your account and organizes them based on their deadline.
It helps you visualize all of your projects and tasks in one place without going back and forth.
You also get access to a "Workload" section, which gives you a clear breakdown of your team's working capacity.
It's somewhat similar to Asana's workload feature.
Aside from tracking the team's progress and projects, Monday also functions as an inventory management platform.
It helps you manage and track your inventory from the point of collection to the final delivery.
Core inventory management features include the ability to track inventory with QR codes, receiving instant notifications about your inventory's status, and more.
Winner: Asana.
Asana wins this round owing to its in-depth reports that give you a complete picture of your projects, progress, and employees.
5. Automations.
Asana:
Asana provides pre-defined rules to help you save time on manual processes like triaging and assigning tasks.
Some automation rules include:
Task moved to a particular section → Add collaborators
Task is no longer blocked → Set due date
Due date is approaching → Move task to a specific section
Task marked complete → Move task to a particular section
You can always create a custom rule if you don't find the rule you want.
Monday:
Using automation, you can create tasks and assign due dates and reminders.
The idea here is to plan and assign tasks and let the software take care of the rest.
Other than real-time updates and reminders, you can also set rules for automation.
For instance, you can trigger an update in the item when the status changes to "For Review."
These code-free automation rules help you avoid lengthy meetings, email chains, repetitive tasks, and more.
Winner: It's a draw.
Both Monday.com and Asana provide game-changing automation features.
They even let you automate repetitive work by setting customizable actions in your boards.
6. Integrations.
Both Monday and Asana integrate with several third-party tools to make the lives of project managers and marketers easier.
You can use these integrations to improve various aspects of your workflow, such as team communication, increasing collaboration, handling administrative tasks, and fostering creativity.
Asana:
Asana integrates with all of the primary tools you already use so that you can move seamlessly between projects and tasks without switching applications.
For example, Asana lets you add a new task in Slack, attach a document from Google Drive, or create a new team topic on HipChat from within Asana.
Asana's featured integrations include Jira Cloud, Adobe Creative Cloud, Microsoft Teams, Salesforce, Slack, Tableau, Google Calendar, Gmail, etc.
It also comes with its own API and even provides integration with Zapier, GitHub, and Trello.
Monday:
Monday allows native integration with all primary CRM tools, marketing platforms, software development solutions, and more.
Some major integrations include Salesforce, Shopify, Zendesk, Copper, Twilio, Stripe, Pipedrive, WooCommerce, MailChimp, Zoom, Dropbox, and more.
It also provides pre-defined automation recipes to trigger actions tied to these integrations.
For example, you can set the rule that will automatically notify in Slack's #HR channel when a task's status changes to "Done."
7. Asana vs Monday.com: Pricing Plans.
Both Asana and Monday have four pricing tiers including business and enterprise plans.
Let's see how they compare.
Asana:
Here are Asana's four pricing plans:
Basic (Free forever) – Unlimited projects and tasks, unlimited messages, unlimited activity log, unlimited file storage (100MB per file), up to 15 teammates, project brief, etc.
Premium ($10.99/month) – Everything in the Basic plan + timeline view, unlimited dashboards, reporting across unlimited projects, custom fields, unlimited free guests, automation rules, forms, task templates, etc.
Business ($24.99/month) – Everything in the Premium plan + portfolios, goals, workload, custom rules builder, forms branching and customization, approvals, and more.
Asana Enterprise (Quote-based) – Additional security, control, and customer support. This plan also provides configurable member settings and increased data control.
The Basic plan is suitable for organizations and marketers just getting started with task and project management.
It has all of the essential features you might need, but don't expect advanced features like automation, workload tracking, advanced layouts, and more.
Monday:
Here are Monday's four pricing plans:
Individual (Free version) – Unlimited boards, unlimited documents, over 200 templates, 20+ column types, up to two seats, etc.
Basic ($8 per month) – Everything in Individual plan plus unlimited free viewers, items, 5GB of storage and more.
Standard ($10 per month) – Everything in the Individual plan + Basic plan, timeline and Gantt charts and views, calendar view, up to 250 automation actions per month, the ability to combine up to five boards, etc.
Pro ($16 per month) – Everything in the Standard plan + time tracking, chart view, up to 25,000 automation actions per month, the ability to combine up to 10 boards, etc.
Enterprise (Quote-based) – Everything in the Pro plan + advanced reporting and analytics, multi-level permissions, tailored onboarding, priority support, the ability to combine up to 50 boards, etc.
These prices allow you to add up to three team members for each plan (except for the free plan, which allows only two teammates). The cost will increase with the number of seats.
Executive Summary.
That sums up my review and detailed comparison of Asana and Monday.
Both tools are suitable for small and mid-sized businesses and offer pre-designed workflow templates, automation features, iOS and Android apps, etc.
That said, with over 100 workflows and more rules for automation, Monday has a slight edge over Asana when it comes to managing projects.
Get started with Monday.
However, Asana provides more in-depth reporting and progress tracking features.
Get started with Asana.
They also provide freemium plans, so you can try them out before picking the most suitable option.
Further reading on Adamenfroy.com: Want to compare these tools with other project management software? Here are some comparison articles to check out:
Editorial Process:
Our reviews are made by a team of experts before being written and come from real-world experience. Read our editorial process here.
Some of the links in this article may be affiliate links, which can provide compensation to us at no cost to you if you decide to purchase a paid plan. These are products we've personally used and stand behind. This site is not intended to provide financial advice. You can read our affiliate disclosure in our privacy policy.