7+ Best Asset Management Software of 2023 (Reviewed)
Choosing the right asset management software is crucial if you want to maintain and properly oversee your organization's assets. From tracking inventory to managing maintenance schedules, the best asset management software can help you meet your goals. In this guide, I ranked and reviewed the 7+ best asset management software, so that you can pick the best one for you.
---
We're reader-supported. When you buy through links on our site, we may earn an affiliate commission.
Asset tracking is a complex yet essential part of any business.
If you aren't tracking your business's assets you are exposing yourself to so much potential financial loss, tax, and legal issues.
However, tracking all of these assets isn't always simple. You have a massive amount of software for tracking assets, cash, and expenses in your business.
Just to name a few, you have tax software, legal software, accounting software, invoicing software, and a lot more that I could name.
On top of that, there are also so many different types of asset classes that exist today it making tracking difficult. Thankfully, there are several asset management systems available that can make your life easier.
To do just that, here's a list of the best asset management software you can get this year.
What Is The Best Asset Management Software?
Here are my top picks for the best asset management software on the market.
Best For IT Asset Management
First up, I have for you AssetExplorer, an entirely web-based ITAM tool that allows you to monitor, track and manage all IT assets along their entire lifecycle. With an advanced toolkit, high-quality reporting, and support for tangible and intangible assets, this is a must-have.
This advanced piece of asset tracking software from ManageEngine has various tools and features for handling all facets of asset management. It includes support for inventory management, software license management, and even compliance review functionality.
The tool itself is easy to set up and use, though the interface might appear a bit intimidating at first with its many tabs and menus. But even if you're a new user, you can easily navigate through it using the handy Quick Links feature.
Features:
Along with the above, I like the software's mature reporting capabilities, which include multi-format exports to pre-built report templates. You can also create fully customized reports and schedule email delivery of the same using the tool itself.
Here's a quick look at the essential features that make AssetExplorer such an excellent tool for IT asset lifecycle management:
Supports software as well as hardware asset management
Auto-discovery of all network deployed IT assets
Almost 50 predefined configuration types
Easy to understand flash charts
Detailed reports
Purchase order workflows
Fully compatible iOS and Android apps
Easy to use Windows-style UI
Around the clock technical support
VoIP support
Pricing:
Like most software tools nowadays, AssetExplorer also follows a subscription model, differentiated based on the number of IT assets you need to manage. Prices start from $955 for 250 IT assets, along with multiple add-ons, including annual maintenance and support fees.
You can also request personalized quotes from the company or opt for an online demo. There's also the option of downloading the 30-day free trial version, which has all of the features unlocked for you to test out.
Get started with Asset Explorer.
Best For Ease Of Use.
Sortly provides a smart and streamlined way to organize and keep track of your company's assets.
The app is designed to be used by businesses of all sizes and gives them the flexibility to set up their system in the way that best suits their needs.
The ability to capture and track every detail of an asset, from its purchase date and price to its current location and condition, makes Sortly an excellent choice for businesses that want to be able to keep a close eye on their assets.
If you want to make a complex process simpler and have more control over your company's assets, Sortly is the asset management software for you.
Features:
Tagging all your assets is possible with the capabilities on offer from Sortly. This means that you can organize all of your inventory just the way you want. Using this system will allow you to really dial in on the details of your stock, making it much easier to keep track of what you have on hand.
Here are the essential features to consider when using Sortly:
Get low stock alerts and get date reminders when items are due
Scan in/out items to quickly update your inventory
Search and update items using Barcodes/QR labels
Intuitive interface that keeps you informed and up to date
The ability to generate custom reports on your inventory
The system is handheld-scanner compatible for increased efficiency
Pricing:
Here are the plans to consider:
Free: $0 per month
Advanced: $29 per month
Ultra: $71 per month
Enterprise: Speak to their sales team.
There's also a 14-day free trial for the Advanced and Ultra plans.
Get started with Sortly.
Best For Complete Asset Management
Whether you're looking to track physical assets via barcodes or digital ones in real-time, Asset Panda can help you achieve those goals. This highly scalable asset management tool allows you to create customized workflows for streamlining asset management and related data.
The tool is entirely cloud-based and is suitable for any industry and business size. Further, it's completely configurable to meet any business's requirements. From inventory management to multi-location asset management, Asset Panda does it all.
Using it, you also get the ability to add rich media to your asset data records. It even comes with built-in reporting capabilities that can be customized as per your needs. The only downside is that it has a rather steep learning curve, but it's a pleasure to use it once you get past that.
Features:
Feature-wise, Asset Panda is rather a rich tool. It's entirely mobile-friendly and allows you to scan barcodes for adding assets on the go. It even has mobile audit and GPS capabilities and a fully configurable dashboard on the web app.
If Asset Panda has already caught your fancy, then please take a look at its list of features:
Enables centralized management of assets
Custom reporting features
Provides a comprehensive picture of your asset landscape
Dedicated customer support help desk
Easily shareable reports
Ubiquitous asset tracking and management
Enhanced custom workflows
Extensive asset audit trails for accountability
Customized notifications for all levels of stakeholders
Role-based access control for improved security
Record-level attachments for faster asset identification
Built-in barcode generator and scanner
Easy tracking of software licenses
Depreciation analysis
Pricing:
Asset Panda has based its pricing plans depending upon the number of assets that you need to track. The minimum number of assets is 500 and increases in multiples of 500 each. Plans start from $125/month at the base level and are billed annually.
However, the greater the number of assets you need to track, the greater your savings. The brand offers attractive discounts for multi-year plans and also for non-profit and educational organizations.
Best For Small And Medium Businesses
If you're a business person working with a limited number of staff members, then InvGate Assets is your best bet for effective IT asset management. It's easy to set up and use, has advanced reporting features, and above all, is an affordable option.
The tool covers all of the essential bases of hardware and software asset management. It has features such as network discovery, remote desktop management, software license management, and even usage metering. Also, the UI is straightforward to navigate and learn.
InvGate has an in-built alert system that automatically alerts you of any problems with your assets. Getting assets into the system is also a pretty simple process and can be done simply by installing an agent into any system that needs to be tracked.
And the fact that it works on all operating systems such as Windows, Mac OS, and even Linux is the icing on the cake.
Features:
Small and medium businesses need more hand-holding for asset management, and InvGate Assets provides just that. With unlimited access to over-phone as well as web support, you can quickly troubleshoot problems yourselves.
Along with the above, InvGate Assets also provides access to the following features:
Automate network device data collection
Seamless assets monitoring
Remote deployment and distribution
Enhanced cost management and decision making
Improved IT support capabilities
Better IT risk management
Improved compliance and governance
Software license management
IT financial management
Pricing:
InvGate Assets doesn't mention its pricing plans upfront on the website, unlike the software tools I've mentioned above. However, you can request a personalized quote according to your business needs.
5. GoCodes.
Best For Physical Asset Tracking
For business owners who need to track physical assets such as tools, GoCodes is a complete solution. It allows you to use secure QR codes and track assets affordably. And since it's easy to set up, there's no reason you can't use it for all your physical asset tracking needs.
GoCodes is entirely web-based and can help with the inventory tracking and management of businesses of any size. Its use of QR code stickers that can be scanned and tracked via computers as well as mobile phones makes it a no-brainer for any business.
The tool lets you segregate assets based on a number of parameters, such as type, sub-type, and serial number. You can track who is using the asset and even create customizable fields. It's also GPS enabled so that you can track your assets in real-time.
Features:
In addition to helping you create QR codes and manage assets, GoCodes uses automation technology to calculate the depreciation of assets. It includes several pre-loaded depreciation reports, which can be exported for more comprehensive depreciation management.
GoCodes offers its users the following features:
Multi-industry applicability
User-friendly UI
Patented QR tags
Customized Bluetooth beacons
Real-time GPS tracking via smartphone
Cross-device usability
Unique IDs for secure identification
Easy tracking of consumables
Secure audit history
Automated field service requests
Fully customizable reports
Pricing: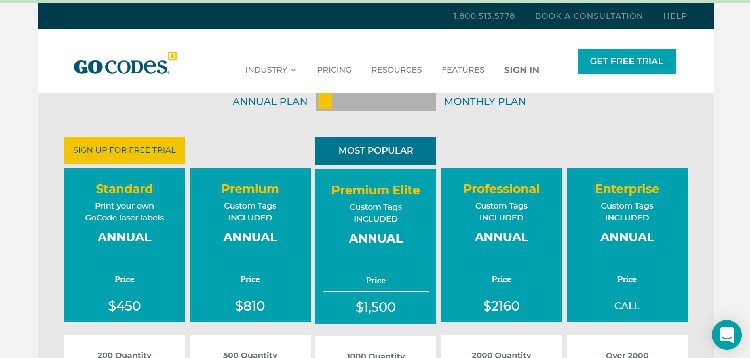 GoCodes pricing plans are payable monthly as well as annually and come divided into five tiers. As usual, I recommend opting for the annual plans as they allow you to save up to 10% in subscription fees.
Take a look at the pricing plans for GoCodes, and decide which one is suitable for you:
Standard Plan at $450/year
Premium Plan at $810/year
Premium Elite Plan at $1500/year
Professional Plan at $2160/year
Enterprise Plan at custom rates
You can use the GoCodes ROI Calculator to get an estimate of how much you can save in a year using the tool.
6. MMSoft Pulseway.
Best For Mobile Asset Management
MMSoft Pulseway is a cloud-based remote asset management tool that excels at mobile asset tracking and management. The one aspect where it differs from other IT asset management software is that its primary focus is on being mobile-friendly.
Such a mobile-first approach allows you to perform any administrative task related to asset management from the comfort of any mobile device. And as you can expect from a mobile-first platform, the UI and UX are sleek and intelligent.
You can easily get remote desktop access, troubleshoot cloud-based servers, and even handle non-Windows processes using the app. It also provides you with real-time status updates regarding the availability of assets and how they are being used.
Features:
Pulseway acts as an extra member of your asset management team that never sleeps. Using it, you can automate IT tasks and fix asset issues before they balloon into a big problem. It also lets you automatically resolve asset-related matters as and when they happen.
Here's a quick look at the many features that this ITAM software offers for end-users:
Monitor, manage and troubleshoot all IT assets
Simple network discovery and deployment engine
Customized alerts for quick problem identification
Powerful auto-remediation engine
Intuitive UI equipped with smart triggers
Dedicated software patch management tool
Customizable reporting module
Ample number of integrations
Pricing:
Pulseway offers simple pricing plans that are scalable and entirely transparent. You only pay-as-you-use, there are no hidden costs, and there are many attractive discounts on each tier of the plans.
Here's a glimpse into Pulseway's Pricing Plans:
Monthly Plan starting from $55/month
Yearly Plan starting from $39/month
Three-year Plan starting from $35/month
Prices increase based upon the number of workstations, servers, and third-party patching you need to include in your plan. You can also add endpoint protection and network monitoring capabilities at an additional cost.
7. Ivanti Neurons For ITAM.
Best For Customized Reports
Ivanti Neurons IT Asset Management is an IT asset tracking system that helps to keep track of business assets and essential data points related to them. It contains some pre-built reports that can be customized as per your queries.
Using this feature-rich IT asset management solution, both enterprises and small and medium businesses can create customized reports highlighting vital data points. It offers IT teams and IT departments all of the tools needed to track and manage old and new assets.
Ivanti lets your IT experts track assets across their entire lifecycle, aids in asset discovery, and supports software license management and compliance. And since the software uses a familiar Windows-based interface, it's straightforward to use and set up.
Features:
Ivanti can help track desktop and mobile devices and offers cloud-based as well as onsite deployment. On-premise deployment has advantages as it's more secure, and with onsite installations, you get faster response times for asset discovery and reporting.
Let's take a quick look at Ivanti's essential features:
Complete asset optimization and visibility
Configurable workflows for customizable processes
Helps to manage hardware and software assets
Financial control tools to curb overspending on asset management
Consistent lifecycle tracking
Asset repository and product catalog
Barcode scanning
Real-time, actionable asset insights
Seamless vendor management
Easy integration with service management systems
Both cloud as well as onsite deployment
Dashboard based IT reporting
Controllable automation
Pricing:
Unlike most asset management tools I've mentioned on this list, Ivanti prefers to keep its pricing plans under strict wraps. To know more about the pricing, you can request a custom quote from the company or get in touch with sales.
8. ServiceNow ITAM.
Best For Asset Lifecycle Automation
ServiceNow has maintained its position as a top ITAM tool for multiple years in a row. It offers a wide range of features for IT asset management, which can help effectively tackle both hardware and software assets such as routers and OS versions.
ServiceNow lets you manage every aspect of the lifecycle of your asset, from planning and procurement to retirement. It also enables you to track the assets' actual and depreciated worth throughout their useful lifespan and enable optimum utilization of the items.
The flexible automation features of ServiceNow facilitate smooth tracking of IT assets. You can also track the contractual, financial, and inventory details of all your assets. This helps to reduce cost and downtime, enhance service quality, and improve your bottom line.
Features:
As far as the features go, you won't be disappointed. The flexible modules of this tool either implement tried and tested ITIL processes or provide your IT team with detailed productivity tools. Either way, your asset management becomes simple using it.
Let's take a look at the many features that ServiceNow has to offer:
Incident tracking and management
Detailed performance analytics
Customizable reports and dashboards
Problem management and service-level management
Productivity boosting agent workspace
Configuration and request management
Enterprise onboarding and transitions
Asset and cost management
Agent intelligence
Pricing:
Similar to Ivanti, ServiceNow doesn't disclose its pricing plans, and you'd have to send in a request for a custom pricing quote by filling up the required form on the website. You can also request a quick demo to understand how the tool works and whether it can help your business.
What Is Asset Management Software?
Asset management software refers to a set of software tools that help your business optimize asset efficiency while minimizing the costs associated with asset underutilization. These software tools help you get a complete view of your business's asset landscape.
Asset management software can help you keep track of physical asset inventory such as computers and intangible assets like software. It also enables you to get rid of obsolete assets and procure new ones as per your needs.
How Can Asset Management Tools Help Your Business?
1. Optimum Asset Utilization.
When an asset is purchased for a business, it's only natural to expect it to generate revenue. However, in order to do that optimally, the asset must be kept in running condition. Otherwise, underutilization of assets can lead to significant losses in the short as well as long runs.
This is precisely where asset management software comes into play. By collating all required data about the assets in one place, these tools let you see whether the asset is operating to its optimum levels. As a result, you can streamline the asset's utilization accordingly.
2. Reduction In Maintenance Expenses.
Improper asset management decreases the operational lifespan of an asset and leads to unnecessary spending on maintenance. Every business has to face several maintenance challenges during an asset's life cycle, and these eat into the business's profits.
Asset management software helps you avoid these costs by keeping track of maintenance needs. These tools keep all asset information such as warranties and licenses in a single knowledge base from where you can access and use it to reduce maintenance costs.
3. Enables Real-time Asset Management.
When your business has multiple moving parts, such as in an e-commerce venture, you need to keep track of assets in real-time. Asset management software lets you track asset locations in real-time using GPS technology.
As a result, you track and manage your assets more efficiently. Real-time tracking of assets also reduces the chances of your assets being misplaced and ensures employee accountability to a greater extent.
4. Detailed Asset Reports.
In any management function, efficient and accurate reporting is essential. While you can use spreadsheets to keep track of and create makeshift reports of your asset inventory, it is a cumbersome process that doesn't make much sense in today's tech-enabled world.
Instead, dedicated asset management software lets you create detailed reports on how your assets are performing and how you can utilize them better. This lets you present your findings to top management lucidly and comprehensively.
5. Enhanced Productivity.
Automated asset management systems help enhance productivity by relieving your human employees from mundane tasks. For instance, if your assets are tagged using RFID modules, they can be automatically scanned and tracked as they move through your business process.
This way, the employees can concentrate on performing functions that necessitate human involvement and critical thinking. It can also save costs on unnecessary labor and streamline your workforce.
6. Enables Better Asset Audits.
For any business, asset auditing can be a challenging task and put tremendous pressure on the business. However, audits are essential and can't be avoided as they allow you to get a better idea of the assets your company is dealing with.
Asset tracking and maintenance software can allow you to perform smoother audits in less time and reduce compliance errors. By providing you with accurate data on your assets, these tools ensure that the business can carry out asset audits without significant hassles.
Wrap Up.
Assets are the lifeblood of any business, so it makes sense to ensure their effective management. Asset management tools simplify this process and help every organization, from a small business to an enterprise, better utilize their existing assets and procure more.
If your business requires suitable asset management software, please take a pick from the following:
Asset Panda: Best For Complete Asset Management
AssetExplorer: Best For IT Asset Management
InvGate Assets: Best For Small And Medium Businesses
GoCodes: Best For Physical Asset Tracking
MMSoft Pulseway: Best For Mobile Asset Management
Ivanti Neurons For ITAM: Best For Customized Reports
ServiceNow ITAM: Best For Asset Lifecycle Automation
Check out other related posts on the blog:
Disclosure: I may receive affiliate compensation for some of the links below at no cost to you if you decide to purchase a paid plan. You can read our affiliate disclosure in our privacy policy. This site is not intending to provide financial advice. This is for entertainment only.