Augusta Precious Metals Review: Gold IRA Review (2023)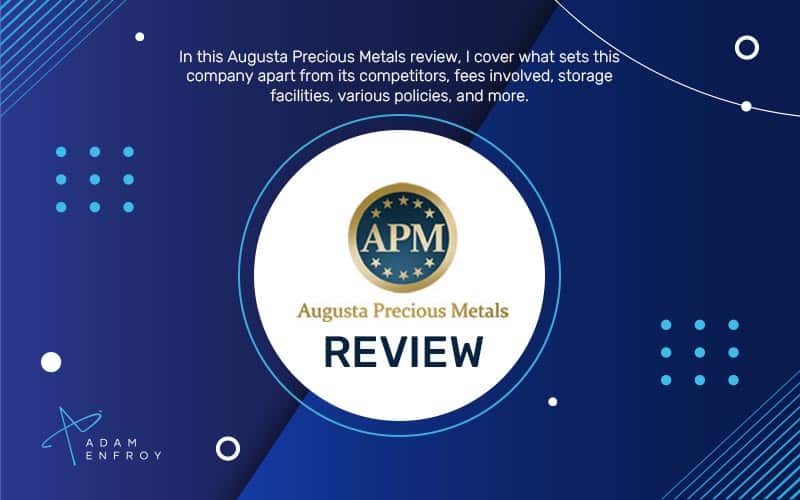 When it comes to their retirement portfolio, most people are looking for stability and assurance that their money will be there when needed.
Gold is often seen as a safe investment, and many people are turning to the top gold IRA companies to help them get started.
These companies can provide the resources you need to buy and store gold in your IRA, giving you the peace of mind you deserve.
Augusta Precious Metals is one of the top companies in this industry, offering its clients a wide range of services.
In this review, I'll take a closer look at what Augusta Precious Metals offers and share my thoughts on whether or not this company is the right choice for you.
Let's get started.
What is Augusta Precious Metals?
Augusta Precious Metals is one of the most prominent gold and precious metal IRA brokers in the United States.
The Los Angeles-based company has an excellent reputation for customer service and the quality of its sales consultants.
According to Datanyze, Augusta Precious Metals has 97 employees and brings in $18.7 million in revenue each year – overwhelmingly from the sale of gold and silver bullion.
They sell primarily to the gold and silver IRA market, but you can also buy it for your account.
Augusta Precious Metals sells physical gold and silver bullion coins, such as the Gold American Eagle.
But those interested in collector's items can also purchase premium gold and silver bullion products, such as proofs and brilliant uncirculated coins.
Augusta prides itself on providing a 'high-touch' service as a precious metals IRA provider and precious metals company.
They encourage their sales and customer service teams to spend a lot of time with clients and potential investors, educating them about precious metals IRA investing and the benefits of owning physical gold and silver bullion.
As of this writing, Augusta Precious Metals is the only significant gold IRA company in the United States that has not received a single complaint from the Better Business Bureau.
Augusta also charges no hidden fees or commissions. It is a solid choice for investors seeking to own physical silver and gold – either within a retirement account or as their investment – at reasonable and competitive prices.
They are also an excellent choice for investors who want or need some additional educational resources or even hand-holding regarding gold and silver investing and the gold IRA rollover process.
Augusta Precious Metals Leadership
Augusta's CEO, Isaac Nuriani, holds an economics degree from the University of California in Los Angeles.
He founded the company in 2012 to focus on helping investors diversify their retirement precious metals portfolio by investing in physical silver and gold, particularly in the IRA rollover market.
Nuriani is highly active in the broader precious metals industry.
He is a member of the National Ethics Association and the Industry Council for Tangible Assets (ICTA). He is certified by the Professional Coin Grading Service (PCGS) as an authorized dealer.
Nuriani has the help of a financial industry veteran, Devlyn Steele, who serves as the company's Director of Education.
Steele has an extensive background in investing and analytics. He's a Harvard Business Analytics Program member and an expert in alternative asset classes and investing.
Augusta invests a great deal in investor education.
Their customer service reps and order desk staff are encouraged to take a great deal of time with customers, ensuring they understand the advantages and risks of gold and precious metals investing and the entire process.
Dozens of reviewers on multiple verified online review sites have mentioned the quality of their interactions with customer service and sales staff.
This time investment sets Augusta apart from many competitors and is doubtlessly a big part of why Augusta has a zero-complaints BBB track record dating back over a decade.
Joe Montana – Augusta Precious Metals' Celebrity Spokesperson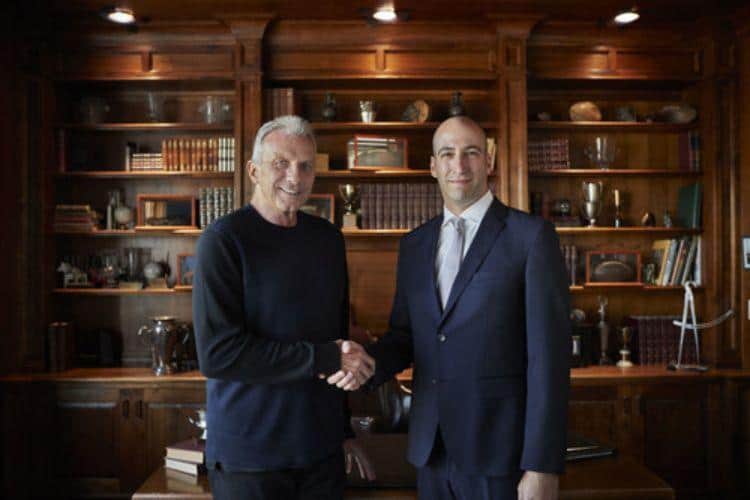 Image credit: Prnewswire.com
Joe Montana – the former San Francisco 49ers quarterback and NFL Hall of Famer, is Augusta Precious Metals' corporate ambassador.
Montana became interested in gold and precious metals investing on his own. He asked his team of financial advisors to recommend the best precious metals company for him they could find.
They recommended Augusta Precious Metals, and Montana anonymously screened and personally interviewed the company and its leadership.
Pleased with what he found, Montana offered his services as a celebrity spokesperson.
What sets Augusta Precious Metals Apart?
While Augusta Precious Metals isn't for everyone, they offer several advantages over many competing gold IRA companies.
One-to-one, personalized education.
New investors receive a personalized web conference, where they receive individualized education on the suitability of physical gold and silver for their specific situation.
Customers come out of the web conference with a solid understanding of the asset class and the rollover or shipping process details.
No hidden fees.
While gold IRA customers will ordinarily pay storage fees to the depository company and a modest annual fee to the gold IRA custodians – which is true of any gold IRA company – they do not charge additional fees at the company level.
If you buy for your account, rather than an IRA, and take personal delivery, so you don't involve any third parties that need to be paid, you will pay no additional fees or surcharges beyond the cost of the metal itself and taxes.
Even shipping is generally free.
Competitive pricing.
Augusta Precious Metals usually is very cost-efficient for investors who can afford the $50,000 minimum investment.
It's not necessarily the lowest-cost gold company on the market. But it is highly competitive for most investors at this level.
Excellent Gold IRA Guide.
Augusta provides a free guide to gold IRAs and physical gold and precious metals investing, which you can download from their website.
Streamlined Process.
Each Augusta customer receives a dedicated account rep who generally stays with the customer and provides lifetime customer support.
For example, IRA processing is much easier since customers don't usually have to deal with multiple account reps during the rollover or distribution process.
Video library.
Under Devlyn Steele's guidance, Augusta has invested in creating a large educational video library accessible through its website.
Why Own Physical Gold?
Investors look to physical ownership of silver and gold, as well as platinum and palladium, for several reasons:
Diversification.
Protection against inflation.
Privacy.
Let's look at each of these factors.
Diversification.
Historically, gold and silver have a long track record of holding their value during times of uncertainty and crisis.
Gold and other precious metals have often increased in value during economic or political upheaval or significant stock market declines.
Allocating part of your investment portfolio to actual gold and other precious metals may be an excellent way to hedge your bets and help protect your retirement portfolio against economic crises.
The second reason is inflation.
The dollar has been under significant pressure since the establishment of the Federal Reserve in 1913 – its purchasing power has been slashed by over 90% since that time.
The erosion of the dollar's value has continued for most of the last century, accelerating since President Nixon took the currency off the gold standard in 1972.
Meanwhile, reckless fiscal policy, deficit spending, and in recent years the massive printing of money and increases in the money supply in pursuit of stimulus have hastened the process dramatically.
Inflation protection.
As of March 2022, inflation has reached its highest level since 1982. The CPI rose 7.9% over the 12 months ending February 2022.
At this rate, the actual purchasing power of the dollar will fall by half every decade.
Without some inflation protection, your inflation-adjusted retirement income outside of Social Security could fall by 75% over a 25-year retirement.
Owning physical gold is a way to protect your retirement income against the ravages of inflation and insidious cancer that tends to eat away at your income security.
If you expect a long retirement and are concerned about the damaging effects of inflation, owning some gold, silver, platinum, or palladium may help provide peace of mind.
Privacy.
No one else needs to know when you own physical gold and silver bullion. You don't have to register your holdings with any third party.
No outside financial or government institution can freeze or confiscate your physical gold.
You must still declare profits on sales for capital gains tax purposes.
But you don't have to log your gold coins or other bullion held in your name in anyone else's database.
No trial lawyer can discover this wealth in any internet search.
Physical bullion is one of the only retirement investments you can hold completely anonymously.
Gold IRAs are not entirely anonymous: Your IRA custodian will know about your gold and silver investments within your precious metals IRAs.
They will send a 1099 form to the IRS annually reporting your transactions.
But your assets held in your name will not even have that level of exposure.
Meanwhile, gold and silver IRAs have substantial asset protection benefits.
Other than inherited IRAs, traditional and Roth IRAs enjoy significant protection against the claims of creditors.
What Coins Can You Own in a Precious Metals IRA?
The IRS allows for all kinds of holdings, including physical gold, silver, platinum, and palladium bullion bars and premium coins that meet specific standards of fineness and origin.
Specifically, gold must have a minimum fineness of .995 (exception: Gold American Eagle coins); silver must be .999% pure, and platinum and palladium must both have a minimum fineness of .9995.
The physical metals must be in bullion form (not numismatics), be from an NYMEX or COMEX-certified refiner or assayer, or come from a national mint.
By holding physical bullion within a self-directed IRA account, you can get the same benefits as any other traditional IRA.
Gold IRA investments in the account generally grow tax-deferred. You're only taxed as you take the money out of the account when it's taxed at ordinary income rates.
You may qualify for a tax deduction on contributions of new money to a traditional IRA, depending on your situation and income.
However, you must begin drawing income (and paying taxes on that income) by making your required minimum distributions beginning at age 72.
Precious Metals Roth IRAs
You can also own a precious metal Roth IRA.
Doing so allows your investments within the IRA to grow tax-free for your entire life and potentially your spouse's life.
However, your Roth IRA's assets must remain in the account for at least five years to qualify.
Augusta Precious Metals Fees
Both gold and silver bullion coins from Augusta are priced at approximately 5% over the company's cost.
According to the company, Augusta typically does not make a margin over gold and silver spot prices on buybacks from existing customers.
As a result, this provides an advantage for Augusta customers since they may get a better price by selling their metals back to Augusta Precious Metals.
The fees are higher with another dealer who pays wholesale rather than spot prices.
Setting Up a Gold or Silver IRA Account with Augusta Precious Metals
The IRS allows retirement investors to own many assets within an IRA.
But you cannot invest IRA money in life insurance or collectibles, and you cannot take physical control of any gold and silver bullion you own within your IRA.
Suppose you want to own physical gold coins or other precious metals within a tax-advantaged retirement account such as an IRA or solo 401(k). In that case, you need an IRS-approved custodian to hold the assets on your behalf.
Not every custodian is set up to hold precious metals in retirement accounts.
Most such firms are only equipped to hold paper assets
Stocks.
Bonds.
Mutual Funds.
ETFs.
Cds.
Money Market Accounts.
Annuities.
They do this on purpose.
Most traditional wirehouses, securities broker-dealers, and other financial services companies make their money from buying and selling securities and earning commissions on those sales or collecting assets under management fees.
They don't make any money from selling gold coins or silver coins. So they'd just as soon not talk to you about owning physical gold and silver.
Ask a traditional broker or financial advisor about diversifying into gold and precious metals. They will likely try to sell you a gold ETF, precious metals mutual fund, or shares in gold mining stock.
They don't like to tell you how easy it is to buy and hold physical gold either, whether in your name or within a self-directed retirement plan.
And if you already know about it, they won't do the transaction for you.
You'll need to pull your money out of their firm and set up a new account with a gold IRA provider.
Funding an IRA account with New Contributions
As of 2022, the Maximum IRA investment for both Roth and traditional IRA accounts is $6,500 for any given tax year for singles and $13,000 for married couples filing jointly.
Taxpayers aged 50 and older can make more than $500 in "catch-up" contributions.
Since Augusta Precious Metals has a minimum purchase of $50,000, which is too big for a single-year contribution of new money to an IRA.
However, high-income individuals may be able to fund a self-directed 401(k) or SEP IRA with that amount of money.
Otherwise, you may split your $50,000 minimum investment by allocating up to $6,500 in precious metals to your IRA ($13,000 for spousal IRAs, 'catch-up' contributions notwithstanding) and have the remainder allocated to your holdings.
However, under no circumstances should you take personal delivery of any gold coins, silver coins, bullion, or any other assets you plan to hold in a retirement plan or retirement account.
Rollover existing retirement savings
Your other option is to do an IRA rollover from an existing eligible retirement account. This is a simple three-step process:
1. Open an IRA account.
Open an IRA account with a custodian that supports self-directed retirement accounts.
Augusta Precious Metals commonly works with Equity Trust – a well-respected and established firm and one of the leaders in the self-directed IRA industry.
2. Fund the account.
If you have money in an existing IRA, 401(k), or another eligible account, you can do a direct trustee-to-trustee rollover.
You can sign a form directing and authorizing your previous retirement account custodian to wire the funds to your new IRA account.
Alternatively, your old company can send you a check or wire the money to your personal account.
You then have 60 days to transfer the money into your new IRA.
After 60 days, the IRS will deem the transfer to have been a distribution and assess taxes and penalties.
Furthermore, your former employer will withhold 20% of the amount you withdraw and send it to the IRS against expected taxes.
But you will still have to deposit 100 percent of the amount you withdraw to your new account.
For this reason, most people choose the direct trustee-to-trustee transfer.
NOTE: Many 401(k) plans will not transfer funds if you are still working with your company.
They do not allow in-service withdrawals from 401(k)s.
3. Buy your precious metals.
Purchasing gold and silver for your gold IRA account is very easy.
Augusta Precious Metals makes the process simple, streamlined, and transparent. You decide what precious metals or assets you want to own within your precious metal IRA.
You can discuss your strategy with your Augusta Precious Metals dedicated account manager.
Once you decide, you will provide them with written instructions to purchase physical gold or silver bullion at a specific price on your behalf.
Augusta will then transfer or ship those metals free of charge to your secure storage facility, where the depository company will hold them on your behalf.
Once you approve the purchase, it takes about 7 to 10 days for your precious metals purchase to arrive at the vault facility.
You get free gold shipping that is also highly secure, and Augusta customers do not bear the risk of loss or theft.
Gold IRA Storage Facilities
Augusta Precious Metals recommends Delaware Depository, one of the leading secure vault companies in the gold IRA and precious metals storage industry.
But you also have other choices: Augusta's website lists over a dozen alternative secure facilities in the United States.
These sites are located at the following locations:
Shiner, Texas
Dallas, Texas
South Fargo, North Dakota
Los Angeles, California
Salt Lake City, Utah
Nampa, Idaho
Wilmington, Delaware
Bridgewater, Massachusetts
New Castle, Delaware
Springfield Gardens, New York
Las Vegas, Nevada
Fees and Account Minimums
Augusta Precious Metals buys gold and silver coins at wholesale prices and sells them at retail.
The wholesale/retail price spread generates all their profits from operations.
They do not have any annual or hidden fees charged at the company level.
However, use Augusta Precise Metals to open an IRA account. You will see some nominal fees from the retirement account custodian (a separate company) and from the gold storage facility or depository company you choose to hold the physical gold and silver coins and bullion on your behalf.
Custodial and storage fees
If you set up your Gold IRA with Augusta Precious Metals and elect Equity Trust as your custodian for your IRA account, you can generally expect a one-time setup fee of $50.
On top of that, you will pay an annual fee of $80 to the custodian and $100 per year in storage fees to the depository company that is storing and securing your physical gold.
If you purchase gold and silver coins in your name rather than in the name of a retirement account, you need not pay any storage or custodial fees.
You pay the cost of the bullion itself.
A minimum purchase requirement is $50,000 to open a new account.
This $50,000 can be IRA purchases, cash purchases, or any combination thereof.
Buyback Policy
Investors who purchase precious metals such as gold and silver bullion want to know about liquidity: How readily can they convert their bullion holdings back into cash if needed?
Augusta Precious Metals is one of the best gold IRA companies in the industry when it comes to providing a secondary market for gold and silver bullion.
While buybacks are never guaranteed, Augusta, as a general rule, readily pays prevailing precious metal prices for buybacks, quickly wiring cash to your bank account or IRA.
Their competitive buyback pricing makes them a preferred option for many gold and silver investors.
Shipping and Transit Policies
Augusta Precious Metals offers free shipping and transit insurance on all orders.
Customers only assume responsibility for theft or loss after they sign for the package.
All shipping is done discreetly – when you receive precious metals from Augusta, the box will not indicate the value or nature of the contents, so you and your home don't become a target.
The mail carrier will not know you are receiving physical gold or silver.
Inflation and the Precious Metals Market
Last week, official sources revealed that the Consumer Price Index had risen 7.1 percent in November – its lowest rate of increase since early 2022.
Core inflation also showed signs of moderation, reaching 6 percent after rising 6.3 percent the month before.
Retail sales registered their most significant drop in nearly a year last Thursday, with a 0.6 percent decline in November sales from October's 1.3 percent increase.
This news is significant for investors as it could impact precious metals markets and thus benefit those wanting to invest in these assets.
Let's examine how inflation and the precious metals market are related and why this news could be important for investors.
The Relationship between Inflation and Precious Metals
Many see inflation as the enemy of investments; when prices increase, returns tend to decrease due to higher costs for goods and services.
But this is only sometimes the case, primarily when investing in precious metals like Gold or silver.
Precious metals can act as an effective hedge against inflation because they are not affected by changes in currency value or economic cycles.
As such, when inflation rises, demand for precious metals typically rises, too – resulting in an increase in value over time.
The Impact of Low Inflation on Precious Metal Investments
Low inflation can be good news for investors looking to make money from precious metal investments, as it indicates that prices aren't increasing rapidly and that there could be more stability in the market in the future.
Therefore, if you're considering investing in precious metals, now may be a good time to do so since there may not be such rapid price increases over the next few months or years, which would otherwise reduce your potential returns on investment (ROI).
Additionally, retail sales dropping off last month could lead to further deflationary pressures – meaning even lower prices – which would benefit investors further down the line!
The recent news of low inflation combined with a drop-off in retail sales has suggested that now may be an opportune moment for those wanting to invest in precious metals such as Gold or silver.
With lower levels of inflation, there could be increased stability on the market which should provide more lucrative opportunities for investors over time – particularly if deflationary pressures continue due to reduced consumer spending activity over the coming months too! Investing wisely now can ensure that you get maximum returns on your investments later on down the line.
Augusta Precious Metals Reviews
Augusta continues to command outstanding customer reviews on all significant verified review sites covering the gold IRA industry.
Here are some of their records at leading review sites:
Better Business Bureau
Augusta holds a 4.97-star rating out of five on over 100 reviews on the Better Business Bureau website – ranking its BBB rating among the best in the industry.
Most significantly, according to Better Business Bureau data, zero complaints have been lodged against the company over its decade-long history.
Business Consumer Alliance (BCA)
Augusta holds a top-notch AAA rating with the Business Consumer Alliance over 85 reviews.
TrustLink
At press time, Augusta holds a 5-star rating with TrustLink, based on 279 reviews.
Additionally, Augusta has topped the Best Gold IRA Company rankings in the gold IRA company category for several consecutive years.
Google My Business
Augusta holds an excellent rating of 4.9 stars out of five with GoogleMyBusiness, based on 235 reviews as of this writing, one of the top performers in the precious metals ira category.
Notable Awards
Augusta Precious Metals is proud to hold the #1 spot as the Most-Trusted Gold IRA Company in the United States" with the independent gold IRA website IRAGoldAdvisor.com.
They were also ranked by TrustLink readers as among the best gold IRA companies in the industry, making their 'Best Of' list for several years.
Disadvantages of Augusta Precious Metals
Augusta has two disadvantages that may affect potential customers:
A $50,000 minimum investment may be too much for some customers.
Limited inventory of coins other than gold and silver bullion. Augusta can source any precious metal. But it concentrates on gold and silver and does not maintain a list of palladium or palladium. If you want palladium or platinum or want to collect base metal coins, you may want to look elsewhere.
Is Augusta Precious Metals Legit?
Augusta Precious Metals is a legitimate, viable option for anyone with at least $50,000 in investable assets and interested in diversifying retirement or personal savings into physical metals like gold and silver bullion.
If you can cover the minimum investment, we recommend Augusta Precious Metals be included on your short list of gold companies for retirement savers and precious metals enthusiasts to call.
Contact Augusta Precious Metals
8484 Wilshire Blvd, Ste 515,
Beverly Hills, California, 90211, United States
Phone: (800) 700-1008
Wrap Up.
Augusta Precious Metals is a good bet if you're looking for a reputable and well-established company that enjoys excellent ratings.
Getting into the gold and precious metals market can be daunting, but Augusta makes it accessible through its features.
I advise you to check out the services that appeal most to you and consider how these investments might fit into your long-term financial plan.
Get your free Augusta Precious Metals gold IRA guide.
Further reading on AdamEnfroy.com: Want to compare Augusta with other top precious metals IRA providers?
Check out my post on the best precious metals IRA companies right now.
In addition, you can check out another in-depth review of Birch Gold and Goldco – two other well-known gold IRA companies.
Finally, here's a post on the best crypto IRAs to consider if you want to buy and hold this exciting new asset class.
Disclosure: I may receive affiliate compensation for some of the links below at no cost to you if you decide to purchase a paid plan. You can read our affiliate disclosure in our privacy policy. This site is not intending to provide financial advice. This is for entertainment only.