13 Best Backup Software: Free and Paid Tools Review (2023)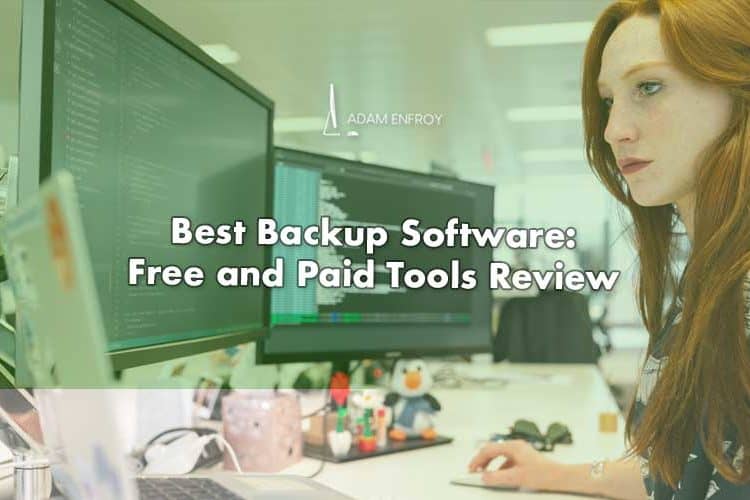 Data security has become one of the top concerns for both customers and business owners. Businesses now get exposed to all sorts of global data threats that could jeopardize their business within seconds.
Over 164.68 million sensitive data records got exposed in the US in 2019 alone.
It goes without saying that the timely backup of your business data is paramount.
What would you do if you lost your data due to a system crash, malware, or ransomware?
This is where the best backup software comes into play.
Whether you want to migrate your database, work on a new implementation, or recover your data, you need good backup software.
I ranked and reviewed the best backup software based on key features, security, pricing, support, ease of use, and more.
Let's get started.
What is the Best Backup Software?
Here are my top picks for the best backup software to use this year.
Backblaze is one of the best backup software on this list. It can help your enterprise backup essential data on the cloud easily and cost-efficiently. Moreover, it offers unlimited backup of files with unlimited size and at a fast speed.
Best For:
Backblaze is best suited for small businesses and provides an efficient cloud solution to create a backup of business-critical files.
Key Features:
Version History – Backblaze comes equipped with a default feature to automatically save an old or deleted file for up to 1-year. You also get the option to save those important files forever at an additional price.
Automatic Throttle and Threading – It's capable of handling different internet speeds to adjust the speed of the backup automatically.
Mobile Applications – It allows you to access all the apps easily on your iOS and Android devices. You can easily browse your media files, open a word doc, or share a system image on Facebook through mobile devices.
Invisible Encryption – Backblaze comes with inbuilt encryption. It automatically encrypts all the files scheduled for backup and transfers them through a secure SSL (https) or FTP connection to the Backblaze datacenter.
Pros:
Leverage its manual throttle feature by turning 'Automatic Throttle' off to control the internet bandwidth you want to use for backup, disk imaging, and disk cloning.
Provides a "manual threading" feature that lets you select numerous threads simultaneously for backup depending upon the internet speed.
Allows you to easily browse and download all the files on your mobile devices.
It offers biometric security, two-factor authentication, and 24-hour staff to ensure the absolute safety of your data.
It comes with a simplified data restore policy. Users don't have to subscribe to Backblaze to get back their data.
Cons:
You can get the subscription for only one computer per account
Doesn't allow you to sync files with your Backblaze account through mobile applications
Pricing:
Its monthly subscription costs $6. On the other hand, you can buy the yearly subscription at a bargain price of $60.
Unitrends offers a free backup software for Hyper-V & VMware. The free version of the software allows data security of up to 1 TB. Moreover, the paid plans provide more advanced features like cloud integration, granular protection, global deduplication, and so forth.
Best For:
It's suitable for IT admins who are looking for a free backup software.
Key Features:
Lesser Management – It comes with intuitive user interface and pre-integrated backup appliances to reduce the time consumption by up to 50 percent.
Customizable Dashboard – You can easily manage heaps of backups with just two clicks. It also provides secure, controlled, and self-service recovery by assigning role-based access to backup files.
AI-Based Ransomware Detection System – Unitrends smartly analyze complex patterns of data characteristics to alert admins of primary warning signs of a ransomware threat. It will find important data points, then start syncing the entire system on a local drive.
Automated Testing – Its Recovery Assurance feature automatically tests complete application restorations, determines real recovery time & points, identifies potential threats to recovery, analyzes compliance with SLAs, and automatically suggests corrective measures.
Pros:
Offers efficient pairing with third-party hyper-scale cloud services to keep low-cost cloud storage
It provides instant recovery for VMware vSphere, Windows, Microsoft Hyper-V, OneDrive, and Unified Bare Metal Recovery
Efficiently determines and resolves VSS and other software bugs that could hamper the backup and recovery process
It offers a free version
Offers easy upgrade at any point in time
Cons:
Its subscription cost is significantly higher than other backup tools
Takes a little longer to take SQL and SharePoint backups
Pricing:
Its annual subscription starts at $349 per resource and goes up to $1699 per resource for the Enterprise solution. Unitrends also provides a freemium plan for up to 1TB backup.
AOMEI has a powerful base of over 20 million users and offers services in over 180 countries. Moreover, the software offers two versions, including 'Business' and 'Home,' to meet specific requirements.
Best For:
AOMEI is suitable for both personal usage or small businesses looking to expand in the future.
Key Features:
Numerous Backup Types – It offers four types of backups, including system, disk, partition, and file backup, to help you pick the right option for greater efficiency.
Schedule Backup – Enables you to schedule automatic daily, weekly, or monthly backups. It makes sure that you never miss a single bit of data.
Backup to External/Internal Storage Device – It allows you to create a backup on internal or external storage devices easily like SSD drives.
Disk Space Manager – It automatically deletes old backups to free up space for new backups. It also leverages differential or incremental backup to optimize disk space utilization and store more amount of relevant data.
Pros:
Allows you to easily deploy the backup image to a large number of computers
Instantly create a portable version by quickly copying installation directory
You can backup and restore an infinite number of computers and servers among multiple organizations
Offers efficient technical support
Efficiently cuts down back admin costs
Comes equipped with NAS knowledge base and PXE Network Boot Tool
Offers an intuitive user interface to help layman users easily create a backup
It comes loaded with a wide range of open-source tools, including Image Deploy, PXE Boot, and OneKey Recovery, among others
Its premium editions come with lifetime upgrades
It also offers 90-days money-back guarantee
Provides a standard free edition of the software
Cons:
Available only for Windows users
The user interface has a few functional bugs
Pricing:
Its lifetime license fees cost around $60.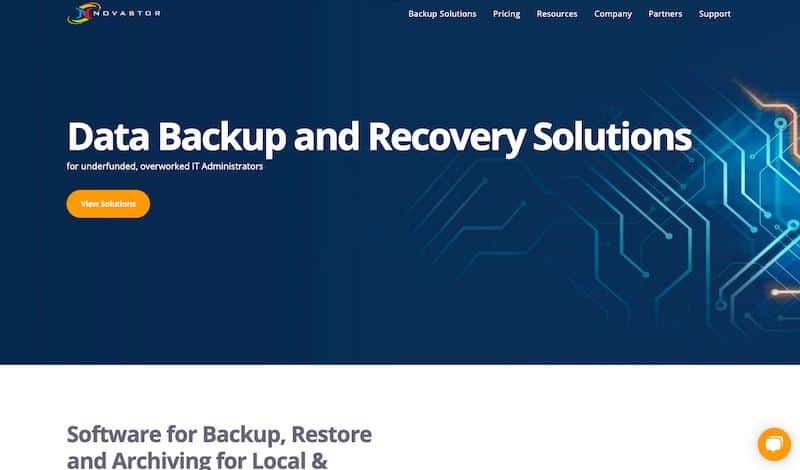 NovaStor is capable of protecting files, folders, apps, and systems from data loss. Moreover, it renders direct access to the expert team of backup professionals to help you with powerful customer support round the clock.
Best For:
NovaStor is most suitable for IT admins looking for a cost-efficient solution for their data backup challenges.
Key Features:
Flexibility – It supports various operating systems and virtualization solutions. Moreover, it's compatible with multiple third-party business applications, including Windows 10 or Vista, Linux, VMWare, and Hyper-V, among others
Infinite Scalability – NovaStor offers infinite scalability to handle abruptly increasing volumes of data. Its distributed system architecture ensures optimum throughput while ensuring the least network load.
Extensive Customer Support – NovaStor provides efficient support through email, phone, and remote access.
Automated Backup Process – It offers comprehensive heterogeneous restore and backup functions that include monitoring, reporting, and efficient central media management. Moreover, the entire process is automated and runs without interruption with greater fault tolerance.
Pros:
Its Multistreaming accelerates the process of data backup & reduces restore and backup significantly
Easily monitor backup jobs from offices, branches, clients remotely through a single point of access
Its multi-tenancy platform offers faster data transfer speeds and end-to-end encryption for greater data security
You can easily manage local and offsite cloud backup
Allows you to monitor backup at distributed workplaces centrally
Managed Service Providers (MSPs) can easily host the customers' data in their own datacenter
Cons:
Several configuration backup options might look confusing to the end-user
It's not an image-based backup solution
A bit more expensive than other options available
Pricing:
NovaStor's yearly subscription plan starts from $2,500 per year and ranges up to $9,500 per year. You can also request quote-based pricing for a custom plan.
NAKIVO offers an efficient and reliable backup solution for Hyper-V, VMware, and Nutanix AHV virtual environments. Moreover, it provides powerful enterprise-grade data protection features at cost-efficient prices. Some of its most prominent features include extensive support, automation of disaster recovery, and more.
Best For:
NAKIVO is best for businesses that are looking for an affordable data backup solution for physical, virtual, and cloud environments.
Key Features:
Image-Based Backup – It efficiently captures the entire VM, including system state, all disks, and configuration files.
Incremental Backup – NAKIVO ensures the backup of only changed data blocks to cut down the backup windows, offload the production network, and ensure optimal utilization of the storage space.
Flexible Backup – It allows the creation of up to 4,000 recovery points for easy and faster data recovery. It leverages Grandfather-Father-Son retention policy to rotate these points on a daily, weekly, monthly, or yearly basis.
Reduce Storage Space Requirement – It efficiently removes duplicate data blocks to save more backup space. It further saves the storage space by increasing the data space by up to 10 times.
Pros:
It comes equipped with in-built Exchange and SQL log truncation capability to easily delete cumbersome log files to free up extra storage space
You can efficiently create a backup through LAN-Free Data Transfer mode
It leverages Network Acceleration to compress the data and traffic reduction techniques to enhance the backup speed by up to 2X and reduce network congestion by up to half
It also allows the user to control the bandwidth consumption through Advanced Bandwidth Throttling
Efficiently reduces the snapshot overhead and creates identical copies of the VMs instantly to reduce space consumption
You can install the software through a single click on Windows
Easily recover application objects and individual files from deduplicated and compressed backups
Cons:
The user interface may look cumbersome to new users
Pricing:
The pricing plans start from $99 per socket and range up to $399 per socket.
Retrospect is one of the best backup programs for complete data protection and cloud backup. It comes with a free trial of 45 days and offers impressive backup solutions, especially for Mac users. Moreover, it offers reliable protection of email data, along with other data security features.
Best For:
Retrospect is a suitable fit for individuals and business owners who are looking for cost-efficient backup software for Mac devices.
Key Features:
Email Protection – Offers powerful data security for email systems, including Gmail, Hotmail, Yahoo, and AOL, among others. It also provides compliance with data protection laws, including GDPR.
Proactive AI – Its backup scripts optimize the backup window of the complete environment. It uses concepts like linear regression and decision tree algorithms to protect all the sources.
Monitoring Tools – It easily integrates with the new age monitoring systems, such as Slack, Nagios, and IFTTT.
iOS Application – It's compatible with all Apple devices, including your iPhone, iPod, or iPad, to monitor all backup activities on the go.
Pros:
It supports multiple encryption algorithms, including military-grade AES-256, for both at-rest and in-transit data security
Offers a long term backup retention to allow users to retrieve data as old as 5 years
It provides the option to create backups of specific sets of data on the cloud. Filter the data based on multiple conditions, including dates, file names, and types
Comes powered with incremental backup to avoid storage of duplicate data and ensure optimal storage usage
Provides a free trial powered with all relevant functionalities
Cons:
Not suitable for enterprise usage
Doesn't provide mobile application for Android users
Pricing:
There's no mention of pricing on Retrospect's official website. That said, online reviews suggest that it comes at a one time cost of $49.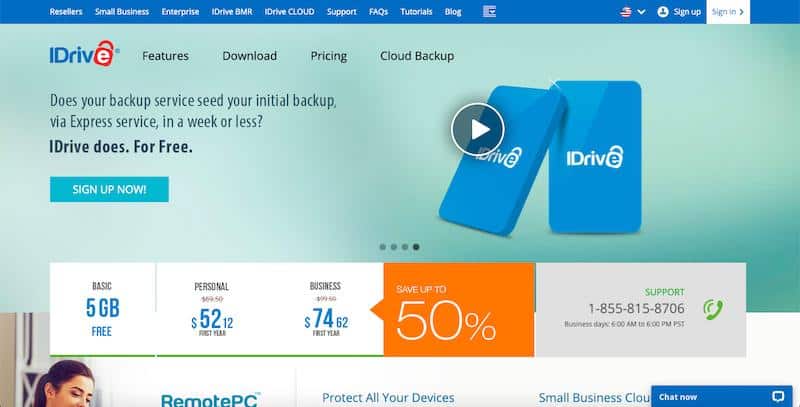 IDrive offers unlimited backup of multiple devices, including personal computers, Mac, iOS, and Android devices. On top of that, it offers an intuitive dashboard so that you can easily edit and access the backup data.
Best For:
If you want a backup tool for your small business, then IDrive is an excellent option.
Key Features:
Online File Sync – Enable real-time sync of files and folders across all the devices linked through IDrive without impacting your backup storage data.
Snapshots and Versioning – Get a historical view of the data through snapshots to ensure point-in-time recovery and provide ransomware protection.
Disk Image Backup – Create a backup of the entire drive, program, setting, or files with the original information structure.
Mobile Applications – Offers highly immersive iOS and Android mobile applications to access the database on the go.
Pros:
It keeps up to 30 previous versions of files in the database
Its Archive Cleanup feature permanently clears up the legacy data by matching it with the current backup to ensure no data is lost
Get in-depth reporting through activity reports, share reports, and backup status reports, among others
Leverage 256-bit AES encryption to store and transfer files along with a user-defined key
Allows you to create more network bandwidth through the compressed and incremental backup of the data
Easily restore and manage data along with system setting through a web-based console on remote machines
You can secure online backup for servers, including MS SQL Server, Office 365 Mailbox, MS Exchange Server, MS SharePoint Server, Hyper-V, Oracle Server, Linux Servers, and VMware
Achieve remote installation of IDrive through Windows Server to multiple machines
Fully compliant with data security regulations, such as SOX, HIPAA, GLBA, and SEC/FINRA
Monitor all kinds of backup from the single admin console
Cons:
Doesn't provide unlimited storage
Pricing:
IDrive provides a freemium plan for up to 5GB of storage. The paid plans start from $52.12 for up to 2TB of storage.
Carbonite offers both business and personal cloud backup solutions. The good news is that it offers a fully-functional, 30-day free trial and reliable data protection solutions, allowing you to test the software before making the final purchase.
Best For:
It's best for personal use and small businesses.
Key Features:
Easy to Use – It offers easy installation and configuration on the personal device. Moreover, it ensures easy and safe recovery of files from the cloud in case of a malware attack.
Extensive Support – Carbonite claims to have an 'award-winning' support that is available on all seven days of the week for free.
Advanced Encryption – Carbonite comes with end-to-end encryption that ensures data safety during the automatic backup and for data at rest.
Cost-Efficient – It offers affordable subscription plans suitable for both individuals and small businesses for data protection.
Pros:
Comes with powerful data migration capabilities to ensure an efficient transition to the cloud or transfer of data from one cloud to another
It offers disaster recovery as a service (DRaaS) to ensure high priority applications are always online
Leverage legal hold, remote wipe, and location tracking to handle the endpoints of employees
It's capable of safeguarding the data of up to 25 computers
Allows you to recover files from machines affected by ransomware
Supports multiple platforms, including MySQL, Oracle, and Hyper-V, among others
Offers incremental backup to ensure optimal usage of the storage space
Cons:
Sometimes, it requires rebooting of the server
The restore option takes too much time to restore the data
Pricing:
Its subscription plans start from $24 per month and go up to $83.34 per month billed annually.
Backup Radar offers powerful backup reporting and compliance reporting. The software is capable of helping businesses cut down the time to check their backup files.
Best For:
Backup Radar is best for businesses that are looking to automate their remediation process.
Key Features:
Automate Remediation – Leverage its close-loop service ticketing integration for Autotask and ConnectWise.
Backup Compliance Reporting – Leverage scheduled, on-demand, and branded reports to keep all the stakeholders in the loop.
Automatic Ticketing – Use its closed-loop backup management process to prevent human errors and enhance efficiency.
Customization – Set up customizable thresholds to easily define and implement data policies.
Pros:
Creates a backup log to keep track of the data
Comes with an elastic architecture built with security-first in mind and delivers high performance and high availability
Creates branded reports with high customization capabilities
Powered with a highly-responsive mobile user interface
Offers multi-factor authentication (MFA)
Provides a highly responsive customer support
Visualizes each backup report on the audit screen
Cons:
Not affordable for small businesses
Complex user interface
Pricing:
Its monthly plan costs $99 when billed annually.
IvyBackup offers three software editions, namely home, standard, and pro, to meet specific user requirements. It comes with a simple user interface and offers event, manual scheduled data backup.
Best For:
It's a good backup software for Windows users.
Key Features:
Multiple Language Support – It supports numerous languages, including French, German, Italian, Russian, among others.
Create Specific Backups – Easily configure the backup utility to enable the backup of specific files instead of the entire database. Total control over the database will help you save time and storage resources.
Lightweight – The cloud-based software is lightweight and saves a lot of capital spent on buying the latest hardware.
Error-Free Restoration – It continuously checks data for duplicity, corruption, or malware infection before executing any restore function.
Pros:
Provides a straightforward user interface and enables users to create a backup easily
Comes powered with 256-Bit AES Encryption and regular security check-ups
Allows you to monitor entire backup history and filter the backup data through dates
Easily create automated daily, weekly, or monthly backups of data
Send backups to different destinations, including local storage, Dropbox, Google Drive, network drive, among others
Easily configurable with the native system
Powered with incremental backup to avoid data redundancy and duplication
Offers 30-days money-back guarantee
Reliable customer support through email
Cons:
Not fit as an enterprise-level solution
Doesn't provide call or chat support
Pricing:
Its one-year subscription prices start from around $19.95 per month and go up to $34.95 per month.
Ashampoo backup software offers reliable safety against viruses, ransomware, and Windows errors. Moreover, it provides solutions to protect a specific file or disc portion and manage the database easily.
Best For:
It's suitable for IT admins who are looking for a highly customizable backup solution.
Key Features:
Backup Entire Partitions – Easily create backups of disk partitions and save it in the output location of your choice through a simple process.
Incremental Auto Updates – It ensures that all the archived files get automatically updated whenever you make any changes.
UEFI Support – It's an efficient recovery system that ensures the recovery of corrupted operating systems. It also provides automatic reinstallation and boot of the system.
Windows Optimizer – Leverage Windows Optimizer to efficiently tune system settings, reclaim the disk space, and achieve optimum performance.
Pros:
Provides real-time protection against malware
Offers backups for disc partitions or specific files
Allows you to store your backup data on external hard drives or flash drives
Its Infinite Reverse Incremental technology takes very little space to store the backup, allowing you to save up to 50 percent of storage space
Adaptive backup process escalates and de-escalates depending upon the availability of resources on the machine
Offer powerful end-to-end encryption for the database
Cons:
The user interface is not user friendly
The recovery drive is a bit slow
Pricing:
The download version costs $25.
Genie9 offers a cost-efficient data backup solution for freelancers and startups. It supports multiple platforms, including Windows and Linux, and offers intelligent solutions for seamless media access.
Best For:
It's best for freelancers looking for an efficient and affordable data backup tool.
Key Features:
Easy Setup – It allows the setup of backup in 3 easy steps. You can start taking backups within minutes of installation.
Disaster Recovery (DR) Feature – It offers fast and reliable data recovery through an intuitive wizard-based user interface.
Control My Backup – Easily control the backup runs or allow Genie to automatically backup the data. You can also shut down the computer after the backup process is complete.
Track Backup – Use its Genie Timeline mobile application to stay updated about the latest backup information of the system.
Pros:
Offers offsite backup solution
Comes equipped with inbuilt search engine
Gain access to the timeline view to track the version history of files
Offers file versioning support
You can leverage its 'swiftRestore' feature to ensure individual folders and files restore instantly
You can create incremental backups with rollbacks to save time and storage space
Easily access all your backup files without the requirement of software
Offers 256-bit AES military-grade encryption
Cons:
Doesn't provide USB 4.0 support
Pricing:
Its monthly subscription costs around $11 per month.
Synametrics is a backup tool that prevents the third party access to your files. The fast and secure software solution supports multiple platforms, including Unix, Windows, and macOS X.
Best For:
It's suitable for businesses that are looking for a highly private data backup solution.
Key Features:
File Distribution – Easily publish files from a single location to multiple computers present on the LAN or internet.
SyncriBox – It's a highly secure and private cloud alternative to DropBox or Google Drive. It doesn't allow unauthorized access to any third-party and comes with zero bandwidth throttling or monthly charges.
Cloud Snapshots – Easily create the backup snapshots to the popular destination, including Google Storage services, Amazon S3, or Microsoft Azure.
Synchronize Machines – Efficiently synchronize folders or files across multiple machines and apply changes to all the data locations in real-time.
Pros:
The multi-tier backup solution offers universal access
It's compatible with all the devices, including Mac, Windows, and Linux
Incremental data storage ensures optimal usage of the storage space while avoiding data duplicity
You can easily share project files with one or multiple users
It automatically synchronizes the changes made to a particular file to all the machines
Offers multi-tier backup system
100 percent on-premises solution
Offers highly detailed and immersive data reports
The web-based system ensures remote access from anywhere
It's freeware if used for personal use
Cons:
Doesn't provide round the clock chat support
Tad expensive in comparison to the backup features it offers
Pricing:
Its paid subscription plans start from $49 billed annually.
Note: backup tools not yet listed in this article include Acronis True Image, EaseUS Todo Backup, Paragon Backup & Recovery, and Backup4all.
What is Backup Software?
Backup software helps create analogous files for each corresponding data set so that the data never gets compromised. To put it simply, they help you take backups and keep exact copies of essential digital documents. The digital documents can include but aren't limited to files, folders, audiovisual data, computer servers, and vital applications.
Similar to reliable data recovery software, it virtually eliminates the risk factor associated with tampering, deletion, or corruption of valuable data.
How Do You Use Backup Software?
There are three types of backups, including:
Full backup
Differential backup
Incremental backup
How you use the software depends on the type of backup you want to take. The procedure for taking full backups is more or less the same across different software. On the other hand, differential and incremental backup procedures may vary.
Let's look at how you can use backup services to take a full back-up with the example of the MiniTool ShadowMaker.
In the first step, download and install the software.
You'll usually get an option to choose whether you want to operate it locally or remotely.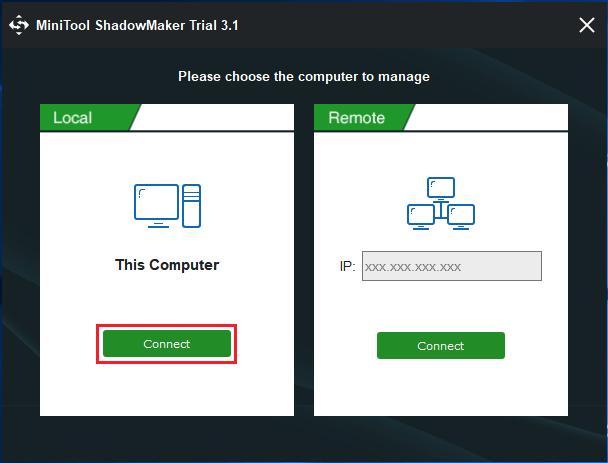 Next, click on the 'connect' option as per the mode you want to operate in. Usually, a backup platform will ask what you want to back up – for example, specific files, Windows systems, programs, disks.
This prompts you to choose the location where you want to save the backup files. It could be in a separate folder on your computer, an external hard disk, a USB drive or stick, or anything else.
After completing the formalities, you can now click on the option displaying 'Backup.'
Finally, your backup process will start.
What Should You Look For in a Backup Software?
There are different types of backup software available on the market. Although requirements will vary according to your needs, there are some standard features that you might want in your system backup tool.
Here are some of them:
1. Data Compression.
In the professional world, backup software frequently needs to handle humongous amounts of data. Storing such large quantities of data isn't easy and would typically require a considerable amount of space. Therefore, you need a tool that can make space for all the data by compressing them into smaller packages.
2. Backup Scheduling.
Backup scheduling is essential in both professional and personal setups.
Although taking backups is a simple task, it's quite common to get preoccupied with pressing tasks at hand and forget all about it. That's where backup scheduling comes in handy.
With backup scheduling, you simply pre-determine the time and the frequency in which you want to take the backups and schedule the software. The software takes care of the rest.
3. Data Security.
Cyber-criminals aren't only after the parent files of your business. If given half a chance, they'd happily hack into your backup files too. That's why simply taking backups without any consideration for data security isn't enough.
You need a rapid backup tool that offers end-to-end encryption, can provide password-based protection, and restrict the number of users accessing it. If it allows whitelisting and a 2-factor authentication system, that's even better.
4. Integration With Mobile Platforms.
The ideal backup software should provide integration with smartphones and tablets. It should let you monitor backup activities, perform administrative duties, provide permissions, and receive notifications on mobile devices for a seamless data backup experience.
This isn't an exclusive list of features. Some other desirable traits include sending backup notifications, execution of simultaneous backups, allowing virtualization, and so forth.
Executive Summary.
So, this was the list of some of the best backup software. These tools can easily help you keep the heaps of data in a safe and organized manner.
However, you have to review each tool carefully to decide which one aligns with your requirements.
For instance, if you're a freelancer or run a small business, then you can go for options like Unitrends and Synametrics that offer free versions as well as affordable premium versions. On the other hand, enterprises with a massive budget and complex data backup requirements can select from options like Backup Radar and Naviko.
Moreover, if you'd rather not pay recurring monthly costs, then you might want to go for AOMEI Backupper that offers the backup software for a one-time fee of $60.
Are there any backup tools not listed in this article? Let me know in the comments.
Recommended Reading on AdamEnfroy.com: If you're interested in other ways to secure your data, check out my reviews of the best data recovery software and my picks for the best database software to use this year.
Disclosure: I may receive affiliate compensation for some of the links below at no cost to you if you decide to purchase a paid plan. You can read our affiliate disclosure in our privacy policy. This site is not intending to provide financial advice. This is for entertainment only.