How to Choose the Best Blogging Platform in 2023 (Free Guide)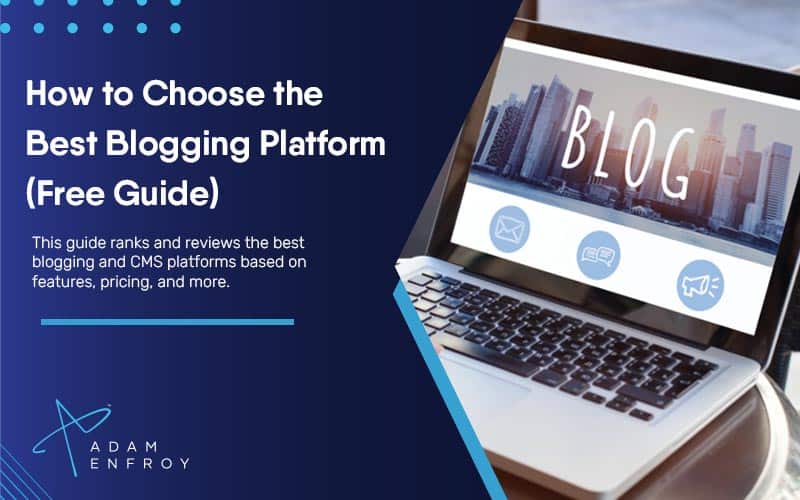 Besides writing your thoughts to the world, blogs are a great way to make money online.
If you want to learn how to start a blog, the right platform can help you share your views and opinions in front of a vast audience.
At the same time, the right platform will save you time and money because it will allow you to update your website quickly and easily.
In this article, you'll find my list of the best blogging platforms for personal and business bloggers.
Whether you want to start a blog as an individual or for your business, read on to find the right channel to get started with.
What Is the Best Blogging Platform?
Here are my top picks for the best blogging platforms.
WordPress is one of the most popular blogging platforms and powers over 30 percent of the world's websites.
Considered the best free blogging platform (while also being open-source) allows users to build a blog or website within minutes.
What I love about WordPress.org is that it has a vast library of plugins, which can be used to add features and customize the website.
I also love the user-friendly interface — figuring out how to get around and make changes is effortless.
Key Features:
Flexibility: WordPress gives users full control to create any type of website, including a personal blog or website, a magazine, a professional portfolio, a business website, a photoblog, a government website, and a news website, among others.
Website themes: Users can make the website beautiful with hundreds of themes and extend it with plugins. It also enables users to build their applications.
Publishing Tools: Content management is super easy on WordPress sites. Users can easily save drafts, schedule posts, format their blog posts, and check out post revisions. Its user-friendly interface allows WordPress users to make the content public or private and secure posts and pages with passwords.
Media Management: WordPress can easily and quickly upload images, videos, PDFs, and GIFs through its simple drag-and-drop feature. Users can also easily upload alt text and captions and insert pictures or galleries in posts. There are also several image editing tools to enhance images while uploading.
Plugins: WordPress's plugin directory offers thousands of plugin extensions to add social networking, forums, complex galleries, calendars, fine-tune controls for search engine optimization, social media widgets, spam protection, and forms.
Pros:
Create a beautiful and functional blog using thousands of free themes and over 54,000 plugins.
WordPress allows you to build SEO-friendly URLs, tags, and categories for the posts.
It has a healthy repository of reliable and responsive themes that work efficiently on desktops and smartphones.
Open code availability helps developers save a lot of time and resources.
Make changes to the website from anywhere in the world through an internet-enabled computer.
Its RSS feed feature allows bloggers to get the most value from backlinking.
Its WooCommerce plugin makes it an efficient alternative for eCommerce websites.
WordPress allows users to make frequent updates to the content easily.
Cons:
Being an open-source platform, it is a prime target of hackers.
Several themes require a lot of coding that could impact the website's speed.
Customization of WordPress websites could get expensive.
Pricing:
Pricing for WordPress is dependent on which web hosting service you choose to go with.
Additionally, if you want more advanced features, you'd have to pay extra for extra plugins, your own domain name, WordPress theme, etc.
To get started, I recommend you install WordPress through Bluehost web hosting.
Squarespace has powered millions of websites and is one of the best website builders on the market. It enables its users to create stunning websites using its drag and drop builder easily.
Key Features:
Blogging Feature: Squarespace is an excellent option for bloggers. It offers unique commenting features, AMP support, multi-author functionality, and post scheduling feature, among others.
Customer Support: The blogging platform offers robust customer support through its Live Chat feature. They often take screencast recordings to provide more detailed solutions and answers.
Mobile App: Users can easily edit and customize all aspects of their blogging site through Squarespace's mobile applications on the go. This feature is not present in all the blogging platforms.
Design: It offers more than 100 advanced themes, robustly optimized for smartphones and tablets. Users can leverage the Site Styles menu to customize templates at advanced levels.
Pros:
Unlike Wix, users can switch to different templates even after going live.
It offers mobile-friendly templates and builder.
Squarespace offers a high level of control and customization through its building blocks feature.
Widgets are customizable and can be moved or resized as per the requirement.
It also supports third-party widgets for more customization, which is a rare feature in a blogging platform.
You can easily swap the template without affecting the content of the website.
Cons:
There is no auto-save option in the editor.
Massive templates decrease the website's load time.
Pricing:
Squarespace offers four pricing plans:
Personal Plan: $16 per month
Business Plan: $23 per month
Basic Commerce: $27 per month
Advanced Commerce: $49 per month
Wix is known to offer more premium user experience to bloggers. Its free version comes loaded with features that are enough for budding bloggers.
Key Features:
High Speed: Blogs built on Wix.com open at a lightning-fast speed. It optimizes the website by default to ensure loading speed is not compromised.
Huge Template Collection: Users can easily leverage its massive collection of templates to build the website within minutes.
Drag and Drop: Bloggers can leverage its drag feature that is easy to use. You can easily customize through drag and drop. It also offers a mobile editor through which you can make changes through your smartphone.
Built-In SEO: It allows users to fill in keyword tags, metadata, and customize URLs to make blog posts more SEO friendly.
Pros:
It also allows users to create social media posts for blogs through its basic but functional editor.
It offers free SSL. This feature also helps your blog to rank higher as search engines gives preference to secured websites.
Wix also offers a logo maker through which users can easily create a unique logo for their blog.
eCommerce websites can easily integrate payment options.
Its AI website builder feature helps you create stunning blogging site designs in minutes.
Cons:
Users can't switch to another template once the website goes live.
Bloggers need to spend more on third-party apps to add more features to the website.
Too many customization options might look overwhelming to new users.
Pricing:
Wix offers a free plan. However, for advanced features like unlimited bandwidth, a free domain name, etc., you have to register for a paid plan, starting from $16 per month.
Gator Website Builder offers a simple to use drag and drop website builder that even bloggers with minimum expertise can use to build websites. It is also one of the most popular blogging platforms on this list.
Key Features:
User-Friendly: Gator's drag and drop features make it super easy for users to customize the website. Moving things on Gator is as easy as it is on Microsoft PowerPoint.
Templates: It offers a big collection of templates that users can use to customize their blogs on Gator. Templates are segregated into different categories to ensure users can easily search the relevant template.
Responsive: Gator offers mobile-responsive blog sites to all of its users. It supports smartphones and tablets of all brands and models.
Analytics: Its web analytics tool offers all the relevant information, including the number of visitors, geography, and demographics.
Pros:
Gator blogging platform comes bundled with SSL to add a protection layer. It also helps with search engine optimization (SEO) as search engines rank secure websites over websites with no SSL.
Users are not required to purchase domains and subdomains from a third-party vendor.
It allows easy integration of content from leading social media platforms, including Facebook, Twitter, and Instagram. Users can simply copy and paste the code to embed third party social media posts.
Efficient drag and drop elements eliminate the need for writing CSS or HTML codes for the website.
It is highly customizable. Users can easily customize images, fonts, colors, and themes of the website.
Cons:
Zero ability to add marketing extensions, third-party apps, and tools.
It doesn't allow editing the specific section of the code, which is a significant hindrance to customization.
Pricing:
Gator offers three pricing plans:
Starter Plan: $3.46/month
Premium Plan: $5.39/month
eCommerce Plan: $8.30/month
People usually confuse WordPress.com with WordPress.org. The co-founder of WordPress.org Matt Mullenweg, built WordPress.com to offer essential features to people planning to start their first blog.
Key Features:
Essential Features: The free version gets all the new features, including 3 GB of space and automatic updates or backups.
User Interface: It offers a clean and simple user interface through which users can create a personal blog instantly.
Easy Maintenance: Users don't need to worry about security updates or periodic backups to protect the website from hackers.
Easy Setup: It offers an effortless setup. All you need to do is create an account and give the URL a unique name.
Pros:
It offers a host of free themes and plugins through which you can customize the web pages of your website.
You can add multiple pages as per the requirement.
The WordPress blog is SEO-friendly and can and up in search engines.
Beginner-friendly features that can be set up after a few minutes of reading.
It offers highly responsive themes compatible with multiple mobile, desktop, and tablet platforms.
Cons:
WordPress may display ads on your page.
You can't monetize your web pages by integrating ads with Google AdSense.
Users need to get a paid plan to have custom domains and subdomains.
Pricing:
If simplicity is key when launching your website, you can do it with the WordPress.com free platform. You'd have to pay for their premium plans for more advanced features.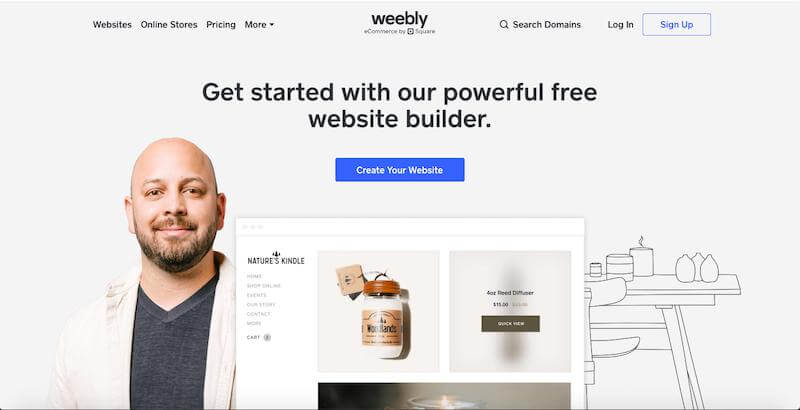 Weebly offers several easy-to-use features that can be leveraged to easily make a highly customized blog.
You get all the tools you need to create a website of your choice and grow your business.
Key Features:
Responsive: Weebly offers an enormous library of responsive themes that you can leverage to deliver a remarkable mobile experience.
App Center: The app center allows bloggers to incorporate extra features on the website with just a few clicks.
Team Manager: It allows multiple users to collaborate on the same website project. You can give access to various users to work on the same blog.
Membership: This feature allows bloggers to keep particular website sections reserved for registered users only.
Pros:
It allows easy customization through drag-and-drop tools.
It offers capable SEO functionalities to ensure the website is discoverable by search engines.
Integration with Google Analytics means you can get an in-depth analysis of your content.
No coding is required for the customization and implementation of new design options.
A minimal learning curve is required to leverage its features.
Cons:
Third-party integration is limited to a few numbers.
Challenging to export or migrate the website.
Design flexibility is limited.
Pricing:
You get a freemium plan for basic use.
After that, the paid plans start from $5 per month and range to $25 per month when paid annually.
Create your professional website with Weebly.
Constant Contact Website Builder is an AI-powered site builder through which users can easily create a free blog or business within a few minutes.
It offers a fast and easy way to create a blog instantly.
Key Features:
Customization: It offers highly customizable features through which users can drag and drop their content and images on the page. It provides 3-5 different block options, and users also get the opportunity to add or eliminate elements from the page.
Mobile Responsive: It lets you preview the website from a smartphone or tablet. Moreover, it offers highly customizable themes that are compatible with mobile devices.
Royalty-Free Images: Constant Contact offers integration with the royalty-free image platform Unsplash. Hence, users can conveniently use free images from an extensive repository of pictures for their websites.
Unlimited Pages: Its free version also offers an unlimited number of pages. Through its 'Page Management' feature, you can easily reorder pages to decide which page to show first in the navigation.
Pros:
Users can leverage its quick tutorial feature to understand how the blogging platform works. You can also leverage its support center to sort out issues and get answers to queries.
You can integrate an online store free of cost to sell online services or physical products.
It offers the option to edit web page images, add a link or change it through Unsplash.
Its AI engine instantly changes the look and feel of your own blog based on the keywords inserted.
Mobile-optimized templates allow simple operations with a user-friendly interface.
Cons:
The free version allows selling only three products online.
Constant Contact is not so impressive in its design department.
SEO support is not great.
Pricing:
You get a freemium plan for basic requirements. However, the paid plans start from $12 per month.
Blogger.com is an entirely free blogging platform offered by Google.
The blogs are hosted by Google and accessed from a subdomain of Blogspot.com.
Users can easily set up a blog without technical expertise with a Google account.
Key Features:
No Ads: Unlike WordPress.com, Blogger offers a choice to its users to opt in or opt out of ads on web pages. Hence, users get the option to keep their blog ad-free.
Simple User Interface: Blogger offers a simple user interface through which users can set up an account within a few minutes. Gmail users can directly set up the account from their existing Gmail account.
No Maintenance: Blogger covers all the maintenance work of a website, including security, speed, and other hosting issues of the website.
Robust Google Integration: Blogger is part of the Google ecosystem, so you can easily export your data through takeout.
Pros:
Blogger offers hosting services bundled with the blogging platform.
Ensures that your website is fast and runs securely.
It has several forums where employees and other users sort out Blogger-related issues.
It allows users to monetize web pages through easy integration with Google ads.
It supports RSS, default comments, and the latest comments.
You can have up to 100 blogs per account.
Cons:
It offers limited customization options with fewer templates and low-quality third-party templates.
It doesn't offer any customer support. Users have to rely on forums.
The design is too old-school and simple.
Pricing:
It is free of cost and doesn't offer any paid plans.
Tumblr.com is a microblogging site that blends a blogging platform and a social media website.
It gives you the best of both worlds, which is why the platform has a huge following among young internet users.
Key Features:
Discussion Forums: People leverage its discussion forum features to discuss many subjects that matter. It is a great feature to incite engagement of users with your blog.
HTML Editing: Users can easily customize the look and feel of your Tumblr microblogging platform as it allows HTML editing. It also allows you to use a custom domain name.
Dashboard: It offers a simple dashboard to leverage all of Tumblr's features efficiently.
Share Multimedia: Tumblr is a great platform to share memes and jokes through pictures and videos. You can quickly create a post and share it.
Pros:
All its features, including messaging, design, and settings, are within easy reach to enable users to post blogs at a lightning-fast speed.
Apart from customization through HTML, users can also leverage its healthy bank of themes to customize the look and feel of the blog.
It allows bloggers to share their blogs within the platform and appear on trending topics. Hence, it is more engaging than other typical blogging platforms.
You can use it for entertainment and discussion purposes on various topics.
Cons:
The ownership rights of the content stay with Tumblr only.
Good themes come at hefty prices.
You can't use it as a full-fledged website.
Pricing:
Although it comes free, you must pay to use more advanced themes.
Medium.com has emerged as one of the most preferred choices for bloggers in recent years.
Founded by Twitter co-founder Evan Williams in 2012, Medium has evolved into a robust community of writers, journalists, and bloggers.
Key Features:
Quality Readers: Medium offers a paid subscription for its readers in exchange for clutter-free and quality content. Hence, if you want serious readers for your platform, Medium is one of the most suitable platforms.
User Experience: Medium offers a crisp, clean user interface with many white spaces encouraging writing and reading. Users can easily set up an account and blogging immediately through a user-friendly editor page.
Story Option: Medium allows writers to create a series of stories and tell users about upcoming posts to keep the readers engaged.
SEO Friendly: Blogs posted on Medium regularly rank at the top of major search engines. It offers URL customization and story description features to enhance the SEO of its posts.
Pros:
Medium offers a change tracker feature through which writers can easily track the changes to the blog draft before publishing. It ensures the elimination of redundant edits.
Medium offers a membership program through which writers can easily monetize their blogs based on visits and reading time. Its unique clap feature gives extra bonuses to writers.
Medium's editor is clean, user-friendly, and clutter-free.
Users don't need to worry about content formatting as it automatically formats the content before it goes live.
You can easily share your published stories on other platforms.
Cons:
Its analytics is pretty basic, and you can't integrate it with Google Analytics.
Bloggers have limited control over the design of their blogs.
You can only monetize based on the number of visitors. Users can't integrate Google Ads or other affiliate solutions.
Pricing:
Medium is again free of cost, but for $5/month or $50/year, you get unlimited, ad-free access to all the stories on Medium.
Typepad is an easy-to-use blogging platform that is also decidedly easy to monetize.
The best part is that it offers specific and functional features for novice bloggers.
Key Features:
Easily Upload Content: Typepad allows users to create and upload content from the dashboard easily. It will enable the quick posting of content within a few simple steps.
SEO Friendly: It comes equipped with SEO tools that enable the user to optimize the content per the best search engine optimization practices.
Live Video and Audio: Typepad allows bloggers to stream live video or audio broadcasts to their followers. It will enable business owners to connect with their audience and get real-time feedback.
Easy Monetization: Typepad offers several monetization options for users, including Amazon affiliate links and Google Ads. Users can also receive donations through the PayPal tip jar.
Pros:
Users can leverage blog analytics to identify the response to content. It provides many actionable insights from finding the number of visitors to the locations where the content got more traction.
It offers a healthy bank of themes that you can customize easily.
You can also easily map your domain to the Typepad blog for greater customization.
Users are allowed to post through email or mobile phone.
It offers robust customer support assistance through its 24/7 chat support.
Cons:
Its templates and user interface look a bit dated now.
Customization options are limited in comparison to other competitors.
Pricing:
It offers three levels of paid plans that cost $9, $15, and $30.
Joomla is an easy-to-use content management system (CMS) that offers a wide array of features for greater customization and stunning designs.
It not only helps you build websites but also allows you to create compelling online applications.
Key Features:
Ease of Use: Joomla's installation process is quite similar to WordPress. Several hosting providers also offer a one-click installation of Joomla.
eCommerce Support: It allows users to manage the content and online store from the same place. It also offers eCommerce store components that enhance the shopping experience for customers.
PHP: Joomla leverages PHP scripts to minimize compatibility issues quickly.
Flexible: Websites on Joomla can be easily scaled up whenever required.
Pros:
It offers advanced SEO capabilities to eliminate the dependency on third-party SEO tools to appear in the search results.
It offers a healthy pool of extensions that provide almost all majorly used functionalities required for building a website.
It has a vast community of developers through which users can take support and assistance easily.
It offers a higher degree of customization with templates and themes.
Cons:
Users need to have at least some know-how of HTML coding.
It is more complicated than other blogging platforms.
It might face issues while installing several modules and extensions simultaneously.
Pricing:
Joomla is one of the best free blogging platforms for a basic website.
However, you'd have to pay extra for advanced tools and website themes.
Drupal has positioned itself as a popular blogging platform for small businesses. It offers all the capabilities of an efficient content management system.
Key Features:
Multiple Support: It offers support for content management, podcasts, P2P networking, and collaborative authoring, among other features.
Extensions: Drupal offers a massive number of extensions. Its modules are efficient, reliable, and secure.
Flexible Taxonomies: It offers the ability to manage content in several groups, including website subsections, fact sheets, and blog post articles, among others.
Secured: Blogs on Drupal are less prone to getting hacked as it offers advanced security layers.
Pros:
Its access control system allows users to create access control for multiple users.
Drupal has an extensive community that is always on its toes to help and resolve queries of Drupal users.
It releases regular security updates to keep the system safe.
Users can customize the blog by leveraging its open system code. It also offers a lot of themes and templates for easy customization.
It is easily scalable to meet the rising demands of the website with just a few clicks.
Cons:
It is complex to use and requires a big learning curve.
Many good themes are not free.
Improper optimization might impact the speed of the website.
Pricing:
Creating a website with Drupal is entirely free of cost.
However, the monthly maintenance cost of the site may go up to $500 per month, even higher.
The Ghost offers a clean and straightforward user interface for bloggers. The open-source platform's premium service offers many features to customize the blog easily.
Key Features:
Design: It offers a vast library of themes and templates. There are also paid themes for greater customization.
Built-In Plugins: It offers integrated social media plugins and extensions. There is no need for external tools to incorporate these features, including a comments section.
SEO Friendly: It offers capable SEO optimization tools through which bloggers can make their post SEO friendly and searchable over the Internet.
Use Interface: Ghost has a clean user interface that allows you to read and write blog posts quickly.
Pros:
It is built on JavaScript to stay super fast.
You don't need any setup for the hosted version.
It offers some fantastic themes to customize the blog instantly.
Its accelerated mobile page function enables faster load time for mobile websites.
See live blog post page previews for easy editing and customization.
Cons:
Customization is complex.
The theme library is limited.
Pricing:
Ghost offers three pricing plans:
Starter: $9 per month
Creator: $25 per month
Team: $50 per month
Business: $199 per month
The Ruby-based blogging platform offers many features for bloggers to create stunning websites.
Developed by Tom Preston-Werner, GitHub's co-founder, the software is available as open-source.
Key Features:
Static Website: Instead of leveraging the database, Jekyll pulls the content, renders Markdown or Textile, and Liquid templates.
Reliable: It can handle massive amounts of traffic efficiently and won't let even an extraordinary amount of traffic crash your blog.
Flexible: The platform is highly flexible. It allows you to leverage different combinations with front-end frameworks, including Semantic UI and Bootstrap.
Resourceful: It requires fewer resources and space. You can easily make your website live by using CSS, HTML, and Js files.
Pros:
Blogs on Jekyll are incredibly light and fast to load.
It doesn't require any back-end structure or database. Hence, it is decidedly safe and secure.
Being a lightweight website, it puts minimal pressure on the server while bearing a load of a vast number of users at the same time.
It offers a lot of customization features.
Cons:
New users will find it difficult to use.
You might require a developer to incorporate even minor design changes.
Pricing:
Just like its host GitHub, Jekyll is an open-source platform for website building.
What Is A Blogging Platform?
A blogging platform is a web-based tool that lets bloggers quickly set up a website to post blogs online.
Any person with an internet-enabled device can read your blog posts.
A blogging platform is similar to a content management system (CMS) that allows users to manage and track online content.
For instance, WordPress was initially launched as a CMS and now powers more than 30% of blogging websites worldwide.
Today, blogging platforms give you complete control over the design of your own site.
For example, WordPress users can use a ton of free or premium WordPress themes to control the design and layout of their site without any coding or the need to hire a developer.
How Do You Select the Best Blogging Platform?
When deciding on a blogging platform, there are some set criteria it should meet.
Here are the top five requirements to look for when making your choice.
1. Easy Setup for Your Blog Site.
Many bloggers and writing enthusiasts don't come from a technical background.
Therefore, the blogging tool must provide an easy setup that anyone can execute within a few minutes.
The platform should involve minimum coding to ensure any layman can learn the process efficiently and implement the setup.
However, if you have a coding background, you don't have to worry about any required coding during setup.
2. Growth Potential.
The Internet is an unpredictable place where anything can go viral within seconds.
Tons of blogs started small but have grown popular in their niche.
Hence, look for a platform that is easily scalable and capable of supporting massive traffic simultaneously.
Also, ensure your chosen platform offers different payment plans for different needs.
Take a look at Weebly's pricing plans:
You can opt for their freemium plan when you're just starting.
However, once you see an increase in your blog's traffic, you can move to a paid plan with more advanced features.
3. Website and Copyright Ownership.
Don't forget to check out the content policy of your blog platform and whether you are the owner of your published content.
Some platforms control your content and might wipe out or censor the content you post.
If you plan to own your blog content, using a self-hosted platform like WordPress.org is best.
4. Robust Community & Customer Support.
A majority of free platforms don't come with dedicated customer support.
Even some paid ones only come with chat support, which may be inadequate.
In this instance, having a robust community of bloggers and people with technical skills can help to answer your questions.
If customer support runs dry, look for a blog platform that has a vibrant community to answer your questions.
5. Blog Platform Affordability.
Many new bloggers and side hustlers might not want to spend big bucks on a blogging platform.
How much you spend should largely depend on the purpose of your blogging venture.
If you're blogging just as a hobby or to fulfill a passion, then several free blogging platforms are available, including WordPress.com and Blogger.
These platforms would serve your purpose entirely without having to spend a penny.
However, if you are targeting blogging to make passive income online through ads and affiliate programs, it would be wise to have a self-hosted blog with a custom domain and other paid features.
Therefore, think about your blog's purpose first and then decide whether spending money on a platform is feasible.
Top Features Of A Blogging Platform
Now, consider the most important features you should look for in a blogging platform.
Ease of Use, Coding Knowledge Not Required
The first consideration is ensuring you don't need to use any coding or technical skills to set up your blog.
Blogging platforms which require coding are not suitable for complete beginners who want to learn how to start a blog.
It's important to note that all the features and options listed below will determine what kind of experience you'll have when using a blogging platform.
Regardless of whether it needs coding knowledge, some elements might be where ease of use matters more than others.
Drag & Drop Blog Editing
Drag and drop editors are popular these days.
They allow you to organize your content in a structured way without using any HTML editing skills, which some beginners may not have at first.
Not only does WordPress come with a drag-and-drop tool, but it also has a great community of fellow bloggers who can help answer your questions.
Mobile-friendly templates
More and more people use their mobiles rather than desktops or laptops to access the internet.
So if your blogging platform is not responsive, you could be missing out on a lot of traffic and revenue opportunities and have an unprofessional-looking blog site.
I recommend you choose a blogging platform with mobile-friendly templates that automatically find the best resolution for viewing your content on different devices.
SEO tools
Suppose you want to increase your blog's exposure and attract more traffic from search engines.
In that case, you'll need to ensure that your blogging platform provides SEO features, especially meta descriptions and customizing title tags.
These are all essential elements found in most good blogging platforms.
Blog layout customization
Not everyone likes a minimalist-style blog design, and many bloggers want to personalize their sites with custom layouts and designs.
So if you're looking for more from a blogging platform, then it's important that it offers options such as customizing colors or layouts.
Suppose you're not interested in design customization but still want your brand logo featured throughout your blog.
In that case, it's possible to incorporate this into your chosen blogging platform using static elements.
Social media integration
Blogging platforms that offer social media tools to share your content across all your profiles easily are always a plus.
Not only will this help to increase exposure for your blog, but it also makes sharing your content much more convenient.
Import/export options
Being able to import or export your existing blog posts and data is essential if you want an easy way to switch blogging platforms at any time in the future.
While rare, this sometimes happens, especially when there might be technical problems with your platform or hosting.
I would say that WordPress is the best option for new bloggers simply because it has one of the largest communities that provide excellent support via official blog comments, video tutorials on YouTube, discussion forums, etc.
Keyword Research
This is the process where tools analyze user behavior and suggest relevant keywords based on items you're looking to rank for or already have in your blog content.
You can then import these keywords into the Yoast SEO plugin to improve your search engine optimization and organic ranking for Google and other search engines.
Questions To Ask When Selecting the Right Blogging Platform
Here are some questions to ask yourself when making this decision.
What Content Will You Be Posting?
One of the most important factors to consider when selecting a blogging platform is the type of content you plan to create.
Are you a photographer who will be sharing your work?
Are you an author who wants to share your writing with the world?
Do you want to create a blog about your life experiences? Different platforms offer different features, and understanding what content you'll post will help narrow down the best blogging platform for you.
Do You Need Customization Options?
Another factor to consider is how customizable your blog needs to be.
Some platforms offer more flexibility in design and customization options than others.
For instance, if you want more freedom in terms of design or specific features such as custom plugins or widgets, then WordPress may be a better option.
On the other hand, if all you want is ease of use and simplicity, then Tumblr or Blogger might be better suited for your needs.
Is It Easy To Use?
Ease of use should also be considered when selecting a blogging platform.
Many people will unlikely take the time and effort needed to understand how it works if it's too complicated.
Look for intuitive and easy-to-use platforms so that even those without technical knowledge can quickly learn how to set up their blogs and start publishing posts easily.
Executive Summary.
Choosing a blogging platform depends on whether you want to monetize your blog, the features you need, and what you're willing to spend.
If you want to build a free website, WordPress.com and Blogger are two of the go-to options.
However, you can also consider other emerging AI website builders like Squarespace and Wix that offer a clean and modern user interface.
My final recommendation is that you go with WordPress.org, as it's the most robust, versatile CMS. It's also best-in-class regarding SEO, advanced features, and customization.
You can create your WordPress site with Bluehost for just $2.95/month (63% off).
Here are some essential points you must consider before making the final decision:
Make sure that the blogging platform is scalable and capable of accommodating the future needs of your blog.
Look for a transparent pricing structure if you are going for a paid blogging platform.
Check out whether it meets the design and functional requirements of your website.
Test its customization options, including themes, plugins, and widgets.
Make sure that the platform is responsive on all devices and browsers.
Look for robust community support to ensure you always get assistance on time.
An easy user interface and lesser coding will make your daily life easier while managing the blog.
Efficient customer tool if you buy a paid blogging platform subscription.
Once you ponder the above points, you'll be better positioned to choose your platform.
Are there any blogging tools you use that are not listed in this article?
Let me know in the comments.
Recommended Reading on AdamEnfroy.com: To take your blogging to the next level, check out my step-by-step guides to learn how to start a blog and make money blogging (how I made $203 in year one).
Disclosure: I may receive affiliate compensation for some of the links below at no cost to you if you decide to purchase a paid plan. You can read our affiliate disclosure in our privacy policy. This site is not intending to provide financial advice. This is for entertainment only.