7 Best Business Brokers of 2022 (Ultimate Guide)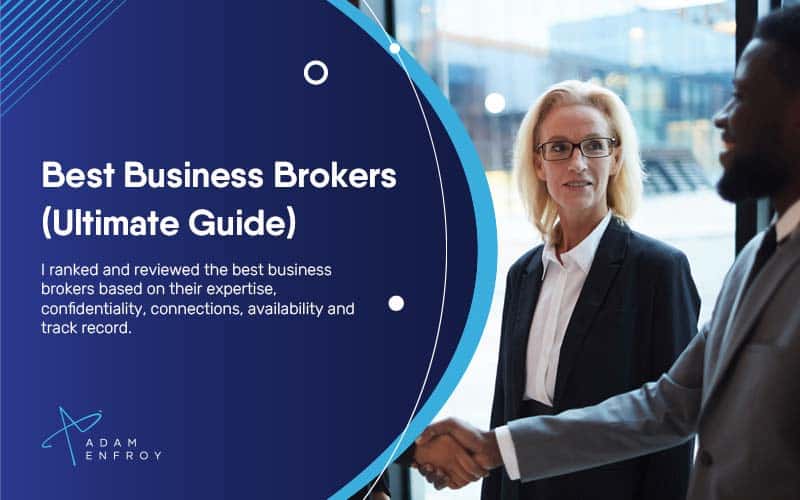 While there are various small business ideas you can use to start your own company, building up a business from scratch is never easy.
If you decide to start an eCommerce business, you'll have to understand which products to source, find the right manufacturers, as well as several other things learned through trial and error.
On the other hand, you can avoid all this hassle and buy an already successful business.
To this extent, various brokers and websites help facilitate the buying and selling of online businesses.
Suitable business brokers ensure that your interests are well-protected when buying established businesses.
They also help sellers with the process of selling a business and ensure they get the correct valuation for their business.
Finding the best business broker (whether you're buying or even if you're selling) can be a daunting task, with severe consequences if you make the wrong choices.
In this article, I will list the best business brokers to consider.
This list will help you understand which brokers you can trust and what services they offer.
Amongst other factors, I review these brokers on their:
Expertise.
Confidentiality.
Connections.
Availability.
Track Record.
And More.
This means that by the end of this post, you'll also be able to consider whether hiring a broker is the right decision or if you can go through this process alone.
Let's get right into it.
Which Are The Best Best Business Brokers?
The following is a list of the best business brokers to consider right now.
Best overall for those looking for a win-win buying/selling situation.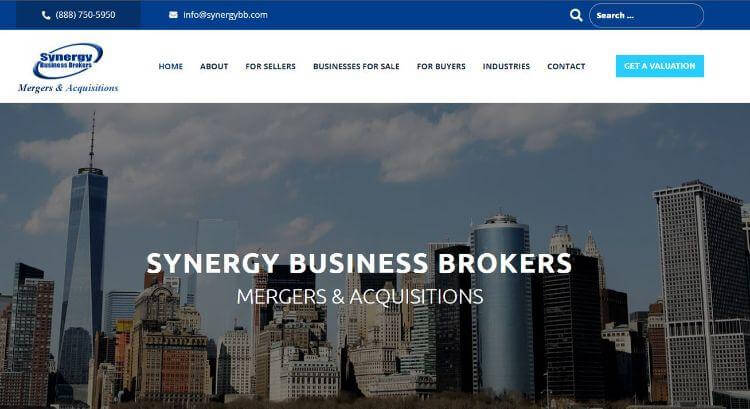 Synergy Business Brokers is a prominent Mergers & Acquisitions company that buys firms with yearly sales of $700,000 to $70 million.
They value their clients by listening to every word spoken and every question asked during the whole process.
Then, they help their clients understand what needs to be done.
They provide a free consultation to learn more about your firm and recommend an asking price if you're thinking of selling it.
Maximize your sale price by hiring Synergy Business Brokers to help you sell your business.
They charge no fees until your business is sold, and then they charge a percentage of the sale price.
As business brokers in New York, New Jersey, Connecticut, Massachusetts, Pennsylvania, Texas, Louisiana, and Nevada, they are some of the best business brokers service providers.
They also help you create a comprehensive marketing plan that will bring in the most qualified buyers for your business.
Key Features:
They have the versatility and know-how to provide the right services in ways that suit your needs.
Their staff's vast industry expertise and connections allow them to deliver superior results for their clients.
They specialize in healthcare, construction, technology, manufacturing, transportation, and distribution services.
Best for matching the right buyers and sellers together.
If you're looking to buy a business on the Internet, Digital Exits will be your best choice.
They have a team of experts who work together with buyers and sellers to help them find their perfect match.
If you want to maximize the value of your online business and get the best price (especially if you're looking to find something above market value), they can help.
They can assist you in aligning the proper drivers and incentives to meet your goals. These drivers include changes in ownership, leadership, strategy, and vision.
They help their clients maintain the business culture by creating an exit transition plan customized for each client they work with.
As a seller, they work hard for you to locate the most pleasing purchasers who will pay the most for your firm.
They collaborate with a handpicked selection of high-net-worth individuals who have millions of dollars to spend and are eager to discover the next digital firm to invest in.
Key Features:
As a seller, Digital Exits help you with marketing and finding the right buyer.
They have a team of experts who know how to buy and sell internet businesses.
By creating an executive summary for you, they increase your chances of getting an offer that's above market value.
Manage deal flow by benchmarking your business against similar internet firms.
With $35,000,000 in total business value sold over the last twelve months, they are one of the best business brokers in the market.
Best for those looking to find specialized help when buying or selling.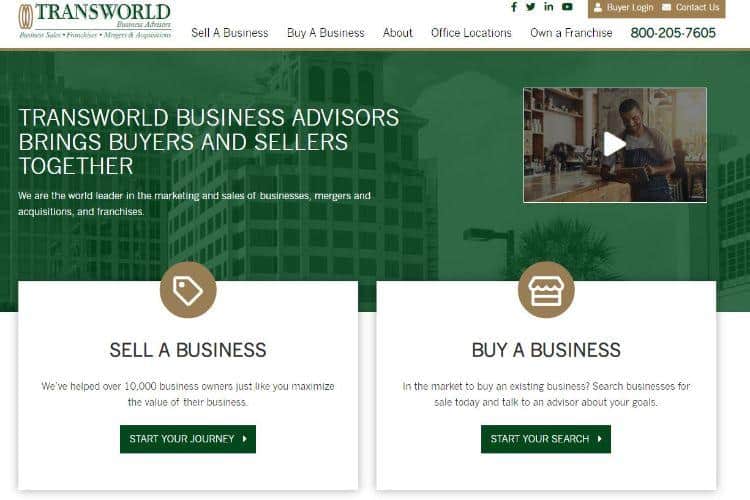 Transworld Business Advisors brings together a wide range of resources to help you successfully sell your business.
They are some of the world's most prominent consultants when it comes to companies' marketing and sales operations and taking care of mergers, acquisitions, and franchises.
Selling your company has never been easier than being in the hands of a brand advisor from Transworld Business.
With the firm focusing on three key ideas – business brokerage, franchise consulting, and franchise creation – you'll be sure that you are in the right hands – both if you're buying or selling.
Key Features:
Whether you're an acquisition-minded business or want to start your firm or franchise, they can help achieve your goals.
Transworld Business Advisors offers a wide range of business consulting services that help companies find new buyers.
Entrepreneurs who want to sell their company without selling it to another business will find that there are a lot of advantages to working with their team.
Invite their experts to examine the most acceptable alternatives for your company based on your objectives.
4. First Choice Business Brokers.
Best for those that want due diligence done right.
First Choice Business Brokers help drill down the specifics of the business you're looking to purchase.
They are a team of professionals with over 25 years of experience in business brokerage, mergers, acquisitions, and franchise consulting.
First Choice Business Brokers have an extensive network of qualified buyers and sellers in their network.
As such, they offer a worldwide network of sales professionals who can help you through purchasing or selling.
They have helped sell $8.5 billion worth of businesses through their marketing listings, which means that as professional business brokers, they provide both buyers and sellers with the convenience and expertise of a nationwide network.
You can rest easy knowing that their professional brokers come from various fields, including accounting, law, banking, real estate, and insurance.
Whatever business you're looking to acquire or sell, you can trust that the best-qualified professionals are there to help, with your best interest at heart.
Key Features:
They offer business owners who wish to sell their businesses confidential listing services that ensure privacy and security.
They offer a wide range of resources to streamline the process, including due diligence checklists, financial analysis tools, and more.
All First Choice Offices provide expert and accurate valuation services to help you determine your company's value.
This is a great advantage for business owners who want to find out as much specific information as possible about their company and what it's worth.
5. Woodbridge International.
Best for creating top-notch marketing material to help sell your business.
Woodbridge International has been in operation for more than 28 years, making them one of the world's most experienced and longest-running business brokers.
They have a wide range of services and deal with businesses of all sizes.
While other firms focus solely on their professional ties, what differentiates Woodbridge International is that they utilize their marketing tools to contact the broadest possible number of potential purchasers.
They facilitate a competitive auction approach with your blessing, which generates interest in your business and attracts more bidders.
This can result in a higher sales price and a potentially better fit.
With an underwriting process in the first 30 days that significantly reduces the odds of negative surprises after the sale is completed, Woodbridge International stands out from other firms.
With a focus on providing an exceptional customer experience, their service is second to none.
Key Features:
An exclusive network of 6,600 private equity organizations and 410,000 strategic businesses quickly identifies the best potential purchasers.
They help create a marketing video to promote your business and pique the interest of potential buyers.
They have a 2-day management meeting workshop for customers to show them how to sell their business effectively.
They collaborate with their client to get everything possible done to ensure a successful sale at the highest value.
6. VR Business Brokers.
Best for providing you with the best individual customer service.

VR Business Brokers has been successfully finding the right buyers and matching them with the ideal businesses across various industries for over five decades.
Valued Representation is the meaning behind their name, which they strive to provide for both buyers and sellers.
They offer a family-like environment where their clients receive personalized customer service and expert advice.
Their track record in selling privately owned businesses at fair market value demonstrates their commitment to delivering excellent service and building long-term relationships with their clients.
When you're looking to buy a successful business, they provide advanced search functionality on their website that allows you to start broad and quickly focus on the ideal company.
The company's outstanding business practices have aided them in building solid relationships with a large base of loyal customers over the years.
Key Features:
The advanced "business for sale" search capability on their website enables you to filter by the type of business, company size ranges, annual revenue ranges, earnings ranges, as well as state or county.
They offer a complimentary business value analysis to help you understand what your business is worth before listing it on the market.
When you utilize VR, you get the proper guidance but ultimately have complete control over your business' selling process.
7. Peterson Acquisitions.
Best for providing accurate business valuation.
Peterson Acquisitions is a small business acquisition service that serves firms throughout the United States.
They offer a wide variety of services, including business valuation, buyer qualification, marketing, and sale negotiation.
If you want to sell your business with the best possible outcome, certain things need to be considered, not necessarily evident to the inexperienced business owner.
Acquiring businesses needs to be handled carefully, or you could end up with a subpar fit, which will diminish your value in the market.
Peterson Acquisitions is dedicated to finding out what you are looking for and then helping you get there – including overcoming any obstacles that might be standing in your way.
Peterson Acquisitions has a unique background that translates to a real-world application to assist business owners like you sell your company.
Key Features:
Peterson Acquisitions can assess the financial performance of businesses and non-profits through business analysis.
They can also help business owners transition their company into a new market.
Corporate financial data is used by Peterson Acquisitions to generate a written analysis that is easy to comprehend.
An evaluation of your property by Peterson Acquisitions will be conducted, which will give you a good indication of what your business is worth.
What Are Business Brokers?
Business brokers or brokerage services are defined as an entity that negotiates mergers and acquisitions between buyers and sellers of businesses, either for a fee or for a share of the proceeds of the sale.
Selling your business can be highly lucrative but transferring ownership into the right hands needs to be done carefully. Business brokers are there to ensure that this happens.
They also provide crucial legal expertise when negotiating deals with other companies and future partners.
It's essential to know the difference between a Business Broker and an M&A (merger and acquisition) Advisor.
An M&A advisor typically provides their services to much larger businesses, has more complex finances, and usually happens in the public eye.
Business Brokers will typically work with businesses that are medium or small in size and have been in operation for several years.
There are also situations where such deals happen in private, away from anything that might potentially sink a deal.
With fear of an unknown future making prospective buyers or sellers hesitant when making business transactions, business brokers can help alleviate these fears by providing a realistic view of what to expect from either party.
They also provide:
Critical support and advice regarding due diligence.
Drafting contracts before the final signing date happens.
Getting the best possible value for one's company.
Business brokers are essential in ensuring that the sale or purchase of your business goes as smoothly as possible.
Using their services makes you more likely to get the most value for your company.
What should one be aware of when choosing a business broker?
When choosing a business broker, you should look at the following aspects.
A Business Broker Should Be Licensed And Insured
Generally, brokers should register their license with the state in which they work.
This is a crucial step before you sign any brokerage agreement, so make sure your chosen business broker is up to date on their licenses, including dues and fees.
Make sure that you understand what extra costs are being added to the commission rate mentioned by your chosen business broker.
Some brokers may charge a flat fee, while others add percentage rates or other hidden fees.
It's also essential to check whether they have any special licenses, which might vary depending on the state in which a transaction is happening.
While checking these items might seem like an extra step, ensure that you're dealing with the right brokerage from the get-go.
A Business Broker Should Understand Your Business Well
Business sales can be complex. Not only do you have to find the right buyer, but you also have to make sure that the terms of the deal are beneficial for both parties.
Your business broker should understand your business well and communicate its value to those potentially buying the company.
The right broker should also identify any potential problems during the sale process, information that comes through knowing your industry.
You don't want a business broker who is just going to put your company on the market and hope for the best.
It would help if you had someone who would actively work on your behalf and get you the best possible deal.
Working with a good business broker can mean the difference between getting a fair price for your company and not getting anything at all.
For example, if you're dealing with commercial real estate, you need a broker who can help you get the best price for your property.
The same applies in any other industry.
A Business Broker Should Be Able To Provide References And Examples Of Previous Deals
Business brokers want to work with profitable and in high demand businesses.
An excellent way to identify these companies is by getting referrals from their most recent clients.
Some of these clients may also be willing to share testimonials or case studies about how that particular business broker helped them seal the deal on their company.
This could be very helpful in helping you make up your mind when choosing a suitable business broker for your needs.
Business listings can give you an idea of how many businesses they have helped to sell, but make sure that these are both successful and profitable.
It would help if you also got in touch with some of their references.
Most business brokers could provide you with some names and contact details to speak directly to previous clients.
If so, do not be afraid to ask about these past clients' experiences throughout the process.
If they don't want to share any information or if most of their previous clients gave them a terrible rating, it's probably time to consider another option.
A Business Broker Should Be Experienced
Top business brokers have a lot of experience in the field.
This comes with many benefits, including being up-to-date on the latest trends, knowing how to market your business, and understanding the complicated legal process involved in selling businesses.
A brokerage firm should also provide valuable insights into what buyers are looking for and how to make your company as attractive as possible.
The more experienced your business broker is, the more likely it is that they will be able to find you a suitable buyer and close the deal quickly.
A Business Broker Should Be Available
Business brokers can help you in many ways, including preparing your company for the sale, marketing it to potential buyers, and negotiating the price.
It would help if you had someone who would answer your questions promptly so that you could keep things moving along.
It could delay everything if they take days or even weeks to get back to you.
Your business broker should also be there for you throughout the whole process to know exactly what is happening at all times.
This includes explaining legal obligations and helping you prepare documents such as purchase agreements, non-disclosure forms, and sales contracts.
If you are buying a business, good business brokers will also offer their services on an ongoing basis after the sale takes place.
This ensures they can help you transition into your new ownership role.
A Business Broker Should Be On Your Side
You don't want to work with a business broker who only has their interests in mind and will say "yes" to anybody, even if it's not in your best interest.
A good business broker should put your needs first (when it makes sense for the business transaction) and not rush you into making a decision that could potentially harm you.
They should also be looking out for potential buyers who would suit your company and provide them with all of the necessary documentation to decide whether or not to go ahead with the purchase.
If they focus on selling your company without considering its long-term and maximum value, then this could lead to severe problems down the line.
While it is understandable that most business owners want to get the best possible price from selling a business, they also need to consider that the business broker will be taking a commission from the sale.
This means that discussing such terms with the broker in advance, and developing a commission structure that both of you are happy with, should be done early in the process.
Otherwise, you could be in for a nasty surprise when the deal goes through.
A Business Broker Should Have A Long-Term Strategy
Although it's essential to get the best possible deal for your company, there is more to consider than just profit margins.
After all, if you're looking to retire or leave the industry permanently, then you need to think about what lies ahead.
Working with someone who understands your goals and has extensive experience in creating successful transition plans will give you much more peace of mind in the long run.
Ideally, they should be able to provide insight into different exit strategies and the benefits of each.
This will make it much easier to make a final decision on when to sell.
Even if you want to work in your business in some limited role after selling, having an exit strategy is still essential.
When the time comes, you'll be able to leave knowing that everything is under control.
A Note On The International Business Brokers Association
The International Business Brokers Association (IBBA) is a professional organization for business brokers.
They have a code of ethics that all members must follow and have been known to take action against those who breach these rules.
You can check whether or not you are dealing with an IBBA member by visiting their website.
Suppose a business broker you're considering isn't a member of the association.
In that case, it doesn't mean that they aren't ethical, but it's worth being cautious when working with someone outside this group.
In addition, the IBBA offers online courses and exams so that business brokers can build up their knowledge and develop professional skills.
If you can find a successful business broker who is also an IBBA member, this would be ideal.
Wrap Up.
Finding the right business broker can be a daunting task, but it's worth taking the time to do your research.
By following these tips, you'll be in a much better position to find someone who can help you achieve your goals.
In summary, the best business brokers right now are:
Synergy Business Brokers: Best overall for those looking for a win-win buying/selling situation.
Digital Exits: Best for matching the right buyers and sellers together.
Transworld Business Advisors: Best for those looking to find specialized help when buying or selling.
Keeping the above factors in mind, you should find the perfect business broker for your needs.
Do you think that I missed any of the top business brokers? Please let me know in the comments below.
Further reading on AdamEnfroy.com: If you want your business to succeed, you need to have a solid business plan in place.
Business planning software can help give you just that.
In addition, if you want to ensure that you run your business efficiently, here's a list of the best workflow management software to consider.
Disclosure: I may receive affiliate compensation for some of the links below at no cost to you if you decide to purchase a paid plan. You can read our affiliate disclosure in our privacy policy. This site is not intending to provide financial advice. This is for entertainment only.