7 Best Business Checking Accounts for LLCs (2023)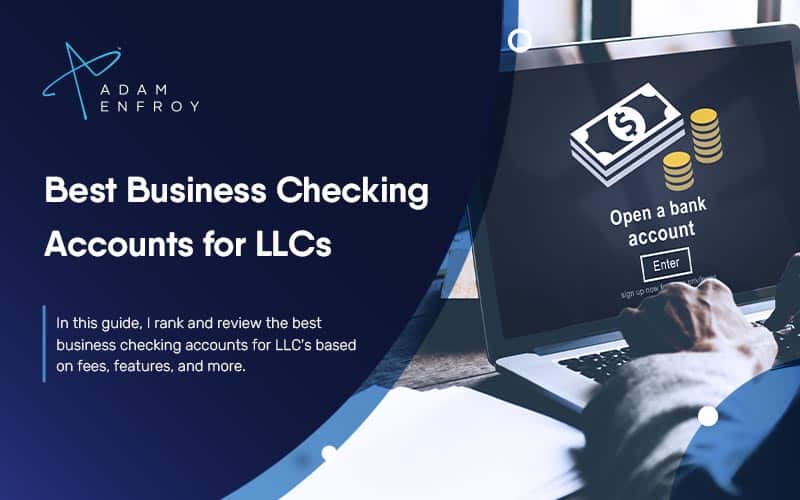 Let's face it.
You're not really limited when it comes to choosing a bank for your business – there are multitudes of options all competing against one another.
However, going through a list of banks, reading their terms and conditions, and ultimately figuring out which one is the best online bank account is not a pleasant experience.
The same holds true when it comes to finding the best business checking account.
With that said, having long-term business success means choosing the account that suits your needs.
The right account may depend on a variety of factors, such as monthly fees, services offered, the best business credit cards provided, and transaction limitations.
In a year where checking account rates decreased by almost 22%, it is crucial for businesses to make the right choice.
This also means that you don't end up overpaying for the service – after all, a lack of cash flow has been attributed to being the #1 reason why businesses fail.
In this article, I've put together a list of the top business checking accounts for LLCs.
This list will make it easy to choose the account that works best for you, providing you with all the functionality that your business needs.
Let's get right into it.
What are the Best Business Checking Accounts for LLCs?
Choosing the right account for your LLC is key, so take your time to understand the various features offered by the following banks.
The following are my top picks for the best Business Checking Accounts for LLCs.
1. Chase Bank.
Best for small business owners who want to take control of their overall finances.
Chase Bank understands that your time is valuable and gives you the tools to focus on what matters most – growing your business.
With abilities such as taking card payments on the phone, having the right security and getting money into your account just by opening it, Chase Bank is the go-to bank for a limited liability company and those that just started a new business.
Features
Free up the cash you need to keep your business moving forward and avoid overdraft fees with real-time access to your accounts.
Get same-day unlimited electronic deposits at no additional cost so you can get cash into your account faster.
Get up to $2,000 in deposits at no additional cost which means you don't have to worry about any fees.
With the Chase Mobile app, you can process transactions wherever you are.
With Chase Business Complete Banking and Chase Business Complete Checking, you'll get a complete solution to your business needs.
Pricing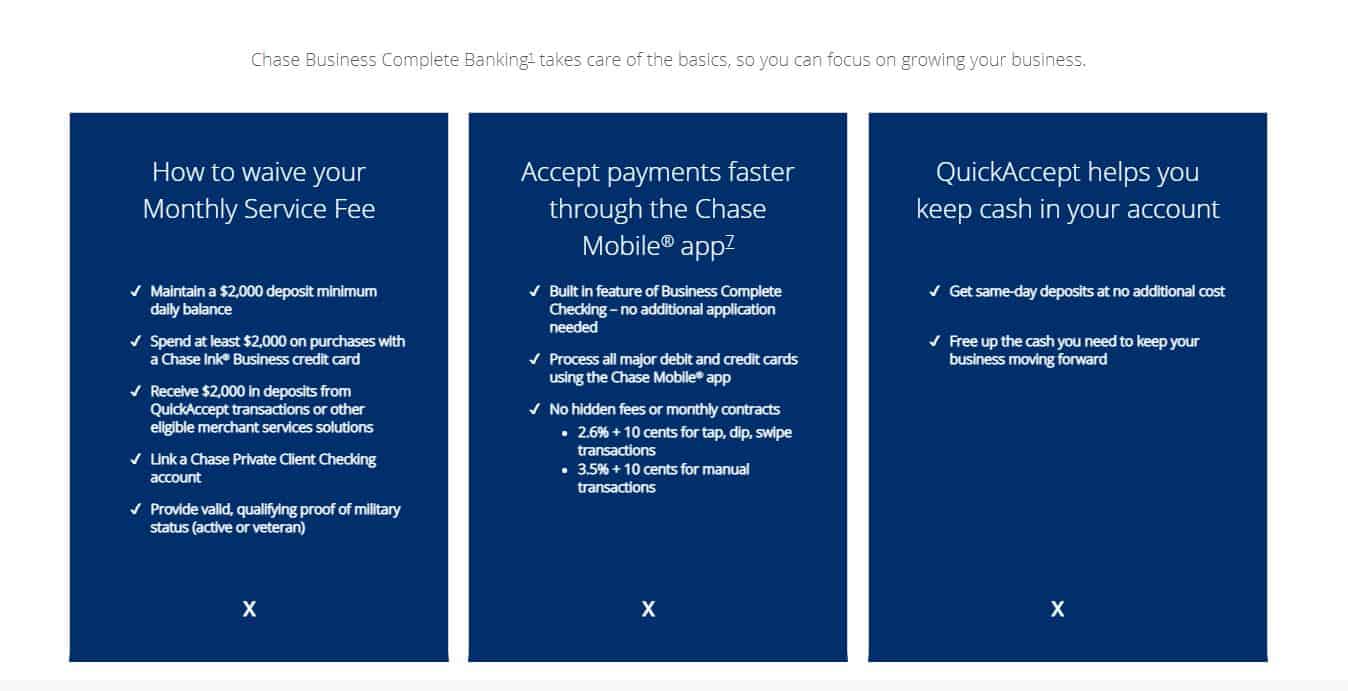 The pricing plans are as follows:
2.6% + 10 cents for tap, dip, swipe transactions
3.5% + 10 cents for manual transactions
2. Bank of America.
Best for managing a business through its various cycles – from starting off to scaling.
Bank of America is a global financial institution that provides business banking, investing, and other financial and risk management products to corporations, institutions, governments, and individuals.
They work closely with small business customers to understand what they need so they can provide the right solution for each individual.
We have an extensive suite of services tailored specifically for businesses—from business credit cards, cash flow solutions, and online payroll tools to merchant services.
Features
Get near real-time insights on business performance to make decisions on the go.
Be More Productive – Pay employees with a few taps, so you can get back to work.
Save Time – Make your accounts payable and receivable electronic with instant uploading to the system.
Translate data into intelligible insights so you can take informed action to drive efficiency.
Pricing
The pricing depends on the state and the product that you choose. However, most fees are every month and you will be able to more than cover the few dollars required with the number of benefits that you get.
3. Wells Fargo.
Best for having a checking account that is specific to your unique needs.
Wells Fargo provides a wide range of products and services for both startups and established businesses that can help achieve business goals, from growing a company to safeguarding it for the future.
Wells Fargo is committed to delivering what matters most: checking and savings accounts, a business credit card for everyday business expenses and cash management; business loans, lines of credit, and other financing options for a variety of business ventures.
They can help with any stage of growth—whether you're just starting out or looking ahead to scale your company, they will find the solutions to help you reach your goals, grow your business and protect what's important.
WellsFargo is good for the business owner that wants a good foundation to scale up their business – their Initiate Business Checking gives you the support you need so that you can focus on what's most important—your business.
It's also great for the flexible business owner that understands that the market conditions changes. With a Relationship Business Checking account, they can provide stability and flexibility as you work through challenging changes.
A Wealth Management Account offers specialized services that help you achieve your financial goals with customized solutions designed around your needs.
For the veteran business owner that relies on being efficient, the plan known as Optimize Business Checking helps you streamline your business operations so that you can focus on growth opportunities.
Features
Get an alert if they notice unusual activity on your account so that you can take quick action to protect your business.
Accept credit card payments easily and securely across the country through their online bill pay or our mobile app.
Quickly set up and receive payments. To send a payment, just enter the recipient's email address or mobile number. You can also pay people in your contact list from your phone with the Wells Fargo Mobile app.
Schedule recurring ACH payments for payroll processing.
Perform contactless business debit card purchases or add to your digital wallet for fast, secure payments and Wells Fargo ATM access
Pricing
This service costs a monthly service fee of ten dollars, however, by maintaining a $500 minimum daily balance, you'll be able to avoid them.
Alternatively, you need to have a $1000 average ledger balance through the fee period.
There are no fees for the first $5000 cash deposits; after which the fee becomes $.30 for each $100 deposit.
The same logic applies to transaction fees – the first 100 are free transactions, after which the cost is $0.50 for each transaction.
4. PNC.
Best for establishing a great foundation for your business with their multiple checking accounts.
At PNC Bank, they're committed to helping small businesses grow.
They understand that there are many challenges when it comes to managing cash flow and growing a business which is why they offer the right foundation with their PNC Business Checking account which helps manage finances.
PNC is a bank that offers checking accounts, loans, and other services to help businesses thrive.
PNC Business Accounts make it easy to manage the company's money without paying additional fees.
Their fee-free online and mobile banking, as well as PNC Business Online, help you stay on top of day-to-day activities. Their aim is to offer features that help your company grow and prosper.
Features
You have access to PNC business debit and credit cards, along with their mobile bank app, which gives you 24/7 access to your accounts.
Withdraw cash from any PNC Bank ATM in the U.S., without paying a fee.
You can do more with your money due to their professional help so your saved money works for you, not the other way around.
Get free unlimited transactions with your online banking (including mobile banking) and PNC Business Online Banking.
By linking your personal checking account and business checking accounts, you can easily transfer money between them if needed and pay fewer fees.
Pricing
You'll need at least $100 to get started when it comes to opening an account and then you'll have to pay $10 monthly after that – no payment needed for the first three statement cycles.
Moreover, PNC does offer 3 different ways to avoid this maintenance charge:
Maintain a $500 monthly balance in your account
Use a PNC business credit card and make at least $500 worth of purchases using this card per month
Generate at least $500 in monthly deposits to your account
5. Oxygen.
Best for the rebels that want to do things their way when it comes to their business.
Oxygen is a financial technology company, not a bank, which was established to provide customers with the opportunity and flexibility to experience banking without the burden of being confined to traditional banking products and limitations.
They are committed to giving customers space and flexibility while also offering them award-winning customer service as well as security measures that exceed industry standards.
Oxygen's goal is to provide its customers with a streamlined and user-friendly banking experience delivered through smart technology.
They offer a suite of tools to make the most out of your money.
Features
You can earn cash back on everyday purchases at approved merchants.
Save time and improve your financial health with their suite of tools that allows you to compare interest rates, find discounts and rewards, lower debt, and more.
Receive real-time cashback notifications and get an instant receipt for every transaction.
Get paid up to 2 business days early with direct deposit so that your money is immediately accessible.
Pricing
Oxygen offers 4 different plans (called elements) that allow you to choose the one that best fits your business.
They are called:
There are a few qualifying questions to be answered when it comes to accessing the different plans, which mainly center around initial and annual requirements.
6. LendingClub Tailored Checking.
Best for creating a tailored account that reflects your needs.
LendingClub Tailored Checking is catered towards the small business owner and his/her specific needs.
Running your own business means that you should be able to invest in your company without having to worry about fees or transaction limits. With LendingClub, you can avoid all of that.
They have no excess transaction fees and don't limit how much money you spend.
You also get unlimited 1% cash back on every purchase made with LendingClub business debit cards. You can apply in 10 minutes online and start using their services today.
Features
Earn 0.10% APY on your balances of $5,000 and higher which means that you can earn money the more you have saved.
Feel confident knowing you're earning a higher rate than most other checking accounts on the market.
They won't charge you when you use their ATM. They'll also pay the fees for other banks' ATMs so that you can always access your money for free.
You can manage your accounts from anywhere and anytime. This means that you can check your balances, view transactions, and make payments from the convenience of your mobile device.
Pay people with a one-time payment or by setting up a recurring payment so that you can pay your bills on time and never forget about a due date.
Pricing
There are no maintenance fees involved if the balance in your account exceeds $5000.
If it doesn't, you will have to pay a monthly maintenance fee of $10 for your account.
7. Lili.
Best for freelancers that want a simple mobile banking solution to their banking needs.
Lili is your go-to app for managing finances, cards, and all of the things that are business banking-related. Lili offers an FDIC insured and free business bank account that's linked to your debit card.
You can freeze or unfreeze your card in seconds from the app so you can rest assured you're always on top of your money's security.
Plus, their industry-leading security features make sure only those who are supposed to have access, actually do.
With Lili, your business life becomes more convenient and secure – whether you're on the go or at home. Check balances and transactions, send money to friends and family, deposit checks from your phone – all within minutes.
Here's a more in-depth analysis of Lili and the benefits it can offer your business.
Features
Get a visa debit card so that you can make payments, access your business accounts, and track expenses.
Expense management software allows you to sync all of your company's expenses and easily create reports.
With a no-fee overdraft function, you don't have to worry about exceeding your account balance.
Uses some of the best invoicing software available, allowing you to easily create them, send them to clients and collect payments so that you can get paid on time.
Pricing
There are no fees to get started with your Lili account, along with no overdraft fees and no fees when exchanging currencies.
In addition, no deposits are required and you can withdraw cash fee free, with no ATM fees, from 38,000+ ATMs in the US.
What are Business Checking Accounts?
Business checking accounts come in different forms. In the USA, they are considered to be transactional small business bank accounts that allow you to make payments online.
Some of these companies will charge a monthly fee for using their account.
Let's compare a business checking account with many of the traditional types of accounts available.
Business Checking Accounts vs Savings Accounts
People always wonder whether it is better to keep cash in savings or to put it into a business checking account because both have very different uses and perks.
Suppose that you are saving up something special for a birthday gift. You will want that money accessible at all times to ensure that you can get it when the occasion comes – that is perfect for a savings account.
On the other hand, if you have excess funds that are not necessary for your daily transactions, then it is better to put them into a business checking account so that you can earn interest on it.
These two accounts also have different pricing models, with the former often having a lower administration fee than the latter.
In general, business checking accounts are great for making payments and managing your funds.
There is always an online portal where you can go to check how much money is available for withdrawal or use.
The importance of having a business checking account really comes in when you need to keep up with banking basics.
This includes keeping track of all payments that come in and out of your bank account as well as investments and property purchases.
A business checking account allows you to organize everything so that you never get surprised by anything financial-related.
One of the main benefits that come with a business checking account is taxation.
By keeping records, you can easily show if you have profits or losses in your company and this helps you avoid paying high taxes on small profits or paying nothing at all when there are big losses – this is not necessarily so when you have a savings account.
Business Checking Account vs Business Savings Account
A business savings account is very similar to a regular one, the major difference being that these savings accounts require higher minimum balance requirements most frequently enforced by federal regulations.
Before opening up a savings account, you need to determine its primary use.
Are you going to be using it for saving money or making some investments with the hope of gaining interest in your account balance?
A business saving is good for people who want to save some cash from their daily transactions as well as for companies that are just starting and can't yet afford to open a business checking account.
Another benefit of having a high yield business savings account is that you are able to earn interest on the money that you need to keep in the business for operational costs anyways.
You can easily manage your funds when the bank has a low threshold requirement for minimum balance in an account.
If you are looking for a service that can help your business grow then you might want to be sure that the bank can offer mobile check deposits, credit card payments, merchant services, and foreign transaction capabilities – things that are typically included in a business checking account.
When deciding if a particular checking account is worth it, the fee structure should always be taken into consideration since it will depend on how often you plan to use the account.
The fewer fees you have to pay, the better.
Moreover, business checking accounts frequently have higher fees than personal finance ones, since they are aimed at businesses that operate either online or with considerable transaction volumes.
You might also be required to make a large initial deposit to open the account and it's important to check and see if there is an annual fee for having the account.
Business Checking Accounts FAQ
What is the best business bank account for a small business?
A business complete banking account doesn't really exist. There is no "best" bank for a small business checking account since each bank has its policies and requirements.
That being said, opening a business checking account isn't that difficult since all you need to do is be prepared and know what your options are.
You need to figure out how much money you have to open an account and check if the features included with your business checking account are exactly what you want.
The more information you provide about your company's services, as well as personal contact details, the easier it will be for people at the bank to help you establish a relationship that will serve all parties (your company, clients, and the bank itself) well in the near future.
What Makes Up A Business Checking Account?
There are many things you need to keep track of when operating your company: making payments, receiving funds, specific business expenses (such as business meals and entertainment) as well as taxes and general financial management.
You have to know exactly how much money you have so that you can better predict what will happen next.
How much does it cost to start a business in the US?
The cost of starting a business in the United States can vary and it will depend on what kind of company you are trying to start.
You may want to structure your company as an LLC or an S Corporation.
It's important to know that generally, there are no special licenses required for a sole proprietor but if you plan on doing business under certain state laws (for example, when dealing with payroll and through using payroll software) then you might have to register as well as obtain trade permits.
Which bank is best for LLC?
The answer is that it depends. It's important to find out which bank is best for your company since they all have different policies, procedures, and criteria when it comes to accepting clients.
You can visit the website of each one to see what their requirements are and check if you will be able to meet them or not.
Once you gather all the information that you need, then you are ready for a meeting with someone from the bank's staff and they will help you through any questions or concerns that you might have.
Also, there are different kinds of bank accounts – some that are for very specific kinds of businesses and others that are more flexible.
It's important to know what features you want before taking the plunge into the online business world since it will make money management and tax collection a lot easier.
Simply go online, ask around and do your research as much as possible to find out where you should open your company's business account at.
What is the purpose of a business checking account?
Business checking accounts serve as your company's go-to everyday account where all checks are deposited, bills paid, and so forth.
You should also be able to use them for fee reimbursements and tax-deductible transactions.
You'll want to make sure that your employees know how everything works and agree on its usage, to properly regulate finances within the company without having any issues or disputes arise.
It can be hard at times but there are always people out there ready to help you out and they are more than willing to explain everything that needs to be done.
What is the minimum amount to open a business checking account?
One of the most important things to keep in mind is that all banks have different policies and procedures. In general, you will need at least two valid IDs from your business owners or entrepreneurs as well as a physical address where you can receive mail (and checks).
You will also be providing information about the company itself along with its structure.
The total time it takes for opening an account will depend on how fast everything is processed but it usually doesn't take longer than a week or so before getting approved.
Do banks offer a sign-up bonus?
Some banks do, however it usually depends on promotions that they are running at any given time.
You should have a look at the terms and conditions on offer to ensure that you make the most out of any bonuses that are currently available.
Other Banks To Consider
There are a lot of other banks that we didn't mention above that you might also want to check out.
These banks/accounts include:
Capital One
Bank of America Business
Axos bank
Novo Business Checking Account
Green Dot Account
Bluevine Business Checking Account
There are also other options by Chase Bank, including Chase Quickdeposit, Chase Quickaccept, and Chase Quickbooks – all of which might provide you with what you need.
Compare the features that you'll get including free business checking limits, free cash deposits, minimum opening deposit amounts, whether the account offers bookkeeping options, and what options you have when there are incoming wire transfers.
The typical bank offers many of the above so it's in your interest to find out as much as possible before choosing the one to go with.
Also, when it comes to the typical US business checking account for LLCs, a social security number is required to open an account, so this is something to keep in mind.
Best Business Checking Accounts For LLC – FAQ
What is the FDIC?
The Federal Deposit Insurance Corporation (FDIC) is an independent agency of the United States government that protects the funds depositors in US banks in the event of bank failure. The FDIC is funded by premiums that banks pay for deposit insurance coverage and from earnings on investments in US Treasury securities.
How can I get the best deal on a business checking account?
The best way to get the best deal on a business checking account is to compare the features of different accounts. Some banks offer free business checking with no monthly fees, while others charge a monthly fee but offer free services, such as online bill pay or unlimited check writing.
What is the minimum amount to open a business checking account?
The minimum amount to open a business checking account varies by bank, but is typically $100. Some banks may require a higher minimum deposit, such as $1,000.
Do all banks offer a sign-up bonus?
Some banks offer a sign-up bonus, but it is not available at all banks. Check with the bank to see if a sign-up bonus is currently being offered.
What are the benefits of having a business checking account?
The benefits of having a business checking account vary by bank, but typically include free customer service, statement processing, and check clearing. Some banks also offer additional services for a fee, such as online bill pay, wire transfers, and stop payments.
Wrap Up.
In conclusion, deciding to start a company is no joke but it could pay off in the end.
It's important to keep in mind that you need to do your research and find out as much information about the process, laws, and procedures before going through with anything.
You wouldn't start your own company without using the right roadmap software to plan the important milestones to hit – the same logic applies to choosing the right business checking account.
The same applies when deciding which business checking account is best for your company. It's all about what features are important and which ones will make money management easier for you. If you do it right, then the sky's the limit.
Here are my top choices for the Best Business Checking Accounts for LLCs:
Chase Bank: Best for small business owners who want to take control of their overall finances.
Bank of America: Best for managing a business through its various cycles – from starting off to scaling.
Wells Fargo: Best for having a checking account that is specific to your unique needs.
PNC: Best for establishing a great foundation for your business with their multiple checking accounts.
Oxygen: Best for the rebels that want to have their finances work for them.
LendingClub Tailored Checking: Best for creating a tailored account that reflects your needs.
Lili: Best for freelancers that want simple solutions to their banking needs.
By doing your research and making the right choice, you will be able to manage your business finances in the most efficient way possible.
Further reading on AdamEnfroy.com: If you want a point of sale in your business and aren't happy with the service being provided, check out our article on the best POS systems and software that could make your business life even better.
You can also read up on the best eCommerce platforms if you plan on selling your products or services online.
Finally, check out my post on the best small business loans if you want to learn how you can expand and scale your business.
Disclosure: I may receive affiliate compensation for some of the links below at no cost to you if you decide to purchase a paid plan. You can read our affiliate disclosure in our privacy policy. This site is not intending to provide financial advice. This is for entertainment only.