7 Best Business Credit Cards for Startups of 2023 (Ranked)
Finding the right business credit card for one's specific needs is not always easy.
There are credit cards for those with no credit, cards that focus on rewards, others that focus on travel points, and so many more.
When it comes to credit cards for startups, finding the right card is sometimes a bit more difficult when compared to other types of businesses.
Moreover, with credit card debt increasing by $45.7 billion during the second quarter of 2021, the last thing that you want to do is choose the wrong business credit card for your startup.
Startup business owners typically need a card that has flexible payment options and a low monthly fee.
A startup credit card should also allow for business growth opportunities with low fees and new benefits as the company begins to increase in size.
With as many as 29% of all new startups running out of business funding and having to close down, choosing the right credit card is crucial.
In this article, I've ranked the top 7 business credit cards for startups based on:
Approval odds.
The flexibility of payment plans.
Sign-up bonuses.
Fees associated with each card.
Customer service options.
And more.
Keep reading to find out more.
What are the Best Business Credit Cards for Startups?
Below are my top picks for the best business credit cards for startups right now.
1. Brex Card for Startups.
Best for providing all-in-one finance for start-ups.
You can get a business account, credit card, and spending software all in one conveniently packaged product. There are no fees or minimum amounts to worry about.
To help you grow, Brex provides you with business management software and services. This includes a full suite of business analytics and cash flow management tools to keep your startup afloat.
Features
Always get free balance transfers from Brex anywhere in the world so that you can move money from your business banking accounts, credit cards, and bank accounts at a 0% fee.
They offer a variety of capabilities to get your business from point A to point B. Whether you're looking for an eCommerce platform, a website development company, or just help with the right payroll software and invoicing systems for your company, they can make it happen.
Call them up and talk to them about any concerns or disputes you may have so that they can help resolve any issues.
Since no minimum deposits are required, you can maintain a zero-balance account with no fees.
They use partner banks that provide coverage up to $250,000 from the FDIC so that you can have comprehensive protection in case of fraud, ID theft, or bankruptcy.
2. Capital One® Spark® Classic for Business.
Best for building business credit and earning cash back at the same time.
Using this card responsibly will help you build and strengthen your credit. As a startup, you must build a solid payment history as fast as possible.
Spark cardholders can rack up some serious cash back rewards on purchases they make for their business, whether it's hiring employees, buying needed items from office supply stores or buying new equipment.
With no expiration date on the account, you can earn cashback rewards for any amount at any time. This means that you can earn cash back on every purchase – big or small. For example, if your monthly expenses are $10,000, your firm may earn $1200 in yearly returns.
Features
Assign an account manager to make purchases and payments, handle transactions, and address any issues.
Get a detailed breakdown of your expenses so you may keep track of your funds more easily.
You may get an emergency replacement and a cash advance if your card is lost or stolen.
Set up AutoPay so you won't have to worry about it every month; this means that you can avoid late fees.
3. The Business Platinum Card® from American Express.
Best for benefits and rewards.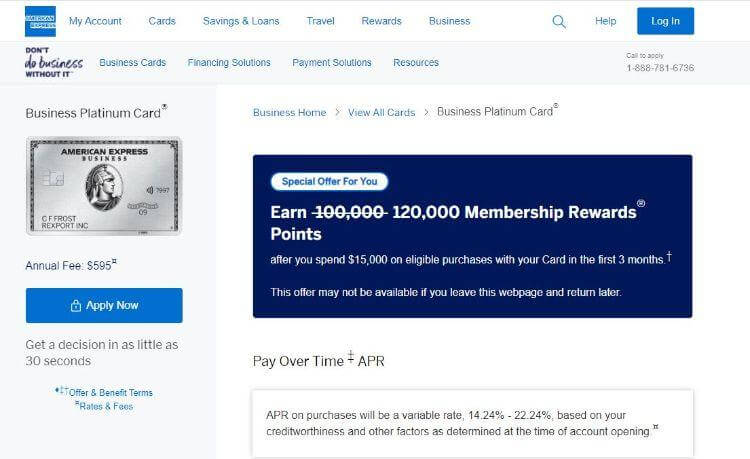 If you're in the market for a card that can offer your startup access to exclusive benefits and upgrades, the Business Platinum Card® from Amex is an excellent choice for bringing in starting your business.
It has a high rewards rate on eligible purchases, including airfare, hotels, and resort programs.
With a 35% airline bonus, you can get your company's travel booked quickly and with fewer fees.
When it comes time for an escape to relax, card members have access to unique experiences, travel, and entertainment through its exclusive programs.
Features
Get your hands on Membership Rewards® Points which means that you can save on airline fees when traveling as well as hotel transfer partners.
Get as much as $200 every calendar year in Dell Technologies Credit so that you can get a discount on any products or services that Dell offers.
American Express Global Lounge Collection® – this card comes with access to over 1,300 airport lounges in over 140 countries.
The Card's Pay Over Time function allows you to carry a statement credit balance and earn interest on purchases of $100 or more.
4. Ink Business Unlimited® Credit Card.
Best for getting insights and staying in control of your business spending.
As a startup, your company must monitor its spending and earnings to stay on top of things. This card gives you insight into your expenses so that you don't overspend or find yourself without the money to invest in new projects or other opportunities that may arise.
After you spend $7,500 on purchases in the first three months after account opening, you'll get a $750 bonus.
You also earn 1.5% cash back on all purchases, which are unlimited. This means that you can earn unlimited rewards no matter what you spend.
Features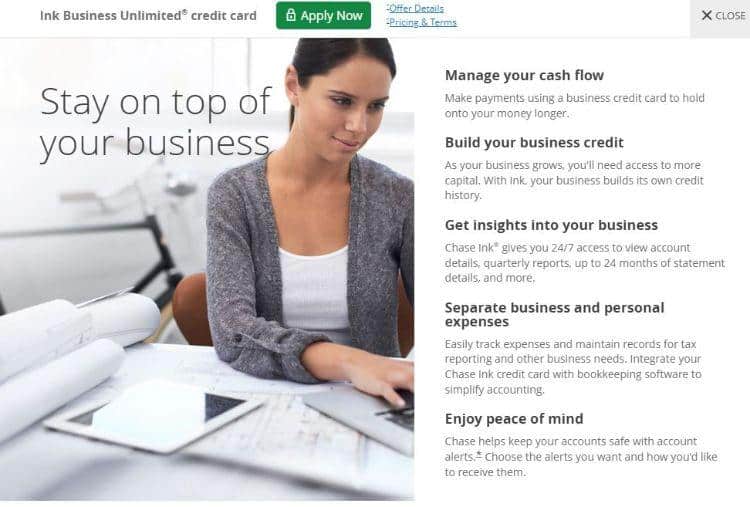 Track your spending, save receipts, and keep records for tax reporting and other business purposes. To make using small business accounting software easier, integrate your Chase Ink credit card with bookkeeping software.
Chase Ink® provides access to account information, quarterly reports, up to 24 months of statement details, and much at any given time.
As your company expands, you'll need more capital. This is made easier as time goes by since your firm will establish its credit history with Ink.
To keep money in your business account for longer billing cycles, make payments using your company credit card so that you can earn more rewards.
5. American Express Blue Business Cash™ Card.
Best for buying above your credit limit.
When your company requires it, you can purchase as much or as little as you want.
If your company needs to make a large purchase, you can use this card to do so with ease. Expanded Buying Power allows you to spend more than your credit limit when it comes time to getting things done.
This doesn't mean that you can spend as much as you want, however, as this is also determined by several factors including how much you use the card, your past payments, financial resources, credit score, and more.
This card is also one of the best startup business credit cards with no credit and is perfect for any business that needs to start building their credit.
Features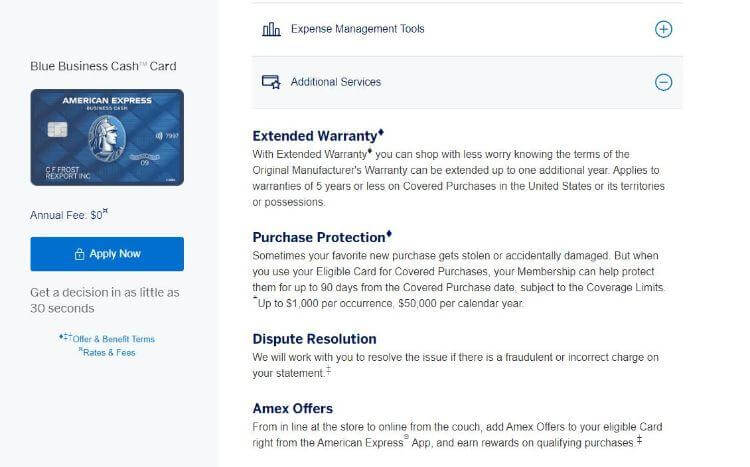 In the unfortunate event that your purchases are stolen or damaged by accident and if you had used your Eligible Card for Covered Purchases, you can be reimbursed for damages or theft up to certain limits.
You may buy with less anxiety knowing that the terms of the Original Manufacturer's Warranty can be extended up to one additional year under an Extended Warranty.
If you spot a fraudulent or incorrect charge on your bill, they will work with you to resolve the problem.
Add Amex Offers to your eligible card from the American Express® App and get points on all purchases made.
6. Marriott Bonvoy Business™ American Express® Card.
Best for getting an approval decision in as little as 30 seconds.
Make company purchases even more pleasurable – with this card, you'll earn 6X points on qualifying hotel stays booked through the Marriott BonvoyTM program.
You can save even more money at restaurants, gas stations, shipping firms, and wireless phone services by getting the most out of your purchases. If you're looking to turn every company expenditure into the possibility of a reward, this might just be the card for you.
Features
Make the way you and your employees manage business card receipts as simple as can be with the American Express® Business App.
When you choose an Account Manager, you may give trusted people – like a secretary or another partner – access and management rights to your account. As a result, you can trust your Account Manager to get the job done when you're not around.
It's easy to produce invoices, calculate discounts and margins, and handle your cash flow with QuickBooks. Auto-expenditure categorization may help you save time by automatically tagging your QuickBooks categories after enrollment.
With employee cards, you have another way to be in control with this expense-tracking method. Allow staff to spend what they need within limits you establish. This means that you can be on top of your company's costs.
7. The Plum Card® from American Express.
Best for those startups looking for a card with no annual fees in the first year of business.
If you're careful with your money, this might just be the card for you. When you can afford it, pay ahead and earn money back. This means that you can pay as much as you want for as long as you like and enjoy the benefits that come with The Plum Card.
You may earn unlimited 1.5% cash back on the portion of your balance paid within 10 days after your statement closing date. As a result, you will be able to receive the greatest benefits without the usual costs.
There's no limit to how much you may make, and there are no purchase categories; everything is based on your next statement.
Features
The Plum Card has no preset spending limit, or even spending categories, which gives you more purchasing power as your usage of the card and other criteria change.
Determine when your business will receive its bill each month. Simply let them know and they will send it once a month when it's best for you.
You may also set Account Alerts to alert you of late payments, unusual activity, and card usage.
This means that you'll always know what's happening in your business, allowing you the control needed to make the right decisions.
What are Business Credit Cards for Startups?
Business credit cards are financial instruments used by startups to manage their expenditure.
They offer many benefits, including the following:
Tracking tools for business expenses
Raising capital through cashback offers
Hundreds of small business credit cards for startups are available today that come with trackable spending tools that allow you to monitor how much you spend and how often.
For companies that are spending a lot of money, the ability to monitor spending is invaluable. Not only does it help you keep track of where your money goes but it will also give you better insight into your company's performance every month.
Types of Business Credit Cards for Startups
There are many business credit cards available today, but not all of them work for startups or small businesses. Here are some of the most common types:
1. Cashback Rewards Business Credit Card
When it comes to cash back rewards, there are two types: flat cashback and tiered offers.
Generally, flat cashback card offers provide cardholders with one percent on any purchase they make, regardless of what kind of retailer they are making their purchase from.
On the other hand, tiered offers provide cardholders with a percentage on purchases depending on how much they spend in a particular month or year.
As an example, if you make $5,000 in purchases between March and April and get five percent cash back every time (or $250), your total would come to $500.
2. Business Gas Credit Card
If you own and operate a fleet of vehicles for your business, then having a business gas credit card can save you money.
The best part is that you can use the same business credit card for gasoline as well as diesel.
3. Business Travel Rewards Credit Cards
If your company is constantly on the move, getting a business travel rewards credit card might be perfect for them because it encourages personnel to stay away from leasing or buying vehicles and instead reward them with air miles every time they book a flight online.
This way, employees can book their flights themselves which not only saves money but also gives them more independence over where they want to go and how long they spend in transit.
Knowing what foreign transaction fees are involved is important if you're using your business credit card for traveling.
4. Business Low-Interest Rate Card
If you have a low amount of capital available then a business low-interest rate credit card is ideal for you because it has no annual fee and provides unlimited 0 percent financing every time you make a purchase.
5. Business No Annual Fee Card
A business no annual fee credit card is perfect for businesses that are just starting because there are many features included at zero percent interest – however, there are usually very few perks included as well.
If your business is small and does not need any help with securing funds or traveling then this type of card will work best for you.
6. Shopping Rewards Credit Cards
Shopping rewards credit cards give retailers the ability to provide special discounts to cardholders who spend on their specific products.
It's great for startups because they can use it to attract clients by giving them offers they cannot refuse so that more people shop in their stores or online platform regularly which will help them grow their business.
7. Prepaid Business Credit Card
Prepaid business cards are typically used when working within specific industries such as restaurants, bars, casinos, and even cruise ships where employees need to make purchases from branded suppliers to increase revenue for their companies.
It enables employees to spend a set amount of money on goods and services before they have to reload the card again with more funds.
8. Business Student Rewards Cards
If you're an employer looking for help from millennials who are studying in school, then working with businesses that give out student rewards cards might be perfect.
Young adults can use their student credit cards to make purchases at campus stores, top-up their mobile plans, and even book tickets for public transportation or rideshare.
The good thing about this type of corporate card is that it will help your employees build a positive track record with creditors which can help them qualify for business credit cards when they graduate from school.
The Need For A Business Credit Card For Startups
Small business owners – whether they're a startup or even a freelancer – are always trying to build business credit.
This means that they must have a business credit card designed for people who need to make business-related purchases.
It is an essential financial tool that will enable a company to grow without having to worry about liquidity.
Some even come with added features like sales tax reimbursements, emergency support services, and chargeback protection that can help you manage your business and personal finances more efficiently.
If you use tools and software to run your startup, a credit card is also crucial.
Using the best business plan software and tools will help your company stay organized and provide a clear direction for everyone – but these tools don't come cheap.
Such credit cards can also help when it comes to budgeting tools, customer relationship management software, strategic planning modules, and even email marketing services – all at a rate that is affordable for startups.
The difference between a business credit card and a consumer credit card
Startups need to use business credit cards instead of consumer cards because they will not only help build up their credit scores but also provide much higher spending limits when it comes down to using them on everyday purchases.
Instead of having to make monthly payments like an individual, businesses spend money to increase revenue which is why they can receive much larger lines of credits compared to consumers who want to make purchases with the card.
The main difference between both cards is that business cards come with additional features that every business needs such as cash flow rewards, employee tracking software, and even sales tax reimbursement among many others.
They usually come with lower interest rates so that any business owner can keep his or her company afloat financially without having to worry about paying back high-interest balances after making purchases.
Moreover, consider that a personal credit score might come into question with a consumer credit card. This score does not usually affect a business one.
The types of businesses that will benefit from a business credit card for startups
Some of the types of businesses that will benefit from having one include:
Contractors – If you're a contractor looking for ways to get paid faster, then using a business credit card is perfect since most only require 3% processing fees which is much lower than regular credit cards that charge around 5%.
You can also receive payments the next day if you choose a business card with same-day funding which is a great way to have access to your money faster if you need it.
Freelancers – If you're a freelancer who needs a business card with a low annual fee and same-day processing, then look no further since many startups offer cards tailored towards people in your industry.
You can use these to get office supplies, set up your workstations, and anything else that's needed for the day-to-day running of your business.
eCommerce – If you're starting an online store, then a business credit card is the perfect way to receive sales tax reimbursement and help grow your company into a multi-million dollar empire.
You can also get a secured business card that requires a security deposit if you don't have collateral but want to build good credit fast. In addition to using a great eCommerce platform, you should also look for features like eReceipts, online business expense tracking, and digital receipts among many others that will help your company save money when making purchases.
Logistics and freighting – If you're in charge of managing freight for a business, you know that this software does not come for free. This means that it is very important to receive the best possible processing fees so that your company can save as much money as possible.
Business credit cards with 2% processing fees are perfect for people who work in this type of industry since they will help you not only increase profits but also save future clients from using other forms of payment that cost significantly more than what you're offering.
The Benefits Of Smart Spending Through The Best Business Credit Cards
There are many different types of business credit cards including rewards, cashback, travel, international, and even low-interest options that provide their holders with unique perks that every new business needs.
Rewards typically come in the form of bonus points or miles which can be used towards flights or hotels while cash back business credit cards offer users a percentage off every purchase they make using their card.
These are just two of the most popular features but there are dozens of more benefits to owning a business credit card.
If you're a struggling startup owner and need help getting back on your feet without overpaying while doing so, then finding the best business credit card for you should be your number one priority.
There are several benefits that these cards have to offer and choosing one can give businesses access to powerful features.
1) They provide entrepreneurs with tools like digital receipts which send real-time updates of purchase activity directly to their email address or mobile device so that every penny is accounted for at all times.
2) Business credit cards can provide their users with both travel and medical coverage, ensuring that every trip is protected against accidents or injuries. If something happens while you're abroad, then you'll be able to get the medical care you need.
3) Free warranty protection so that customers are not burdened with additional costs whenever an item breaks down unexpectedly after being used for a certain amount of time.
Sometimes these warranties do have limitations so it's important to read the fine print before signing up to make sure everything stays in order until your contract expires.
4) Travel accident insurance so that people who get injured while on business trips can go back home without any financial worries putting a dent in their bank account due to injuries sustained while abroad.
Accidents do happen so it's important to build up an emergency fund before setting off on vacation to stay protected at all times in case your worst nightmare becomes reality.
6) They offer 24/7 customer service support which can be useful when trying to resolve payment issues with vendors and other third parties which is very frequent when running a growing company these days.
Other considerations
Here are some final points to consider (in no specific order):
Keep in mind that if you are dealing with overseas businesses, foreign transaction fees tend to be much higher than domestic purchases. Also, some business credit cards require an excellent personal credit card score to qualify for them.
The credit card issuer might require that your business maintains a checking account that has several thousand dollars to secure approval for the card.
When it comes to business purchases, your credit card issuer might only want to see a direct deposit from an existing business account.
A personal guarantee might be required if you are operating specific types of companies.
Annual fee redeem rewards might also exist. However, it usually depends on the type of card you have and its level of membership.
Membership rewards points vary from card to card. The same applies to gift cards so doing your home in advance is important. These terms apply to all items so understanding what's involved before pressing the "apply now" button is crucial.
Some cards also get you involved in subscriptions (after a few months of card membership) which might not always work out in your favor. If you are the sole proprietor of a startup and looking to keep costs down, keep this in mind.
Other business credit cards might have lower interest rates or other perks which you might find useful. Some cards also give you a welcome bonus or welcome offer.
Consider the APR (annual percentage rate of your card). Some cards have an intro APR (sometimes also called introductory APR) while others might have a variable APR.
Finally, keep in mind your creditworthiness because this might come up during a credit check so consider all angles involved before making a decision – if you have less than ideal credit, a business credit card for bad credit might be the right fit.
Business Credit Cards for Startups – FAQ
Can I use my EIN to apply for credit?
Yes, you can use your employer identification number on business credit card applications.
Some online lenders do ask for a social security number instead but it's possible to submit your EIN so that the process goes smoothly.
How do I establish credit for my LLC?
The quickest and easiest way to establish credit for your LLC is by creating a business credit card account in the name of your company.
Make sure you request an EIN from the IRS when filling out the application before signing up.
Wrap Up.
In conclusion, business credit cards can be a great addition to your wallet if you're looking for ways to improve the way your company manages expenses and spends money.
They offer more than just cash back or points on eligible purchases made by your business, by providing entrepreneurs with tools that make it easy to track every dollar that goes into the account as well as how that money is being used down the line.
To recap, the best business credit cards for startups are:
Brex Card for Startups: Best for providing all-in-one finance for start-ups.
Capital One® Spark® Classic for Business: Best for building business credit and earning cash back at the same time.
The Business Platinum Card® from American Express: Best for benefits and rewards.
Ink Business Unlimited® Credit Card: Best for getting insights and staying in control of your business spending.
American Express Blue Business Cash™ Card: Best for buying above your credit limit.
Marriott Bonvoy Business™ American Express® Card: Best for getting an approval decision in as little as 30 seconds.
The Plum Card® from American Express: Best for those startups looking for a card with no annual fees in the first year of business.
I hope that this list has helped you out when it comes to finding the right credit card for your company. Which one will you be signing up for? Let me know in the comments below.
Editorial Process:
Our reviews are made by a team of experts before being written and come from real-world experience. Read our editorial process here.
Some of the links in this article may be affiliate links, which can provide compensation to us at no cost to you if you decide to purchase a paid plan. These are products we've personally used and stand behind. This site is not intended to provide financial advice. You can read our affiliate disclosure in our privacy policy.
---
Last Updated on September 12, 2023 by Adam Enfroy