How to Build Business Credit (Fast) in 2023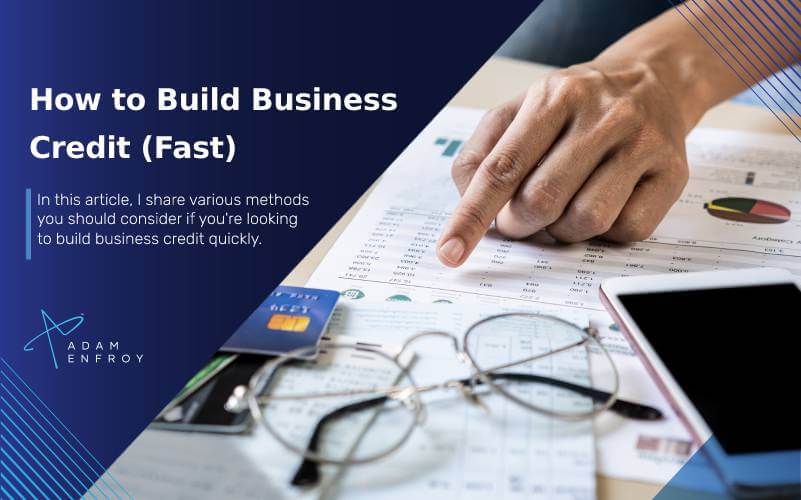 Starting a business with no credit is possible, but relatively speaking it might not be as easy as in other situations.
When dealing with lenders, you'll need to take extra steps to prove that you're a responsible borrower.
That said, do not fret.
With business credit cards available for those with no credit or even those with bad credit, there are specific options for borrowing money to finance your business.
You can also look into alternative lenders, such as peer-to-peer lending platforms or merchant cash advance providers.
These lenders are often more forgiving of bad credit than traditional banks.
That said, building business credit fast adds another layer of items you must act on.
In this article, I will give you various methods to consider if you're looking to build business credit quickly.
The following methods are not listed in any order, so feel free to start with whichever one you're most comfortable with and build up to others over time.
Let's get right into it.
Ways to Build Business Credit
The process of establishing business credit has various similarities and differences to establishing personal credit.
This is a crucial factor to keep in mind as you go through the following list – what works in the personal arena might not work in the business one (or vice versa).
Choose a Long-Term Business Name
Good business credit starts with having the right business entity.
This means that you'll want to choose a name for your business that will be around for the long haul.
One way to show lenders that a business is serious about credit is by having a name that stays consistent.
A great way to come up with such a name could include having your city, state, or region included in the name.
Having a business website is another key step in building business credit.
Make sure that your website looks professional and is up-to-date.
If you don't have a website, consider making one as soon as possible.
Along the same lines, having a business phone number that is always active will also give your business more credibility.
Establish a Legal Entity
While personal credit history is important for entrepreneurs, it's not the be-all and end-all.
To establish good business credit, you'll need to set up a legal entity for your business.
It's also good to consider that business finances and creditworthiness are two separate things.
As a result, your company will need to have its business credit file if you want to qualify for loans and other financing products.
Secure An EIN
An employer identification number is a unique nine-digit number assigned by the IRS.
The EIN will be different based on the various types of business that one could have.
Using your social security number is one way of getting an EIN, but this might not be the only (or best) method.
Doing your research in this area is key.
What's sure if having an EIN when trying to build business credit is a good idea, as it will help keep your personal and business finances separate.
Establish Net 30 Accounts
A business's credit is in much better standing when it has Net 30 accounts.
This is an agreement between a supplier and a business that allows the company to have up to 30 days to pay for goods or services.
It goes without saying that paying on time is key to maintaining a good relationship with the supplier, but this type of account can also help business owners build credit.
A sole proprietor that can't get a Net 30 account can try to establish one by using their personal credit.
While this method works, it's not ideal as it can lead to your personal and business finances becoming entwined.
Acquire a DUNS Number
A Dun & Bradstreet DUNS Number is a unique nine-digit identifier for a business.
Obtaining one is free and easy; you can do so by heading to their website.
Having a DUNS number makes you more likely to build good business credit as it adds an extra layer of authenticity to your business.
Also, when it comes to credit accounts, this number can be used as your business's identifier.
As a startup or small business owner, this can help you access the credit you need to grow your business.
Consider Your FICO score
FICO is the credit-scoring model used by many of the top lenders.
It's important to understand your business's FICO score as this number will play a large role in whether or not you're approved for a loan or a business line of credit.
You can get your business's FICO score by heading to the FICO website.
There are five factors that make up a business's FICO score:
Payment history (35%)
Amounts owed (30%)
Length of credit history (15%)
New credit (10%)
Credit mix (10%)
Paying attention to these factors is key to maintaining a good FICO score.
Avoid Late Payments
Both short and long-term business credit is essential, but short-term business credit is what lenders will focus on when making lending decisions.
One way to establish short-term solid business credit is by avoiding late payments.
Late payments can hurt your business credit score and make it harder to get approved for future financing.
Credit accounts that are always paid on time will help you build a strong business credit history; a repayment that's just 30 days late can impact your score.
Get a Business Bank Account
As I mentioned before, personal finances and business finances should be kept separate.
One way to ensure this is by getting a business bank account.
A business bank account will help you better manage your business's finances and make it easier to track business expenses.
Also, it bears repeating that personal credit reports are not as crucial as business credit reports when lenders make lending decisions.
Building strong business credit (rather than relying on your personal credit score) is always a good idea.
Build Relationships with Vendors & Suppliers
Relationships are at the heart of every successful business.
This is especially true when it comes to building business credit.
Giving vendors and suppliers what they want is a great place to start when it comes to building relationships.
These relationships can also help you by allowing you to establish favorable terms with vendors and suppliers.
Favorable terms can include extended payment terms, which will then help you improve your cash flow.
Relationships with vendors and suppliers are also a credit builder and can also help you get access to financing products in the future.
Get A Suitable Business Credit Card
Business credit cards can be a great way to build business credit.
The payments are reported to business credit bureaus when you use a business credit card.
This can help you build a strong business credit history, which is vital for getting approved for financing products in the future.
It's also key to get a business credit card that's right for your business.
A few things to consider when choosing a business credit card such as the interest rate, annual fee, and rewards program.
Get A Small Business Loan
When considering this step, asking the lenders what they report when you take out a business loan with them is important.
Some lenders may report to personal credit bureaus, while others may only report to business credit bureaus.
It would help if you only worked with lenders that report to business credit bureaus.
This will help you build a strong business credit history, which is essential for getting approved for financing products in the future.
Improve Your Credit Utilization Ratio
One factor that can significantly impact your business credit score is your credit utilization ratio.
This is the amount of credit you're using compared to the amount of available credit.
Ideally, you want to keep your credit utilization ratio below 30%.
This means that you're using less than 30% of the credit available to you.
Get incorporated.
Having a limited liability company formed as part of your business structure will also help you build business credit.
Incorporating your business creates a legal barrier between your personal finances as well as your business finances.
This can also help you protect your personal assets if your business is sued.
Why Build Business Credit?
There are a few key reasons you should focus on building strong business credit.
Cash flow is one of the most important aspects of any business.
Managing your cash flow effectively can be the difference between success and failure.
This can be easier said than done, but it's much easier if you have strong business credit to back up your cash flow when needed.
Your credit rating is another essential factor to consider when thinking about the reasons why you should build up your business credit.
Lenders use your credit rating to determine your creditworthiness.
The higher your credit rating, the more likely you are to be approved for financing products such as loans and lines of credit.
Getting lower interest rates, longer repayment terms, and higher credit limits can help your new business in the long run.
Last but not least, building strong business credit can help you get access to new opportunities.
For example, if you're looking to lease new office space or buy a new piece of equipment, having strong business credit can help you in the process.
Long-Term Strategies for Building Business Credit
Now that I've looked at what you can do in the short term to get business credit, let's look at some long-term strategies you can use to make sure your business credit profile is as strong as possible.
Combining both short and long-term strategies is the best way to build strong business credit.
Pay on Time All the Time
The first and arguably most important thing you can do to build strong business credit is to make sure you're paying your bills on time.
This means paying your invoices on time and paying any other debts you have, like credit cards, loans, and lines of credit.
Interest rates are also important considerations.
The more debt you have with high-interest rates, the more it will cost you in the long run.
It's crucial to balance paying off your debts and maintaining a good credit score.
Use a Business Credit Monitoring Service
While credit monitoring when dealing with a personal credit score is essential, the same logic can apply to business.
This means that you should be monitoring your business credit score.
There are several business credit monitoring services that can help you do this.
One of the most popular is Nav.
Another option is to use a service like Dun & Bradstreet or Experian Business Credit.
Your business's credit score often determines the credit limit on a business credit card.
If you have a strong business credit score, you're more likely to be approved for a higher credit limit.
Register with the Business Credit Reporting Agencies
Companies such as Experian, Equifax, and FICO also offer business credit reports.
It's essential to register with these agencies so they can start tracking your business credit activity.
Doing so will help you build a strong business credit history and improve your chances of getting approved for loans, lines of credit, and other financing products in the future.
It's good to know that a business credit report from one of the central business credit agencies can cost around $100.
However, this is a small price to pay for the peace of mind knowing your business is on the right track.
Business credit scores help lenders determine whether or not to approve you for financing, and as such, major business credit bureaus place a lot of emphasis on payments made in full and on time.
Manage Your Business Credit Profile Online
Having a business credit history is one thing, but managing it is another.
This involves monitoring your business credit score, checking for errors on your report, and ensuring all of your information is up to date.
The above services can also usually help with this.
Get Trade Lines of Credit from Vendors and Suppliers
The more payment history you have with vendors and suppliers, the better.
This is because trade credit is one of the most critical factors in business credit scores.
To get started, you can ask your vendors and suppliers if they offer trade lines of credit.
If they do, keep your balances low and pay off your debts on time to improve your chances of getting approved for future requests.
Use Personal Guarantees
While risky, a personal guarantee in some situations can help you get business financing when you otherwise wouldn't qualify.
A personal guarantee is when you agree to be personally liable for the debt if your business can't pay it back.
The lender can come after your personal assets, like your home or car, to repay the debt.
Personal guarantees are generally only used as a last resort, but they may be worth considering if you're having trouble getting what you want.
Build Up Your References
Having trade references can help you get business financing when your business doesn't qualify on its own.
A trade reference is a company you do business with that can vouch for your creditworthiness.
Over time, you can ask your vendors and suppliers if they're willing to act as trade references to get started.
Build Business Credit – FAQ
What Is a Good Business Credit Score?
There is no one-size-fits-all answer to this question, as the definition of a "good" credit score will vary depending on the lender and type of financing you're seeking.
However, a general rule of thumb is that a score of 700 or above is considered good, while a score of 800 or above is considered excellent.
What Does the SBA Do?
The Small Business Administration (SBA) is a government agency that provides support and resources to small businesses.
This includes access to financing, training, and counseling.
The SBA also offers disaster relief assistance for businesses that have been affected by natural disasters.
What Is Consumer Credit?
Consumer credit is credit that is extended to individuals for personal use.
This includes a personal credit card, auto loans, and personal loans.
Consumer credit is different from small business credit, which is credit that is extended to businesses for commercial use.
Wrap Up.
Building business credit is a never-ending process, but it's well worth it to stay on top of it.
Taking the time to ensure your business is in the best possible financial shape will pay off in the form of lower interest rates and access to more financing options both in the short and long term.
The above tips can help you get started on the right track – fast.
At the same time, remember that the key is to be patient and consistent in your efforts.
With time and effort, you can build a strong business credit history that will help you secure the financing you need to grow your business.
Further reading on AdamEnfroy.com: Credit repair software helps improve your credit score and ensure you are in good financial standing.
The best online business bank accounts can help you get on the right track.
These bank accounts offer checking accounts for LLCs and other businesses, bonuses for new account holders, and other perks that can help your business save money and earn interest.
Disclosure: I may receive affiliate compensation for some of the links below at no cost to you if you decide to purchase a paid plan. You can read our affiliate disclosure in our privacy policy. This site is not intending to provide financial advice. This is for entertainment only.
---
Last Updated on January 24, 2023 by Adam Enfroy