7 Best Startup Business Credit Cards with No Credit (2023)
Choosing the right startup business credit card when you have no credit is vitally important to your business. From building your credit history to earning rewards, the best startup business credit card with no credit can help you meet your goals. In this guide, I ranked and reviewed the 7 best startup business credit cards with no credit, so that you can pick the best one for you.
---
We're reader-supported. When you buy through links on our site, we may earn an affiliate commission.
Starting your own business is an exciting process. With so many business ideas that one could go for, it's definitely an exciting time for everyone involved.
However, the success of this endeavor revolves around having the right amount of startup capital.
With one in 12 small businesses closing down each year due to cash flow issues, business owners know that getting a head start when it comes to capital is tough – especially when you have no credit history.
Understanding this, many of the top banks offer business credit cards for those that find themselves in this situation.
The best business credit cards for startups come with just a few strings attached and in most situations, provide almost instant approval.
They usually have low-interest rates and sometimes, these credit cards have no annual fee.
Let's get right into the details.
What are the Best Startup Business Credit Cards with No Credit?
The following are the best startup business credit cards with no credit to consider right now.
Best for getting an approval decision in 30 seconds or less.
Adam's Take
Blue Business Card is the best overall card for startups with no credit. In a time when it can be challenging to get business credit, this card offers a path to qualifying for business credit down the line.
When it comes to getting cash back, the Blue Business Cash Card is one to consider. After you make $5,000 in qualifying purchases with your card within the first 6 months of membership, you'll get a $250 statement credit.
As an additional benefit, you'll also get a $250 statement credit after spending at least $10,000 on your card in the first year.
As a business in its startup phase, the American Express Blue Business Cash card is also great if you're looking for an easy-to-use business credit card with no annual fees during the first year.
After the initial year, the APR will range from 13.24% – 19.24%. Your credit history and other variables at the time of account opening will determine your borrowing rate.
With more flexible buying power, this credit card is perfect for companies that need to spend beyond a set credit limit with a credit card that can handle such transactions. The limit will adjust based on your card use, history, and payment behavior.
Features:
You may be covered for property damage or theft of a hire car in a Covered Territory as a Card Member.
When traveling, being a card member means you can get travel rewards while being covered for trip Cancellations, trip Interruptions, baggage delays, and more.
Connecting with the right business accounting software is easily done through QuickBooks
Quickly take a look at your previous purchases, generate reports, and track your spending online so that you're always on top of your budget.
Best for small business owners seeking a card with no annual fees.
Adam's Take
Business Unlimited can help you in both the initial stages of your business and start scaling to new heights. With no annual fee and a simple flat-rate rewards structure, this card allows you to use it as you see fit without having to worry about maximizing your earnings.
The Chase Ink Business Unlimited is ideal for entrepreneurs who want to focus on growing their company rather than complicated credit card rewards programs or gift cards that don't move the needle much.
The Chase Ink Business Unlimited has an annual charge of $0 and gives you 1.5 percent back on all eligible purchases. In addition, after you spend $7,500 on purchases within the first three months after opening your account, you'll get a $750 cashback bonus.
Without the need to focus on complicated reward structures, you can use this card for your company purchases without worrying about annual fees. The downside to this card is that with no spending categories included, it is not the most ideal if you have higher spending in specific categories.
Features:
Employee cards can be set up at no extra cost and allow you to set separate spending limits. This also allows you to earn rewards even faster.
Purchase protection and fraud protection will keep you on top of your game even when things don't go according to plan.
No annual fees are involved so you can keep more money in business.
Get up to $750 cash back after you spend $7,500 in your first 3 months.
3. OpenSky® Secured Visa® Credit Card.
Best for a straightforward application without a credit check.
Adam's Take
Open Sky Credit Card can be used by those that have bad credit or are trying to rebuild their credit. Even if you have poor credit as a startup business owner, this card allows you to apply and get approved. This is a great option to help you get your business off the ground.
OpenSky Secured Visa Credit Card is an ideal card for business owners who are trying to build their credit.
This is one of the few cards that allow applicants with poor credit history to apply, so if you have a low credit score, this card is for you.
OpenSky believes that everyone should have the chance to succeed in their business, which is why your credit line limit on your Visa card is determined by the refundable deposit you make.
This allows you to make the right decisions based on your needs and ability, with such a deposit starting from around $200.
With an annual fee of just $35, this card offers one of the best ways to build your credit.
Features:
You'll be able to establish credit quickly by opening an account with the refundable deposit that you put down.
Build your credit score by making on-time payments to show that you're responsible.
With a track record where clients who began without a credit score achieved a credit score record in as little as 6 months, you can get the right help to get your credit score up as quickly as possible.
4. Wells Fargo Business Secured Card.
Best for giving your business the jump start it needs.
Adam's Take
Wells Fargo Secured is another great option for business startups that need to build their credit. This card offers a credit line with no annual fees, so it's a great way to get your business started without worrying about paying extra.
Wells Fargo Business Secured Card gives startup businesses the jump start they need by offering a quick credit line of up to $25,000.
With zero liability protection for fraudulent charges, you can protect your business and peace of mind against unauthorized charges.
There are no annual fees, and no foreign transaction fees, which is why it's the best choice for traveling business owners.
Businesses with no prior credit history can be easily approved so this card is a good option for owners dealing with small business credit cards, even in the startup phase.
In addition, businesses that had credit problems in the past are also eligible for this card. Put simply, if you have bad credit or even no credit, this might be the card for you.
Features:
With spending reports available online, you can easily track your spending and monitor your account.
You can choose between getting cash back or rewards points, whichever you find to be the best for your business.
You have exceptional fraud protection against unauthorized charges with zero liability.
You can have up to 10 free employee cards which means that your employees can have different spending limits.
5. First Progress Platinum Prestige Mastercard® Secured Credit Card.
Best for getting a credit card with a refundable minimum deposit.
Adam's Take
I advise you to check out First Progress Mastercard as a card with a very low APR for your business purchases. This is a great card if you have no credit or limited credit history.
The First Progress Mastercard is a credit card with all of the bells and whistles. In addition, you get a variable introductory APR starting from a low rate of $29.
The First Progress Platinum Prestige Mastercard® Secured Credit Card is designed for those who want more flexibility and ease of use. The client is not required to have a minimum credit score since the credit line is based on a refundable security deposit.
This credit card can be considered to be a full-fledged account with a revolving credit line. To avoid having to pay separate fees levied by payment providers, you'll need a bank account to make monthly payments on your new card account.
Features:
Approval is not contingent on credit history or a minimum credit score.
At any time, you may pay off your entire balance and receive your deposit back.
With the new expedited processing option, you can get your card more quickly so you can start using it right away.
You may access your account 24 hours a day, 7 days a week to view or update personal information and stay in control.
6. Capital One® Spark® Classic for Business.
Best for making the safest payments online.
The process to apply for a Capital One® Spark Classic takes about 10 minutes to complete and you'll get a response in as little as 30 seconds.
You can't go wrong when you choose this card because there's no annual fee and you don't need excellent credit to be approved. In fact, there's no credit check, which is a barrier that many people never overcome when trying to get a chance at starting a new business.
If you use your credit card responsibly, you'll have a great chance of building and strengthening your credit by using the Capital One® Spark Classic for Business.
Features:
With no expiration date for the life of the account, you may earn cashback rewards for any amount at any time.
Set up AutoPay so you won't have to worry about logging into your account every month to make specific payments.
To simplify budgeting and tax time, you can get an itemized report of your expenditures.
Have an account manager set on your behalf to handle payments, as well as evaluate transactions and resolve any difficulties that come up.
7. Brex Corporate Card for Startups.
Best for expense tracking for new businesses.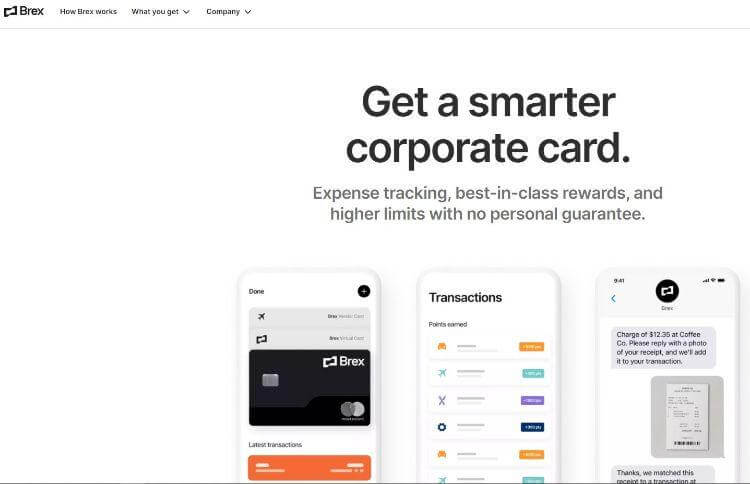 A Brex corporate card combines the best expense tracking, higher limits, and reporting capabilities. It also offers a better rewards program than most new business credit cards.
With the ability to earn extra points on anything that you spend money on, you will be able to deal with any small business expenses that come up unexpectedly.
You can also earn more on rideshares, restaurants, business plan software solutions, and other expenses when choosing the Brex Corporate Card for Startups.
You can get unlimited cards for everyone on your team and set custom limits for each user. This will allow you to gain more insight into your company's expenses.
Features:
Mastercard's Zero Liability Protection ensures that users are protected from fraudulent activity, as well as other risks.
You can keep your personal credit score and spending separate from your business expenses—there's no risk of personal liability.
Get more for your spending by using your Brex Corporate Card for Startups at places like Uber, Lyft, Seamless, and Grubhub.
You may also trade your points for Ethereum (ETH) and Bitcoin (BTC) so that you can diversify your portfolio.
What are Startup Business Credit Cards with No Credit?
These are special small business credit cards designed for people with no credit.
The best startup business cards offer an amount of cashback, worldwide travel insurance, gas credit, and other perks that come in handy for entrepreneurs on the go.
Having no credit used to be a major red flag, but today more businesses are willing to take a risk on you.
If you have no credit, applying for this type of startup credit card is your best bet at building up your business's financial credibility.
There are even credit cards for bad credit that you might want to consider.
Features to look for when choosing a Startup Business Credit Card
The following list of features will help you narrow down your list of startup credit card options so that you may find the best one that fits your needs.
1. Annual Fee
Most business credit cards for people with no credit have a tiny annual fee, with some waiving this completely. It is important to look at the cost of owning the card before applying, especially after the first year is up.
Since banks are dealing with accounts that have credit issues, most of them waive the first year's fee to lure you in. This is not necessarily a bad thing since you will be able to see if the business credit card is working for you during this time and then decide if you want to keep using such a service.
However, knowing what's involved in getting out (if you decide to do so) is important right from the very beginning.
2. Rewards
Depending on your industry, different types of rewards are more beneficial than others. For example, some startup business cards offer cash back while others offer points that can be redeemed for travel upgrades or additional cards.
It's also important to note what type of bonus points you get when opening an account and how much it costs in addition to the annual fee. By looking at these aspects, you can find out exactly what benefits come with this card.
When choosing between an account with cashback vs points, consider how often you travel and what industries pay off best for your personal spending.
If you travel often, then cards with traveling perks might be best.
If your business spends lavishly on software, web design, CRM software, or other technology services, then cards that offer points are better.
3. Minimum Credit Required
If you have bad or no credit at all, it's probably difficult to get approved for most startup business cards on the market. However, there are still some companies that will allow you to apply without having the typical required score of 670+.
Knowing the minimum required credit score will allow you to narrow your list down to the options that are viable for you.
4. Welcome Offer or Sign-Up Bonus
Most business cards offer a bonus to entice new customers. This is usually in the form of points or cashback on your first purchase or bonus miles that you can use for free trips.
The amount varies between companies but it's important to take advantage of this offer, especially if the credit card has no annual fee in the first calendar year.
A good welcome bonus might be enough to cover the cost of your first business trip or some other expenses that you might have.
5. Additional Cards
Depending on how many people work in your company, it might be useful to get additional cards to offer your employees.
Some startup credit cards come with a limited number of additional cards while others allow you to request 1-5 free cards for any employee or contractor who often travels with you on business trips.
This is very convenient since all their purchases will go towards your total spending and help boost your rewards faster.
6. Security
Look into what security measures come with this account even if you're starting with bad or no credit. Every card should offer some kind of fraud protection and online shopping assistance.
Some companies go out of their way to set up multi-factor authentication on your account or allow some purchases to happen with a preapproved type of request.
7. Interest Rates
The interest rate you are offered varies between startup business credit cards but it's important to note that most are higher than normal rates due to the risk the company is taking by issuing a card for someone with no credit history.
If possible, try and find a business credit for people with low credit limits so you can only spend what your business needs and avoid putting unnecessary purchases on this card. This will help minimize your debt and avoid additional fees and interest charges over time.
8. No Preset Spending Limit
Some startup business cards have spending limits, so you must pay attention to whether or not yours does. If you are planning on using your account for small purchases only, then having a preset spending limit may be useful to avoid overspending on unnecessary things.
If spending limits are not necessary, then you should avoid startup business cards with a preset spending limit since it limits your potential rewards for the first year.
9. Other Benefits
Startup company credit cards often come with additional perks that can be quite useful for entrepreneurs and people who travel often.
These benefits only apply to certain companies but might include discounts at local airports or restaurants as well as no foreign transaction fees when using your card overseas. This will save you money each time you use your card outside of the US.
If you plan on traveling often, make sure to investigate how many points or cashback this account offers for those purchases as well.
By researching these aspects, you can find out what card is best suited for your needs and start reaping the benefits of using your business credit card for business purchases as well as to start to build credit.
10. Reputation of the company
In addition to researching the startup company, you should also take a look at the financial standing of the business. If they're a new company, then it's likely that their first credit cards may not have a long track record.
Take some time to research how well the company has been doing as well as what kind of reviews people give them as customers.
A great way to do this is simply by searching for reviews from other companies who use their services already and seeing what people think about this type of business card.
11. Applying for Other Accounts
Most companies do not allow you to apply for any other accounts if you already have an account open, but some will still pre-approve your application if they determine your monthly income and spending habits are appropriate for their company.
Understanding what you can and cannot do is important. This way, if you decide to open multiple business accounts in different industries, it will be possible to do so without having to go through a complicated process.
12. Separation between business and personal finances
Finally, being able to make a distinction between your personal credit history and other business credit cards is important.
Personal credit scores shouldn't be an issue for business credit card issuers and vice versa. Ideally, you shouldn't see any negative marks on your credit report due to this.
The only time that you might encounter issues is if you close or apply for different accounts at the same company. If this happens, then they may issue a hard inquiry which can negatively impact your personal credit history.
Ensure that you use your personal credit cards for transactions that are not related to business financing and use your other cards for anything related to business; this could be anything from buying office supply or even computer software.
In addition, some type of business warranty will only apply when you buy products through specific cards so ensure that you follow the proper procedures.
Other considerations before you apply for a business credit card
Keep in mind that cardholders of business credit card accounts with no credit will still need to build their credit as time goes by. As each billing cycle comes near, you are still expected to pay your interest as defined in the credit card application.
While some banks have a fixed intro APR, others have a variable one so knowing what you're getting into is crucial.
Other banks might also ask for a personal guarantee to ensure fair credit card rules are observed. These types of credit cards are known as unsecured, and while they do have their benefits, there are also some cons to consider.
Next, consider that most credit card companies will speak directly to credit bureaus (such as Experian) and share your business credit so your score might be affected when using such credit cards.
Finally, with most business credit cards that require no credit checks, all you require is your social security number before you're allowed to click on that apply now button and submit your application.
This makes it easy and quick to see if you'll be approved for such a credit card.
Wrap Up.
The best business credit cards for people with no credit are those that can quickly increase your financial options and allow you to start building your business credit without delay.
These cards can be great for entrepreneurs who need money to spend on business expenses as well as people looking to build their first line of credit so they can continue increasing their earning potential in the future.
As always, make sure to take some time before choosing a prepaid account by reading reviews online as well as asking questions about fees and fine print when signing up for one.
Don't be afraid to ask the companies directly if you don't understand the complicated terms and conditions involved. If possible, try and see if there is a trial period. If this exists, you'll be able to test the card before committing to any long-term contract.
To sum up, the best startup business credit cards with no credit are:
Chase Ink Business Unlimited®: Best for small business owners seeking a card with no annual fees
American Express Blue Business Cash™ Card: Best for getting an approval decision in 30 seconds or less.
OpenSky® Secured Visa® Credit Card: Best for a straightforward application without a credit check.
Wells Fargo Business Secured Card: Best for giving your business the jump start it needs.
First Progress Platinum Prestige Mastercard® Secured Credit Card: Best for getting a credit card with a refundable minimum deposit.
Capital One® Spark® Classic for Business: Best for making the safest payments online.
Brex Corporate Card for Startups: Best for expense tracking for new businesses.
Before I conclude this article, remember that if any credit card company refuses to give you an account, then just check out some of the other options listed above.
Each credit card has its pros and cons that might make more sense for your needs than others.
What do you think? What is the best card to build business credit? Let me know your opinion in the comments below.
Further reading on AdamEnfroy.com: Opening a business credit file can be one of the best decisions you can make for your business.
It can help you manage your finances better and build business credit with ease.
Check out my guide to learn the steps for opening a business credit file.
Disclosure: I may receive affiliate compensation for some of the links below at no cost to you if you decide to purchase a paid plan. You can read our affiliate disclosure in our privacy policy. This site is not intending to provide financial advice. This is for entertainment only.
---
Last Updated on January 26, 2023 by Adam Enfroy