11 Best Business Plan Software and Tools of 2023 (Reviewed)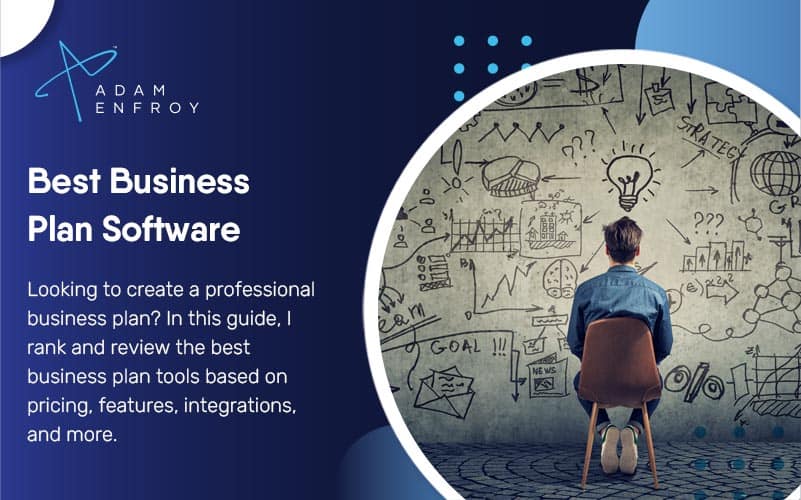 If you're involved in any kind of business, then you know that business planning is one of the most important things for your company.
Whether you used a business broker to take over a successful business or started your own, the importance of having the right business plan still remains.
Writing a good business plan can be hard and time-consuming, not to mention how many hours it takes to find all the right information about your industry and competitors.
A good business plan is essential for any entrepreneur looking to build their own startup from scratch. Amongst other things, it can help you get funding and reach business milestones. It also helps with the day-to-day running including inventory management as well as payroll.
In this guide, I ranked and reviewed the best business plan software based on pricing, planning features, team collaboration, integrations, support, and more.
Let's dive into the list.
What is the Best Business Plan Software?
Here are my choices for the best business plan software to utilize for your small business.
Best for small businesses looking for a cost-efficient and easy-to-use business planner ($15 per month).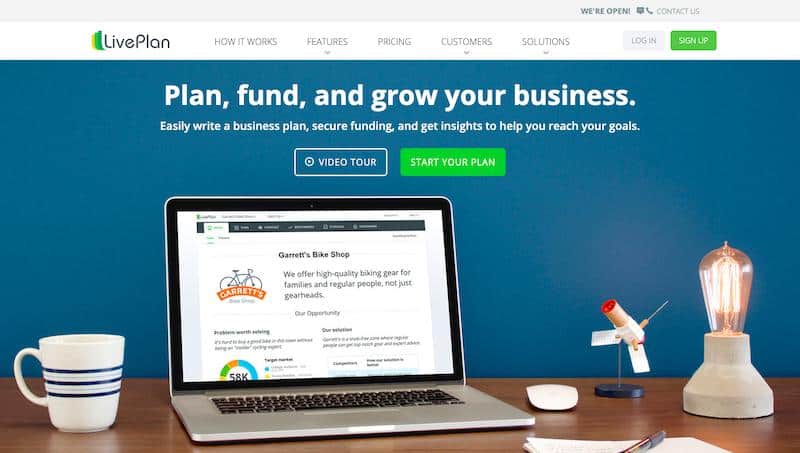 LivePlan (formerly business plan pro) is a business planning platform that helps you track your business progress. It comes loaded with over 500 free and full-length sample business plans for inspiration. They also help you visualize your complete project. Plus, LivePlan also offers step-by-step assistance through in-built examples.
For small and new businesses, it offers one business plan that you can use to explain business opportunities to your clients. You can also make changes and updates to the plan at any point in time to keep it accurate.
Other features include:
Build financial forecasts and financial reports
SBA-approved format
Team collaboration
Industry benchmarks to understand your competitors
Additionally, LivePlan's automatic financials and presentation features let you convert your one-page plan into a detailed plan. Plus, these financial services provide an estimate of your economic outcomes for the five upcoming years.
Key Features:
Business Model Canvas – It enables you to project your business model on a single page. You can get your business idea documented in around 30 minutes to share it with investors and partners.
Cash Flow Forecasting – It automatically imports your business' accounting data to create a forecast. You just need to follow a few bite-sized steps. You can also sync it with QuickBooks and Xero.
Milestone Scheduling – Schedule business-critical tasks and milestones in the LivePlan dashboard. And it will send you automated reminders whenever an event is due.
Pros:
It provides visual forecasting tools for your sales plan.
60-days money-back guarantee.
Choose from 10 plan themes optimized for funding.
The business dashboard lets you track your business with key metrics like cost and expenses, revenue breakdown, net profit, operating margin, etc.
It enables collaboration through easy-to-manage permissions and global access.
It allows you to work on multiple active plans simultaneously.
Bank-level security.
Pricing:
LivePlan offers two pricing plans:
Standard: $20 per month (paid monthly) or $15 per month (paid annually)
Premium: $40 per month (paid monthly) or $30 per month (paid annually)
Every plan includes features like automatic financials, 500+ sample plans, forecasting tools, guided plan builder, performance dashboards, etc. While there's no free trial, you get a 60-days money-back guarantee.
Best for a startup business as well as small businesses looking to access a funding platform ($20.75 per month).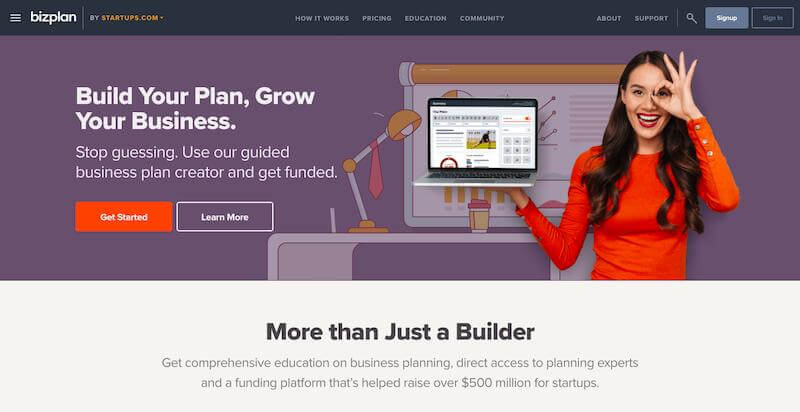 Bizplan is a modern business plan software that provides tools like a guided builder, drag-and-drop templates, automatic financial projections, online fundraising tool, etc. to help you build your plan and get funded.
The guided business plan creator prompts you to answer some questions to build a ready-to-use business plan. It breaks down everything into a step-by-step process to help you write a business plan.
You can use its drag-and-drop templates to decide what you need to keep or delete from the plan.
Plus, Bizplan's Financial Command Center lets you track all critical finances from a centralized place like salary forecasts, revenue projections, balance sheets, etc.
Bizplan also provides elements like:
Guided courses on funding
Direct access to live experts
Free Access to Fundable.com – Bizplan's online fundraising platform
Visual layouts to add to your business plan
Progress tracker to review your plan and check how close you are to the finish line
Team collaboration tools and control access from anywhere you want
Key Features:
Raise Capital Online – Sign up to Fundable.com for free if you are a startup or small business hunting for an investor. It helps you connect with hundreds of potential investors and raise funds for your startup.
Expert Help – It offers help through 650 expert masterclass videos, self-guided courses, and a pool of over 1,000 how-to guides.
Control Access – It allows you to control who can view or comment on your sensitive business information. You can also control the access from anywhere since it's a cloud-based platform.
Pros:
Use visual layouts to make your business plan more engaging.
Keep track of your tasks through a progress tracker.
It provides multiple reports like income statements, balance sheets, break-even analysis, customer churn, and more.
Collaborate by tracking feedbacks in threaded comments.
Instantly share your business plan with a simple link.
Pricing: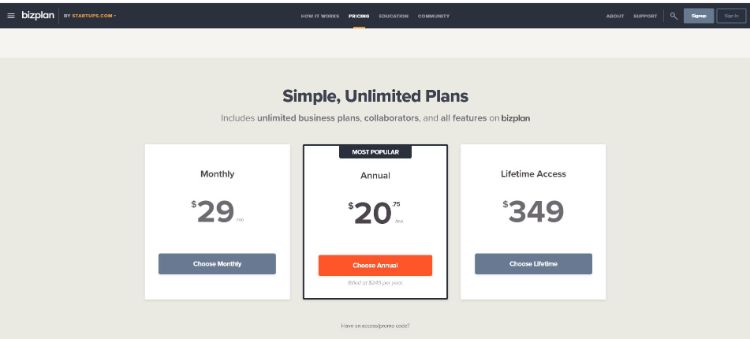 Bizplan offers three pricing plans, including:
Monthly: $29 per month
Annual: $20.75 per month (Billed at $249 per year.)
Lifetime Access: $349 one-time payment
All the plans include every Bizplan feature, self-guided courses, 650 masterclass videos, 1,000+ how-to guides, etc.
Best for business plan creation in a fraction of the usual time
Key Features:
Follow step by step wizards to go through the whole process of creating a business plan
Output simple, enjoyable and effective business plans
Generate monthly reviews sessions with your clients to setup recurring revenue
Create forecasts (up to 5 years) in minutes
Pros:
Avoid overwhelm and confusion that comes from not knowing what the next step is
Know which budget is needed based on the forecasts created within the system
Keep track of clients in the easiest way possible
Generate reports that clients will understand and be onboard with
Pricing:
With various features available for both startup and already established businesses, MasterpPlan Lean offers pricing plans with different modules available, as follows:
MasterPlan Lean: $199/ month
3 Modules Bundle: $299/ month
5 Modules Bundle: $499/ month
Best for forecasting & budgeting features in an innovative business planning software ($99 per month).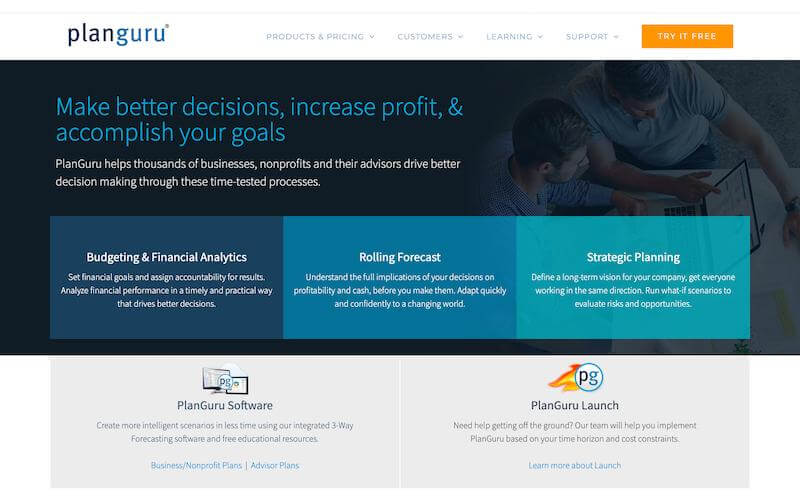 PlanGuru is a business planning software for small & mid-sized businesses and non-profits that helps you budget, build financial forecasts, and plan for the future. You can use the software to create a detailed analysis in just a few minutes.
PlanGuru helps you perform three major tasks, including:
Budgeting & Financial Analytics – Set financial goals and analyze your financial situation to make better decisions.
Rolling Forecast – Predict the outcome of your financial decisions based on profitability and cash before you make them.
Strategic Planning – Create a long-term business plan for your company based on what-if scenarios, possible risks, and opportunities.
Plus, it lets you create projections for up to 10 years through an integrated balance sheet, income statement, and cash flow statement.
You can also integrate PlanGuru with Xero, QuickBooks, QuickBooks Online, and Excel Import to build unlimited business plans. Additionally, it comes with an in-built report builder for Excel and lets you export your standard reports to Word, Excel, and PDF.
Key Features:
Scenario Analysis – It analyzes the possible impact of various special events to help you make strategic decisions and investments with more confidence.
PlanGuru Launch – PlanGuru comes in handy if you have a complex project and need personal assistance with your business plan. Their team will assist you with everything based on factors like time horizon and cost constraints.
Forecasting Methods – It offers over 20 forecasting methods that allow you to predict your financial scenario for up to 10 years.
Pros:
PlanGuru can perform forecasting through non-financial data.
It offers financial ratios and a business valuation tool.
It provides in-built financial statement structures.
It comes with unlimited budgeting capability to create elaborate plans.
In-app reporting tools and dashboards to track your business.
Engagement tools for professional accountants.
Pricing:
PlanGuru offers different pricing plans for businesses/non-profits and advisors, even though the prices are similar.
Business/Nonprofit and Advisors Plans:
Monthly: $99 per month / Additional users: $29 per month
Annual: $899 per year / Additional users: $299 per year
You can also choose from a cloud-based app or Windows Desktop solution. You also get a 30-days money-back guarantee.
Best for small businesses and non-profits to create financial statements ($39 per month).
Founded by NFL Hall of Famer and entrepreneur Fran Tarkenton, GoSmallBiz helps you build a business plan that aligns precisely with your business.
It offers business-specific planning templates and expert advice to generate the exact document you need. Plus, its step-by-step wizard helps you build a business plan by filling up business details in multiple segments.
Another useful feature is its online calendar management software. You can schedule meetings, events, and appointments and get automatic reminders. Plus, it lets you create financial statements like income, cash flow, and balance sheets, with multi-year projections.
Customer support is another plus point. They claim to provide a guaranteed response within two business days. Moreover, you can even ask endless questions through the app or online medium.
However, GoSmallBiz is more suitable for creating a business plan to attract more investors instead of managing different business aspects.
Key Features:
Financial Statements – Create financial statements, including cash flow, projections, balance sheets, and more.
Plan Wizard – It allows you to include or delete elements from its around 100 business templates. You can also move sections' chronology and edit the table of content.
Smart Financials – You can get your revenue projections on a yearly, product, or category basis. It also enables you to project multiple revenue streams based on several key metrics.
Pros:

It provides reporting in two samples, including insurance and restaurant business.
Track your sales staff's expenses like telephone, postage, and bonuses.
Include detailed information for your brick-and-mortar store, including security deposit, start date, monthly rent, and more.
You get a separate tab to track HR expenses.
You can also import your pre-written text from the word processor.
Pricing: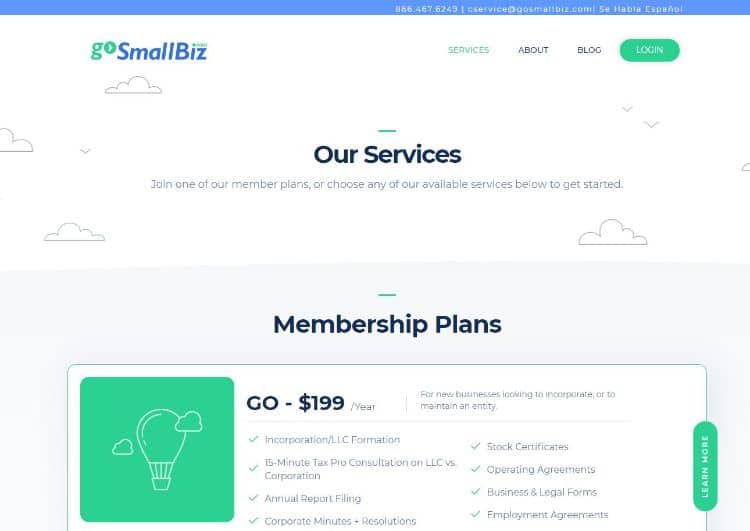 GoSmallBiz offers a plan of $199 per year.
However, there are various smaller pricing packages as well as one-time services that you may choose to add to your plan. These include Tax ID/EIN, HR Document Builder, Business Plan Software, etc.
Plus, the plan includes business plan software, CRM w/ Email Marketing, HR Document Builder, Business & Legal Forms, Business Roadmap, etc.
Best for online collaboration and writing automatic plans ($11 per month).
Enloop provides business plan software that writes automatic business plans and evaluates their potential. It also helps you collaborate with your remote team, accountant, and business partners. Different stakeholders from multiple locations to view and edit your business plan.
Plus, it automatically syncs your financial data with your business details to create personalized business plans. You just need to enter all the relevant business information in its different sections, and Enloop automatically generates text for each section.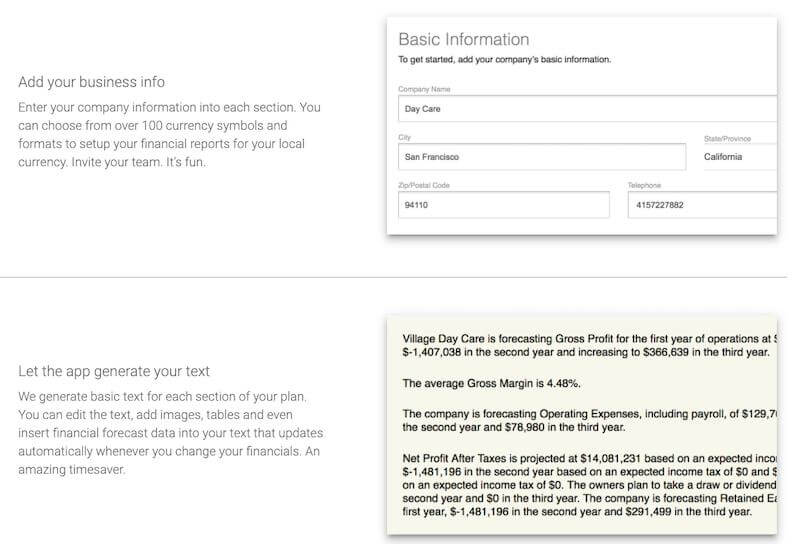 It's also useful for making automatic changes whenever it identifies any business-critical issues. On top of that, you can edit the text, add tables or images, and insert financial forecasts into your business plan.
Additionally, Enloop generates pass/fail reports and certificates to analyze critical issues and resolve them before it's too late.
Key Features:
Real-time Performance Score – It offers a real-time score of your business plan. The better your plan is, the better it will reflect in terms of score.
Country Currency Formatting – You can choose over 100 currency symbols and number formatting for your business plan.
Financial Ratios – Enloop generates 16 financial ratios to analyze your performance. They also compare your ratios to your competitors to show where you stand.
Pros:
It generates financial forecasts for your business plan.
7-days free trial without any credit card.
Use financial and business plan templates to create reports quickly.
It reflects data in colored charts for better understanding.
Collaborate with up to 5 users from anywhere in the world.
Pricing:
Enloop provides two pricing plans:
Detailed plan: $19.95 per month or $11 per month when paid annually
Performance plan: $39.95 per month or $24 per month when paid annually
You also get a 7-days free trial (no credit card required).
Best for creating a business plan that is suitable for modern needs. ($45 yearly)
IdeaBuddy gives you the ability to quickly build a business model and collaborate with others. Modern business plans depend on successful collaboration and IdeaBuddy is great at this.
Key Features:
Idea Plan: Ability to create a summarized one-page business plan to help with generating more ideas
Business Guide: Helps you turn an idea into a fully-fledged business
Financial Plan: Understanding the financials involved to see if your business idea is worthwhile or not
Business Plan: Create a modernized business plan to present to partners, investors, and other stakeholders
Pros:
Get examples from other businesses in your industry so you can avoid commonly made mistakes
Have a working structure for your idea in less than an hour
Share your ideas and brainstorm with others to come up with an even-better plan
Get access to various financial calculators to see if you're right on track on not
Pricing:
IdeaBuddy offers you three product plans available which you can pay on a monthly or yearly basis. At the moment, there is also a lifetime plan available. When it comes to the monthly plan, the plans are as follows:
Dreamer: $15 per month (1 idea and 1 collaborator)
Founder: $25 per month (3 ideas and 3 collaborators)
Team: $45 per month (30 ideas and 30 collaborators)
Best for industry-specific business plan templates ($299 per year).
iPlanner.NET offers business plan software and financial planning tool to help you develop business plans. The business modeling framework helps you build a business model in real-time while collaborating with your teammates. Plus, it offers multiple user-friendly business plan templates like restaurant business plan, venture capital business plan, elevator pitch, etc.
It also comes equipped with a financial engine to gauge different metrics like sales, forecast price, quantities sold, and more. Moreover, all the projects saved on iPlanner have separate and secure URLs to help you share projects with your team.
iPlanner also offers mentoring, resources, and support to small businesses and individuals.
Key Features:
Marketing Strategy – Create a marketing strategy industry, target market, and competitive analysis with the target market plan.
Expert Mentors – It has a pool of expert mentors to provide personalized assistance to create a business plan and identify potential investors.
Sample Language – It offers sample language for every segment that you can use in your business plan. What's more, they provide tips about the information that you must include in your plan.
Pros:
It offers customer support via emails and how-to guides.
Pre-built, industry-specific templates to create custom business plans.
Upload documents, reports, presentations, and more for seamless collaboration.
Feed-in content from multiple external sources, including websites, MS Word, Excel, corporate intranets, etc.
It takes regular backup of your data on the cloud.
Pricing:
iPlanner.NET provides different prices based on the number of plans:
Level A: Up to 3 plans costs $59 paid annually
Level B: Up to 5 plans costs $99 paid annually
Level C: Up to 10 plans costs $159 paid annually
Level D: Up to 50 plans costs $1,250 paid annually
Level E: Up to 100 plans costs $2,550 paid annually
Level F: Up to 200 plans costs $4,950 paid annually
Best for creating visually appealing business plans ($10 per month).
Business Sorter is one of the best cloud-based business plan software solutions that provides the content to create plans you can share and track. The content covers six key business areas, including sales, finance, brand, people, operations, and goods & services.
Business Sorter helps you:
Manage your finances
Deal with operational matters
Plan brand and marketing activity
Plan for a business of any size and time
And more
It offers a card sort system of 273 cards that cover different business situations. You can also include, delete, add your own cards or edit the existing ones.
You can keep everything, including your thoughts and ideas, at a centralized location. It also offers advice and tips at every step to help you put your strategy into action.
Key Features:
Track Progress – You can leverage 'Task Note' to highlight issues and use 'Recent' Activity' to track the progress of tasks related to different projects.
Control – Manage your resources by assigning tasks, setting up due dates, and budgeting. You can also track your team's progress to see who completes which task and at what time.
Plan Notes – Keep all the ideas and information related to business handy by jotting them on plan notes.
Pros:
Create and manage up to 40 business plans from a single dashboard.
Collaborate in real-time by sharing live plans with an unlimited number of users.
Business Sorter offers a 14-days business trial.
Regular updates are available for free.
It comes with an autosave feature and strong data security.
Pricing:
Business Sorter provides four pricing plans based on your team's size:
Small Team: $10 per month for up to 3 users
Medium Team: $30 per month for up to 10 users
Large Team: $80 per month for up to 20 users
Enterprise: Quote-based for unlimited users
You can also try their annual plans for lower rates.
Plus, all the plans let you create up to 40 business plans. They also provide secure data protection, access on any device, team management through delegation and clear communication, etc.
Best for creating business plans using infographics, reports, and data visualization ($19 per month).
Venngage is a design application that lets you create business plans and explain your business idea with visuals, infographics, and reports. It creates visuals to help you define the market analysis, projections, financial goals, and more in an engaging manner.
It helps you create a business plan in a few simple steps. Those steps include:
Choose a template – you can choose from over 100+ infographic templates, reports, roadmaps (other roadmap software options), posters, etc.
Add charts & visuals – pick from hundreds of charts, maps, and icons to add them to the template.
Customize your design – Finally, customize your design and add final touches by changing the fonts and colors.
Venngage also allows you to use your own brand visuals, fonts, and colors. It also offers over 70 professionally curated fonts to help you create a visually appealing business plan.
Key Features:
Data Visualization – Directly import data from spreadsheets in the form of Line Chart, Stacked Bar Chart, Bubble Chart, Pie Chart, and more.
Drag-and-Drop – Use its drag-and-drop feature to add widgets onto your business plan while adjusting their color, size, and orientation. You can also group and lock widgets.
Social Sharing – You can share your business plan through a landing page or custom link on social media. It also allows you to download the document in the form of PDF/interactive PDF or PNG.
Pros:
It allows you to collaborate with multiple users and edit the document simultaneously.
Venngage provides an extensive collection of images, graphics, and icons for added visual appeal.
It lets businesses to include their branding elements.
You can also upload your own images, icons, graphics, etc.
You get priority support on its premium plans.
24/7 customer support and one-on-one calls.
Pricing:
Venngage offers three plans for different requirements:
Free: $0
Premium (For individuals): $19 per month
Business (For organizations & businesses): $49 per month
Enterprise (For larger teams who need expert support): $499 per month
You can save 12% with quarterly plans and 20% with yearly payment.
Best for small & mid-sized business owners looking for simple business plan templates ($9 per month).
Xero is the accounting software suitable for small and medium-sized businesses that can help you create a business plan.
It offers two types of business plan templates – one-page and multi-page.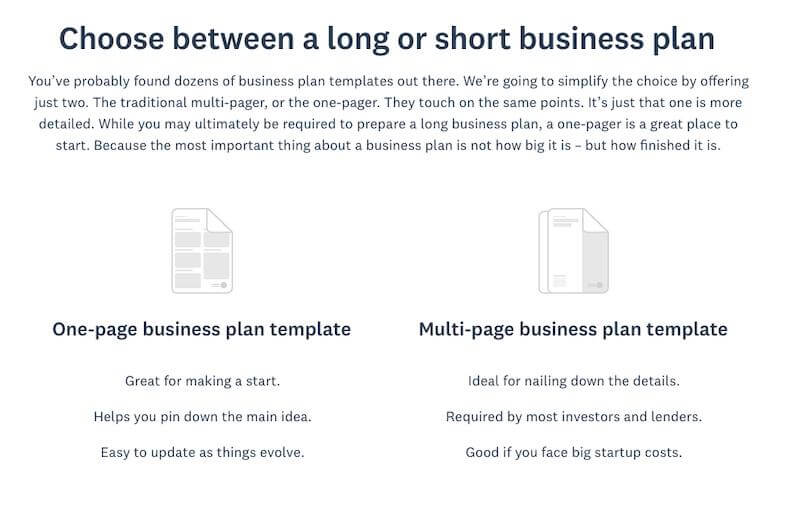 The one-page business plan templates are ideal for startups or if you wish to jot down your initial idea. However, you need to use a multi-page template if you're going to include all the details.
However, Xero doesn't let you do online editing like other business plan software. You have to request the template by filling up your name and email in the contact form.
You can also use Xero's accounting features (like inventory tracking) for your business plan.
Xero isn't the only accounting tool that can be used for creating a business plan. Check out my Xero vs Quickbooks comparison to see how they compare.
Key Features:
Guides – It offers detailed guides on starting, financing, and managing your business inventory.
Advisor Directory – Take assistance from financial experts by selecting from its directory of professional contacts.
Assistive Text – All the template sections come with sample text that offers tips and tricks to create more effective business plans.
Pros:
The table of content gets automatically updated when you update the headings.
Save and share the file in PDF format.
It offers separate sections for graphs and infographics.
You get a 30-days free trial to test the product before purchasing it.
Pricing:
Xero offers three pricing plans:
Early: $5.50 per month
Growing: $16 per month
Established: $31 per month
What is Business Plan Software?
Every business needs a plan that acts as its roadmap on the path to success. In the past, business plans were lengthy and time-intensive documents that were drawn up manually.
They made searching for information very difficult, which often led to mistakes. Sometimes, the teams could not complete the plans due to lack of time, which was a serious impediment to a business's working and productivity. This also led to a delay in business decision-making.
And this is where business plan software came into the game.
Today, these business plan tools allow you to create highly professional plans and make it easy to enter financial, operational, and strategical information. It acts as a centralized repository for all business-related content. They help businesses derive actionable insights and demonstrate results to positively influence customers and investors alike.
Some of the best business plan tools include PlanGuru, Bizplan, LivePlan, and more.
What Features Should You Look For in Business Plan Software?
Every business is different. Therefore, the respective business plans will also differ and be unique.
However, some standard features will always be relevant and in demand for any SaaS tool.
Here are some of the main features to look for:
1. Drag-and-Drop Features.
Customization is essential to create unique business plans. And that's why you require an easy-to-use drag-and-drop editor to help you edit and customize your plan just the way you want. It also comes in handy if you want to create business plans that precisely align with your business goals.
2. Financial Forecasting.
No business can survive without financial gains. Financial forecasting is central to short-term and long-term planning for any business since it predicts future earning potential based on your current sales. This feature also helps you convince your lenders or clients to invest in your product. For example, Planguru offers reliable financial forecasting services.
3. Educational Materials.
Business plan software must have a flat learning curve so that both experts and novices can use it easily. Many business plan tools provide education material to help you with navigation without any hassle. For example, Bizplan offers many educational videos and materials for users to get used to its environment.
4. Stakeholder Collaboration.
Any business will have a large number of stakeholders and collaborators. And catering to each one of them individually isn't an easy task. That's why you need a tool to bring all of them on the same page. Thus, choose a tool that lets you provide access to your team members so everyone can edit and track the business plan – for example, Liveplan.
5. Business Analytics and Reporting.
Tracking business performance and comparing the metrics with your competitors helps businesses grow and remedy their mistakes. For example, with Liveplan's analytics feature, you can identify and make changes at the operational and tactical levels for better results.
6. Bank Integrations.
Businesses always need to keep abreast of their balance sheets, cash flows, and banking statements. For instance, Xero caters to all the banking and accounting necessities of any business plan. It offers invoicing, inventory management, payroll management, bank connections, reconciliation statements, and more.
How Do You Use Business Plan Software?
There are many business plan tools available and they all work slightly differently. However, most of them are overwhelmingly similar to use with consistent processes.
Let's learn how to use a business plan software with an example of LivePlan. Like all of its peers, you can use it at any stage of business plan development.
First and foremost, set up your business information. They'll ask you to fill your company name and other details regarding your business.
You can choose from a wide range of languages to set up your business. After filling all of your business details, you can invite the rest of your team members aboard for seamless collaboration.
You also need to select a goal so the LivePlan can suggest a starting point. Do you want to get funding, create a new strategic plan, test a new idea, manage business better, or prepare a sales forecast? The software also advises about a specific starting point, so that you're more efficient and get the best results.
Once the business is set up, turn your focus to business strategy. It provides a one-page pitch that you can use to document your business idea and unique selling point (USP). You can describe your business, add custom market segments, financial projections, list key milestones, and more.
Next, you get the option to fully export the pitch in a slide deck for circulation, demonstration, and pitching. You can share it with others via email and social media.
Most business planning tools, including LivePlan, help you break down your business plan into small steps and step by step instructions that are easy to follow and execute. This makes it easy for you to manipulate and edit each section of your plan. You can add, delete, and rearrange sections as you please.
Finally, create a budget and forecast. Just enter potential sales, and Liveplan automatically makes your financial statements. Take a look at this:
Most business planning tools take away the need for business managers to dabble in accounting and auditing financial documents. You can enter the revenue you're anticipating and set up projections. If you're not sure about them, you can choose any arbitrary number.
Next, select the industry similar to your business, segment the data by region, and enter projected annual revenue.
Carry out statistical analyses and validations of the forecasted data with your own. Review key metrics that affect businesses, like gross margins, net profit margins, operating margins, and 3-year, 5-year, and 10-year industry averages. For novices, business plan software breaks down each metric and explains them in full detail.
For accounting and banking, Liveplan integrates with Xero, QuickBooks, and more. You can continuously monitor performance and see if your business is meeting sales targets.
Most business plan solutions offer free trial periods. You can leverage them to get familiar with the interface and see for yourself if it meets your business goals. Some of these solutions also offer business continuity planning software that helps with the day-to-day running of your business.
Executive Summary.
Starting a new business involves a lot of steps. There's brainstorming new business ideas, writing a business plan, forming a business entity, creating a website, building a marketing plan – it can feel overwhelming at first.
However, it's important to keep in mind that unless you get your business plan right, then nothing else matters.
Creating your business plan is essential for future growth and convincing lenders and clients to invest in your business. Fortunately, the right business plan software can help you create a business plan to suit your precise needs and helps with project management as your business grows.
Luckily, there are plenty of business plan software options that can help you every step of the way.
This guide included my top 11 picks for the best business plan software. Each tool offers a few basic and some unique USPs that you can use to create a good business plan.
While a complete business planning tool might not exist (due to everyone having different and specific needs), the top business plan software mentioned above have some of the best features that you can ask for when creating a business plan.
For instance, LivePlan offers all the features to summarize a complex business into a simple business plan. If you are seeking financial planning and budgeting, you can use PlanGuru or Xero. On the other hand, go for BizPlan if you're looking for an integrated funding platform.
My top pick is LivePlan because of overall intuitive features like:
500 free sample business plans to help with business plan writing
Step-by-step guidance
A quick, fill-in-the-blank business planning process
Automatic financial forecasts
Seamless collaboration
And more.
Make sure to review all the tools and their pros, cons, and key features to make your final decision.
Finally, if you're interested in learning more about other business planning tools, why not check out the following posts?
In addition, here's a list of the best small business insurance right now that can help protect your business when/if the need arises.
And don't forget to let me know which business plan software you're planning to use and if I missed any on this list. Let me know in the comments below.
Disclosure: I may receive affiliate compensation for some of the links below at no cost to you if you decide to purchase a paid plan. You can read our affiliate disclosure in our privacy policy. This site is not intending to provide financial advice. This is for entertainment only.