7 Best Crypto Credit Cards of 2022 (Ranked and Reviewed)
Choosing the right crypto credit cards is vitally important to your business. From the signup process to the ongoing management and maintenance of the account, the best crypto credit cards can help you meet your goals. In this guide, I ranked and reviewed the 7 best crypto credit cards, so that you can pick the best one for you.
---
We're reader-supported. When you buy through links on our site, we may earn an affiliate commission.
Cryptocurrencies are all the rage these days and for a good reason.
They offer a new way of thinking about money and are revolutionizing how we do business.
With so many crypto exchanges and trading platforms available, investing in cryptocurrencies is easier than ever.
You can also use crypto portfolio trackers to keep an eye on your trades as they (hopefully) provide a higher return on your initial investment.
But what about spending your various cryptos?
Up till recently, this was an issue.
However, that's where crypto credit cards now come in.
These cards let you use your cryptos like regular currency, and they come with a host of benefits that traditional credit cards can't offer.
Let's dive deep into this topic.
What Are The Best Crypto Credit Cards?
The following are the best crypto credit cards on the market today.
Best For Multiple Wallet Selection.
The Coinbase Card is a great card for spending your crypto investments.
You can use it at any merchant that accepts Visa, and you can also withdraw cash from any ATM.
The card is linked directly to your Coinbase account, so spending and tracking your transactions is easy.
With the ability to pay with contactless payment, withdraw cash from any ATM, and spend your cryptos anywhere Visa is accepted, the Coinbase card is an excellent choice for everyday use.
Key Features:
Stay on the safe side – your Coinbase Card is connected to your Coinbase account for easy spending and tracking.
Two-step verification provides extra security for your card.
Use your Coinbase Card at any Visa merchant – online or in-store.
Choose which crypto wallet you want to use for your spending – either Bitcoin, Ethereum, Litecoin, or any other wallet
Spending summaries and transaction details available in your Coinbase account allow you to keep track of your spending.
Get started with a Coinbase Card.
Best Overall For Crypto Credit Cards.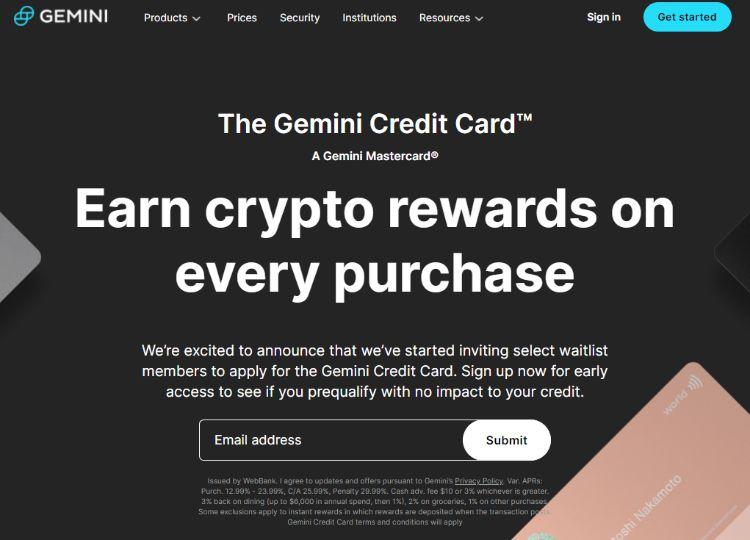 The Gemini credit card is an excellent choice for anyone looking for a way to spend their cryptocurrencies.
There are more than 50 crypto coins available for use with the card, and you can use it at any ATM or merchant that accepts Visa.
You can earn rewards that are instantly credited to your Gemini account, so you can use them to buy more crypto or even for ATM withdrawals.
If you want to earn more Bitcoin (BTC) rewards while living life on your own terms, the Gemini credit card is a great choice to consider.
Key Features:
No annual fee means you save money on card costs.
50+ crypto coins are available for use.
No foreign transaction fees save you money when traveling.
Crypto rewards are added to your Gemini account immediately.
Customizable luxury means you can choose your credit card color and design.
The Gemini app makes it easy to manage your account and transactions.
Best For Instant Crypto Rewards.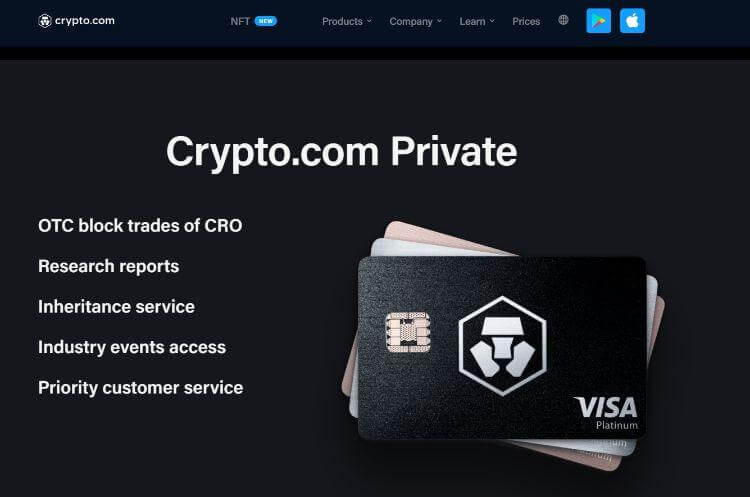 The Crypto.com Visa Card allows you to top up your card with various cryptocurrencies, including Bitcoin (BTC), Ethereum (ETH), Litecoin (LTC), and more.
You can also use more traditional bank transfers or other crypto debit cards to top up your Crypto.com card.
Rewards are paid in Cronos (CRO), which is the native coin of the Crypto.com platform.
With instant rewards reflected in your account, you can enjoy spending your rewards without delay.
There is also a competitive rewards rate for both crypto and fiat exchange fees.
Key Features:
Reward points are paid in Crypto.com's native currency, Cronos (CRO).
Inheritance service allows balance transfer to pass on your card and rewards to loved ones.
Industry events access means you can attend some of the world's top crypto events.
Priority customer service gives you fast, friendly service when you need it.
4. BlockFi Rewards Credit Card.
Best For Crypto Rewards.
BlockFi Rewards Visa Credit Card is great for crypto enthusiasts that also want to get something in return.
The BlockFi Rewards Visa Signature card comes with unlimited 1.5% cash back credit cards rewards on all purchases (with a bump to 3.5% during the first three months).
Before applying, you can also check if such a card will affect your credit score if obtained – a feature not many crypto credit cards offer.
One can do this directly on their website.
With no foreign transactions and annual fees involved, this card is an excellent value for the rewards you receive.
You can also get as much as 2% back in crypto when you have an annual spend of more than $50,000
Key Features:
On all qualifying trades, investors will earn back 0.25% in crypto.
You can also earn extra rewards for referrals – a sum of $30 in Bitcoin when someone joins this platform.
There are different ways to earn more and upgrade Bitcoin rewards. These include intro bonus, trading bonus, spend bonus, and more.
Get access to more experiences and events with the BlockFi Rewards Visa Credit Card, including hotels, shopping, premium car rental, and more.
5. TenX Visa Card.
Best For Instant Crypto To Cash Conversion.
TenX gives you the freedom to use your Bitcoin, Ether, and Litecoin wherever Visa is accepted.
If you want instant crypto to cash conversion, the TenX card is a great choice.
You can also avoid costly cryptocurrency exchange rates with the ability to pay in the country's currency when traveling.
With TenX Visa Card, you can use Visa's 3D secure technology for added security when shopping online, further providing you with a great shopping experience.
Key Features:
24/7 card security means you're always protected against fraud.
Use your card in any country with the appropriate currency.
Real-time notifications keep you updated on your spending.
Convert your crypto to cash instantly as needed.
Their app gives you complete security and control over your card.
6. Swipe Visa card.
Best For Virtual Crypto Cards.
Swipe gives you both physical and virtual cards, so you can choose the option that best suits your needs.
The virtual card is perfect for online shopping, while the physical card is ideal for in-store purchases.
With strictly enforced compliance, you can be sure that your transactions are always safe and secure.
Swipe is an excellent choice for those who want to use their cryptos daily with a rapid cryptocurrency to Fiat conversion process in place.
You can also access your favorite payment providers, including Samsung Pay, Google Pay, and Apple Pay, for that extra convenience.
Swipe is also great for businesses that want to start accepting cryptocurrencies and build a user experience around them – with additional API integration included.
Key Features:
Swipe cards offer various features for businesses that want to start accepting cryptocurrencies.
Choose between a virtual or physical card to best suit your needs.
Rapid cryptocurrency to fiat conversion on demand.
Compliance ready – your transactions are always safe and secure.
Customizable settings give you the experience you want.
7. Embily Crypto Card.
Best For The Simplest Crypto Credit Card Experience.
Embily is the crypto credit card of choice for those who want a convenient and straightforward experience.
All you need to do is top up your card with the currency of your choice, and you're ready to go.
Get a competitive exchange rate when converting your crypto to cash, and use your card anywhere Visa is accepted.
With Embily, you're in control of your personal finance – perfect for those who want to be able to track their spending.
Your account allows you to manage up to five cards, which is excellent if you have separate cards for different purposes.
Upcoming features are also in the pipeline, which shows that the developers are always thinking ahead.
With a waitlist available, such features include SWIFT and ACH transfers, checking accounts for individuals, and the ability to trade digital crypto assets.
All these make Embily the perfect choice for those who want a crypto credit card with all the features while also being as straightforward to use.
Key Features:
Being an American bank partner, you're guaranteed to have a positive experience when using the card.
Your card's fast and free delivery means you can start using it quickly after you apply.
24/7 online support is available in case you need any help.
Instant crypto to Fiat currency exchange means you can use your card wherever you are.
Other crypto credit cards not mentioned in this article include Wirex, Brex, Chase, Nexo, and a Sofi credit card.
What Are Crypto Credit Cards?
Crypto credit cards are just like any other credit card, but they allow you to spend your cryptocurrencies instead of regular currency.
This can be an excellent option for those who want to use their cryptos in everyday life, as crypto credit cards are now accepted at most retailers that accept Visa.
Plus, with many cards offering a rewards program featuring intro bonuses and spend bonuses, you can earn extra rewards when using your crypto credit card.
Crypto credit cards work in pretty much the same way as regular credit cards.
You need to load your card with the cryptocurrency of your choice, and you can start spending.
What Are The Benefits Of Crypto Credit Cards?
There are quite a few benefits of using crypto credit cards.
Let's have a look at some of them.
You Can Use Your Cryptos In Everyday Life – Just Like Regular Currency.
A crypto debit card and credit card is typically accepted at most retailers that accept visas so that you can use your cryptos in everyday life.
This makes it easy to use your cryptos for everyday transactions, such as groceries or gas.
They're Perfect For Travel Rewards.
Another great benefit of crypto credit cards is that they are perfect for travel.
Since Visa backs most crypto credit cards, they're accepted by millions of merchants worldwide.
Plus, you can save money when using your card abroad with no foreign transaction fees.
Rewards Include An Intro And Spend Bonuses.
A crypto rewards credit card is a great way to earn extra rewards when you use your card.
Most cards offer intro bonuses and spend bonuses that earn you rewards quickly.
They Come With Fraud Protection.
Since crypto credit cards come with fraud protection, you can rest assured that your transactions are always safe and secure.
This ensures that you're never left out of pocket if someone tries to use your card without your permission.
Factors To Consider When Choosing A Crypto Credit Card
While a crypto credit card is a great way to spend your assets, not all cards are created equally.
Here are the key factors to consider before making a final decision.
Card Security
Protecting your digital assets is of utmost importance, so you'll want to ensure that the card you choose has robust security features.
Look for a card with features like chip and pin protection, fraud protection, and mobile notifications when you make a purchase.
This will help to keep your assets safe and secure.
Amount Of Credit Card Rewards
Crypto rewards credit cards offer some great incentives for those that use them, but some are better than others.
Make sure to compare the rewards offered by different crypto credit cards to find the one that best suits your needs.
Bank Account Transfers
Crypto credit cards function very much like regular credit cards.
The only difference is that they are linked to your cryptocurrency holdings instead of a bank account.
However, some cards make it easy to transfer Fiat currency to the bank account of your choice.
Annual Fee
Not all crypto credit cards charge an annual fee, but some do.
Make sure to compare the fees charged by different cards to find the one that best suits your needs.
These annual fees can add up if you don't use your crypto card often.
Fees For Foreign Transactions
If you plan on using your card abroad, make sure to check the fees for foreign transactions.
Many crypto credit cards charge a fee for every purchase made in a foreign currency.
Like annual fees, these can quickly add up, so ideally, choose a card that doesn't charge these fees.
Signature Credit Card
Some cards come with a signature, some don't.
A signature credit card requires you to sign your card once you get it.
This adds an extra layer of security and is ideal for further protecting yourself and your assets.
Credit Card Material
The card's design might be something to look into as well.
If you're looking for a prestigious feeling card, go with one that you can customize based on your choices.
For example, some cards come in various materials, including rose gold, platinum, and titanium.
Eligible Purchases
Be sure to check which purchases are eligible on your chosen crypto credit card.
Some cards allow you to use your points for various other purchases, while others are restricted to certain types of spending.
Ensure you know what's allowed (and what's not) before signing up for a card.
Card Ownership
Some cards support multiple users, while others are created for the individual.
If you're looking for a card that you can share with your family or friends, make sure to choose one that supports multiple credit cardholders.
Otherwise, you might run into problems when trying to use the card.
Signup Bonus And Various Incentives
The best crypto rewards cards come with signup bonuses and various other incentives.
These can include access to Spotify, Amazon, Netflix, and other services.
There are also other perks of using a crypto rewards card, such as access to the airport lounge of your choice, rebates on travel expenses, and more.
Best Crypto Credit Cards – FAQ
What Are Stablecoins?
Stablecoins are cryptocurrencies that are designed to maintain a stable value.
This makes them ideal for use as a currency, as they avoid the wild fluctuations in value that are often seen with different cryptocurrencies.
Typically pegged to U.S. dollars (USD), stablecoins are a good option for those looking to avoid the cryptocurrency market's volatility.
What Is Statement Credit?
Statement credit is a type of credit that some credit card companies offer.
This allows you to use your card to pay for purchases, and then the credit card company will refund you the money that was used.
This can be a great way to save money on large purchases.
What Are Exchange Fees?
Exchange fees are a type of fee that some cryptocurrency exchanges charge.
This fee is charged when you purchase or sell cryptocurrencies on an exchange.
It is generally a percentage of the total transaction amount.
This fee is in addition to the fees that the credit card company charges.
Make sure to factor this into your overall costs when using a crypto credit card.
What's The Difference Between A Prepaid Debit Card And A Crypto Credit card?
Prepaid debit cards are debit cards that allow you to load them with funds.
You can transfer money from your bank account or use another prepaid debit card.
These cards are generally accepted at more merchants than standard debit cards.
A crypto credit card is designed to work with cryptocurrencies in addition to traditional currencies.
With that said, many crypto credit cards might offer features traditionally only found in prepaid ones.
Wrap Up.
There you have it, seven of the best crypto credit cards out there.
While not all of them may be perfect for your every need, they're all great options that are worth considering.
To recap, here are the best three crypto credit cards right now:
Coinbase Visa Crypto Credit Card: Best For Multiple Wallet Selection.
Gemini Crypto Credit Card: Best Overall For Crypto Credit Cards.
Crypto.com Crypto Credit Card: Best For Instant Crypto Rewards.
As a disclaimer, remember that the above is not financial advice.
Be sure to do your research about the credit card issuer before making a decision about the best crypto credit card for you.
If you have any questions, don't hesitate to ask a financial advisor.
What do you think about the crypto credit cards above?
Have you ever used any of the above?
Leave a comment below and let me know – I look forward to reading your thoughts.
Further reading on AdamEnfroy.com: Want to learn more about the various crypto platforms and compare them to each other?
Here are some comparisons to look into:
In addition, here's a list of the best business credit cards available right now if you'd like to get started with a more traditional card.
Finally, if you're interested in buying and storing Ethereum securely, check out this list of the best Ethereum wallets on the market right now.
Disclosure: I may receive affiliate compensation for some of the links below at no cost to you if you decide to purchase a paid plan. You can read our affiliate disclosure in our privacy policy. This site is not intending to provide financial advice. This is for entertainment only.