BlockFi vs. Coinbase: Which is Best for Crypto in 2023?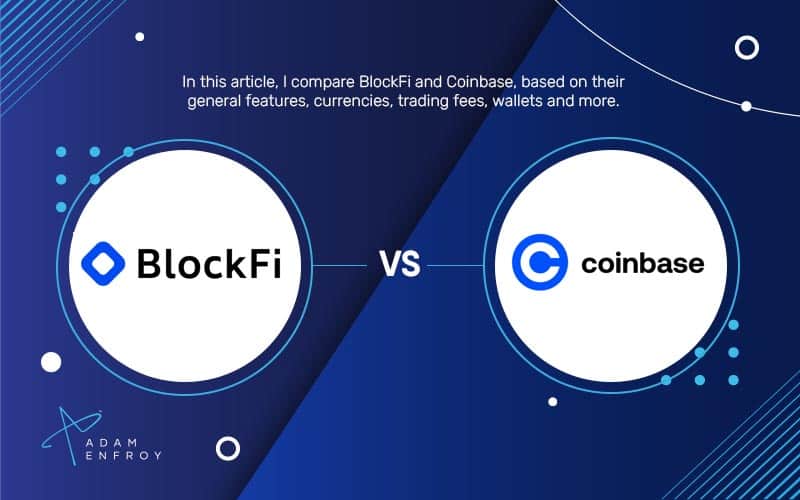 There is a wide range of options for investors when it comes to crypto exchanges and trading platforms, a fact that comes with its pros and cons.
On the one hand, various exchanges let you quickly get your hands on cryptocurrency through fiat currency.
Some even let you keep a detailed record of any currencies you have, serving as a crypto portfolio tracker at the same time.
On the other hand, knowing about the fees, customer service, and other features is critical unless you want to find yourself losing money.
In this article, I will compare Blockfi vs. Coinbase, a comparison that is sure to be interesting for those looking to invest in cryptocurrency.
By the end of it, you'll have a good idea of which crypto exchange suits your needs best.
Let's get started.
BlockFi vs. Coinbase
Below, I will pit the two platforms side by side as I go over various points you need to know.
General Features

Both Coinbase and BlockFi provide crypto exchange services, but they do so differently.
On Coinbase, users may purchase cryptocurrencies on the blockchain using various methods, including ACH, Paypal, and even using wire transfer as a payment method.
Users of the BlockFi platform may send cash using a VISA credit card or debit card, wire transfer, or ACH – all of which are pretty standard.
What's different is what happens after on BlockFi.
Through the BIA (BlockFi Interest Account), the crypto platform converts this currency into GUSD, a.k.a Gemini Dollars. It also makes money go to work for investors immediately, earning them 9.5% yearly interest rates.
If you're purely interested in earning money from your cryptocurrency, BlockFi is the best option for you.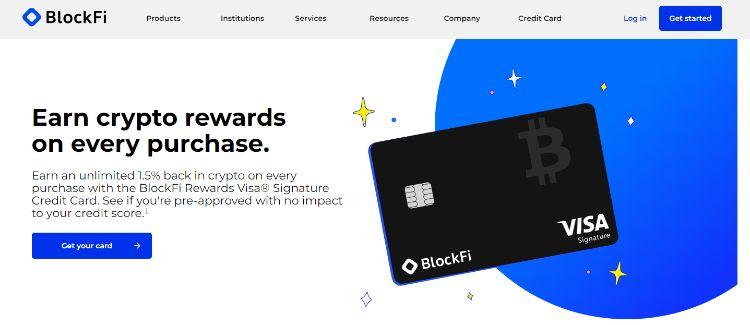 It's also important to say that these funds are not tied indefinitely – you can stop this return as soon as you decide to use these funds to buy crypto.
Since interest accounts immediately start earning, investing with BlockFi is a big point of interest for many. It lets investors generate interest on their assets; this is one of the main reasons many choose BlockFi instead of another brokerage.
Blocki also offers business loans through their platform, with many crypto-backed loans having an interest rate between 4.5% to 9.75%.
When it comes to Coinbase, they have various features for which they're widely known.
They have a Coinbase card that people can use as a payment system on many exchanges.
Coinbase also has an excellent education program through its website, where investors can learn about cryptocurrency and the various exchanges.
They also offer a custodial option, an alternative to personal crypto holdings.
This service provides you with all of the tools necessary to preserve and secure cryptocurrencies in Coinbase's custody, so you don't have to do anything yourself besides placing money into this account.
With Coinbase, one also gets access to their coin, USDC, and its holders get as much as 0.15% annual percentage yield (APY) for staking their coins.
Coinbase is an excellent option for those new to cryptocurrency exchanges with a large customer base and a solid track record.
One important point to note is that there is no annual fee when using either platform.
Currencies
If you purely want to invest in fiat currency, then Coinbase is the better option.
The BlockFi platform only supports ten coins, which are the following:
USD Coin (USDC)
Paxos Standard (PAX)
LINK (LINK)
Litecoin (LTC)
Gemini dollar (GUSD)
Tether (USDT)
Bitcoin (BTC)
Ethereum (ETH)
PAX Gold (PAXG)
Binance USD (BUSD)
This means that investors cannot deposit any other coins in addition to those mentioned above into their BlockFi Interest Account.
This can be a big problem for those looking to play the long game in cryptocurrency and prefer to hold more than ten different coins or invest in a variety of lesser-known ones, as they cannot do so through BlockFi.
Instead, Coinbase accepts cash deposits and over 200 fiat currencies, including the US Dollar (USD), Euro (EUR), and British Pound (GBP).
With various stablecoins matching the USD, Coinbase offers more options than BlockFi.
To provide a few examples, you wouldn't be able to invest in Cardano, Solana, or Polkadot (all of which are becoming quite popular) with a BlockFi account – you'll have to settle for the limited amount of coins available.
Trading Fees
When it comes to fees, things get pretty interesting.
BlockFi is marketed as a transaction fee-free platform where no extra fees (convenience fees) are added when crypto trading.
You can also send money for free via a bank account or ACH.
However, investors need to be careful when using BlockFi when it comes to the prices of each trade.
In some situations, users reported that when trading on BlockFi, they ended up paying less than they would if they had to use Coinbase (which is excellent), but interestingly enough, more than would have if they had used Coinbase Pro.
Coinbase Pro is a platform where advanced users can trade with their Coinbase crypto wallet.
Coinbase Pro is more expensive than the standard platform, but it does have lower transaction fees in most cases.
When it comes to convenience fees charged by Coinbase, they are as follows:
Between $50 – $200 : $2.99
Between $25 – $50: $1.99
Between $10 – $ 25 : $1.49
Less than $10: 99c
However, the spread (at a rate of about 0.5%) is a tough pill to swallow, increasing the total cost of buying and selling.
Wallets
If you're looking for a custodial wallet, both these platforms can provide a similar experience.
When using BlockFi, you can trade crypto in and out of your wallet, but you are never in complete control.
If BlockFi decides to block your account, you wouldn't be able to access your wallet.
Coinbase offers the best of both worlds, as you can decide to hold your own keys to your crypto wallet.
In addition, another point in favor of Coinbase is that anyone can use their hot wallets – you don't even have to be a customer to do so.
This can be a big deal for those who want to buy bitcoin and have it ready to spend whenever they want to.
Ease of Use
If you're a first-time user, Coinbase will be the go-to option for you.
Coinbase is an excellent option for both beginners and more experienced users who want to invest in cryptocurrency on the go with a mobile app that's well-known for being user-friendly and easy to use.
There's also a significant wealth of information on various crypto-related topics, so if you find yourself stuck, you can always turn to these documents for support.
Speaking of the support team, BlockFi's support team is very often on the ball, providing you with timely responses when you need them.
This is better than Coinbase, where the team is not always quick to answer emails.
In addition, the interface is very clean and straightforward to use.
There are no bells or whistles – it's just a focused platform that gets the job done for those who want to perform crypto transactions.
Mobile App
Let's look a bit more in detail at the mobile app.
Both these platforms have apps available for Android and iOS, which means that you can invest in cryptocurrency on the go.
Both apps are also straightforward to use.
Coinbase's app is very polished and sleek – it has a nice interface where each section of the wallet is nicely separated.
At the same time, they have integrated access to Coinbase Pro so that you can trade across both apps without too much hassle.
BlockFi's app is simple and easy to navigate, and just like Coinbase's app, there's no unnecessary fluff, and you get right to the point.
BlockFi users can apply for a loan on the platform directly from the mobile app, which means that if you use this app, you don't need to go through the process of using another app or even have to fill out a separate application.
Access
Coinbase is limited in Hawaii; however, it offers access to people in Canada, the UK, Singapore, and a host of other European countries.
Also, residents of New York don't have access to all of the coins listed on Coinbase.
When it comes to BlockFi, apart from the limited number of coins available to invest across this platform, you might also be limited depending on the state in which you live.
In some states, you cannot transfer fiat currency via wire transfer or ACH, which means that you'll have to transfer your funds to a Coinbase account and then transfer them to your BlockFi account.
This kind of defeats the purpose of being convenient, as you would have to go through a long process of transferring money from one account to another.
Security
Coinbase's most distinguishing feature regarding security is that it is an SEC-licensed company, ensuring the security of your crypto assets.
This means that getting an account isn't as straightforward as just signing up – you'll have to confirm your identity and submit several documents to prove who you are.
With that said, Coinbase does have a better record when it comes to (lack of) security breaches and hacks.
Coinbase has never been hacked, whereas BlockFi had a security breach in 2020.
Hackers stole customer information during this security breach.
This highlights the importance of being on the lookout for any scams related to crypto and never clicking on any suspicious links in email correspondence – you can never be too careful.
With two-factor authentication (2FA) in place on both BlockFi and Coinbase, such a security feature adds one more level of protection to your accounts – although it is never 100% secure if someone gets ahold of your login details.
Both platforms have a whitelisting feature to enhance security further, meaning one would only be allowed to withdraw crypto to pre-approved accounts.
If an unauthorized person tries to withdraw crypto from your account, this would be flagged, and the transaction won't go through.
Another great point about Coinbase security is that this platform stores as many as 98% of all digital assets in cold storage, meaning that assets are offline and inaccessible.
Factors When Choosing A Cryptocurrency Platform
While BlockFi and Coinbase are both solid cryptocurrency exchanges, there are a few things that you need to take into account when you're thinking of investing in cryptocurrencies.
Track Record
This is the first thing I look for in a cryptocurrency platform.
A platform's track record will tell you what to expect during your interactions.
If you're looking into new exchanges, then the risk of hacking is higher as the platform might still be vulnerable.
This happens as those who manage it are still learning to avoid these pitfalls.
Using the platforms in this article, Coinbase has been around for quite some time, having launched in 2012.
BlockFi, on the other hand, only started offering its financial services in 2017, and while things look positive, as we mentioned, there have been hacks performed on this system.
A longer (and better) track record is definitely something to consider.
Convenience
The most important thing to note about convenience is that both platforms are easy to use, but Coinbase has more coins listed.
This limits BlockFi in terms of what you can invest in – Coinbase users can invest in several digital currencies, while BlockFi users only have ten.
This is a big difference between both platforms, and it can be a deal-breaker for some.
Getting started
One thing that makes BlockFi stand out is how quickly you can get started – just an email address, and you're good to go.
The process is more rigid on Coinbase, with various documents and things to submit as proof, such as a driver's license or other types of personal identification.
This approach is suitable for those who value their privacy more than anything.
Fees
This is always a big one when deciding which platform to use.
Various platforms have different fees, with some platforms charging a flat rate and others charging based on transaction volume.
BlockFi is marketed as a fee-free platform, and the only fee you'll ever have to pay is when you go over the set limits they impose.
This might be good for some but restrictive for others.
Blockfi vs Coinbase – FAQ
What does BlockFi offer exchange services?
Amongst other services, BlockFi offers the ability to take out loans directly through its mobile app, making it very convenient even while on the go.
Is It True That Coinbase Is A Regulated Company?
Yes, Coinbase is an SEC-licensed company.
What Is A Rewards Credit Card?
Coinbase offers a credit card that allows you to earn rewards in the form of bitcoins when you spend with it.
Bitcoin rewards are the same as cashback rewards on more traditional credit cards.
What is a cryptocurrency bank?
A crypto bank is a financial institution that deals with cryptocurrencies and other digital assets in the same way a conventional bank works with fiat currencies.
Is It True That Blockfi Does Not Charge Transaction Fees?
Yes, BlockFi, you can trade on this platform without paying transaction fees.
However, if you withdraw more than twice every month, you'll have to pay extra withdrawal fees, in addition to origination fees.
Is Having FDIC Insurance Important In A Crypto Platform?
Yes, it's very important.
There are many reasons why being FDIC insured is essential, but the most notable one is that it protects your assets if something bad happens to them.
Wrap Up.
Both BlockFi and Coinbase have their pros and cons, and it is debatable which one is better.
Coinbase's fees are more expensive in some regards, especially when using the basic version of this platform.
However, they have a more extensive customer base and access to a wider variety of coins.
Get started with Coinbase.
BlockFi is much cheaper when it comes to fees, and their customer service is top-notch, but the range of coins available for investment is much more limited.
As for security, Coinbase does have a better record than BlockFi when it comes to security breaches and hacks.
Security is always a priority for cryptocurrency platforms, and it's good to know that your funds are in safe hands.
In the end, however, it's all a matter of preference and what you want to invest in.
Further reading on AdamEnfroy.com:
Here is more information on the best crypto trading platforms right now:
Disclosure: I may receive affiliate compensation for some of the links below at no cost to you if you decide to purchase a paid plan. You can read our affiliate disclosure in our privacy policy. This site is not intending to provide financial advice. This is for entertainment only.
---
Last Updated on December 8, 2022 by Adam Enfroy