Crypto.com vs. Coinbase: Which Exchange is Best in 2023?
Finding the best crypto exchanges is a process that requires the investor to get familiar with what differentiates one trading platform from another.
For example, some platforms offer crypto IRA options that you can buy and hold for a more extended period.
Some platforms charge transaction fees, whereas other crypto exchanges do not.
Some also serve as crypto portfolio trackers that require know-your-customer (KYC) documentation and more rigorous identity verification than others.
Some of these characteristics are positive in that an exchange needs to protect its customer's funds and identity reliably.
At the same time, other traits can be negative in that they increase costs or decrease user experience.
In this comparison article, I will compare Crypto.com with Coinbase, two of the most popular exchanges in use today, going over the main features and items you should know about before making a final decision.
Let's get right into it.
Crypto.com vs. Coinbase: Head to Head
Let's get into comparing Crypto.com and Coinbase side-by-side.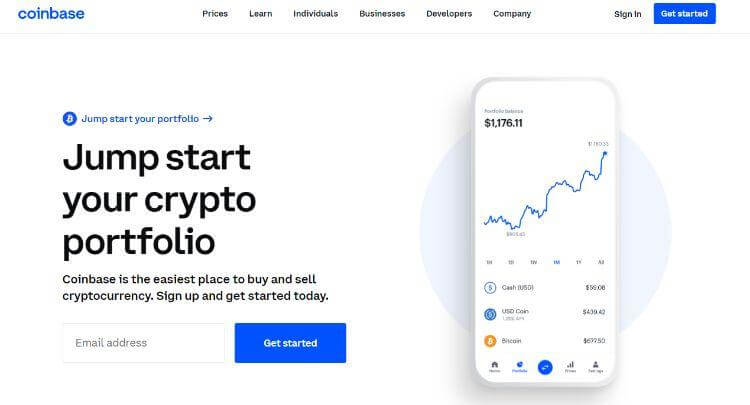 Trading Fees
Many exchanges charge fees when using various payment methods (including a credit or debit card, payment gateways, etc.) involving crypto deposits, withdrawals, and trading.
Although neither Crypto.com nor Coinbase charge a fee to deposit money via bank transfer, they charge a fee when using a debit card as the payment method for transactions.
This means that users who wish to fund their accounts with a debit card will incur an additional fee.
In addition, Coinbase states that trading and withdrawal fees depend on the user's transaction volume.
A Coinbase fee of 3.99% is imposed to use your debit card, and a spread of around 0.5% is typically incurred on most transactions.
However, if you were to use Coinbase Pro, the fees would be a bit more transparent, ensuring that you can see what you're paying for in advance.
When it comes to Crypto.com, fees are 2.99% when using a debit card, along with a taker and maker's fee of 0.1%.
If you trade at a higher volume, the fee will be less.
In summary, when it comes to fees, Crypto.com has lower fees than Coinbase.com.
One crucial point in favor of Coinbase is that they allow transfers from payment gateways such as Paypal, which Crypto.com doesn't allow.
Cryptocurrency Available
Coinbase has increased its available cryptocurrencies earlier this year – still, it doesn't have as many cryptos as Crypto.com.
While all the major cryptos are available on both exchanges, Crypto.com offers as many as 140 cryptos compared to Coinbase's 90.
Some U.S. states also don't get all cryptos available on Coinbase, so it's best to check the availability of cryptos in your state before making a final decision.
Wallets
Crypto.com and Coinbase have wallets available for different cryptos as both are decentralized crypto exchange platforms.
Offering non-custodial hot wallets connected to the internet, it's essential to be aware that their security may not be the same as an offline, cold storage solution.
However, both Crypto.com and Coinbase have excellent reputations for cybersecurity and state-of-the-art technology when it comes to protecting the assets in their possession.
All tokens built on the Ethereum network are available to be stored on wallets provided by both exchanges.
With that said, the selection of the Coinbase wallet could be more extensive since it doesn't support popular coins such as Algorand (ALGO), Cardano, or EOS (EOS).
Investors using Crypto.com's wallet can also swap coins on exchanges using their app, but this is not available to customers in the United States – in this situation, Coinbase might be the better solution.
Platform Security
While both platforms are known for having good security, Coinbase has a slight upper hand in the sense that Crypto.com only covers assets stored in cold storage when it comes to insurance.
Other than that, FDIC insurance covers funds up to USD 250,000 stored in crypto wallets managed by both platforms.
Both platforms do various background checks and verifications, so the possibility of a security breach and funds getting lost is extremely low.
As such, you can go for either website if you are looking for a secure platform for your trading needs.
Ease Of Use
Both platforms offer mobile apps that one can use to make trading easy.
Some might say that the Coinbase app is more intuitive and easy to get started with, since there is a simple approach taken to its design and U.I.
On the other hand, Crypto.com has a more complex app that offers additional features and several products available.
As such, for the more advanced user, this is where Crypto.com's app shines.
However, with a little bit of experience, new traders can use both apps to accomplish what they need.
Learning
Both platforms offer education through various lesson plans to ensure that new traders are introduced to the world of digital currency.
With information on various topics such as crypto assets, crypto trading, NFTs, Defi trading, and more, you should have a look at both platforms and make the most out of the training on offer.
Individual vs. Business
Coinbase has different product lines available, whether you are an individual or a business.
As a business, you have access to:
Prime
Commerce
Exchange
Asset Hub
Custody
Analytics
Ventures
These features make trading as a business more accessible and more profitable, giving you useful tools that are more enterprise-oriented.
Coinbase also offers a selection of products for developers, which is a feature that's not available on Crypto.com.
Bank Account Purchases Currencies
Both platforms have the option to purchase cryptocurrencies with your bank account.
While these transfers will usually take a few business days to go through, it's good to know that both exchanges accept them.
However, it is a good idea to check the availability of these options in your state before you decide which is the better platform in this regard.
On Coinbase, you can also use Apple Pay to purchase crypto.
Your Apple Pay has to be linked to a VISA debit card since adding cash, selling, or even cashing out is not available with Apple Pay right now.
When it comes to Coinbase vs. Crypto, the latter allows you to use Apple Pay, Google Pay, and even Samsung Pay to purchase your coins.
However, these options seem to be available only for U.S. customers only as of now.
Finding The Proper Crypto Exchange For Your Needs
While Crypto.com and Coinbase are both reputable exchanges, they aren't the only options available.
If you are looking for more options before choosing your exchange, here are some features (some of which are indeed offered by these two platforms) that you should look out for.
A More Comprehensive Selection Of Cryptocurrencies
Some exchanges offer more than just the commonly found Bitcoin and Ethereum, while others have different tokens that you might be interested in trading.
It all comes down to your needs as a crypto trader to decide if selecting one of these platforms is good enough for you or if you require a wider selection.
A User-Friendly Platform
If you are entirely new to cryptocurrency trading, you must find a beginner-friendly platform ideal for first-time users.
If you're starting, the last thing you want is a complicated piece of technology that makes it difficult to find your way around.
While simple buy/sell transactions are pretty straightforward, you must look for exchanges that offer an uncomplicated user interface.
Even novice traders quickly create alerts or mark specific trade entries as favorites.
Suppose your platform offers other features (such as algorithmic trading support) but has an unintuitive interface.
In that case, it might not be worth using unless you're willing to invest time in learning how to use it properly.
Having a nice-looking and simple interface would save you the trouble of doing this.
A simple interface with detailed instructions will be a better choice.
Straight Forward Sign Up Process
It would help if you also looked for a platform with a straightforward sign-up process. A simple, streamlined experience will make it easier for you to start trading crypto.
When signing up for an exchange, you will typically need to supply your name, email address, phone number, and proof of identity.
Different platforms will have different requirements – keep in mind that the more details you are asked for, typically the more secure your account will be.
At the same time, more details usually mean that there will be more checks being done before you can trade.
High Limits On Deposits And Withdrawals
Many find it essential to look for a high deposit and withdrawal limit platform.
This is especially true if you plan to deposit substantial amounts of money into the platform or withdraw large sums of money from it at once.
When choosing an exchange with high limits, make sure that they are not just denominated in cryptocurrency (such as BTC).
It would help if you also considered several other factors like fees charged per transaction, transfer methodologies supported by the network, etc.
It's better to go for an option where you can withdraw/deposit fiat currency so that there are no limitations on the amount of money you can put in or take out.
Support For Fiat Cryptocurrency Pairs
Speaking of fiat, it's essential that if you plan on depositing/withdrawing fiat currency, the exchange offers support for direct cryptocurrency-fiat transactions.
It's worth looking at whether this will be an option available to you when choosing a platform since this will make it easy to deposit money into your account and withdraw it as needed.
A Low Fee Structure
As more traders start using an exchange, the more competitive it gets, generally lowering fees for its users over time.
If you're planning on a frequent and high trading volume, look for platforms with a low brokerage fee (and even rebate some of your trades if you trade enough).
An Easy-To-Use Mobile App
Exchanges like Coinbase and Crypto.com also have mobile apps that might be better suited to your needs than their web-based interface.
Of course, having an excellent mobile app is not a unique feature anymore, but it makes it easier for users who often trade on the go to check the value of their coins in real-time.
Investment Advice Offered
More prominent exchanges offer professional advice on trading strategies to their users.
If you're looking for a platform that provides more than just simple buy/sell transactions, see which ones have advice centers where you can get information about cryptocurrency investments.
Credit Card Purchases Enabled
Cashing out your cryptocurrency is an integral part of being a trader.
You should look for platforms that offer several payment methods, including credit card purchases, to have multiple options at hand if you want to withdraw money from the platform and spend it freely.
An Easy Way To Convert Between Currencies
It's also worthwhile looking for exchanges that provide easy-to-use currency converters.
This will make it easier to exchange cryptocurrencies without fiddling around with multiple conversion rates.
In the end, this all saves time and makes it more convenient for you when you decide to cash out.
A High Level Of Security Offered
Ensure your selected exchange has good security features like 2FA enabled by default across all user accounts, email confirmations on withdrawals, etc.
Multi-factor authentication can provide an additional layer of security and is recommended if you plan on holding significant amounts of cryptocurrency on the platform.
The more secure a platform, the better it is for its users.
Possibility Of Buying Into Other Initial Coin Offerings (ICO)
ICOs are one of the best ways to invest in cryptocurrency projects.
Getting in on the ICO train can be a very lucrative move, so look for an exchange that allows you to participate in them.
Some exchanges offer discounts on pre-ICO tokens or even exclusive ICOs.
Exchanges that are planning to have their token sale are also worth considering.
An Air Of Legitimacy
While several reputable platforms exist, not all of them are legally authorized to provide financial services in their respective countries.
It's essential to look for ones where the company in charge is well established and has obtained legal approval in its jurisdiction – especially if your country/state does not permit crypto trading.
Having a good reputation can also make things easier when looking for client support or executing a particular trade that might raise some eyebrows on other platforms.
Customer Support
Having good 24/7 customer support is essential.
This means being able to reach out for help even if you have a problem outside regular trading hours.
The quality of the customer service offered would also indicate how well your needs are treated in terms of issues that may arise when using the platform.
Timely responses are one way of gauging how effectively client support staff works.
If there's no dedicated phone service, then look for other ways to contact this department, like website live chat or email support channels.
If the platform doesn't provide several alternatives to its customer service, it might not be worth doing business with it.
Decentralized Finance
Decentralized platforms are worth looking into if you want to control your cryptocurrencies or find better features than the usual exchanges offer.
While the options available may be limited, they can provide better stability and security than their centralized counterparts.
It's worth looking into this if you're concerned about the long-term viability of the platforms.
Some even offer cross-trading, which is quite promising for future development.
Multi Signature Wallets Transactions
Having additional security on your trading funds is very important.
This means that you have more than one signature required to authorize a transaction, which would be helpful if there's any suspicion of fraudulent activity.
For example, the exchange might lock your account until you confirm transactions yourself or provide details of where the funds are coming from to prevent money laundering.
Allowing multi-signature wallets for each user whose activities can result in withdrawals would make it harder for hackers to breach the system successfully.
It also reduces risks if an individual user's account is compromised due to weak passwords, etc.
Crypto Rewards Programs
While this isn't as important as it used to be, some exchanges still offer commissions for referring other users.
At the least, they might provide you with free trades or even a full trading fee waiver.
This can help if you're planning on doing a lot of trading and want to reduce your costs.
It would also be helpful if you need more incentive to market an exchange and bring in new business – especially if you have a fan base interested in this topic.
NFT Trading Possibilities
Non-fungible tokens are a new type of token that are gaining popularity lately.
Many exchanges are already offering NFT trading, and many platforms are also introducing this functionality.
This would be an advantage if you wanted to trade these types or own some NFTs since not all exchanges offer this yet.
However, if you're purely interested in trading crypto, not having this feature might not be a dealbreaker at this point.
Crypto.com vs. Coinbase – FAQ
What Are Altcoins?
Coins such as dogecoin, USDT, XRP, BNB, etc., are all classified as cryptocurrencies and they are also called altcoins – meaning alternatives to bitcoin.
There is also the concept of stablecoins – these are coins pegged to a stable asset, such as gold or fiat currencies, including the U.S. dollar (known as USDC).
This makes stablecoins less volatile and more resistant to price changes (hence the name).
What Does Annual Percentage Yield (Apy) Mean In Crypto?
APY refers to the annual interest rate paid on an investment, such as a certificate of deposit (CD).
When you invest in cryptocurrencies, it means the return you can expect to get if you hold a particular coin for a year.
This is different from ROI, which is the percentage gain or loss you would get if you sold your cryptocurrencies today.
Are Private Keys Needed, And Do They Increase Security?
Private keys are secret codes that give you access to your wallet.
Since they're the only way you can sign for transactions, they can provide a lot of security for your funds.
However, the issue with private keys is that if they're compromised by hackers or your password is weak, you could still lose your funds.
For this reason, it's essential to have a secure password and keep track of the private key for your most valuable cryptocurrencies.
What Is The Ethereum (ETH) Blockchain?
Ethereum is a blockchain platform that supports "smart contract" applications that run exactly as programmed.
This all happens without any possibility of censorship, fraud, downtime, or interference from outside sources, making it ideal for those that want to trade away from traditional trading institutions.
What Does Staking Mean?
Proof of stake is a method where a blockchain on the crypto network has a goal of having a distributed consensus.
There is no need for high energy-consuming mining hardware (like in the proof of work system) to make the whole process work.
Wrap Up.
Before deciding on a suitable cryptocurrency exchange for your needs, there are several factors to consider, but it shouldn't be too hard to make an informed choice with the proper research.
What's important is to do your homework and make sure you're not falling victim to any schemes or tricks along the way.
To stay safe while trading crypto online, read reviews about different crypto platforms from other sources.
In addition, never send your funds to a wallet address you didn't directly generate yourself from the exchange's website.
Being aware of what's out there can help you narrow down your choices and find the best cryptocurrency exchange for you in the long run.
I hope that this Coinbase vs. Crypto.com review has helped you better understand what each platform offers.
Get Started With Coinbase.
Further reading on AdamEnfroy.com: Here's a list of other crypto platform comparison articles that you might want to check out if you're interested in this topic:
Disclosure: I may receive affiliate compensation for some of the links below at no cost to you if you decide to purchase a paid plan. You can read our affiliate disclosure in our privacy policy. This site is not intending to provide financial advice. This is for entertainment only.
---
Last Updated on December 8, 2022 by Adam Enfroy