Gemini vs.Coinbase: Which is Better for Crypto in 2023?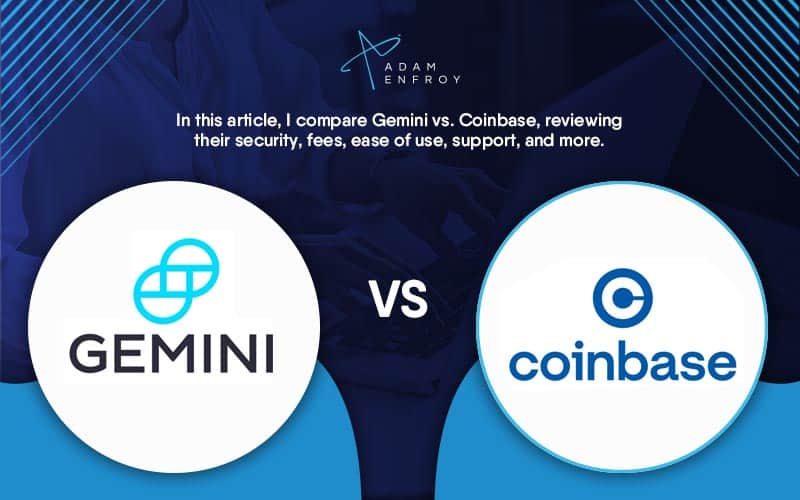 Ever since the crypto market exploded, Coinbase and Gemini have been fierce competitors in the cryptocurrency exchange markets.
In fact, both are considered to be a couple of the best cryptocurrency exchanges around.
With the popularity of investing in crypto being a trend that's showing no sign of slowing down, it's essential for investors to know which platform is the best.
Many platforms have introduced crypto portfolio trackers and tax software to their list of services to make the choice harder.
With that said, both Gemini and Coinbase offer a similar experience and generally have comparable experiences for their customers.
With that in mind, in this article, I will examine the differences between Coinbase and Gemini so that you can decide which one is better for your cryptocurrency trading.
Let's dive deep into this topic.
Gemini vs. Coinbase: Head To Head
Below you find all the factors to consider when comparing Coinbase vs. Gemini.
Safety And Security
According to United States regulations, these popular exchanges adhere to the highest safety measures, making them two of the safest places to buy and sell cryptocurrencies.
Both Gemini and Coinbase utilize cold storage and several other security features and measures to ensure that their users' crypto digital assets are kept safe, regardless of where they're stored.
With big names like J.P. Morgan backing both companies, these two exchanges' safety and security are usually beyond question.
Coinbase has also been traded on the NASDAQ stock exchange since 2021.
Moreover, all balances on Gemini and Coinbase are covered by the Federal Deposit Insurance Corporation (FDIC) insurance on balances up to $250,000 per individual.
This is a pretty standard insurance policy for most mainstream financial institutions. Still, it's essential to be aware of it when looking for a safe place to store your cryptocurrency.
Speaking further about security, the usual two-factor authentication (2FA) and a required manual approval process is a pretty standard way of ensuring the security of your account – both of which are present on these platforms.
Both Gemini and Coinbase require you to log in through an additional step of an SMS that you get on your phone.
You will then need to enter the code that you get on the login page.
They also have their mobile app, which you can use to authorize login requests.
This is a pretty standard way of ensuring the security of your account, so it's not surprising to see both exchanges utilize this strategy in their process.
Coinbase states that as much as 98% of all of its funds are stored offline, meaning that only 2% of the total crypto assets of Coinbase users are kept online and available for withdrawals and purchases.
The rest of them can be accessed at any time but remain offline as a security measure to ensure that hackers won't ever get their hands on those funds.
Similarly, Germini states that its assets are held offline, in cold storage, all the time.
These mainly foolproof systems for ensuring the safety of your crypto are worth noting.
With role-based permissions on Gemini, you'll be able to see all account activity and manually approve or deny any transactions your team members may request to make.
With this in mind, there are also processes in place, such as a delay in releasing any assets for seven days.
This means that you can manually stop any potentially unauthorized transactions.
All of these features combined make Gemini and Coinbase both very secure, but at the same time, you still need to be aware that on your end, being cautious when it comes to security measures is still vital.
Fees
One point against both platforms is that their fees are somewhat more expensive than other cryptocurrency platforms.
With Coinbase (and Coinbase Pro), you will be charged a maker and a taker fee when you place or take an order.
While trading fees and withdrawal fees are somewhat up in the air, the fee will decrease as the size and volume increase, and for most trades you make, you can expect to pay around 0.50% of the total amount.
On the Coinbase exchange platform, both credit card and debit card fees typically cost more than using a bank account payment method such as ACH.
The fees are somewhat simpler to understand regarding the Gemini exchange.
With smaller trades, there is a distinction involved since it all depends on the size of the trade, as follows:
Trades lower than $200: typically, low-end flat fees are charged.
Trades higher than $200: charged at 1.49%.
Gemini typically charges a convenience fee of 0.50% above the market rate.
With the above in mind, the Gemini ActiveTrader plan, which uses a maker-taker model with lower fees than Coinbase's maker-taker fee structure, can save you money.
Gemini will not charge any costs for wire transfers if you use them to pay regularly, but Coinbase will.
In addition, there is the Gemini API available, where lower costs are usually in place compared to other ways of trading.
Ease Of Use & Interface
Gemini and Coinbase are both wonderful platforms when considered from a usability standpoint.
Using one brokerage over the other doesn't make that much of a difference in this regard, and there are no significant complications when it comes to signing up or logging in.
Whether you want to buy, sell, or trade cryptocurrency, both exchanges have seamless experiences and clean designs.
With that said, Coinbase is geared more towards beginners or those who are less experienced with cryptocurrency, as well as those who want to buy and hold their assets for an extended period.
Suppose you're not after something that's more beginner-friendly.
In that case, Gemini is more suited to advanced crypto traders and investors that may want to utilize short-term buying and selling opportunities under specific market conditions.
While Gemini and Coinbase both have great platforms, Gemini does require a bit more attention to detail from the user's side when it comes to crypto trading and investing.
One good point in favor of Coinbase is that its users can withdraw to Paypal, which is not a supported function on Gemini.
Customer Support
Both of these platforms are not the best in terms of customer support.
None of them have a live chat instead of relying on email support.
When problems with your account or transactions arise, there's no user-friendly method to reach out to them, instead of having to email through their website and then waiting for an answer.
Fiat Currencies Accepted
When it comes to Fiat currencies, they both offer various currencies that you can use to buy cryptocurrency.
Gemini allows you to deposit USD, AUD, CAD, EUR, GBP, SGD, HKD.
On the other hand, Coinbase allows you to deposit USD, EUR, AUD, GBP, CAD, MXN, HRK, CZK & 10 more Fiat currencies.
As you can see, there are more Fiat currencies available on Coinbase, so if you're looking for a wider range of these types of currencies, Coinbase might be the better solution.
Cryptocurrencies Available for Trading
When it comes to the cryptos available for trading, Coinbase is the winner in this regard.
While Gemini has around 50 cryptocurrencies to its name, Coinbase has more than 70.
This means that if you're looking for a wide variety of cryptocurrencies available for trading (including Bitcoin, Ethereum, Litecoin, etc.), Coinbase is a better choice.
Reputation & Trustworthiness
Gemini and Coinbase are up there when it comes to reputation and trustworthiness.
These platforms have been in operation for several years and are trusted by millions worldwide to provide excellent services, customer support, and security.
They're both regarded as the top exchanges for a reason, and both of them offer secure trading platforms.
Testing each platform to see which one offers the services you require the most is still the best way to find out which is best for you – however, you can't go wrong with either when it comes to their reputation.
Other Features
Aside from costs, the number of features on offer is another important consideration when selecting a crypto exchange.
Gemini has a great additional feature known as Gemini Pay.
You can use the Gemini App on your phone to spend your crypto in more than 30,000 retail shops countrywide.
There's no extra cost, and the transactions are secure; you simply need to use the barcode to pay.
Gemini Custody is another unique feature that this platform has introduced.
It's a fully-insured cold storage solution for institutions and high net worth individuals, giving them the ability to store large amounts of cryptocurrency offline securely.
Gemini Custody is free to set up and requires no limits or restrictions on the number of assets you deposit.
They will also work out a customized price plan based on your specific needs when using this feature.
This is a nice personal touch that is also valuable for those with more significant holdings.
Gemini also offers the Gemini dollar (GUSD), a stablecoin pegged at 1:1 with the U.S. dollar.
This gives more stability and reliability when trading cryptocurrencies and is a feature many other platforms have yet to introduce.
Then, there's also Gemini Earn – a program that enables you to lend your cryptocurrency and earn a daily interest return on it.
This is great for those who need more cryptos returns than regular exchanges.
Moreover, the Gemini wallet has various benefits such as:
Insurance for the safekeeping of digital assets.
As a New York trust company and licensed fiduciary, they will keep capital in reserve.
Internal controls in production and storage facilities.
When it comes to Coinbase, they have their Coinbase Earn feature.
You can earn free crypto by performing various tasks here, including watching short educational films on cryptocurrencies.
This means that you will be accomplishing two things at once: learning and earning.
You can use the Coinbase Earn system to learn about cryptocurrency, then apply that knowledge and earn some while you're at it.
There's also the Coinbase Wallet, where you can do much more than just store crypto safely.
You'll be able to access a wide variety of decentralized apps with it, saving you a lot of time and money than if you had to do this separately.
These apps include collecting NFTs, browsing various decentralized apps, participating in ICOs and airdrops, and even sending crypto to whoever you want.
Coinbase has a lot to offer regarding features and services, which Gemini might be slightly behind in.
Overall Experience
Gemini and Coinbase are very comparable, although Coinbase might have a slight edge when looking from a trading point of view.
With that said, Gemini is an excellent cryptocurrency exchange that provides an incredible range of services and features.
Gemini vs Coinbase – FAQs
Which Of The Platforms Is Better For Day Trading?
Gemini has fewer trading pairs and a slightly lower trading volume than Coinbase.
In addition, Gemini has some way to go before competing with Coinbase regarding exchange liquidity.
It's up to Gemini to step up its game and provide better liquidity alternatives for its clients, which it currently does not do as well.
As a result, I believe Coinbase is better for the day trader.
Which Platform Is Better For A Wide Choice Of Cryptocurrencies?
Over the past years, Coinbase has introduced a wider variety of cryptocurrencies and altcoins compared to Gemini.
This means that if a wide range is what you're after, then Coinbase is the platform to go with.
Which Of The Platforms Is Better For Margin Trading?
Margin trading is not available on Coinbase or Gemini.
This means that if you're looking to do this type of trading, you're not going to find either of these platforms suitable.
Wrap Up.
The best crypto exchange often depends on what you're looking for.
Gemini might be a good choice if you want low transaction fees, but if you're after more crypto options and a more comprehensive range of features, Coinbase is your go-to exchange.
In addition to all these technical considerations, it's essential to factor in the user experience and safety/security aspects.
As two of the best crypto exchanges, Coinbase and Gemini have both received a stamp of approval from the millions of users that use them, so you're getting the best of the best with both of these services.
When comparing cryptocurrency exchanges, always remember to do your due diligence and make sure you're aware of all the fees, features, and other details that could be important to you.
Get started with Coinbase.
Have you ever used Coinbase or Gemini to buy BTC, ETH, or any other type of crypto?
Which one do you prefer and why?
If you use any other exchanges for your cryptocurrency trading, let me know in the comments below.
Further reading on AdamEnfroy.com: Check out my other platform review if you'd like to learn more about the crypto world:
Disclosure: I may receive affiliate compensation for some of the links below at no cost to you if you decide to purchase a paid plan. You can read our affiliate disclosure in our privacy policy. This site is not intending to provide financial advice. This is for entertainment only.
---
Last Updated on December 8, 2022 by Adam Enfroy