Kraken vs. Coinbase: Which Exchange is Better in 2023?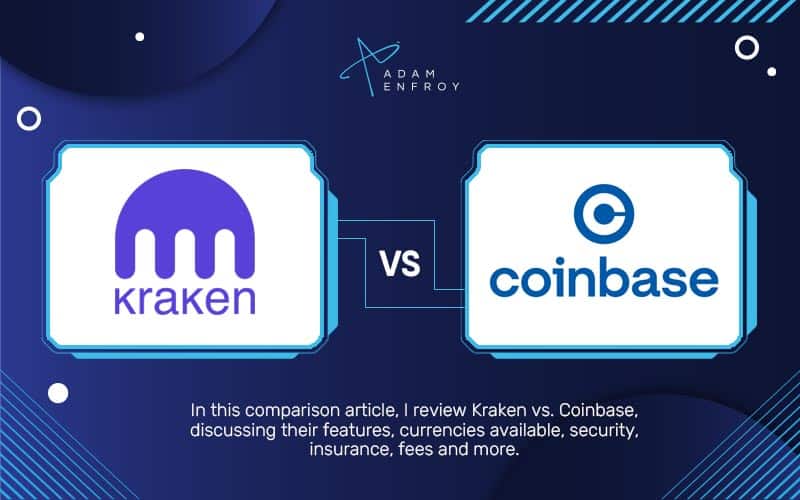 With cryptocurrency becoming more popular, exchanges are popping up worldwide to accommodate this growing trend.
Exchanges, which traditionally used to be platforms for converting fiat money into cryptocurrency, are becoming multi-functional.
Some even offer crypto tax software and even forex trading apps.
With the number of cryptocurrency exchanges and trading platforms on the rise, knowing which one is the most suitable for your needs can be a difficult task.
Two of the most popular cryptocurrency exchanges, Kraken and Coinbase, attract attention from beginners and veteran traders online.
They both offer various features and services that can cater to one's specific needs.
In this article, I compare Coinbase vs. Kraken to determine which exchange is better suited for your trading needs.
Keep reading to find out more.
Kraken vs. Coinbase: Compared
Let's start by describing the various features that these platforms provide.
Features
Availability: Coinbase and Kraken allow users to trade in more than 100 countries.
However, some functionality is limited in set regions or countries.
For example, Coinbase is unavailable in Hawaii, while Kraken isn't accessible in New York or Washington.
Customer service: Live chat is accessible 24 hours a day, seven days a week on both platforms to help users when they need it.
With that said, the amount of time it takes to get an answer during peak hours will differ.
Sometimes, people will have to wait for a more extended period when things get busy.
With that in mind, both platforms have knowledge bases and help guides that can provide instant answers to the most commonly asked questions.
Margin trading: In this area, Kraken is the better of the two platforms since it has margin trading at a maximum of five times leverage; conversely, Coinbase does not offer margin trading.
Mobile applications: While Coinbase's app is available for all its users worldwide, Kraken only allows users from specific countries and territories.
The app is not available to citizens in Washington and New York because of particular compliance regulations.
Additional features: Coinbase has a digital wallet that you can use to store deposits and withdraw your assets to.
One doesn't need to be a member of the platform to use this feature – all you have to do is download the wallet, connect it with your bank account, and start moving funds.
I also have to mention Cryptowatch, a platform owned by Kraken, and ideal for those who rely on exchanges data.
It's a great tool to enhance your trading experience, as it offers customizable graphs and charts from multiple markets, along with real-time data for all exchanges.
This free service offers information on more than 2000 markets that one can access on the platform itself.
Currencies
Kraken and Coinbase both offer various currencies for traders.
With more than 120 currencies available on Coinbase and slightly less on Kraken (closer to a hundred), the decision of which exchange is better for you depends on what currencies you would like to have available.
It's important to note that Kraken users in the U.S. have as many as 30 coins not available for trading countrywide.
Support for significant fiat currencies exists on both platforms, with Coinbase and Kraken allowing trading on USD, EUR, CAD, AUD, GBP, JPY, and CHF.
For those that trade on these currencies, either of the platforms might work.
Other currencies allowed on either platform include:
Cardano (ADA)
Chainlink (LINK)
Litecoin (LTC)
Ethereum (ETH)
Bitcoin Cash (BCH)
This range of currencies is enough for most people, but those who trade lesser-known currencies might be better off with Coinbase since it offers more options.
Security
Every crypto trader should think about security, and these platforms are no exception.
Both Kraken and Coinbase are considered secure, which comes without a doubt due to the proper attention given to compliance and regulation.
At the time of publication, it appears that Coinbase is ahead of Kraken in terms of offline, cold storage.
Coinbase keeps 98% of customers' assets in cold storage, whereas Kraken keeps 95%. However, Kraken claims its servers are housed inside secure cages guarded by armed guards.
There are also bug bounty rewards, in which the platforms offer bonuses for anyone who discovers bugs on the website and helps fix them. This is an excellent incentive for security researchers to take part in the advancement of security.
Multi-factor authentication (more specifically, two-factor authentication) and other specific protection when using the platforms are available on both sites, adding another layer of security.
This means that a user will get a text message on their phone that requires a code to be entered on the platform before performing any kind of transaction.
With the use of authenticator apps, both platforms also offer additional security.
Here, users can sign in using such an app to protect their accounts and ensure that no unauthorized person gets in.
Insurance
The two platforms differ greatly in this regard.
Kraken emphasizes that it is a crypto trading platform rather than a wallet geared to store funds.
As a result, it does not offer third-party insurance, meaning that you might lose your funds in case of a security breach.
In contrast, Coinbase claims to do all it can to reimburse losses caused by covered events, and it is protected against different crimes, including security breaches and theft.
It also offers FDIC insurance for up to 250k, the same as many other platforms.
Kraken does not.
Fees
One of the most significant distinctions between Kraken and Coinbase lies in the fees charged for transactions.
Kraken's low maker-taker fees are among the most competitive in the crypto arena, coming in at 0.26%.
Conversely, Coinbase's brokerage fees can get up to half a percentage, which is almost double the fee of Kraken.
This might be a significant factor in deciding which platform you're going to use.
Since the fees are much lower, you will save more money when trading larger volumes due to substantial savings.
The fee structure is calculated in Kraken according to the amount of volume you trade over 30 days.
The higher the trading volume over this period, the lower the fees.
For example, transactions up to $50,000 pay a 0.26% taker fee or a 0.16% maker fee.
On the flipside, transactions between $250,001 and $500,000 are charged at 0.20% for the taker and 0.10% for the maker.
This keeps going all the way up to $10 million and higher, where there's a minimal 0.10% taker fee and no trading fees for the maker.
As I said before, Coinbase is much more expensive.
The transaction fees vary according to the volume, but as an example, for a $2000 trade, the amount to pay will be as much as $10, almost double the $5.2 you'd pay on Kraken.
Using Advanced Accounts
Both platforms have their pro versions (aptly named Kraken Pro and Coinbase Pro), which offer lower fees.
As soon as you have some experience under your belt, I suggest switching to Kraken Pro or Coinbase Pro to pay fewer fees.
When it comes to the buying methods, a negative point in terms of Kraken is that it doesn't have as many payment methods as Coinbase – mainly, you can't pay using a credit card or a debit card.
This seems like a bit of a setback for a crypto exchange used by so many people worldwide.
On the flip side, a Coinbase account allows you to buy crypto assets with various methods, including cards, bank transfers, and payment gateways such as Apple Pay and Paypal.
The problem is that the fees aren't super transparent when using these methods.
The transaction fee is either a percentage or a flat one – the higher one is the one you'll have to pay.
What's slightly unclear is the spread involved on Coinbase.
With around a 0.5% spread calculated at transaction time, there's always a bit of a question mark over how much the final amount will be when you complete the purchase.
Withdrawal Fees
The withdrawal fees on Coinbase are as follows:
Crytpo conversion: 0.5% to 2% on both platforms
ACH Transfer: Free on both
Debit/credit card: 2.49% on Coinbase and 0% on Coinbase Pro
Wire transfer: $10 deposit and $25 withdrawal
When it comes to Kraken, these are the withdrawal fees involved:
Crypto conversion: Volume-based
ACH transfer: 0.50%
Wire transfer: Free to $10 deposit, $4 to $35 withdrawal, $10 deposit
Purchases: 0% to 0.26%
Wallets
Bitcoin holders who want to safeguard their investments must have a secure wallet they can control.
Crypto exchanges with secure wallets are essential for any investor – novice or experienced.
Failure to have such secure wallet services can lead to the loss of funds.
Coinbase is the winner in this category, with security features and protocols in place to hold any ERC-20 tokens you may have.
This means that one can hold any of the popular currencies, including Ethereum (ETH), Bitcoin (BTC), Litcoin (LTC), Ripple (XRP), Bitcoin Cash (BCH), Dogecoin (DOGE), Lumens (XLM), and any other ERC-20 token in the Coinbase wallet.
This is a massive plus for anyone who wants to store their tokens in a safe place.
On the other hand, the Kraken cryptocurrency exchange doesn't offer a platform to hold any currencies.
While you can transfer your funds to any third-party wallet of your choice, this is by no means an ideal solution.
Ease of Use
The experience on both of these platforms is excellent – it's simple to see why they are constantly rated as two of the best cryptocurrency exchanges around.
The signup process is pretty straightforward on both platforms – even though it's stricter on Kraken.
On the other hand, the signup process is much faster on Coinbase – you just need a verified phone number to start trading.
With that said, it makes sense to verify your account further to trade at higher limits and perform the full extent of your desired actions.
Once you log in, the interface is clean, and you can also find all you need within a menu that runs across the top of your screen.
Kraken's stringent security measures are a bonus for large sum investors, but the added precautions can be trying for users who want to start trading quickly.
Kraken vs Coinbase – FAQ
Are both mobile apps secure?
The Coinbase mobile app is available for both iOS and Android.
The Coinbase app is straightforward to use and allows you to keep track of your portfolio and make exchanges on the go.
The same applies to Kraken's app, allowing quick and easy access to cryptocurrencies as long as you have an internet connection.
Can you do forex trading on these platforms?
Both Kraken and Coinbase offer various digital currency pairs, including forex.
This is great for those crypto traders that are also involved in Forex trading.
What is the best crypto asset to invest in?
The best crypto asset depends on the moment of the day, so there is no correct answer to this question.
Many of the top coins (Bitcoins, Litecoin, Ethereum) are very expensive, but there are always alternatives if you're looking for less established coins or tokens.
What advice should new crypto investors keep in mind?
Whether you choose the Coinbase platform or go for one of the various Kraken offers, consider that these platforms are not a solution for full-time traders.
You can make money on such exchanges, but you should employ conventional trading techniques and not go overboard with your trades.
In addition, do not invest more than you can afford to lose.
While this might sound like a cliche, it's still true.
Finally, choose to trade digital currencies that you believe in and always research as much as possible before making any decisions.
Which platform is best for crypto investors?
The Coinbase Kraken debate can probably rage on for a time long.
However, both Kraken and Coinbase have built an excellent reputation in the crypto sphere, with both having shown their commitment to exemplary practices within the industry.
Your personal preferences should help you decide which platform you want to use when it comes down to it.
Many people have had good experiences with Kraken, but others swear that Coinbase is the best platform for crypto investment.
Also, remember that there are other crypto exchange platforms to consider.
Some of these (reviewed) are:
Wrap Up.
Coinbase and Kraken will be going head-to-head in the cryptosphere for a while, with their respective benefits spurring a fantastic rivalry, giving investors plenty of features to choose from.
The best advice for those involved in cryptocurrency trading is to check out both platforms before deciding which one to use.
These platforms offer great trading options, comparable with some of the best crypto exchanges around.
Get started with Coinbase.
Have you used either of these platforms? What was your experience like, and do you have a preferred one?
Let me know in the comments below.
Further reading on AdamEnfroy.com: If you want to purchase crypto with true peace of mind, consider finding a platform that also serves as a crypto portfolio tracker.
Like that, you can have greater insight into which crypto coins form part of your digital assets and provide the most value to you.
Disclosure: I may receive affiliate compensation for some of the links below at no cost to you if you decide to purchase a paid plan. You can read our affiliate disclosure in our privacy policy. This site is not intending to provide financial advice. This is for entertainment only.
---
Last Updated on December 8, 2022 by Adam Enfroy