7 Best Crypto IRAs to Buy and Hold in 2023
Want to cut right to the chase? The best crypto IRAs to invest in are BitIRA and Regal Assets.
Until a few years ago, the individual retirement account market belonged to gold IRA and precious metals IRA.
These were the markets in which people invested their retirement accounts.
However, with many people rolling over their investments into IRAs and the popularity of cryptocurrency over the last few years, people are now looking at the combined market that forms what is now known as Crypto IRA.
With iTrustCapital (one of the leading Crypto IRA companies) recently having a post-money valuation of $1.3 billion, this market looks like it is set to keep growing – and getting in on this form of investment might be something for you to consider.
In this post, I will be reviewing the best cryptocurrency IRA companies in this market to help you decide which company you should go with.
Let's get right into it.
What Are The Best Crypto IRAs?
The following is a list of the top cryptocurrency IRA companies in the market right now.
Best overall for investing in crypto IRA.
BitIRA is great if you want to maintain complete control over your cryptocurrency when looking to invest in your retirement account.
While by law, a custodian needs to strictly control your assets, you can be sure that your cryptocurrency is secured with BitIRA.
With the security of blockchain technology behind you, all digital assets are securely stored to ensure that they are safe at all times.
You may take advantage of this platform's relationships with some of the world's largest exchanges, making your purchase as simple as it gets.
With multi-factor authentication being the only way to access your digital assets, you can ensure that all your transactions are only accessible by yourself.
Security is enhanced by the company's policy of only using "cold storage", which means there are no risks of your crypto IRA falling into the wrong hands.
Armed guards and security experts are on hand 24/7 to ensure a high level of security for your assets at the company's storage vaults.
Key Features:
Multi-Encryption means that all of your information is protected with the highest level of security.
With no keys or devices to track, all of your information is kept safe from prying eyes.
End-to-end insurance ensures that your cryptocurrency is stored safely, ensuring that even if something bad were to happen, you'll always be covered.
CCSS Compliant is also in place, and you can be sure that all of your transactions are compliant with the necessary regulations.
You can check out my full review of BitIRA or get started with the platform.
Best for total protection of your crypto IRA.
Regal Assets is the top-rated crypto IRA company in America.
They are considered the best cryptocurrency IRA company because they offer some of the most convenient services in the marketplace.
Being the first company in the US with a crypto trading license in the IRA space, Regal Assets has the market's confidence.
Since they do not just deal with Bitcoin, you have a wide selection of cryptocurrencies to choose from.
You can also contact them if you want to use additional cryptocurrencies not listed on their website.
Key Features:
With a free rollover kit offered for your existing IRA, you can roll your 401(k) or Roth IRA into a crypto IRA.
Every physical Gold IRA Kit comes with a free DVD of their award-winning documentary, exposing the Federal Reserves' hidden secrets so that you can understand how it all works and use this information to your advantage.
With various cryptocurrencies at hand, they have a wide range of investment options for you.
Get started with Regal Assets.
Best for competitive transaction fees.
iTrustCapital offers institutional-grade crypto custody that ensures that you will have complete peace of mind regarding your digital assets.
With more than 25 cryptocurrencies to choose from when it comes to your IRA, you will always have a wide range of investment options when it comes to your retirement.
24/7 investing is also available to make prompt investment decisions whenever needed.
If you want to use your retirement account to invest in cryptocurrencies, iTrustCapital is an excellent option to consider.
Key Features:
Since there is a wide selection of currencies available for your IRA, you will have the freedom to choose which cryptocurrency you want to use.
With all transactions being tax-free, you will not have to worry about paying taxes for your investment.
With no setup fees or monthly storage fee, you know that you are getting all the value possible from your investment.
Transaction fees are set at a low 1% which is considered a competitive rate in the industry.
Get started with iTrustCapital.
Best for getting transactions completed from one interface.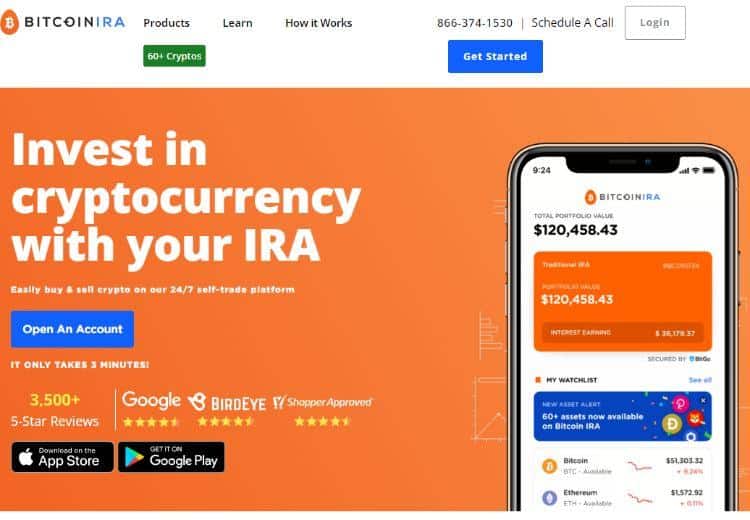 Bitcoin IRA allows you to invest in Bitcoin (BTC) with your retirement account at any time as long as you have a brokerage account.
With more than 100 000 users on this platform, they have one of the most extensive presence in the market.
The Bitcoin IRA platform is a tool for traders to exchange cryptocurrency anytime, anywhere.
You may take action right when the market changes, thanks to their proprietary technology, so that you can make quick trades whenever you want.
With all transactions being done on the platform in real time, there is no need for you to transfer your assets to a cryptocurrency exchange platform.
With live price tracking, you'll also be able to track your investment on the go.
Read my full review of Bitcoin IRA for more information.
Key Features:
By storing your assets using top-class security (through the well-known Bitgo Trust platform – a platform that deals with more than $15 billion worth of transactions monthly), you know that your assets are safe.
With 60+ cryptocurrencies available on the platform, you can choose the cryptocurrency you want to invest in your IRA.
With access to portfolio performance tools that help you track your investment, you will always know where to get the best information about your assets.
Continued education is also provided to teach you what you need to know about your investment.
5. Equity Trust.
Best for those looking for a state of the art crypto IRA platform.
Equity Trust features assets backed by a specialized service and an up-to-date technology platform.
With state-of-the-art security, you will always feel that your digital assets are safe in their custody.
The customer service team at this trust company is also available as needed; you can get all the support you need when it comes to your investment.
With a team of highly experienced professionals, they have constantly met and exceeded high expectations from their customers.
Key Features:
Many of the most popular cryptocurrencies are available so that you can make the most out of your retirement account.
With a few clicks, you may quickly invest in a matter of minutes, continuing to make the most out of your investment.
Trades will close on the next business day, making the speed of your transactions a competitive advantage in the market.
Self-directed IRA services provided by an industry-leading self-directed IRA firm mean that you have a specialist for all your needs.
6. Broad Financial.
Best for not having a minimum requirement when investing.
Broad Financial allows you to get started without a minimum investment, in what is a cost-effective and straightforward method.
Forget about the need to save up large sums of money if you wish to invest in your retirement account.
With a wide range of cryptocurrency choices and diversification available, you will feel that your investment portfolio has the proper foundation to get going.
While many traditional options may be costly and require a large amount of money to enter, Broad Financial allows you to take advantage of the market without having to spend and invest more than you want to.
The diversification offered makes your investment portfolio ready for the market, regardless of what happens in the future.
With excellent customer service available as needed, you will never feel that you are on your own.
Key Features:
There is no hidden account fee when you invest in your retirement account – since there is no middle man involved.
Customer service is available as needed, and when you have questions, they will answer them promptly.
You may get started on your investment strategy in minutes with a low and flat-free.
When it comes to accessing your account, you can choose to go via a security key or a digital wallet, so you have complete control over your portfolio.
There are no penalties when it comes to rolling over retirement funds.
7. CoinIRA.
Best for those that want further education in the crypto IRA space.
CoinIRA is the crypto IRA platform to consider if you're interested in furthering your knowledge of cryptocurrency investments.
You might want to invest with CoinIRA if you are interested in having an expert financial advisor available to you anytime.
Understanding the risks and rewards associated with cryptocurrency investment, you can ensure that you will always have the correct information to make a sound financial decision.
In addition, exceptional security is offered at their vaults, ensuring that your assets are secure.
With your retirement assets being held in cold storage and covered by a multi-layered process, you can be sure that your information is safe.
Insurance is also provided against mysterious disappearance, fraud, theft, loss, and other factors.
Key Features:
Trader-assisted transactions mean that you can always stay one step ahead of the market.
There is a vast range of cryptocurrencies to choose from, all of which have been thoroughly vetted for authenticity and viability.
A free crypto guide allows you to understand the market better before making any final decisions.
Portfolio diversification allows you to keep your assets safe and secure.
What Are Crypto IRAs?
Crypto IRAs often use the same platforms as traditional IRAs, but what you are investing in is quite different.
You will have many investment options to choose from with a crypto IRA, including Bitcoin and other cryptocurrencies.
The benefits of crypto IRAs are significant, not least of which is that your money will grow exponentially over time compared to traditional investments.
With that said, the investment can also go down if the currency's value does the same.
With that in mind, be sure to speak with an expert before signing up for a crypto IRA, as it is not for everyone.
The individual you speak with should be able to discuss your investment goals and provide you with sound advice on whether or not this kind of investment is right for you.
What Are The Benefits?
Not only can crypto investing become incredibly profitable, but there are many other reasons why now may be the best possible time to invest in these assets.
Crypto IRAs offer diversification that ordinary IRAs cannot provide.
You will have access to a broader range of assets that have been thoroughly vetted by experts who can tell you if they're worth your money or not.
With many experts predicting that cryptocurrency has significant room for further growth, this could be the best time to get started with an IRA that invests in digital assets.
Of course, it's important to remember that there are many risks involved when you invest in cryptocurrency, but if your goal is long-term growth, you could be very well rewarded for taking the risk.
What Are The Disadvantages?
There are some significant disadvantages associated with investing in IRA cryptocurrencies – the most obvious being the volatility of this type of investment.
Bitcoin IRA companies have a lot of coin-based products, which means that you will have to worry about significant volatility.
In addition, not all companies offering cryptocurrency-based IRAs are legitimate.
It would help if you did your research before choosing where to invest your money.
There have been many cases where people have been shocked when they find out how much money they've lost through IRA investing in cryptocurrencies.
The proper research and a solid team behind your decisions will ensure that any losses are kept to a minimum.
What Cryptocurrencies Are Supported?
Typically, currencies such as Bitcoin, Bitcoin Cash, and other cryptocurrency investing coins are allowed.
The best bitcoin IRA companies will have a variety of coins that you can make use of and offer alternative assets such as those based on Ethereum, Litecoin, Zcash, Cardano, XRP and Ripple.
However – not all of the crypto IRA platform will allow this diverse investment strategy.
As always, you must research the company before signing up.
Steps Towards Opening A Crypto IRA
These are the steps to follow when setting up an account with one of the reputable companies offering cryptocurrency IRAs.
Understand What Your Goals Are
Being clear on why you are investing is the most crucial step.
What are your goals?
Are you looking for a quick return on investment, or do you have long-term goals that will pay off significantly down the line?
Your goals should dictate what type of IRA you set up – traditional, Roth, SEP or crypto.
This will also help determine which providers are best for your needs.
Choose An IRA Provider
Once you know what kind of IRA works best for your needs, finding a provider can be easier.
Roth IRAs often have more flexibility regarding the cryptocurrencies they allow, so this might be the right choice for you, depending on how much risk you want to take on.
Traditional IRAs also have their advantages and disadvantages, depending on your goals.
The same applies when it comes to crypto IRAs.
When choosing a company to work with, look at how long they've been in business and what kind of feedback they have received from investors.
Don't be afraid to ask for testimonials or contact former customers – it will give you an idea of the quality of service offered.
Look Through Their Fees As Listed In The Terms And Conditions
Make sure you read that fine print, as some companies charge more than others.
When reading the terms, compare fees between providers as many charge more or less depending on which cryptocurrencies you invest in.
Find out what kind of investment strategies are allowed with each IRA type and ensure plenty of room for diversification within each one.
This will help protect your investment should the market crash unexpectedly.
Make sure you are clear on how much money the company will take to start your investment.
Not all of them require a significant sum, but some have higher fees if you choose an option that requires less money upfront.
Other types of fees to consider are a potential maintenance fee, trading fees, and even a monthly fee.
Invest As Soon As You Can
One of the most significant rules for those wanting to start a cryptocurrency IRA is that the sooner you begin investing, the more money you will make in the long run.
Investing your hard-earned retirement funds into cryptocurrencies might be one of the best investments you make, but it's essential to remember that time is not on your side.
Investing as soon as possible once you're set on the platform you're going to use is important.
Understanding What Self-Directed IRAs Are
A self-directed IRA (SDIRA) is a kind of retirement plan that allows you to invest in a way that is not allowed through traditional IRAs.
This also includes the use of cryptocurrencies.
Contributions to Roth self-directed IRA accounts are not tax-deductible, which means they cannot be invested into a wider variety of assets, such as business property, precious metals, and real estate investments.
The IRS typically does not "approve" any investments for an SDIRA account.
Still, they allow your IRA custodian (the company you choose to manage your account) some flexibility regarding what kinds of assets you can buy for your investment portfolio.
Some providers will also offer cryptocurrency IRAs which are self-directed combinations between SDIRAs and cryptocurrency investing.
The benefit to this kind of IRA is that you get the best of both worlds when investing in cryptocurrencies.
You can diversify your portfolio and increase your revenue by having various investment options available.
Factors To Consider When Opening Your Cryptocurrency IRA account
Let's now look at the factors you should consider when looking for a company to help you open your cryptocurrency IRA account.
Custody Of Cryptocurrencies
Custody refers to the service provided by the firm in charge of your account.
Some providers will offer you direct access to your coins, while others require that you transfer them into a different wallet before buying or selling through their system.
Full custody means that the IRA provider will store and secure your coins, while partial custody allows for more flexibility when it comes time to buy and sell.
If you're just starting with cryptocurrencies, this method might be best for you until your holdings become larger.
You can also use one company for all your cryptocurrency retirement investments or choose to diversify.
If you go with the former, it will make accounting easier during tax season since there is one set of transactions to keep track of.
Customer Service And Reputation
Customer service is a significant factor to consider when choosing a self-directed IRA custodian.
For beginners dealing with cryptocurrencies, it might be best to choose a company that will answer your questions directly and in as much detail as needed until you become more experienced with the subject.
Make sure that the company has no issues answering your questions about IRA cryptocurrency investing as well as other types of traditional investment done on the platform.
You'll also want to make sure that there aren't any complaints about the customer service provided by the firm on customer review sites.
Fees And Costs
There is a lot of variety regarding the fees and costs of investing in cryptocurrencies through an IRA.
Some companies charge an asset fee for every purchase and sale, while others charge quarterly custody fees.
In addition, some Bitcoin IRAs charge an initial one-time account setup fee, while others do not.
As long as there aren't any additional fees added on for every transaction, you should be just fine.
However, before committing to a company, make sure to ask what the total costs of opening your account will be.
Also, ask about the ongoing costs once you have the account opened.
Flexibility With Buy And Sell Transactions
Since Bitcoin IRAs can be complicated to understand, make sure that your IRA provider is flexible with purchasing and selling cryptocurrencies.
Different IRA providers will offer different options for buying and selling cryptocurrencies.
Some companies only allow for crypto-to-crypto transactions, while others allow crypto-to-coin.
Let's say you want to buy Ripple, but the company only allows purchasing with Bitcoin or Ethereum Classic.
In this case, you'll need to find another IRA provider.
Also, if your IRA provider doesn't let you sell one cryptocurrency for another (for example, if they only allow you to sell Bitcoin for fiat), make sure to find a company that will.
Ease Of Use
Many factors go into using your IRA, such as opening and funding it, purchasing cryptocurrencies, and then later selling them.
You'll want to choose from one of the many retirement accounts providers that offer a simple interface and a painless process for opening an account.
Investing in cryptocurrencies through your IRA should be as easy as possible, especially during the first few months.
Don't choose a company that will make you jump through hoops to buy bitcoin and other cryptocurrency.
If you're starting with cryptocurrency investing, ease of use is an important feature to consider.
Security And Insurance
Since Bitcoin IRAs are considered retirement assets, they should be stored as securely as possible.
Companies such as Bitgo Trust will act as the organization to hold crypto assets to the highest security protocols possible.
Most IRA providers will keep their customers' cryptocurrencies in cold wallets, which are stored offline and away from the prying eyes of hackers.
Some companies also use a third-party auditor to ensure that their cryptocurrencies are safely stored.
Make sure to ask about the company's security practices, including how they store their private keys, if they use multi-sig transactions, and how long their private keys are kept offline.
In addition, use a company that offers FDIC insurance as well.
If the worst were ever to happen and your IRA cryptocurrencies were stolen, you wouldn't have to suffer for any of the company's losses.
Some companies even provide third-party audits of their IRA accounts, not just their cryptocurrencies, to ensure transparency when handling them.
Best Crypto IRAs – FAQ
What are mutual funds?
A mutual fund is a professionally managed investment in which individual investors pool their money together to be invested as one entity.
One person or a team of people manage this collection of money and decide where to invest it.
The value of the fund fluctuates with the market.
Mutual funds can invest in stock markets (equities), bonds, or other types of investments. They are often referred to as "pooled investment vehicles."
Is It Better To Go For A Traditional Or Roth IRA?
A traditional IRA is tax-deductible, so your annual income taxes will be less if your contribution to the Traditional IRA.
You can withdraw from it anytime, but before age 59.5, you'll have to pay penalties if you take the money out early.
A Roth IRA, on the other hand, is not tax-deductible.
But if you are eligible for such an IRA, it might be a good idea to contribute to one since withdrawals are tax-free.
What Are Bitcoin SEP IRAs?
SEP stands for Simplified Employee Pension and is a relatively simple and cost-effective way to set up your own qualified retirement plan.
This type of IRA can help you save on taxes, allowing you to reduce your taxable income and giving yourself the possibility for tax deductions.
What's A Coin IRA?
A Bitcoin IRA company (or any other type of cryptocurrency) is a custodian that sets up a Roth IRA for digital currencies.
Once you create an account with them, they'll help you to decide how and where to invest your savings (and after that will handle the entire process for you).
Once you're ready to buy some cryptocurrency, the company will transfer it into your crypto IRA account.
You can then monitor your retirement portfolio to keep an eye on how it develops.
If you're confident about the future of cryptocurrency, investing in a coin IRA is a great opportunity.
Wrap Up.
Crypto IRA investing is an excellent way to secure your retirement savings.
With the help of a company specializing in IRA investment, investing in cryptocurrency can be easy and straightforward.
It might also turn out to be one of the best financial decisions you ever make, with your ROI getting larger as time goes by.
While the above information should not be taken as financial advice, if you're interested in this type of account, then I would suggest looking into the above platform and getting started today.
To recap, the best crypto IRAs to buy and hold right now are:
BitIRA: Best overall for investing in crypto IRA.
Regal Assets: Best for total protection of your crypto IRA.
iTrust Capital: Best for competitive transaction fees.
Have you invested in crypto already? Would you use your IRA savings to do so, or would you rather use a different source when investing?
Let me know in the comments section below – I'm looking forward to your thoughts.
Further reading on AdamEnfroy.com: Crypto exchanges and trading platforms are taking the world by storm, and knowing which one to invest with is critical.
Here's another article on the best crypto portfolio trackers that will allow you to stay on top of any investments you make.
Disclosure: I may receive affiliate compensation for some of the links below at no cost to you if you decide to purchase a paid plan. You can read our affiliate disclosure in our privacy policy. This site is not intending to provide financial advice. This is for entertainment only.