7 Best Crypto Staking Platforms of 2023 (Ultimate Guide)
Over the last few years, cryptocurrency has changed how monetary assets change hands.
The best crypto exchanges allow you to buy and sell digital assets like Bitcoin, Ethereum, Litecoin, and more, while crypto portfolio trackers help monitor your investment.
Some of these platforms also provide crypto credit cards enabling you to spend your cryptocurrency when shopping online or in brick-and-mortar stores.
But what if you want to earn interest and get paid for owning digital assets?
This is where crypto staking comes in.
Crypto staking platforms offer a way to earn interest on your digital assets by holding them in a wallet or on a platform.
In other words, it's like putting your money in a savings account that pays interest.
While this might seem like great news, having the proper knowledge to find the best crypto-staking platform is still necessary to make a profit.
In this article, I'll provide you with the ultimate guide to the best crypto-staking platforms right now, platforms that I believe will continue to dominate in the future.
Let's get right into it.
What Are the Best Crypto Staking Platforms?
The following are the best crypto-staking platforms to consider.
Best For Expert Investment Advice.
eToro is an excellent platform for those who want to trade and invest in cryptocurrencies without worrying about having to become expert users.
The platform has a CopyTrading feature that allows users to copy the portfolios of other successful traders.
This is great for those who don't have the time or knowledge to trade themselves but still want to participate in the market.
In addition, another great feature of the platform is that you will earn rewards for just holding cryptocurrencies.
This means that eToro will do the trading for you, and you can just sit back and relax while still earning a passive income through staking.
This is done similarly to how someone would earn money with a traditional bank account – only with potentially higher returns.
Key Features:
Being a multi-asset platform, eToro has a lot to offer when it comes to staking.
Offering 0% commission on stocks and ETFs is a great way to save money while still getting the same exposure to the market.
The insurance offered by eToro is a great way to protect your funds, with protection offered up to one million.
Social trading is an excellent feature for those who want to invest but don't have the time or knowledge to trade themselves.
User Experience: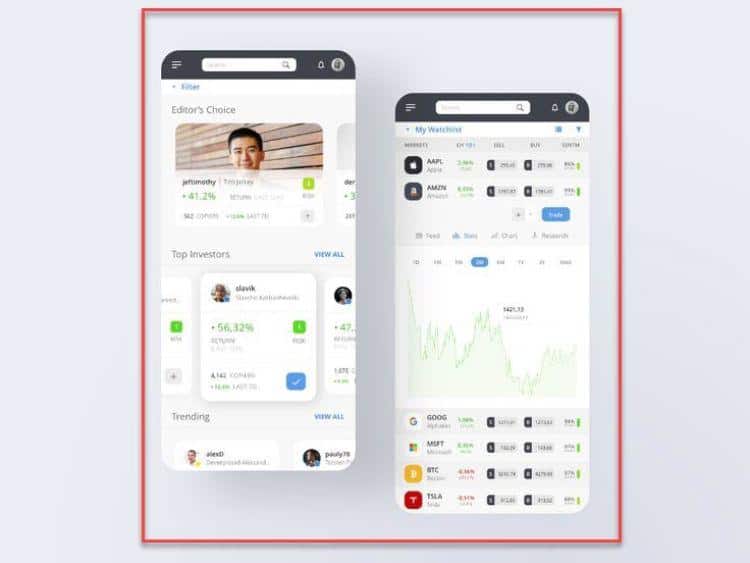 The mobile app is easy to use and gives you the editor's choice of the best assets to consider investing in, so if you're looking for expert analysis, this is great.
What I Like/Dislike About eToro
Like:
eToro offers a range of services and tools according to the needs of each user.
The app also offers different ways of depositing funds into the eToro account, so you can choose the one that is most convenient for you.
Dislike:
In reality, not all stocks and ETFs listed on the platform can be traded.
Product Updates:
Stocks are now available on eToro US, a feature that wasn't available before.
Get started with eToro.
Best For Automatic Staking.
Coinbase allows you to stake and earn rewards with Ethereum 2.0, Cosmos (ATOM), and Tezos (XTZ).
This new way of validating transactions on the Ethereum network is a more secure and energy-efficient method.
You can earn as much as 5.75% APY on your crypto deposits, and the best part is that there is no minimum amount required.
Traditionally staking involved running a node on your hardware to get started, funding it with the required deposit, and then keeping it online (and running smoothly) to ensure you were rewarded.
With Coinbase, there is no need for any of that, as the platform takes care of the necessary operations on your behalf.
All you need is a valid TIN on file and ensure that you live in a suitable location.
Then, you can start staking with Coinbase and earn rewards when you satisfy these requirements.
Key Features:
No minimum amount is required to start staking, so you can get started with any amount of crypto.
Easy to use platform that takes care of the staking for you so you can earn rewards without running a node or doing anything technical.
Earn up to 5.75% APY on your deposited coins, which is an excellent return for just holding crypto assets.
User Experience:
Both the web and mobile versions work in sync and are easy to use.
Sorting a selection of crypto assets according to different factors that make sense to the user is a great way to find the right assets to invest in.
What I Like/Dislike About Coinbase
Like:
An intuitive user interface ensures a smooth user experience.
A diverse range of options for any transaction makes it a one-stop shop for various crypto needs.
Dislike:
Support is not always the quickest to respond to queries.
Product Updates:
A research platform is now available for the entire crypto economy, allowing users to access in-depth analysis and insights.
Get started with Coinbase.
3. Crypto.com.
Best Overall Staking App.
Crypto.com is one of the most convenient staking platforms, allowing users to stake directly from their phone through the platform's app.
The platform offers stake rates of 4% (8% for private users) as of June 1, 2022.
You also can increase the staking amount in the initial 180-day staking period by simply hitting the upgrade button in your wallet.
You can then add the difference between your stakes and those you want, giving you another 180 days to stake at a new, higher level – if you choose to.
Depending on the tier you're in, you'll be able to get a different visa card for Crypto.com that is relevant to that tier.
Key Features:
Reserve one of the premium metal Crypto.com visa cards that correspond to your tier
Receive crypto wallet benefits, including purchase rebates and extra card cashback based on the level you're on
Enjoy a better APR in Crypto Credit and Crypto Earn, so you'll make more on your deposited coins.
User Experience:
The app provides you with all the features you need for staking and the ability to buy, sell, and exchange cryptocurrencies.
The process is straightforward, and you can start staking with a few clicks.
What I Like/Dislike About Crypto.com
Like:
The features in the app work as they should and provide an accessible way to start staking cryptocurrencies.
There is a daily update on all cryptocurrencies, which is excellent for staying up to date with any coins you own.
Dislike:
Sometimes, the app has outages that prevent you from performing the required transactions.
Product Updates:
Crypto.com Visa Cards are now available and can be used in Australia with Apple Pay.
4. Binance.
Best For High APY.
As of June 2022, Binance launched a new locked staking series.
After the staking period has passed, the earned digital currencies will be returned to the user's wallet to be used as needed.
You can stake in various coins, including ADA, AVAX, DOT, QTUM, and SOL, making the available choices pretty varied.
With these coins, you can earn up to 36.79% APY, which is a significant number compared to other platforms.
Key Features:
The locked staking format means that the platform can offer only a set amount of coins, so those who get in will have a unique asset.
With a daily payout, you'll get your rewards much faster than on other platforms.
The APY is relatively high, meaning you can earn good interest on your deposited coins.
User Experience:
The app offers different modes that can be changed according to the user's needs.
Whichever mode you're in, the app is easy to use and provides all the features needed for staking.
What I Like/Dislike About Binance
Like:
The APYs are generally high so that you can earn good interest on your deposited coins.
The exchange rate is also lower than other platforms, so you can keep more assets.
Dislike:
When it comes to trading crypto, the minimum amount is higher than on other platforms.
Product Updates:
Updates on Tick Size for Spot Trading Pairs allow more precision when buying and selling cryptocurrencies.
Binance just launched a VIP holder program to enable users to unlock more valuable features with their held assets.
5. Gemini.
Best For Calculating Staking Earnings.
Gemini allows you to open a staking account without a minimum deposit needed.
You can transfer this amount to a Gemini Earn account, which will pay you on your deposited amount.
This is a great way to earn rewards without worrying about minimum deposit requirements.
With the Gemini calculator that allows you to calculate the interest you can earn, you can quickly see how much you will be making through the staking process.
You can move funds back and forth between your Gemini Earn staking account and regular Gemini account as needed and, more importantly, without any transfer fees or minimum redemption fees.
This makes Gemini an excellent choice for those who want to start staking and earning rewards on their deposited crypto.
Key Features: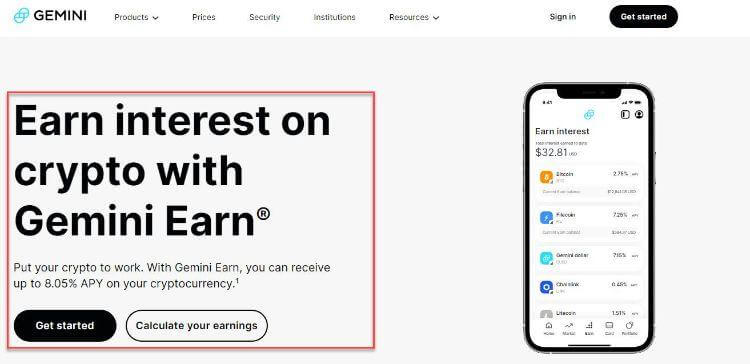 Account Security allows you to enable Two-Factor Authentication (2FA) to keep your account even more secure.
Redeeming your assets is easy, and there are no hidden fees.
Available in many locations so you can start earning rewards no matter where you live.
Calculate your crypto earnings through the Gemini calculator to see how much you can make.
User Experience: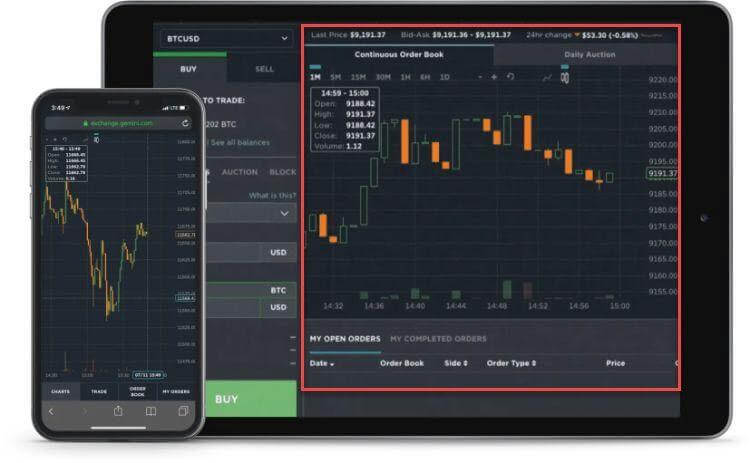 With a platform that can cater to both the advanced user and the beginner, Gemini is perfect for those who want to start earning rewards on their deposited crypto.
The interface can get as complicated (or as simple) as you want or need it to be, and the ability to quickly transfer assets back and forth is a great feature.
What I Like/Dislike About Gemini
The Gemini exchange is swift, reliable, and straightforward to use.
Easy to transact and withdraw various amounts without any issues.
Dislike:
There is currently a limited amount of currencies available to stake.
6. Kraken.
Best For Frequent Payouts.
Kraken pays out twice a week when it comes to staked assets.
This payout schedule is one of the more frequent ones, which is excellent for those who want to earn rewards more quickly than other platforms.
Rewards can be based on cryptocurrencies and fiat deposits, so you can stake whatever you have deposited on the platform.
All you need to do is select the digital asset you want to stake, allow it to go through a bonding period, and then you'll be ready to start earning rewards.
Through the Proof of Stake process, you can earn rewards proportional to the amount of time you have staked and the size of your stake.
Key Features:
Get fast staking assets and quicker returns through Kraken.
Select an asset to stake from a variety of deposited cryptocurrencies as well as fiat options.
Earn rewards for simply having your deposited assets on the platform.
7. ZenGo.
Best For Variable APY Rates.
ZenGo Savings gives you some of the highest amounts of interest on your deposited digital assets.
With up to 8% APY on your deposited funds, you can earn a significant return by holding your crypto in the ZenGo Savings account.
With an amount that gives you the possibility of beating inflation, this is a great way to start earning passive income from your digital assets.
With a few taps on your mobile app, you can start staking your deposited assets and earning rewards.
No matter your knowledge level, the process is easy to participate in.
Various coins are also eligible for this staking process.
You can get up to 8% APY on coins like USDC, USDT, and TUSD.
Moreover, there is a 4% APY on other Ethereum (ETH) and 3% on Bitcoin (BTC).
The platform also allows you to lend your crypto, so you can also earn money that way.
Key Features:
A hybrid of a custodial and non-custodial wallet provides staking services to users.
Free to download and use, setting up an account takes roughly 21 seconds.
The user interface is streamlined and easy to understand for new crypto users.
No lock-up period is required, and your funds are always free for withdrawal.
The platform provides two methods of earning daily interest on your deposited digital assets – staking and lending.
Other crypto-staking platforms not mentioned in this article include MasterNodes.Online, Trust Wallet, Algorand, and MyCointainer.
What Are Crypto Staking Platforms?
A Crypto staking platform uses blockchain to reward you for holding—or "staking" – crypto assets in their wallets.
In return for staking your crypto, you'll earn staking rewards that are paid proportionately to the time and size of your stake.
With staking rewards being paid out in the native cryptocurrency, you can earn a return on your investment – without ever having to sell your crypto assets.
Said differently, staking crypto is an alternative way to earn a return that doesn't require you to put your crypto assets at risk by trading them.
The best crypto staking platform for you combines the ability to trade your crypto assets and earn staking rewards for holding them, along with features like a user-friendly interface, security, and customer support.
Crypto Staking Rewards
Staked crypto brings with it a lot of benefits, including but not limited to:
The network has a higher level of security since more users are invested in its success and are, therefore, less likely to engage in malicious behavior.
Increased decentralization since staking encourages more people to participate in the governance of a network.
The ability to earn interest on your digital assets without selling them.
What Makes Crypto Staking Work?
The major crypto stalking platforms are also custodial platforms, which means that the users do not have control over their private keys.
The platform holds on to the keys and manages the staking process on behalf of the user.
Major crypto-staking platforms use economies of scale to get better user rewards.
With blockchain technology used to verify transactions and ensure the network's security, many crypto platforms now allow crypto tokens to be used in various ways than initially predicted.
Staking makes use of a process known as proof-of-stake (PoS), an alternative to proof-of-work (PoW), which is the process that defines Bitcoin mining.
The former is more energy efficient as it doesn't require miners to use expensive hardware to validate blocks of transactions.
Miners in a PoS system are rewarded based on the number of coins they have staked.
As mentioned earlier, the most significant advantage of using a crypto-staking platform is that it's easy to earn passive income from your digital assets.
With some platforms, you can start earning interest with just a few clicks.
If you're holding onto crypto long-term, staking can greatly grow your investment without risking through trading.
Various Types Of Staking
With a crypto exchange typically offering more than one type of staking, it can be confusing to know which one is right for you.
Here's a quick rundown of the different staking types you might encounter.
Staking Coins
With this type of staking, you need to hold the coins in the platform's wallet to start earning staking rewards.
Most significant exchanges will offer this type of staking, as it's the easiest way to get users to participate.
The downside is that you won't earn as much in staking rewards as other types.
Chain staking
With chain staking, you're rewarded for validating blocks of transactions on the blockchain.
This type of staking is more complex and usually requires you to run a full node, which can be resource-intensive.
The upside is that you can earn a higher return than simply staking your coins.
Defi Staking
Defi staking is a new form used to reward users for providing liquidity to decentralized exchanges.
With Defi staking, you can stake crypto assets in exchange for a portion of the generated trading fees.
The most significant advantage of Defi staking is that it doesn't require you to lock up your crypto assets for a fixed period.
So, if you want to cash out your earnings, you can do so at any time.
The downside is that Defi staking is still in its early stages, and there's a risk that the platform you're using could fail.
A Note On Staking Fees
While the staking options are constantly increasing, it's essential to remember that most platforms will charge a fee for their services.
As a result, you'll need to factor in the staking fees when calculating your expected return.
Most of the time, the staking fees are relatively low, but they can still eat into your earnings if you're not careful.
Features Of A Great Crypto Staking Platform
The best staking platforms offer a variety of features that make it easy and convenient to earn interest on your digital assets.
Here are some of the key features that you should look for.
User-Friendly
While crypto investors are becoming savvier, there are still a lot of people who are new to the space.
So, it's essential to choose a staking platform that's user-friendly and easy to use.
The last thing you want is to sign up for a platform only to find out that it's too complicated to get started with and involves a considerable learning curve.
Competitive Interest Rates
Of course, you'll also want to compare the interest rates before settling on a platform.
The best staking platforms offer competitive interest rates higher than what you earn from a traditional savings account.
Variety Of Coins
With more coins entering the crypto market, having various currencies that count towards staking rewards is a significant advantage.
The best staking platforms will offer a wide variety of coins so that you can choose the ones that are right for you.
Whether it's Cardano, Polkadot, Solana, or any other major coin, more options are generally better when it comes to crypto staking coins.
Stablecoins can also provide liquidity on decentralized exchanges and earn staking rewards.
Fiat currency is sometimes also used to provide liquidity.
From USD to EUR, there are a variety of fiat currencies that might be worth considering in this situation.
Frequent Payouts
Liquidity within a platform allows for frequent payouts, which is a significant advantage in any situation.
The best staking platforms will offer payouts that are frequent and consistent.
This way, you can ensure you're getting the most out of your investment as frequently as possible.
Secure
Security is always a top priority when it comes to your digital assets, and a smart contract is at the foundation of the staking process.
When you stake crypto on a Defi platform, your digital assets are always securely stored on the blockchain.
Plus, most Defi staking platforms use decentralized exchanges, meaning there's no central point of failure.
Wallet Options
While having high interest rates and frequent payouts is essential, you also want to ensure that your platform has various wallet options.
Storing your digital assets in a hot wallet is always risky.
You'll want to choose a platform that offers a variety of wallet options, including cold storage wallets disconnected from the internet.
This way, you can be sure that your digital assets are always safe and secure.
No Minimum Staking Limit
While this depends on the user's preference, several crypto staking platforms do away with a minimum staking limit.
This is incredibly convenient for those who want to stake a small amount of crypto.
Ability To Buy/Sell/Trade Crypto
Staking is not the only way to earn interest on your digital assets.
Some platforms also offer the ability to buy, sell, and trade crypto.
This is an important feature if you're looking for a one-stop shop for managing your digital assets.
NFT-Enabled
The top crypto-staking platforms are also getting into providing services for NFTs.
If you can find an ecosystem that supports staking and buying NFTs, this could be a great choice.
With the blockchain network offering services for various digital assets, finding a platform that can provide you with a comprehensive suite of services is essential.
Best Crypto Staking Platforms – FAQ
What Are Some Of The Most Frequent Coins Used In Staking?
While this depends on the platform, coins such as Tron (TRX), Algo (ALGO), Cronos (CRO), Dai (DAI), and Tether (USDT) are some of the most common ones.
What Does Unstake Mean?
Unstake simply means to remove your tokens from the staking pool.
This can be done at any time, although there may be penalties for doing so early.
What Is ETH2?
ETH2 is the long-awaited upgrade to the Ethereum network that will see it move from a proof-of-work (PoW) and instead use a proof-of-stake (PoS) algorithm.
This upgrade is designed to improve the scalability, security, and efficiency of the Ethereum network.
Wrap Up.
Using your crypto assets to earn interest is a great way to generate passive income.
And with the rise of Defi, there are more ways than ever to do so.
However, it's important to remember that not all crypto-staking platforms are created equal.
Always do your research and choose a platform that's right for you and provides the features you consider the most important.
The crypto-staking platforms listed above are all great options to consider.
Have you benefited from crypto staking before?
What's your favorite platform to do this?
Let me know in the comments below.
Further reading on AdamEnfroy.com: With crypto becoming a regulated industry, choosing a reputable exchange is more important than ever.
In addition, using the right crypto tax software can save you a lot of money come tax time.
In addition, if you're looking to get started with the booming area of NFTs, knowing which NFT wallet to use for your needs is critical.
Check out my guide on the best NFT wallets to get started.
Disclosure: I may receive affiliate compensation for some of the links below at no cost to you if you decide to purchase a paid plan. You can read our affiliate disclosure in our privacy policy. This site is not intending to provide financial advice. This is for entertainment only.