7 Best Customer Data Platforms of 2023 (Reviews for Business)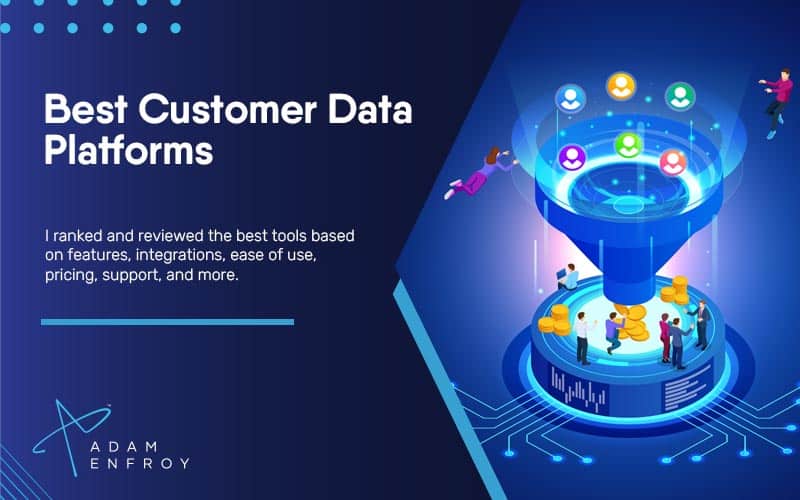 Want my top picks? The best customer data platforms are Oracle CX Marketing and Segment.
Customer data platforms (CDPs) gather customer information from the web and consolidate it in one place.
This helps you better predict the next step on the customer's journey so that you can send the right personalized marketing messages to nurture and retain them.
Some of the main tools that use data integration providers to integrate information with CDPs include:
In this guide, I ranked and reviewed the best customer data platforms based on features, integrations, ease of use, pricing, support, and more.
What Are the Best Customer Data Platforms?
Here are the best customer data platforms to use this year.
Let's get to the list.
Best overall customer data platform (Quote-based).
Oracle CX Marketing is a cloud-based customer data platform that converges data from multi-channels into a single view to help you deliver a personalized customer experience.
Its data-integrated solutions also help you conduct A/B testing and launch cross-channel marketing campaigns.
It connects customer behavior, transactions, and demographics across marketing, sales, service, and back-office applications to unify data. It also helps you personalize marketing for buyers across all customer touchpoints like email, SMS, mobile, web, social, and more.
You also get real-time insights and marketing automation features to engage, convert and nurture customer relationships.
Overall, Oracle CX Marketing provides personalized solutions for B2B Marketing and B2C Marketing.
For example, you get in-built tools like Eloqua Marketing Automation, DataFox Data Management, Content Management, and more for B2B marketing.
And there are tools like Responsys Campaign Management, BlueKai Data Management Platform, CrowdTwist Loyalty and Engagement, Audience Segmentation, and more for B2C marketing.
Here's a quick overview of all Oracle CX Marketing's key features:
The ability to create and A/B test dynamic content.
Lead nurturing, scoring, and grading.
Data quality management.
Automated sales alerts.
Reporting & Analytics.
Website visitor tracking and ROI tracking.
Integration with multiple social media channels.
Integration with Salesforce, Microsoft Dynamics CRM, and SugarCRM.
Built-in AI features to capture real-time customer behavior.
Omnichannel delivery to communicate the right message at the right time.
Automated campaign delivery and real-time adapted campaigns.
Personalized marketing campaigns created by accumulating data across all channels.
Identify key targets and relevant insights for better conversion rates.
The tool also helps you shorten sales cycles through clarified customer understanding, continuous messaging, and accurate implementation of feedback.
Additionally, it provides smart content and video support options for advanced cross-channel content delivery.
Pricing:
Get in touch with the vendor for custom pricing plans. You can also request a free demo before making the final purchase.
Best for creating single view customer profiles ($0 – $120 per month).
Segment is a customer data software that collects, cleans, and controls customer data and looks after audience engagement. It uses a single API to collect customer data across all business segments like analytics, customer service, sales, and more.
The tool provides a single view of each customer and unifies all customer touchpoints for a personalized marketing experience. You can also personalize your email campaigns with recommendations based on customer behavior.
Some of the Segment's key features include:
Data integration and audience management.
Single API for collecting analytics data across any platform.
Standardized data collection to obtain error-free data.
Centralization of data collected across various platforms to ease tracking.
Creation of single view customer profiles by unifying all customer touchpoints.
Omnichannel messaging across multiple channels – email, social media, and in-product.
It automatically loads analytics data into data warehouses like Amazon Redshift, Google BigQuery, etc.
GDPR and CCPA compliance.
Overall, Segment offers three core products – Connections, Protocols, and Persona.
1. Connections.
Segment collects data from all customer touchpoints and forwards it to over 300 destinations like analytics messaging, warehouses, advertising, or sales.
You can then govern and manage this data using numerous built-in product analytics and A/B testing tools. It also helps you identify and resolve data delivery issues.
2. Protocols.
This is a data governance tool that helps you maintain data integrity. It standardizes data collection and distribution across multiple channels through a Live Tracking Plan.
It also diagnoses and validates data quality issues with actionable reports and alerts. Errors can get identified and resolved by blocking bad data directly at the data sources.
3. Persona.
Persona pulls data from various data points and builds user profiles in real-time. It converges all the data to analyze a customer's journey and create single view profiles with their individual traits.
Multiple downstream tools are available to enrich such profiles and create real-time marketing campaigns. The user interface also enhances communication with customers to personalize recommendations and build stronger relationships.
Additionally, integration with numerous third-party data warehouse, product analytics, and A/B testing tools help you further streamline your marketing strategies.
Pricing:
Segment offers three pricing plans:
Free – $0 per month
Team – $120 per month
Business – Custom pricing
All of the plans offer unified customer profiles, data privacy and controls, visualization tools, and more. You can also sign-up for a free product demo.
Best for an omnichannel approach (Quote-based).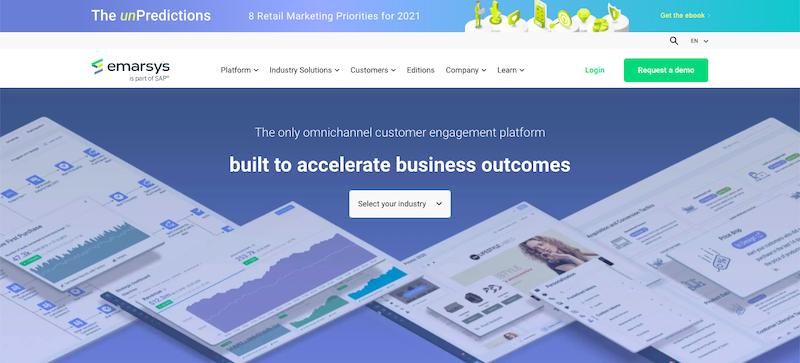 Emarsys is an omnichannel customer engagement and customer data platform that helps streamline data across all platforms to enhance business. It's suitable for various businesses like ecommerce, retail, and travel businesses.
The customer data platform comes with features like multichannel campaign management, personalization, segmentation, analytics dashboards, etc.
You get pre-designed use cases based on different business objectives and industry-oriented analytics.
The customer data platform works in three simple steps:
Strategy – Here, you'll choose a specific strategy like Purchase Frequency, Average Order Value, Average Order Value, Customer Lifetime Value, etc.
Use Case – It provides use cases to help you with your chosen strategy.
Activate – Finally, activate existing use cases with personalized content and cross-channel workflows.
It also provides fully automated AI-based updates and predictive analysis for personalization and optimizing business results. You also get features like AI-driven segmentation, content selection, channel execution, and more.
Emarsys also helps you create 1:1 interaction with customers by offering them personalized offers. You get access to several marketing channels like email, web, social media, and more from a single dashboard.
Some of its key features include:
Real-time business analytics.
AI-optimized delivery scheduling.
A/B testing and AI-led optimization.
Access to web browsing data to monitor who is interested in the products.
It helps you integrate all third-party tools and simplify cross-channel execution.
Engage your customers with personalized offers on birthdays and anniversaries.
It performs "predictive marketing" to help you identify potential buyers and tempt them with exciting offers.
Additionally, you can leverage post-purchase feedback to identify your promoters and detractors. Further, use this information to design your marketing campaign to drive repeat purchases.
Emarsys also comes with an integrated Customer Engagement Platform (CEP) that helps you eliminate data fragmentation. It provides metrics, segments, personalization variables, and analytics relevant to your business.
Pricing:
Emarsys comes with three quote-based plans, namely Essential, Advanced, and MAX AI. You have to contact the vendor for more details.
4. Tealium AudienceStream CDP.
Best for ML-based insights and identifying visitor behavior patterns (Quote-based).
Tealium AudienceStream is a customer data platform that helps you streamline customer data across multi-channels and construct actionable customer profiles. You can utilize this data to identify high or low-value customers and key engagement insights.
It helps you gather from various sources like web, mobile applications, IoT, servers, kiosks, and offline sources. This data unification gives you a complete view of your customers.
The CDP tool also helps you track customer activities on your website and establish a personal connection across any channel. Integration with your email, online advertising, automated marketing, and CRM tools and strategies also comes in handy.
Here's a quick overview of Tealium AudienceStream's key features:
Predictive (Machine Learning) ML-based insights.
Use customer badges to identify visitor behavior patterns.
Consent Management and Regulatory Compliance to eliminate legal risks.
Increase customer interaction and monitor customer behavior with the Audience emotional intelligence feature.
Receive real-time customer data signals to trigger actions, plan, orchestrate, and implement new marketing strategies.
AudienceStream data connectors give you access to online marketplaces like Criteo, Facebook, and Amazon Web services.
Tealium AudienceStream's ML-based analytics also help you identify potential customers with high value. You can manage campaign effectiveness by focusing on high valued audience segments and discarding the segments with low-value audiences.
Additionally, the "Action Frequency Capping and Prioritization feature" helps you prevent specific actions from triggering. You can set delays for particular actions and prioritize more important triggers based on customer behavior.
Pricing:
Quote-based plans.
5. Exponea.
Best for real-time predictions and segmenting customers (Custom pricing).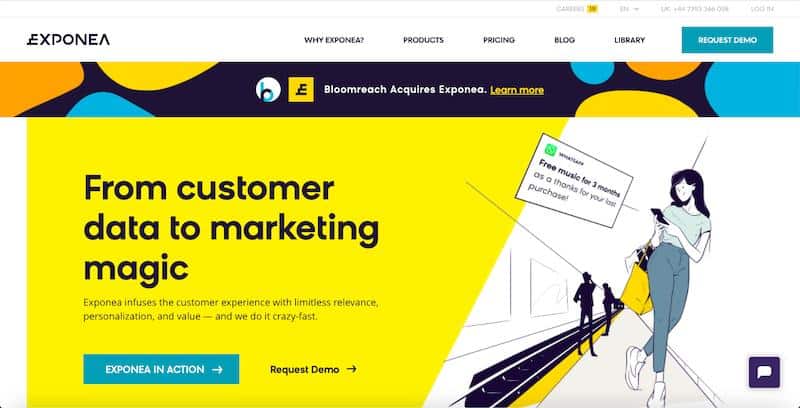 Exponea is an end-to-end CDP and Customer Data and Experience Platform (CDXP) that integrates customer data analytics to meet your marketing needs. It enables you to track customer-data insights and create personalized marketing campaigns.
The tool collects data from various offline and online sources to build a unified Single Customer View. The unified view helps you understand and track different patterns of customer behavior. You also get real-time and AI-powered analytics for predicting and escalating customer experiences.
Some of its key features include:
Omni-Channel Orchestration – This feature helps you interact with customers through their preferred channel, enhancing customer experience across all digital touchpoints. It personalizes visitor experience using multiple data-sets.
Web-Optimization – Exponea's visual editor provides product recommendations, better website appearances, and hypothesis testing. It also helps in creating A/B tested website overlays to display real-time, behavior-based personalized messages.
Analytics and Segmentation – It provides advanced analytical reports and helps you create segments that can adjust with customer behavior.
Product Recommendations – Exponea uses advanced algorithms to analyze historical and real-time cross-channel data to understand customer preferences. Continuous A/B testing and real-time optimization also ensure recommendations match the company's KPI objectives.
Real-Time Customer Predictions – It uses advanced machine learning technology to provide real-time predictive data to enrich the single view of the customer. Insights derived from past, present, and predicted behavior also help you segment high and low-value customers.
Exponea also comes with pre-designed templates like email open, purchase, churn, in-session prediction, and more. Additionally, Exponea BigQuery enables analytics teams to pick their preferred BI tool and work with the complete dataset in a secure environment.
Other advanced features include a drag-and-drop editor, a Campaign Calendar, real-time A/B testing, and integration with third-party tools.
Pricing:
Get in touch with their sales team for custom pricing plans. You can also request a free product demo.
6. Salesforce Marketing Cloud Interaction Studio.
Best for streamlining offline and online customer interactions (Quote-based).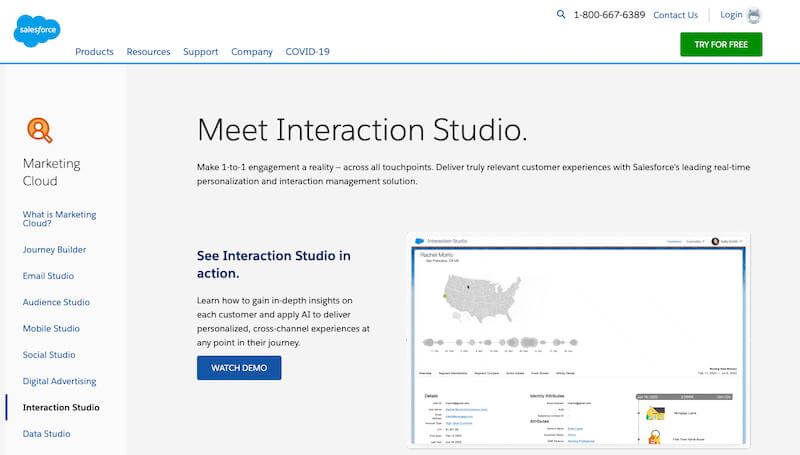 Salesforce Interaction Studio is a customer data platform that helps you enhance customer interactions using real-time personalization and interaction management. It utilizes AI to segment data and delivers cross-channel experiences at any point in the customer journey.
The tool helps you personalize interactions based on business portfolios and customer's past and present behavior. Plus, it identifies individuals and accounts across all digital touchpoints, matches users to named profiles, and tailors customer identity-matching policies.
Real-time monitoring of customer actions and AI-powered product recommendations also help you provide a better customer experience. Besides, it integrates from external sources like JavaScript, ETL, or API.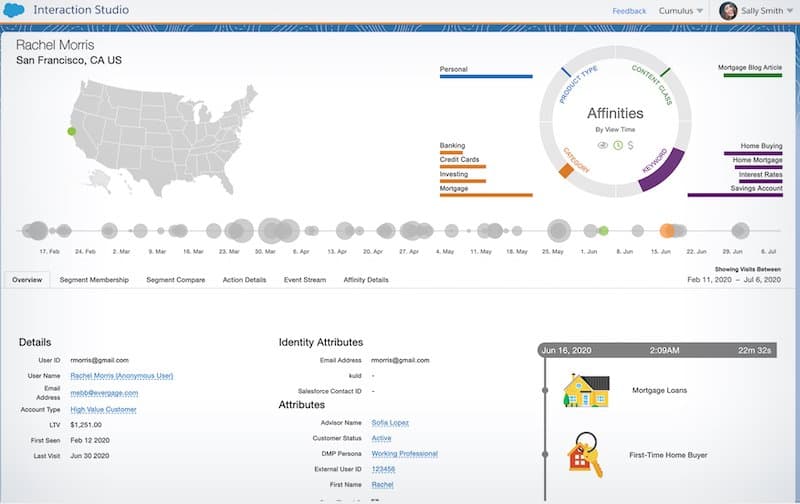 Salesforce Interaction Studio also offers AI-driven optimization and real-time segmentation to deliver relevant content to target customers. Identify each customer's characteristics and preferences and recommend relevant products and content.
Some other features include:
Guide customers by providing them with the next best action or offer.
Track your customers' actions, both offline and online.
Streamline offline and online interactions with in-store/in-branch associates, at kiosks, ATMs, etc.
Data segmentation to analyze distinct needs of audiences.
Trigger interaction where your customers are, including social media, paid media, etc.
You can also A/B test all algorithms to maximize conversion, clickthrough, and revenue. Other key features include integration with CRM platforms, automatic updates, omnichannel experience, end-to-end encryptions, anti-phishing, and other security features.
Pricing:
It offers custom pricing plans.
7. Optimove.
Best for self-optimizing algorithms and real-time statistical data (Quote-based).
Optimove is a customer data platform that helps you plan and optimize a personalized CRM (Customer Relationship Management) Marketing plan. It processes all customer data across different portals and transforms it into a single customer database for both technical and non-technical users.
It also provides automated web-surfing, predictive customer analytics, AI-based optimization technologies, and more to generate a unified database and ingest actionable data.
It also analyzes and segments data to turn it into actionable insights. The CDP platform also comes with self-optimizing algorithms and one-click recommendations to help you improve your marketing campaigns.
Another bonus is that it lets you orchestrate your marketing campaigns across multiple channels. You also get access to various statistics to measure the ROI of each customer interaction.
Here's a list of Optimove's most prominent features:
It supports secure CSV file transfers.
Get real-time statistical data measuring the incremental value of every customer.
It can generate a personalized customer model based on your business requirements.
Integrate and advertise on multiple web fronts like Facebook, Instagram, etc.
It applies mathematical and statistical models to different datasets to predict customer behavior.
Optimove provides integration with various ERP, CRM, advertising, and marketing tools,
Additionally, it has a built-in marketing optimization bot called Optibot that helps you acquire customers on a large scale.
The Optibot combs through real-time customer and campaign data to provide performance-boosting opportunities.
Based on data gathered, Optimove's AI bot provides actionable recommendations for dropping under-performed campaigns, optimizing segments for better customer responses, identifying customers, etc.
Pricing:
Optimove provides custom based pricing models. You can get in touch with the sales team to request a demo or a quote.
What is a Customer Data Platform?
A customer data platform (CDP) is a structured, unified database available for use by other applications and marketers.
It consists of data from different channels, both offline and online, that gets analyzed, cleaned, and combined to create single view customer profiles. CDPs are essentially an integrated repository of customer or client data.
A customer data platform can capture data from multiple sources like mobile applications, websites, emails, whitepapers, social media, and more.
An organization can tap into this rich thread of information, engage in predictive analytics regarding a particular client, and make an informed decision.
These platforms provide data and offer analytical insights across various capabilities like sales, digital marketing, human resource management, and operations. By helping companies make the right choices, they eliminate errors and maximizing revenue.
What Features Do You Need in a Customer Data Platform?
Many industries like healthcare, ecommerce, automobiles, and software use CDMs. While each industry has its own focal point, the requirements of individual companies may also vary.
No CDM is one-size-fits-all.
However, there are some standard features that you need in every customer data platform.
Here are some of the top ones:
1. Omnichannel Strategy.
Resources and communication channels must work in tandem, rather than in parallel data silos.
Using the right customer experience software to streamline a customer's journey is critical.
2. Personalized Marketing Experience.
Every customer is different and has unique requirements. Focusing on the right person on the right channel is also essential to influence customer opinions. That's why CDPs need to provide tailor-made, personalized campaigns for targeting or retargeting different customers.
3. Behavioral Triggers.
Choose a customer data platform that monitors and tracks browsing patterns, engagement activities, and lifecycle events. It should also help you translate them into actionable modes of communication.
Behavioral triggers can help you send relevant messages and content to encourage a customer to take any specific action.
For example, if you're an ecommerce brand, can you use predictive analytics to predict how long you can retain customers?
4. Third-Party Integrations.
A customer data platform requires a wide range of third party integrations to streamline marketing processes and for an omnichannel experience. Choose a CDP that provides integrations with applications like Slack, Shopify, Adform, Zapier, Tealium, and more.
5. Ease of Use.
A CDP that is not easy to use will have difficulty getting accepted by every member of your marketing team. This may severely limit its capability to make a meaningful difference in your company. Thus, a CDP must be intuitive and easy to use.
You may also consider features like automated segregation of high-value and low-value customers, reporting, lead nurturing, identity resolution, mobile app, etc.
Summary
That's it – these were my top picks for the best customer data platforms. Customer data platforms help you unify customer data from all touchpoints for customer retention and delivering a more personalized experience.
Choose the option that aligns the best with your business requirements.
For instance, you might like Segment if your goal is to create single view customer profiles. On the other hand, Tealium AudienceStream is suitable for identifying your customers' behavioral data and patterns.
All of them are suitable for delivering an omnichannel experience across all customer touchpoints.
Overall, my top pick is Oracle CX Marketing for its ability to deliver personalized customer experience, data-integrated solutions, A/B testing, and cross-channel marketing campaigns.
You can also request a free demo from most of these tools to get an overview before making your final choice.
Which one of these customer data platforms are you planning to use, and why? Let me know by commenting below.
Disclosure: I may receive affiliate compensation for some of the links below at no cost to you if you decide to purchase a paid plan. You can read our affiliate disclosure in our privacy policy. This site is not intending to provide financial advice. This is for entertainment only.