13 Best Data Recovery Software of 2023 (Mac + Windows)
Choosing the right data recovery software is crucial if you want to get your data back quickly when something goes wrong. From premium data protection to DIY data recovery, the best data recovery software can help you meet your goals. In this guide, I ranked and reviewed the 13 best data recovery software, along with my top 5 choices, so that you can pick the best one for you.
---
We're reader-supported. When you buy through links on our site, we may earn an affiliate commission.
Want to get right to it? The best data recovery software (for both Mac and Windows) is Disk Drill Data Recovery.
Data recovery is the process of retrieving inaccessible, lost or corrupt data from secondary storage, removable files, or media.
You can't afford to use your essential data.
However, with the rising incidence of cyber-crimes, losing your data is pretty common these days, so recovering, backing up, and migrating your data is more important than ever.
For example, in cases of attacks like ransomware, you can recover only 97% of data.
And the 3% lost data in such cases can have extreme repercussions on the long-term stability of your business.
That's why you need to use the best data recovery software available.
These tools help you retrieve your lost data and, at the same time, help you move your data from its original database to preserve integrity.
Some of the conventional devices to store data are:
Hard disks
Solid-state drives
USB
CD and DVD
Magnetic tapes
Smartphone memory chips
Records
Let's get to the list.
What is the Best Data Recovery Software?
Here are my top picks for the best data recovery software to use this year.
Adam's Take
Disk Drill Data Recovery is the best overall data recovery software right now. It's straightforward to use yet still offers several features and options that can help you with even the most challenging recoveries.
Disk Drill Data Recovery is an impressive data recovery tool for both Windows and Mac.
It's a user-friendly tool used to retrieve data from a plethora of devices with the help of highly advanced scanning algorithms.
The good news is that it's a holistic DIY data recovery app, which means that it's suitable for a beginner as well.
Best for:
It's most suitable for technicians and IT specialists for recovering lost or encrypted client files, either remotely or on-premise.
Key features:
Complete data recovery – Provides holistic data recovery, irrespective of the cause of data loss.
Comprehensive file system recovery – It can get your data back from file systems like NTFS, FAT32, HFS+, EXT, and more.
Multiple scan option – Allows you to use scan options like quick scan, deep scan, and more.
Premium data protection – Doesn't wait for your data to get lost. Instead, it starts protecting your entire data round the clock.
Recovery Vault feature – Protect your existing files and prevent data loss with this feature.
Pros:
Offers a freemium plan albeit with minimal features
Provides extensive customer support
Offers recovery file thumbnail preview
S.M.A.R.T. disk monitoring
Supports all Windows versions
Deep Scan feature recognizes more than 350 file types
Performs high-speed scans
Comprehensive knowledge database and FAQs for training
Recover file from empty Recycle Bins
Easy to use and intuitive user-interface
Pause/save/restart scan feature at your preferred timings
Provides an option to backup recovered data into DMG/ISO
Pricing: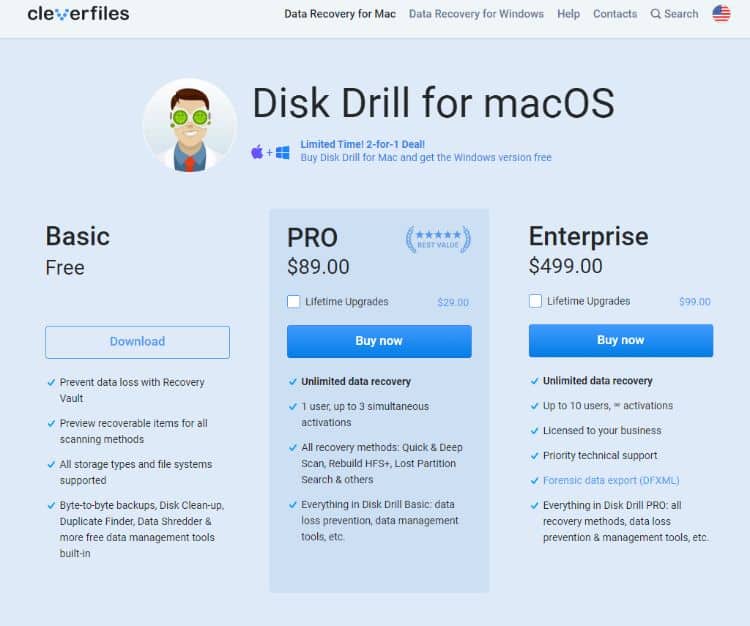 Disk Drill offers three pricing plans, namely 'Free,' 'Pro,' and the 'Enterprise' plans.
The latter two cost $89 and $499, respectively.
Get started with Disk Drill Data Recovery software for Windows here.
Get started with Disk Drill Data Recovery software for Mac here.
Adam's Take
EaseUS is another excellent tool to consider if you're looking for data recovery software. With millions of users worldwide, EaseUS has proved to be a reliable and powerful data recovery tool that can get the job done.
EaseUS is one of the most reliable data recovery tools used in 160 countries by over 530 million users.
It helps you recover lost files in a few clicks and is compatible with both Windows and Mac.
Best for:
Its user-friendliness and rich features make it ideal for professional use as well as individual use.
Professionally, it's most suitable for consultants, technicians, IT specialists, and other service providers.
Key features:
Robust backup methods – Provides plenty of backup methods, including scheduled, incremental, differential, and full backups.
Central management – Offers a holistic and centralized management console.
Disk management – All-in-one disk management optimizes your disk usage and helps you make the best use of internal and external storage.
Multiple-support – Supports MBR & GPT disk, hardware RAID, UEFI boot, WinPE bootable disk, NAS, and more.
Bootable media – Recover lost data even when your system cannot boot.
Pros:
Offers a free trial period and a 30-day money-back guarantee for paid plans
Provides a 24*7 extensive customer support
Offers email backup & recovery, along with cloud backups
Allows you to restore important files in new devices
In-built Image Reserve Strategy to free up disk space
Smart backup tools can track file changes and schedule timely backups
Provides a low turnaround time
Recovery capacity of 16TB
EaseUS Data Recovery Wizard is very intuitive
Offers other unique features, including disk & partition cloning, 4K alignment available, and more
100% 256-bit encrypted payment
Cons:
Bootable media needs separate purchase
Deep scan is time-consuming
Doesn't offer a freemium plan
Pricing:
It offers different pricing plans based on your OS and requirements.
Adam's Take
Stellar Data Recovery is a cross-platform software compatible with almost all file types. It can also recover lost or deleted data from any storage media, including hard drives, SSDs, memory cards, USB drives, and more.
Stellar Data Recovery is a secure & easy-to-use software that is available for both Windows and Mac.
It can help you recover data, photos, videos, files, emails, and other documents from internal hard disk drives and all detachable data storage devices.
Best for:
It's a suitable tool for IT professionals working to recover lost files from their systems. The good news is that you can use Stellar Data Recovery even if you're a beginner.
Key features:
Video retrieval – Can retrieve data from DSLR, drones, digicam, camera, and your mobile phones.
Formatted drive recovery – Supports data recovery from NTFS, FAT, FAT16, FAT32, and exFAT file systems
RAW recovery – You can use this module if you're unable to retrieve data after other normal and advanced scan options.
Deep scan – This feature comes in handy when you're unable to find the desired partition even after scanning the entire hard disk.
Pros:
Powerful enough to recover files from encrypted hard drives
'Can't Find Drive' option under 'Other Locations' in the Select Location screen lets you select and scan the hard drive for missing partitions lost due to corruption
Recover data by hard disk image creation
Performs extremely high-speed scans
100% safe and secure data recovery
In-built feature to monitor hard disk health to warn against disk failures
Free file recovery software product download
Provides a 30-day money-back guarantee
'No recovery no charge' only for customer indicated files in MAF form
Cons:
Doesn't provide customer support over the weekend
The free version has limited data recovery capacity of 1 GB
Doesn't offer a "no recovery no charge" policy for mobiles, tablets or iOS iPhones
Pricing:
Stellar Data Recovery is available in various plans.
These range from $59.99 to $299.
4. Kernel Data Recovery.
Adam's Take
Kernel offers a wide range of data migration and recovery solutions, making it an excellent choice for those who want to ensure their data migration process goes smoothly.
Kernel is one of the best data recovery tools that offer a wide range of data migration and recovery solutions.
Its intuitive interface and user-friendliness make it the first choice for all types of industries, whether it's a small-scale business or a large enterprise.
Best for:
It's an excellent data recovery tool for professionals from all walks of life, whether you're a beginner or an expert technician.
Key features:
Holistic database recovery – It can repair and access inaccessible files of SQL, Access, SharePoint, MySQL, Paradox
File recovery – It allows you to fix and recover issues related to MS Office
Calc repair – It's an efficient tool to recover inaccessible ODS file data such as rows, columns, cell data, images, charts
Video repair tool – Specific tool for repairing corrupt and damaged video files
Virtual disk recovery – A tool to recover data from corrupt or damaged VHD/ VHDX files
Pros:
Provides a 30-day money-back guarantee and a free trial period
24*7 live chat customer support
Can repair corrupted DBF files
Repairs PST files, reduces and manages PST size, and can recover PST passwords
Provides multi-language customer support and services
Can recover data from audio, video, word documents, photos, music files, and more
Can repair MyISAM database
You can fix almost all database issues and recover permanently deleted files
Repair Word documents in all formats, including .doc, .docx, .dot, .docm, .dotx, and more
Can recover MDB and ACCDB files
Cons:
Price is on the higher side
The user interface is a bit outdated
All plans are quote-based
Customer support needs improvement
Pricing:
The pricing is quote-based and can vary depending on the specific business needs.
You'd have to get in touch with the sales representative to know the actual cost based on your requirements.
5. DoYourData.
Adam's Take
If you've deleted your data without meaning to, or if your hard drive has been formatted, DoYourData can still help you recover your lost data. Even if you've accidentally formatted your hard drive, DoYourData can scan your drive and recover your lost data.
DoYourData is one of the most powerful and easy-to-use data recovery tools to recover formatted, lost, and deleted data.
It's compatible with operating systems like Windows 10, Vista, and Mac OS, and provides 100% security to its users.
Moreover, the tool emphasizes DIY data recovery, so you don't necessarily need prior technical experience.
Best For:
The tool is most suitable for enterprise-level security experts with data recovery and erasure requirements.
Key Features:
Raw recovery – You can recover damaged files generated by raw hard disks, system crashes, distribution loss, and more.
Deleted file recovery – This feature helps you retrieve files deleted by the 'Shift + del' function and those deleted from the Recycle Bin.
Deep scan – This advanced feature can retrieve corrupted files not accessible by quick scans.
Flexible options – You can import/export data recovery scan results, pause/stop scans, and quickly locate files.
Pros:
Provides 24*7 customer support
Allows you to recover photos, videos, emails, audio, documents, folders, archives, and other data files
You can recover data from desktop, laptops, HDD, memory card, digital cameras, and more
Provides access to free lifetime updates
Comes with a 30-day money-back guarantee
It uses read-only scanning process that ensures no overwriting
Can backup various types of files files to solid-state drives (SSD), USB flash drives, and other storage media
Cons:
It doesn't scan on the specific folder-to-folder basis
The free trial version has limited functionality
Advanced deep scan feature can be time-consuming
Pricing:
There's a basic free version for minimal features.
After that, the paid plans start from $49 per month based on the duration of your license.
A lifetime license costs $89.
6. PhotoRec.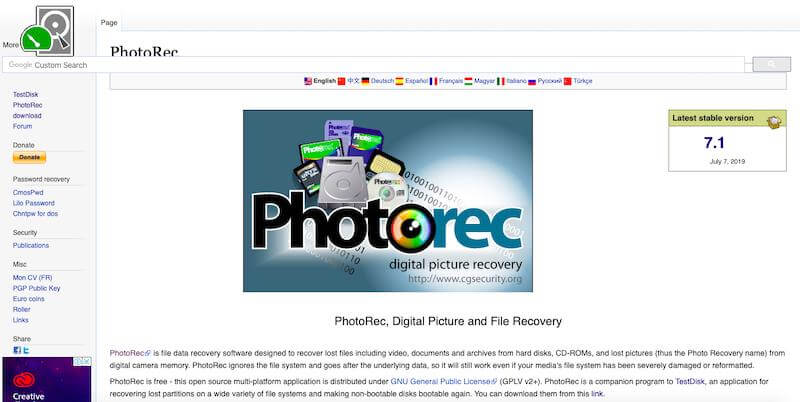 PhotoRec is an open-source free recovery software that can help you retrieve video and audio files, documents, texts, archives, and pictures.
It's especially useful for retrieval related to a digital camera and provides the best results even in the case of a damaged or corrupted target system.
Best For:
This tool is suitable for professional photographers and creative artists who deal with digital cameras and DSLR photographs. It's also great for both professional and personal users who are on a budget.
Key Features:
Read-only access – This type of access, while handling target devices, helps you avoid rewriting or overwriting.
Extensive file format recovery – Recovers numerous formats like ZIP, Office, PDF, HTML, JPEG, and more.
Add custom file signature – This can help detect and retrieve lesser-known files.
File carving – The tool utilizes this method and reassembles files from fragments when metadata isn't available.
Pros:
Highly customizable since it's an open-source tool
Unlimited free recovery
Can recover files with more than 480 file extensions or 300 file families
Compatible with ARM, Windows, Mac, SunOS, Linux, and more
The 'paranoid' mode also allows the choice of saving corrupted files
Supports FAT, NTFS, exFAT, ext2, ext3 & ext4, and HFS+ file systems
Can work with hard-drives and CD-ROMs
It uses time information metadata when available in the file header to set file modification time
Cons:
Highly technical that's why it can be difficult to use for novices
Scanning speed needs improvement over the current estimate of 500 MB/hour
There's no option to preview files
Outdated command-line interface with data command-line prompt
Customer support needs improvement
Pricing:
PhotoRec comes with two recovery modes, namely 'Paranoid' and 'Expert.' Both are free for use.
7. UNDELETE 360.
UNDELETE 360 is a great tool that retrieves and restores accidentally deleted files from your computer, Recycle Bin, digital camera, flash drive, and more.
Its efficient algorithm covers accidental deletions, virus attacks, software, and computer failures.
Best For:
UNDELETE 360 is most suitable for technicians or IT specialists who need to get a lot of work done within a limited time. It's also useful for professionals in specific teams as well as for enterprise-wide deployment.
Key Features:
Entry grading – Whenever you enter a file for recovery, it's graded according to the chance of data recovery.
Excellent filter feature – The filter feature helps you pinpoint the exact location of your files of photos, videos, and word docs.
Pop-up advice – Even if you don't take the initiative, pop-ups request configuration of desired recovery options.
File recovery tools – It helps you open files that are difficult to open and access.
Pros:
It's entirely free for use
Can recover data from hard drives, USBs, floppies, digital cameras, ZIP files, and more
Recover deleted files from Recycle Bin
Recover large files from the Recycle Bin that's directly deleted by Windows
Comes with a blue tone and ribbon-style toolbar
Enables you to view the status of every file under consideration as 'Very good' or 'overwritten'
Recovers a wide range of file types like doc, XLS, PDF, HTML, CSV, JPEG, JPG, PNG, MP3, and more
Supports file systems like NTFS, NTFS5, FAT12, FAT16, and FAT32
Cons:
Manual selection of data to be deleted is difficult
There's no guarantee that you'll be able to access 100% of the recovered data
Customer support should be better
Pricing:
It's entirely free of cost.
8. Remo Recover.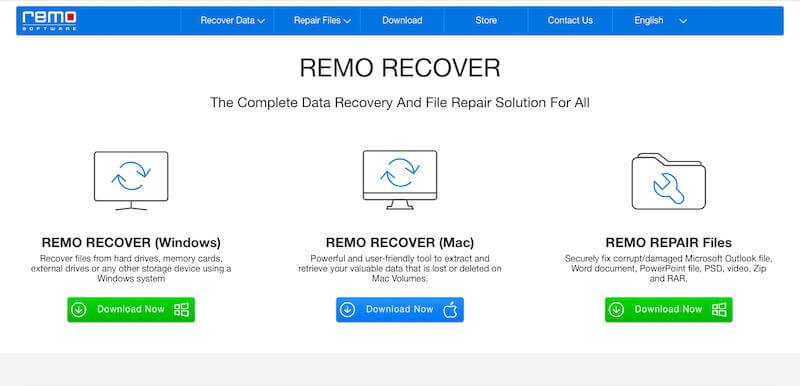 Remo Recover is another outstanding tool on this list, available for both Windows and Mac.
It's capable of retrieving data from a wide range of devices.
Moreover, the interactive interface of the tool helps you recover all the data pretty easily.
Best For:
It's best for IT technicians working in a professional setup. Other than this, it's also suitable for individuals as well as large business enterprises.
Key Features:
Holistic file systems compatibility – It can recover data from file systems like FAT16, FAT32, NTFS, NTFS5, and exFAT
Image disk creation – Helps you create a disk image of your hard disk bypassing the bad sectors.
Multiple array compatibility – Can recover files from formatted/deleted/corrupted partitions from arrays like RAID0, RAID1, and RAID5.
Pros:
Recover data from all kind of hard drives like SATA/SCSI/IDE
Can recognize multiple file types, including photos, audio, and video
Provides fast and efficient customer support
Save and access recovery sessions at a later date
The software is intuitive and decidedly easy to use
Comes with an optiron to preview deleted or lost data
Choose and recover lost files using RAW signature search
Recover files emptied from Recycle Bin
Recover files even after 'Shift + Del'
Recover data from re-partitioned drives for Pro plan users of both OS
Cons:
The basic version should have more features
It can be challenging to locate files after recovery since the files lose names and are assigned numbers instead
Doesn't offer a freemium plan
Pricing:
There are different versions for Windows, Mac, and Android. The plans start from $39.97 and range up to $79.97.
9. Recuva.
Recuva is user-friendly and one of the most affordable data recovery tools on this list. Its focus is on efficiency and faster use, and it can restore any file type.
The good news is that you don't necessarily need to install it, which makes it one of the most flexible options.
However, it runs only on Windows OS.
Best For:
The basic version is great for personal use. The other versions are excellent for use professionally by software engineers and technical consultants.
Key Features:
Deep scan – This feature scours your device for any trace of deleted or lost files.
Secure overwrite feature – Their military-standard deletion techniques ensure that files stay deleted.
Damaged file recovery software – It can recover files from damaged and newly formatted drives. It also allows you to access file previews and access your recovered files
Wizard Recovery mode – Specific mode to help novice users retrieve data.
Pros:
Can recover pictures, music, documents, email, video
Recover data from memory cards, external hard drives, USB drives
Retrieve files from Recycle Bin and after computer crashes
All the paid plans provide automatic updates, virtual hard drive support, and advanced file recovery
Provides a choice between direct installation or downloading a portable one
Offers service in over 30 languages
Create shortcut features like 'scan for deleted files'
Supports file systems like exFAT, FAT12, FAT16, FAT32, NTFS, NTFS5, NTFS + EFS
User-friendly and intuitive user interface
Supports a variety of file types like JPG, JPEG, PDF, GIF, Doc, PPT, PDF, XLS
Offers a free plan, albeit with minimal features
Cons:
It isn't compatible with Mac
Some recoverable file formats may appear unrecoverable in specific instances
The free version offers limited functionalities
Pricing:
The basic software costs 19.95 but you can upgrade to the full suite for an extra $10 and pay $29.95.
10. Jihosoft.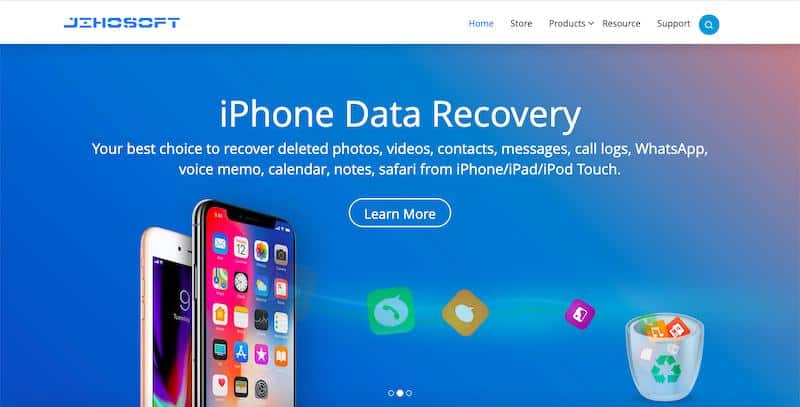 Jihosoft is a data recovery tool compatible only with android devices.
However, it can run on Windows and Mac systems for data retrieval.
Moreover, it supports more than 6000 android phones and tablets and works best in Android OS v2.1 to v9.0.
Best For:
It's apt for smartphone repair and IT technicians who face the problem of data recovery from android systems often. It's also ideal for SMEs, start-ups, and freelancers.
Key Features:
Holistic data retrieval – You can retrieve a wide range of data like contacts, photos, audio, video, call history, Whatsapp, and Viber data.
Scan & preview – Allows you to scan and preview all recoverable files, and selectively recover them.
Multiple data loss scenarios recovery – You can easily recover data in cases of factory reset, malware attacks, and more.
Pros:
You don't require any technical knowledge to get started with Jihosoft
Extremely lightweight and user-friendly
Compatible with all the Android devices
Allows you to preview files before recovery
Supports multiple data formats and files
Can recover data from internal storage and external SD card
Cons:
It can recover data only from working devices
Device rooting is mandatory to use this tool
Scanning and recovery process is time-consuming
Pricing:
There are 2 editions available for use, one for Windows and the other for Mac. They both cost $59.
11. TestDisk.
Just like PhotoRec, TestDisk is also open-source and powerful data recovery software.
It helps you recover lost partitions and make non-booting disks bootable again.
Plus, it can retrieve data quite effectively in case of faulty software, human error, or virus attacks.
Best For:
This tool is suitable for IT technicians, SMEs, and freelancing, particularly due to its open-source nature.
Key Features:
File-system & partition support – You can recover many different file-systems and partition schemes.
Multiple disk partition recognition – Can recognize schemes like Intel Partition Table, Apple Partition Map, Sun Solaris Slice, GUID Partition Table, and more.
Open-source – Ensures the tool has high customizability and is entirely free of cost.
Pros:
Provides support to restore FAT32 boot sector from backup
Allows you to rebuild the boot sector like FAT12, FAT16, and FAT32
You can rebuild the NTFS boot sector and recover it from backup
Enables you to restore files from FAT, exFAT, NTFS, and ext2 file systems
Can copy files from deleted partitions
Easy and efficient partition table recovery
Compatible with a wide range of OS like DOS, Linux, Windows
You can collect information about a non-booting drive and even send it for further analysis
Can recover data from hard drive, USB, memory cards, and more
Support recovery of files in a photo, video, audio, document files types, and more
Runs on all versions of Windows OS
Cons:
Outdated command-line interface with data command-line prompt
Can be difficult for use by novices
Doesn't perform disk editing of the raw disk
Pricing:
Since it's an open-source platform, it's entirely free of cost.
However, you can donate for maintenance and improvements.
12. R Studio.
Enriched by the latest data recovery technologies, R Studio is one of the most comprehensive and advanced data recovery solutions.
Moreover, it's intuitive and user friendly and works as a great weapon against the uncertainty of periodic data loss.
Best For:
It's a bit technical, and a beginner might find it a bit challenging to use. It's more suitable for experts to take care of client data in an enterprise-level environment.
Key Features:
Raw file recovery – Specific retrieval mode for damaged or unknown file systems.
Holistic functionality – Can function in multiple data loss situations and on local and network disks, even if such partitions are formatted, damaged, or deleted.
Flexible parameter settings – It gives you absolute control over data recovery.
Advanced data recovery algorithm – It increases the quality of the file recovery in cases of undamaged files. It also helps you recover files that you can't recognize otherwise in file system metadata.
Integration with DeepSpar Disk Imager – Specifically provides integration with DeepSpar for data recovery from hard drives with hardware issues.
Pros:
Can recover deleted files from Recycle Bin
Recover data deleted due to virus attacks or power outages, and from hard disk with bad sectors
Support for MBR, GPT, BSD, APM (Apple Partition Map) partition schemes
Supports file systems like NTFS, HFS+, ext2/3/4 FS/UFS
Has extended file search and mask capability
Offers unique features like damaged RAID recovery, S.M.A.R.T. monitoring, in-built pro hex editor, and more
Support for Apple software RAIDs, CoreStorage, File Vault, and Fusion Drive
Accurate estimation of recovery of file successfully
Multi-language user interface
Recover files from HD, CD, DVD, floppies, USBs, ZIP drive and more
Cons:
Doesn't offer a pause button
Pricing:
The price for the tool starts from $49.99 and can go up to $899.99.
13. Paragon Software.
Paragon Software is one of the best data recovery solutions available.
It's a holistic tool that helps you keep your data safe from threats and incidents like hardware failure, defective hard disks, system errors, system crashes, ransomware, etc.
Moreover, it's a user-friendly, intuitive tool used by more than 6 million people worldwide.
Best For:
It's an excellent choice for novices just starting their jobs in an SME or start-up. It's good for small-scale as well as large-scale use by seasoned experts who are a bit tight on budget.
Key Features:
Emergency rescue – Create a WinPE recovery environment while starting, in case of any emergency. You can access your PC and hard drives and restore sessions even if Windows isn't booting.
Automated backups – Set and take backups automatically at predefined time intervals.
Instant restoration – You can quickly restore your OS, installed programs, and settings in case of hardware failure.
Disk space management – Allows you to delete old backup images automatically.
Pros:
Provides a great range of automation and selective backup options
Comprehensive encryption
Very easy to download, install, and use
Easy to create partitions of Windows systems
Offers an extensive customer support
Provides an option of incremental backups
Service available in English and Polish
Supports file types like HTML, PDF, CSV, XML, Doc, Text, MP4
Also supports file types like FAT16, FAT32, NTFS, HFS, HFS+, exFAT
Cons:
Doesn't offer a free trial
It isn't compatible with Mac
Doesn't offer phone support
Pricing: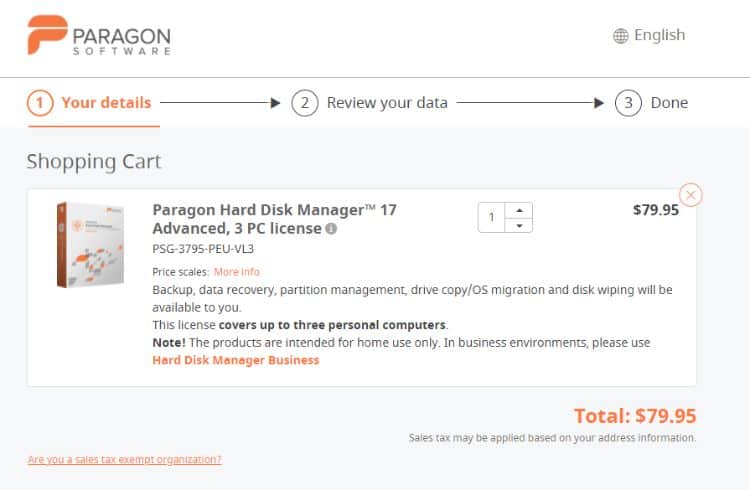 For personal use and for up to three licenses, this software costs $79.95.
For business purposes, you have to use the 'Hard Disk Manager' version.
Note: Other tools not yet on this list include Prosoft Data Rescue 5, MiniTool Power Data Recovery, Wise Data Recovery, and Piriform CCleaner.
What is Data Recovery Software?
To put it simply, data recovery software backs up and restores your data.
These tools are capable of reviewing, identifying, scanning, and extracting usable copies from corrupt, formatted, or deleted data in a reusable form.
Sometimes, data recovery tools can also help you recover information from a system that was a victim of cyber-crime or espionage.
In such cases, in-built mechanisms hide the data which you can no longer access normally. These tools help break down the data encryption to access and retrieve the files.
Most of the data recovery tools also have capabilities to reverse actions like deletion from Recycle Bin and deletion using the 'Shift + del' function.
It takes care of accidental deletions as well.
Due to the prevalent cybersecurity crimes, data recovery tools have now become a necessity rather than a luxury.
Some of the most prominent examples are Disk Drill Data Recovery, EaseUS, and Stellar.
Use Cases Of Data Recovery Software
There are many different use cases for data recovery software.
Some people use it to recover files that have been accidentally deleted, while others use it to retrieve data from damaged or corrupted storage devices.
Additionally, data recovery software can be used to create backups of important files or to copy data from one storage device to another.
No matter what your needs happen to be, there is likely a data recovery solution that will fit your needs.
One common use case for data recovery software is recovering files that have been accidentally deleted.
Maybe you deleted a file from your computer's hard drive, or maybe you deleted a document from your USB drive.
In either case, if the file was important to you, you'll want to be able to get it back. Data recovery software can often undelete files that have been accidentally deleted, allowing you to retrieve them and get back to work.
Another common use case for data recovery software is retrieving data from damaged or corrupted storage devices.
If your hard drive crashes, or if your USB drive becomes corrupted, the data on those devices may become inaccessible.
However, data recovery software can often extract the data from these damaged storage devices, allowing you to get your important files back.
Additionally, data recovery software can be used to create backups of important files. This is especially useful if you have sensitive data that you can't afford to lose.
By creating regular backups with data recovery software, you can ensure that you'll always have a copy of your important files, even if something happens to the originals.
Finally, data recovery software can also be used to copy data from one storage device to another.
This is helpful if you need to migrate data from an old storage device to a new one, or if you need to move data from one computer to another.
Data recovery software makes this process quick and easy, allowing you to get your data where it needs to go without any fuss.
How Do You Use Data Recovery Software?
The use of data recovery software starts with the corruption or deletion of data from a hard disk.
If you fail to take proper care while retrieving data, you may end up losing it forever.
That's why usually, experts handle most data recovery work in business setups.
But how do you use such a tool if you're a novice?
Here are some steps:
Most of these tools offer a limited trial version. It's a great idea to try your hand with free data recovery software or a trial version before making your final purchase.
Test unknown waters with the trial version and try to recover some damaged files.
Try to evaluate the user-friendliness, the dashboard specifics, the speed, interface intuitiveness.
Decide whether the features of the tool align with your business requirements.
If you think that the trial version meets your expectations and is reasonably powerful, you can make the purchase.
If you like the demo version, the chances are that you'll like the paid version too.
What Should You Look for in Data Recovery Software?
What type of data recovery software you want could vary according to your business requirements.
But some of the essential features that you should have are:
Retention of folder hierarchy – The tool should maintain the on-disk folder hierarchy so that you can trace every directory to its original format after completion of recovery.
Search option for a specific file location – This option can help locate a particular file by a simple search, to ease the task of the users.
Arrangement of recovered items by name & size – The option to sort files the way you want can help save precious time and effort. It becomes extremely tedious otherwise.
Retrieve files from empty Recycle Bin – Sometimes, you need to bring back the files deleted from the recycle bin. That's why it's always handy to have this feature in your data recovery software.
Recover data from formatted & raw partition – It can help you against accidental or sometimes intentional formatting and restore all data.
Restore corrupted multimedia files – It enables you to restore corrupted multimedia files like photos, audios, music files, and more in case you need them later.
Other than that, you might also want features like preview options, FAT & NTFS partition recovery, and more.
Best Data Recovery Software – FAQ
How do I know if I need data recovery software?
You should use data recovery software if you have lost or deleted files unintentionally and the files are no longer accessible through Windows Explorer.
You can also use data recovery software to restore files that have been damaged by a virus or other type of malware.
Can I use data recovery software on my Mac?
Yes, most data recovery software is designed to work with both Windows and Mac operating systems.
What type of files can I recover with data recovery software?
You can usually recover most types of files with data recovery software. However, the specific file types that are supported will vary depending on the software you are using.
What should I do if my computer will not start?
If your computer will not start, you will need to use a bootable CD or USB drive to start the data recovery software. Some data recovery software can also be installed on a separate computer and used to recover files from a damaged or non-functional computer.
What should I do if I cannot find my files?
If you cannot find your files, you can use the search feature in the data recovery software to help locate them. You can also try using the file preview feature to view the contents of the files before recovering them.
Executive Summary.
To fight against cyber-criminals and those with malicious intent, data recovery tools are more important now than ever.
And there are plenty of data recovery tools to choose from.
However, it's essential that you choose according to your business needs and keep your budget in mind.
For instance, if you require a tool for personal use and don't want to spend much, then you can try out a free option like PhotoRec or TestDisk.
And if you need a more feature-rich tool like Stellar or EaseUS, sign up for a trial and get started today.
In the end, choose the tool that aligns the best with your business requirements, personal preferences, and database software.
Disclosure: I may receive affiliate compensation for some of the links below at no cost to you if you decide to purchase a paid plan. You can read our affiliate disclosure in our privacy policy. This site is not intending to provide financial advice. This is for entertainment only.