7 Best Defi Platforms of 2023 (Ranked and Compared)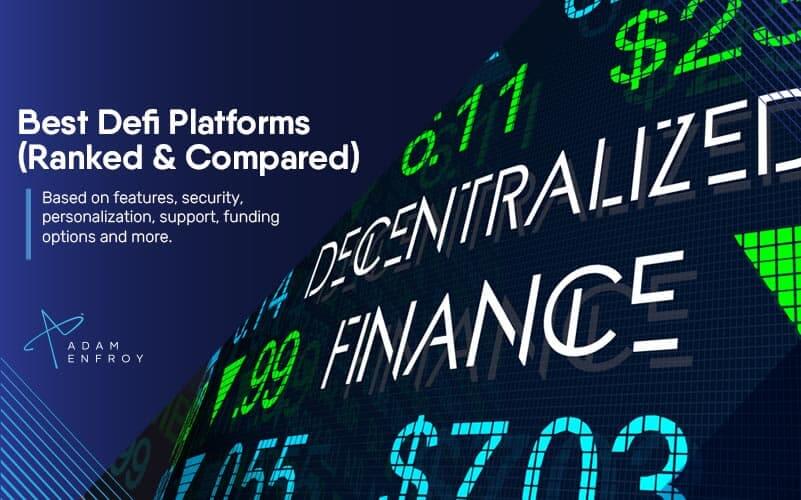 Defi stands for "decentralized finance" and is a broad term that refers to the various ways crypto assets and protocols can be used to create financial products and services.
These items don't rely on traditional financial intermediaries like banks or investment firms.
With wallets, traders can hold and manage their digital assets, whereas decentralized exchanges (DEXes) also provide a venue for peer-to-peer lending and trading.
For example, Ethereum wallets can be used to hold ETH and other ERC20 tokens.
NFT wallets, on the other hand, can be used to store and trade non-fungible tokens (NFTs), including items of value in games, art, and other applications.
That said, not all Defi platforms are created equally.
In this article, I'll share the best Defi platforms, ranked and compared with the best first, so you can decide which is the right choice for you.
Let's dive deep into this topic.
What Are The Best Defi Platforms?
The following are the best Defi platforms to consider right now.
1. Kraken.
Best Overall Defi Platform.
In just a few clicks and as little as $10, Kraken makes it easy to sign up and easily buy up to 100+ different cryptocurrencies.
Kraken also supports staking, meaning you can earn rewards by holding your digital assets on the platform.
The process is also very straightforward as there are only three steps: create an account, connect it with your funding method and start buying digital assets.
With a low latency API, you can also trade with high frequency, which is excellent for executing immediate buys.
Key Features:
Education is provided on the platform, allowing you to learn about the different digital assets and how to trade them.
The customer service is responsive and helpful, providing 24/7 support in multiple languages.
You can also earn rewards through Kraken tokens (KRW) by staking your digital assets on the platform.
Kraken has low spreads, deep market liquidity, and advanced features like margin and futures trading, so there's always more to try as your knowledge improves.
User Experience:
Using a step-by-step process, Kraken makes it easy for first-time buyers to buy crypto.
The process is simple, fast, and straightforward.
Overall, the experience is quite positive.
What I Like/Dislike About Kraken
Like:
A wide range of tokens on offer ensures there is something for everyone.
Accessible account setup makes it so even first-time buyers can get started quickly.
Dislike:
While an account is easy to set up, there is a slight learning curve to more advanced buying, so it may not be the best platform for those that consider themselves super green to crypto.
Product Updates:
Automated block trade quotes can now be requested and accepted in an easier fashion.
2. Nexo.
Best For Maximizing Crypto Investments.
Nexo not only allows you to buy and sell digital assets but also allows you to earn interest on your digital assets by lending them out.
With Nexo, you can earn up to 18% of interest per year on your digital assets.
This is paid out daily, so you won't have to wait long to start earning such interest.
With the ability to borrow from as many as 39 digital assets, including popular ones such as BTC, ETH, XRP, and ADA, Nexo has one of the widest selections of digital assets to choose from.
You can also add or withdraw funds at any time without having to sell your digital assets.
In addition to all this, Nexo offers a card that you can use as your spending method.
The Nexo card lets you spend your assets directly so you can use them in your everyday life.
Key Features:
Accepted by 40+ million merchants worldwide, you will never have an issue using your Nexo card to spend your assets.
Nexo offers a 2% cashback on all purchases, instantly paid out, making it one of the most rewarding cards available.
Flexible repayment options mean you can choose how and when you want to repay any loans you take.
Free virtual cards ensure that no matter where you are in the world, you will always have access to your Nexo card.
Payments in local currencies mean you won't have to worry about conversion rates.
Military-grade security and third-party audits mean your digital assets are always safe.
User Experience:
The user experience is quite good using both the desktop and mobile apps.
The interface is simple and easy to understand, making it an excellent platform for first-time buyers and experienced users.
What I Like/Dislike About Nexo
Like:
Close to 40 cryptocurrencies are available to buy and hold.
The website and mobile apps work well on both desktop and mobile devices.
Dislike:
Compared to other platforms, there are fewer educational resources available.
Product Updates:
New changes to the balance limits and yields for Ethereum, Bitcoin, Paxos Gold, and more coins.
3. Coinbase.
Best For Ease Of Use.
Coinbase is one platform that requires little introduction when starting your Defi journey.
With a user-friendly interface, Coinbase makes buying your first digital asset super simple for beginners and those with more experience.
The platform also has an excellent educational section that provides concise and easy-to-understand guides on the different digital assets available and how to buy them.
You can schedule your buys at preset intervals so you can dollar-cost average your way into a position.
There's also a vault equipped with time-delayed withdrawals, ensuring that your digital assets are always safe.
Coinbase also has a mobile app that makes buying and selling digital assets super convenient.
With the app being available for Android or iOS devices, you can use Coinbase no matter where you are.
Key Features:
Secure storage ensures all your digital assets are always safe.
Coinbase is also insured, so you can rest assured knowing your digital assets are protected.
You can get started in just a few minutes, making it a platform that's quick to get up and running on.
User Experience:
The ability to visually see what's happening with your money is excellent, and Coinbase caters to various coins that users are interested in.
You can also use the mobile app for on-the-go trading.
What I Like/Dislike About Coinbase
Like:
Easy-to-use and understand menu options allow you to quickly find what you're looking for.
A diverse range of options makes it a one-stop shop as a Defi platform.
Dislike:
Support is not the best, with delays in response sometimes occurring.
Product Updates:
The platform added new coins that include ApeCoin (APE), Bluezelle ($BLZ), and Gala (GALA).
4. Defi Swap.
Best For Farming Defi Coins.
Defi Swap is a great place to swap and farm the Defi coin of choice.
With a wide range of digital assets available, you can find the right one for you to farm.
Swap fee sharing ensures that you always have some skin in the game, and with a comprehensive staking program, you can maximize your returns.
Defi Swap also has an extensive resource section that provides users with all the information they need to get started.
The ability to become a Liquidity Provider and start farming using any mobile wallet you want is also a great feature.
Key Features:
Secure storage ensures all your digital assets are always safe.
Being part of Crypto.com, it's an insured platform, so you can rest assured knowing your digital assets are protected.
There's no lengthy process to get going, so you can be up and running in a few short moments.
User Experience:
The process of exchanging one currency for another is quite simple.
The interface could be a bit more user-friendly, but overall it's a positive experience as your goals will likely be met in terms of getting the job done.
What I Like/Dislike About Defi Swap
Like:
The platform provides a user-friendly and safe space for those new to decentralized finance.
You can sell and buy tokens quickly without relying on a third party, so it's great for those looking for specific privacy.
Dislike:
To access some of the features, you need to have your crypto wallet stored on the same device you're using, which can be a bit of an inconvenience.
5. Aqru.
Best For Having An Experienced Investment Team.
Aqru is another platform that allows you to earn interest on your digital assets.
Offering up to 7% interest on crypto you transfer, hold or buy with a credit card, Aqru goes one step further than other platforms in this industry.
Having an investment team with tons of experience is reassuring for new and experienced investors alike.
You can always be on top of your game with a comprehensive educational section.
Your digital assets will always be safe with high-quality encryption covering everything you do on the platform.
Key Features:
Bank-level security ensures that your digital assets are well-protected.
The highest rates on balances of any size ensure you consistently earn interest on your money.
Super fast funding means that you can get started quickly and easily.
Interest is paid on the whole of your balance, so you never miss out on any earnings.
User Experience:
With big visually-appealing buttons that help you move around the platform, Aqru is excellent for those who want a user-friendly interface to help guide their investment.
Once you verify your identity, finding and buying the crypto you're looking for is also quite simple.
What I Like/Dislike About Aqru
Like:
Aqru is suitable for generating interest on your idle crypto investments.
The mobile app is excellent and works well to buy/sell on the go.
Dislike:
Not a ton of variety when it comes to coins, so if you're looking to invest in something specific, this might not be the platform for you.
Product Updates:
The platform launched a new app to help educate people on crytpocurrency.
6. Binance.
Best For Crypto Variety.
One of the most commonly known and used exchanges, Binance is excellent for those looking to buy/sell various digital assets.
Offering more than 600+ cryptocurrencies, Binance is an excellent choice if you want to diversify your portfolio.
Fees are also relatively low, so you don't have to worry about losing too much of your investment to transaction costs.
You can also use different payment methods to buy crypto, so you're not limited to just using Fiat currency.
With personalized access control helping to protect all its users, Binance is a great Defi platform that ensures the safety of your assets.
Key Features:
Secure asset fund for users (SAFU) to ensure that your money is always protected.
Personalized access control means you have complete control over who can access your account and what they can do.
Advanced-data encryption ensures that your data is always safe and secure.
24/7 chat support means that you can always get help if you need it.
FAQs are always available so that you can find answers to your questions quickly and easily.
7. YouHodler.
Best For Crypto-Backed Loans.
YouHodler offers excellent rates for those looking to take out a loan with crypto as collateral.
With loans offered in currencies such as USD, GBP, EUR, and more, and digital currencies such as Bitcoin (BTC), CHF, and Tether (USDT), YouHodler offers great flexible terms.
On the flip side, you can earn up to 15.01% APY rates on your idle crypto investments.
If you want a platform that allows you to safely hold your digital assets in a wallet and make the most out of it simultaneously, YouHodler is an excellent choice.
With a universal conversion to stablecoins, crypto, and Fiat, you won't have to worry about losing out on any earnings.
Key Features:
With increased loan-to-value earnings, you can have loan amounts of up to 90% of the collateral value.
You can extend the price down limit, which is the price you would have to repay the loan.
You can manage the loan duration to fit your needs when taking a loan.
Users can also set the take profit price, the price at which you would like to sell your collateral to profit from market changes.
Other Defi platforms not mentioned in this article include Aave, Uniswap, Makerdao, SushiSwap, and Yearn.finance.
What are Defi Platforms?
A Defi platform is a decentralized finance platform that allows users to interact with each other without the need for a central authority.
Sometimes known as a Defi swap platform, such a platform offers a way for users to access financial services in a decentralized manner.
Using Defi tokens, smart contracts, and other decentralized technology, Defi platforms provide a way for users to take part in the financial system without having to go through traditional channels.
Defi platforms are built on blockchain technology and offer a wide range of financial services, including but not limited to crypto lending, borrowing, investing, and trading.
With the ability to swap tokens, trade assets, and take out loans using the Defi lending protocol, users of Defi platforms have much power and control over their finances.
Features Of An Excellent Defi Platform
The following is a list of features that an excellent Defi platform should have.
Smart Contracts
While traditional finance is based on paper contracts, Defi platforms use smart contracts to enforce the terms of a loan or other financial agreement.
Smart contracts are computer programs that run on blockchain networks and can automatically execute the terms of an agreement.
Defi protocols use smart contracts to enforce the terms of a loan, such as the interest rate, loan duration, and collateral.
This means that loans on Defi platforms are much more secure than traditional loans, as there is no need for a third party to enforce the terms of the loan.
This happens since the defi industry is based on an automated market maker (AMM) principle, which forms part of the decentralized exchanges (DEX) ecosystem.
An AMM is a smart contract that allows users to buy and sell assets without needing a centralized exchange.
Using an AMM, defi platforms can offer a decentralized exchange service that is much cheaper and faster than traditional exchanges.
Liquidity pools
Liquidity providers (LPs) are users who deposit their assets into a liquidity pool to earn interest.
Liquidity pools are used to provide liquidity for trading pairs on decentralized exchanges.
A Defi swap exchange will use liquidity pools to offer users the ability to trade a wide range of assets without needing a centralized exchange.
Investment Advice
While you should always do your research, an excellent defi platform should offer investment advice service.
This could be in the form of a blog, vlog, or even a telegram group.
Some of the best Defi projects offer a wide range of investment services, such as market analysis, portfolio management, and tax advice.
Security
Defi platforms are built on blockchain technology and are much more secure than traditional finance.
This means that it is essential to choose a platform that has a good reputation and is known for its security.
The best way to find out about a platform's security is to look for reviews from other users.
In addition, an excellent platform should have a bug bounty program to incentivize users to report any security vulnerabilities.
User-Friendly Interface
Finding your way around a Defi platform can be daunting, especially if you are new to the space.
This is why it is essential to choose a platform with a user-friendly interface.
The best platforms will have an intuitive design that makes it easy to find your way around.
In addition, they will offer customer support in case you need any help.
Benefits Of Investing With Defi Platforms
Now that I've looked at some of the features of a great Defi platform, let's take a look at some of the benefits of investing with them.
Higher Returns.
Defi crypto coins offer higher returns than traditional investments, such as stocks and bonds.
This is because they are much riskier investments with volatility involved, but the potential rewards are much higher.
With traditional investments, such as stocks and bonds, you will only earn the interest paid out by the company.
With Defi platforms, you can earn interest on your investment and on the interest already paid out.
In addition, you can earn a passive income from your investments with compound interest.
Access To A Broader Range Of Assets.
A defi swap website will offer a broader range of assets compared to a traditional exchange.
This is because there is no need for a centralized authority to list the assets.
With Defi platforms, you can trade various assets, such as cryptocurrency, equities, and commodities.
Since the Ethereum blockchain supports a wide range of assets, the possibilities are endless.
Increased Liquidity.
A defi project is typically more liquid than a traditional investment as there is no need for a centralized authority to match buyers and sellers.
The crypto market is also open 24/7, so you can trade whenever is best for you.
With many Dapps available, you can also trade directly with other users.
More Transparency.
Having a Defi ecosystem built on blockchain technology means a lot of transparency is in place.
All transactions are recorded on the blockchain, so you can see exactly what is happening.
Interest rates are also transparent, so you know exactly how much you will earn on your investment.
Since a lending platform built on the Ethereum blockchain will have all the interest rates available, you can compare different lending platforms to find the best interest rate.
Lower Fees.
Financial services tend to have high fees, but this is not the case with Defi platforms.
Because there is no need for a centralized authority, the fees are much lower.
Some platforms also have their native token, which can be used to pay any generated fees, so you don't have to convert your Fiat currency into cryptocurrency.
Greater Security.
While some platforms are open-source and allow anyone to view their source code, others have implemented security measures to have a closed-off platform that protects user funds.
This is great to see, as users should be assured that their assets are well-protected.
Community-Driven Governance Model.
Defi applications are fundamentally different from traditional financial applications in that the community governs them.
This means that the platform is not controlled by a central authority but rather by the community of users.
The community can vote on decisions that affect the platform, such as listing new assets or changing the interest rates.
The community also decides the functionality of the platform.
For example, the community can decide to add new features or change the user interface.
The concept of a governance token also gives users a say in how the decentralized platform is run.
Decentralized Exchanges.
With a huge market cap, decentralized crypto exchanges are one of the most popular types of Defi applications.
This goes back to platforms allowing users to trade cryptocurrency without needing a central authority.
Similarly, trading fees on Defi platforms are often much lower than traditional financial platforms because intermediaries are not needed.
For example, when you trade on a centralized cryptocurrency exchange, the platform will take a fee for each transaction.
However, the platform is not involved in the transaction on a decentralized exchange.
24/7 Markets
Lenders, borrowers, and investors can take advantage of the 24/7 markets that Defi platforms offer.
With traditional financial institutions, you are limited by their operating hours.
However, with Defi platforms, you can trade whenever you want.
Best Defi Platforms – FAQ
What Are Some Of The Most Popular Defi Coins?
There are various defi coins with different use cases.
These include DAI, which is a stablecoin that is pegged to the US dollar (USDC), and LEND, which is the native token of the EthLend platform.
Other popular defi coins include WBTC, a wrapped version of Bitcoin on the Ethereum network, and Maker (MKR), the governance token of the MakerDAO platform.
What Is Yield Farming?
As token holders, yield farming is the process of earning interest on cryptocurrency holdings.
One can do this by lending crypto to another user or providing liquidity to a decentralized exchange.
What Is The Binance Smart Chain?
The Binance smart chain is a blockchain compatible with the Ethereum Virtual Machine (EVM).
The latter is designed to provide high performance and security, allowing any smart contract to be ported to the Binance Smart Chain.
This is what initially made the Binance Smart Chain so popular.
What Are Derivatives In Crypto?
Derivatives are financial instruments that derive their value from an underlying asset.
These assets can include currencies, commodities, and even other cryptocurrencies in cryptocurrency.
Wrap Up
Knowing which Defi platform is best for your needs will require some research.
You need to consider factors such as the type of asset you want to trade, the transaction fees you are willing to pay, and the level of security you require.
The platforms listed above are all popular choices that offer a variety of features and are a great place to start your journey into the world of Defi.
Which platform you ultimately choose will depend on your individual needs and preferences.
Have you used any of the platforms listed above?
What was your experience like?
Let me know in the comments below.
Further reading on AdamEnfroy.com: Knowing how to buy NFTs along with the best NFT marketplaces to consider is critical for investors in today's digital world.
In addition, if you want access to the best crypto credit cards that allow you to spend your cryptocurrency, check out my list above.
Finally, if you want to learn how to mine bitcoin using the right tools, check out the best bitcoin mining software available to get started with this process.
Disclosure: I may receive affiliate compensation for some of the links below at no cost to you if you decide to purchase a paid plan. You can read our affiliate disclosure in our privacy policy. This site is not intending to provide financial advice. This is for entertainment only.