7 Best Direct Mail Services of 2023 (Ranked and Reviewed)
Choosing the right direct mail service is vitally important to your business. From ensuring your message is seen by the right people to getting your materials printed and delivered on time, the best direct mail service can help you meet your goals. In this guide, I ranked and reviewed the 7 best direct mail services, along with my top 5 choices, so that you can pick the best one for you.
---
We're reader-supported. When you buy through links on our site, we may earn an affiliate commission.
Want to jump right to my top picks? The best direct mail services are Gunderson Direct and PostcardMania.
Believe it or not, a direct mail campaign is still an effective and affordable marketing strategy. Through direct mail campaigns, you can target a local audience, generate leads, drive sales, and engage with new and existing customers.
To succeed in the direct mail marketing space, you need to use a dedicated direct mail service.
These are businesses that let you create, design, and deliver marketing content directly to your prospect's mailboxes.
Impressively, direct mail has up to 90% open-rates, which is actually way higher than traditional email marketing.
Let's get started.
What Are the Best Direct Mail Services?
Here are my choices for the best direct mail service to use this year.
Best for Turnkey Direct Mail Marketing.
Adam's Take
Gunderson Direct provides the best overall value for your money and is my top pick for the best direct mail service. Gunderson Direct should be your go-to choice if you want the most bang for your buck.
Gunderson Direct is one of the best direct mail companies you can go with and offers a turnkey solution for direct mail marketing. It's been in business for over 15 years and has cemented a place as one of the US's largest direct mail marketing agencies.
The company drives business for national as well as international brands, such as PayPal and ZipRecruiter. Gunderson employs some of the best marketing minds and helps you get the most value out of your marketing campaigns.
Since it's a full-service agency, the experts there take care of everything you need to send successful bulk mail to your list. They also provide you with detailed reporting and analytics that can help your small business create high-quality mailers.
Features:
Working with Gunderson Direct, you get access to a talent pool that has successfully sent over 1.5 billion mailers. Through its strategic partnership and expertise, Gunderson follows a continuous iteration mailing process for achieving improvement.
Some significant features of the service include:
Proven expertise that delivers sustainable results and greater return on investment (ROI)
High-quality creatives based on a deeper understanding of the brand as well as audiences
Quick turnaround times that allow you to scale up direct mail campaigns with ease
Mailing formats that provide the most postage savings
Detailed data analytics focused on performance
Close to 100% client satisfaction
Pricing: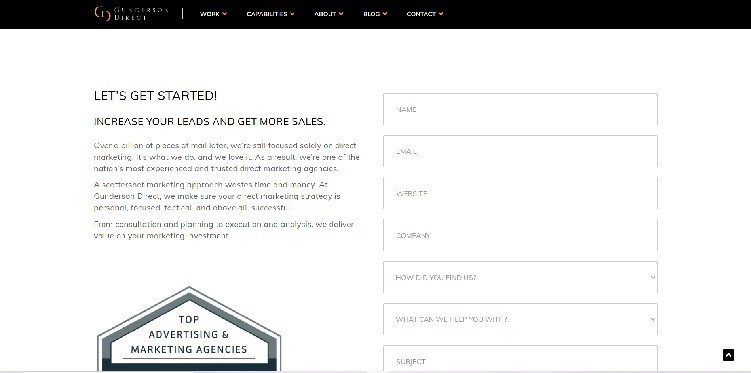 Gunderson Direct offers custom quotes for small businesses as well as enterprises. In case you require a custom quote for your company's direct mailing campaigns, you need to fill out the company contact form.
Here you'll need to input some necessary details about your business, along with a bit of personal information. You'll be provided a quote, along with a subscription to a newsletter that provides you with interesting direct mail marketing facts.
Best For DIY Direct Mail Marketing Campaigns.
Adam's Take
MailShark provides a tailor-made digital marketing solution for businesses of all sizes. Their marketing experts will work with you to create a custom plan that fits your budget and meets your specific needs.
If you're looking for a tailor-made digital marketing solution or want to go the DIY route, MailShark is your best bet.
The service provides affordable EDDM solutions for any DIY marketing campaign.
In case you're looking for a full-service agency that takes care of everything from design to printing and mailing, MailShark can take care of that. And if you just need promotional materials printed and delivered to your own address, it has got you covered as well.
MailShark offers its design services for free, and has flexible payment plans that make it a boon for small businesses working on a tight budget. Plus, it has a world-class support team to help you out in case of trouble.
Features:
MailShark likes to operate as an extension of your in-house marketing team. They've been in business for over a decade and serve a vast number of industries.
Some of the significant industries that they cater to are:
Food and hospitality industry
Automotive industry
Health and wellness industry
Construction and home services industry
Professional services such as law firms and insurance agencies
Retail stores
Entertainment and recreation industry
Here's a list of the services that the company provides:
Targeted direct mailing
Saturation mailing lists
Every Door Direct Mail via the USPS
New mover mailing program
Direct mail printing and design
Apart from the above, it also provides several products such as postcards and postcard magnets, plastic postcards, flyers, and even door hangers. In short, MailShark can take care of all your direct mail marketing efforts.
Pricing: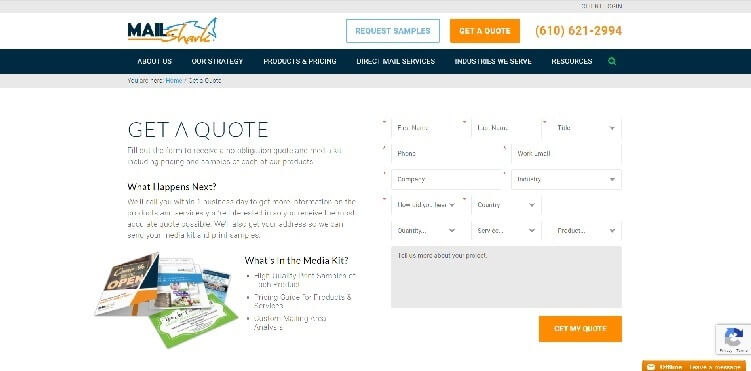 MailShark pricing plans depend on the services and products that you choose to go with. For a custom pricing estimate, you can fill out the contact form to receive a no-obligation quote. You also get a media kit with detailed pricing and product samples.
Best For All-In-One Direct Mail Solutions.
Adam's Take
Initially known for creating business cards, Vistaprint now offers a wide range of marketing products and services for small businesses. This includes direct mail services, so it's a great option if you're looking for a one-stop-shop solution.
Vistaprint is known as a business card creator, but it also provides a great direct mail marketing solution.
It provides businesses with over 4000 templates and an in-house design team that makes the task easier and more cost-effective direct mail campaign for small businesses.
One of the unique aspects of Vistaprint is that it doesn't need you to sign any contracts. Also, no payments are needed before the campaign launches. Such a policy gives profound relief to those businesses operating on tight budgets.
Its postcard mailing service is eye-catching, and the service creates these postcards for you from scratch. You can even make the designs yourself, send in your mailing list, and the experts take care of the rest.
In case you don't have a suitable mailing list, Vistaprint even offers you the option to buy targeted mailing lists. These lists are highly targeted, based on demographic data and target both businesses as well as regular consumers.
Features:
The following are some of the features of Vistaprint that I like:
Faster turnaround times
Dual printing facilities
Dedicated in-house design team
Over 4000 free templates
Targeted, demographic mailing lists
Simple drag-and-drop postcard designing platform
24-hour customer service
With so many features, Vistaprint is a first-class player in this segment. The only downside is that it provides direct mail service for only postcards. In case you want to send other printed products, you need to arrange for the delivery yourself.
Pricing:
As with the previous services, Vistaprint's pricing plans vary according to the services you opt for. Its direct mail page has a handy price calculator that lets small businesses get an idea of their direct mail marketing costs.
4. NextDayFlyers.
Best For Faster Turnaround Times.
Adam's Take
NextDayFlyers delivers high-quality prints at an affordable price, making it a great option for small businesses on a budget. It also provides next-day delivery on most orders.
NextDayFlyers lives up to its name by providing the fastest delivery times, often within one or two business days.
It has a diverse range of products on offer, and the high quality of service has made it one of the widely used direct mail services.
Another unique feature of NextDayFlyers is that they allow the largest number of mailers for a campaign, up to 100,000. The massive number of mailers makes it the perfect service for high-volume needs.
The following are some of the items you can send using NextDayFlyers:
Brochures
Postcards
Custom-made products
Mail rack cards
The service even takes care to store inventory, verify all addresses, presort products and then send them. I also like how the platform is easy to navigate. You can design your products directly on the website or even upload your own designs.
Features:
The most significant feature of NextDayFlyers is that it provides next business day deliveries. You'll have to shell out extra for this advantage, but believe me, it's worth the price, especially if you're looking at running time-sensitive campaigns.
Apart from the above, the following are notable features:
Production facilities on two coasts, New Jersey as well as California
Highly flexible shipping options
Largest available volume per campaign
In-house postal services with a multi-tier pricing model
Affordable graphic design services
Targeted mailing lists available for purchase
All the above features make NextDayFlyers one of my top choices for mailpiece marketing.
Pricing:
NextDayFlyers offers a transparent pricing list based on the products and services you choose. You will be able to get immediate quotes based on the options that you choose as you build your order.
5. Cactus Mailing.
Best For Sending Brochures.
Adam's Take
I like Cactus Mailing as it uses a combination of old-school marketing methods with new technology that can help you save time and money while still getting your message in front of potential customers.
Cactus Mailing is a direct mail company that offers the concept of "Smart Marketing."
With this feature, the service combines direct mail marketing materials with digital marketing tools such as Google display ads and landing pages.
The service is simple to use and has helped multiple small businesses increase ROI. It has provided help to over 17,000 businesses and continues to grow. Using their marketing experts, your business can increase brand awareness and boost sales.
Apart from "Smart Marketing," it offers services such as direct mail postcards and mailpiece design. It also provides targeted mailing lists for businesses, which help to fast-track their marketing strategy.
The highlight of the service is its direct mail brochures. The company provides expert printing services for promotional brochures. As a result it's often the first choice of multiple establishments such as restaurants, retail, and real estate businesses.
Features:
A most mentionable feature of Cactus Mailing is that it offers great discounts if you're opting for a combined service. It even provides a no-obligation direct mail marketing plan at no cost to you.
Some of the other features of this service are as follows:
Combined direct mail and digital marketing services
Budget-friendly campaigns that deliver results
Services across a wide range of industries
Nation-wide presence
Multiple forms, resources, and design aids
You can also upload custom design files and mailing lists for a specific piece of mail you want to send. Keep in mind that the combined size of these files should be less than 30MB. In case you're sending large files, you'll have to upload them in multiple sessions.
Pricing: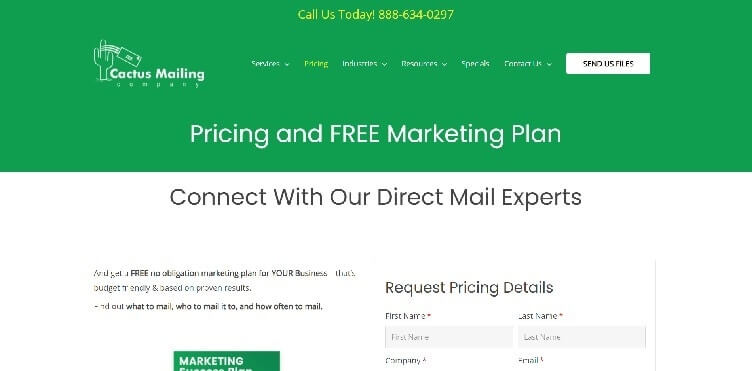 For pricing plans, Cactus Mailing offers custom quotes on request. It provides a handy calculator tool that lets you calculate the ROI. When requesting a quote, you also get a free marketing plan for your business.
6. PrintingForLess.
Best For EDDM Services.
PrintingForLess is ideal for EDDM campaigns and is the world's oldest online printing shop which started operations way back in 1996.
This experience reflects in its service offering multiple printed products along with complete direct mail marketing.
It offers many tools such as direct mail marketing tips and design templates for printed materials. It allows you to integrate the service with marketing platforms and even provide web-to-print services.
Features:
PrintingForLess offers complete refunds in case of any delays in delivering your mailers. The reimbursement clause helps to eliminate a lot of the anxiety that usually accompanies large orders.
Apart from the above, you can also take advantage of the following features:
Personalized services within measurable timelines
Advanced, high-volume manufacturing services
Dedicated teams of trained experts
Extreme ease-of-use and convenience
Customized products
Risk-free printing services
Whether it's banners, business cards, or even packaging, PrintingForLess can help you get the job done.
Pricing: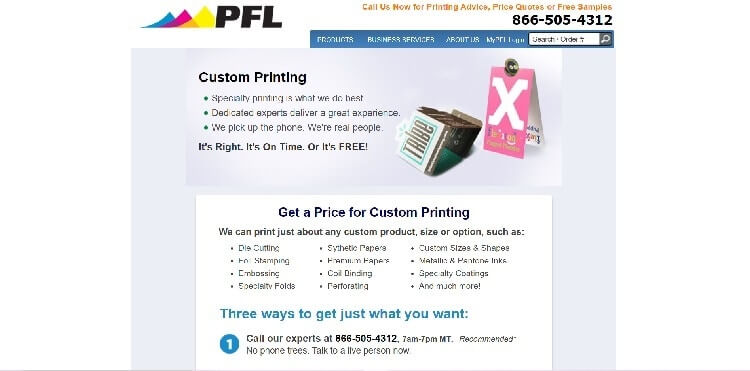 As I've already mentioned, getting a custom quote from PrintingForLess is very easy. You can call the service using the dedicated phone number. It promises you direct customer support and not any phone-tree based jargon.
In case you're looking to attach project details, you can also email them. Remember to attach any project specifications and artwork along with the mail. For faster processing, fill-in the contact form on the company website and upload project documents.
Usually, the service experts get back to you within a few hours. They also take care not to share your personal information with spammers.
Currently, over 200,000 businesses depend on PrintingForLess for their EDDM needs.
7. SaasMQL.
Best For SaaS Businesses.
SaasMQL is a bit different from the other direct mail companies that offer messaging services on my list.
It's a specialized service that helps SaaS businesses reach out to potential customers. The company focuses on account-based demand generation and is a top choice in this industry.
It might come as a surprise to use direct mail for generating SaaS leads. But SaasMQL provides a new approach to lead generation for SaaS businesses. They use direct mail marketing and reach out to B2B prospects for generating leads.
Their approach is unique in that they send packages to potential customers for marketing. The advantage of this is that while people might overlook letters in the mail, a package makes a better impression.
Features:
Apart from direct mail, the company also provides you with other features such as detailed analytics from multiple channels.
Following are features of SaasMQL:
Customer profile-based account matching
Integrated campaigns that combine direct mail and digital marketing
Scalable analytics and attribution
Intent-based demand generation
Detailed customer support resources
Pricing:
SaasMQL's services are divided across the following two plans:
SaaS Target, which is suitable for startups looking for predictable leads every month
SaaS Scale, which helps companies engage customers across multiple channels
For getting a detailed quote, you can fill in the corresponding form on the website and book an intro call. You can even engage with the company across multiple social media channels such as LinkedIn and Facebook.
What Should You Consider When Selecting the Best Direct Mail Services?
Currently, the direct mail marketing industry is worth over $44 billion. From that figure, you can understand that there are a large number of businesses in the sector. Selecting the best one among them is tough.
To make matters more manageable for you, I've compiled a list of some of the factors you should consider when selecting a direct mail service. Follow this methodology to select the best service for your small business.
1. Look into Company Experience
In the direct mail marketing industry, experience matters. When selecting a service, make sure it has enough experience working with the United States Postal Service. It should also be able to fulfil large volume orders and offer attractive postage rates.
2. Check the Turnaround Time
For any direct mail marketing campaign, the response rate is a direct function of the campaign turnaround time. It just isn't viable if your mailers reach the target audience after the promotion or offer has expired.
To ensure that your campaigns are on-time, get a good idea of the turnaround times of the service you're selecting. NextDayFlyers is a good option if you're agreeable to paying extra. Otherwise, opt for a service like PrintingForLess that provides a reimbursement guarantee.
3. Look for Dedicated Mailing Lists
Running a direct mail campaign is not possible without targeted mailing lists. In case your business has enough contacts, you don't need to worry about this. Otherwise, select a direct mail marketing service that offers mailing lists as part of their package.
You might have to pay extra for the mailing lists, but believe me, it's worth it. Direct mail marketing service providers have targeted lists on hand that can help streamline the marketing process.
When looking at mailing lists, quality is the one aspect to focus on. Many businesses provide lists based on demographic data. Such lists allow better audience segmentation and hence better customization.
4. Variety of Products
Your business needs will determine the kind of mailer you're sending. In one case you might make do with a flyer, while in others you might have to send brochures and catalogs. It's better to select a service that provides all kinds of products in print.
Another aspect to look for here is whether the service just prints the products or provides direct mailing services. You'll have to arrange to get the items mailed through the post office in the former case.
5. Customization Options
Whether it's a letterhead or brochures, customization is key to direct mail marketing success. Most direct mail advertising services offer design services and industry-based templates, while others accept custom postcard designs.
In case you have an in-house design team, verify whether your service of choice accepts custom designs. And if you're going for design services as well, ask for industry-specific samples to get a feel of the kind of designs they offer.
Direct Mail FAQs.
What are the different types of mailers that can be sent by direct mail marketing services?
Direct mail marketing services usually offer a wide variety of mailers, such as postcards, brochures, catalogs, flyers, and booklets. Other direct mail services also offer promotional products, video mailers, and more.
Does direct mail marketing have a good response rate?
A successful direct mail marketing campaign is one that gets more customers and sales. Each campaign is unique in its own right, and recent figures suggest that direct mail marketing has a response rate between 5% and 9%.
Is there a difference between EDDM and direct mail?
The difference between EDDM and Direct Mail is that Direct Mail targets particular recipients based on demographics. In contrast, EDDM targets all homes in a particular area and doesn't provide such granular targeting. EDDM is also more affordable than direct mail.
Summary
Direct mail marketing is one of the oldest marketing methods out there. Even in today's digital age, direct mailers can get customers through the doors just like any new digital marketing method, even better in some cases.
If your business needs a direct mail service, here are the top contenders you can select from:
Whatever your needs, I'm sure you'll be able to find a suitable direct mail service from the list above.
Disclosure: I may receive affiliate compensation for some of the links below at no cost to you if you decide to purchase a paid plan. You can read our affiliate disclosure in our privacy policy. This site is not intending to provide financial advice. This is for entertainment only.