7 Best EDI Software of 2023: Reviews, Pricing, and Top Picks
Choosing the right EDI software is vitally important to your business. From automating your processes to ensuring compliance, the best EDI software can help you meet your goals. In this guide, I ranked and reviewed the 7 best EDI software, so that you can pick the best one for you.
---
We're reader-supported. When you buy through links on our site, we may earn an affiliate commission.
Want to jump straight to my top picks? The best electronic data interchange (EDI) software are Cleo Integration Cloud and SPS Commerce Fulfillment.
EDI software is a type of database software that provides a secure connection between two or more remote desktops.
Unlike ERP software, which controls the flow of information through all business functions, EDI simply transmits business documents between different organizations.
The global EDI market is expected to be worth $6 billion by 2025 with no signs of slowing down.
The best tools provide a 100% secure data exchange, document management, and also provide project management tools to automate the entire process.
Let's get right to the list.
What is the Best EDI Software?
Here's a list of the best EDI (Electronic Data Interchange) software to use this year.
Best overall EDI (Electronic Data Interchange) software (Quote-based).
Adam's Take
If you're looking for the best overall EDI Software, Cleo Integration Cloud is my top pick. It's a comprehensive platform that helps businesses automate their supply chain processes and manage their ecosystem of trading partners.
Cleo Integration Cloud is a cloud-based EDI (Electronic Data Interchange) software that connects businesses and helps you achieve end-to-end ecosystem integration. It provides pre-designed templates, connectors, and partner profiles to capture revenue quickly.
Cleo's EDI team works in sync with your business to provide the best possible outcome. The EDI tool also helps you manage and monitor real-time business transactions, invoices, and shipments from any browser.
You also get customizable dashboards to access technical and business insights. Cleo also helps you with Exception Management to identify issues, pinpoint risks, and resolve errors.
Besides maximizing your reach, Cleo also offers automated business processes to eliminate manual processes and save time. The tool is also suitable for all types of businesses, including logistics, transportation, manufacturing, and more.
Besides, Cleo Integration Cloud's key features include:
Data transformation to convert the data format of the source to match its destination.
It supports end-to-end integrations over communications protocols like AS2, SFTP, etc.
Filters and intuitive search options to access context by refining messages.
Ability to follow, track, and share issue status in a process.
Customize your dashboard to align with your business' needs.
Cleo provides an API to integrate with other applications seamlessly.
Real-time visibility to create a transparent mode of transaction.
Process automation saves time and reduces the chance of manual errors.
Cleo supports and can process data in formats like ANSI X12, EDIFACT, Tradacoms EDI, XML, and JSON.
Additionally, Cleo provides end-to-end business process visibility. For example, you can get a complete view and context for every interaction, such as order-to-cash (O2C) or procure-to-pay.
Other features include EDI mapping support, document archiving, database support, workflow scheduler, and more. It also allows you to consolidate EDI and non-EDI integrations onto a single dashboard.
Overall, Cleo is an integration platform that helps you integrate with multiple third-party tools and keep your transactions in an orderly fashion.
Pricing:
The pricing plans aren't available on the official site. Contact the vendor for custom quotes and a free demo.
Best for centralizing the transaction process (Quote-based).
Adam's Take
SPS Commerce Fulfillment is an EDI software that will help you keep track of the data flow between businesses, making sure that nothing gets lost in translation. I advise you to check out this software if you're after a centralized system for managing all your enterprise's information.
SPS Commerce Fulfillment is an EDI software that helps you maintain a centralized mode of sharing information between enterprises. It's a cloud-based software that lets you connect, streamline and stay updated on all purchases and deliveries.
The EDI software is suitable for all types of enterprises, including retail, ecommerce, distributors, logistics, grocery, etc.
Standard features include bulk invoicing, processing orders, real-time tracking, automated data entry, and more. It also keeps your accounting tools and documents, including orders, invoices, and shipping notices, in an easy-to-search hub.
Native integrations with over 200 pre-built tools for ERP, TMS, or other apps is another bonus. These integrations help you with data analysis, enhance automation, speed up processes, and more.
Here are some of SPS Commerce Fulfillment's most prominent features:
Pre-built data visualization tools.
Get notified as soon as your retailer sends an order.
Customer support via one-on-one in-app chat.
Auto-fill feature to save time and keystrokes.
Ad hoc reporting on retail data trends and forecasts.
Gather data in various formats like spreadsheets, API, raw data files, etc.
Each completed task in the process gets "checked off" to avoid confusion.
AI-powered transparency provides access to order status from any device.
Their team automatically updates your dashboard with changed specifications.
The real-time order tracking functionality provides transparency during transactions.
The live workflow feature displays the retailer's requirements and prevents errors.
It centralizes the entire transaction process, including invoices, emails, and shipping details.
The automated data filing function also ensures that data gets automatically mapped to the right fields. Additionally, the tool helps you cleanse gathered data, evaluate retail trends, and validates that data.
Pricing:
Contact the vendor for quote-based pricing. You also get on-demand product training and a free demo, which includes a full-order processing experience with sample mapping.
Best for enhancing connectivity within sales channels (Quote-based).
Adam's Take
If you want to organize and streamline your company's transactions, then you need to consider TrueCommerce EDI. This platform enables you to quickly and easily connect with trading partners around the world, exchange important business documents electronically, and automate many of your manual processes.
TrueCommerce EDI is an Electronic Data Interchange platform that helps you conduct business globally and connects it across the supply chain. It also provides automated connections with marketplaces like Walmart, Amazon, and more to speed up and streamline your business.
TrueCommerce provides EDI solutions to streamline your order fulfillment, enhance transparency during transactions, and reduce the order-to-cash cycle. It also comes with automated service to verify all your documents, reducing manual cost and processing time.
It also lets you integrate with multiple channels to increase accuracy, eliminate manual data entry, and more. Key integrations include Oracle Netsuite, QuickBooks, Sage, SAP, Microsoft Dynamics, Acumatica, and Oracle.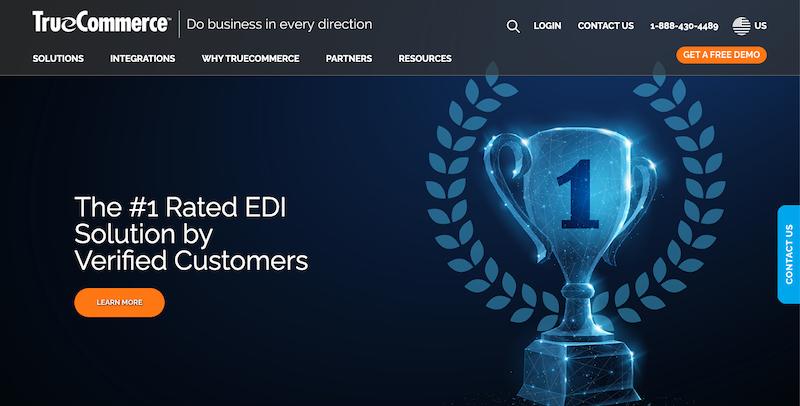 Here's a list of TrueCommerce EDI's key features:
Web-based EDI translator to format all your EDI transactions.
Convert raw data into error-free business documents, including POs, invoices, etc.
One platform to connect your suppliers, customers, and business channels.
EDI mapping tables to sync your business system conventions with your audience.
Expand your business and connectivity by accessing trading partners' database (over 92,000 trading partners).
TrueCommerce EDI allows you to exchange data with your suppliers even if they don't have an EDI platform. It supports all formats, such as XML, CSV, and more. Plus, it lets EDI suppliers acknowledge orders, create ASNs (Advanced Shipping Notices), submit invoices, and more.
Access to real-time business analytics also comes in handy to manage business inventories. Analytics and reporting functions also make it easy to track information and stay updated with online orders and status.
Pricing:
Pricing details are not available. There's also a free demo to give you an overview of the tool.
4. MuleSoft Anypoint Platform.
Best for managing multiple trading networks simultaneously (Quote-based).
Adam's Take
Want to integrate your on-premises software with cloud applications? MuleSoft Anypoint Platform uses an API-led approach to connectivity that enables you to unlock data from legacy systems and connect it to modern applications. This lets you create a single, unified environment where information can flow freely.
MuleSoft Anypoint Platform is an API-based cloud EDI software that enhances business connectivity and streamlines and creates an integrated environment. It helps you keep track of all the purchases and shipments and organizes them in an easily accessible location.
The software adapts to the present and the future needs of the retailer based on their specifications. You can also connect your legacy assets with SaaS technologies without hampering the existing business.
MuleSoft allows you to share and receive data using several B2B EDI specific formats like X12, EDIFACT, Tradacoms, RosettaNet, etc. It also supports standard transport protocols, such as AS2, FTPS, SFTP, and HTTP/S.
Some of its key features include:
Reporting and Analytics.
API lifecycle management.
EDI (Electronic Data Interchange) testing.
Accelerate trading partner onboarding with pre-designed onboarding templates.
Application development and connectivity management.
Custom design new APIs or use the existing ones.
Get a real-time update on all your transactions from any device and at any time.
It helps you with filing invoices, shipments, etc., to cut costs and avoid manual errors.
Transparent visibility across the entire process simplifies your partner management.
It also helps you manage and track performance to ensure transactions' compliance with partner performance (service-level agreements) SLAs.
Additionally, MuleSoft Anypoint offers DataWeave data language, purpose-built by MuleSoft for data integration. It helps you integrate messaging in real-time or batch and transform EDI messages to connect to backend or cloud systems.
Pricing:
MuleSoft Anypoint platform comes with three pricing plans, namely Gold, Platinum, and Titanium. You have to get in touch with the vendor for the exact pricing details. It also offers a 30-day free trial license.
5. Jitterbit.
Best for streamlining business processes and transactions (Quote-based).
Adam's Take
If you want to synchronize your data between two or more systems, Jitterbit can automate the process for you. It will connect to each system, map the data, and then replicate it across all connected systems. I advise you to give it a try as it could save you a lot of time and hassle.
Jitterbit is a cloud platform that automates the process of handling, processing, and synchronizing Electronic Data Interchange (EDI) communications. It helps you streamline and speed up your business processes and transactions.
The software allows you to manage retail and manufacturing, along with distribution and supply chain management. It also provides resources to connect your customers, suppliers, and traders to maintain a unified business system.
You can integrate your Electronic Data Interchange platform with ERP systems and leading CRM applications like SAP, NetSuite, Microsoft, Salesforce, etc.
EDI Data Mapping also gets easier with Jitterbit. It helps you transform EDI files either to or from any connections, including from XML to databases.
Here's a list of Jitterbit's most prominent features:
Process change tracking.
Visual workflow management.
Process modeling and designing.
Automated transaction management.
Improve data quality by removing data re-entry.
Receive analytical reports on all your transactions.
Automates data entry and reduces manual errors, and saves time.
It supports over 25,000 transactions sets (AS2, X12, HL7, etc.)
Establish real-time connections with your trading partners by processing any EDI document.
Additionally, it lets you create reusable and ready-to-use templates for rapid EDI integration with new trading partners. There's an EDI Splitter that enables you to split and organize relevant files the way you want.
Jitterbit also connects you with trading partners and helps you manage them for easy EDI exchanges. It manages your outbound and inbound transactions and provides insights into the ROI from any business source, either cloud or on-premise.
Pricing:
Jitterbit offers three custom-based pricing plans, namely Standard, Professional, and Enterprise. All of the plans provide features like Studio Visual Designer, Management Console, Connector Builder, Connector SDK, Live Training, and more. The EDI tool also comes with a free trial.
6. DiCentral EDI & Supply Chain Solutions.
Best for all types and sizes of companies (Custom-based).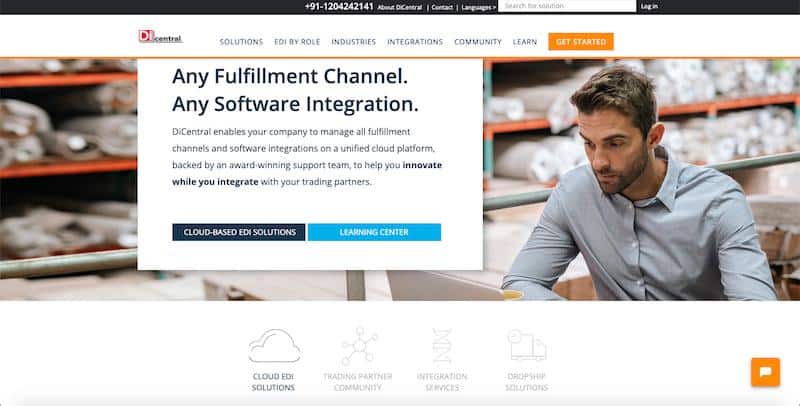 DiCentral EDI is a cloud-based platform that helps you improve the efficiency and visibility of the supply chain through automated shipping, fulfillment, and receiving processes. It caters to multiple industries, including Retail, Manufacturing and CPG, 3PL, Automotive, Healthcare, etc.
It also supports integration with various ERP, accounting systems, and ecommerce platforms like Oracle, QuickBooks, Xero, Magneto, Shopify, etc.
Plus, apart from Windows and Mac devices, you can deploy DiCentral EDI on Web, Cloud, SaaS, iPhone, and Android devices. The EDI platform provides pre-built proprietary adaptors to replace slow and error-prone traditional EDI providers.
Overall, DiCentral EDI offers both Supplier and Buyer solutions.
Here's a quick overview of both these solutions:
Supplier Solutions – These help you comply with advancing EDI and your customers' business rules while adapting to emerging fulfillment models.
The main functions include:
Outsourcing and integrating EDI functions.
Managing and enabling dropship.
Web-based EDI solutions.
Managing business rules and exceptions.
3PL and carrier solutions.
Supply chain solutions.
Integrating with Financial Institutions.
Locally installed EDI software.
Buyer Solutions – These help customers adapt to the changes in the competitive landscape of online marketplaces and collaborate with their suppliers simultaneously.
The main functions include:
Outsourcing and integrating EDI functions.
Testing and enabling the Trading Community.
Managing and enabling Dropship.
Managing exceptions across the supply chain.
Integrating with Financial Institutions.
Managing other supply chain solutions like a warehouse, inventory, distribution, and point-of-sale data
Both of the solutions offer a customized dashboard that helps in business monitoring via:
Swift filtering of real-time information based on specific roles and preferences.
The option to filter by trading partners and data you wish to track.
One-click tracking of incoming and outgoing documents.
Automatic alerts to smartphone or tablet.
Other standard features include EDI mapping support, document archiving, workflow scheduling, reporting, automated alerts, EDI testing, and exception management.
Di Central also helps you connect with trading partners. You can exchange EDI/XML business documents with any company within the community and add any trading partner.
It also provides live technical support and a learning center that includes online and in-person sessions, webinars, whitepaper reports, and discussions.
Pricing:
DiCentral EDI offers quote-based pricing plans.
7. GoAnywhere MFT.
Best for sharing encrypted data from a centralized dashboard (Quote-based).
GoAnywhere MFT is an EDI and managed file transfer solution that establishes an electronic business data exchange and transfer mode. It centralizes the business system and helps you move data either inside or outside of the organization.
The EDI solution is suitable for industries like Banking, Healthcare, Government, Logistics, Manufacturing, Public Sector, Retail, and more. It also allows enterprises to connect globally and exchange encrypted data using standard protocols like AES, HTTPS, AS2, etc.
GoAnywhere can also translate data from X12 documents to other formats or vice versa. You can either upload data in the database or share it with trading partners for further processing. Besides, it lets you translate and share XML and EDIFACT files between locations.
Integration with other leading EDI and business tools help you meet compliance requirements and maintain an easy workflow. Popular integrations include Salesforce, Microsoft Dynamics 365, Amazon Web Services, and more.
Some of its other key features include:
Workflow scheduler and management.
Real-time synchronization.
End-to-end encryption.
Intrusion detection system.
File integrity monitoring.
Access controls and permissions.
Batch file transfer automation.
It provides out-of-the-box Cloud Connectors for cloud integration.
It supports different file types, such as Excel, fixed-width, or CSV.
Built-in data mapping tools to visually map and configure the X12 EDI documents.
Additionally, GoAnywhere uses an FTP automated solution for a safe and secure process of data sharing. It helps you share encrypted data between clients and the server systems. You can even share EDI within internal systems or between suppliers and trading partners.
Pricing:
GoAnywhere provides different personalized plans based on your requirements. You can also request a free demo to get an overview of GoAnywhere's MFT and EDI X12 capabilities. There's also a 30-day free trial.
What is EDI Software?
Electronic Data Interchange or EDI is a set of protocols that help businesses with the computer-to-computer exchange of documents. This mode of interaction forms a connection between suppliers, clients, business partners, and channels.
And EDI software is an electronic data interchanging platform that helps businesses electronically communicate and share data like invoices and purchase orders. Companies can also exchange valuable information like shipping details, emails, and more.
There are several types of EDI solutions, including direct/point-to-point EDI, EDI via VAN, EDI via FTP/VPN, SFTP, FTPS, and more.
Here are some of the reasons to use an EDI solution:
EDI reduces the cost and operation value of exchanging documents and files.
It reduces your VAN (value-added network) dependencies.
This paperless transaction of information reduces the chances of human error.
It helps you strengthen both customer and supplier relationships.
EDI enhances data flow and streamlines business processes.
Other common benefits of using an EDI platform include increased ROI, enhanced visibility, workflow management, decreased manual errors, etc.
What Features Do You Need in EDI Software?
Here are some of the features that you must consider before investing in an EDI platform.
1. Compatible With EDI Standards.
EDI standards are the required formats and content of EDI business documents. Some common EDI standards include Tradacoms, EDIFACT, US-based ANSI ASC X12 (X12), and more. Plus, there are some industry-specific EDI standards like the RosettaNet and the PEPPOL.
Make sure that your EDI software solution is compatible with all the available standards along with their variations.
2. Support For Different EDI Documents.
EDI got introduced to exchange EDI invoices and payments, but it crept into other business sectors as well. Nowadays, EDI documents include shipment orders, acknowledgment, remittance advice, quotation requests, and more.
It's crucial to choose an EDI system that can support, exchange, and process all forms of documents.
3. Support all EDI Protocols.
EDI protocols are like languages that allow two systems to communicate. And to exchange data electronically, both systems should support the same protocol. Standard EDI protocols include FTP, SFTP, FTPS, HTTP, OFTP, and more.
It's essential to get hold of an EDI platform that is compatible with any communication protocol. This will also help small businesses to get maximum outreach.
4. EDI Translation and Mapping.
A good EDI software must provide on-point document mapping and translation facilities. This means that the EDI software should be able to translate data from one format to another. Translation and mapping functions create an automated flow of data between businesses.
5. Easy Onboarding Process.
Small companies need to onboard trading partners quickly to expand their business. An EDI software without an easy onboarding process might slow down the growth.
The right EDI software should be able to provide several pre-defined templates. These EDI templates enable you to upload your information quickly and connect with similar trading partners.
6. Integration With Third-Party Tools.
An ideal EDI platform should be able to manage and integrate with multiple trading partners and apps. It should incorporate accounts, supply chain management, WMS (warehouse management systems), and ERP in a single dashboard.
Thus, invest in an EDI software that seamlessly integrates all applications and across all digital devices.
7. Data Analysis.
Your EDI tool should provide real-time data analysis and manage all elements of a supply chain. It should also give you insights into the latest trends and the financial health of the company.
You can then use these insights and forecasts to plan and manage your business schemes. A good EDI software will also be able to curate a personalized customer experience.
Executive Summary.
This was my list of the best EDI (Electronic Data Interchange) platforms. These tools help you exchange and share data between two or more systems. Most of the EDI platforms also allow you to transfer and translate documents of different formats quickly between businesses.
The recent pandemic proved the importance of going paperless. With an appropriate EDI tool, you can do business from anywhere and at any time.
If you want to exchange data between computers or simplify communications and document transfers, consider these EDI platforms:
There's an EDI software for all business needs, including mid-sized and large-sized businesses. Review all the features and specifications carefully before choosing the one that aligns the most with your business requirements.
Which one of these EDI solutions are you planning to use, and why? Let me know in the comments section below.
Disclosure: I may receive affiliate compensation for some of the links below at no cost to you if you decide to purchase a paid plan. You can read our affiliate disclosure in our privacy policy. This site is not intending to provide financial advice. This is for entertainment only.