15 Best Event Management Software 2023 (Virtual & In-Person)
With an increase in social distancing, event planning is in a temporary decline. However, with the rise of event management software, companies and individuals can run virtual events easier than ever before. And in-person events will be back.
In fact, the Bureau of Labor and Statistics still states that the event management industry will see a year-over-year growth rate of 7% from 2018 to 2028.
Event management is a broad term that encompasses end-to-end project management, execution, and management of in-person and virtual events like conferences, conventions, virtual meetings, online webinars, and more.
However, with so many event management tools available, you need to choose the best one based on your event's needs.
I researched, ranked, and reviewed the best event management software to help you save time, manage your event experience lifecycle, and track your future events from a single dashboard.
Let's get started.
What Is The Best Event Management Software?
Here are my top picks for the best event management software to try this year.
Wrike is an online project and event management app that provides you with full visibility and control of your tasks. It also enables enhanced collaboration and communication with your team. Moreover, it currently caters to over 20,000 customers worldwide.
Key Features:
Resource Management – The tool allows swift tracking of resources, enabling optimum allocation for best results.
Extensive Integration – Wrike offers third-party integrations with business tools like JIRA, GitHub, Adobe, Creative Cloud, and more. It enables you to perform multiple functions from a single event platform.
Wide Range of Templates – An extensive range of templates foster customizability and flexibility.
Pros:
The tool offers a comprehensive dashboard to help you with real-time project tracking
Provides multiple viewpoints of the same event (whether online, offline or hybrid events), or seminars with Gantt charts, lists, boards, and tables
The tool can prioritize tasks, offer task management & workload management
It provides data analytics to give you a detailed insight into all your event management activities
It also offers a free plan for essential features
Cons:
Zapier integration & the user interface needs improvement
It doesn't always track unassigned tasks
Pricing:
Apart from the free plan, there are three paid plans, namely Professional,' 'Business,' and 'Enterprise.' The former two plans cost $9.80 and $24.80 per user per month, respectively. The last plan offers custom pricing.
Get started with Wrike today.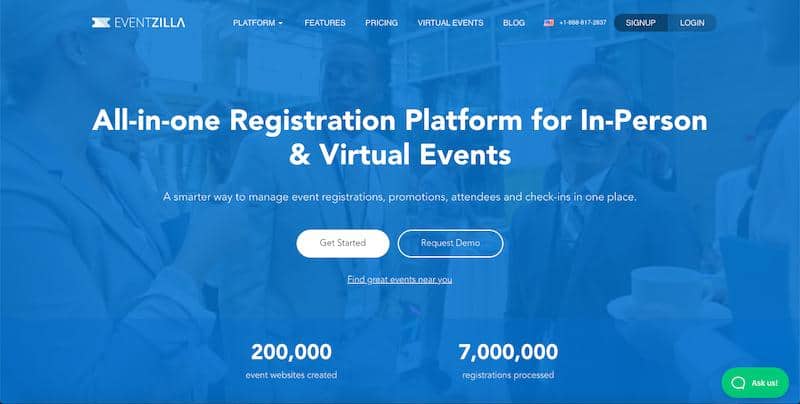 Eventzilla is an all-in-one event management platform for both in-person and virtual events. It helps you manage almost everything related to event management, including check-ins, promotions, registrations, and more.
Key Features:
Extensive Integrations – The tool offers integrations with more than 1000 apps, providing a seamless event management experience.
Multi-track Event Schedule Builder – The tool has a flexible schedule builder with support for multiple parallel tracks & sessions.
Seamless & Secure Checkout – Provides an easy registration process for your customers, which leads to a better conversion rate.
Data Analytics – It offers an actionable dashboard, one-click export option for all attendee data. Moreover, it helps in the creation of customized reports and analytics with Google to track sales, visits, and referrals.
Pros:
The tool offers 24*7 customer support
Offers seamless registration and checkout processes
It supports a range of payment options like credit/debit cards, invoice, cash, and bank transfer
Enables you to create a highly personalized email marketing campaign
The tool enables you to embed your registration widget anywhere in your website easily
The 'prepaid' plan has a 14-day free trial period
Cons:
The text editor needs improvement
Customer service could be more prompt
The payment interface could be improved
Pricing:

There are three plans, namely the 'Basic,' 'Pro,' and 'Prepaid.' All the plans come in at $1.50 per registration. However, with the Pro and Plus plans, there is a fee of 1.9% and 2.9% respectively.
Get started with EventZilla.
Eventbrite allows you to browse, create, and promote local events. All in all, it provides comprehensive event management solutions, right from registration of events to acceptance of payments.
Key Features:
Bar Code Scanning – The tool allows event managers to check-in attendees with its simple yet powerful barcode scanning.
Data Analytics – It has a data analytics module to analyze event data like gross sales and net sales for various ticket sales and generate actionable insights.
Comprehensive Event Dashboard – The dashboard offers a comprehensive of sales over time and the tickets sold.
Automated Reminder Emails – It sends automatic reindeer every 48 hours before the event by default.
Pros:
There is no cost to use this SaaS tool for free events.
You can personally curate the automated reminder mail.
It allows you to create online surveys and audience polls for speaker profiles.
It provides integration with third-party payment gateways like PayPal.
It offers extensive integrations with tools like MailChimp, Dropbox, Twitter, Facebook, Salesforce, and more.
They feature a mobile event app.
Cons:
The tool could you more customizable.
There isn't a separate section for ticket options on the dashboard.
Pricing:
There are three plans, 'Essentials,' 'Professional,' and 'Premium.' The fee per paid ticket for the first two is $0.79 + 2%, $1.59 + 3.5% respectively. The Premium plan offers quote-based pricing.
4. RSVPify.
RSVPify is a powerful and free RSVP website and event management application. It enables you to quickly and flexibly design highly customizable RSVP for any type of event.
Key Features:
Guest List Management – The tool helps in the grouping, tracking, and management of guest lists.
All-in-one Event Dashboard – It provides a single source for details on who's attending your events and their preferences.
Seating Chart Maker – This feature helps event managers use the drag-and-drop seating chart maker that comes integrated with the guest list.
Custom QR Codes – You can add customized QR codes and streamline the process of attendance.
Pros:
RSVPify is a highly customizable event management tool
It makes it easier for you to embed and send personalized welcome messages to your leads
Allows you to import and export documents in various formats easily
The tool offers in-built menu options, digital invitations, creation of age gates, and email blasts
It allows easy inclusion of unbranded, advertisement-free video to your event
Comes with a lifetime freemium plan
Cons:
Setting up email invitations isn't easy
Pricing:
It offers a freemium plan for basic features. Other than that, it provides three paid plans, starting at $19 per month. For events selling tickets, the online ticketing platform charges a fee per ticket, which is $.90 (plus 1.95%).
5. Tripleseat.
Tripleseat is an event management platform targeted at restaurants, hotels, and other unique venues. It helps streamline the event planning process, leading to an increase in event sales. Moreover, it enables you to make smart decisions and avoid the hassle of planning everything via pen and paper.
Key Features:
Business Intelligence Dashboard – It lets you track events and revenue by status, get event funnel revenue and leads by source, analyze them, and generate actionable business intelligence.
SmartSuite – It offers you a suite of tools to deliver branded, professional proposals, and event orders quickly and easily. Moreover, it helps you capture and respond to leads.
Extensive Integration – The tool offers holistic integration with a plethora of applications like hospitality software, email marketing tools, social media, credit card processors, and more.
Pros:
The tool has electronic signature functionality and enables multiple task management on the same platform
It allows event managers to create highly customized event documents
It allows various avenues of lead sourcing like social media, existing web pages, phone directories, and venues
The tool enables the communication between you and your clients, helping solve problems in real-time
You can also track your payments in real-time via automatic notifications
Cons:
There's no freemium plan
The customer support could be improved
Pricing:
The tool offers custom pricing. You have to contact one of their sales reps for more information.
6. Everwall.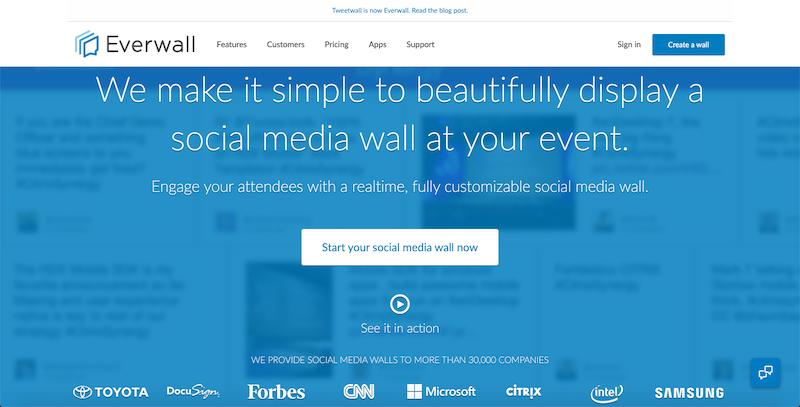 Everwall helps you incorporate social media campaigns with your event management process. With its real-time updates, you never have to make your clients wait. Moreover, you don't have to install it in your system or go through any other hassles.
Key Features:
Leaderboards – It allows you to view top Twitter users ranked by engagement, the number of times they mention your tracked keywords, or how many followers they have.
Polling – The tool enables your attendees to vote via Twitter and Instagram and see real-time results on your wall.
Advanced Filtering – You can automatically block posts with the profanity filter, trending topic filter, and several others across multiple event management platforms.
Pros:
The tool tracks all your data like volume, unique reach, total reach, and more
It comes with an in-built social wall builder, where you only have to copy-paste the code to embed the social media icons and style them precisely as you please
A team of dedicated moderators monitors your wall before you apply of automated filters
It offers a wide range of designs and layout options
Comes with powerful data analytics tools that keep track of all your activities in real-time
Cons:
The 'self-service' plan offers only a 3-hour free trial
Doesn't offer any freemium version
Pricing:
Everwall offers three pricing plans. The 'self-service' plan costs $39 per event day, and the 'full-service' plan is $299 per event day. There is also a VIP service that starts at $10,000.
7. Monday.
Monday is a visual platform that helps with end-to-end event management. It performs activities like venue booking, event ticketing, attendance tracking, budget planning, and management. Moreover, it helps you manage multiple events through a single dashboard.
Key Features:
Data Analytics – The tool offers in-depth data analytics to take advantage of your KPIs and metrics and generate actionable insights.
Extensive Integration – It extensively integrates with third-party applications, including Dropbox, Zapier, Google Drive, and more.
Event Checklist – You can create detailed checklists to track individual metrics like dates, registration, speakers invited at the event, volunteers, and so forth.
Board Tables – Make use of in-built board tables for managing all your projects and workflows visually from a single dashboard.
Pros:
The tool enables code-free workflow automation
Provides a free trial so that you can test the product before making the purchase
Enables seamless collaboration between employees
You can get email notifications and perform real-time resource allocations
It offers a wide range of attractive templates
You can take advantage of the drag-and-drop editor
Cons:
Options for integrations are not as extensive
Pricing:
Monday offers four paid plans. The plans are 'Basic,' 'Standard,' 'Pro,' and 'Enterprise.' The first three plans start from $24, $30, and $48 per month, respectively. The 'Enterprise' plan offers custom pricing.
8. Fonteva.
Fonteva is one of the best event planning software available. Fonteva transfers all the information related to events into Salesforce, where you can keep track of every event easily. It covers more than 100 countries and serves over 90 million customers. Moreover, it's most suitable for trade associations, professional societies, and association management firms.
Key Features:
Track Important Transactions – The tool can track transactions in real-time, like the cash on hand, the amount payable, and the amount receivable.
Financial and Fundraising Management – Fonteva offers an all-in-one platform for financial analysis, managing the inflow & outflow of funds, and resource allocation.
Email Marketing – Since it provides integration with Salesforce, it provides high-end email marketing solutions.
Badge Management – It allows extensive badge management for greater visibility, helping you stand out.
Pros:
The tool can provide a holistic website and committee management
It's a very user-friendly and flexible software
Integration with Salesforce enables enterprise CRMs on a single platform
The tool offers specific portals for members
Provides extensive customer support
Since it's a browser-based, you don't have to download or install it in your system
The software gets updated regularly
Cons:
It doesn't offer a free version or a free trial period
The pricing plans are a bit expensive
The registration process is also a bit tedious
Pricing:
The pricing starts at $175 per month per user.
9. Caterease.
Caterease is a famous event and catering software for event planners. It helps you save a lot of time by booking events in minutes and managing all the details of those events.
Key Features:
Custom Event Printing – This tool allows you to create any number of front-of-house or back-of-house event prints with attractive, professionally-designed layouts.
Business Metrics Tracking – It comes equipped with flexible, quick-access reports, and fully customizable query tools that allow you to track all aspects of your business virtually.
Free Mobile App – It also offers a wholly free mobile app that lets your users review event details.
Pros:
Comes with a drag-and-drop feature to offer easy customization
The tool has customizable booking wizards to make the booking process efficient
You can create pop-up reminders and time-stamped history notes
Create custom equipment lists that get retrieved and quantified automatically
Provides in-built powerful account management tools to review client history, record correspondence, schedule tickler reminders, and develop leads
Easy-to-use registration forms
Cons:
The tool doesn't let you store passwords
The user interface isn't intuitive
Pricing:
There are three pricing plans, namely 'Express,' 'Standard,' and 'Professional.' The cost is $68, $100, and $132 per month, respectively.
10. Momice.
Momice is an all-in-one professional event software designed to align with the style of every type of event. It lets you present your visitor with an excellent experience while saving time and making fewer mistakes.
Key Features:
GDPR Compliance – The tool ensures client data integrity by offering GDPR compliance.
Automatic Event Registration – It enables automated registration for workshops, extra guests, and waiting lists.
Smartphone Scanning – You can seamlessly make your attendees check-in by scanning e-tickets on smartphones.
Account Manager Module – You can empower others to invite their contacts while keeping track of all the invitations sent.
Pros:
You can create, manage, and sell entry tickets to all events
It allows you to create separate lists and tickets for different types of audiences
You can measure the enthusiasm levels of attendees with carefully curated questions
It offers high customizability
Easily create your targeted surveys and offer multi-language communication for international guests
Cons:
Reviews suggest that some attendees faced problems accessing event websites
Customer service could be improved
There isn't any free version
Pricing:
The basic pricing is €2095 per year for three event credits, five users, and standard features for a year.
11. Boomset.
Boomset is an all-in-one event management solution that can help you create engaging events, both virtual and onsite. It encourages sustainability and increases the value at events by using technology coupled with excellent customer support.
Key Features:
Badge & Wristband Printing – It lets you eliminate delays and errors of pre-printing by printing badges in real-time at the event check-in.
Facial Recognition – The tool allows seamless registration with facial recognition, ensuring high-security standards.
Smart Sessions – It lets you access session information branded to your event in real-time, which helps you prevent overbooking.
Lead Retrieval – You can allow your exhibitors to gather information digitally and generate leads at your events.
Pros:
It comes with self-service check-in kiosks and RFID management
It lets you track attendance and perform session management
You can analyze the attendance statistics
It allows email and text notifications
The tool offers access control management & extensive customer support
Cons:
It doesn't offer a free trial
It doesn't offer social media management or volunteer management
Doesn't allow budgeting or sponsorship management
Pricing:
It offers three paid plans, starting from $4000 per annum. The second and third plan are custom ones based on your requirements.
12. Attendify.
Attendify is a great tool that bridges the gap between digital marketing and event marketing. Moreover, it's a data-driven event technology platform that helps organizations, planners, and corporations seamlessly plan their events and generate insights from the statistics.
Key Features:
Attendee Management – It allows holistic attendee management like networking, real-time updates, collection of feedback, and more.
ROI Tools – These tools enable you to quantify attendee engagement and discover and correspond with your team and attendees.
Sponsorship Management – It provides in-built tools that let you track and oversee in real-time aspects like project selection, monitoring, assessment, and funding.
Pros:
The drag-and-drop feature offers high flexibility
You can make use features like badge management, customer management, guest list management, and more
Allows you to create links to social media pages of attendees and engage them easily
You can create highly customized websites for your events within minutes
Other unique features include a fast check-in app, fully-featured event guide, and more
Cons:
It's difficult to add someone back if you delete them from the guest list
It doesn't provide video upload or streaming options
Pricing:
With a free plan for up to 100 registrants, the paid plans start from $99.
13. Regpack.
Regpack is an online registration tool that makes registering for programs, summer camps, online courses, conferences, and many other events very easy.
Key Features:
Embedded Registration – You can enable applicants to register and make payments on your website directly, without involving any third-party payment gateways.
Automated Communication – This feature allows you to communicate with applicants at a pre-determined frequency.
Integration With Payment Tools – It allows you to create custom payment reports, payment invoices, perform automated billing, get custom reports, ensure client payments, offer payment plans, and more.
Pros:
You can filter out any data you need with dynamic data filtering
The tool offers a wide range of attractive pre-built templates
Create and trigger discounts automatically and offer the best deals to your clients
Use group registration feature to ensure multiple registrations by one individual
The tool enables invisible back-ups in the cloud
It's compatible with multiple devices and operating systems
Cons:
It doesn't offer any free trial
Customer support could be improved
Interface navigation can be difficult
Pricing:
Their plans start from $125 per month along with a 2.1% payment processing fee. You can get a custom quote based on your needs.
14. Integrate Events.
Integrate Events (formerly known as Akkroo) is a user-friendly tool used to capture leads for events. It turns real-time conversations into qualified leads, helping you generate revenue by connecting events with your marketing stack.
Key Features:
Multiple Avenues of Lead Capture – This tool helps you create customizable forms, scan event badges, and business cards, and upload lists of existing contacts.
Extensive Integrations – It provides easy integration with numerous apps, including Zapier, HubSpot, Salesforce, Marketo, and more
Data Analytics – Take informed decisions by measuring and analyzing event performances and increase accountability towards stakeholders.
Pros:
It allows attendee badge scanning during events
You can download lead data in excel/CSV formats
Enables you to send automated emails to attendees before events
You can enable performance reviews and holistic reporting
The tool ensures you're GDPR compliant and offers best-in-class security
It offers a comprehensive, cloud-based dashboard
Offers round-the-clock customer support
Allows you to sync leads with CRM or marketing automation software automatically
Cons:
There isn't any free trial
It has one of the most expensive pricing plans
Pricing: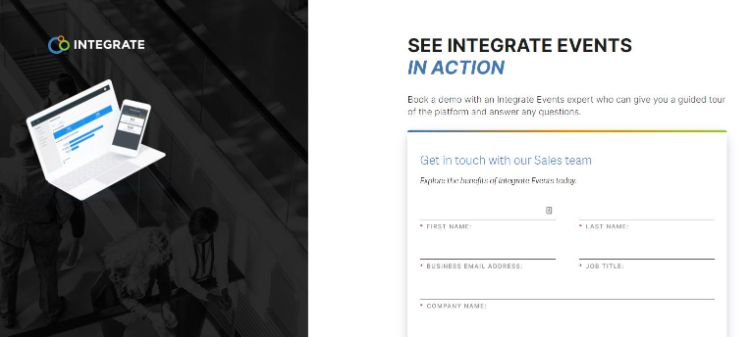 You'll have to book a demo with Integrate to learn more about their custom solutions.
15. Avochato.
Avochato is an event management software focused on texting for business and removing barriers for event organizers. It helps you connect with customers faster in a platform where you can always find them and build long-term, sustainable relationships.
Key Features:
Automated Surveys – These surveys allow you to gather relevant information on your target audience, which helps you with better customer engagement.
Extensive Integrations – It provides integration with a wide range of third-party applications like Salesforce, Slack, Zapier, and more.
Robo-call Protection – Each Avochato number comes with this feature, which prevents automated dialers from reaching your numbers.
Data Analytics – In-depth analytical reports help you analyze text messages, filter out hot leads, improve engagement, and derive actionable insights
Pros:
Allows you to curate keyword-activated responses
You can mute automated diallers and prevent spam calls calls
Allows you to automate and schedule texts well ahead of time
Each number comes with unique caller ID and call forwarding options
Comes with numerous message templates
Enables you to create website widgets
It has a user-friendly and intuitive interface
The tool allows you to manage website, SMS, and landline interfaces on a single platform
Cons:
Voicemail quality needs improvement
It doesn't have any proper tutorials for beginners
Lacks a social media management module
Pricing:
The paid plans start from $19 per user per month with the basic Lite version. There is then a Standard version which starts at $35 per user per month as well as a $175 fee for using the platform. Furthermore, there is a Premium solution where a custom quote is given based on 10 or more users.
What is Event Management Software?
Simply put, event management software is like a project management software platform that enables the end-to-end execution of an online or in-person event (or multiple events) seamlessly.
A typical event management activity includes:
Logistical & supply chain management
Creativity & innovation
Choosing location & security details
Event breakdown & scheduling
Target setting
Financial management
Marketing
The event planning tools provide event managers with the opportunity to manage all of these tasks on a single platform through a single dashboard.
The right event management tool can be crucial to the success of your business. It should be able to control your event by being at the heart of the management.
A typical event management platform should be able to carry out the following functions:

Perform brand promotion.
Drive event attendance.
Streamline allied processes of management.
Utilize and analyze data.
Enable data-driven decision-making.
Ensure data integrity.
How Do You Use Event Management Software?
No matter which platform you use, the way you use it largely remains the same.
Here are some steps to get started with an event management tool:
1. Create a Website For Your Event.
The first thing you need is your website. Most event management tools come equipped with drag-and-drop editors, making it easier for you to create a beautiful website in no time. However, the level of customization offered is likely to vary from one tool to another.
2. Event Registration.
Once you create the website, you'll need to worry about event registration. The good news is that most of these tools ensure that you don't need to rely on third-party apps for this – you can now do it yourself. Almost every event management tool allows you to process event registrations, ticket bookings, and sales.
3. Integrate Your Event with Third-Party Apps.
The next thing you need is seamless third-party integration. The greater your integration capacity, the more flexible your business solutions. For example, the Bizzabo platform allows integration with various tools like HubSpot that enables email marketing automation from the same platform.
If you use a software solution like Cvent, you can also use gamification to make your entire event a more fun process.
4. Attract Attendees.
Once the setup is ready, you need to reach out to your target audience and attract attendees. Event marketing tools allow you to do it from your dashboard directly. You can take advantage of modern features like contact management tools to curate targeted, personalized emails for easy customer engagement.
5. Engage Your Audience and Run Your Event.
Many tools recognize the need to add a personal touch to engage customers. That's why most of these tools offer features for 24*7 customer engagement. The attendees can monitor event developments in real-time and feel much more involved, driving up satisfaction level.
What Should You Look For in Event Management Software?
Different managers may have varying requirements. However, everyone requires a standard set of features, including:
1. Online Registration.
An ideal event management tool should make online registration smooth and as swift as possible. It helps companies streamline their tasks and monitor the attendance numbers. It also saves precious time and effort on the day of the event.
2. Payment Processing.
Your event management software should integrate with third-party payment gateways to help you perform all financial activities on a single platform. It also aids functions like billing, receipt of payments, and cash on hand before the event.
3. Budget Management.
In the run-up to an event, you need to carry out a lot of budget-related calculations. You need to keep track of the amount receivable, amount payable, existing inventory, operational expenses, cash-at-hand, and more. That's why a great event management tool should be able to take care of the entire budget management process.
4. User-Friendliness and Ease of Use.
Unless your team members understand all the functions of the event management system, you won't be able to leverage it to its potential best. That's why it must be intuitive, user-friendly, and simple to handle.
5. Extensive Third-Party Integrations.
An event management platform that allows integrations with numerous essential third-party apps can eliminate the need for you to use any other software for allied services. Ideally, they should offer integrations with third-party apps like Salesforce, HubSpot, Mailchimp, and more, enabling you to perform multiple activities from the same platform.
Executive Summary.
Managing events isn't an easy task. A successful event requires a lot of details – you may need to not only sell tickets, but also plan every detail from online event registration to trade show floor plans.
Therefore, event managers and event professionals need to identify and understand their roles and deliverables. And this is where event management software comes in handy.
However, every business has a different strategy and feature requirements. For instance, if you want a high-end tool that comes with features like data analytics, then you have options like Avochato, Eventbrite, or Wrike.
On the other hand, if you want event management software that integrates with your CRM tool, then you might want to go for Integrate Events. If you want to measure customer engagement and draw insights, Attendify is a great tool. Similarly, tools like Regpack and Eventbrite let you access payment gateways and ease monetary transactions.
Ultimately, settle for a tool that aligns with your long-term business goals and helps you achieve your targets. As a business manager, it's down to you to make the final choice.
Which event management tool do you plan to use? Let me know in the comments below.
Disclosure: I may receive affiliate compensation for some of the links below at no cost to you if you decide to purchase a paid plan. You can read our affiliate disclosure in our privacy policy. This site is not intending to provide financial advice. This is for entertainment only.