7 Best Forex Trading Apps of 2023 (Ranked and Reviewed)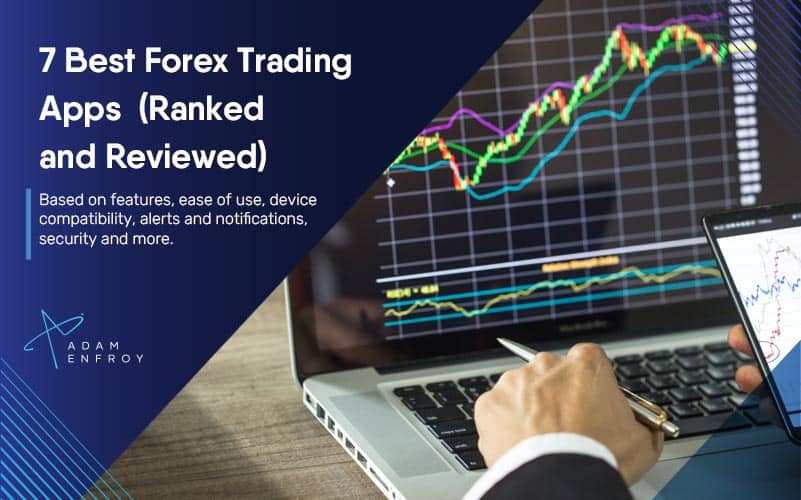 Forex trading has been around for decades, and it remains one of the most popular ways to earn money on the trading market.
Forex trading is a full-time job for some individuals, while others treat it as a second income source.
While some of the best investment apps make Forex trading accessible, trading can be complicated.
Fortunately, several apps are available to simplify the process – some even use AI investing software to streamline all trades involved.
Having the right tools at your disposal means that you don't have to worry about not being up-to-date on current news, prices, and strategies.
Conversely, using the wrong tools can cause you to lose money.
In this article, I will share with you the best Forex trading apps on the market.
This list will help you make an informed decision on which apps are suitable for you, depending on the factors that are personally important when trading.
Let's get right into it.
What Are The Best Forex Trading Apps?
The following are the best Forex trading apps on the market right now.
1. Interactive Brokers.
Best Overall For Forex Trading.
If you want to take your investing career seriously, Interactive Brokers is one of the best places and apps to start with.
With some of the lowest costs in the industry, it's also a great platform to invest with.
With transparent commissions that start at just two cents per transaction, in addition to low financing rates, trading with this platform means you will have a lot of money left in your wallet.
One thing to keep in mind with Interactive Brokers is that it's not only an app – it's a full-fledged website experience.
With global access allowing you to invest in various types of markets, the sheer amount of information and tools available means that it's an excellent way for anyone to grow their wealth.
Powerful and cutting-edge technology also helps with investing speed, allowing you to be efficient when performing real-time analysis.
Key Features:
A trading platform that can be used by both beginner and advanced traders
Mobile, web, and desktop apps ensure that you can trade whenever and wherever you want
Trading tools allow you to spot opportunities that others might not notice
100+ order types that one can customize to fit any investing strategy
Detailed reporting gives you the ability to keep track of your progress
2. Forex4You.
Best For Those Looking To Diversify Their Portfolio.
Forex4You gives you access to 150+ tradable instruments, including Forex, CFDs, Stocks, Indices, and Commodities.
There are more than fifty pairs of trading for Forex, allowing you to diversify your portfolio.
Offering a web-based platform accessible through mobile devices ensures that you can trade wherever you want to.
The Forex4you Mobile platform is an intuitive app that offers personalization features, including various technical analysis tools.
When others start copying your trades, you'll also make an income from the Forex4you copy trading system.
Key Features:
A range of trading instruments allows you to diversify your portfolio and find profitable opportunities.
Personalization features ensure that you can create a trading platform that fits your style and strategy.
Trading on the go means that you can trade whenever and wherever you want
Commodities and Indices mean that you're not just restricted to Forex but also have opportunities to make money in various markets.
3. FxPro.
Best For Customizing Your Trading Dashboard.
FxPro is one of the best multi-asset brokers in the industry, offering a wide variety of financial instruments.
When it comes to Forex, you can trade in seventy currency pairs, which means you have plenty of opportunities to make money.
With an intuitive, customizable interface, you can also benefit from a range of technical analysis tools that offer real-time data.
Cryptocurrency trading is also available, which is still not common among Forex brokers.
With full transparency when executing trades and low fees, it's an excellent platform for traders of all levels that want to grow their wealth.
Key features:
More than 70 currency pairs mean that you have plenty of opportunities to diversify your portfolio and find profitable opportunities.
Ability to trade on mobile so that you can trade wherever and whenever.
You can trade in metal commodities that include platinum, gold, and silver if you want to diversify your portfolio.
You can also trade in shares of public companies from various countries to diversify into stock market trading.
A variety of payment methods allow for flexibility when depositing and withdrawing.
Featuring the latest economic events, you'll be able to stay in the know about financial happenings.
4. FXTM.
Best For Those That Want A Forex Education.
FXTM is for those that want to discover the full potential of Forex trading.
With a strong focus on providing educational material, they offer users the ability to learn about the financial markets and know what's happening at that very moment.
From news and webinars, to courses that can help you learn how to trade like an expert, plenty of content benefits novice traders on this trading app.
Those who want to get the benefits of Forex trading but don't have any experience seem to love the features FXTM offers when it comes to getting a proper education.
If you want to trade in real-time with quick execution (all while keeping tight spreads), then FXTM is a good choice.
With a safe and secure online trading platform that's available on mobile devices, it means that you can manage your accounts wherever and whenever you want.
Key Features:
On the most crucial FX pairs, spreads are typically zero – their Advantage account offers no spreads on important FX pairs like EURUSD and USDJPY.
Being licensed and regulated worldwide means that they have a strong reputation.
Educational material helps you learn about Forex trading while discovering your full potential.
Ultimate transparency means that the company is always honest, reliable, and trustworthy.
Performance statistics show you how to improve your trading skills and which areas to focus on.
5. Tickmill.
Best For Low Spreads And Liquidity.
The Tickmill trading app gives you all you need to trade successfully in the foreign exchange market.
Their low spreads and access to liquidity through dedicated FX providers mean that you can always find an opportunity for a profitable trade.
With three account types (Pro, Classic, and VIP), you can choose the package that best suits your trading needs.
Getting started is straightforward, only requiring four steps to open an account and start trading.
They also offer a range of research tools that can help you learn about Forex strategies, making them perfect for novice traders.
These include video tutorials, webinars, eBooks, Forex calculators, and more – all of these allow you to discover the best trading strategies for your specific needs.
Key Features:
Just four steps are needed to open an account, so it's very straightforward when signing up.
A variety of educational materials, including eBooks, webinars, video tutorials, and more, so you can discover new trading strategies.
Trading Forex and CFDs give you the ability to diversify your portfolio and provide you with exposure to a broader array of markets.
A safe and secure website that is reputed and regulated worldwide ensures that your money is in safe hands.
6. Admiral Markets.
Best For Getting Started For A Low Investment.
Admiral Markets allows you to trade the best-rated instruments, including currency pairs, precious metals like gold and silver, and indices.
Providing a tool kit for those interested in day trading, Admiral Markets gives you the ability to trade in real-time.
Getting started doesn't require you to invest a lot of money, with investment opportunities beginning from just a few dollars.
When it comes to Forex, they offer access to over 40 currency pairs and spreads that are as low as it gets.
If you want to diversify your portfolio with plenty of different trading instruments, then Admiral Markets might be the right solution for you.
Key Features:
Get a demo account so that you can learn the basics of trading without risking any of your hard-earned money.
Over 40 currency pairs are available and ready to trade.
Admiral Markets offers some of the best spreads in the market.
Competitive leverages rates mean that you can trade leverage of up to 1:30
7. Evotrade.
Best For Professional Traders.
Evotrade is the tool professionals use as part of their portfolios.
They have a straightforward setup process with a minimum deposit of just $250.
Not only can you trade Forex, but there are also CFDs on commodities and indices available.
Using the MetaTrader5 trading platform, you can trade Forex and other markets from your desktop or mobile phone.
With various charts to analyze market trends from, you'll have access to complete analytics and live prices.
Key Features:
Educational books are provided for users at all knowledge levels, which allows you to learn from the experts.
A low $250 deposit minimum means that new users will only be risking a small amount of money to start with.
The MetaTrader5 is the platform used by all traders, so it's ideal for various skill levels.
You can begin trading in four simple steps, making signing quick to get through.
Experts' video lessons are available, allowing you to learn new strategies designed for specific conditions.
Other Forex trading apps not mentioned above include eToro, Thinkorswim (TD Ameritrade), Forex.com, and other platforms that use Metatrader 4 or 5.
What Are Forex Trading Apps?
Forex trading apps are used by those who trade in the foreign exchange markets.
Using their mobile devices or handheld tablets, traders can hop on and off at the right times, possibly increasing efficiency while on the go.
Typically, these apps will allow you to perform all of the regular functions that you would do through your Forex broker's website.
These apps are designed to increase your mobile trading abilities, from checking out live prices to executing trades.
At the same time, there is now (more than ever before) a range of different technical indicators that you can use when trading Forex with an app.
This means traders can make even more effective trades with their smartphones or tablets.
What Does Forex Trading Involve?
Investors in the forex market will trade using a forex trading platform based on the current market sentiment.
When they believe that the value of one currency will soon increase due to various factors, they buy it.
Conversely, when they believe that a specific value will decrease, they sell it in favor of another currency.
Using a forex broker, you can buy or sell currencies at a price that the broker has set.
Once an agreement has been reached on a trade, your money will be held by the forex broker until you have closed out of the trade.
When you have closed out of the trade, either through selling or buying back, the platform will potentially return your money to your account.
Strategies To Consider When Trading Forex
Different traders have various strategies when trading in the forex markets.
Let's review some of these strategies to give you an idea of how to improve your trading.
Currency Strength
Traders use this strategy when they believe that the value of a specific currency will increase in value as opposed to other currencies.
They will purchase a strong currency while the currency that is deemed weak will be sold.
As such, if you believe that a currency's strength will increase, it makes sense to trade using this strategy and place your bet on it.
Diversification
This is a common strategy amongst novice forex traders, and it involves making multiple trades to gain more profit.
If you can find several currencies showing signs of strength, then this strategy might suit you.
Traders will buy the currency while selling another one at the same time.
This is considered a lower risk method than other strategies, but it could also reduce profits.
Sometimes, novice traders will increase their chances of success by using this method.
Pip Management
Another strategy that amateur forex traders might consider is "pip management." This involves buying or selling currencies at a specific price point to better manage your losses and gains.
While you can make more money using this method, it's important to remember that the risk involved with this strategy is also significantly higher.
As such, it's not recommended for beginners because they are likely to be overwhelmed by the risks involved.
Fundamental Analysis
Another common strategy used by Forex traders is called "fundamental analysis."
With fundamental analysis, you determine what will impact the value of a currency and what will cause it to rise or fall.
For example, if an investor believes that a specific currency is vital because many people are starting to use it, they will then purchase this currency.
If more people start trading with this currency because of its popularity, its price may increase due to supply and demand.
Once you have done your fundamental analysis, you can make money by buying low and selling high – especially when there has been enough interest in the currency.
Features To Look For In A Forex Trading App
The best Forex trading app contains various features that simplify the trading process and make it easier for investors to carry out their transactions.
The following are some of these features to look out for.
Easy To Use Interface
Trading platforms can often be challenging to navigate.
As such, they might confuse new users.
When choosing your trading platform, it is essential to look for an intuitive and easy-to-use one.
A simple design and layout will allow novice traders to quickly start trading in the forex market.
Some brokers also offer demo modes that can help you learn before using the real money app.
A demo mode will allow you to practice trading with play money before trading with actual funds.
Multi-Device Compatibility
With advancements in technology, there are now many different devices one can use for trading.
Today, traders have the option of taking advantage of multiple platforms.
These platforms include PCs, laptops, smartphones, tablets, etc.
Forex brokers are now offering apps compatible with multiple devices to access their trading accounts even while on the go.
Just make sure to choose a broker that has an app compatible with all your different devices before getting started.
Alerts And Notifications
Many different things can impact the value of a currency.
As such, traders need to be aware of all relevant factors to take advantage of fluctuations in the market.
The best trading app will allow you to receive alerts whenever price changes.
This way, you will be notified quickly and decide whether you wish to purchase/sell a currency or not.
Forex trading platforms usually offer different types of alerts.
For example, you might receive a notification when there is a sudden rise or fall in the market value of your chosen currency.
Security
Forex trading apps must be 100% safe and secure.
Choose a platform that offers the best possible security and has no potential risks.
The web-based nature of these apps means that fraudsters and other criminals can easily exploit them if proper security protocols are not in place.
As such, you should check for the use of safe and secure encryption protocols such as HTTPS before downloading a trading app.
It would help if you also looked for an app with multiple security features to protect your transactions and personal information.
Customer Support Services
The best Forex trading platforms will allow users to obtain customer support services quickly.
These days, it is not uncommon for Forex brokers to offer 24/7 customer support.
With a reliable customer support service, you can get assistance anytime if there are issues with your account or other problems that you might be experiencing.
Retail Investor Accounts
Most forex brokers offer retail investor accounts to professional investors and experienced traders. Such accounts usually have lower spreads, higher leverage, access to trading software, etc.
Of course, the quality of these broker services can vary quite a bit from one broker to another.
A forex trader should always check the quality of services on offer before opening an account.
A Mobile Forex Trading Platform
The right mobile trading platform can help you secure better returns on your investments.
Mobile trading is an excellent way to take advantage of the foreign exchange market when away from home or office.
It is important to note that not all Forex brokers provide mobile applications for their users.
With that said, there are some great apps for smartphones and tablets available, including multilingual apps.
Before downloading an app, make sure to check the reviews of other users and see whether they recommend it or not.
Ability To Trade CFDs
Trading CFDs is a fast and effective way to capitalize on market trends.
However, you must be very careful when selecting a platform with this ability.
Platforms that provide access to CFDs are usually not suitable for inexperienced traders since their offer's leverage can lead to high losses and gains.
Ability To Trade Crypto
While currency trading is the most popular form of trading online, another trend has become extremely popular in recent years.
Having a mobile trading app that allows you to trade bitcoin and other types of crypto is fast becoming something most people are looking for.
The crypto trading experience on a mobile app (including both an iOS iPhone and an Android device) matches that on a desktop, which is why most traders now expect this functionality to be present.
Having Stop-Loss Functionality
Apart from ease of use when dealing with Forex pairs, both new and professional traders look for stop-loss functionality as part of real-time trading.
Setting up a stop-loss in a user-friendly manner helps you manage the risk associated with every trade you make.
Access To Financial News
Being aware of price alerts and having an economic calendar that keeps you up to date on the financial markets make it easier for traders to stay informed while making the right decisions.
Having watchlists with price alerts to track your positions is also useful when trading on margin.
Drawing tools
The right brokerage will provide its customers with drawing tools that help make accurate decisions.
Advanced charting features and the option to draw trend lines, moving averages, and Fibonacci levels can be a valuable advantage.
Guides As To The Right Time Frames
Trading at the right time can help – whether you are a beginner or an experienced trader.
You need to ensure that your platform provides as much information as possible from alerts that tell you when to open positions to entry and exit levels.
Wrap Up.
Getting started with Forex trading might not be the easiest thing in the world, especially if you lack the knowledge to know what kind of trades to execute.
As a way of disclaimer, always make sure that you are operating within your limits and that you are not over-leveraging yourself.
It would help if you educated yourself to know what to expect before getting started.
When trading, it's better to be safe than sorry.
With that said, the right trading app will help ease your way into the trading world.
The best apps also offer plenty of relevant information and educational material to new users.
They are also easy to use and provide constant access to the markets you're interested in.
To recap, the best Forex trading apps on the market right now are:
Interactive Brokers: Best Overall For Forex Trading.
Forex4You: Best For Those Looking To Diversify Their Portfolio.
FxPro: Best For Customizing Your Trading Dashboard.
By using these best Forex brokers and trading apps, you'll be able to get up and running faster than ever before.
Further reading on AdamEnfroy.com: Want to get up to speed on what's happening in the world of investing today?
Here's the ultimate list of investing statistics right now.
In addition, if you want to learn more about various ways of investing your money, check out my post on the best peer-to-peer lending sites for investors.
Disclosure: I may receive affiliate compensation for some of the links below at no cost to you if you decide to purchase a paid plan. You can read our affiliate disclosure in our privacy policy. This site is not intending to provide financial advice. This is for entertainment only.