11+ Best Screencasting & Screen Recording Software of 2023
Choosing the right screen recording software is vitally important to your business. From recording high-quality video footage of your product to creating marketing videos and webinars, the best screen recording software can help you meet your goals. In this guide, I ranked and reviewed the 11+ best screen recording software, along with my top 5 choices, so that you can pick the best one for you.
---
We're reader-supported. When you buy through links on our site, we may earn an affiliate commission.
Sometimes text can't get your point across like a live video can and you need screen recording software.
It can often be time-consuming and lack the interactive engagement required to capture someone's attention.
Also, imagine having to write down everything to articulate something when you can simply use screen capture software.
In cases when it's easier to show your screen to a massive audience rather than text, you should use the best screen recording software.
These tools are great for screen shares, online video tutorials, online courses, recording webinars, and more.
In this guide, I ranked and reviewed the best screen recording software based on features, pricing, video quality, support, and more.
Disclaimer: I may receive affiliate compensation for a few of the links below at no cost to you if you purchase a paid plan. However, after testing, these are the best screen recording tools available on the market. You can read my affiliate disclosure in my privacy policy.
Let's get started.
What is the Best Screen Recording and Screencasting Software?
Here are my picks for the best paid and best free screen recording software.
If you want to record quick videos of your screen to share with others, Loom is an excellent choice.
It's quick and easy to use, with a simple interface that makes recording your screen fast and straightforward.
Sharing your screen and cam recordings is a breeze, too — you can share them with the right recipients to enhance what you're saying and ensure that the person on the other end sees what you're seeing.
Another great thing about Loom is that the video you record is instantly ready to share and watch when you're done — there's no need to wait for it to process or render.
If you're looking for a more efficient way to communicate with others through screen recordings, Loom is definitely one of the best options around.
BEST FOR:
Loom is best for quickly recording and sharing screen recordings while ensuring that everyone can see and hear everything clearly, avoiding miscommunications along the way.
KEY FEATURES:
Screen recording & cam bubble ensures that everyone can see and hear everything
Instant editing means that you can share your videos as soon as you're done recording
Unlimited transcriptions let you keep track of what was said in your recordings
Privacy controls allow you to password protect your videos and ensure that only those who have the password can view them
Viewer insights give you information on who is watching your videos
Custom branding allows you to add your company's logo to your videos
Engagement insights give you information on how engaged viewers are with your video. This helps you to see what parts of your video are most successful
You can also embed links in the video so that viewers can easily access related content
PROS:
Custom data retention policies are a great way to keep your data secure
You can have an activity log export to keep track of everything that happens in your account
The Salesforce integration is very helpful if you're using Loom for business purposes
CONS:
The free version only allows up to five minutes of on-to-go recording.
PRICING:
There are three pricing plans available:
Starter: Free
Business: $8 per creator per month (paid annually)
Enterprise: Contact them for a custom quote.
Get started with Loom.
Initially released in 2006, Screencast-O-Matic is a screen-casting and video-editing software that can be directly launched from the browser. Available both as a free and paid software, it's compatible with Windows, Mac, and Chrome OS.
Based out of Seattle, WA, this screen recording software provides services at one of the cheapest market rates and offers excellent value to its customers.
BEST FOR:
Screencast-O-Matic is best used in the education sector to help students with video assignments, prepare tutorials, and lectures. It also comes in handy when it comes to providing product demos, create video game walkthroughs, and conduct a workshop.
KEY FEATURES:
Robust set of tools for a high level of customization.
Allows you to add music, animations, and infographics to your video.
Keeps your recordings safe and secure with online back-up.
Free screen recorder comes with features like screen capture, webcam recording, and microphone audio recording (up to 15 minutes).
The paid version can upload files into Google Drive, Dropbox, and the Vimeo.
While recording, you can zoom in, zoom out, and add text.
Gives you the ability to edit and mute system audio and video sections of a screencast (paid version).
Supports mp4, AVI, and FLV file formats.
Scripted recording options.
Very affordable.
PROS:
The paid version allows you to remove the watermark
No time limit on recording
Allows users to edit audio track
Create an account and refer friends to earn discounts
One of the cheapest screen recorders on the market (paid version)
CONS:
Watermark cannot be removed in the free version
Recording only for 15 minutes in free version
The free version offers minimal features so you'd need to upgrade to a paid plan
PRICING: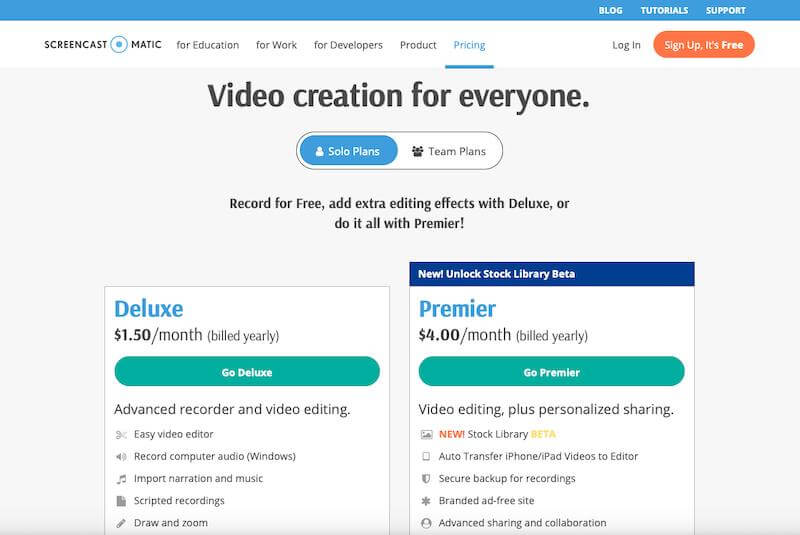 Apart from the free version, it has two paid versions. The Deluxe version costs $1.50 per month and is payable yearly. The second version is the Premier plan and costs $4 per month, payable yearly.
This version has all the perks of the deluxe version along with additional features, including extra bandwidth, no advertisements and watermark, and more.
Overall, based on the feature set and price point, Screencast-O-Matic is my #1 choice.
Get started with Screencast-O-Matic.
Initially released in 2002, Camtasia was developed by TechSmith to create video tutorials and screencasts. It is compatible with both Windows and Mac and supports a wide range of file formats for exporting and importing videos and other projects.
This screen recording software is especially useful for making YouTube, marketing, and educational videos.
BEST FOR:
Camtasia is especially useful for web designers and videographers who need to make their videos look unique and professional. It is also beneficial for making tutorials and training videos for the education industry.
KEY FEATURES:
You can add eye-catching titles, effects, annotations, and more
Allows audio recording along with video recording
Users may add or download add-ins and extensions
Allows you to add zoom in, zoom out, and pan animations to your video recordings
Flawless integration with Microsoft Outlook
Creates interactive videos containing clickable links to generate dynamic video content
Wide range of options for recording (computer screens, PowerPoint presentations, webcam, voice recordings)
Wide range of options for editing (visual effects to whiteboard animations)
Enables you to add quizzes in your videos
PROS:
Special discounts for academic and government institutions ($30 for academics and $20 for the government)
No time limit on video length
Compatible with both Mac and Windows
30-day money-back guarantee
Integrated with Google Drive
CONS:
Requires a lot of training to be able to edit and use it properly
Video editing is a little less advanced as compared to its contemporaries
Selection of pre-made sound themes is limited (not very diverse)
Does not support live recording from a digital video camera
PRICING:
Unlike the previous two tools in this list, Camtasia is not free software. However, you do get a 30-day money-back guarantee along with a free trial.
After that, it comes with a one-time fee of $199 (single-user license). No credit card detail submission is necessary for automatic billing.
Get started with Camtasia.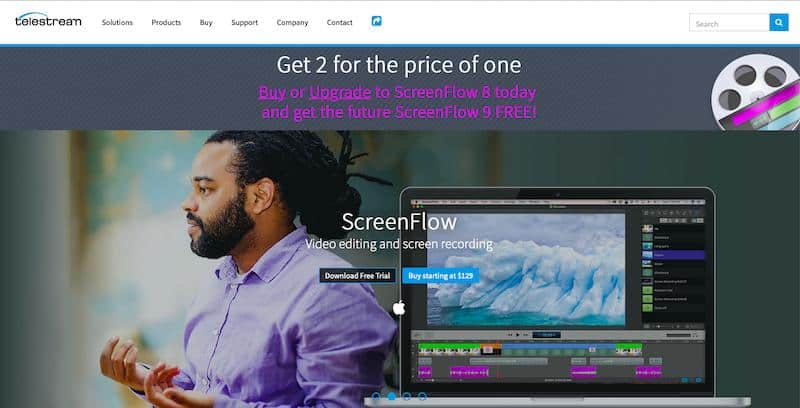 Screenflow is an excellent recording software available for Mac. It offers a wide range of features and can be used to record the entire screen or some part of it. Alternatively, here are some other ways to screen record on Mac.
Moreover, it allows you to readjust, delete, trim, and insert specific portions of the recordings and offers high customization capabilities. Features like high-quality recording, professional motion, and closed-caption support make it one of the best options out there in the market.
BEST FOR:
Great for demonstrating and explaining software ad product demos, and also to make educational tutorials. It is also an excellent platform for creating online training videos that you can personalize and narrate.
KEY FEATURES:
Mp4 compatibility and encoding
Motion and animation graphics
Closed caption support
Partial and full-screen capture
iOS recording (highly reliable)
Highly customizable
Record videos and add your own narration
Allows you to trim clips, and add zoom and pan effects
Easy addition of text on top of recording for better explanations
Add and use 'drop shadow' and 'reflection'
Can simultaneously record from multiple sources
Batch export feature (allows the export of multiple files simultaneously)
Chroma key support available (replace your colored background with stills from your recording)
Publish your videos directly to YouTube, Facebook, Google Drive, Vimeo, or Dropbox
You can export your file in various formats, including AIFF, GIF, MV4, MOV, and MP4
PROS:
Excellent customer support (phone and online)
Fully integrated with Dropbox
High-quality video export
Reasonable prices
CONS:
Accepted media extensions are not listed
The transition from one stage to another is difficult
Not a user-friendly and intuitive graphic interface
Available only on Mac; not available on PC or tablets (iPad)
On-screen text options could be better
No drawing during recording
No free upgrades available
PRICING: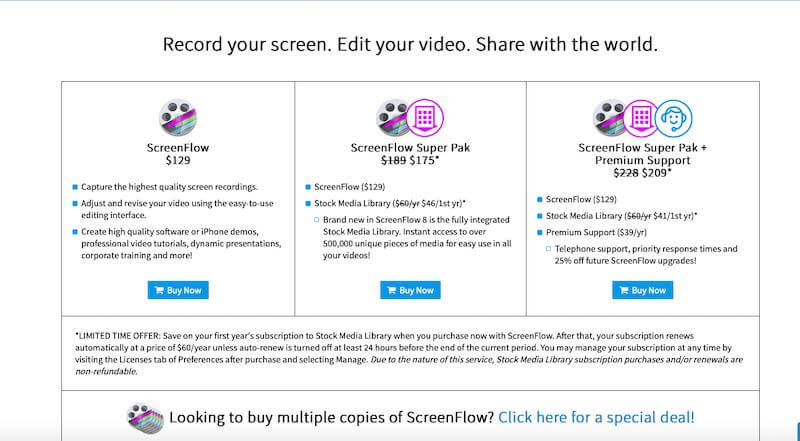 The paid plans start at $129, and it is one of the priciest screen recorders in the market.
Try ScreenFlow risk-free.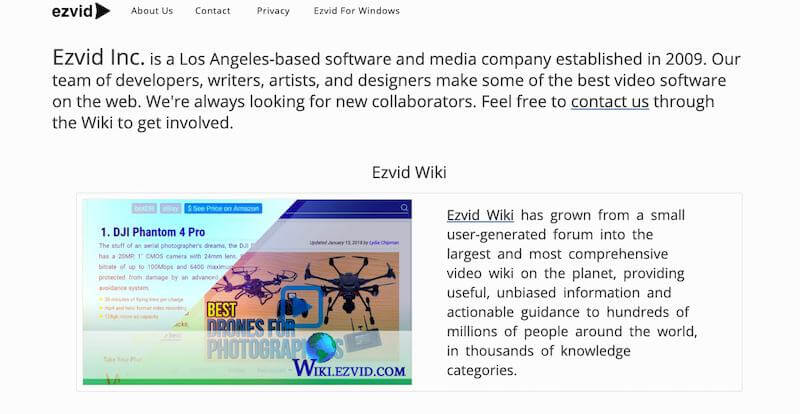 Ezvid Inc. is a Los Angeles-based video and screen recording software company. With a talented team of developers, writers, and designers, it makes one of the best screen recorders for Windows and Mac.
With its full-featured video editor and screen recorder, it is effortless to create videos for Twitter, Facebook, and other social media sites.
Moreover, it has quick keyboard shortcuts that you can use to enable hands-free recording. Laced with features like instant slideshow maker, free included music, and easy-to-use speed control for videos, Ezvid is an excellent option.
BEST FOR:
Recording games, making YouTube videos, and small projects with multiple recordings.
KEY FEATURES:
Text-to-speech tool
Efficient built-in editor
No watermarks when you record or edit videos
Easy-to-use screen recorder
Allows you to easily upload videos to YouTube with 1280×720 resolution (optimized for bright crystal display)
Free soundtrack music (legal for YouTube)
Automatic animation effects
Automatic audio normalization
Blocks spyware, malware, and advertisements (100%)
FaceCam, voice synthesis, screen drawing, and speed control are available
Speed control of videos
PROS:
Easily upload your videos to YouTube
1280X720 resolution
Easy recording of audio, and addition of images and text
No registration fee
CONS:
YouTube recording is allowed for only 45 minutes at a stretch
It's not always compatible with Mac (you should check with the company in case of doubt)
Can't hide the recording widget
Doesn't allow to save your video in your PC for later reference
Can only be uploaded into YouTube (uploaded directly)
Doesn't provide some important editing features like transition effects, zooming, and panning (for recorded footage)
Music doesn't appear on the timeline
No option to mute music or export video as a media file
PRICING:
This screen recording software is entirely free of cost.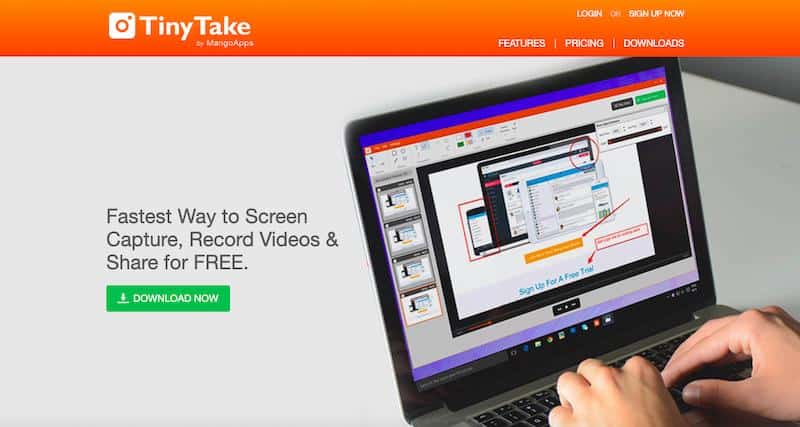 Built by MangoApps, TinyTake is one of the best video recording software available for Windows and Mac in the market right now. The basic version is free for all. They also offer paid subscription options that come with advanced features.
With great attributes like YouTube integration, webcam image capture, and automatic folder compression, TinyTake is one of the most lightweight and easy-to-use video recorders you will come across.
BEST FOR:
Ideal for online customer support, customer documentation, and making educational videos.
KEY FEATURES:
Can easily capture images of a selected area, in part or full screen
Easy-to-use drag-and-drop editor
Draw attention with the highlighter
Blur parts of the screen
Videos can range from five minutes to up to 2 hours
In-built online file viewer
Video player optimized for a seamless experience on mobile phones
In-built YouTube uploader
Quick online filter (to filter out multimedia and other files)
One-click sharing of the screenshots (save to file, send to the printer, copy to clipboard, or attach to email)
No watermarks
PROS:
Very convenient for annotating videos for product reviews, demos, faults, or bug reporting
Video annotations can be saved locally, for future reference
Fast and easy sharing of files up to 2 GB at one go)
Easy sharing of large files even if the receiver doesn't use TinyTake
You can drag entire folder hierarchy, automatically zip it and upload to cloud
Allows you to view images, play videos, read PDFs; no other software necessary
CONS:
If there are any mistakes in your video recording, you'd have to restart the app altogether
Large videos are slow to load
The free version has minimal attributes
No API available
PRICING:
This video recording software essentially has one freemium plan and three paid plans.
The first one is a free plan, with a recording limit of 5 minutes for 2 GB.
The second plan is priced at $29.95 per year and provides a recording time of 15 minutes with a storage capacity of 20 GB.
The third plan is priced at $59.95 per year, and provides a recording time of 30 minutes, with a storage capacity of 200 GB.
The last plan costs $99.95 per year, and provides a recording time of 60 minutes, with a storage capacity of 1 TB.
The last two plans don't have any advertisements and come with YouTube integration.
CamStudio was initially released in 2001 by RenderSoft but was re-released by Microsoft as a pen-source video-recording software. In the recent past, allegations were made about it containing malicious software. However, it has been declared virus-free for a long time now.
This screen recording software is perfect for creating screencasts and quick demos and uses the AVI format. The video files can also be converted into the Flash and mp4 video format.
Despite being open-source and free, it packs a punch when it comes to the features. With CamStudio, you get unlimited video recording, the ability to add multiple extensions, a straightforward setup and installation process, and more.
Moreover, it is particularly useful if you need to make a video of still images and add texts. If you are someone with high customization requirements, this is an excellent choice for you.
BEST FOR:
Great for professional training tutorials, support in information technology, marketing domains, education, and research.
KEY FEATURES:
Records files in AVI format
Can record an entire screen or a small part of the screen
Can add text and comments to video and image captures
Offers automatic panning
Can highlight cursor path for increased clarity
Records with sounds
Extensions and editing options can be added to the code
No unwanted advertisements
The latest version has attributes like codec support and automatic notifications of new updates
PROS:
Effortless installation
Open source and free of cost
You can add a time-stamp or a watermark
Very easy to create training tutorials
Wide range of video styling features
There is no time limit for recording (unlike many other screen recording software tools)
CONS:
Doesn't contain any video editor (no base editing capability)
The output is limited to AVI and SWF
No compressors
Used to be susceptible to malicious software and viruses (Trojans) in the past
Output file is sometimes a bit too large
Not very useful for game-recording
Doesn't display file types
PRICING:
It is a free, open-source software.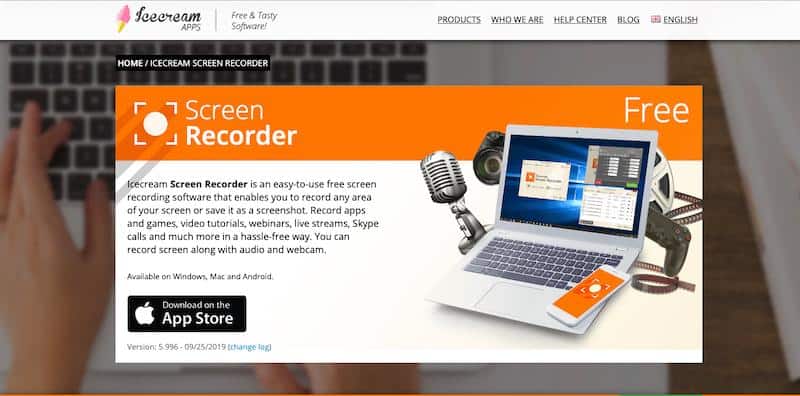 After CamStudio, Icecream Screen Recorder is another feature-rich, easy-to-use, and free and open-source software on this list. One of the best parts about this screen recording software is that it enables you to capture any area of your screen, either in part or in full, and save it as a screenshot or a video recording.
On top of that, it allows you to record games, video tutorials, webinars, live streams, Skype calls, and much more. You can access it on Windows, Mac, or Android.
One of the most prominent benefits of this app is that it is quite lightweight, and gets updated to the latest versions automatically.
Although popular feedback is that it has limited editing capacities, it can be advantageous if your requirements don't require a high frequency of edits.
BEST FOR:
If you have minimal editing requirements, then Ice-cream Screen Recorder software is perfect for you.
It comes in handy if you want to make educational tutorials and videos, and also for recording games. You can also use it for recording video or Skype calling for small businesses.
KEY FEATURES:
You can choose the video quality
You can record audio
Allows you to select and capture a part of your screen
Annotate (add text, shapes, and arrows for a better description)
Easy upload (using YouTube, Dropbox, and Google Drive)
Zoom in feature (to make videos more up, close and personal)
Allows you to trim recordings (cut unnecessary parts)
Hides cursor and disable screensaver options during recording
Changes the microphone volume as per your need
Displays hotkeys used in videos
Schedules screen recording (set multiple screen capture tasks at once)
PROS:
Easy setup and installation
Intuitive and customer-friendly user interface
CONS:
Can slow down the computer
Limited editing capabilities
The free version contains very basic features and allows only 10 minutes of recording
The floating toolbar is captured while recording
Videos and screenshots can be saved only in limited formats
PRICING:
The software is entirely free of cost for use. However, you can purchase the Screen Recorder Pro at a one-time fee of $29.95.
iSpring Free Cam is one of the best media recording software tools available in the market currently. It allows you to record any part of your screen and upload directly to YouTube or save as WMV (Windows Media Video).
Using screen recording software, you can create screencasts very easily, and train your employees to work with business software. One of the advantages of this software is that you can add a presenter video at the top or bottom of the screen, which helps you provide better user engagement.
BEST FOR:
Perfect for making engaging educational videos, tutorials, and videos explaining product demos or games.
KEY FEATURES:
Screencasts with voiceovers (quickly create narrated tutorials)
You can record your entire screen, a part of the screen, or simply an app
Records sound effects (to make the app more appealing and provide a real-life experience)
You can also draw attention to your on-screen actions via a mouse
Interactive canvasses (drag-and-drop option, annotations, etc.)
You can add a personal touch to videos (add presenter video at the top or bottom of presentation)
Helps users become familiar by using visual hints
You can trim or delete videos (split and merge fragments)
Smooth scene transitions (eliminate abrupt transition cuts to for a more seamless experience)
Easily share videos (upload them to LMS, YouTube or send them to stakeholders)
Noise reduction, voice fading, and volume adjusting capabilities
PROS:
Good customer support
Easy to install
User-friendly, intuitive interface
Safe, virus-free software
No advertisements and watermark
No time limit of use
CONS:
No advanced video editing features
Lack of annotation tools
Can export video in WMV format only
Recording frame rate is only 15 FPS
PRICING:
iSpring Free Cam is a free, open-source app available on the internet.
Free Screen Video Recorder is a compact, full-featured screen video recorder and screenshot capture tool. The best part is that it allows you to record screen activities easily and capture anything on the screen, including objects, menus, full screen, and rectangular regions.
You have multiple options and can either choose to save captures to file or clipboard or directly printing them out. Other than being free, open-source software, it is entirely advertisement and virus-free, which further adds to its value.
BEST FOR:
Designed to serve basic purposes like making educational video tutorials and is a good fit there. It is not very useful for product demos or the gaming industry.
KEY FEATURES:
Records screen activities, on-screen changes, speech from microphone, and even mouse movements
Can capture multiple windows (can capture objects including multi-level menus)
You can resize, re-crop, and rotate output images
Record screen video to mp4 format
Highlighting the cursory path for increased clarity
Options to save the file in BMP, JPEG, GIF, TGA or PNG formats
PROS:
Free screen recorder with no threats of malware, virus or advertisements
Record video with sound (using a microphone)
Has a large community of users with over 33 million global download
User-friendly and intuitive interface
Step-by-step visually guided video to help you get started
Can use the software on up to 3 computers per license
You can easily change the default settings (media format, program language, delay's time)
Runs immediately when Windows starts (optional feature)
CONS:
Available only for Windows, not Mac or Linux
Does not support picture-in-picture
Minimal features
Must accept or decline bundled third-party installations during the set-up
PRICING:
As the name suggests, Free Screen Video Recorder is open-source and free software.
However, you can purchase a license to access more advanced features, all the software tools by DVDVideosoft.
It costs $9.95 for six months, $14.95 for twelve months, and $29.95 for an unlimited membership. All of these features come with superior customer support and easy update management.
Smartpixel is an easy-to-use and screen recorder that is compatible with Windows and Android. Initially released in 2015, it is free software that is integrated with D3D technology, which is compatible with a majority of PC and mobile games.
Furthermore, owing to its video compression technology, it is capable of recording high-quality videos with minimal machine and storage requirements. It is especially useful for gaming enthusiasts, who find this software to be ideal for game recordings.
BEST FOR:
Ideal for gamers, especially for recording gaming tutorials. It is also suitable for product demonstrations, tutorials, along with making educational videos. With Smartpixel, you can also create professional, personalized music, or webcam videos.
KEY FEATURES:
Provides beauty tools for beautification (color settings, light management, and slimming)
Allows you to import videos or images and include them in the recording
PIP feature available (add a touch of personalization)
You can add lyrics and audio to webcam recordings (also allows adjustable volumes)
Allows you to clip, merge, and split videos
Upload videos directly to YouTube
Output available in FLV, AVI, MP4, and WMV
Adds annotations and live commentary to videos
The optional mini mode takes up very little on-screen space
You can also mark and pinpoint exciting moments to engage customers better
PROS:
Records screen in HD quality without taking up much space (video compression)
Has hotkeys, which allow you to control functions via keyboard
You can save multiple projects and can access and edit them any time you want
CONS:
Cannot pan or zoom on specific parts of the video
Cannot adjust the recorded audio
Doesn't offer any multilingual version
Requires a lot of resources to set up
The user interface is not intuitive (you might find it challenging to use for the first few times)
PRICING:
The software is open-source and free.
ShareX is, without a doubt, one of the best free screen capture tools available in the market right now. It can capture the entire screen or parts of the screen. With a high degree of customizability, it promises to fulfill the needs of every user.
Furthermore, you can use it to annotate recordings and screen captures as well as upload them in a variety of ways to multiple destinations. However, as of now, it is only available for Windows.
BEST FOR:
Best for educational tutorial videos, product demos, and for creating videos for hands-on demonstrations for gaming purposes.
KEY FEATURES:
You can upload your screenshots (or recorded videos) to more than 70 hosting services, including Google Drive, Imgur, Dropbox, and more
The automatic upload feature allows you to share any screenshot, captured video, or GIF
Built-in image editor (will enable you to edit the shots you took manually)
You can record screen in the form of videos or GIF
Uses multiple screens
In-built auto-capture feature
You can record full screen or a part of the screen
Supports multiple URL sharing services
PROS:
Imports videos, photos, and music
Comes with a range of color effects
Image combining option (here you can choose any number of images and combine them)
No watermark required
CONS:
Quality of game recording is low
Not very user-friendly (user interface can be a little complex)
Webcam recording not supported
Uploading large files can be a problem at times
There is no video editor
Not available for Mac users
Shareable links have limited shelf-life and get expired after a specific period of time
Scrolling window capture does not always work
Lacks a dedicated customer support team
PRICING:
ShareX is an open-source, free screen recording software tool.
What is Screen Recording Software?
Screen recording software captures the video and audio content of your computer screen to share it with an external audience.
Video screen recordings are now being increasingly used for creating demos, videos for educational purposes, tutorials, and product demonstrations.
Screen capture software video recordings have an apparent edge over other modes of communication, such as:
It explains things visually (with audio involved for instructions).
Can build customer trust (by viewing videos of other customers validating a product or service).
It can explain things more comprehensively than infographics or text.
Wrap-Up
Before selecting a screen recording software, you should choose the one that perfectly aligns with all of your video requirements.
Nowadays, choosing the perfect screen recorder is more of a successful business strategy than a valuable add-on, and thus there is little room for error.
The best part about this list is that most of the tools mentioned above are either free or come with a free trial version, which comes in handy if you want to test the product before making the final purchase.
So, set the long-term goal and vision of your business, and see which of these tools suit you the best.
Is any screen capture software not on this list? Let me know in the comments.
Further reading on AdamEnfroy.com: If you have a Chromebook and want to learn how to use its basic functionality, check out this article on how to screenshot on Chromebook for all the details.
Disclosure: I may receive affiliate compensation for some of the links below at no cost to you if you decide to purchase a paid plan. You can read our affiliate disclosure in our privacy policy. This site is not intending to provide financial advice. This is for entertainment only.