7 Best Futures Trading Platforms of 2023 (Ultimate Guide)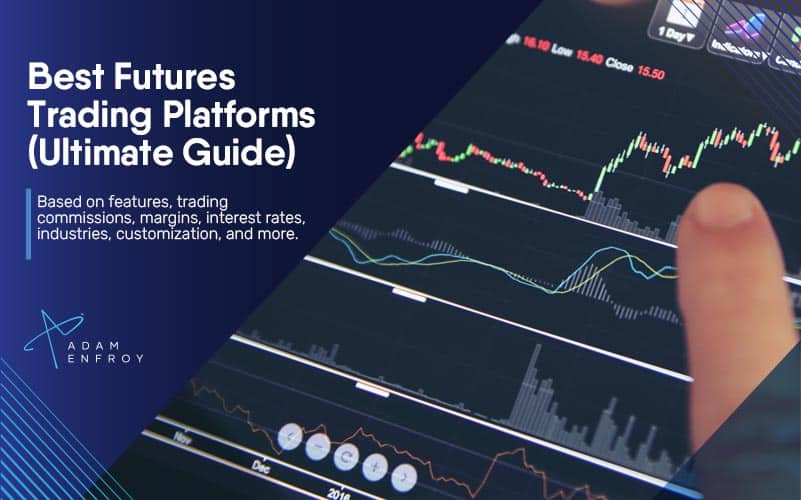 Investment apps come in all shapes and sizes.
Some are better for long-term investing, while others are great for tracking your spending and investing what would otherwise have been spent.
When it comes to trading, there are different types of platforms for various kinds of traders.
With forex trading being one of the most popular forms of trading in recent years, more and more platforms have been developed to make it easier for traders to buy and sell currencies.
Some of the best forex trading platforms are still being used today by some of the most successful traders in the world.
That said, a focus on AI investing software and platforms has grown in recent years.
These platforms help traders make better decisions by analyzing data and predicting future market movements.
When it comes to futures trading, there are a few different platforms that stand out from the rest, platforms that are best suited for specific types of investors.
In this guide, I'll review the best futures trading platforms today so you can make an informed decision about which is right for you.
Keep reading to learn more.
What Are The Best Futures Trading Platforms?
The following are the top futures trading platforms to consider.
1. Optimus Futures.
Best Overall Futures Trading Platform.
Optimus Futures is one of the best futures trading platforms for active day traders.
With a people-first focus, the company is dedicated to providing its clients with trading tools, technology, and education that are second to none.
The platform offers an integrated trading package with everything needed for a hassle-free setup.
Optimus Flow, their specially created software that helps with automated journaling and trade tracking, makes this platform one of the most efficient and user-friendly on the market.
They also offer a transparent pricing structure with low commissions that is easy to understand.
Moreover, you can trade micro futures contracts with them, which is not offered by all futures trading platforms.
Key Features:
Free professional-grade trading tools give you an edge in the market with real-time data, comprehensive analysis tools, and advanced order types.
Deep discount trading commissions help save you money on every trade.
Micro futures let you trade contracts with minor risk exposure.
Low-day trading margins give you more buying power with less capital.
User Experience:
Various analytical panels on the interface provide a 360-degree view of the market action.
You can execute fast orders while looking at the market's technical indicators and other aspects.
Pricing:
A trade can cost as little as $0.50 / side.
With higher volumes, you can get this down to as little as $0.10 / side, so bulk trading has its benefits.
You can ask for a custom quote to see if you qualify for the highest discounts.
What I Like/Dislike About Optimus Futures
Like:
Low trading fees mean you can take on more trades without worrying about eating into your profits.
There being no inactivity fee is great news for those looking to take a break from trading every so often or who don't trade as much.
Dislike:
A withdrawal fee applies when you want to take your money out.
Product Updates:
Features like Optimus Flow, Optimus Trader, Optimus News, and more form part of a suite of tools constantly being updated to ensure they are the best in the industry.
2. Interactive Brokers.
Best For Fixed Rate Trading.
Interactive Brokers offer fixed rate pricing, so you can know exactly how much each trade will cost you, making it easy to calculate your potential profits.
The platform is designed for active traders who want all the needed tools and features.
They also offer different commission rates based on whether you're trading in US or non-US futures markets, which is excellent for international traders.
With costs that decrease depending on volume, high-volume traders will find this platform very appealing.
Over 35 market centers worldwide allow you to trade Futures and Options on Futures using this platform.
Key Features:
Industries such as energy, currency, agriculture, equity index, and more can be traded on the platform.
Stocks, ETFs, and options can all be traded within the same platform, which is very convenient.
The Futures Arbitrage and Interest Rates Tables are handy to get the proper knowledge before trading.
Traders' University gives you the educational resources you need to succeed.
The US Futures market scanner is a great tool to help you find the right opportunities.
User Experience:
You can customize the workspace to better suit your needs by providing out-of-the-box usability with quick and easy access to comprehensive trading, analysis, and risk management tools.
Pricing:
Interactive Brokers typically charge around $0.85 per transaction.
What I Like/Dislike About Interactive Brokers
Like:
Various research tools help you make informed decisions about your trades.
A wide range of products can be traded on the platform.
Dislike:
The process related to opening an account can be complicated for some.
Product Updates:
When using the API, Pace is now applied by default
For advisors, the reallocate tool is also available in Mosaic
3. Discount Trading.
Best For Brokering Futures Platforms.
Discount Trading has more than two decades of experience in the futures industry.
With their trading rates, they are one of the most affordable providers.
The platform is suitable for beginner and advanced traders with a wide range of features and tools.
They also offer futures broker assistance, management, and colocation services for those needing them.
With safety and security features only a top platform can offer, Discount Trading is an excellent choice for those looking for reliable service.
You can also trade on various devices, including Mac, PC, smartphone, tablet, or phone, so you can always stay connected no matter where you are.
Key Features:
Customized solutions for professional traders ensure you have the tools you need to succeed.
No monthly inactivity fees exist, so you can take a break without worrying about being charged.
The Free futures news and research are handy to stay up-to-date with the latest developments.
The trading platform is also free and comes with live streaming quotes, a great perk that not many other providers offer.
User Experience:
Offering multiple trading platforms at great rates means finding the right one for your needs is easy and trading with confidence is possible.
Firetip is one of these platforms and is a professional-grade futures trading system that gives you all the needed tools to both get started and succeed.
Pricing:
The pricing depends on the monthly volume of futures contracts traded.
However, one can have commission rates as low as $0.19 per side when trading at high volumes.
What I Like/Dislike About Discount Trading
Like:
High volume / high-frequency traders will get great rates on their trades.
Traders looking for excellent customer service and fast account opening will be pleased with the service they get.
Dislike:
Sometimes, it's tough to find the best platform for your needs because several options exist that can help you achieve your goals.
Product Updates:
You can now place trades every hour of the day, six days a week. This means that you never have to miss an opportunity when the time is right.
4. Tradovate.
Best For Replaying Past Strategies.
Tradovate offers unlimited, commission-free trading for a flat price.
This makes it very appealing for those who want to trade without worrying about hidden costs.
With decades of research, brokerage leadership, and expertise in the futures industry, Tradovate is an excellent choice for anyone looking for a solution that is both affordable and reliable.
Having created specific tools for those who want to trade futures, the platform also offers its proprietary Market Replay software.
This tool allows users to go back to any period and replay the strategy used.
This is a great way to learn and improve your skills while avoiding making the same mistakes in the future.
Key Features:
A depth of market tools allows you to see the complete book of orders when making decisions.
The charts are very user-friendly and give you all the information you need at a glance.
The streaming quotes mean you never miss a beat and can react quickly to changes.
The advanced order management system gives you complete control over your trades.
You can practice and test your strategies risk-free with the simulated trading feature.
User Experience:
While many tools help you make the best decisions using this system, locating suitable options can be difficult.
Since this is proprietary software, a learning curve exists, which may be difficult for some.
Pricing:
There are various tiers of membership.
The free membership allows you to get started without a monthly fee and then pay a commission per side.
There is then the Active Trader plan, where the commission is reduced with a $99/mo subscription.
Finally, you can also opt for a commission-free membership at $199/mo.
What I Like/Dislike About Tradovate
Like:
Prompt & professional customer service ensures you can always get the help you need.
The set minimums are reasonable and encourage small traders to get involved.
Dislike:
Placing orders is sometimes slower than on other platforms, which can be frustrating.
Product Updates:
Trading Futures & Options on Futures can now be done on the same platform.
5. Tastyworks.
Best For Multiple Trading Options.

Tastyworks allows for trading in indices, forex, interest rates, and commodities through a single account.
This makes it an excellent choice for those who want everything in one place.
With commissions that go down to as little as $0.25 per contract, Tastyworks is generally quite affordable.
They also offer a range of products that helps you pick the opportunities that are right for you.
For example, the Small Exchange offers more standard and straightforward opportunities for those starting out.
The platform is also big on education, with features like the Follow Feed and video feed that can help you learn and improve your skills.
Key Features:
Flexible IRAs and the ability to go long or short make Tastyworks an excellent choice for those looking to get started in futures trading.
The broad range of available markets means you can find the right opportunity for your needs.
The differentiating technology is a great way to stay ahead of the competition.
User Experience:
The application gives you tons of speed when it comes to high-volume trading.
You can also use multi-account support and reporting features to manage everything in one place.
Pricing:
With opening and closing commissions, the fees depend on the future you're trading.
What I Like/Dislike About Tastyworks
Like:
A browser-based platform is available for those who want to trade without downloading anything.
TastyWorks also offer a mobile app that provides all the features found on the desktop or browser version. This is available on both iOS and Android.
Dislike:
There are fewer deposit and withdrawal options when compared to other brokers.
Product Updates:
Summation Line on Account Header ensures you can see your total exposure at a glance.
The Last Trade Date in the Overview Tab helps you track when your positions were last traded.
6. NinjaTrader.
Best For Personal Investing Advice.
NinjaTrader offers personal support when getting started and has a wide range of features that make it an excellent platform for futures trading.
With $50 margins for micro transactions and $500 for E-Minis, NinjaTrader is accessible for those that consider themselves beginners.
At the same time, the platform has a range of features that make it great for those who are more experienced.
In terms of depositing funds, various options include ACH, which is not always available with other brokers.
If you want to make live trading a little easier, you can find all the needed features on this platform.
Key Features:
Unlimited simulated futures trading helps you practice and test your strategies without risk.
Unfiltered professional market data means you have all the information you need to make the best decisions.
Extensive historical tick, minimum data, and daily information give you a complete picture of what has happened in the market over a set period.
The free 24-hour emergency trade desk is a great way to get help and support when you need it.
Award-winning charting & analysis features mean that you can make the most informed decisions possible.
Pricing:
The pricing starts from $50 Margins for Micro Futures.
7. TD Ameritrade.
Best For Diversifying Your Investments.
TD Ameritrade offers a way to diversify your portfolio with various futures products.
Ranging from crude oil futures, micro Bitcoin, e-mini index, and more, you are sure to find the right opportunity for you.
They also offer an Active Trader module, allowing you to set a bid or ask price ladder, which is excellent for those who want more control over their trading.
You can also set various exit and entry points, key features as you advance in your trading journey.
With a mobile app available for iOS and Android, you can also keep track of your positions when you're on the go.
Key Features:
Comprehensive education ensures you know which actions to take to make a profit.
Superior service at every turn ensures you have someone to help you with any issues or problems.
Innovative platforms allow you to trade on the go and access your account from anywhere.
No hidden fees, so you're always aware of your running costs.
Extensive product access gives you a wide range of options to find the perfect opportunity.
Pricing:
Various products are available, so the pricing will vary depending on your choices.
Other futures trading platforms not mentioned in this article include Tradestation, IBKR, and Charles Schwab.
What Are Futures Trading Platforms?
A futures trading platform is a system that offers a variety of features, such as news and analysis, charts and price quotes, order entry and execution, and account management.
Some platforms also offer paper trading or demo accounts, which can be a great way to learn about futures trading without risking real money.
With the number of futures contracts and futures trading brokers available, it can be challenging to know which platform is right for you, which is why doing your research is vital.
What Is Futures Trading?
Futures trading is the buying and selling contracts for future delivery of commodities, securities, or other assets.
The contracts are standardized so that each agreement represents a specific quantity of the underlying asset.
Futures contracts and created and traded on various exchanges.
This also means that price of a futures contract is determined by the supply and demand of buyers and sellers.
Most futures contracts are traded electronically on dedicated platforms, but some may still be traded on the floor of an exchange.
Futures trading is a popular way to speculate on the price movements of assets such as commodities, securities, and currencies.
It can also be used to hedge against risk in a portfolio or to take advantage of price movements if they occur.
Active trading in futures contracts can lead to significant profits, but it can also result in losses if the price moves against the trader.
Future brokers help both beginners and experienced futures traders to speculate on the direction of underlying asset prices and earn profits.
While there are several ways to trade futures, the most popular way is through a futures brokerage account.
A futures trading platform is an online software application that connects a trader with a broker to buy or sell futures contracts.
Features Of A Great Futures Trading Broker
Now that you know what a futures trading platform is, let's look at some features that make a great futures trading broker.
Advanced and beginner traders will have different needs when choosing a broker.
That said, here are the features and functionality that I believe all great futures trading platforms should have.
Customer Support
Online options trading can be complex, and if you encounter any problems, you want to have someone to help you.
A great broker will offer customer support via phone, email, or live chat.
Moreover, the customer support team should ideally be available 24/7.
Investment Advice
Day traders that want to learn about futures trading can find a lot of helpful information on the broker's website.
The best online brokers will offer articles, tutorials, webinars, and one-on-one coaching to help you learn the ropes.
Educational resources that are easy to find and understand are necessary for any great futures trading platform.
Stock Trading
Whether it's mutual funds or stocks, you should have the ability to buy and hold investments for the long term.
The stock market is where you can buy and sell stocks, and most future trading platforms will offer this feature in addition to other types of trading.
No Account Minimum
Not all traders are alike, and a great online futures trading platform will understand this.
A minimum deposit should not be required to open an account.
This way, everyone can start trading without risking a lot of money.
Research Tools
Active traders must understand what's involved in a futures contract before trading.
The best futures brokers will offer various research tools, such as charts, market data, and analysis tools to help you make informed decisions.
These analysis tools help active traders make the best decisions possible – which hopefully means making profits.
Trading futures contracts is a complex undertaking, and technical analysis can give you a much-needed edge.
Various Account Types
A trading account meant for beginner traders will be different from an account intended for experienced traders.
For example, margin requirements on a beginner account will be lower than on an experienced account.
A futures exchange that offers multiple account types is a great way to attract and retain customers.
Cryptocurrency Trading
Crypto is a vital part of the future of finance, and a great futures trading platform will be aware of this.
A great futures trading platform will offer cryptocurrency trading so that you can buy and sell digital assets from the same site.
Ranging from Bitcoin to Ethereum, Litecoin, and more, the best brokers might offer a variety of cryptocurrencies to trade.
Low Trading Fees
From margin rates to commission fees, the best brokers will charge low fees so that you can keep more of your profits.
This means looking for a broker that charges low margin rates and commission fees should be part of your research.
Also, some brokers might charge inactivity fees if you don't often trade, so beware of those.
Different Available Platforms
While a desktop platform might be the best option for some traders, others might prefer to trade on the go.
A good mobile app should have the same features as the desktop platform, such as research tools, analysis tools, and the ability to place trades.
The best brokers will offer both a desktop platform and a mobile app so that you can trade whenever and wherever you want.
Best Futures Trading Platforms – FAQ
Is Futures Trading A Good Idea?
Futures trading is a good idea if you have a solid understanding of the market and are comfortable with the risks.
Futures contracts can effectively hedge against price changes or speculate on the market's direction.
What Is The Best Futures Trading Platform?
The best futures trading platform for you will depend on your trading goals and objectives.
Some platforms offer more features and tools than others, so comparing options is essential before deciding which is right for you.
What Is A Stock Index?
A stock index represents stocks representing the broader market or a specific sector.
Indexes are used as benchmarks to track the performance of a particular market or industry and for investment purposes.
What Is Paper Trading?
Paper trading is the simulated buying and selling of financial instruments (stocks, bonds, options, futures, etc.) to practice investing without putting any real money at risk.
Paper trading can help you learn how to trade and test investment strategies.
What Methodology Is Required When Using Indexes?
There is no one-size-fits-all answer to this question, as the appropriate methodology will depend on the specific index used and the investor's investment goals.
However, some standard index construction methods include equal weighting, market capitalization weighting, and fundamental weighting.
Wrap Up.
Futures trading can be an excellent way to hedge against price changes or speculate on the market's direction.
Before starting, it's essential to understand the risks before getting started.
As a disclaimer, new and experienced investors are reminded to always consult with a financial advisor before investing real money into such platforms.
Trading futures contracts is risky and can lead to losses, so it's important to know what you're doing before getting started.
Have you ever traded futures contracts?
What was your trading experience like?
Let me know in the comments below.
Further reading on AdamEnfroy.com: NFT stocks are another type of cryptocurrency you can buy, sell and trade.
Knowledgeable investors are taking advantage of this new asset class, and so should you.
In addition, digital real estate is another relatively new type of asset you can invest in.
With terms such as "NFT land" now being used, exploring this new asset class should be on every investor's radar.
Finally, if you're looking to compare different trading platforms and see what's available, check out my comparison post, where I compare and contrast Webull vs. Robinhood, two of the most popular brokerage platforms right now.
Disclosure: I may receive affiliate compensation for some of the links below at no cost to you if you decide to purchase a paid plan. You can read our affiliate disclosure in our privacy policy. This site is not intending to provide financial advice. This is for entertainment only.