7+ Best Green Screen Software of 2023 (Chroma Key Reviews)
Choosing the right green screen software is vitally important to your business. From professional filmmakers to home videographers, the best green screen software can help you meet your goals. In this guide, I ranked and reviewed the 7+ best green screen software, so that you can pick the best one for you.
---
We're reader-supported. When you buy through links on our site, we may earn an affiliate commission.
Want to get straight to my best green screen software picks? Go with Adobe Premiere Pro CC or Camtasia.
Video is the most popular form of online content with more than 500 hours of video uploaded to YouTube every minute.
With that kind of content volume, you'd want to make your videos stand out. And one of the best methods to do that is to use chroma-key or green screen software.
These are special tools that allow you to replace the background of the videos you're shooting.
Whether you want to create Hollywood-style effects, create and sell online courses, build a video subscription business with OTT platforms, or just replacing that background for a home-movie, green screen video is a vital feature in video editing software.
Let's get right to the list.
What is the Best Green Screen Software?
Best Overall Green Screen Software
Adam's Take
The best overall green screen software is Adobe Premiere Pro CC. It's part of Adobe Creative Cloud, which means it's easy to integrate with other Adobe products like After Effects. It's my top pick with all the tools you need for professional video editing.
Adobe Premiere Pro CC is a software package that offers all the tools for professional video editing. Premiere Pro is a massive tool and delivers an all-too-familiar non-linear editing interface with dedicated toolsets.
The software provides you with a timeline to arrange and edit audio and video clips. You can do basic editing from the timeline itself. There's a razor tool for cutting, dedicated tools for ripple and slip edits, along with a ton of special effects and stylistic additions.
Premiere Pro CC supports advanced chroma-keying, and you can overlay video layers on top of any colored background, such as a blue screen. It even allows you to alter the intensity of the effect to mask a greater color range.
Features:
From transition effects, team collaboration features, and dedicated green-screen effects, this video editing software provides you with everything needed and more. It runs on Mac, Windows as well as Linux, and delivers the largest feature set available.
On top of being my go-to editing software for green screen work, it is also my top pick for editing YouTube videos as well.
The following is a list of its significant features:
Provides options for 4K editing
360-degree video editing
Multicam editing options
Options for exporting to social media sites such as Vimeo and Facebook
Clean and flexible user interface
Largest collection of tools
Chroma-key feature
Excellent collaboration options
Pricing:
Premiere Pro CC is a subscription-based service that's available with an Adobe Creative Cloud subscription. You can either opt for the all-app plan at just $39.99 per month or select individual tools for use.
If you go with the individual tools, it costs $20.99 per month.
In case you're not satisfied, you can always opt for the 30-day money-back guarantee.
To get started with Adobe Premiere Pro CC today, opt for the 7-day free trial.
Best Beginner Green Screen Software
Adam's Take
Making professional-looking video projects requires skill, creativity, and the right tools. Filmora combines all three into an easy-to-use interface that anyone can master. If you want to make the most of a greenscreen while shooting and editing a video, you'll want to check out Filmora.
Filmora is a fast, intuitive video editor that contains all the latest features you need to make professional looking video projects. It's perfect for home and personal use including editing green screen footage.
Filmora is a powerful, yet easy-to-use program to take your ideas from script to screen! Bring thoughts to life with this movie maker software's cutting edge tools like Titles, Layers, MultiCam Editor, and Other Effects.
Features:
Hundreds of video and audio effects to make your masterpiece look amazing.
A simple timeline interface that will allow you to create stunning videos in minutes with just a few clicks.
Drag, drop, and rearrange clips on the fly for effortless editing without any complications.
Import media from popular devices including smartphones (iPhone), tablets, PC/Mac computers or cameras to get started quickly.
Features like "First Scene" automatically separate footage by scene so you can eas
ily find what you're looking for later!
And of course, an easy to use green screen editor that can replace a standalone green screen software tool.
Pricing
Filmora starts at $44.99 per year.
The best deal is by far the perpetual plan for only $79.99. With this plan you will get everything that Filmora has to offer, which includes the green screen software features it has built into the product.
Give this full stack video editing software a spin and try Filmora Risk free for 30 days.
Best Basic Chroma Key Software + Full Stack Video Editor

Adam's Take
If you're looking for a basic green screen solution, I advise you to check out Camtasia. It's simple to use and perfect for beginners who want to try green screen video editing. With chroma key software, you can easily remove the background from your video footage to create Hollywood-style effects on Camtasia.
Camtasia is a simple to use video editor and chroma key software (for basic green screen editing) that may suit your needs.
It is the perfect video editor for beginners with no experience in editing and offers many features that will make it simple to create professional videos, whether you are a student, business owner, or typical YouTube user who wants to spice up their content.
Features:
Intuitive and easy-to-use interface.
The ability to upload videos straight from the application, via Dropbox or YouTube.
A wide range of built-in editing templates makes it easier for beginners to create professional-looking video content.
Screen recording options for capturing live demos and lectures.
Camtasia for Mac is also available, which makes it an ideal video editor for Apple users.
Pricing:
Camtasia's pricing couldn't be simpler. It only has one option which is a one time fee of $299.99 with a 30-day money back guarantee.
This multi-purpose video editing software is ideal for beginner-level editors who are new to editing green screen videos. It can be overwhelming trying to use dedicated green screen software unless you are a true pro with video editing.
Try Camtasia's free trial today and see if it works for you.
4. iMovie
Best Free Green Screen Software for Mac

Adam's Take
If you're an Apple user, you might know that iMovie is an all-time favorite of this operating system's users. With its straightforward interface, you can quickly edit your videos and apply green screen effects with a few clicks. You can also edit your movies just the way you want to.
iMovie is the best chroma-key software for Mac users and offers the premium experience associated with all Apple products. It comes preinstalled with Mac devices and contains a wide variety of options for macOS and iOS.
Apart from being an effective chroma-key software, iMovie provides you with many tools such as narration, color grading, and media organization. It even has options for split-screen effects.
The software allows you to change the background image of any video and handle two tracks simultaneously. You can also use an iPhone for editing, which means creating videos on-the-go.
Features:
Apart from green screen effects, iMovie provides you with other basic editing options. You can crop and rotate videos, trim the clips' length, and even apply built-in sounds and animations.
The following are some of the essential features of iMovie:
Extremely easy to use
Professional grade movie templates
Supports 4K video
Seamless audio and video transitions
13 high-fidelity filters
Hollywood-style special effects
Over 80 smart soundtracks
Ability to add custom graphics and logos
Easy editing process across all Apple devices
Pricing:
iMovie is available for free on Mac as well as iOS devices. Apple device users don't have to spend a dime on it.
5. Lightworks
Best for Applying Real-time Effects
Adam's Take
If you're looking for free-to-start green screen software, Lightworks is a great option. I advise you to use it for effects and green screen editing if you want to apply real-time effects to your video, as it's best suited for these operations.
The Lightworks video editing software is best suited for applying real-time effects. The basic package is free software that has green screen editing features. It makes giving your videos a new background simple and effective.
Lightworks gives access to professional-grade features that let you create attractive videos. The software is fast and can quickly adapt to your needs, whether beginner or pro. It has a bit of a learning curve, but there's perhaps no tool out there easier to operate once you get used to it.
It provides users with advanced effects that allow enhancing videos in real-time. You can choose from among a range of tools such as blurring, masking, and color grading.
You'll also be able to export videos directly to YouTube, Vimeo, and other alternatives.
Features:
Apart from chroma-keying, Lightworks gives users advanced features such as video and audio special effects. It even provides proxy workflows for use with 4K videos. Lightworks is compatible with Mac, Windows, and Linux.
The following is a list of some features that Lightworks offers:
Works with a wide variety of video formats
Allows fast export to MPEG4/H.264
Fully optimized to offer fast speeds
Multicam editing options
Realtime effects with the help of inbuilt presets
Advanced Boris FX Plugin
Boris Graffiti for text effects
Fully customizable interface
Options for real-time collaboration
Dedicated hardware support
Pricing:
Lightworks comes in two versions: Lightworks Free and Lightworks Pro. The free version provides you with limited capabilities but allows all import formats and social media exports. It also lets you edit and update projects along with archiving and back-up features.
The following are the paid plans for Lightworks Pro:
Lightworks Pro: Month at $23.99
Lightworks Pro: Year at $239.99
Lightworks Pro: Outright at $389.99 (lifetime license)
The Monthly plan doesn't come with Boris FX/Graffiti. The yearly plan only comes with Boris Graffiti, and the Outright license has both Boris FX and Boris Graffiti.
6. VSDC Free Video Editor
Best for Lightweight, Non-linear Editing
VSDC is a free video editor and green screen software that can operate even in systems with low graphics resources. It's one of the few best free green screen software that provides chroma-keying abilities.
It uses a non-linear editing style and allows you to perform many video manipulations such as split-screen effects, picture-in-picture, and drawing tools. It also contains lighting and color correction instruments.
The only two downsides that I can think of for this software is that it has a rather steep learning curve and is available only for Windows systems. If you're using a Mac system, you'll have to stick to dedicated software such as iMovie.
Features:
Despite being a free tool with low system requirements, VSDC doesn't skimp on capabilities. It supports mask creation for PiP videos, offers embedded social sharing templates and other advanced features.
The following is a short list of the essential features of VSDC:
Supports most popular video formats and codecs
Video and audio conversion tools
An extensive array of video effects
Advanced audio effects
Simple and highly usable interface
Pricing: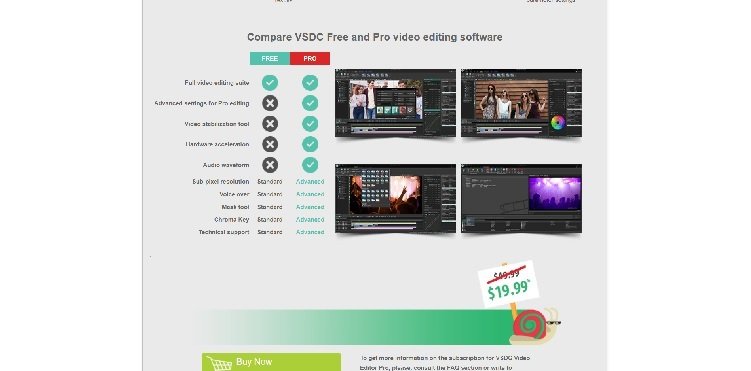 As I've already mentioned, VSDC is a free video editor, which means you can download and use it without paying anything.
In case you're a professional looking for advanced features, you can opt for the VSDC Pro Video Editor that's available for $19.99.
7. HitFilm Express
Best for Free Professional-Grade Video Editing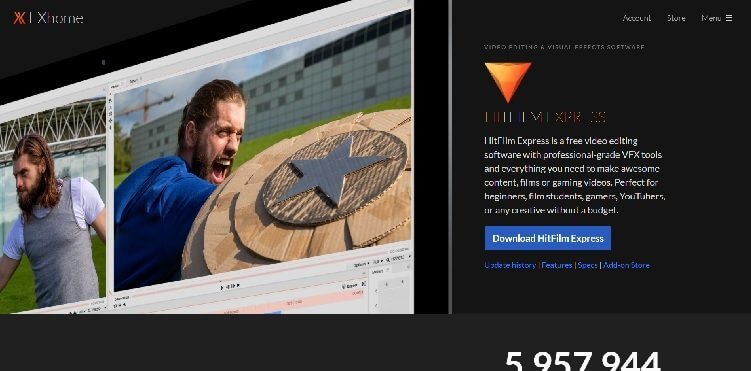 HitFilm Express is the one software tool that offers professional-grade video editing tools completely free. Whether you're a filmmaker looking for VFX features or a gamer working on your next hit game video, this is the tool for you.
The software has already built a vibrant community that consists of almost six million video content creators. It even comes with several excellent tutorials that you can use to enhance your editing skills.
The best thing about HitFilm Express is that it continues to receive updates even though it's free. This means you'll get continued support from the developers. It supports most popular video formats such as AVI and MP4.
Features:
HitFilm Express provides users with seamless workflow management capability. You get a personalized workstation, combined timelines, and mask editing and rendering options. It even provides you with a range of non-linear editing tools.
The following is a list of the software's essential features:
Built-in voice recorder
An unlimited number of tracks and transitions
Over 400 effects and presets
Comprehensive tutorial videos that are free
Complete 3D and 2D compositing
Compatible with most audio and video formats
Pricing:
HitFilm Express is available for free download on Windows and Mac systems. However, for several features such as the green screen background editing and sci-fi effects, you need to purchase separate paid add-ons.
When downloading the software, you'll also be prompted to opt for any of the below packages:
Starter Pack for $9, contains all basic effects and tools
Content Creator Pack for $19, ideal for video professionals
VFX Artist Pack for $39, best for Hollywood style effects
In case you're opting for any of the above packs, a portion of your payment will be spent on social and environmental causes.
8. OpenShot
Best for Open-source Video Editing
OpenShot is an open-source video editor that's available for free. Using the software, you can create 3D animations, video transitions, and even slow-motion effects.
In case you're shooting against a green color background, it lets you apply chroma-keying as well.
OpenShot is entirely cross-platform and works across Mac, Linux, Windows, and FreeBSD. It allows you to create professional green screen videos and even combine 3D effects with it. Also, the user interface is highly intuitive, which makes using it a cinch.
However, optimization features are a bit sketchy, and the program throws occasional errors that negatively impact the editing process. Still, if you're a supporter of the open-source movement, this might be the software to go with.
Features:
As I've already mentioned, OpenShot is cross-platform and supports multiple audio, image, and video formats. It comes with a robust animation framework and can work with unlimited keyframes and multiple interpolation modes.
Apart from the above, OpenShot provides the following features:
Full drag-and-drop support
Comes with unlimited layers and tracks
Clip trimming, rotation, snapping, and cutting tools
Contains over 400 video transitions with real-time previews
3D animated effects
Advanced video editing timeline
Audio mixing and editing
Digital video effects such as green and blue screen
Pricing:
OpenShot is entirely free to download and is available as direct download links as well as torrents. But you can choose to donate towards its development if you want. Donations make your name eligible for display in the product credits.
9. OBS Studio
Best for Video Recording and Streaming
OBS Studio is yet another completely free video editing tool with recording and live streaming capabilities. Apart from recording, it can also allow you to perform professional video editing and chroma-keying.
The tool is fully customizable and lets you apply green screen effects to videos with a few clicks. However, apart from chroma-keying, its editing capabilities are limited compared to options such as Adobe Premiere Pro CC.
Features:
The limited features of the tool make it suitable for beginners. It's available on Windows, Mac, and Linux and can be downloaded as an installer or a Zip file. You can also choose to download via BitTorrent.
The following is a list of its most prominent features:
Ability to handle multiple screens
Easy video recording and streaming
Receives regular updates
Continuous community support
Simple and user-friendly.
Pricing: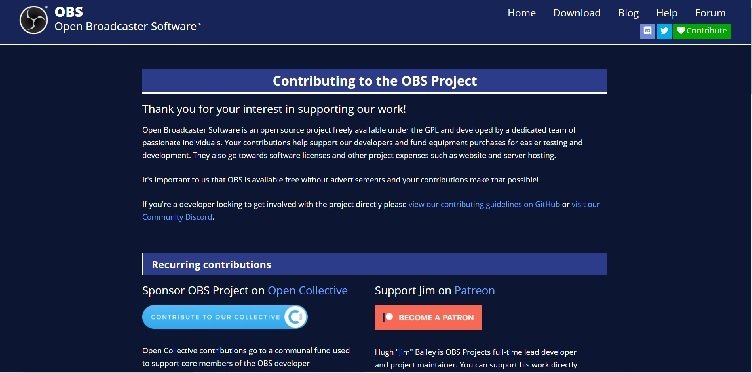 OBS Studio is entirely free to download and use. However, you can choose to become a contributor by sponsoring the OBS Project on Open Collective. You can even support Jim Bailey, the project maintainer, on Patreon.
What is Green Screen Software?
Green Screen software refers to software applications that can change the background of videos. Using these tools, you can edit videos to add a new background color and then replace the background layer with another one.
Green screening is also called chroma-keying and usually uses a bright green background. However, you can also use other colors. To know why green is the preferred color for chroma-keying, move on to the next section.
Why is Green the Preferred Color in Chroma-Keying?
The reason is relatively simple: green screens are green because this is not a color that's widely used in everyday life. The green that's used to add chroma-key effects isn't found in nature, so it can be easily filtered using the software.
Here you might argue that people can wear green clothes, but you can remedy that with a change of clothes. The only thing to remember when using a green screen is that it should be a single solid color that doesn't match the color of any other scene elements.
Initially, green screens used to be a solid blue. Larry King first used the technique in his Academy Award winning movie, The Thief of Bagdad, and back then, the screens were blue. Even today, you can use blue as a substitute for "green" screens.
What Equipment Do You Need to Record Green Screen Scenes?
Replacing video backgrounds does seem to be a complicated concept, but green screen software can make the task easier. The key aspect here is to use the right combination of digital photography techniques and software tools.
Here's a list of the essential equipment you'd need for green screen video production:
A digital camera or webcam
A sufficiently powered computer; both Macs and PCs work well for video editing
A data cable to download images from the camera to the computer
A green or blue background; you can use a cardboard cutout or fabric
Appropriate green screen editing software
How Do You Shoot a Green Screen Video?
1. Select the Backdrop
The very first step to recording a green screen video is getting the green screen in the first place. As I've already mentioned, you can also use a blue background for this purpose. Either pre-made cardboard or a fine fabric such as muslin will do.
It's important to note that the screen color should never match any surroundings, so don't wear green clothes or colors that match the background.
2. Choose the Right Camera
As the second step, you'll need to select a camera that can shoot high-quality video. Ensure that the camera (or webcam) can shoot videos at least 720p to 1080p or higher, with at least 24 FPS. Also, check whether the camera can record and save the video in a supported file format.
If you need to, you can even use your iPhone or an Android phone with a high-quality camera for shooting the videos.
3. Arrange for Proper Lighting
Next, I recommend you put some time to arrange the lighting properly.
The purpose behind this is to get rid of shadows on the backdrop, as they can create glitches in the green screen recording process. To ensure this doesn't happen, ensure that you illuminate the recording area from all angles.
The best practice is to use separate light sources for the subject and the background. This way, you can control the color saturation levels and intensity of the screen. You'll need to adjust the backlights and filters until no shadows are left.
Another aspect to be aware of is "green spills." Green spills arise when there's excess light in the background. This creates light hotspots on the subject and makes the keying process less effective.
4. Keep the Screen Straight
When recording green screen videos, the screen must be as tight as possible. Wrinkles or folds in the screen can cast unwanted shadows. Such shadows might interfere with the chroma-keying process.
I recommend using an iron to work out any wrinkles in a cloth screen. Ironing should take care of any irregularities that might lead to distortions.
5. Be Aware of Shutter Speed
When choosing the camera, be aware of shutter speeds. Shooting a motion-intensive action scene with a low shutter speed can introduce motion blurs. In case your camera is of a low shutter speed, you'll have to ensure that the subjects move in slow motion.
6. Use the Right Green Screen Software
Finally, once filming is complete, use the right green screen editing software to replace the green background with the desired one post production. Any of the tools mentioned above can help you do this with just a few clicks.
What Precautions Should You Follow When Creating Green Screen Videos?
Here are some of the precautions you need to follow when creating green screen videos:
Try to put at least six to ten feet of distance between the green screen and the subject.
It's best to void high ISOs.
When shooting in a natural setting with greenery, use blue screens instead of green.
Make sure you review your footage after shooting.
The subject's costume and makeup should match the background you're going to add in later.
Wrap Up.
Green screen video shooting is not challenging. With the right tools, anyone can create green screen effects like a pro. Just follow the mentioned precautions and select the software that suits your needs.
Here are the top green screen software you can choose from:
Whether you're shooting a professional movie or making a simple family video, I'm sure you'll be able to find your pick from the choices above.
Disclosure: I may receive affiliate compensation for some of the links below at no cost to you if you decide to purchase a paid plan. You can read our affiliate disclosure in our privacy policy. This site is not intending to provide financial advice. This is for entertainment only.