13 Best Help Desk Software Platforms of 2023
Choosing the right help desk software is crucial if you want to provide excellent customer service. From managing customer tickets to setting up knowledge base articles, the best help desk software can help you meet your goals. In this guide, I ranked and reviewed the 13 best help desk software, along with my top 5 choices, so that you can pick the best one for you.
---
We're reader-supported. When you buy through links on our site, we may earn an affiliate commission.
Want to cut right to the chase? The best help desk software right now are Salesforce and ZenDesk Support.
Customer experience is a crucial element driving the success of your business. However, good customer service is more than moving questions along for the sake of closing one support ticket and opening the next.
When done well, quality customer service should result in increased revenue and customer loyalty — with the referrals to match. You should ultimately find that it's cheaper to retain current customers with proper support than it is to acquire new ones.
Providing the level of support that will help you achieve the above requires striking a balance between timeliness and quality of response. 90% of customers believe their problems should be addressed by a company immediately.
For the majority, "immediately" translates to 10 minutes or less and is something that can be set in the OKR software of your choice as one of the goals to hit in a business.
To have remarkable customer support, you need to respond promptly in a way that efficiently narrows in on the crux of the issue. Cue the introduction of the right helpdesk software.
Disclosure: I may receive affiliate compensation for some of the links below at no cost to you if you decide to purchase a paid plan. You can read our affiliate disclosure in our privacy policy.
What is Help Desk Software?
Help desk software helps — it reduces the time it takes for a customer support agent to address issues. This is done by streamlining incoming tickets from various channels into one centralized location. help desk software, in particular, is great for small and large businesses alike.
It provides the following benefits to teams:
Scalability: You can launch efforts with a basic, lower-cost plan (some are even free to start) and work your way up to more advanced plans as the company's needs grow.
Easy implementation: Since service desk software is typically stored in the cloud, internal set-up is minimal. Upon starting a trial or subscription, you can quickly deploy the technology across relevant teams. Additionally, if you're unhappy with the software choice, it's easy to opt out and transition to something else.
Cost-effectiveness: You don't need an entire team to manage help desk software, since maintenance work on the backend is usually handled by the provider.
Important Features When Choosing Help Desk Software for Customer Support
With the above benefits in mind, help desk systems will vary.
However, there are a handful of critical features you should pay close attention to when choosing the right help desk software for your customer support team.
Ease of ticketing: Tickets are how you'll be managing customer communications. Make sure it's easy to create and close tickets, make modifications, and route tickets through the appropriate internal channels. Additionally, it should be seamless for agents to store and resurface past tickets.
Ticket consolidation from various channels: Where do you hear from your customers the most? Whether it's live chat, email, social media, or phone, make sure the software you choose offers integrations for connecting a multi-channel system.
Self-service option: If you want to speed up the support process, a knowledge base software feature can be great for offering guidance on common customer issues. Beyond that, a knowledge base has a lot of benefits. It can serve as a content source for sales agents looking for enablement materials and marketing teams looking to understand which topics are most popular with customers.
Popular app integrations: There's a difference between having help desk support software and actually using it. Make sure the provider you choose offers relevant integrations with other customer support tools. This will help prevent the need for manual updates and entries by streamlining data across the board.
Allows you to reach the agreed terms in service level agreements: Reaching your SLAs is crucial for long-term business success. The right Saas help desk software allows both service management and SLA management to happen at the standard required. Users will be able to get answers from a liveagent without the need for escalation.
Knowledge management: The right help desk tool will allow easy integration with knowledge modules that support requests for specific information. Team members can resolve issues while giving prioritization to what's more important in their day to day. At the same time, they stay aware of what's happening in their environemnt through notifications.
Project Management: This is a feature that is nice to have and will affect the team's performance. Being able to delegate tasks in a contact center is a great management tool to have since agents can categorize issues and assign them to the right people through the ticketing software itself.
While the above features are generally important, every industry comes with its own set of nuances. Be cognizant of your company's specific needs when vetting the features you believe to be most crucial.
What is the Best Help Desk Software?
Here are a handful of help desk software providers worth vetting.
Best for: Overall satisfaction and features
Salesforce Helpdesk is one of the most popular and well-rounded helpdesk software solutions on the market. It's packed with features and has excellent customer satisfaction ratings.
Give your customers faster answers, increasing both customer and agent satisfaction as a result.
Using Salesforce Helpdesk, you can allow your agents to focus on what really matters—serving your customers.
Key features of Salesforce Helpdesk:
Get smart about support so you can focus on what matters most in your business
Give your team a 360º view of your customers so they can serve them better
Support customers on any channel—email, phone, chat, and social media
Personalize your customer support experience to create loyal advocates for your brand.
Pros:
Coupled with a great CRM and packed with features, Salesforce Helpdesk is one of the best helpdesk software solutions on the market.
Connect every service channel to help your team get the job done in the most streamlined way possible.
Cons:
Paying for add-ons can quickly add up.
Pricing
There are four pricing plans available:
Essential: $25 per user per month
Sales Professional: $75 per user per month
Service Professional: $75 per user per month
Marketing Cloud Account Engagement: $1250 per month for up to 10, 000 contacts.
Get started with Salesforce.
Best for: Small to medium-sized businesses looking to centralize marketing and support efforts.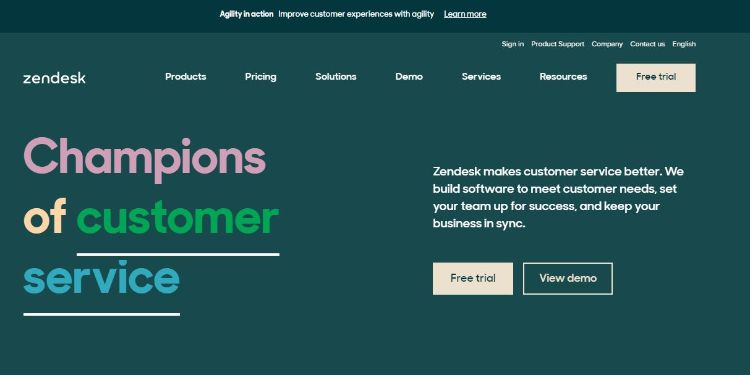 For help desk functionality, ZenDesk Support used to operate solely as a standalone product. However, ZenDesk Suite is now available, incorporating ZenDesk Support, Guide, Talk, and Chat under one platform.
Therefore, what sets Zendesk Support apart is the fact that you can use it in tandem with these complementary tools. Though the user interface doesn't get a lot of points, the technology behind the platform makes it worth using, regardless.
Key features of ZenDesk Support:
Integrates tickets from various channels seamlessly via web and mobile.
Offers multiple support ticket forms for agents working to best serve a customer's specific needs.
Includes business rules for automation that trigger automatic workflows based on changes to an original ticket.
Incorporates advanced self-service support using artificial intelligence (AI) and machine learning suggestions for new content ideas and updates to outdated articles.
Pros:
Offers competitive pricing.
Integrates with over 500 apps and services as one of the most popular help desk solutions.
Customizable features good for call centers (some dedicated call center tools) and helps improve user experience when resolving issues.
Cons:
Includes an inferior interface for end-users compared to other help desk software (e.g. Freshdesk).
Pricing
ZenDesk Support is available for teams as follows:
Suite Team: $49 per agent per month (billed annually)
Suite Growth: $79 per agent per month (billed annually)
Suite Professional: $99 per agent per month (billed annually)
Get started with ZenDesk Support.
Best for: Automation
SysAid offers an all-in-one solution allowing end users to submit tickets, access a knowledge base with helpful how-to guides, chat for support, and track their ticket history.
With its intuitive dashboard, customizable reports, and patch management capabilities, you can quickly generate detailed reports on service quality or project tasks.
You can also monitor network assets, including hardware & software, and mobile devices with the platform's integrations with endpoint technology.
Additionally, automation tools save time, money, and resources, so you maximize your performance.
End users can submit tickets, access a knowledge base with helpful how-to guides, and engage in chat for support.
You can quickly automate time-consuming processes such as patch deployment or system updates – no manual intervention is required.
Key features of SysAid:
Ticket management helps your business resolve requests from customers with ease.
The self-service portal allows customers to submit requests, find answers, and track tickets without input.
A knowledge base makes it easy for customers to quickly search for the information they need without waiting on a representative.
Reporting & analytics let you gain insights into customer interactions, identify trends and measure performance against KPIs.
Asset management helps you keep track of all your custom hardware and software assets.
The remote control abilities allow you to access customer devices remotely to quickly diagnose and fix technical issues.
Pros:
The remote control feature is helpful for quickly diagnosing and fixing technical issues.
With patch management, advanced reporting, and automated workflows, SysAid is a powerful IT help desk solution.
Cons:
Setting up all the features takes time, as plenty of complex features are available.
Pricing
You'll have to fill in a form involving several steps to get pricing.
Best for: Serving external customers (vs. being used as a company's IT help desk).
Used by big names like HP and Panasonic, Freshdesk is worth adding to the list as one of the leading help desk platforms on the market today.
Freshdesk's unique gamification feature — the Freshdesk Arcade — sets the Freshdesk platform apart from its competitors. It displays leaderboards and badges for top support performers.
Key features of Freshdesk:
Offers a shared inbox for support agents to access and manage tickets from various channels, including social media, voice, email, and live chat.
Keeps track of conversations according to priority and category.
Integrates with popular apps including MailChimp, Shopify, and Office 365.
Facilitates mobility with their app for sales agents who might need to make customer inquiries from their mobile devices.
Pros:
Incentivizes agents to provide high-quality customer service with its gamification feature.
Offers a free tier for small businesses eager to try out the product.
Cons:
Limits the key features (e.g., a chatbot and social signals) to only the highest-priced subscription tier.
Pricing
Freshdesk is free for unlimited agents with limited features. Their standard support starts at $15 per agent per month when billed annually.
Get started with Freshdesk.
Best for: Aligning sales, marketing, and service teams.
HubSpot's Service Hub is a support software offered by HubSpot, and it is designed to create a frictionless customer experience. One of the main features is the Conversations Inbox, which brings all customer communication channels — CRM software, email, live chat, forms, Facebook messenger, and more — together into one universal inbox.
Contact and company data stored in the HubSpot CRM will automatically enrich each conversation, so your support team has contextual information about the customer's history with your company.
You can start using Service Hub for free and set up your customer service team with live chat, ticketing, team email, calling, and more. Then, as your company grows and you move from reactive to proactive customer engagement, you can opt for one of the paid tiers and scale your activity. Additionally, if you're already using other HubSpot software, integration is a breeze.
Key features of HubSpot's Service Hub:
Includes the Conversations inbox, which brings all your communication channels — email inboxes, live chat, forms, Facebook messenger, and more — together into one universal inbox.
Offers a full help desk, with routing, automation, and reporting to easily turn chats and emails into tickets that can be organized, prioritized, and tracked.
Incorporates a self-service knowledge base for customers wanting to find information without speaking to an agent.
Provides customer feedback tools to help your team run surveys and collect direct feedback from customers.
Pros:
Integrates seamlessly with popular tools, like Zapier, Facebook, Salesforce, and HubSpot's free CRM (amongst others).
Offers a user-friendly interface.
Includes a help desk solution for helping agents be more productive, helping customers find answers on their own, and measuring customer satisfaction.
Great help desk ticketing, issue tracking, change management, incident management, and self-service portal.
Cons:
Uses a ticketing system that may not be right for all companies, according to some reviews.
Certain features are only available in paid tiers.
Pricing
HubSpot's Service Hub offers three paid tiers starting at $45/month for two agents, $360/month for five agents and $1200/month for 10 paid users. All of these are billed yearly.
Get started with Hubspot.
Best for: Meeting customer needs.
Zoho Helpdesk helps you provide a conversational, omnichannel customer support experience.
It's a comprehensive helpdesk solution that gives you all the tools you need to deliver great customer service.
More than 50, 000 businesses trust Zoho Helpdesk to power their customer support.
Ensure that all complaints are addressed and that customer satisfaction levels are high with Zoho Helpdesk.
Key features of Zoho Helpdesk:
Notification rules allow you to specify how you want to be notified about new tickets and activity on existing tickets.
Ticketing efficiency ensures that your customer support team can quickly and efficiently resolve customer issues.
Embeddable Self-service allows your customers to find answers to their questions without having to contact your support team.
Auto-tagging tickets save time by automatically sorting and tagging incoming tickets.
Pros:
Create all the reports you need to measure customer satisfaction and track support team performance.
Use the right templates to respond to customers quickly and efficiently.
Get real-time insights into your support operations with the help of built-in analytics.
Cons:
The learning curve for Zoho Helpdesk can be a bit steep for some users as there are many features to explore.
Pricing
The following are the plans for Zoho Helpdesk:
Free For Up To 3 Agents: $0
Standard: $14 per agent per month
Professional: $23 per agent per month
Enterprise: $40 per agent per month
Get started with Zoho Helpdesk.
7. Comm100
Best free help desk software (Free).
Comm100 is a help desk software that provides customer service and communication products, along with ticketing, live chat, and emailing. It also allows you to offer help to your customer base via Twitter, text messages, a post, etc.
You'll get notified right away as you receive the messages from your clients so that you can address all the issues in time. Another advantage is that you can handle all your chats on different platforms from one single dashboard.
Plus, it enables eCommerce businesses to monitor, track, and converse with online customers in real-time.
You can use it to track metrics like:
The navigation history of your customers.
Time spent on a particular page.
Product or service checked by the user.
Geography and demographics of your users.
You can consider multiple factors, including time spent on the website, URL, and current page, among others. It also helps you optimize your sales campaigns by identifying which product or service attracts more visitors or leads.
Some of its other key features include:
Auto-create tickets from offline messages.
Ability to customize the email signature.
It allows you to send personalized invites to potential customers.
Automate multiple invitations by configuring invitation styles, rules, and messages.
Integration with Twitter, Facebook, WeChat, and WhatsApp.
One of its other products includes a live chat tool that allows your website users to instantly start a live chat by clicking on the chat button. You can place it as a floating or embedded button.
And when the device is offline, the chat widget works as a contact form for the user.
Pricing
When it comes to their livechat, the pricing is as follows:
Team: $29 per agent per month
Busienss: $49 per agent per month
Enterprise: A custom quote is given
There is also a pricing plan for omnichannel which starts at $59 per agent per month. When it comes to bots and automation, no pricing information is included on the website.
8. JitBit
Best for: Startups to enterprise-level companies.
Trusted by thousands of companies, JitBit is a powerful help desk automation tool with an excellent email-first approach to customer support.
While their main focus is email, they also offer every type of help desk management software and support like a knowledge base, live chat, integrations, and chatbots. Their tool is cloud-hosted and quick to set up. It's also affordable and integrates with all of the popular integrations you need like Dropbox, Slack, and Dropbox.
Key Features of JitBit:
Includes a team mailbox to manage your ticket list with advanced filtering and reporting features.
Features an "Ideas Forum" where customers can suggest and vote for new features.
Offers a mobile help desk with mobile apps for iOS and Android.
Provides automation triggers to send automatic replies, assign tickets, and set due dates.
Pros:
Very quick and easy to set up with a cloud-hosted system that can be ready in under a minute.
Their built-in API and webhooks provide powerful integration capabilities. They also connect to Zapier, which facilitates 500+ extra integrations.
Strong email features and security with anti-Spam, deduping, and anti-flood protection.
Cons:
Features like downloadable backups, your own domain, and hiding their "Powered by JitBit" message aren't available on their Freelancer or Startup Plans.
Pricing
JitBit's plans are as follows:
The Freelancer plan (for 1 user) is $29/month
The Startup plan (for 4 users) is $69/month
The Company plan (for 7 users) is $129/month and includes downloadable backups
The Enterprise plan (for 9 users/$29 per extra agent) is $249/month and hides the "Powered by JitBit" text, and provides expedited support and HIPAA compliance.
9. HelpDesk
Best for: Startups to enterprise-level companies.
HelpDesk's main selling points are its ease of use and scalability, offering three tiered plans for growing businesses.
What sets HelpDesk apart is the robust offerings of the platform. Thanks to automation and integration tools, HelpDesk can help your team to be more efficient and make use of some of the other tools you're already using in your tech stack.
Key features of HelpDesk:
Includes a shared inbox that allows you to create ticket lists and group tickets based on predefined filters.
Creates company roles (for structure) and groups for customer support agents to share in their workflows.
Uses automation (with a percentage of canned responses and automated assignments) and omnichannel support.
Integrates with popular apps, including LiveChat, Zapier, and HubSpot.
Pros:
Offers a user-friendly and easy-to-use interface.
Provides excellent on-premise customer support.
Good customer service software that helps manage customer interactions and builds customer relationships.
Cons:
Includes only limited functionality with the Starter plan.
Offers only three plans, each with distinct features for small, medium, and enterprise-level teams — there's no in-between.
Incorporates automation features that are not as advanced as those offered by other support desk software solutions.
Pricing
HelpDesk's Starter plan (best for simple email management) starts at $4 per month per agent; the Team plan with expanded help desk-specific features starts at $19 per month per agent.
10. Acquire
Best for: Businesses looking for a complete customer engagement solution that includes a help desk, live chat, chatbots, video chat, email, and analytics.
Trusted by hundreds of companies around the world, Acquire is a customer engagement tool that includes help desk software.
Their selling point is their "Unified Customer View" which lets you visualize and engage with your customers in one dashboard no matter where they are in the customer journey. All communication lives in one place to avoid the disjointed nature of traditional help desks.
Key features of Acquire:
A unified agent dashboard where you can toggle between live chat, chatbots, analytics, and customer timelines to get a full view of each customer.
Real-time support via live chat, chatbots, and video chat.
One central inbox for all email support and service requests.
Interact with customers on-screen with no-download co-browsing.
Pros:
Integrates with a huge list of popular marketing software.
Co-browsing helps agents interact with customer browsers when they are stuck.
Automated chatbots can be set up with no coding required.
You can answer face-to-face questions with video chat.
View customer timeline history and send them emails in one dashboard.
They feature a full knowledge base software that helps you publish support articles and helpful content.
Cons:
They are still a new tool so there is some room to grow for very advanced features, but they cover a lot of bases.
Pricing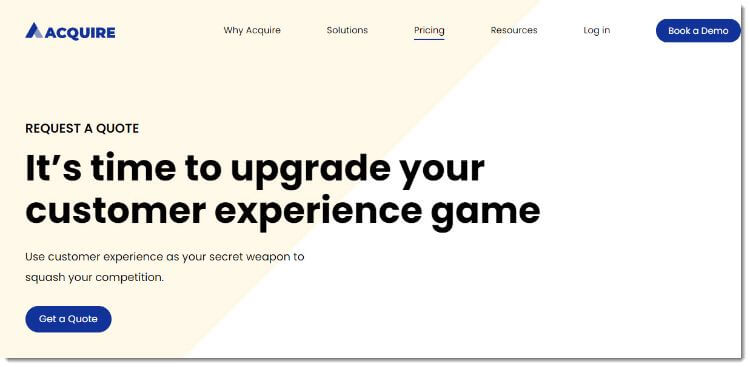 You'll need to get in touch with their team, as their pricing model is highly-customized.
11. HappyFox
Best for: Businesses with a variety of departments that need to offer help desk services including HR, customer support, marketing, and IT help desk teams.
As the winner of PC Magazine's "Best help desk Software" award for the past four years, HappyFox is one of the best help desk software options out there. It's comprehensive and very easy to use.
What sets HappyFox apart is the fact that you can use it to respond to customers across just about any customer service medium, managing the process is one centralized location.
It integrates with popular tools various members of different customer-facing departments tend to use, including Salesforce, Slack, Jira, and Magento.
Key features of HappyFox:
Offers a centralized ticketing system that supports email, social media (e.g. converts Facebook private messages into tickets), and voice (e.g. call transcripts are converted into tickets).
Includes a knowledge base for self-service support.
Converts your live chat conversations on Happyfox Chat into tickets.
Pros:
Offers an easy-to-use interface.
Incorporates automation features that reduce redundant requests.
Automate and streamline ticket management in real-time.
Addresses common inquiries with self-service tools.
Cons:
Limits some task capabilities with their rule-based automation.
Allows staff to be assigned to only a single role, according to PC Magazine.
Offers higher pricing than its competitors with no free tier options available.
Pricing
HappyFox offers two types of pricing. There's a tier for small to medium-sized teams (minimum of 5 agents) starting at $29 and going up to $89 per agent per month, and another for larger teams (with unlimited agents) starting at $1499 per month.
12. SolarWinds Service Desk
Best for: IT teams — but can also be used across other departments.
SolarWinds Service Desk (previously known as Samanage) is consistently recognized as one of the best IT help desk platforms available.
You may have heard about their massive data breach in 2020, but I still wanted to add them to the list.
What sets SolarWinds Service Desk apart is the fact that it serves IT teams really well. Besides what it can do to help IT teams better serve customers (both internal and external to an organization), it can also serve as a central repository for team knowledge and other important assets.
Key features of SolarWinds Service Desk:
Allows teams to keep tabs on their organization's technology infrastructure with an IT-specific feature called Configuration Management Database Software (CMDB).
Includes an internal, employee service portal and knowledgebase management.
Incorporates IT asset management functionality.
Pros:
Offers a more robust set of reporting functionality than its competitors.
Includes Information Technology Infrastructure Library (ITIL) management features.
Good IT service and IT support features.
Cons:
Works better as a company's internal help desk, rather than an external, customer-facing option.
Includes too many features, which can be both confusing and unnecessary based on your company's size and specific needs.
Pricing
SolarWinds Service Desk offers plans starting at $19 per agent per month and goes up to $89 per agent per month.
13. HelpCenter
Best for: Shopify store owners who are looking to improve their customer service while saving time and other resources.
HelpCenter is focused on Shopify merchants, therefore, perfectly fits into the platform's ecosystem. It's one of the TOP-rated apps in the customer service category with more than 55,000 stores already benefiting from what it has to offer.
HelpCenter's HelpDesk ticketing system can centralize all customer inquiries, allowing you to stop jumping between different channels. No matter how shoppers choose to contact your business, whether it's email, Facebook Messenger, or live chat, you'll get to access all those communications in a single location.
Besides the help desk, HelpCenter also comes with an FAQ builder, live chat, and product description tabs for a better overall shopping experience. The app is intuitive and easy to use and requires no prior experience to get it up and running in no time.
Key features of HelpCenter:
Centralized communication from multiple stores and different channels in one HelpDesk
Variety of internal tools to improve your workflow, like customer communication and order history, rules (automation), auto-responses, internal comments, custom templates, and more
Access to Shopify order management from the help desk
Unlimited agents and inboxes
Features to build an informative FAQ page that matches your store design in around 10 minutes (templates, pre-made answers, sections and categories, search bar)
Custom tabs that let you organize your product descriptions for a better user experience
Live chat for 24/7 accessibility
Pros:
Feature-rich but easy to get started and navigate
Main functionalities are available with the Free plan
Highly affordable
Fast and responsive customer support team
Cons:
Only available for Shopify stores
Pricing
Their free plan includes all of the basic features.
The Tabs and FAQ plan cost $3.99/month
The Help Desk plan costs $9.99/month.
The Professional plan costs $12.48/month.
All of these products are billed annually. A free trial is available to get started with HelpCenter.
Note: tools not yet reviewed for this list include Zoho Desk, FreshService, ManageEngine, ServiceDesk Plus, SysAid, and Jira Service Desk.
Executive Summary
Every company is different, with teams and processes specific to their customer journey. What works for one business may fall flat with another.
Do your research and invest time in vetting platforms of interest upfront. You want software that can grow alongside your business model in both the short- and long-term — and the only way to achieve that is to partner with a platform teams want to use.
Bring in multiple user types and solicit feedback from those who will be responsible for implementing and managing the tool. From there, you can work towards narrowing in on the ideal solution for both your employees and customers.
Which help desk software platform does your team lean on for support? Is there one worth calling out that I didn't include? Share your feedback below.
Disclosure: I may receive affiliate compensation for some of the links below at no cost to you if you decide to purchase a paid plan. You can read our affiliate disclosure in our privacy policy. This site is not intending to provide financial advice. This is for entertainment only.