13 Best HR Software and Tools of 2023 (Ranked and Reviewed)
Choosing the right HR software is vitally important to your business. From tracking employee hours to managing payroll, the best HR software can help you meet your goals. In this guide, I ranked and reviewed the 13 best HR software, along with my 5 top choices, so that you can pick the best one for you.
---
We're reader-supported. When you buy through links on our site, we may earn an affiliate commission.
In today's highly crowded marketplace, smart businesses seek competitive advantages wherever they can find them.
A company's employees can make a big difference in coming up with business ideas, helping companies be more efficient and productive, as well as creating the best customer experience.
In addition, with remote HR software, businesses can manage employee files and information without being in the same physical space.
High-performing companies have high-performing staff, therefore human resources play a key role in achieving a competitive advantage by maximizing the human capital in a company.
The idea of streamlining human resources through technology is not new, but with a wider variety of options than ever before, more companies of various sizes are enjoying the benefits that come from choosing the right HR software.
Having the best HR software allows businesses of any size to manage HR in-house vs. outsourcing HR services to a PEO company.
What is the Best HR Software?
The best HR software is designed with versatility in mind, so it can grow with your business.
You can add features as you need them, redesign workflows, and increase employee record capacity, all of which help you more efficiently manage growth.
Picking the software that's the best fit for your business depends in part on your size, needs, and budget.
For small to midsize businesses, you can't go wrong with one of these best HR software solutions.
Best Overall HR Software.
Adam's Take
Bambee is a great HR solution for those that want to streamline the various aspects of employee management. The service offers a great value proposition by having a dedicated HR manager that can take care of all the various needs that your employees might have.
Bambee is one of the most affordable solutions for small businesses that value their employee relations.
The company offers a wide range of services, from performance management to payroll processing.
You can also get a dedicated HR manager that can help you with various employee-related tasks.
Using the best of modern tech, Bambee is constantly innovating to make your HR management easier.
Key Features
2-Day direct deposit ensures that your employees get paid on time, every time.
Automatic handling of federal, state, and local taxes takes the burden off your shoulders.
Guidance from your HR Manager on wage and hour regulations means that you can always be compliant with the law.
Pros
With a small business focus, Bambee is always considering how its product will impact small businesses.
They don't try to offer a one-size-fits-all solution but instead tailor their offerings to the specific needs of small businesses.
HR practice automation with Bambee results in your HR process being easier and more streamlined.
Cons
No mobile app means that Bambee is only accessible through a web browser.
Pricing
You'll have to fill in a form and answer a few questions to get pricing from Bambee.
Adam's Take
Rippling is a great HR solution for multi-national businesses that have employees in multiple countries. The platform offers a global directory of benefits, compliance, and payroll options, so you can easily find the right solution for your employees no matter where they are located.
Rippling is a great solution for businesses with employees in multiple countries.
With its localization features, Rippling makes it easy to ensure that your employees receive the same high level of service no matter where they are located.
And with its comprehensive suite of HR tools, Rippling has you covered no matter what your needs may be.
Rippling makes onboarding new employees a breeze.
With its straightforward interface, all you need to do is enter the employees' information once, and Rippling will take care of the rest.
From there, Rippling will automatically generate all the necessary forms and documents for the employee, as well as create a personalized onboarding plan based on the employees' role within the company.
And because Rippling takes into account the differences between international locations, you can be sure that your employee will receive all the information they need to hit the ground running – no matter where they are located.
Key Features
One great feature of Ripping is that you can run payroll in minutes so you can focus on your business, not administrative tasks.
You can also manage health insurance to 401k with Rippling which is great for companies with a global workforce.
I also appreciate you can pay your entire workforce globally with Rippling.
Time and attendance is also a breeze with this software!
Pros
I like how you can easily track and approve time as well as develop top talent.
With talent management, Rippling makes it easy to identify and attract the best employees for your business.
With various PEO services, you can have access to large group benefits and HR.
Rippling also automates training and compliance with the Learning Management feature.
Cons
Performance Management doesn't seem to be the best-implemented feature
The initial setup takes time to get everything up and running.
Pricing
You can request a demo of the platform or watch a tour video to see how it works and what features are available and how they can benefit your organization.
For actual prices, you'll have to request a quote.
Get started with Rippling.
Adam's Take
Want a feature-filled HR software? Then, you'll want to go with Freshteam. With tons of features and an easy-to-use interface, I believe this software is ideal for managing your HR needs – from tracking employee performance to keeping tabs on compliance.
Freshteam is a smart way to use HR in the modern workplace. With intuitive features and powerful analytics tools, it is the top choice for companies looking to improve their HR operations.
Whether it's hiring new people, managing staff performance, or streamlining internal policies, Freshteam HR has you covered.
Its applicant tracking system helps you keep track of job applicants and quickly identify the best candidates for your open positions.
And with performance reviews, you can get insights into how your employees are performing and identify areas for improvement.
If you're looking for an all-in-one HR solution that can help your business run more smoothly, Freshteam HR is a great option.
Key Features
Automate mundane hiring tasks so you can focus on the people that matter most.
Collaborate with your team virtually to hire the best candidates.
Screen candidates in seconds with Freshteam's powerful applicant tracking system.
Create custom hiring workflows that fit your unique needs.
Post jobs to multiple sourcing channels with just one click.
Pros
Easy to collaborate with team members so everyone is on the same page
Clear UI+UX makes it easy to navigate and understand the system
Straightforward to figure everything out for your organization's unique needs, from hiring new employees to implementing internal policies and procedures
Helps with every aspect of the multi-layer recruitment process, from sourcing candidates to identifying top performers
Cons
You cannot customize the process of adding a new stage to the hiring procedure.
Pricing
Freshteam offers a free plan for up to 50 employees so you can try out the software and see if it's the right fit for you.
After that the paid plans are as follows:
Growth: $1.20 per employee + $71 fee per month
Pro: $2.40 per employee + $119 fee per month
Enterprise: $4.80 per employee + $203 fee per month
Get started with Freshteam.
Adam's Take
With Remote, you can take care of all your international payroll and benefits needs in one place. If you deal with international employees, contractors, or clients, you know how difficult it can be to manage payroll, benefits, and compliance from afar. This is where Remote can help you get the job done.
If you are looking for the complete package in HR software, look no further than Remote.
It's the go-to tool for businesses growing at every speed — meaning it's the perfect fit for those who are hiring a few contractors for special projects now and those aggressively scaling their full-time headcount around the globe for tomorrow.
Plus, Remote handles everything from international payroll and benefits to taxes, stock options, and compliance in-house.
That means no third parties or middlemen are involved so you can build real trust with your global team.
Key Features
Onboard, pay, and manage international employees and contractors from one modern, easy-to-use HR platform. Plus, centralized invoicing and documentation means you get one invoice for your entire workforce.
Contract templates are tailored to local labor laws to ensure compliance and the strongest intellectual property protections.
Free international contractor management. Pay contractors at a moment's notice in more than 100 currencies and automatically generate 1099s for US contractors with zero fees from Remote.
Offer every candidate benefits they can't resist with competitive packages tailored to each country and cultural norms.
Available in over 50 countries (will be in 80 countries by the end of the year) and going 100% global by the end of 2022.
Pros
Unbeatable pricing; plus special discounts for startups and non-profits
Setup takes less than 2 minutes
Key features every company (from startups to enterprise businesses) needs to hire internationally at your fingertips
24/7 customer support for all product levels
Cons
Platform UX not currently customizable
No mobile application available
Pricing
Remote offers the best pricing of any HR software tool like it on the market:
Contractor management is 100% free
Employer of record services start at $299/employee/month (but sign up before the end of the year and your first full-time employee is free)
There are no minimums required, so you can hire one employee or 100. It's no surprise why Remote is the most trusted employer of record and contractor management solution in the industry.
Adam's Take
With a single focus on HR, I believe that OnPay is one of the most user-friendly and intuitive tools out there. The software is designed to help you manage payroll, onboarding, employee benefits, and compliance—all in one place.
OnPay is one of my go-to choices for HR software.
It is by far one the simplest to use HR software tools that has literally every feature you could ever need.
It doesn't try to be the software for everything like a lot of tools in this space. It focuses solely on HR-related tasks.
Key Features
Automated onboarding flows that make bringing on new employees easier than ever before that can potentially replace your dedicated employee onboarding software completely.
E-signining built right into OnPay so employees can view and sign any HR related documents without ever leaving OnPay.
Online I9 and and W4 forms built right into the onboarding flow so that from day one all of your employees tax informtion is handled.
Built in document templates so you are never having to create legal HR documents from scratch.
Pros
The powerful automations for onboarding.
Super affordable pricing strucutre.
Seemless integrations with all the major small business accounting tools.
Perfect solution for small business owners.
Cons
No customer support is available on the weekends.
Currently they do not offer a mobile application.
Pricing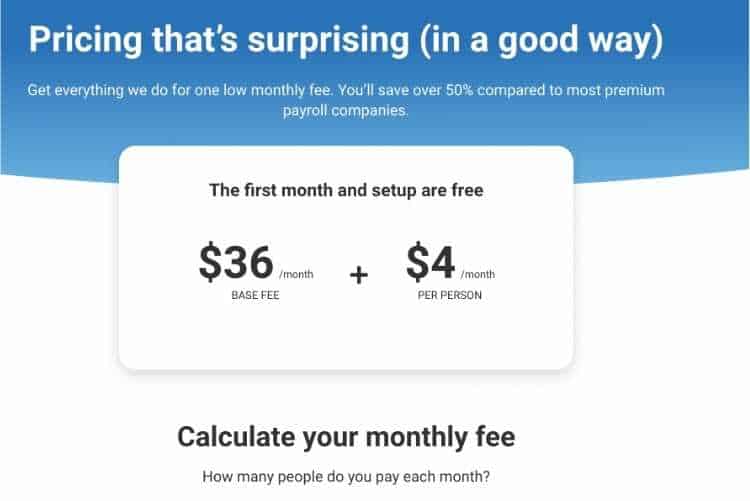 OnPay has the best pricing structure of any HR software tool on the market by far.
Here is how it works in one sentence.
$36 base fee + $4 per additional person on your team. That's literally it!
This is why I am such a massive fan of OnPay because they are perfect for small businesses that are just getting started but can still be used as the business scales.
Get started with OnPay.
If you want to attract top talent to your firm, consider ADP PEO for your HR outsourcing needs.
Minimizing risks and staying on top of employment law is a full-time job, but with ADP PEO it doesn't have to be yours.
Whether it's Health Care Reform or FLSA compliance, their specialists have the latest information to help your firm stay compliant and protected.
In addition, you can work smarter by accessing data and analytics to improve your hiring, onboarding, compensation, and benefits programs.
Key Features:
Maximize Resources by freeing up time for revenue-generating activities – Let ADP handle the time-consuming administrative tasks so you can focus on the tasks that really matter.
Fortune 500® caliber benefits mean attracting and retaining the best people – ADP PEO clients enjoy some of the most competitive benefits in the country.
Customized HR strategies and programs from industry specialists – ADP PEO will help you develop and implement programs that are tailored to your specific industry and business needs.
Powerful technology and data-driven insights to drive smarter decisions – ADP's technology and data-driven insights can help you make more informed decisions about your workforce so you can improve your bottom line.
Pros:
Get premium benefits and stay compliant with employment laws
Work with specialists to tailor HR programs to your industry
Access data and analytics to make informed decisions about your workforce
Cons:
Must contact them to get a quote
Pricing:
Get in touch with them to get a personalized quote
Get started with ADP PEO.
7. BambooHR.
BambooHR is a cloud-based human resources software service primarily for small and midsize businesses. It offers simple-to-use automation and solutions to manage all parts of the employee lifecycle.
BambooHR has won several awards, and over 16,000 organizations use the software, including Vimeo and Reddit.
It is also one of the best HRIS systems on the market making it somewhat of a catch-all HR software tool.
Key Features
Applicant and training tracking
E-signatures to replace paper-based systems
Time-off management
Performance tools
Easy reporting
Mobile app
Email integrations
Pros
Automation tools that are accessible in several languages and multiple currencies
Easy and intuitive interface
Mobile app to manage things out of the office
Customization services
Role-based access to information
Robust reporting features
Cons
Lacking in benefits administration features compared to rival solutions
Doesn't have a viable payroll system yet
Must get a pricing quote
Pricing
Pay-per-employee monthly pricing; must contact BambooHR for a quote
8. Zenefits.
Zenefits is a cloud-based all-in-one platform for companies to manage their human resources, with a particular focus on helping with health insurance coverage.
Customers include Pac-12 and over 11,000 other businesses in 35 industries.
Key Features
Mobile app
Built-in compliance
Applicant tracking and onboarding
Payroll add-on
Benefits management
Business intelligence (BI) reporting
Time & scheduling
Partnerships with Google Meet, Microsoft Teams, and Slack
Pros
Syncs seamlessly across benefits, HR, and payroll
Good user experience
Employee mobile app
Comprehensive benefits administration and plan-building functionality
Thorough employee records
Cons
May be overwhelming for small businesses
Mobile app doesn't support all admin tasks
Pricing
Their base plan starts at $8/month per employee
9. Cezanne HR.
Another cloud-based online HR software, Cezanne HR includes a suite of integrated modules.
It caters to the needs of small to midsize businesses with an array of highly configurable modules.
Cezanne HR is especially useful for companies in more than one country.
Key Features
Customizable; you pick the modules you need
Global capabilities
Multiple language support
Embedded workflow
Mobile app
Smart tools for improved productivity
Pros
New features include e-signatures, enhanced document management, and report scheduling
Integrated benefits and payroll
The main dashboard has different views for managers and employees
Versatile scalability
Cons
Initially, it can seem a bit overwhelming and complex to use
It can take a long time for full integration
User experience not as smooth as some competitors
Pricing
10. Kronos Workforce Ready.
Kronos offers three distinct suites: Workforce Ready, Workforce Dimensions, and Workforce Central.
Workforce Ready is a cloud-based solution for small to midsize businesses that combine workforce management with human capital management software (HCM) capabilities.
Customers include Kansas State University and Mountain America Credit Union.
Key Features
People analytics
Benefits administration
Performance management
Compensation management
Compliance
Scheduling
Payroll
Mobile app
Pros
Highly configurable
Distinct user levels for HR system admins, managers, and employees
Cons
May be complex to use for some
Could be difficult to implement for small businesses that don't have a dedicated HR manager or staff
Smaller companies (less than 100 employees) must buy through third-party partners
Pricing
Begins at $6 per employee per month
11. Namely.
Namely is a comprehensive human resources, payroll, and benefits cloud-based solution tailored for small to midsize businesses.
Its customizable software is used by more than 400 companies, including Communication Service for the Deaf (CSD) and The Motley Fool.
Key Features
Wide range of customizations
Employee Engagement
Onboarding
Talent Management
Benefits Administration
Payroll
HR Compliance Database
Analytics
Pros
Easy to use
Customizable; customers have almost total control over how they want the software to look and work
An abundance of features that cater specifically to small business needs
Cons
More expensive than many competitors
Compensation section feels limited in tracking salary changes after performance reviews
Customizability can add days or weeks to implementation
Pricing
Beginning at $12/employee per month
12. SAP SuccessFactors.
A cloud-based HR software that offers end-to-end solutions and automation, SAP SuccessFactors is designed to meet the requirements of enterprise-class organizations as well as small to midsize businesses.
Some of SAP SuccessFactors' customers include the San Francisco 49ers and NPC International, the world's largest Pizza Hut and Wendy's franchisee.
Key Features
Core HR and Payroll
Built-in LMS tool
An integrated suite of tools
Recruiting and onboarding
Learning and development
Performance and compensation
Workforce planning and HR analytics
Mobile app
Pros
Good feature set for small to midsize businesses
Setup wizard and video tutorials
Robust performance tracking features
An internal talent search feature
Cons
Costs more than competing small business human resources (HR) software
Long integration period
Lacks add-on options offered by competitors
Customization is quite a challenge
No benefits administration
Pricing
$8 per user per month or as an annual subscription starting at $85 per employee
Quote-based for enterprise solutions
13. WebHR.
WebHR is a cloud-based HR software that helps businesses manage every aspect of personnel management.
It offers a wide array of people management functions but doesn't go into the same depth that can be found in other software.
Customers include Infiniti, Nissan, and Massage Envy.
Key Features
A wide array of management functions and modules (time and attendance, payroll, benefits, recruitment, onboarding, performance and goals, forms & e-signature, etc.)
Available in 30 languages
Payroll can be calculated in dozens of currencies
Built-in messenger for collaboration
Mobile app
Pros
Offers most features that a small to midsize business (SMB) needs to manage and track staff
Free service for small businesses (only up to 5 employees)
Relatively easy to set up
Settings allow restricted access to certain IP addresses
Biometric availability
Cons
Free version's features are limited
Limited choice of built-in templates
For performance tracking, you must either upload existing forms or build new ones from scratch, which is time-consuming
UI could use some updating
Pricing
Begins at $2/employee per month for up to 10 employees
Modular-based pricing for plans, and as you add modules the price increases
Other HR software not mentoined in this artiflce include Gusto and Sage.
Why Use HR Software?
HR software is a digital solution for managing an organization's daily human resources tasks and processes.
It adds automation to processes that are otherwise carried out manually, so they can be completed more accurately and efficiently.
This automation is especially beneficial for tasks that are typically time-consuming or labor-intensive, like paperwork and manual record keeping.
What Are the Benefits of HR Software?
Implementing software to streamline various HR processes can free up HR staff and managers from spending their time on repetitive, low-impact administrative tasks so they can focus on more productive, profitable efforts.
And the right HR software can assist your company in better managing your employees.
Other benefits include:
Streamlined processes
Improved efficiency of the HR team
Reduced errors
Improved employee experience
Continuous feedback
More accurate analytics
Better regulatory compliance
Improved risk mitigation
Streamlined employee data management
What Are the Types of HR Software?
HR software plays a vital role in keeping your business on course.
Not all businesses will need every type of software because what you require largely depends on the size of your organization.
For example, a startup could use payroll software more than a learning management system, whereas a larger organization may require several software features to streamline more complicated procedures.
The various solutions can be grouped into categories.
1. Benefits.
Payroll – Paying employees, direct deposits, checks, tax compliance, and W-2 forms
Benefits administration – Health insurance, paid time off, retirement accounts, and compliance
Compensation management – Pay, bonuses, incentive programs, commission, and salary planning
2. Recruiting.
Job board posting – Ensure job posting to multiple online job boards is done successfully or even create your own job board website.
Applicant tracking – Source job applicants and track candidates from the interview through the hiring process.
3. Performance.
Performance appraisal – Track and manage employee reviews; may include goal tracking, learning and development plans, and compensation planning.
Employee recognition – Automate and formalize processes for recognizing high-achieving employees.
4. Training.
5. Workforce Management.
Attendance tracking – Manage paid time off, part time off (PTO), vacation, and sick days.
Employee engagement – Manage health and wellness programs, survey employees, and create retention plans.
Employee scheduling (hourly employees) – Track, assign, and adjust which employees are scheduled to work and when.
Time and expense – Track invoices, time spent on projects, and expenses.
What Should You Look for in HR Software?
Different programs offer different features, but here are some key ones to look for when considering which HR software to use for your business.
1. Recruitment Automation.
With HR software, you can add some order and efficiency to keeping track of all the time-consuming and often messy parts of the recruitment process.
Create job boards from templates, track applicants, and simplify shortlisting.
Save even more time by automating interview invitations, interview feedback documentation, and generation of new employee records before onboarding.
2. Onboarding.
Creating a consistently good first impression for new employees can be a tedious and stressful task.
HR software allows businesses to automate the onboarding process for new hires.
It facilitates better coordination across HR departments (and others) to get the new employee informed and up and running and easily creates new employee records, contracts, and letter/email templates.
3. Benefits Administration.
Managing benefits is a core element of human resources that can quickly take complicated and complex turns.
HR software makers do more than just streamlining the process.
Many software packages also provide benefits administration features that can vary from simply managing employee enrollment to offering different benefit plans.
4. Scheduling and Shift Planning.
The software can use time-off requests to coordinate work schedules within departments to ensure adequate employee coverage over the workweek.
This can result in greater productivity and fewer staff shortages.
At the same time, the program can factor in your organization's rules and policies to automatically calculate overtime and time owing.
5. Performance Management.
HR software can help your team streamline performance management while eliminating human error and biased scoring patterns.
You can set up employee performance appraisal reminders for managers and employees, along with automatically collecting and collating feedback and objective scores.
This makes it much easier and faster to report on team performance.
6. Leave Management.
When it comes to a leave management system, HR software can also save a lot of time for both employees and managers.
Employees can request leave online and managers can then digitally authorize it.
This speeds up the process for all parties.
7. Employee Exits.
In many ways, the exit process can be almost as time-consuming as the onboarding process.
The software can automatically archive and store records, create template letters and forms to aid with the exit processes, and manage and report on insights from exit interviews.
These features can help your organization address employee dissatisfaction with the goal of reducing turnover.
Best HR Software – FAQ
What Is A Human Resources Information System?
A human resources information system (HRIS) is a software application that enables HR professionals to store, track and retrieve employee data.
An HRIS can be used to manage payroll, benefits, time and attendance, recruiting, and performance management processes.
HR professionals can use an HRIS to collect and track employee data, including contact information, job titles, salary information, and performance ratings.
Some HRIS applications also allow managers to view and approve employee time-off requests.
Forming part of the human resource management system (HRMS) industry, it can be suitable for businesses of all sizes and provides various employee benefits, including:
Reduced chance of data input errors
Increased efficiency when retrieving specific employee information
Faster processing of payroll and benefits
Easier tracking of employee performance and compliance with company policies
How Important Is HR In Payroll Processing?
From an operational standpoint, HR is one of the most important departments in a company.
In companies where HR is not closely involved in payroll processing, inaccuracies and delays can often occur.
By working with the accounting department and other key stakeholders, HR can help ensure that payroll is processed correctly and on time.
What Is An Applicant Tracking System?
An applicant tracking system (ATS) is a software application that enables businesses to track and manage the recruitment process.
An ATS can be used to store resumes, track the status of job applications, and generate reports on hiring activity.
Having an employee management process in place is critical for any business size.
An ATS can help businesses keep track of job applicants, schedule interviews, and make hiring decisions.
Applicant tracking systems can also help businesses identify trends in the recruitment process and improve their recruiting strategies.
In addition, employee information is stored in the system which can be used for performance reviews and other HR purposes.
What Does A Self-Service Portal Do?
Employee self-service refers to a system through which employees can access and manage their own personal information.
A self-service portal allows employees to view their paystubs, change their address or contact information, and update their emergency contact information.
Some self-service portals also allow employees to enroll in benefits programs and submit time-off requests.
What Is The Benefit Of An API In HR Tools?
One of the top HR features that benefit from an API is workforce management.
By having a well-defined and documented API, HR tools can integrate with one another more easily, allowing for a more streamlined and efficient workflow.
Having a user-friendly way of accessing and managing employee information is critical for any business.
An API can help make this process more efficient by allowing different HR tools to communicate with each other more easily.
In addition, real-time data access can help businesses make better decisions regarding their employees.
By having access to data in real-time, HR professionals can more easily identify and address any potential issues.
Features such as time-tracking can also be improved with an API.
By integrating with other HR applications, businesses can more easily track employee time, attendance, and vacation days.
Summary – Take Advantage of HR Management Software.
Ultimately, choosing the best HR software for you will depend upon your business needs, and which HR processes aren't already covered by other HR solutions.
But with so many options, why not start the new decade with software that makes your life—and business—run smoother?
Recommended Reading on AdamEnfroy.com: For more software reviews, check out my guides to the best project management software and the best CRM software to use this year.
Disclosure: I may receive affiliate compensation for some of the links below at no cost to you if you decide to purchase a paid plan. You can read our affiliate disclosure in our privacy policy. This site is not intending to provide financial advice. This is for entertainment only.