8 Best Investment Apps of 2021 | Free Stock Trading and Investing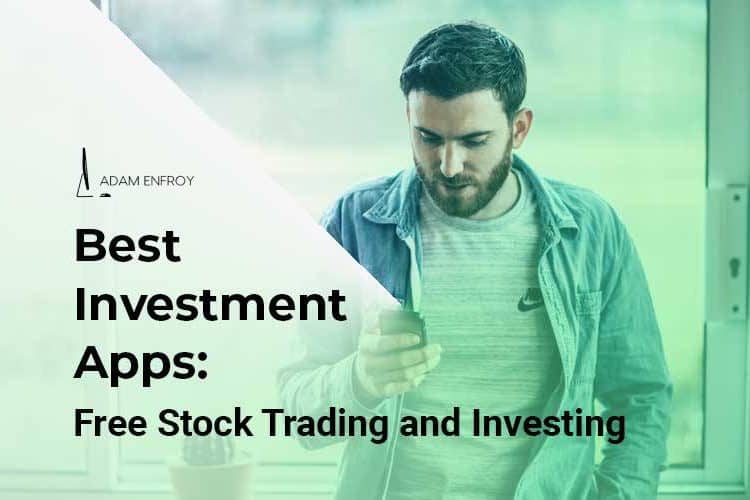 Last Updated on December 1, 2020 by Adam Enfroy
Back in 2016, a survey conducted by Harris Poll revealed that almost 80% of American millennials weren't investing in the stock market. 40% blamed their inability to invest with limited resources, and another 34% say they don't know how to invest. Enter investment apps.
Even with minimal investment experience and limited resources, these apps allow you to get into the market and expand your portfolio.
You no longer need a stockbroker to trade. Companies with brokerage accounts like Vanguard or TD Ameritrade are entering the app space for iPhones and Android devices, but are not as intuitive as apps on this list. From the fresh college grad to the seasoned investor, there are powerful investment apps that make investing seamless and comfortably done from the convenience of your phone.
Let's examine some of the best investment apps and which apps are best for different groups of investors.
What Are the Best Investment Apps?
One of the Best Investment Apps for Commission-Free Trading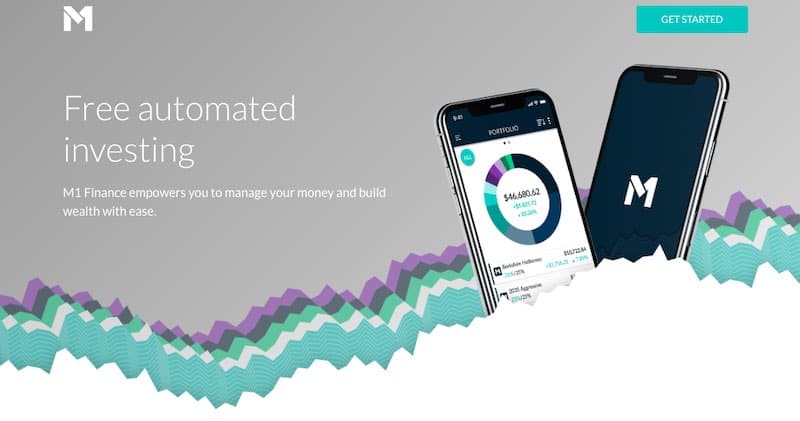 There are very few investment apps that combine Robo-advisor and online brokerage functionalities as expertly as M1 finance. M1 Finance is famed for its user-friendly interface and its low operational costs. They allow you to select from a broad range of portfolio templates and options – plus it's free.
This investment app is suited to the investor more willing to delegate much of their portfolio management without having to pay for expert advisory services.
M1 Finance takes care of all of this for you virtually. When you want to invest, this app will ask you to make your "pie."
This pie combines your preferred investment options and unique investment goals. These personal finance options include exchange-traded funds and bonds (or stocks). This pie will determine how they automatically distribute your allocated capital across your preferred investment options.
Consequently, based on your returns, each slice of your pie would either expand or contract automatically. When you deposit more money to your account, this app distributes funds to restore individual pie slices of your choosing.
M1 Finance is pretty unique.
First, it's free to use – it comes with no hidden fees giving you one of the best platforms for fractional investing.
You can also secure personal and small business loans against your portfolio in particular conditions. M1 finance brings powerful automation to rebalancing and investing in general all within its platform.
One downside is that they don't offer tax-loss harvesting. Additionally, you don't have the option to purchase mutual funds.
Ultimately, this is the best investment app for those looking for a Robo-advisor with zero charges for each trade executed.
Get started with M1 Finance.
Best Investing App for Free Stock Trades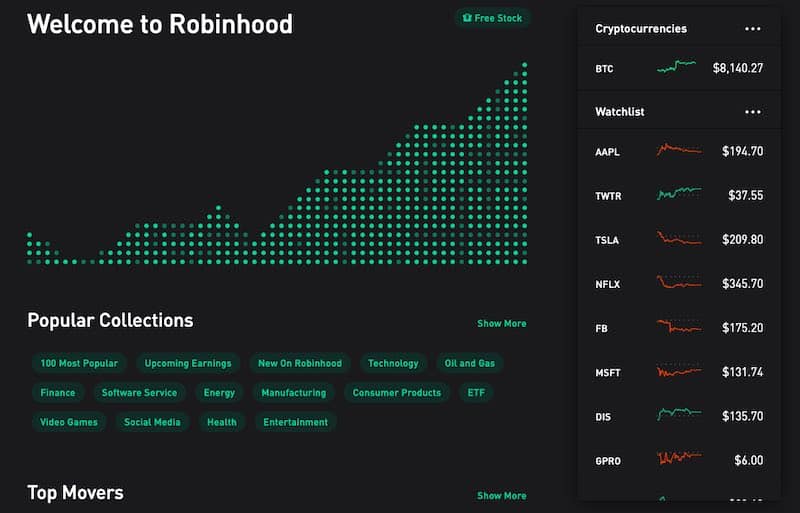 Robinhood is a hugely popular app for freely trading stocks and cryptocurrencies. This app is also free for ETFs and options. Debuting in 2013, they are growing in leaps and bounds with over 4 million traders.
This app operates a zero minimum balance and is very navigable and easy to use. You may not get the abundant features of a traditional full-service broker, but this is a useful trading platform at a notably reduced cost.
Robinhood doesn't charge commissions for trades executed, and they have a very user-friendly interface. The app creates an enjoyable mobile experience with quick access to trading.
Other brokers frequently give you just a handful of accounts, Robinhood abundantly gives you access to more than 2,000 ETFs with no fee. With their Robinhood Gold service, you can also acquire securities with borrowed money.
Here are a few things to keep in mind:
The app often struggles to sync with other expense tracking software like Personal Capital
If you want to use their research guides and tools, you have to pay $5 monthly
They don't have a desktop version
If you're going to transfer your account to another broker, there's a $75 fee
Overall, their mobile app opened up investing to an entirely new market of people. Using Robinhood makes it easy to buy and trade stocks and cryptocurrencies, create watchlists, and review real-time performance. Their cryptos are pretty limited compared to platforms like Binance, but they include:
Bitcoin (BTC)
Bitcoin Cash (BCH)
Bitcoin SV (BSV)
Dogecoin (DOGE)
Ethereum (ETH)
Ethereum Classic (ETC)
Litecoin (LTC)
In the end, if you're new to investing and want an easy to use an app to manage all of your assets with a minimum investment, Robinhood is a no-brainer.
Get started with Robinhood.
Best Investment App for Automated Savings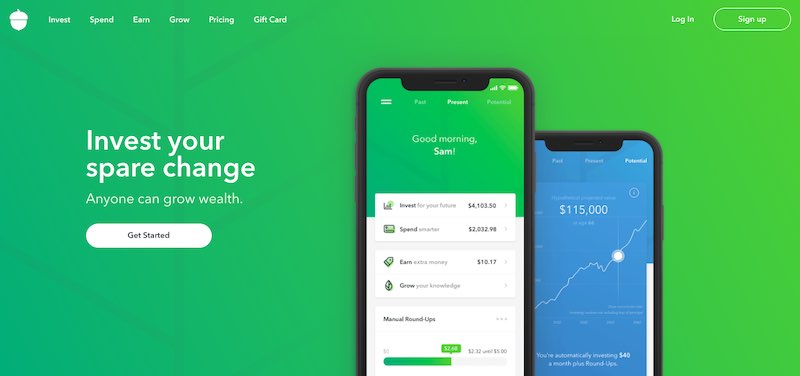 Acorns is one of the best investment apps for rounding up your spare change to the next dollar. They function as part Robo-advisor that can invest your money for you while still doubling as a savings tool for your extra income.
Acorns is an intuitive and easy-to-use money-making app. Within five minutes, you can set up your account and need to provide details like your age as well as risk tolerance.
Here's how it works. Acorns rounds up purchases on your linked credit card or debit card to the nearest dollar and transfer the remaining change to your Acorns account.
You can then invest this change in your preferred Acorns investment portfolio. You also have the option of using Acorns' "Found Money" plan, which closely mirrors the way Swagbucks works.
They offer three service levels:
Core: $1/month (low cost and free for college students)
Core + Later: $2/month (added access to an IRA plan that is tax-deductible)
Later + Spend: $3/month (added debit card and branded checking account with zero fees).
Additionally, there are three account types. These are the retirement accounts, taxable accounts, and the checking account with debit card.
A notable standout here is simplicity. You get to build consistency in your saving habits invest more rather than keeping spare change in your bank account. If you are under 24 years old or a college student, you can get a free account for 48 months.
They do charge a small account fee in addition to other Roth IRA fees. Compared to other investment apps, their portfolio options are a bit limited. For lower account balances, they could also charge you a percentage of monthly trading fees.
All things considered, if you are a new investor, this is an excellent tool for you.
Get started with Acorns today.
4. Betterment
Best for the Long Term Investor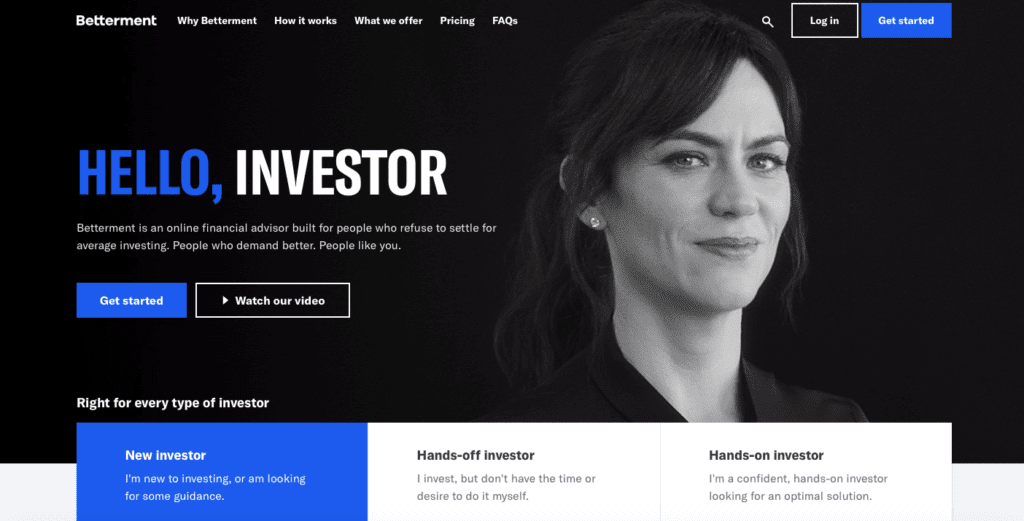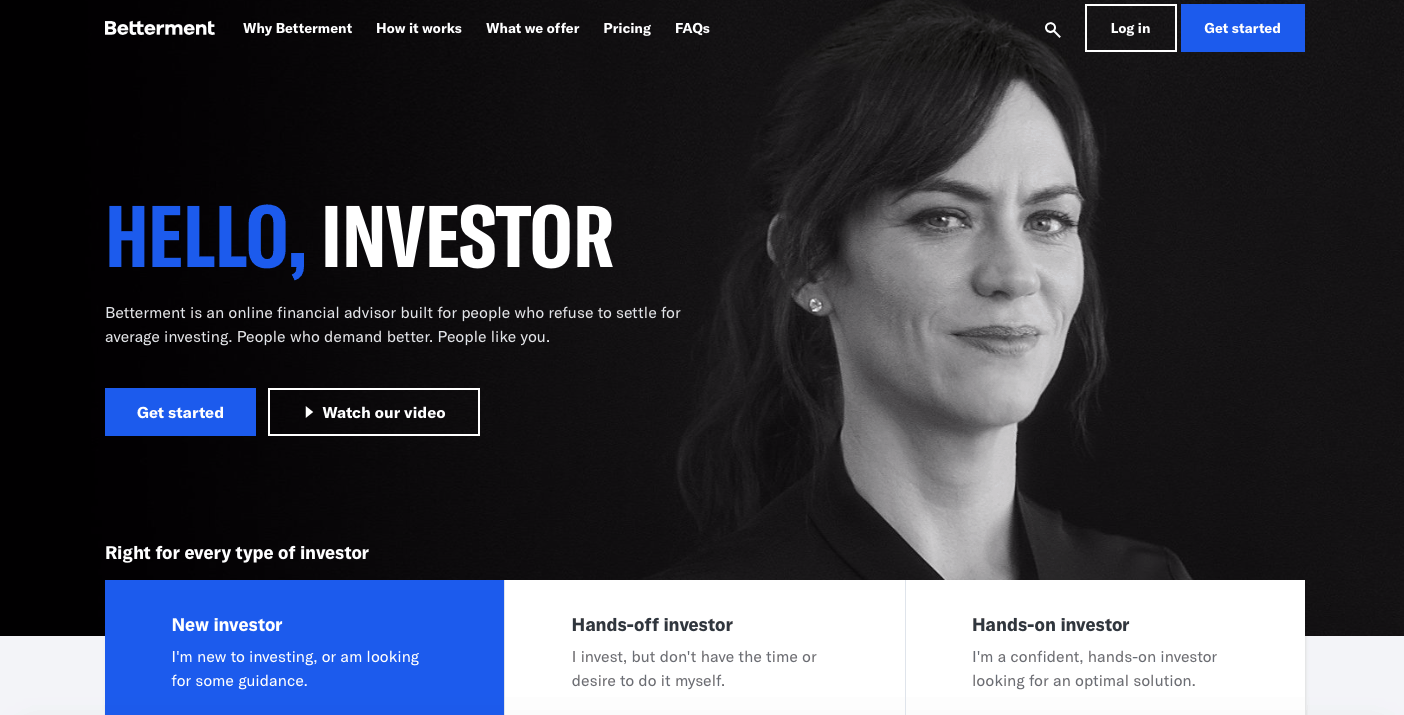 Betterment isn't your typical investment app – they're a full-service Robo-advisor that automates your investing. First, they learn a little bit about your goals and personal habits. Next, they build a full portfolio designed to match your risk tolerance and time horizon. Finally, they optimize your portfolio with their Tax-Smart Technology.
Additionally, Betterment takes care of portfolio rebalancing – which matches your goals with the best asset reallocation.
They help you track your external investments (outside of Betterment). This tracking software gives you a unified platform to keep track of all of your assets.
They operate at a zero minimum account – there is just a 0.25% annual fee for digital portfolio management. But if you need human interaction in the form of a team of expert financial advisors (who would interact with you via email and phone), you can choose Betterment Premium. With this plan, the account minimum is $100k, with a 0.40% annual fee.
They have four account types – Smart Saver, Taxable Investment, Trust, and IRA.
If you're looking for an investing app similar to Wealthfront that combines Robo-advisor capacities with long term strategies, Betterment is a great choice. After signing up, you get access to their retirement calculators, tax-loss harvesting, relatively low management fees, seamless asset allocation, and human, financial advisors.
Get started with Betterment today.
5. Stash App
The Best Value-Based Investment App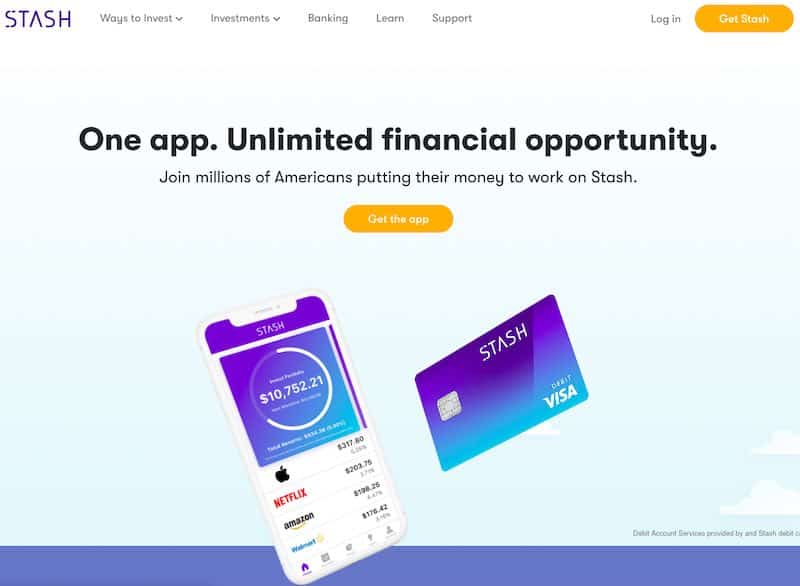 Stash was launched in 2015 with the drive to get more ordinary people into the investment market. Stash is excellent for value-based investments and is simple to use as one of the best apps to acquire fractional shares.
With just $5, you can open an account. You can make weekly automatic deposits (even as low as $5) into your account, and they charge a 0.25% annual fee if you have a balance of at least $5,000.
They offer three account types – IRAs, Custodial accounts, and the taxable accounts
With Stash, you can select from more than 150 stocks. This decent range of options allows you to find investments that match your interests. They also have investment themes comprised of a collection of companies you can invest in – as opposed to just one company.
You incur a monthly charge of $1 if your account balance is lesser than $5,000. In the end, I would recommend Stash for you if you intend to build a robust portfolio of ETFs and stocks but don't have much money to start.
Get started with Stash.
6. Stockpile
Best for Gifting Stocks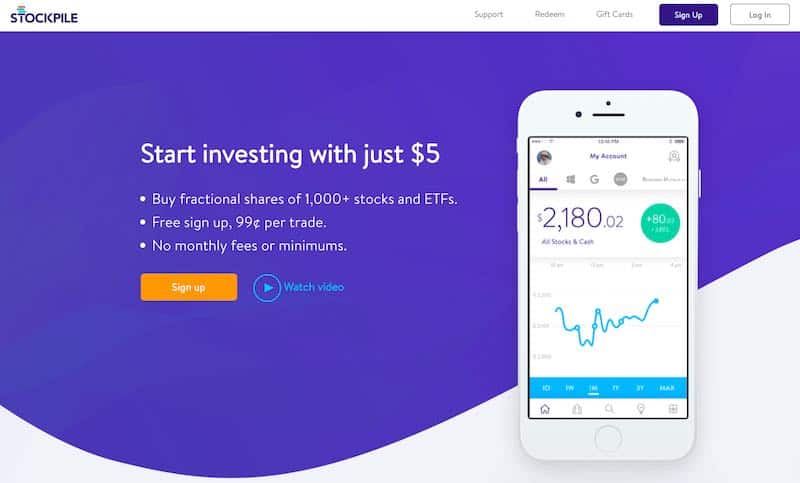 Stockpile launched as an online brokerage service in 2010. They allow you to acquire stock gift cards instead of having to buy stocks directly.
To use Stockpile, you need to be 18+ years old, located in the United States. They charge you $0.99 per executed trade but no monthly fees.
First, you set up custodial accounts for your awards and buy them via stock gift cards. This feature is also a tremendous investing tool to help kids learn stock trading.
The recipient of your Stockpile gift cards can use them to acquire stocks in many reputable companies like Amazon, Netflix, and Google. With Stockpile, you can purchase gift cards in the form of both e-cards or physical cards.
One benefit of Stockpile is that you can acquire fractional shares of exchange-traded funds and stocks. With this approach, they make it more affordable to invest in high-value securities.
For example, instead of having to pay over $1,500 for a unit Amazon share, with Stockpile, you can affordably opt for 0.15 shares.
There are two types of Stockpile accounts: custodial accounts and taxable investment accounts.
Their app doesn't offer pre-made portfolios, and you can only access ETFs and individual stocks. However, they're an excellent tool for those looking for ways to acquire fractional shares and send gift cards to others.
Get started with Stockpile today.
7. Ally Invest
Best for the DIY Investor
If you are that do-it-yourself investor who wants to micromanage the entire investing process, then Ally Invest is for you. They are an offering of Ally Bank – an online banking company with 24/7 support.
Ally Invest allows you to take a more hands-on approach to investing. With their trading app, you can select investment options individually, which is in stark contrast to other apps that give you pre-made themes.
Because of this, Ally Invest is more flexible and gives you more control over your investments like stocks, options, and Forex trades. They do have a large bank of informational content to help you, but this is a more manual process.
Ally Invest stands out because of it's zero account minimum, zero charges for ETFs, flexibility, and helpful tools and calculators.
Here's what to keep in mind about Ally Invest.
They will charge you transaction fees for mutual funds.
There is no automatic rebalancing or investing; you do it all yourself.
In the end, I don't recommend Ally Invest for beginners. They're more suited for seasoned investors who know the ropes and ready to take control of their finances. Mainly, Ally Invest works best for options traders, Forex traders, and people who want to learn how to day trade.
Get started with Ally Invest.
8. Fundrise
Best for Real Estate Investors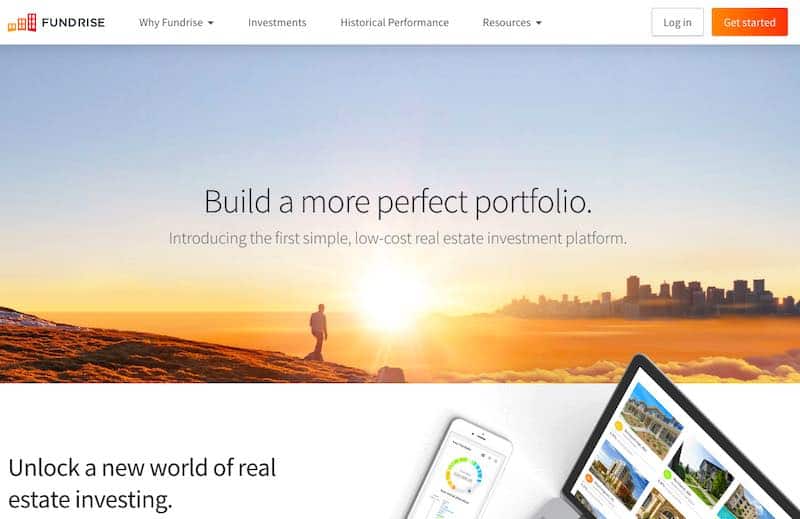 Fundrise features app-specific crowdfunded real estate investments. Sound risky? It may be – but your returns can be high without too much risk. They have 8.7 – 12.4% historical annual returns.
Customarily, most online real estate platforms restrict usage to accredited investors. These "accredited investors" in most cases must have a minimum net worth of $1 million excluding their home value (according to US securities law). Fundrise welcomes both accredited and non-accredited investors into the mix.
For their starter portfolio, the minimum balance you need is $500. Fundrise charges you a 0.15% advisory fee as well as an asset management fee of 0.85%.
There are two account types on FundRise – Taxable accounts and IRAs. The latter has a minimum balance of $1000.
Why is Fundrise unique?
With their app, you can diversify your portfolio with real estate assets at a price much lower than it would take traditionally. You also get help from experts, can choose from different investment plans, and get a 90-day money-back guarantee.
If you want to get started in real estate investing but don't have the capital to go it on your own, Fundrise is a great choice.
Get started with Fundrise today.
Best Investment Apps – Adding It Up
Whether you're a seasoned investor or a newbie just looking to buy a few stocks, this list of the best investment apps will help you build your portfolio.
If you're looking for the best app for free stock trades, I would get started with Robinhood.
If you want to use an app with a more full-featured service, I would go with M1 Finance.
To automate your savings, Acorns is your best choice.
What do you think? Are there any investment apps that you use that I should add to this list? If you're looking for ways to work from home or make money online, you can check out other related articles on my blog.