7 Best Knowledge Base Software (Ranked & Reviewed for 2023)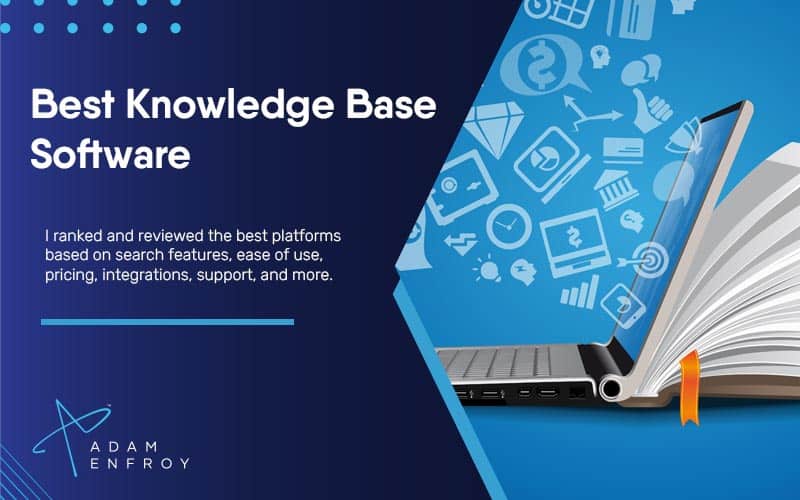 Want to head straight to my top picks? The best knowledge base software is Freshdesk and HubSpot Knowledge Base.
Do you need to figure out which knowledge base software to use for your business?
In this guide, I ranked and reviewed the best knowledge base system software to use based on ease of use, search and help desk capabilities, features, pricing, support, and more.
Let's get to the list.
Disclaimer: Please note, I may receive affiliate compensation for some of the links below at no cost to you if you decide to purchase a paid plan. However, these are the best tools I have tested for launching and running a knowledge base. You can read my affiliate disclosure in my privacy policy.
Let's get started!
What is the Best Knowledge Base Software?
Here's a list of some of the best knowledge base platforms to use this year.
Best overall knowledge base software (Free – $99 per month).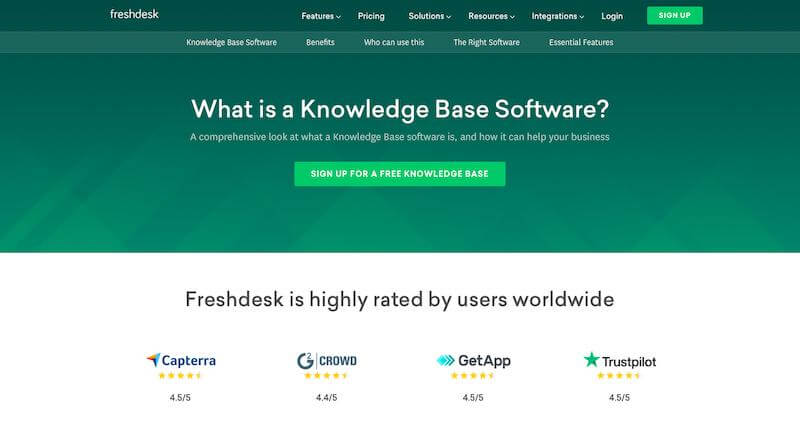 Freshdesk is a cloud-based knowledge base tool that provides solutions to set up a knowledge base for convenient customer self-service. The helpdesk tool helps you assist customers in discovering answers to common questions.
It also helps you keep documentation up to date, manage knowledge access and permissions, organize documents, and more. The software helps you document tutorials, answers to frequently asked questions, DIY guides, etc.
Its free text editor is another bonus. The text editor provides numerous formatting options to structure your content and answers. It also makes it easier to embed images and other graphics to demonstrate tutorial steps.
Key Features:
Versions and Translations – It allows you to deliver content in multiple languages and provide translations to serve customers worldwide.
One-Click Actions – It has a two-pane view to go from one point to another and access relevant categories, articles, and folders through one click. It also allows you to make changes to several articles, folders, or categories simultaneously.
Unlimited Storage Space – It provides unlimited storage space, allowing you to host as many tutorials and image-heavy guides as you want.
SEO Capabilities – It embeds meta tags, titles, and more to improve your search engine discoverability.
Pros of Freshdesk:
The tool creates content by sourcing data from agents.
It helps you manage multi-product content.
Performance tracking based on customer feedback.
Tracking of content evolution to restore best options.
Content reviewing within the dashboard to get instant updates on article status.
Template standardization and creation for supporting articles.
Pricing:
Freshdesk comes with five plans (including a freemium plan):
Sprout – Free plan
Blossom – $15 per month
Garden – $35 per month
Estate – $49 per month
Forest – $99 per month
All of the plans provide features like ticket dispatch, email and social ticketing, ticket trend report, data center location, and more. You also get a 21-day free trial.
Best for large-scale enterprises ($360 per month).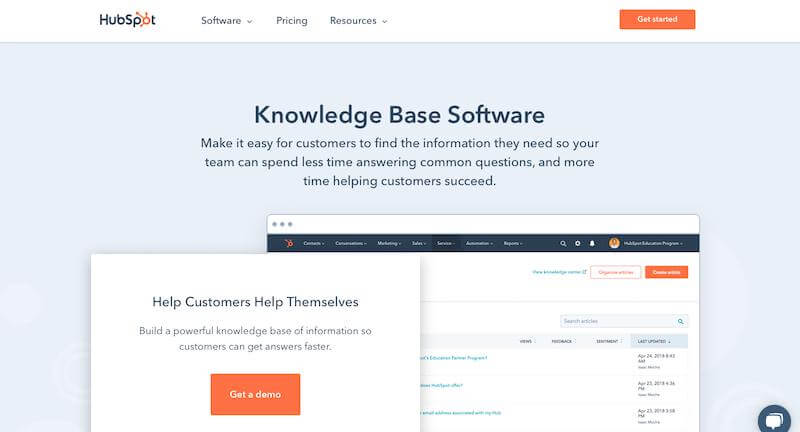 HubSpot Knowledge Base is a knowledge management software that helps you set up a knowledge base to provide uninterrupted information. The tool analyzes your ticket, frequently held conversations, and customers' most commonly asked questions to create content.
It sets up answers to common customer queries and needs to reduce customer support requests and reduce time. Overall, HubSpot allows customers to easily browse, discover, read, watch, or refer to your customer base.
It also helps your knowledge base articles and documents get indexed in search engines. You can even customize the look and feel of the articles and preview their appearance on various devices.
Additionally, it syncs with email and live chat software to make your knowledge base and most relevant content easily discoverable.
Key Features:
SEO Capabilities – It provides customizable, SEO-based structures to gain a higher ranking for articles and reduce search time for customers.
Automatically Records Customer Behavior – Articles previously viewed by customers get automatically sorted by HubSpot's free CRM to avoid sending duplicate content during support conversations.
Impact and Usage Tracking – Built-in reporting dashboard identifies gaps in knowledge base by analyzing the effect of pages and knowledge base. It also displayed customer feedback and usage data to improve help documentation.
Conversational Bots – They assign suitable chat agents and relevant documents to specific customers. This improves live chat functions and 1-to-1 communications.
Pros of HubSpot Knowledge Base:
Provides a free demo.
Ticket generation for assigning customer issues to the team.
Turning incoming emails into tickets or routing to the conversation dashboard.
Automated ticket routing, escalation, task creation, and email marketing.
Live Chat and bot options on your website.
Reports on goal metrics.
Track and meet customer service level agreements (SLAs).
Restrict access to certain pages.
Multi-language, collaborative inbox that aggregates communications with customers.
Pricing:
HubSpot Knowledge Base platform is only available with the Professional and Enterprise editions of the software.
Pricing plans include:
Professional – $360 per month
Enterprise – $1200 per month
Both of the plans come with advanced features like 1:1 video creation, video hosting, customer experience survey software, and more.
Best for creating a knowledge base using pre-designed themes ($15 per month).
LiveAgent is a help desk software that helps you add knowledge base articles, create forums and feedback boards. It enables you to create a customizable knowledge base to manage customer queries without actually engaging them.
The setup process takes only four steps, including creation, configuration, customization, and filling the template with the content.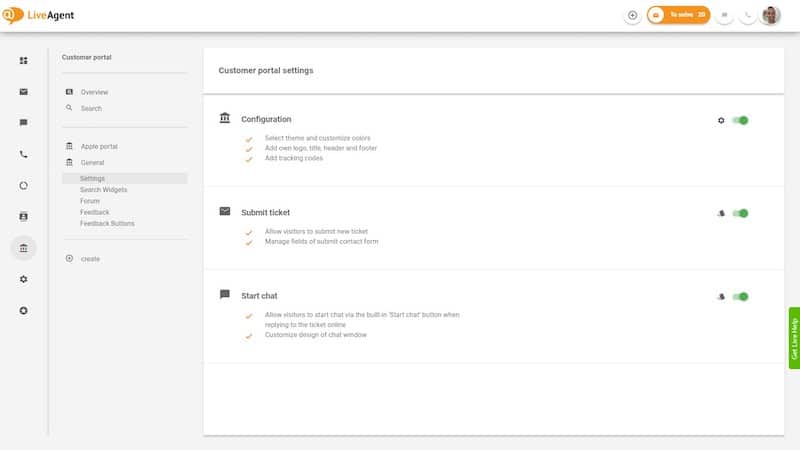 Companies that sell several products, brands, and services can create unlimited knowledge-bases using a single account. You can also make each knowledge-base with a unique design, content, and layout.
The software also integrates with multiple communication channels like Gmail, Viber, contact forms, Slack, Twitter, Facebook, etc.
Key Features:
WYSIWYG Editor – Its built-in WYSIWYG (What You See Is What You Get) Editor helps you style knowledge base content with headings, colors, and pictures.
Customizable Customer Portal – The knowledge base articles, feedback boards, and forums get added based on the type of products and customers. You can also create and place customizable search widgets anywhere on pages for easy navigation.
Predefined Themes – It provides three types of themes, including Classic, Minimalist, or Montana. You can customize colors for different icons, items, buttons, and headers based on your brand.
Pros of LiveAgent:
Integrations with WordPress, Shopify, Magneto, Mailchimp, etc.
Integrations with multiple communication channels with over 200 features.
4-step simple software setup procedure.
Different content for agents and customers.
Add brand logo, title page, header, footer, etc.
Embed a virtual call center.
Create and customize themes with custom CSS and HTML.
Customer support help desks.
Pricing:
LiveAgent provides two pricing plans for its knowledge base platform:
Ticket – $15 per month
Ticket + Chat – $29 per month
Both of the plans are suitable for small businesses, individuals, and professional marketers. They also come with a 14-day free trial (no credit card required).
4. ZenDesk.
Best for integrating customer ticketing and live chat with knowledge bases ($79/month).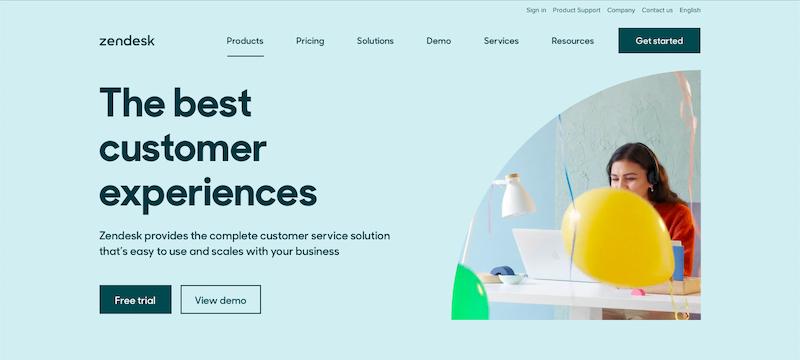 Zendesk is a knowledge base solution that lets you organize your institutional knowledge and put it together as a searchable database. It provides customer service, ticketing systems and even allows you to integrate the knowledge base with support tickets.
You can display your knowledge base articles and content to specific audiences, including support agents, particular customers, etc. It also comes with pre-designed templates to maintain the content structure and create easy-to-read articles with rich formatting.
ZenDesk also accelerates customer service through in-context self-service. Web Widget and Mobile SDK enable in-context service inside a product or on a website.
It also allows your agents to draft new articles and documents and flag older articles that need improvement. You also get the ability to embed self-help articles in other places like blogs, product pages, etc.
Key Features:
Updated Forum – "Team Publishing" provides real-time updates of customer issues by collecting data from an expert support team. It also allows you to update frequently asked questions, product details, policies, and more.
Translation – It allows you to translate your knowledge base articles into over 40 languages to provide worldwide support.
Customizable Display – Control the look of the help center with customizable themes and organize content based on customers' preferences. You can also create multiple help centers to cater to different audience segments, regions, or brands.
Built-in Reports – Measure and identify what your customers are looking for using built-in reports. It also helps expose gaps in content and determine areas to create articles.
Pros of Zendesk:
AI-powered article recommendations.
Restrict content to just certain visitors.
Drafts get saved while the work is in progress.
Integration with CRM tools like Sunshine to deliver enhanced service.
Manage articles, live chat, tickets, etc., from a single dashboard.
Pricing:
Zendesk provides knowledge base tools with two of its plans, including:
Suite Growth – $79 per agent/month billed annually.
Suite Professional – $99 per agent/month billed annually.
The Suite Professional plan allows deeper collaboration, routing, and analytics.
5. ProProfs.
Best for team collaboration and restricted content authorization (Free – 70/month).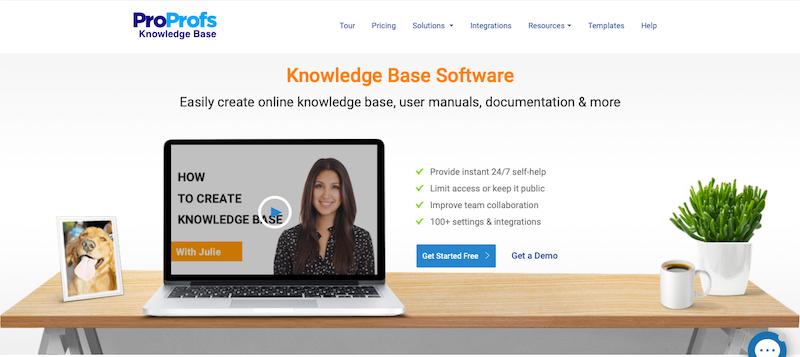 ProProfs is a knowledge base system that helps you create an online knowledge base, user manuals, documentation, FAQs, Wikis, and more. You can also create how-to videos for a more engaging approach.
It's also a big project management and task management tool to help team members collaborate.
ProProfs integrates with communication channels like help desk systems, live chat software, analytics tools, etc.
Popular integrations includes Google Analytics, Wufoo, Freshdesk, Salesforce, ProProfs Help Desk, ProProfs Live Chat, and more. Integration with other tools helps you reduce customer tickets and maintain team collaboration.
It takes five simple steps to create a knowledge base with ProProfs:
Set your objective and target audience.
Use pre-designed templates and fill in details. Or you can build it from scratch.
Customize your template by adding your logo, updating colors, and more.
Import documents, PDFs, and more from your system. You can also add images and videos for detailed tutorials.
Finally, publish your documents or articles.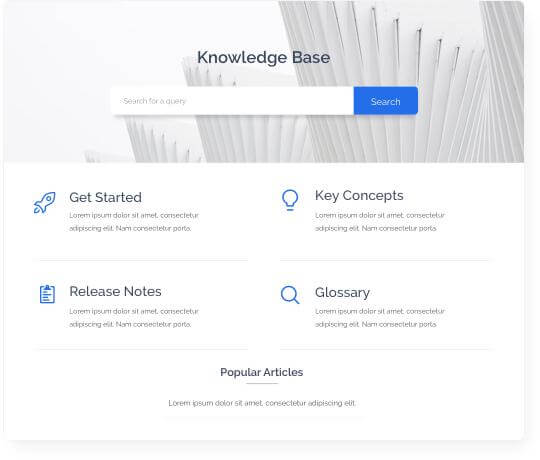 You can either create a private base for your employees or a public knowledge base accessible to all your customers. Standard features include information centralization, unlimited editing, content authorization, compatibility with all devices, and more.
Key Features:
Highly-searchable – The software helps you create a mobile-friendly and highly-searchable knowledge base and manuals.
Team Collaboration – You can create groups and assign various roles to your members, namely administrator, viewer, editor, and contributor. Limit access to the information based on their roles.
Analytics and Reports – Get insights on what your audiences are searching for, effective keyword searches, articles that need improvement, etc.
Pros of ProProfs:
Instant 24/7 self-help.
Enable single sign-on.
Pre-designed customizable templates.
Over 100 settings and integrations.
Access documents and photos from any folder and in any format.
Pricing:
ProProfs offers three plans:
Free: $0 for up to 20 pages
Essentials: $20 per month (for up to 50 pages)
Premium: $70 per month (for up to 100 pages)
You can also try any of the paid plans free for 15 days. The Premium plan lets you build unlimited public or private bases and provides advanced features like API, white-label, etc.
6. Helpjuice.
Best for collaboration and extensive theme customization ($120 per month).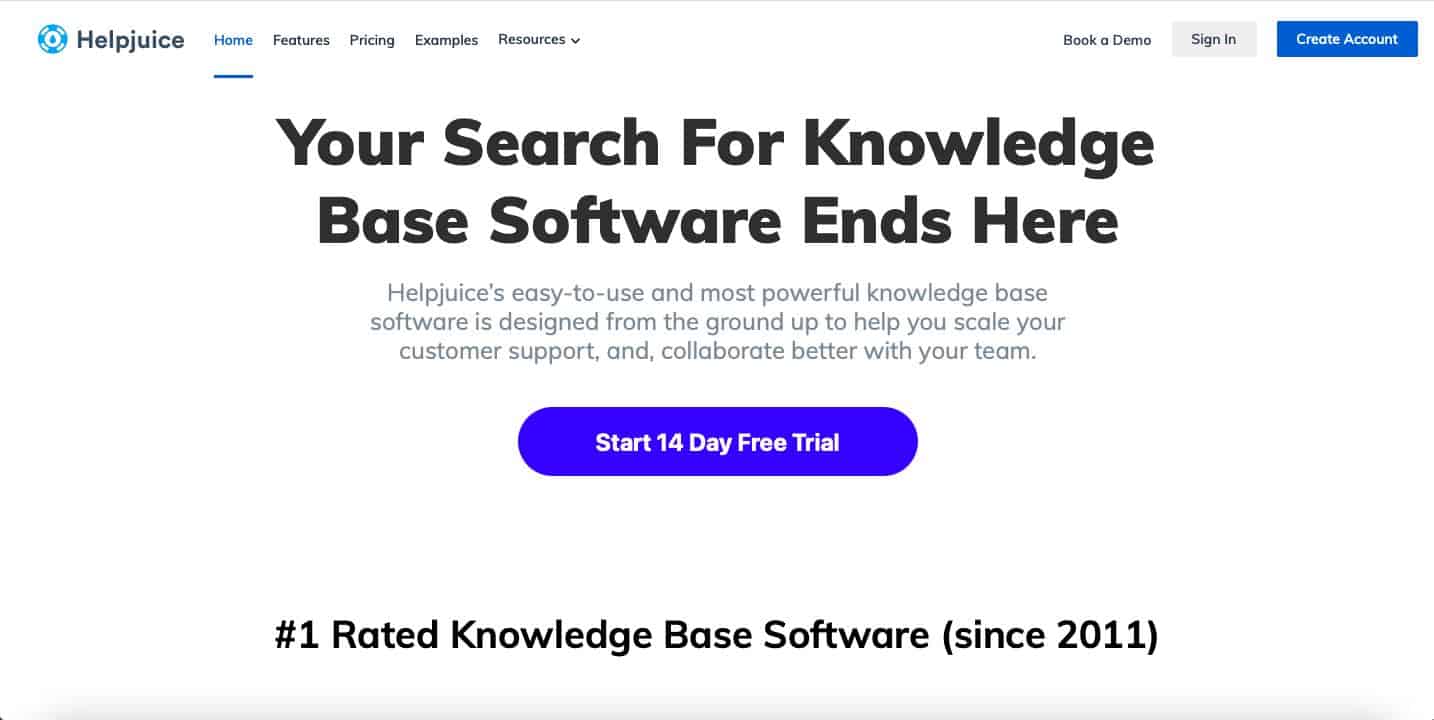 Helpjuice is a knowledge base builder that helps you organize your corporate Wiki in one centralized hub. It lets you collect, organize, access, and communicate information to a specific audience, including your staff and customers.
It provides dozens of custom-made themes and editing tools that allow you to customize your content. Other features include unlimited content formatting, easy article authoring, optimization for SEO, article history restoration, etc.
Helpjuice also allows you to create separate privacy settings. You can create an internal knowledge base for your team, as well as a public base to answer your customers' questions.
Key Features:
Google-like Search – It provides a simple Google-like search option to access articles directly from the knowledge base.
Helpjuice Analytics – It tells you what your audiences are searching for, what content you should include in your knowledge base, which articles need improvement, etc. You also get real-time access to the performance of your articles.
Multi-language Support – You can switch around different languages from the author panel to cater to different audiences worldwide.
Live Collaboration – Collaborate with your team in real-time with the commenting feature inside the article. You can also see your article's improvement in real-time.
High-searchability – It allows you to search PDFs and even content inside images.
Pros of Helpjuice:
Measure the impact of your content.
Advanced customization using liquid HTML/CSS.
The ability to add images and videos to make your content engaging.
Organize your content in several categories, folders, and sub-folders.
Integration with tools like Slack, Google Chrome, Salesforce, Olark, etc.
Pricing:
Helpjuice offers four pricing plans:
Starter: $120 per month (up to four users)
Run-Up: $200 per month (up to 16 users)
Premium Limited: $289 per month (up to 60 users)
Premium Unlimited: $369 per month (unlimited users)
All of the plans come with a 14-day free trial, expert customization support, and customer care.
7. Guru.
Best for automatic employee onboarding ($5 per month).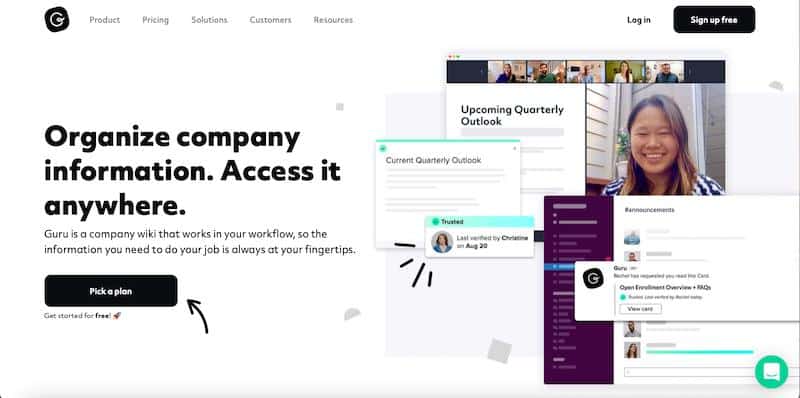 Guru is a knowledge base platform that helps you organize company information and access it from anywhere. It acts as a company wiki that stores and provides all of the necessary information with a single click.
Along with managing the knowledge base, it also creates a network of the company's intelligence. Guru's unique "Capture" feature captures all of the relevant information from Google Docs, Slack threads, your company's app, etc.
It also uses AI to suggest information to avoid searching for information manually. The machine-learning and AI-based system also improve its functions over time based on your day-to-day workflow.
The tool also comes with Verification Workflow and Browser Extension features to ensure team members have access to the correct information at the right time.
Key Features:
AI-based Solutions – It allows you to edit old content, create new articles based on automated suggestions, etc. It also suggests the best-suited employee fulfill a specific task.
Streamline Internal Communications – It keeps everyone updated on real-time releases, updates, and more.
Collections and Boards – Organize information and content using different boards, categories, and collections.
In-depth Insights – It provides deep insights to track and improve your knowledge base.
Pros of Guru:
Knowledge alerts and duplication detection.
Real-time expert inputs.
Automated staff and customer onboarding.
Editing tools to customize and create engaging content.
Integration with business apps like Slack, Shopify, Microsoft Teams, Spotify, etc.
Pricing:
Guru comes with three pricing plans:
Starter: $5/user/month
Builder: $10/user/month
Expert: $20/user/month
All of the paid plans provide a 30-day free trial. Standard features include browser extension, Slack app integration, verification, unified search, commenting feature, public cards, and more.
What is Knowledge Base Software?
Knowledge base software is a tool used by organizations to build a knowledge base to resolve customer queries. These tools also help you organize documents, commonly asked questions, tutorials, and other information into compatible formats.
A knowledge base is a form of an online library where users can find all of their answers. All you need to provide are documentation, answer to questions, guides, and more to build into this automated system.
The users can then do a quick search and access answers to their desired questions. You can restrict their access to company staff, a group of customers, or the general audience.
Here are some of the benefits of a knowledge base tool:
It keeps crucial information in a single place for employees and customers.
Automated employee and customer onboarding.
Provides the customers with consistent services, increasing customer satisfaction.
The self-service approach takes less time than contacting the sales rep.
You can create a knowledge base in numerous languages.
It gives your company a professional look and keeps the system updated.
Customers can provide constant feedback.
What Features Do You Need in Knowledge Base Software?
Here are some standard features that you should consider while choosing a knowledge base system:
1. Internal Search Engine.
Your customers want information fast, and that's why your knowledge base should have an easy-to-use search engine. The target audience should be able to quickly find answers to their queries after entering their desired keywords.
It should also be equally efficient to provide accurate results even if the user is entering one or two words with wrong spelling.
2. User-friendly Dashboard.
You must select a tool that is easy to use for both your users and yourself. A simple dashboard will enable you to manage and edit hundreds of articles or guidebooks easily. This, in turn, will help you to create engaging content for your users.
3. Feedback and Analytics.
Choose the software that allows you to seek customer feedback and determine essential metrics like which article is performing the best. This information will help you constantly update your information to provide better customer service.
The tool should also identify things like the number of views per document or article and search results. Additionally, it should provide integration with Google Analytics and other data visualization tools for more detailed reporting.
4. Manageable Categories.
All knowledge base platforms must offer tools to organize the information correctly and make it easy to navigate. You should be able to divide your data into categories and folders, making it easily accessible to everyone.
Keeping everything organized will also help you keep track and update the articles regularly.
5. Backup System.
Select a knowledge base software that comes with backup options to ensure your data never gets lost. This will also help you access past articles if required and the current information for any future purposes.
6. SEO Capabilities.
Your knowledge base platform should be able to create SEO-friendly knowledge bases and manuals. Standard SEO functions include mobile-optimized pages, high search engine ranking, optimized titles, meta tags, and more.
Other essential features include automation, content management, reporting and analytics functionality, social media integration, etc.
How Do You Use Knowledge Base Software?
Most of the knowledge management systems come with similar functions and characteristics.
Here, I'm using ProProfs to demonstrate the rough process of creating a knowledge base using a knowledge base platform.
After you log-in to your ProProfs dashboard, you'll see all of the following options:
Add New.
Preview.
Sites.
Files.
Settings.
Reports.
Table of Content.
And on the top-right corner, you'll find options like "Revision history" and "Delete page." Some other essential settings include "Tab view," "Save page," and "Edit account."
The "Add New" option allows you to add several folders, pages, toggle tags, and more. This tab also helps you to organize your information and data.
Next, the "Preview" option gives you an understanding of how your final home page will appear. Hare, you'll also be able to set the visibility for your knowledge base, i.e., set which pages are private and which ones are public.
The "Sites" option allows you to create new help sites and manage multiple help sites simultaneously.
Here is how you can create help sites using ProProfs:
Step 1. Log-in to your dashboard.
After filling in all of the details and signing up for your ProProfs account, you will get redirected to the main page. Click on the "Sites" option and then the "Create New Site" option from the knowledge base dashboard.

Step 2.
Next, you'll get prompted to enter the site URL and the site's name. Next, click on the "Create" button.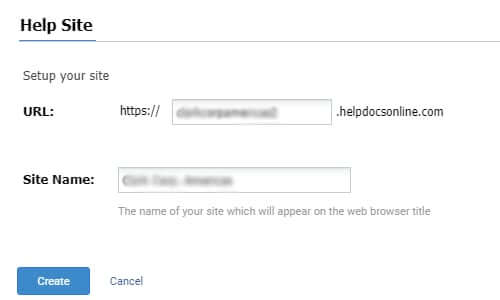 Step 3. Choose and customize a template.
Finally, choose from a variety of customizable templates, or you can create your knowledge base from scratch. The templates provided by ProProfs already have a structure, so you just need to replace the sections with your content.
You can start editing by clicking on the "Edit Home" button.

Click on the "Files" option besides the "Sites" tab if you want to upload and store photos, PDFs, and documents.
The "Settings" tab, beside the "Files" option, allows you to manage your knowledge base. It allows you to manage your help sites, add or delete users, customize your content, add brand logos, and more.
This section also provides the option to integrate your page with other tools like Google Analytics, Salesforce, etc.
Click on the "Preview" option to get an overview of your final site once you're done editing.
Step 4. Add New Users.
Follow these steps to add new users and give access to team members:
From settings, go to the "Users" tab.
Click on the "New User" option to create a new profile.
Fill in the details, and then click on the "Create" button to finish the process.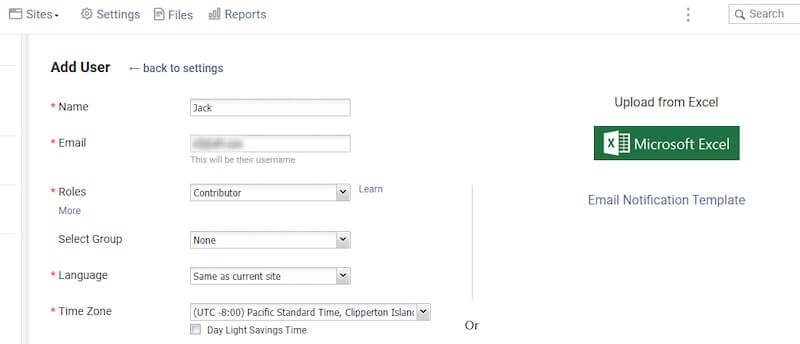 You have to create a Microsoft Excel file if you want to include a bulk number of users. Next, click on the green "Microsoft Excel" button on the right side to upload your sheet. All of the users included in the sheet will get uploaded automatically.
If you want to edit users, click on the user's username you want to edit. Click on the "Save" option to save the changes made.
Similarly, click on the "Delete" option on the right side of each row to delete any particular user.
Executive Summary.
Customers usually look for self-service options and FAQs and prefer to find answers themselves over other customer support mediums.
The self-help option is likely to get more popular in the coming years. According to Gartner, a billion service tickets might get raised automatically by customer-owned bots by 2030.
A well-structured knowledge base also reduces the number of support tickets and can help your visitors seek answers on their own.
Consider these platforms if you want to build knowledge bases and tutorials for a better user experience:
Freshdesk: Best overall knowledge base solution.
HubSpot Knowledge Base: Best for large-scale enterprises.
LiveAgent: Best for creating a knowledge base using pre-designed themes.
Zendesk: Best for integrating customer ticketing and live chat with knowledge bases.
ProProfs: Best for team collaboration and content authorization.
Helpjuice: Best for collaboration and extensive theme customization.
Guru: Best for automatic employee onboarding.
These knowledge management solutions are suitable for all types of businesses, including SaaS startups, large-scale companies, small businesses, and more.
Disclosure: I may receive affiliate compensation for some of the links below at no cost to you if you decide to purchase a paid plan. You can read our affiliate disclosure in our privacy policy. This site is not intending to provide financial advice. This is for entertainment only.