19 Best Live Chat Software of 2023 (Ranked and Reviewed)
Choosing the right live chat software is vitally important to your business. From using automation and chatbots to guiding customers through your website, the best live chat software can help you meet your goals. In this guide, I ranked and reviewed the 19 best live chat software, along with my top 5 choices, so that you can pick the best one for you.
---
We're reader-supported. When you buy through links on our site, we may earn an affiliate commission.
In the digital world, customers expect instant gratification. Getting back to a customer via phone or email within 24 hours just doesn't cut it anymore.
This is where live chat software can help your online business.
In fact, the customer satisfaction rate with live chat worldwide is over 83%.
The best live chat software can help you interact with multiple customers at the same time while simultaneously checking out interaction history and user behavior.
And with the rise of natural language processing (NLP) and artificial intelligence giving customer service a huge leg up, chatbots facilitate conversations when you're away and help you better understand your customers.
In this guide, I reviewed the 19 best live chat software tools.
These reviews are based on help desk features, ease of use, pricing plans, third-party integrations, and more.
Let's get started.
What is the Best Live Chat Software?
Here are my top picks for the best live chat software.
Best Overall Live Chat Software.
Adam's Take
With Zendesk's intuitive dashboard, you can quickly move tickets between agents and departments to ensure that each is handled most efficiently. You can also assign priority levels to tickets to address more urgent issues first.
Formerly known as Zopim, Zendesk offers an efficient internal help desk solution.
One of its standout features is proactive engagement, allowing chatbots to reach out in real-time before a customer has a question.
It also offers efficient AI, automation, and workflows to scale messages faster and caters to a large number of potential customers.
Its data reporting tools provide actionable insights on satisfaction scores, trends, and response time to help you improve your customer experience.
Key Features:
Ticket Management – It offers an efficient ticketing system that can take questions from social media as well.
Explore – Its new reporting tool 'Explore' provides actionable insights and enables you to build a customized report as per the requirement.
Business Rules – Create automatic workflow depending upon the changes present in the complaint ticket.
Pros:
Easily route support tickets outside the workflow rules through internal notes.
Modify and customize the dashboard as per your business requirement.
Agents can add notes to the tickets as a reference point for other agents while picking the ticket.
It also facilitates outbound messaging for agents.
It offers an open API to integrate with third-party applications seamlessly.
Pricing:
Zendesk offers these pricing plans:
Suite Team: $49 per agent per month
Suite Growth: $79 per agent per month
Suite Professional: $99 per agent per month
Suite Enterprise: $150 per agent per month.
Best For Businesses Looking for Live Chat as Part of a Suite of Marketing Tools.

Adam's Take
HubSpot Live Chat is one of the best free live chat software solutions available. The software has everything you need to start a live chat, including a customizable chat widget, automated messages, and integrations with popular apps.
HubSpot offers its free live chat software as a part of its CRM software.
It's a great choice for startups and small businesses looking for a broad set of marketing tools with a live chat feature built in.
Having its own CRM, it offers smooth integration and churn out more credible customer data for actionable insights.
It records transcripts of every chat to help you use them for user behavior, training, and agent performance.
This feature also allows you to engage in contextual conversations and help deliver better support and shopping assistance.
Key Features:
Create Bots – Leverage its chatbot builder to instantly create bots that will enable you to qualify leads, deliver instant answers to FAQs, and book meetings efficiently.
Slack Integration – Hubspot offers free slack integration to help agents get direct chat notifications and respond efficiently through Slack. Users can also leverage the Hubspot mobile app to chat with customers on the go.
Office Hours – Designate office hours in your chat widgets to let users know when you will be available for chat.
Pros:
Chatbots can deliver a more personalized and friendlier experience due to its integration with Hubspot CRM.
Leverage email capture to catch up on missed conversations.
Add deals to the CRM through a single click, assign tasks to agents to push deals, and track the progress in dashboards.
Easily access contact, email templates, and company info in your inbox through Outlook and Gmail integration.
Easily create Instagram and Facebook lead ads through automated information capturing.
Pricing:
It's available for free.
Get started with Hubspot.
Best For Ticketing and Automation with a Live Chat Solution.
Adam's Take
LiveAgent allows you to reach out to customers on their preferred channels, including voice calls, email, and social media. Reaching out to your customers this way makes it easy to provide them with the support they need, when they need it.
LiveAgent allows you to reach out to customers on their preferred channels, including voice calls, email, and social media.
A single window helps you manage messages from multiple channels in one place.
Customer service agents can also create customized automation rules to send personalized or canned responses.
With LiveAgent, you can leverage their built-in contact forms to gather relevant customer information easily.
It also enables you to monitor and reply to comments and messages on social media platforms, including Facebook, Twitter, and Instagram.
Key Features:
Community Forum – Build an online community of customers by creating a customized forum, get feedback, and increase the knowledge base.
Automation – Set automation rules to automatically assign customer tickets to departments or agents and add tags.
Call Center – Build a cloud-based call center to connect with an unlimited number of users. In fact, it can also double as a call center software solution so you don't need have seperate software tools.
Knowledge Base – They have dedicated knowledge base software to build a search-driven website for your business.
Pros:
Leverage video chats to interact with customers face-to-face and build a fruitful customer relationship.
It also supports multiple languages to help you chat with global customers efficiently.
It offers a 14-day free trial.
LiveAgent also offers seamless integration with third-party apps, including Jira, SpringBuilder, Clockify, Bold BI, and PipeDrive.
Pricing
It offers a free plan with limited features. Its paid pricing plans start from $15 per month and go up to $49 per month.
Get started with LiveAgent.
Best Fast Live Chat Tool Across Multiple Channels.
Adam's Take
Userlike provides omni channel tools allowing you to reach your customer in the right places. Userlike also has CRM features that will enable you to keep track of every customer's journey, ensuring you give each one the attention they need.
Userlike turns instant chats into long-term customers.
It stands out with its omnichannel capabilities, providing real-time chats across websites, messenger, SMS, Whatsapp, and more.
When agents are online, Userlike functions like a classic live chat tool.
When they're not active, it works like a messenger app we're all familiar with: customers message the business, leave behind an email address, and agents get notified that a message is waiting for them.
It also comes with some advanced CRM features.
With Userlike, you can filter and search for customers, post customer ratings, and view comparative analytics.
This helps sales teams better understand who they're talking to and how they can best solve their pain points.
For customers, intuitive menus allow them to quickly choose the department they want to chat with for instant results.
Its inclusive chat feature never interrupts browsing and pushes buyers quickly through the customer journey.
Its chat transcripts help provide faster issue resolution so customers don't ask repeat questions.
Plus, Userlike helps you deliver a unique branded experience through its highly customizable design elements.
Key Features:
Sticky Chat – Leverage its Sticky Chat rule to connect with users you interacted before to solidify customer relationships.
Custom Design – Customize main text, color, contact, the chat bubble operator to deliver a branded experience to customers.
Smart Customer Profile – Automatically build a customer profile based on users' public information to deliver more personalized support and sales services.
Pros:
Efficiently send ripe leads to your CRM and convert them into regular customers.
Get feedback, pre and post-chat survey, and chat ratings from the customer to gauge the performance of operators.
Convert missed opportunities into opportunities by proactively reaching to customers to resolve their questions.
Leverage widget routers that gauge users' behavior together with an unlimited chat history to direct them to the most appropriate operator.
Give on-page guidance to customers for more engaging support.
Integrates with other chatbots.
Pricing:
Its paid plans start from $90 per month and range up to $720 per month.
You also get a free plan with some basic features.
Get started with Userlike.
5. Drift.
Best For Businesses Looking to Maximize Their Lead Generation.
Adam's Take
Drift helps you make the most of your leads by turning visitors into qualified prospects with automatic lead capture and engagement. With this platform, you can ensure you have real-time conversations with the right people, book meetings with just a click, and get more done with easy-to-use live chat software.
Drift is one of the leaders in the marketing industry and coined the term "conversational marketing."
According to Drift, conversational marketing is a way to move buyers through your sales funnel with real-time conversations.
This builds relationships by creating authentic experiences with buyers and customers.
On top of their standard live chat tools, you can leverage chat routing features to connect customers with the right person at the right time.
You can give special treatment to your VIP website visitors by giving them a fast lane to your sales team.
Drift also makes sure that you never miss any message through notification alerts – you can book meetings automatically with VIP visitors in case you aren't available on chat.
Key Features:
Drift Playbook – Leverage the Drift playbook to automatically book meetings and convert visitors into leads.
Reporting – It offers actionable data about response time, the number of interactions, and conversion metrics to help you gauge the performance of your support and sales team and increase conversion rates.
Mobile App – It offers a highly-functional mobile app that allows agents to share, record, live chat, and track views. Its Drift video feature allows you to talk with your customers at any time from anywhere.
Pros:
In addition to text-based emails, you can send personalized video messages to your customer for better engagement. It also provides instant notifications when your video gets viewed by the customer.
Chatbots can be set up with many autoresponse streams to book meetings automatically.
Leverage Drift Intel or LinkedIn Sales Navigator to find new buyers.
You can also leverage the "Chat to Call" feature to call the client and attempt to convert them into a customer instantly.
Live chat support software and intuitive chat conversation features.
Pricing:
It comes with a freemium plan that provides all of the basic features.
You'll have to chat with their sales team for a quote based on your needs.
Overall, Drift is a fantastic chat tool that makes it easy for online businesses to create more engaging, instant interactions with their customers.
There's one Enterprise plan that you can request a quote for.
Overall, Drift is a fantastic chat tool that makes it easy for online businesses to create more engaging, instant interactions with their customers.
6. Comm100.
Best for omnichannel customer support ($29 per agent/month).
Comm100 is a one-stop-shop kind of communication tool that provides a live chat tool as one of its products.
It lets you control your live chat with customers via the web as well as using a mobile app.
Some of the most prominent features include co-browsing, auto-translation, audio & video chat, customizable chat window, spell checker, and more.
Here's a list of all of the live chat features by Comm100:
Web, desktop, and mobile app for agents.
Ability to chat in 13 languages.
It lets you handle multiple chats simultaneously.
Leave offline messages.
Conduct a pre-chat and post-chat survey.
File and image sharing within the chat.
Visitor monitoring and chat volume report.
Remove an agent from chat or transfer chat to another agent.
You can also ban unwanted visitors from chat and only attend to potential clients or the customers you want.
To handle more than one chat in real-time, Comm100 allows access to multiple chat operators simultaneously.
The live chat software also enables users to send images, screenshots, and other files to converse conveniently.
You can also integrate your live chat tool with other channels like email marketing, social media, and SMS for multi-channel customer support.
Additionally, you get access to an extensive knowledge base and free online training to integrate the software with the website.
Pricing:
Comm100 live chat tool comes with three pricing plans:
Startup: $29 per agent/month
Plus: $59 per agent/month
Enterprise: Quote-based
You also get a freemium plan with all of the necessary features and a free trial with all of the paid plans.
The Team plan provides features like a configurable chat button and window, real-time visitor and agent monitoring, 1-year data storage, etc.
On the other hand, the Business plan comes with additional features like multi-language chat and auto-translation, canned messages, audio-video chat, etc.
7. Intercom.
Best Marketing Solution with Live Chat Support.
Intercom is a customer messaging platform for sales, marketing, and support teams.
It offers a modern user interface that provides smooth navigation, typing indicators, plus the ability to send emoji and GIFs.
It also allows you to easily customize your messages based on your branding requirements and across iOS, Android, and the web.
Over 30,000 businesses use Intercom including Shopify, Atlassian, and Y Combinator.
Some extra tools include a mobile application that allows instant screen sharing, meeting bookings, and voice or video calls.
It also allows sales and service teams to seamlessly collaborate with support teams. They can easily sync up to answer tough technical questions more efficiently during conversations.
Key Features:
Conversation Routing – Assign sales inquiries and support requests to the right teams and individuals.
Rich Customer Profiles – Get in-depth information on users and their chat histories to perform better customer engagement.
Sales & Marketing Bots – It offers two separate bots for sales and marketing that work round the clock to book meetings and offer customer support.
Pros:
Gauge customer acquisition ROI by monitoring Intercom's impact on opportunities, pipeline, leads, and successful deals.
Leverage team performance reports to recognize and reward leading performers.
Get data of SLA targets, response time, and user volume to optimize resource management of teams.
It also offers smooth integration with over 100 apps, including Marketo and Salesforce.
Customize chatbots and connect them with your tech stack to automate workflows without writing a single line of code.
Excellent chat experience and tools for support agents.
Pricing:
Its paid plans start from $39 and range up to $999 per month.
8. Chatfuel.
Best For Businesses That Need Automated Support on Facebook.
The Chatfuel chatbot interacts with visitors 24/7.
You can automate your pre-planned responses with FAQs to increase customer satisfaction and reduce the cost of support.
Key Features:
Free Plan – Chatfuel offers a free plan with all of the relevant features that work for pages with up to 5,000 subscribers.
Clone Messages – Instantly send duplicate messages to an individual or group.
Random Responses – The chatbot is capable of responding with multiple answers to the same question, giving it a human touch.
Pros:
Automatically reply to keywords and questions entered by the user.
It allows you to embed a Facebook Messenger on your website with Facebook Live Chat Website Plugin.
It automatically updates the user's public information from Facebook, including the user's first name, last name, locale, gender, timezone, and profile picture. It can also help you segment the user list for campaigns and broadcasts.
Send automated messages to users who comment on relevant Facebook posts.
Gauge the number of open, sent, clicked messages from the analytics dashboard.
Visitor monitoring and co-browsing for real-time support from chat agents.
Pricing:
Its Pro plans start from $14 per month. It also offers a freemium plan and a quote-based plan.
9. Acquire.io.
Best for a Seamless Omnichannel Customer Experience.
Acquire.io is one of the most popular live chat software available.
It provides extensive integration with over 50 leading chat services, including Skype, Facebook Messenger, Line, and Twitter.
You can leverage its smart chatbots to automate your replies to common questions and customer requests. And whenever your chatbot is stuck, it will instantly route the chat to a human agent to help out your clients.
It also allows you to view and interact with your customer's browser via screen share, helping you provide excellent customer support.
On top of that, it allows you to block critical information like credit card information to maintain absolute security during the screen share.
You can also leverage markers and highlighters on the screen to guide customers easily.
Key Features:
Email Support – Integrate your support channel with email support to enable a birds-eye view of all customer interactions from one place.
Video Chat – Use video chat for face-to-face interaction with customers for better resolution of queries and expedite conversions. You can use both one way to two-way video features.
Personalize Messages – Segment and trigger automated messages to your users based on their visitor page URL, location, device type, and visitor behavior.
Pros:
All of the information shared in the live chat gets encrypted. It also meets all major security standards, including HIPAA, GDPR, and SOC 2.
It provides a unified view of the customer with all of the historical data present at your fingertips.
Leverage Mobile SDK to customize the video chat as per your branding needs.
It's the only live chat software that also provides mobile SDK to co-browse with users on mobile phones.
Create customized chatbots without any coding.
Pricing:
Its pricing models are available on a request basis.
10. Podium.
Best Customer Engagement Tool for Local Businesses.
Podium is an all-in-one customer messaging tool for small business that includes excellent web chat features.
Their software helps local businesses manage reviews, collect text payments, receive feedback, and chat with customers via text, video, and more.
Key Features:
Receive inbound messages from customers.
Send outbound messages to customers.
Collect payment via text link.
Send and receive Facebook messages.
Send and receive messages via Google.
Send templated messages.
Pros:
Their "Webchat" feature is very convenient. You receive customer information (name and phone number) and can call, text, and chat with them to keep the conversation going even when you're away from your computer.
Podium "VideoChat" works great and lets you quickly connect with customers remotely over video.
Teams can get more done with a connected "Teamchat" experience.
Their centralized inbox lets team members manage and respond to messages from multiple platforms inside of one dashboard.
Pricing:
Pricing is as follows:

Essentials: $189 per month
Standard: $449 per month
Professional: $649 per month
11. Tidio.
Best Smooth And Fast Live Chat Solution.
Tidio Chat offers several cool features to help you provide better customer support and make it more receptive and responsive to customers.
They boast that you can "communicate faster than ever."
By combining a live chat box, email, and messenger in one platform, it only takes a few seconds to respond to customers, no matter how they reached out to you.
Additionally, its email notification feature enables you to easily track your missed live chat messages and reply to them through emails.
Tidio Chat also helps you weed out spam and useless messages through an IP-based ban on users.
You can also stay connected to your real customers even when you are not in the office through its native iOS and Android apps.
Key Features:
Live Typing – Preview the message that your customer is typing in real-time to get extra time to prepare for a more appropriate response.
Visitor List – Start proactive conversations with your customers based on who is visiting and user behavior.
Chat Transfer – Instantly transfer the live chat to another operator based on user-specific requirements and queries.
Pros:
It enables powerful customer data management with efficient third-party integration.
Respond instantly to frequently asked questions through canned responses.
It allows you to export the user data in an accessible file that is also accessible by other tools and CRMs.
Leverage its efficient desktop app to interact with customers without any lag.
Use live chat analytics to keep track of customer support operator's performance and chat traffic.
Pricing:
It comes with a free plan for up to 3 users and unlimited chats. Its paid plans start from $15 per user per month.
12. LiveChat.
Best For Businesses That Want a Powerful Balance Of Artificial Intelligence And Human Touch.
LiveChat offers multiple unique features to help businesses provide an excellent customer experience.
Its chatbots can create help tickets, chat across numerous channels, and generate valuable leads for the business.
On top of that, its AI engine helps you to quickly route your chats to the relevant customer executive by automatically segmenting them based on their behavior on the website.
It also helps you display your products in intuitive product cards, which leads to a considerable boost in sales.
You can also use its custom form fields and marketing automation software integrations to qualify leads more efficiently.
Moreover, it allows sales teams to create goals and track revenue directly attributed to live chat.
Key Features:
Multiple Channel Support – LiveChat allows customers to chat through multiple channels, including Facebook Messenger, WhatsApp, SMS, Apps, website, email, and chat link.
Extensive Integration – Easily connect LiveChat with applications that you are already using for the business. Some of the leading apps out of over 170 include Salesforce, MailChimp, ChatBot, Google Analytics, and KnowledgeBase.
Intuitive Dashboard – Customize the dashboard to get a real-time list of website visitors, select the data that you need, and use filters to segregate the data to identify leads.
Pros:
Customize the chat window as per your business' branding needs.
Provide support based on the wait time and chat-history.
Easily control all of the conversations through a single-window, including chat windows of multiple websites.
Take feedback and ratings of customer service executives to gauge the quality of your services.
Engage customers with quick questions followed by canned responses.
Works well with ecommerce platforms and is recommended for those using Magento 2.
Pricing:
It offers a 14-day free trial and a custom Enterprise plan. Its regular paid plans start from $16 per month and range up to $50 per month.
13. Olark.
Best For Businesses Looking For A Powerful Data Tool with Support Software.
Olark is a SaaS tool that gives businesses the ability to chat in real-time, streamline customer data, and leverage customer insights to optimize the user experience.
With Olark, you can store your chat transcripts and notes and then store them in your CRM software. This helps organize data so that you understand your customers better.
To put it simply, Olark helps your customers "feel heard."
You can leverage its customized pre-chat forms to gain the context before starting the chat with customers for delivering better response and service.
You can also delight the customer by sending automatic product suggestions and offers at the right time.
On top of that, Olark enables you to take offline messages through chat and reply to them via email whenever you are unable to respond to chat messages.
Key Features:
Automation – Leverage its easily configurable live chat automation rules to boost engagement and expedite your workflow.
Live Chat Analytics – Leverage its detailed live chat data in real-time to efficiently monitor agent activity, customer satisfaction levels, and chat volumes to make appropriate staffing and prioritize business decisions.
Transcripts – Use live chat transcripts to get valuable feedback about your products and services. Dive into the transcript archive with easy search, sort, and filter features to efficiently read the data.
Pros:
It helps you track chat frequency, agent's responsiveness, and customer satisfaction.
Efficiently integrate with CRMs, including Salesforce, Nutshell, and HighRise.
Assign chat to different officials based on the requirement of the customers.
Leverage detailed transcripts of previous chats and search through for valuable customer feedback and information.
Check out the user's shopping cart to deliver more contextual service.
Pricing:
Olark comes with a simple pricing plan available at $19 per month.
14. Pure Chat.
Best Live Chat Software with Lengthy Free Trial.
Pure Chat offers unlimited chat support to help you engage your customers.
Its AI-enabled chatbot is capable of efficiently automating appointment scheduling, lead capture, and taking payments.
You can also leverage customer contact history and analytics in real-time to get actionable insights into traffic trends, the efficiency of marketing campaigns, and user experience.
Additionally, it offers smooth integration with leading applications, including Google Analytics, Infusionsoft, HubSpot, and Axosoft.
You can also use it alongside Zapier to integrate with over 1,000 applications.
Key Features:
Customization – Customize the chat widget completely to make it look like an integral part of your business.
Free Version – It also comes with an efficient free version with AI capabilities for small businesses.
Money-Back Guarantee – It comes with 30-days money-back guarantee to assure users of promised quality and features.
Pros:
Optimize all customer interactions through real-time visitor analytics and contact history.
It offers easy setup and intuitive user interface.
Leverage trigger-based chat function and visitor alert feature to send customized offers and product suggestions to most qualified leads.
Leverage its native iOS and Android apps to respond to customers from anywhere.
Leverage canned responses in chat sessions to provide quick and accurate answers to FAQs.
Easy to embed live chat widgets.
Pricing:
Pure Chat has two paid plans, namely Growth ($39/month) and Pro ($79/month). It also provides a 30-day free trial.
15. SnapEngage.
Best For Businesses Looking For A Powerful Omnichannel Live Chat Solution.
SnapEngage offers the perfect blend of chatbot features and conversation for a customer-delight experience.
It comes with several advanced features, including the capability to allow customers to share their screens for more efficient support.
It's one of the most reliable live chat providers that offers a 99.98% uptime. Like other tools, it helps you collaborate with team reps across departments to convert leads and retain customers.
Key Features:
HIPAA Compliant – SnapEngage is the world's first HIPAA-compliant and secure live and proactive chat to help healthcare organizations connect efficiently with patients.
Customization – Achieve your branding goals by easily customizing fonts, button colors, logo, backgrounds, and chat forms with intuitive design features.
Security & Compliance – It's SOC 2 certified, leverages SSL, and double-layer encryption. It also offers limited data access and prevents data breaches through audit logs, permissions, and access rules.
Pros:
It offers responsive support to help you ensure easy setup and assistance.
Create a unified workflow by integrating with Zendesk, Salesforce, Dynamic 365, and more.
Make data-driven decisions for efficient staffing and decrease operating costs through advanced analytics.
Offer omnichannel chat support to your clients through websites, WeChat, Facebook, Twitter, SMS, or Zalo.
It provides unlimited conversations with no capping on numbers.
Pricing:
Its paid plans start from $16 per month and go up to $40 per month.
16. Smartsupp.
Great For Ecommerce Businesses Looking For a Live Chat Assistant.
Smartsupp is a great way to interact with customers for ecommerce store owners.
It integrates with many of the top ecommerce platforms and website builders, allowing personal real-time conversations.
Smartupp also offers personal touches too.
There is a customizable window that lets you embed a customer support operator's picture to show humans are behind every chat interaction.
It also offers detailed visitor tracking information in its web dashboard to help you track customer behavior and traffic.
Smartsupp has native iOS and Android mobile apps to enable your support staff to stay connected with your customers on the go.
You can also create your own rules to trigger automated personalized messages at the right to boost sales.
Key Features:
Video Recording – Get a deeper understanding of customer behavior through video recordings of customer movement on the application.
Detailed Stats – Easily track customer chat ratings, measure conversions through Google Analytics, and monitor chat volume or user engagement to define your customer strategy.
Integration – It offers API for more flexible integration with tools like website builders and ecommerce platforms.
Pros:
Send automated messages to engage visitors at the right stage.
It promises a quick setup that happens within minutes.
Integrate with ecommerce platforms to see the phone number, name, or email of the customers.
It offers integration with major ecommerce platforms, including WooCommerce, Shopper, and Webnode.
Leverage its customizable web dashboard to see the data that you actually need.
Pricing:
It offers a free version for small businesses with up to 3 users and limited features.
Its paid plans, Standard and Pro, cost $15 and $72 per month, respectively.
There's also the Ultimate plan, which starts from $2000 per year.
17. Zoho Desk.
Best Option For Businesses That Have A WordPress Website.
Zoho Desk is a customer-focused, context-aware help desk software for agents and managers.
It allows agents to convert any live conversation into a ticket if they are unable to resolve customer problems.
It also lets agents save the context of their live chat instantly.
You can assign your tickets to trusted experts from various channels to enable the efficient resolution of customer issues.
You can also set a wait time for all of the chats, so if you miss one, it will automatically get converted into a ticket.
Key Features:
Pre-planned Responses – Don't waste time on typing routine answers and pleasantries. It can help you focus on helping customers more efficiently.
Multiple Branded Chat Widgets – You can create a separately branded chat widget for different applications and different communities and knowledge bases.
Feedback – Get feedback from customers in real-time during the live chat.
Pros:
It offers a 15-day free trial to help you get familiar with the features.
Gauge customer feedback ratings to optimize your support team.
View and manage customer communication through Twitter and Facebook.
Leverage cloud telephony to make phone calls.
Embed a web form to enable a customer to fill up their queries and send as tickets.
Pricing:
Its paid plans start at around $14 per month and range up to $40 per month billed annually.
18. LivePerson.
Great for AI-Enabled Real-Time Customer Support.
LivePerson offers powerful live chat solutions, including automatic messaging, canned messages, conversational AI, and more.
Multi-language support provides live chat capabilities in different countries.
It also comes with a lead generation bot that can help you run effective email campaigns and send newsletters.
Its AI-powered chatbots continuously store customer information to help you facilitate accurate customer service.
Key Features:
After Hours Bot – It ensures you answer frequently asked questions of customers by facilitating canned responses round the clock.
Custom Messages – Deliver personalized messages to your customers based on different scenarios to boost sales and conversion.
Mobile App – It comes powered by native iOS and Android applications to help you stay connected with your customers irrespective of your location.
Pros:
Its AI-powered bots help you weed out frequently asked questions by delivering an automatic response.
Its smartphone app sends push notifications every time you receive a message.
Personalize your chat window by matching the color with your brand, add agents' pictures, and modify text or language.
Use keyboard shortcuts to use saved replies and answer quickly to common questions.
Pricing:
It offers a quote-based pricing plan.
19. Chaport.
Best For Managing Live Chat Tasks in One Window.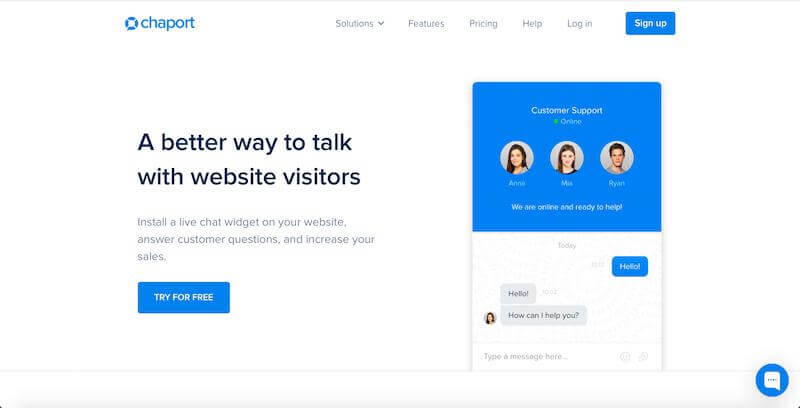 Chaport is an easy-to-install live chat widget that you can install on your website.
It comes with a modern UI and allows you to easily manage your chats, emails, and calls from a single window.
You can also use Chaport to chat with multiple customers at once to boost efficiency and gather more opportunities.
With Chaport, you can modify the chat widget by changing its color, font, operator photos, and more.
It currently supports 29 languages, and the widget determines the language of your customer and switches to their language automatically.
It also offers a smartphone app, allowing you to engage customers through live chat on smartphones and never miss any opportunity.
Key Features:
Multilingual – It offers support to 29 languages to help global businesses serve their customers efficiently.
Native Mobile App – It offers mobile apps for both iOS and Android with device-specific chat facilities for seamless integration and user interface.
Message Automation – Send custom messages to customers based on their number of visits and behavior on the website.
Pros:
Efficiently link your live chat software to the CRM to get all relevant information about the customer.
It's compatible with both desktop and mobile devices, including Windows, Mac, iPhone, and Android.
Leverage Chaport's mobile widget to easily connect with customers who are always on mobile devices.
Use canned responses to enable faster customer interaction.
Pricing:
Its paid plan costs $15 per operator/month. Chaport also comes with a freemium plan that offers all of the necessary features.
Note: tools not yet reviewed for this list include FreshChat, ClickDesk, and Chatra.
What is Live Chat Software?
With so many players in every industry, it isn't easy to stand out and create a space in the customer's mind for your brand.
As businesses move to the digital space, customer experience and service are becoming essential.
That's where the live chat software comes into play.
Live chat software allows businesses to cater to customer needs around the clock and seamlessly address their needs in real-time.
It is one of the top ways to improve customer communication in the digital marketplace.
Live chat, with its customer-centricity and focus, helps businesses create a personalized experience for their customers, drive sales, and make long-term relationships.
Hence, many businesses are now using live chat tools to bridge the gap between customer needs and service.
More and more businesses are starting conversations with first-time website visitors, returning customers, and existing customers.
How Do You Use Live Chat Software?
Setting up the live chat software is decidedly easy. Let's walk through the process with Drift, one of the best in the market.
One of the greatest things about Drift is that it provides a free plan, you don't have to enter your credit card information, and is pretty easy to set up.
You just have to visit Drift's official website and enter your email address – you're good to go after that.
Start curating your live chat platform immediately. Next, you'll probably get this image flashing up on your screen.
Click on the "Okay" button and just go with the flow.
You can select themes and color-code to match your business colors.
Drift also lets you set up a welcome message that reflects your spirit. This is the first thing a visitor will see when they visit your website, so it should be catchy.
In the next step, you'll have to add your business details and contact details so that your customers know who they're dealing with.
The final step would require you to install a piece of code for the smooth running of the live chat.
The process is similar when you try to use other market-leading live chat platforms like Intercom and Chatfuel as well.
What Should You Look For in Live Chat Software?
The requirements for every business vary.
While some may focus on generating new leads and converting them to customers, some might aim at engaging the existing ones and fostering long-term relationships.
However, here are some features that are essential for any live chat service for businesses:
1. Pre-Made Responses.
Canned responses take a chunk of the load off the shoulders of your customer service executives and help offer curated solutions to common and repetitive queries.
Live Chat platforms like Drift and Acquire.io are great chat options if you are looking for this feature.
2. Third-party Integrations.
The integration of third-party apps with live chats helps solve business problems in real-time. For instance, Tidio offers integration with apps like MailChimp, Wix, Shopify, and more.
3. Reporting & Analytics.
Analytics are essential to know whether your business strategy is working on the ground and identify the required changes.
You can track details like chat histories, conversion and call tracking, visitor details, average time spent on chats, and more.
For example, a live chat service like Chatfuel helps you measure KPIs and other important metrics.
4. Smart Triggers.
If you have a visitor who makes frequent visits to your website, it's highly likely that they're interested in what you're selling.
Thus, it's essential to identify, engage, and follow-up with them as they have a greater chance of converting into customers.
5. Multi-Platform Compatibility.
Keep in mind that your audience is using all sorts of devices to browse the internet, including mobile phones, tablets, laptops, PCs, and so forth.
As a result, a live chat service that provides multi-platform compatibility is highly desirable – such as Drift.
Apart from these, there are several other essential features, like offline forms, file transfers, and queue time display.
You'll have to choose the ones that align with your business needs.
Executive Summary.
Naturally, responding quickly to a customer is going to boost their loyalty towards your business. That's why it's crucial to use a live chat tool to meet their needs faster.
All of these live chat tools offer some unique features that might align best with your requirements.
For instance, if you are running a small business and have a low budget, you can go with a free live chat solution like HubSpot that also comes with a free CRM tool.
On the other hand, businesses looking for a premium tool can pick SnapEngage or LiveChat to meet enterprise requirements.
Make sure to go through all of their features carefully and pick the one that gives you the live chat features you need.
Which of these live chat tools do you like best? Are there any missing from the list? Let me know your feedback below.
Disclosure: I may receive affiliate compensation for some of the links below at no cost to you if you decide to purchase a paid plan. You can read our affiliate disclosure in our privacy policy. This site is not intending to provide financial advice. This is for entertainment only.