15 Best Marketing Automation Software Tools of 2023 Ranked
Choosing the right marketing automation software tools is vitally important to your business. From improving your customer service to increasing brand awareness, the best marketing automation software tools can help you meet your goals. In this guide, I ranked and reviewed the 15 best marketing automation software tools, along with my top 5 choices, so that you can pick the best one for you.
---
We're reader-supported. When you buy through links on our site, we may earn an affiliate commission.
Automating and personalizing your marketing messages is a crucial component of digital marketing.
Whether you're a SaaS company, e-commerce brand, agency, or blogger, you need to send the right messages to the right people at the right time.
With marketing automation being utilized by over 480,000 websites today, personalized emails provide 6x higher transaction rates than regular emails.
To get started, you need the best marketing automation software that can help you do just that.
However, it's not always easy.
You have to:
Follow up with your leads
Integrate your CRM software
Run targeted marketing campaigns
Perform lead generation
Segment your email list
And more
Let's get started.
What is the Best Marketing Automation Software?
Here are my top picks for the best marketing automation software to try this year:
Best Marketing Automation Software.
Adam's Take
I like ActiveCampaign because it's so user-friendly. It's easy to create automated email sequences, and the drag-and-drop email editor makes it a breeze to design beautiful emails. The segmentation feature is also really handy because it allows me to target my subscribers with laser precision.
ActiveCampaign is the best overall marketing automation software.
It provides powerful email marketing automation with features like auto-responses, segmentation, third-party integrations, personalized email templates, and more.
The software sends out different customized to your target audience, which helps you nurture your leads automatically – be it a birthday email, welcome email, or any other professional email. The software also enables you to track analytics, including the number of website visits, customer events and delivers instantaneous analysis.
KEY FEATURES:
Here are some features of the software that would give you a better picture of ActiveCampaign.
Powerful sales automation: ActiveCampaign automatically draws the required prospect information, like contact details and custom triggers. It also imports all the extracted details into your CRM software.
Customer experience tools: The software sends out targeted, personalized email campaigns based on custom events and triggers.
Dynamic content: It creates dynamic content considering various factors like interests of the customer, behavior analysis, social data, and more.
24/7 support: Provides users with 24/7 support through live chat, phone, email, and online support.
PRICING PLANS:
The basic plan starts at $9 per month and ranges up to $149 per month for 500 contacts. This number increases on a sliding scale based on the size of your email list.
Get started with a 14-day free trial of ActiveCampaign.
Adam's Take
If you want to develop your email marketing skills, Keap is the perfect company to learn from. Their team of experts can help you not only create effective email campaigns but also track their performance and optimize them for better results.
Keap (formerly known as InfusionSoft) is a private email marketing company suitable for small and medium businesses.
If you want to increase your revenue, customer acquisition rate, and lead management, then InfusionSoft has you covered. It primarily focuses on the development and growth of small companies through its automated marketing and technological services.
It eliminates the need to manually carry out repetitive tasks like billing, follow-up, contact management, and much more.
KEY FEATURES:
Some of the features you would enjoy with InfusionSoft are:
Improvised website tracking: It helps you visualize and predict user behavior and offers in-depth reports of metrics like conversion rate, purchase rate, the first visit of the customer, the total number of customers online, time spent by the customers on a page, etc.
Sales automation: InfusionSoft eliminates the need to manually follow up with leads and clients by automation the entire sales and marketing process.
Increased work capabilities: The software is capable of delivering 29 billion emails, managing 396 million contacts, and running more than 450 thousand campaigns.
Reliable customer support: It provides live support for 24/7 along with constant
online support.
CONS:
Lacks the native integrations
The software claims to provide with an email deliverability rate of 98%, however, fails to meet the claim.
PRICING PLANS:
The initial package begins at $59 for a month and ranges up to $199 per month. You can also try out the software before you make the final purchase as it offers a 14-days free trial.
Get started with Keap.
Adam's Take
Act! is the ultimate CRM and marketing automation solution for businesses seeking unparalleled flexibility. Designing a customized user experience has never been easier. With Act!, you can quickly and easily create campaigns, capture leads, manage contacts, set tasks and reminders, track sales opportunities, and more.
Act! offers businesses unbeatable flexibility through trusted CRM and marketing automation solutions on the market today.
The software is designed with tools like drag-and-drop layouts and real-time previews which make it easy to set up exactly how you want.
Plus, you get access to advanced customization options such as custom fields and segmented lists that let you tailor your experience even further.
With unlimited users and secure cloud hosting included in all plans, managing customer data from anywhere has never been easier.
Act! lead management also takes of your prospects, quickly and easily providing customizable forms & surveys, automated follow-up emails, contact segmentation & scoring capabilities, plus more.
Everything is designed with SMB know-how expertise that ensures every detail is taken care of so you can focus on driving results.
And if you ever need help using the software you'll have access to live support 24/7 via phone or chat.
With Act!, there's something for every small business owner – no matter what size or budget they're working with.
KEY FEATURES:
Some of the attractive features it serves you with include:
Their relationship history shows how companies, contacts, and users interact with one another.
The powerful search feature allows you to quickly find customer data from anywhere in the system.
Offline and mobile access enables you to quickly modify customer data on the go.
Centralized customer data provides a single source of truth across all departments, allowing for better collaboration and visibility into customers' needs.
Opportunity tracking helps identify sales opportunities and track progress in real-time.
Sales process management ensures that everyone is on the same page and that no opportunity is overlooked.
Lastly, actionable insights give you a bird's-eye view of customer interactions and performance, enabling you to make informed decisions about how to best serve them.
CONS:
Compared to the pro version, the web version doesn't provide the same level of access
Sometimes, offline availability could not be achieved, so users may not be able to access the software when needed.
Sometimes, upgrades result in changes or hide the features that users have become accustomed to.
PRICING PLANS:
There are two pricing plans available:
Act! Premium Cloud: $30
Act! Premium Desktop: $37.50
Both of these come with CRM + Marketing Automation.
Best Built-In Marketing Tools.
Adam's Take
Hubspot gives you all the tools you need to get started with inbound marketing and making your website work for you. You can create calls-to-action, landing pages, forms, and even track how well your content is performing with HubSpot's built-in analytics. I also recommend giving HubSpot a try if you're looking to increase leads and conversions from your website.
When it comes to Inbound Marketing, HubSpot is one of the best software tools for marketing automation to rely on.
On top of that, HubSpot offers a wide array of tools, including sales software, customer support, and CRM tool. The range of features provided by HubSpot includes landing pages, web analytics, SEO, social media marketing, content management, and much more.
KEY FEATURES:
Some of the attractive features it serves you with include:
Editing and Modification: HubSpot comes with an easy-to-use drag and drop editor that allows you to create attractive web pages, blog posts, webpages, and email templates.
Formatting and Publishing: Just as it is easy to edit the content with this software, formatting the content and publishing it on the web portal is equally easy and quick.
Integrated Features: HubSpot integrates with some of the most popular tools, such as Netsuite, Salesforce, SugarCRM, etc.
Automated Email Marketing: When it comes to automated emails, HubSpot offers pre-existing email templates and personalizes the subject line and the content for your target audience automatically.
CONS:
Automated marketing tools come with a higher price tag.
PRICING PLANS:
For marketing automation, you would have to pay an onboarding fee ranging from $3000 to $6000 for professional and enterprise packages. You also get a 30-day free trial.
Get started with Hubspot Marketing Automation today.
Best Ecommerce Marketing Automation.
Adam's Take
I advise you to give Omnisend a try if you're looking for a platform that can help automate your ecommerce marketing. With ecommerce becoming more and more competitive, automation is becoming a necessary tool for success. Omnisend can help take the burden of repetitive tasks off your hands so you can focus on more important things.
Omnisend is one of the most popular ecommerce marketing automation platforms on the market. It makes use of various marketing channels to create the perfect omnichannel strategy for your businesses.
Moreover, it's a comprehensive tool that you can use for end-to-end activities like collection of email addresses and contact details, sending emails, A/B testing, curating personalized mails, and more. On top of that, it helps you with holistic data analytics and provides in-depth reports so you can draw actionable insights for your marketing campaign.
The good news is that the tool comes with a freemium version so you can get acquainted with the interface before you upgrade to better plans with more advanced features.
Key Features:
Flexible Content Editor – Use the editor to select from a wide range of templates, drag-and-drop essential elements, and easily create content for regular campaigns or automated emails. It also allows you to use visual elements and the right keywords to influence customers positively.
Extensive Integrations – It seamlessly integrates with a range of ecommerce platforms like Shopify, BigCommerce, Magento, WooCommerce, Yotpo, and more. If Shopify isn't your thing, there are plenty of alternatives to check out too.
Campaign Booster – You can resend your newsletters and emails to prospective leads who didn't open your email the first time. This feature drastically enhances the CTRs and open rates and can drive sales up by nearly 30 percent.
Dynamic Forms – You can use sign-up boxes in the form of widgets, and flexible pop-ups to obtain customer contact details without being too pushy or persistent.
Automation – Make use of powerful automation features like smart triggers to reach the right customer at the right time. Moreover, the 'cart recovery automation workflow' can derive insights from retargeting and abandoned carts, and the cookies from the user's computers to identify and engage indecisive customers.
Pricing:
Apart from the free plan, there are two paid plans. The 'Standard' plan costs $16 per month, the Pro plan comes at $59 per month. All plans come with a 14-day free trial period.
Get started with Omnisend today.
Best AI-Driven Automation Tool.
Founded in 2014, MoEngage is an AI-driven omnichannel marketing and customer engagement platform. It allows users to analyze customer behavior, engage them holistically across different channels, and personalize every touchpoint for a seamless customer experience.
Moreover, MoEngage can help you achieve an 8X click-through rate for your website. The tool is most suitable for use across industries like ecommerce, travel & hospitality, telecom, and banking, and insurance. In 2019, it got featured in Gartner's Magic Quadrant 2019 for mobile marketing platforms.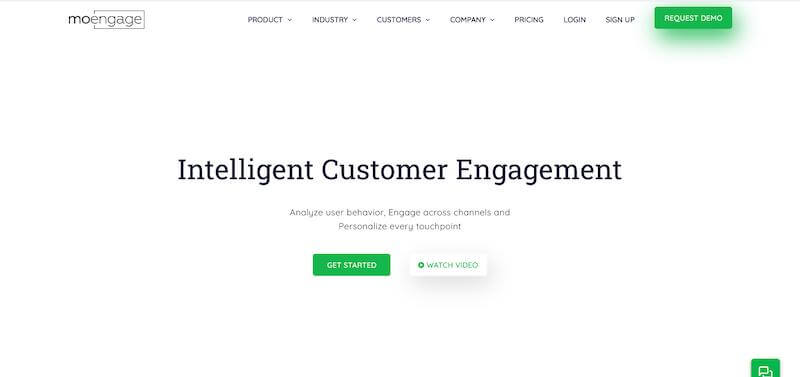 Key Features:
Content Optimization – MoEngage uses Sherpa, an AI engine, to eliminate the need for manual content optimization. It can identify the best performing messages in real-time by studying user interactions, and help curate the right content.
NATIV App – Designing highly personalized content for every customer could take up to 8 weeks. But with the in-built NATIV app, you can achieve it within hours and start delivering content to your customers automatically. In the process, you can increase your ROI considerably.
Data Visualization – It comes with in-built data visualization tools that provide detailed, visual actionable insights to improve customer engagement. In addition to MoEngage's in-built capacity, you can also use plugins like Tableau, Qlik, Looker, and Redash.
Push Amplification – This feature helps users carry out push notification campaigns. By focusing on KPIs like 30-day retention and monthly sessions per user, it allows users to reach 40% more prospective customers.
SMS Service – The tool provides integration with some of the best SMS service providers like Nexmo Twilio, Solutionsinfini, and Gupshup. You can track metrics like the number of texts sent, delivered, CTRs, and conversion rates – all from a single platform. You can also seamlessly merge SMSs with your omnichannel strategy.
Pricing:
Prices are available on request.
Great All-In-One Email Automation Tool.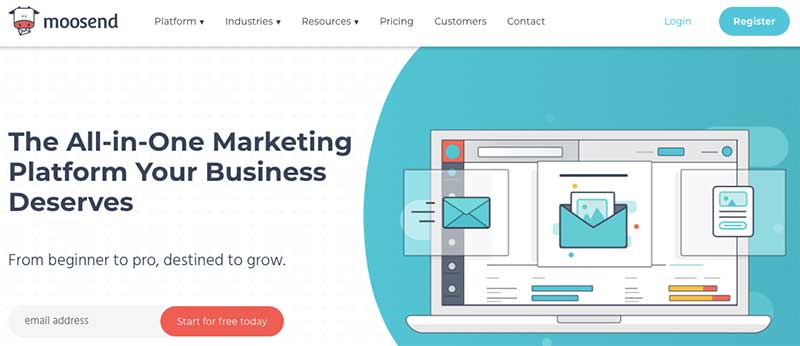 Moosend is an email marketing tool that automates a lot of repetitive tasks so that marketers can focus on building and nurturing relationships with their prospects.
Their emails are very easy to design and create. With a drag-and-drop campaign builder, you can easily add text blocks, images, social icons, links, and more to your emails. Additionally, you can use their library of email templates to start with a well-planned layout that looks good on both desktop and mobile email browsers.
Automation features are where Moosend stands out. Their pre-built automation templates, which they call "Recipes", offer three categories of automation to help you engage with customers via upsells, new customer engagement, and customer loyalty.
There are three components to every automation: the trigger, conditional/control steps, and actions. By combining all three, you can filter your audience segments and create triggers that send your automation sequences when certain events occur.
KEY FEATURES:
Some of the main features of Moosend include:
Advanced List Segmentation: From engaged readers to abandoned cart emails and more, you can easily segment your list to send emails to different types of potential customers.
Custom Opt-In Forms: Well-designed forms allow readers to subscribe to your list wherever you choose to add your opt-in forms.
Pre-Built Automation Workflows: You don't have to worry about coding in advanced email sequences. Their automation templates and workflows let you send personalized emails and engage with customers with just a few clicks.
Drag-and-drop Landing Page Builder: Create fast-loading pages with pre-designed templates optimized for conversions.
Customer Support: Live chat, email, and phone support are provided and each enterprise account gets a dedicated account manager. Moosend also has an extensive knowledge base and video tutorials to help answer questions.
PRICING PLANS:
Moosend pricing scales up with your number of email subscribers. They have a forever free plan if you have under 1,000 email subscribers which includes unlimited emails, access to their sign-up forms, and reporting and analytics.
Their paid plans start at $8 per month if you have under 2,000 subscribers and provide access to their landing pages, SMTP servers, and transactional emails. They also offer custom enterprise plans which provide a full onboarding and migration, single sign-on (SSO), and Security Assertion Markup Language (SAML).
Get started with Moosend.
Best Modern Sales Automation Platform.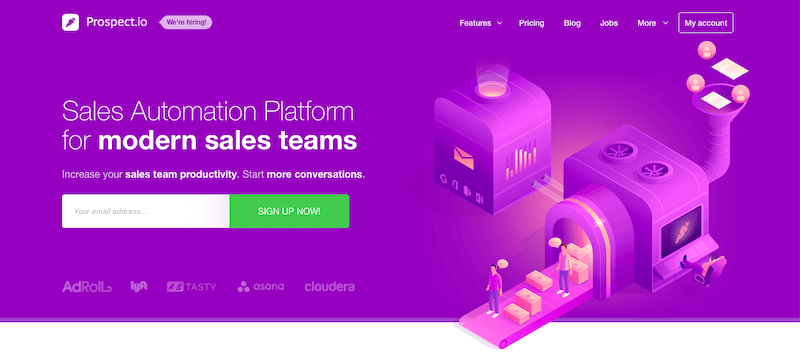 Prospect.io is an excellent automated marketing tool primarily used to work on sales activities and lead generation for companies of all sizes. If you are working on lead generation, prospecting, or any other sort of marketing outreach, then Prospect.io is what you need.
KEY FEATURES:
Some of the prominent features of the software are:
Prospecting: Whether it is drafting an email, finding email addresses, or further verifying your email list to reduce your email bounce rate, Prospect.io does it all for an automated prospecting experience.
Automated Emailing Marketing: Prospect.io offers a complete email marketing solution, including personalization, campaign management tools, mailbox automation, attractive templates, variables, and drip campaigns to increase outreach and generate more leads.
Analyzing: This allows you to track important metrics like the open rate of your emails, clicks on your links, replies, and more. It works on your campaign statistics and provides you with robust reporting.
Syncing: Prospect.io provides users with advanced real-time syncing through PieSync, Zapier, Slack, and other CRM integrations to help your sales team.
CONS:
The interface can be a bit sluggish sometimes
The emails can be inaccurate at times
PRICING PLANS:
The starting price of Prospect.io is $35 for every user per month. You also get a 30-day money-back guarantee.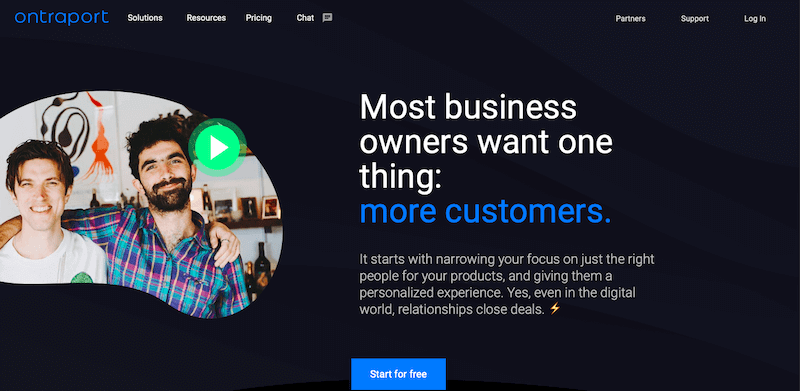 Ontraport was introduced in the market in the year 2006 and is perfect for solopreneurs, small businesses, and entrepreneurs. The software is especially famous for its robust insights and detailed reporting.
Ontraport allows you to create automated marketing campaigns and sync all your marketing tools for a streamlined experience. On top of that, it also offers in-depth insights to help you improve your results.
KEY FEATURES:
Some of the essential features of the software include:
Advanced campaigns: Ontraport automates all your marketing efforts and at the same time combines both online marketing and offline campaigns for a wholly integrated approach.
Multiple actions: The campaigns here include SMS, emails, digital advertising, etc.
Automatic emails: The software is capable of drafting and sending an email automatically, considering the interest of the user.
Tracks the customer: The software is capable of creating a personalized journey and monitoring the behavior of the customer.
Online and offline results: Through visual campaign performance reporting tools, the user can obtain both online and offline results of their marketing efforts.
CONS:
No social media integration
Doesn't include traditional sales modules
Lack of visual sales funnel
PRICING PLANS:
Initially, Ontraport offers a 14-day free trial; no credit required. The paid plans start from $79 per month for 1000 contacts and range up to $497 per month for 20,000+ contacts.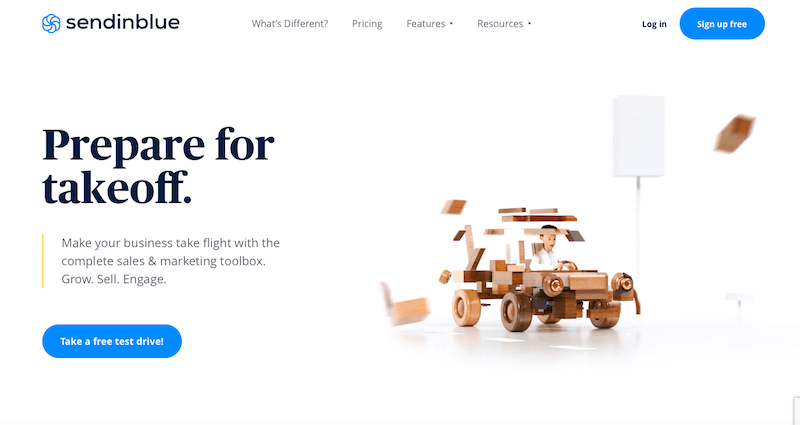 Initially, SendinBlue was introduced in the market as a digital agency. Later, the company ended up as a robust email marketing tool, and today, it is one of the most popular marketing automation platforms out there.
The software offers excellent features, which include lead scoring, in-depth reporting, email marketing, segmentation, and more. On top of that, SendinBlue also allows you to work with SMS campaigns.
You also get an impressive freemium plan where you get a daily quota of 300 emails.
KEY FEATURES:
Some of the key features of this tool include:
Improvised services: Apart from the basic services, SendInBlue provides its users with advanced services like transactional emails, email marketing, and SMS API tools and campaigns.
Simple to use: The user doesn't need to have any kind of special skills for creating the templates or email designs. Working on the email marketing campaign gets substantially easier with several inbuilt templates and an easy-to-use drag and drop feature.
Tracking and Emails: Some of the additional and advanced features of SendInBlue include customized contact search, importing contacts, campaign reporting, responsive email designs, triggering marketing email, etc.
CONS:
SMS marketing services can get a bit expensive
Lacks compliance with GUI standards
PRICING PLANS:
For starters, it offers a free plan that offers up to 300 emails per day. The Lite plan is $25 for up to 40,000 emails per month. The price ranges up to $66 per month for the Premium plan.
Best B2B Marketing Automation Platform.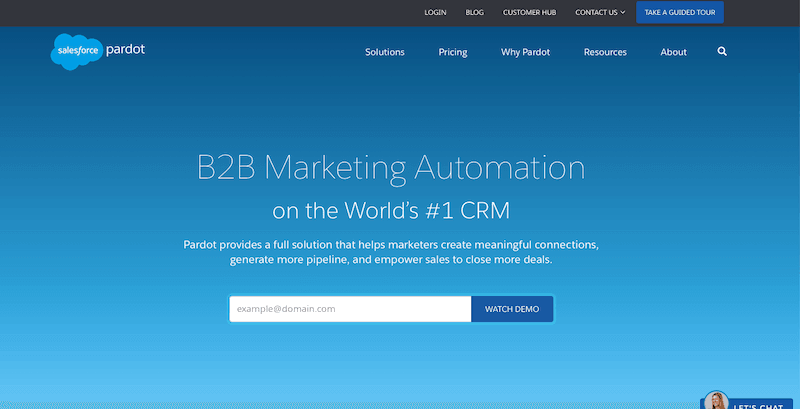 An essential part of SalesForce, Pardot was introduced in the automation market in the year 2006. This cloud-based automation platform is best suited for large enterprises as it might take some time to wrap your heads around this marketing automation platform.
Pardot offers plenty of essential features to boost your marketing campaigns, including automated email marketing, CRM integration, lead scoring, lead nurturing, and in-depth reporting of ROI. It also tracks the behavior of your website visitors and provides robust analytics, which comes in handy while engaging your prospects.
It comes with a hefty price with the basic package at $1250 per month. However, if you want more advanced features like A/B testing, social media support, and more, you will have to upgrade to a more expensive pricing plan.
KEY FEATURES:
Some of the most attractive features of the automated software include:
Advanced marketing campaigns: Pardot offers a customized dashboard that helps you build comprehensive and dynamic marketing programs.
Pre-checking of campaigns: The tool identifies the gaps in your marketing campaigns and fixes them properly before the final launch to improve customer experience.
B2B Marketing Analytics: Provides in-depth analytics into your marketing performance, which allows you to take data-driven actions much like Google Analytics.
Integrated with various platforms: Pardot works effectively with platforms like SugarCRM, SalesForce, Microsoft Dynamic CRM, Netsuite, ecommerce, content marketing, and multi-channel marketing tools.
CONS:
Some of the features can be challenging to understand.
The basic plan comes with limited features
PRICING PLANS:
The basic plan is $1250 per month, and the prices range up to $4000 for more advanced features. You also get a 30-day free trial to test out the product.
Best Enterprise Software for Salesforce Users.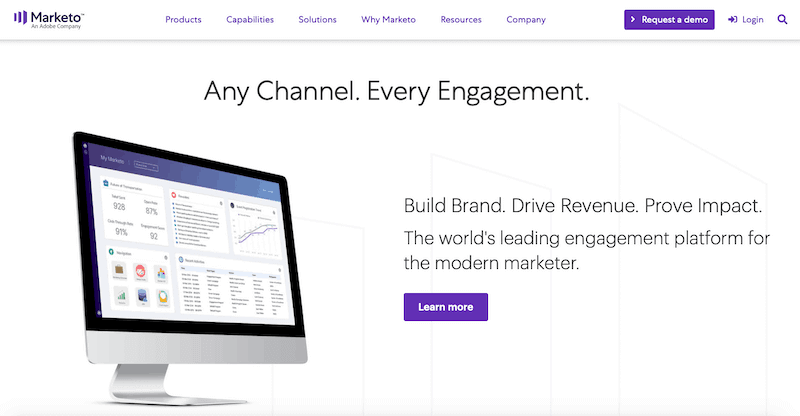 If you don't want to shell out over $2000 for an automated marketing software but still want a reliable software with viable automation tools for a 100+ organization, then Marketo is a great option.
Established in 2006, the company has its headquarters in California with various branch offices in popular countries like Dublin, Sydney, Tel-Aviv, and many more.
Popular among small and medium-sized companies, Marketo offers spontaneous customer support. The software also allows integration with Salesforce.
KEY FEATURES:
Marketo offers a wide array of features, such as:
One-stop-shop: Marketo provides several functions to automate your marketing efforts, including customizable templates for webpages, automated emails, web analytics, lead nurturing, social media marketing, and much more.
Personalized touch: The software gives a personalized touch to your automated marketing campaigns by sending out customized, and laser-targeted emails to your audience.
Boosts revenue: It helps you identify your target audience along with their problems and requirements, which helps you engage your audience and ultimately convert them into paying customers.
Customer support: The software comes with 24/7 hours support through online communication and offers instant replies.
CONS:
The prices jump exponentially if you upgrade your plan to have access to more advanced features.
Limited social media management functionality
PRICING PLANS:
The pricing plans start from $895 per month and range up to $3195 per month. There's no mention of free trial on the website.
Best Mailchimp Alternative.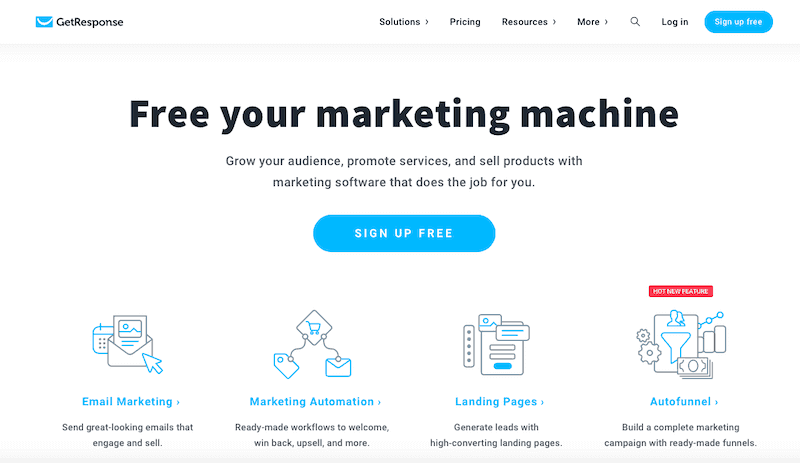 One of the best things about GetResponse is that it is perfect for both small as well as big businesses.
This marketing automation solution helps you get more done in a lesser amount of time by offering services like automation templates, automation segmentation of your email list, traffic and lead generation, follow up after cart abandonment, and more.
KEY FEATURES:
Some of the most attractive features of the software are:
Various languages: The tool can be used for generating auto-response to emails in 21 languages. This adds to the comfort levels of the readers and makes it possible to track the journey of the customer on the basis of their behavior and history.
Easy and advanced: Allows you to set up even the most complicated marketing campaigns with an easy to use drag and drop editor. It also comes in handy while designing powerful workflows and funnels.
Autoresponder: The autoresponder helps you follow up with your prospects automatically, without any manual intervention.
Split testing: Helps you implement the best possible solution by running an A/B test before running the campaign.
Webinar hosting: allows you to host webinars on the platform.
CONS:
The drag and drop editor is not up to the mark
To use marketing automation features, you would have to upgrade to more pricey pricing plans
PRICING PLANS:
There are four GetResponse plans. For up to 1000 subscribers, the plans start at $15 and range up to $1999. The cost increases as you add more subscribers to your email list.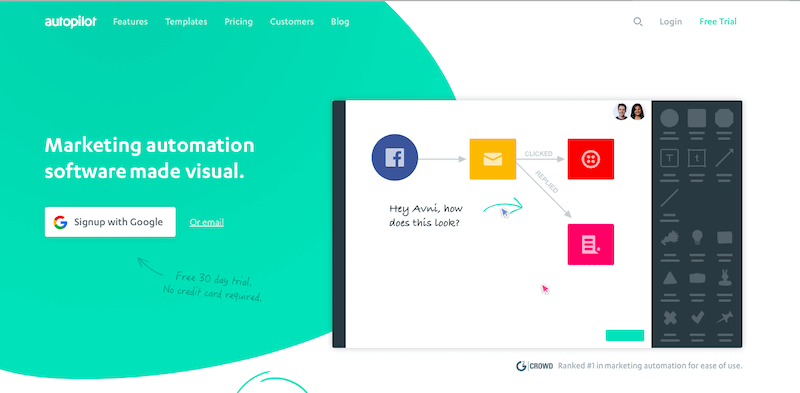 Autopilot receives a lot of praise for its visually appealing automated marketing solutions. It also offers a clean and easy-to-use editor to help you build attractive marketing campaigns.
It helps companies with quick automation when it comes to services like following up with prospects, email marketing, billing, etc.
KEY FEATURES:
Here are some quick points to learn about the features of the software.
Design and build sales funnel: Allows you to build an entire sales funnel without any coding or technical knowledge. It is as simple as drawing on a whiteboard.
Team collaboration: It is one of the few marketing automation software that allows you to collaborate with your team.
Different integrations: It offers integrations with one of the most popular marketing tools like Salesforce, LiveChat, Pipedrive, etc.
Intelligent insights: Analyze the entire customer journey and created detailed performance reports.
CONS:
Limited template choices
Offers integration with limited apps
The interface could be more intuitive
PRICING PLANS:
You get a 30-day free trial without entering your credit card details. The paid plans start from $49 per month and range up to $249 per month.
If you have more than 10,000 contacts, then AutoPilot also provides a quote based pricing plan.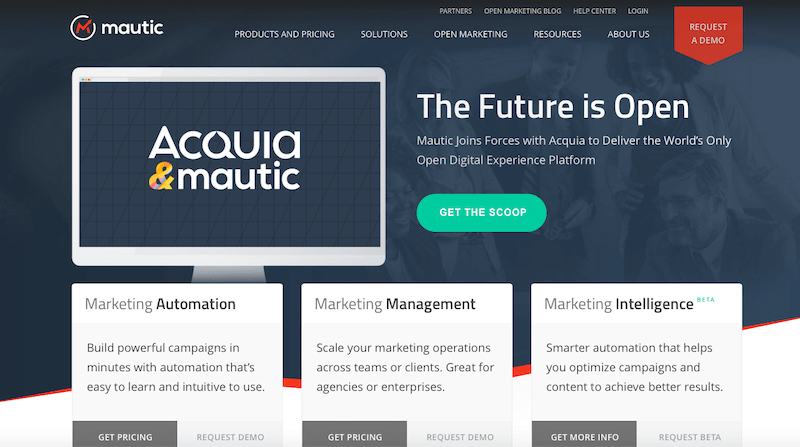 Mautic is another great and the only open-source marketing automation software in this list.
To help you reduce your workload and make the most of your marketing campaign, it offers impressive features, such as automated drip campaigns, tracking of your website visitors, robust analytics, email segmentation, and more.
KEY FEATURES:
Some of the widely enjoyed features from Mautic include:
Quick automation: It offers services like opt-in forms, workflow emails, segmentation, text messages, social media monitoring, web notifications, CRM integration, and much more.
Easy tracking: With the help of Mautic, it becomes easy to track your customers' behavior. You can then follow up with actions based on particular triggers.
Email and campaign workflow: Helps the business with multiple processes and outcomes that are based on custom triggers and actions.
CONS:
Inflicted with bugs at the beginning
Some of the features are hard to implement
It is somewhat tricky to install and use
PRICING PLANS:
The basic plan of the software is entirely free. The paid plans start at $100 per month.
Note: tools not yet reviewed and included on this list include Act-On, Eloqua, and Microsoft Dynamics 365.
You can check out this article on Microsoft Dynamics 365 Marketing for more ways to unify customer information.
Marketing Automation Software – Summary.
The use of marketing automation tools and database marketing can help your marketing become more personalized and generate more revenue.
But it is hard to keep up with the changing marketing trends and handle all the burden on your own. And this is why marketing automation tools are becoming a hit among marketers.
However, the internet is inundated with countless marketing tools, which makes it hard to identify the one that best suits your business.
From this list, ActiveCampaign would be perfect for small and medium-sized businesses. It not only comes with a reasonable price but also offers impressive features that can rival that of some of the most expensive tools.
If you are ready to spend money on enterprise tools, then it's best to go with Marketo, HubSpot, or Pardot. Both of these tools are best for large enterprises. And if your sole aim is to generate leads and increase your prospecting outreach, then Prospect.io would be the best option.
In the end, it all depends on your budget, requirements, business purposes, and company size. Don't delegate — automate your marketing efforts today.
Which marketing automation software are you planning to use? Did I miss any? Let me know in the comments.
Further Reading on AdamEnfroy.com: To continue on, check out my guides to the best email marketing services, the top webinar software, and the best landing page builders to use this year.
Editorial Process:
Our reviews are made by a team of experts before being written and come from real-world experience. Read our editorial process here.
Some of the links in this article may be affiliate links, which can provide compensation to us at no cost to you if you decide to purchase a paid plan. These are products we've personally used and stand behind. This site is not intended to provide financial advice. You can read our affiliate disclosure in our privacy policy.
---
Last Updated on March 10, 2023 by Adam Enfroy