7 Best Online Business Bank Accounts of 2023 (Ranked)
Choosing the right online business bank account is vitally important to your business. From the fees and charges that you have to pay to the services offered, the best online business bank account can help you meet your goals. In this guide, I ranked and reviewed the 7 best online business bank accounts, so that you can pick the best one for you.
BlueVine
BlueVine provides standard working capital financing solutions for small businesses facing financial difficulty. With a straightforward online application process and competitive interest rates, the company offers an ideal option for business owners.
Novo
Novo is a perfect choice for those looking for a straightforward and accessible business checking account. Aiming to simplify the process even further, the application takes less than 10 minutes and it's free to accept your account.
---
We're reader-supported. When you buy through links on our site, we may earn an affiliate commission.
Banks… Every business owner hates their charges and fees yet it's tough to imagine living with just paper money – hidden in different spots at home and office.
But let's face it – opening a business bank account isn't necessarily hard. In fact, it's easier than ever.
However, that does bring with it some issues. In fact, last year, it was found that 70% of all small businesses have outstanding debts.
This makes it crucial to open the right account type with an appropriate commercial bank.
Depending on the type of business you run, there are specific features that you might want to have as part of your bank account; features that could also come with their own bells and whistles.
But when is having a lot of features a deterrent? Should you go for something simple?
A business bank account can integrate with a variety of other software that you might be using in your company including payroll software and accounting software – so making the right choice is crucial.
I've gone ahead and done all the research and ranked my favorite business bank accounts based on the latest data available – all to help you find the best online account for your company.
In this article, you'll learn about all the key features to look for when choosing a business bank account as well as the best practices for setting up your company's online account.
Let's get right into it.
What are the Best Online Business Bank Accounts?
Here are my top picks for the best online business bank accounts.
Best for flexible funding built specifically for business
BlueVine understands that running a successful business means that funding will come from an array of sources. For today's small business owner, financing options are more diverse than ever before.
One option is a loan financed through BlueVine Business, which provides working capital advances at competitive rates made simple with its online application process—from start to finish.
During the critical growth stages of a business, capital is king. BlueVine offers working capital financing so that we can help small businesses in need—and make their dreams come true.
They originally pioneered online short-term loans and now offer competitive rates with flexible terms to facilitate businesses' needs.
Unlike traditional business loans, which take a long time and come with unnecessary requirements; BlueVine funding comes from private investors who have already thoroughly reviewed the businesses' profiles.
With schemes such as loan forgiveness and a high volume of loan-approved applications, there's little not to love about this lender.
Here's more information on BlueVine Business Checking accounts.
Feature
You only pay for what you use with no minimum balance required or monthly fees. And there are no NSF fees if your account goes into overdraft which means you won't get hit with any overdraft fees if you bounce a check.
Pay via ACH or check through their online bill payment service which means you will get paid faster and avoid the hassle of chasing your invoices.
Their business debit card makes it easy for you to access cash when you need it. Just withdraw cash when you need it from over 38,000 surcharge-free ATMs nationwide.
Pricing
You get free transactions when you have a checking account at Bluevine. There are no monthly service fees and no minimum deposit or balance required. You will also get two free checkbooks when you open your account.
Get started with Bluevine.
Best for having an online business account you can apply for in under 10 minutes
Novo is one of the simplest, easy-to-use business checking accounts with free online banking and award-winning customer service. Get started in minutes with an application that takes less than 10 minutes to complete.
This quick accept process is fee-free. Receive your first box of checks for free when you open your account. Enjoy the convenience of online banking 24/7 from anywhere, anytime.
Features
You'll never have to worry about your money so you can focus on growing your business.
You'll always be able to access your novo business checking account, no matter where you are, thanks to Novo's mobile banking app (free for iOS and Android).
Enjoy some of the most competitive interest rates on cash deposits so your money can grow.
With Novo, you'll never be charged a monthly service fee so you can manage your finances how you want.
Feel more secure knowing that the FDIC is backing up your account which means you can grow your business with peace of mind.
Pricing
Creating a personal checking account is free with Novo, giving you the ability to get started within 10 minutes of starting your process.
Best for making deposits from anywhere in the world
NorthOne makes it easy to run your business, so you can dedicate your energy to what matters: building your business, creating jobs, and serving your community.
NorthOne offers smart digital banking tools that let you deposit checks on the go, make deposits anywhere, and manage your payments with a mobile app.
Plus they have great rates and no minimum balance requirements to help keep more of your money working for you. So if you're ready to take control of your financial future, NorthOne is definitely a bank to consider.
Features
Make deposits from anywhere: Enjoy the ease of remote check deposits available to any business customer with an active account.
Save time and expense by making payments from mobile devices, computers, or tablets—anywhere, anytime.
Free Online Banking & Bill Pay: With their free online services, you can manage your account through a secure website from any computer or mobile device.
Talk to a local customer support expert who understands your business when needed and get access to personalized service from tellers who know your company, understand your business, & have experience with different types of companies.
Pricing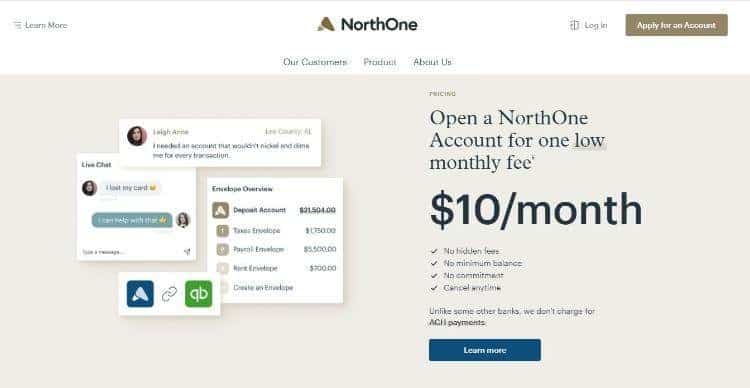 For just $10 per month, you can get started with opening your bank account.
There are no hidden fees, minimum balances, or commitments and you can cancel at any time.
Best for business banking for startups
Mercury is a bank built for startups. They put together a bundle of products that will help your business succeed. They'll help you scale with real bank accounts, custom-made tools, & their entire investor network.
You can issue and manage cards in seconds, move money around the world in 3 clicks, send or receive incoming wires and ACH payments at no cost, and much more.
Explore the Mercury platform and see how they can help your business.
Features
Pay vendors programmatically so you can spend less time on tasks and more time focusing on your business.
Integrate with payment processors like Stripe and get paid instantly.
Start accepting payments online with just a few clicks.
Use 2-factor authentication (2FA) to help protect your accounts and data.
Be confident that your company is always in the black so you can focus on growing your business.
Pricing
There are two plans, as follows:
The standard version is free and requires you to have a $0 minimum to open a bank account.
If you want to take things to the next level, you can join Tea Room, which requires you to have $250K or more in deposits made to your account. This gives you additional features, such as dedicated phone support and access to tea room events.
5. Axos Bank.
Best for online and mobile banking, as well as personal loans, mortgages, and checking accounts.

Axos Bank offers a variety of products and merchant services, including a checking account, a savings account, business credit cards, mortgages, and more.
This means that there are just as many perks and features available to you, depending on the type of account you want.
Flexibility is also key, and you can decide what type of account alerts you want to get, like automated fraud notifications or mobile check deposits.
With biometric authentication, you can rest assured that your information is safe at all times.
Features
You won't find confusing fees or charges with an Axos Bank checking account. Plus, you'll have access to a team of banking professionals who're dedicated to answering your questions and helping you get
Switching between your personal and business accounts is easy. Just log into your Axos Bank account to change the account type or view a snapshot of both accounts in one place.
Your finances at a glance: Log in to look at all of your transactions made across all linked services—including pending transactions, scheduled payments, recent activity, and more.
Control your funds: From the convenience of your computer or mobile device, deposit checks from anywhere. Plus, use the Bill Pay function to pay bills and manage your money on any schedule you choose.
Monitor account balances in real-time: 24/7, 365 days a year, keep up with your finances in real-time. You can also decide what type of account alerts you want to get, like automated fraud notifications or mobile deposits.
Pricing
There are no fees or minimum opening deposit requirements when opening a checking account with Axos Bank.
With no monthly maintenance fee incurred, unlimited ATM fee reimbursements (if transactions happen domestically through a U.S. bank), and direct deposit express availability, this is a good bank to consider.
6. Capital One.
Best for protecting your credit score while checking if you're eligible for a card.
CapitalOne offers a variety of credit cards and checking accounts to meet your needs. Apply for a card that's right for you, then learn about the benefits it can offer.
Find out if you're eligible for qualifying for an account with no impact on your credit score, or see what cards are available to you without affecting your credit score.
You should check out their 360 Checking account, which has no minimums or transaction fees and gives you access to all of your money online anytime. Also, with Capital One Shopping, you can save instantly on things you buy online.
If you need a hard inquiry of your credit score to see if you're eligible for a loan, Capital One is the way to go.
Features
Get your paycheck up to 2 days sooner so you can get your money as soon as it's available.
Access to an online wallet that allows you to get your money back on specific purchases with a set time frame – if you decide not to buy that item.
Explore credit card features that make it easier to check out from anywhere while managing your money better.
A range of card options to fit your needs – from cashback rewards to purchase protection and other benefits – that help you get more out of life without having to worry about the cost of your purchases.
Pricing
Opening an account at CapitalOne is something that can be done at any point without any minimum deposits needed.
There's also no maximum amount required when opening such an account, which means that you can get started right now.
7. Silicon Valley Bank.
Best for helping companies that want to grow and thrive through the help of their relationship team
SVB helped many innovators get on the road to growth by providing everything from quick and simple financing solutions, to business checking and business savings accounts.
Each of SVB's account offerings is designed so that you can get in, do what you need to do, and get out, all with the least amount of hassle possible.
They work with the highs and lows of starting and maintaining a business so that you can focus on what matters the most: driving your business forward.
Features
Free checking for your first three years, no minimum balance requirement.
Online and mobile banking means you can access your money 24/7.
1.0% interest rate on savings accounts that provide the highest possible rate for unlimited deposits in branches or ATMs worldwide.
Low per-check charges and free wire transfers make it easy to keep your money growing with you.
Pricing
When it comes to an online business checking account, they have three options to choose from:
SVB Edge
SVB ScaleUp
Analyzed Checking
With SVB Edge, you get a free business checking account with no fees on online banking, as many ACH and wire transfers as you want and no fees on an unlimited number of transactions.
With ScaleUp, you get a $500 monthly line of credit to apply to the service fees you offer.
Finally, with Analyzed Checking, you get the best possible package if you intend to scale your company with higher transaction volumes at the different stages of your business.
What are Online Business Bank Accounts?
When it comes to the internet, there's no denying that its presence has had an impact on every area of our lives. As the internet progresses, it also changes the ways we communicate, interact with each other, and even do business.
As a business, you need to take advantage of the internet's strengths and learn how to harness them, so that they can help your business grow.
That said, there is still a huge segment of your audience that will do their shopping online and buy your products online only if it is convenient for them to access. If you want to cater to such customers, then having an online business bank account is definitely a step in the right direction.
With advancements in technology, most banks have shifted their online business bank accounts towards better ones in order to remain competitive – these accounts are designed to give customers more control over the way they access their money.
Such accounts have features such as:
Access to your account around the clock with live support as needed
The ability for customers to make deposits or withdrawals as many times as they want in a given day without having to deal with any charges that would be typically associated with such transactions.
Free transfers of money between accounts, either by way of setting up direct card payments or using an online banking portal.
It used to take weeks for a new business bank account to become active after signing up. Nowadays, if there are delays involved due to something taking longer than expected, then this can lead to issues further down the line when your business needs immediate access to its cash flow.
As such, it's no longer a case of an account taking long to be approved – nowadays, there is a shift towards providing instant online business bank account activation, and even mobile business bank account activation (if you prefer to use your smartphone to access certain features).
With all of the information available on the internet, it is easier than ever before for new businesses to get up and running by taking advantage of digital resources.
When it comes to a good business bank account, however – one that understands how (small) businesses work and helps them flourish – then there is a need to understand which bank account will work best for you.
With special offers geared towards helping you become successful in your endeavors, they are bound to give you everything that you could need. If you've been looking into starting a new business, or even if you're already in the midst of one – then these types of accounts are exactly what you need to consider.
By making use of online business bank account tools, you'll be able to manage your account from anywhere in the world and will also get to enjoy the convenience of accessing it through a variety of devices – all without having to pay any additional fees for using them.
The other features that banks have introduced into these accounts are designed to make life easier for you as well – no matter if you run your own ecommerce platform based business or sell software like a project management tool.
Offering you the ability to:
Receive instant alerts if there's unusual activity on your account.
Set up automatic payments so that you can avoid double processing or accidental charges.
Wipe out overdrafts and avoid interest charges with an overdraft protection plan.
These are just some of the things that online business bank accounts offer businesses, and they're even easier to use than the ones that were introduced in previous years.
While you may have your doubts about online business bank accounts, they are quite similar to what traditional banking institutions offer their customers – with just a few differences.
The main difference is that most of these banks will treat businesses more like individuals, rather than as their separate entities.
This means that there won't be too many limitations (including transaction limits) for small business owners when it comes to accessing their money or spending it freely on whatever they want.
Finally, some business bank accounts will also have investment apps as part of their suite of services – apps that you might choose to use to potentially make your money work for you even more.
Online Business Bank Accounts FAQ
Can I open a free business bank account online?
The short answer to this question is yes, it is possible to open a free online business bank account. As mentioned earlier in this article – many providers offer you the chance to do so by offering special accounts designed just for new and small businesses.
These types of accounts can be opened 24 hours a day, seven days a week, and are completely free for you to use. To get started, simply fill out an online application form or call in your details over the phone.
Depending on which provider you go with, they may have different requirements that help determine if your company meets all their criteria before they'll let you start using their products and services.
These companies will typically want to know:
Whether your company has been in operation for less than three years.
How much money your company currently makes every month.
Whether you're planning to make international transactions with their bank or not.
Details about what your business plan entails and how closely you are to achieving to your goals
They may also ask you for the names of companies that have previously accepted payments from your business as well, so they can put everything together and determine whether or not they should let you use their offerings.
Once these steps are complete though, it's time to start enjoying all the perks that come with having a fully functional online business bank account at your disposal.
Which bank is best for an online business checking account?
The simple answer is that it depends on what you're after.
If you're simply looking for the online business bank account provider that will offer you the most bang for your buck – then there are a few things that you'll want to take into consideration.
These include:
Customer service support hours
A good indicator of the bank quality is how available customer service agents will be, especially when you need help with something immediately.
Types of accounts offered
Make sure to check what products and services are available to you right off the bat. Many providers will try to upsell additional features later on after you open your account, so it's good to know what comes as standard and what doesn't.
The possibility for online or mobile banking
Be sure that this is something you can take advantage of when needed, as mobile apps are growing ever more popular with businesses today. Some companies even specialize in designing custom apps for their business clients.
Free business bank account fees
Businesses are typically charged substantially more in fees than individual users, so you'll want to make sure that you're not being taken advantage of. In many cases, this is the case and you must stay on top of any charges as they get added to your bill month after month.
Do online banks offer business checking accounts?
Yes, they sure do. As mentioned before – you can find all kinds of business bank account providers online who offer you the chance to open an account and give you access to financial business tools without having to step foot out of your home office.
There are numerous options for banking accounts that will help any small or growing business get started from the ground up. Most major banks and federal credit unions have designed special packages just for these types of companies.
To determine which one is the best bank for you and your company, look at the features that each option offers. While it may seem like picking an optimal bank account should be easy enough, oftentimes this is not the case.
When you start looking at the different features and benefits that each bank account offers, it becomes a lot easier to realize which ones are good for you and which ones aren't.
After all, if you're already starting a business or planning on expanding soon – then these additional perks can be invaluable in helping your team make things happen.
Final considerations to keep in mind when choosing the best online business bank account
The best business checking accounts are those that allow you to perform key actions such as debit card purchases, free cash deposits, and mobile check deposits – all while having something as simple as a basic business checking account.
While there are many bells and whistles that you can opt-in to, at the end of the day, the health of your business depends on the cash flow within it. The daily balance and the monthly balance (and everything in between) need to be kept in mind.
The number of transactions that your business does should also play a role in the type of account that you open.
If you are in a sole proprietorship business, understanding key items such as invoicing, online bill pay, and how to manage a small business checking account will ensure that your business lasts for the long term and stays in the black.
Wrap Up.
In conclusion, a good online business bank account is the backbone of any company that makes a lot of transactions and wants to keep everything organized.
Chances are, if you're looking to start a business and launch your website or storefront, then you'll want to get an online bank account for your company's future success.
If you feel that this is the right thing for your small or mid-sized business – then don't hesitate to take advantage of these online services as soon as possible.
Here are my choices for the Best Online Business Bank Accounts:
Novo: Best for having an online business account you can apply for in under 10 minutes
Mercury: Best for business banking for startups
NorthOne: Best for making deposits from anywhere in the world
Axos Bank: Best for online and mobile banking, as well as personal loans, mortgages, and checking accounts.
BlueVine: Best for flexible funding built specifically for business
Capital One: Best for protecting your credit score while checking if you're eligible for a card
Silicon Valley Bank: Best for helping companies that want to grow and thrive through the help of their relationship team
With the above points in mind, you'll be able to pick a good bank account provider that will help get you off on the right foot – and stay there.
Are you a small business owner looking for a better checking account? Then you should read my roundup post on the best business checking accounts for LLCs.
Looking for a better savings account for your business? Check out my post on the best high yield business savings accounts.
Finally, check out my review on Lili, a financial institution that's quickly becoming popular among small and medium-sized businesses.
Disclosure: I may receive affiliate compensation for some of the links below at no cost to you if you decide to purchase a paid plan. You can read our affiliate disclosure in our privacy policy. This site is not intending to provide financial advice. This is for entertainment only.