7 Best Paraphrasing Tool Options: Ranked & Reviewed in 2023
How many ways are there to say the same thing?
Hello.
Hi.
Greetings.
Good day.
Howdy.
Hey there.
What's up?
Depending on the context, there may be multiple ways to express a particular idea or thought.
Paraphrasing involves taking an original idea or sentence and changing the words used to convey the same meaning.
In a world where AI writing tools have made so many things more accessible, it's no surprise that many paraphrasing tools are also available.
In this article, I will look at the best paraphrasing tools based on their features, pricing, user experience, and more.
What Is The Best Paraphrasing Tool?
Here are some of the best paraphrasing tools to consider.
1. Wordtune.
Best Overall Paraphrasing Tool.
The founders of Wordtune created this tool to help people express their thoughts more clearly and effectively.
Wordtune uses advanced AI tools and language models to understand the context and semantics of written text.
The platform goes beyond traditional algorithms to understand the context of your writing and offers suggestions that reflect your intended meaning with greater accuracy.
With its deep understanding of natural language processing (NLP), Wordtune can recognize subtle nuances in how you use words, allowing it to make relevant recommendations that improve your writing.
Another unique feature of Wordtune is its ability to connect multiple sources of information.
By leveraging data from an extensive knowledge graph, it can identify patterns across large amounts of content quickly and accurately.
This feature allows you to access concepts you may not have been aware of before.
As such, you also get a larger pool of words and phrases to draw from when writing or editing.
Key Features:
Wordtune works on your favorite websites by helping communication flow with ease.
You can personalize and get ideas on how to rewrite words or sentences, giving you multiple options for correction.
With multiple options for each sentence, you can focus your research on saving time and understanding more about the context of your writing or editing.
User Experience:
Using Wordtune with your favorite apps and websites is a great feature.
From Microsoft Word to Gmail, you can easily integrate Wordtune into your workflow with a user interface that's well-designed and easy to navigate.
Pricing:
Wordtune offers three pricing plans:
Free: $0
Premium: $9.99 / month
Premium for Teams: Custom quote
What I Like/Dislike About Wordtune
Like:
The rewriting tool works naturally and easily integrates with popular websites.
The content retains its meaning when rewritten.
Dislike:
No tone selection means you may have to edit the results to align with your desired tone.
Product Updates:
Paragraph Rewriter is one of the newest and most valuable features in Wordtune. It's handy to automatically rephrase sentences without manually typing out new ones.
Wordtune is also available as an add-on for Microsoft Word, making it easier to keep track of your revisions.
2. QuillBot.
Best For Analyzing Separate Sentences.
QuillBot can help you create the best paraphrase possible by using AI to get the job done right.
QuillBot's technology allows it to quickly process any text entered and then generate a new version of the text with new words that maintain the same meaning.
It analyzes each sentence to identify words that could be replaced or rephrased without changing their overall meaning.
One of the most valuable features offered by QuillBot is its ability to suggest synonyms for any word in your text with just one click.
Once you click on a word in your paraphrased text, a list of suggested synonyms will appear, which can be used in place of the original word if desired.
Key Features:
Incorporate QuillBot into your writing tools and workflows without unnecessary complications.
Quickly rephrase any text with QuillBot's AI-powered technology. You'll be able to see a new text version in no time.
QuillBot has seven paraphrasing modes, allowing you to get the right style for your text.
User Experience:
You can immediately start using the tool without prior knowledge or technical skills.
The user interface is clean and intuitive, making navigating the various features easy.
Pricing:
QuillBot offers three pricing plans based on duration:
Monthly: $19.95
Semi-Annual: $13.33
Annual: $8.33
All of these prices are per month.
What I Like/Dislike About QuillBot
Like:
The various modes allow you to get the exact style of rewriting you need.
The tool finds and fixes grammar errors, making it perfect for proofreading.
Dislike:
Manual intervention is sometimes necessary to get the best results.
3. Paraphraser.io.
Best For Plagiarism-Free Rewrites.
Paraphraser.io uses an advanced algorithm to produce a final output that is readable, sensible, and plagiarism free.
Plus, it provides several useful features that help you customize the rephrased text to fit your content needs.
Unlike other paraphrasing tools on the market, the algorithm can effectively rephrase text without losing its meaning or structure.
In addition, it automatically checks for plagiarism to ensure that each outputted sentence is original and unique.
With this tool, you can rest assured that your docs are as accurate as possible.
Paraphraser.io offers several additional features to make your life easier when rephrasing text online.
For instance, you can quickly adjust the font size, select from various languages, and even choose from different output formats such as HTML, PDF, and Word Docx files.
Key Features:
The State-of-the-art AI Paraphraser uses advanced AI technology to generate a new version of your text that maintains its original meaning in a natural-sounding way.
The Human Level Paraphrasing can quickly process any length of the text and helps you create more accurate and clever content for your articles, blog posts, or documents.
Paraphraser.io also has multiple language support, allowing you to easily translate your text into almost any language.
User Experience:
Switching between fluency, a standard, creative and smarter mode, is incredibly helpful when creating content.
Pricing: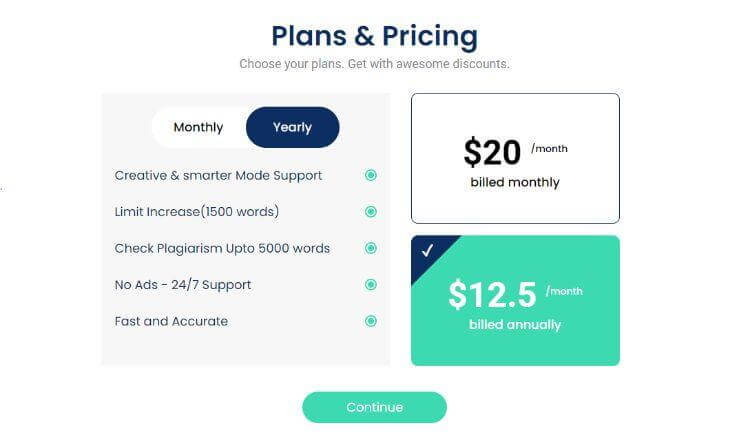 While there is a free version, a premium Paraphraser.io account costs $12.5 per month if billed annually or $20 per month if billed monthly.
What I Like/Dislike About Paraphraser.io
Like:
Simple and intuitive user interface.
No need to sign in, register or download anything to get started.
Dislike:
The results are not always accurate unless you choose the proper mode. One might require some trial and error.
Product Updates:
The company now offers a WordPress plugin that can quickly and easily integrate the tool into your blog.
4. Duplichecker.
Best For A Wide Range Of Valuable Tools.
DupliChecker is an online service that offers a paraphraser and provides dozens of free, high-grade SEO and content tools.
This platform's team helps users take their content marketing game to the next level.
When you visit the DupliChecker website, you'll find many powerful tools designed to improve your SEO performance and create great content.
The most popular tool is the paraphrasing tool, which allows you to quickly and easily rewrite any text to avoid plagiarism.
With this tool, you can have confidence knowing that your work is original and unique.
Key Features:
Their plagiarism checker comes with 100% privacy, so you can be sure that your content will stay secure and confidential. Said differently, it doesn't save any of your uploaded material.
The tool is developed using AI technology, picks the exactly matched content, and provides a unique content ratio in percentage terms.
With this unique content ratio, you can get an indication of how original or unique your content is.
Duplichecker allows you to upload text in multiple ways, including file uploading and copy-pasting into the text area.
User Experience:
Paste the content to rewrite, and the tool will automatically generate new content using its AI technology.
Pricing:
Duplichecker offers various pricing plans based on the number of searches and total words users want to paraphrase.
What I Like/Dislike About Duplichecker
Like:
The free plan offers access to many features from the get-go.
You can upload files directly or check a live URL.
Dislike:
There are many ads on the free version of DupliChecker.
Product Updates:
It supports seven document formats, making it easy to upload and check any work you've done.
5. SpinBot.
Best For A Free Tool.
Spinbot is an article spinner that will take text and create alternate versions.
Spinbot creates fresh content by taking existing pieces of text and rotating them into different combinations of words and phrases.
The result is a new piece of content that still contains all the same information as the original but has been rewritten more concisely and interestingly.
If you're looking for fresh, unique content that search engines will love, Spinbot can help.
Key Features:
Spinbot quickly rewrites your content and generates unique pieces of text in just a few clicks.
It also does any grammar check needed while its clarity checks ensures readability for easier understanding.
It offers both a primary mode for novice users and an advanced mode for experienced ones.
Spinbot can create 100% unique, SEO-friendly content with one click.
User Experience:
The ability to choose between short or long-form content paraphrasing styles makes Spinbot a valuable tool for creating both SEO-friendly and easy-to-read content.
Pricing:
Spinbot is a free online tool with no premium subscription.
What I Like/Dislike About Spinbot
Like:
The interface is simple and easy to use.
It's free of charge, so there's no need for a recurring subscription.
The tool comes with valuable features for experienced users as well.
Dislike:
There are no additional tools available to customize content.
6. Pro Post SEO.
Best For Various Paraphrasing Modes.
Pre Post SEO is an online tool that allows users to rewrite articles and essays without plagiarism issues.
It works by replacing words with synonyms and changing sentences so they are not exact duplicates of the source material.
Pre Post SEO offers several benefits that make it an ideal option for anyone looking to avoid plagiarism or create unique content quickly and efficiently.
This tool helps improve the quality of your writing by pointing out any potential errors in grammar or spelling before they are published online.
For those who need to generate new content quickly, Pre Post SEO is the perfect solution for rewriting articles, essays, and blog posts.
If saving time is your goal, Pre Post SEO is an excellent solution as it can create unique content in just minutes.
Key Features:
Multiple Paraphrasing Modes allow users to alter the output of their content.
Simple Mode provides basic rewriting capabilities, while Advanced Mode allows for a more thorough rewording.
Spinbot's AI Mode uses artificial intelligence to produce rewritten content without losing its original meaning.
Fluency Mode ensures that the tool rewrites your content in a way that flows well and sounds natural.
Multiple Uploading options allow users to upload text from various sources or paste it directly into the software for quick processing.
SEO Optimized Content helps improve the visibility and ranking of web pages on search engines.
Pricing:
Pre Post SEO is free to use.
7. Plagiarism Detector.
Best For Detecting Duplicate Text.
While the primary purpose of Plagiarismdetector.net is to help detect plagiarism in written materials, it is also a powerful tool for content creators who need to paraphrase or rewrite content.
The tool's plagiarism portion compares the text to its massive database of web pages, articles, and books.
This feature ensures there are no exact duplicates of the inputted text.
Plagiarism Detector offers complete data encryption and secure storage to protect all user information.
With the ability to have multiple user logins, this software makes it easy to share and collaborate on projects with a co-author or team.
Regarding the paraphrasing tool, Plagiarismdetector.net allows users to quickly reword paragraphs and articles while ensuring they are free of plagiarism.
The tool provides a simple user interface and quick processing time, allowing users to generate unique content in minutes.
Users can check thousands of words per search for any issues or duplicates.
Key Features:
Plagiarism detectors can generate comprehensive PDF reports for each search you make.
With multiple file formats supported, users can upload and scan any document.
The "Check by URL" feature lets you quickly check for plagiarism in existing web pages or articles.
Up to 25,000 words per search means that Plagiarismdetector can easily handle large amounts of text.
Pricing:
Plagiarism Detector offers these pricing plans:
Student: $12 per month
Institute: $30 per month
Enterprise: $54 per month
What Is A Paraphrasing Tool?
A paraphrasing tool helps people rewrite content by substituting words with synonyms, reordering sentences, restructuring phrases and paragraphs, and generally making the text more accurate and meaningful.
There are also several manual methods for paraphrasing, such as changing active voice to passive voice, replacing nouns with pronouns, and using a thesaurus to find synonyms.
However, these methods take time and require considerable effort from the writer.
Paraphrasing tools offer a quick, easy solution for those who need to get their writing done quickly but still want it to be accurate and effective.
They can also help students avoid plagiarism by providing them with different ways to express ideas without copying someone else's words.
The resulting text is usually much more concise and precise than the original version, saving readers from slamming through long, confusing text passages.
By making your written work easier to digest, paraphrasing tools can help you make a great impression on your readers.
When used correctly, paraphrasing tools can be a powerful aid for writers who need to produce high-quality content quickly.
They can help you avoid plagiarism and make your writing more concise and clear.
By using a paraphrasing tool, you can also save time by reducing the time needed to edit and proofread a text manually.
Key Features Of A Paraphrasing Tool
Here are some key features you should look for when looking for a paraphrasing tool.
Make Accurate Rephrasing Of Content
Online paraphrasing tools can generate accurate rephrases of the original content, ensuring that the new version is unique and free from plagiarism.
Getting high-quality results is essential for achieving the desired outcome, and the right tool should be able to do this quickly and efficiently.
Both search engine optimization robots and human readers need to recognize the new text as different from the original.
If the paragraphs tool works by simply changing the order of words or phrases, it will likely fail to generate an accurate rephrased version.
The right article rewrite should also keep the original's tone, theme, and meaning intact.
While a free online paraphrasing tool may be able to do one or two things correctly, it is essential to note that such tools are limited in their capabilities and often produce poor-quality results.
Distinguish Between Words And Phrases
Online paraphrasing involves rewriting words and phrases from one text into another.
The right rephrasing tool should be able to accurately recognize the difference between these two elements, allowing for more accurate paraphrasing.
Whether working with research papers or blog articles, using the paraphrase button to rearrange words into different sentence structures quickly is essential for an effective outcome.
Detect Plagiarism In A Text
One of the problems of a free paraphrasing tool is that it generally cannot detect plagiarism accurately.
There's no point in using a free tool that doesn't guarantee you get 100% unique content every time.
Getting plagiarism-free text is vital when paraphrasing sentences, as this is a fundamental requirement of many academic or professional contexts.
Having an article rewriter tool with a premium plan usually means that you are provided with the necessary features to ensure your text is entirely original.
Detect Grammatical And Spelling Mistakes In A Text
When you paraphrase the online reader, a grammar checker helps ensure that your sentence structure makes sense and that you use all words correctly.
While bloggers and seasoned writers have various writing skills that may require little assistance from a grammar corrector, most people benefit from having one handy as they work.
Being able to correct grammatical errors directly within the tool is essential for the efficient editing of content.
A grammar checker also helps people learn more about the language they are writing in by suggesting replacements for words that don't fit the context.
Understand The Context
The best online paraphrasing tools can keep the same meaning and message of the original content while using different words.
Whether using a sentence rephrase or a spin rewrite to get a new article, the tool needs to understand the underlying context to keep the overall message the same.
Recognize Citations And Properly Cite Them In A Text
The best online paraphrasing tool should have the capability of recognizing citations in a text and adequately citing them.
Depending on the specific requirements, a paraphrasing tool should be able to cite sources accurately in Harvard, APA, or MLA formatting.
Shorten The Text
Sometimes, texts can be too long for an audience to read.
It can be helpful to have a tool that can condense the text without losing its meaning.
The best tool allows you to upload files into the editor and remove unnecessary words or phrases with a single click.
This feature can help make sure your content is concise.
Offer Options For Users To Customize Their Paraphrasing Process
One's preferred writing style often involves various elements of formatting and structure.
Having an online paraphrase tool that can take that into account is helpful.
Some tools use an API to allow for this customization, while others may require developers to use a captcha to ensure no bad practices occur.
Provide Users With Options For Formatting The Resulting Text In Different Styles
Whether it's a specific sentence structure, using appropriate synonyms, or summarizing a large body of text, it is essential to have an online paraphrasing tool that offers different formatting options.
For example, the right paraphrase generator should be able to format the text for SEO purposes, highlight keywords, or change the formatting of the text to make it more readable.
Be Available Everywhere Users Are Online
An online paraphrasing tool that can easily be used as a Chrome extension or on social media platforms saves writing time.
Handle Different Languages
Whether you work in English, Spanish, Turkish, or any other language, having a rewording tool that can accommodate the structure of the written language is essential.
Multiple language options, from social media posts to emails, often come in handy.
The more languages a paraphrasing tool can handle, the more users it will be able to accommodate.
Handle Large Texts
While the free version of many tools has a word limit that prevents it from handling more extensive text, premium versions of the same tools can process more significant amounts of text without any difficulty.
Many writers and researchers need a tool that can handle such volumes of plain text and still deliver the same quality of output.
Dos And Don't Of Paraphrasing Tools
Here are the main dos and don'ts when using a paraphrasing tool.
Dos:
Use the paraphrasing tool with your unique perspective and writing style to make the text look natural and in your own words: A unique perspective adds an individual flair to the content and makes it look more realistic.
Ensure that the tool cites all source material correctly: It is important to note any sources used for the paraphrased content to give proper credit and avoid plagiarism.
Proofread all paraphrased text to ensure it meets expected standards: The goal of using a paraphrasing tool is to save time and produce quality content that accurately reflects the original message. Therefore, proofreading is essential before publishing the final result.
Don'ts:
Only use automated tools for paraphrasing without understanding the content first: A computerized device can be helpful, but understanding the underlying context of the text is essential for producing quality output.
Try to pass off someone else's work as your own: Using the tool to create unique content and not copy or plagiarize the source material is essential.
Forget to proofread and check for plagiarism when using a paraphrasing tool: This step is paramount for accuracy and avoiding plagiarism issues. A rewording tool should produce an accurate version of the original text that reflects the original meaning rather than a messy interpretation.
Who Can Benefit From Using A Paraphrasing Tool?
Some of the leading professional writers who can benefit from using a paraphrasing tool include journalists, essay writers, researchers, and even students.
A rewording tool allows them to produce quality content that accurately reflects the original message without spending hours rewriting it.
Keeping in mind that word count is sometimes an issue for certain types of writing, having access to a reliable rewording tool makes it easier to write within the desired parameters.
Is Using Paraphrasing Tool Cheating?
No, using a paraphrasing tool does not constitute cheating, provided that it is used responsibly and by the relevant policies.
Skilled writers familiar with their writing style can use a paraphrasing tool to ensure they accurately represent what they intend to say.
It is essential that the writer takes ownership of their work and designs their interpretations of the text while citing any source material used.
Before publishing, they should also proofread all paraphrased text to ensure it meets the expected standards.
Wrap Up.
The best paragraphing tool combines accuracy and speed to save time while producing quality content that accurately reflects the original message.
A reputable online rephrasing tool can significantly help professionals seeking to save time and create quality content without plagiarizing.
While not much is new under the sun, using a rephrasing tool can help ensure that your work is original and well-received.
Have you ever used a paraphrasing tool before?
Which one did you use, and what was your experience?
Let me know in the comments.
Further reading on AdamEnfroy.com: Check out my Quillbot review and see if this paraphrasing tool is the right choice for you.
As AI story generators become more advanced, combining your creativity and paraphrasing tools can lead to unique, engaging content.
Disclosure: I may receive affiliate compensation for some of the links below at no cost to you if you decide to purchase a paid plan. You can read our affiliate disclosure in our privacy policy. This site is not intending to provide financial advice. This is for entertainment only.