7 Best PLM Software of 2023 (Ranked and Reviewed)
Choosing the right PLM software is vitally important to your business. From ensuring efficient product development to smooth and accurate manufacturing processes, the best PLM software can help you meet your goals. In this guide, I ranked and reviewed the 7 best PLM software, so that you can pick the best one for you.
---
We're reader-supported. When you buy through links on our site, we may earn an affiliate commission.
Product lifecycle management (PLM) software manages product data through all stages of the product creation process.
Companies use PLM software to integrate data during product creation, from documents and project management to business systems and design. It allows teams to increase productivity, collaborate, improve product quality, and shorten the time it takes to market a product.
What is the Best PLM Software?
Here are my top picks for the best product lifecycle management (PLM) software:
Best overall PLM software (Quote-based).

Adam's Take
Want a great suite of cloud-based PLM solutions? Teamcenter from Siemens is a great choice. You can start by managing product data, creating and editing 3D designs, and tracking other important business processes. No matter what your company size or needs are, Teamcenter can be tailored to support them.
Teamcenter by Siemens Digital offers a full suite of cloud-based PLM (product lifecycle management) solution. It lets you manage product data, 3D designs, and other business processes like documentation, embedded software, and bill of materials.
Some of its key features include:
o help you in lowering the coNX Integration.
BOM (bill of materials) management system.
Electrical design management.
Document management & publishing.
Change management & workflow.
Mechanical design management.
Electrical design management.
Materials Data & lifecycle management.
Manufacturing data & process management.
Visualization, digital mockup, and virtual reality.
Mechanical design management includes mechanical computer-aided design management (MCAD) in a single product data management (PDM) environment. It also automates engineering change, validation, and approval processes, along with improving engineering productivity.
Siemens PLM also comes with a multi-CAD environment that you can use for tasks like the validation of design. This can also help you in lowering the cost of new product development.
You can also integrate structured documents, including digital signature, translation management, and multichannel publication in the PLM environment. Plus, the BOM management feature to manage the product data accurately.
Other features include model-based system engineering, product cost management, program planning, sourcing and supplier integration, and more.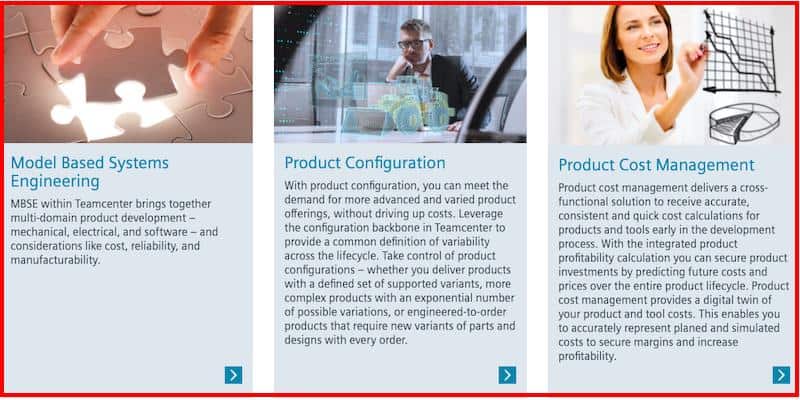 The search and analytics feature compiles and aggregates all the data generated throughout the lifecycle from various data points. It also creates visual reports to provide you with an understanding of your products and processes.
It also helps you streamline operations while having full control over the processes and product information. Businesses can manage and share their bills of materials, simulations, and other data in a centralized platform.
Since it's a cloud-based solution, you can also retrieve all of your data from any location easily. The project data is also accessible to all relevant parties at any time.
Pricing:
Quote-based pricing structure.
Best for integration with ERP (Quote-based).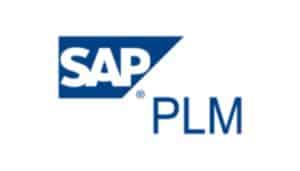 Adam's Take
If you're looking for a complete lifecycle PLM solution that can manage every stage of your product development process, then SAP PLM is a great choice. This powerful software provides everything from ideation and brainstorming to manufacturing and service, so you can be sure that your products are fully optimized at every step in the process.
SAP provides PLM solutions for entire product lifecycle processes, from the beginning of the life cycle with product ideation and brainstorming to manufacturing and service. It helps in designing, planning, and managing the production with more visibility and control.
The tool also supports document management, product structure management, manufacturing collaboration, variant configurations, product quality engineering, and most importantly compliance because it can double as a full feature compliance software for your business.
SAP PLM is a part of SAP Business Suite and offers solutions like innovation management, product compliance, and product management. Plus, the software adheres to all the compliance regulations and provides SAP S/4HANA for product compliance.
Here's a list of some of its key features:
Product engineering.
Project plan coordination.
Task and issue management.
Project document control.
Project portfolio management.
Commercial project management.
Product cost calculation & simulation.
Requirements acquisition and management.
Product collaboration and enterprise visualization.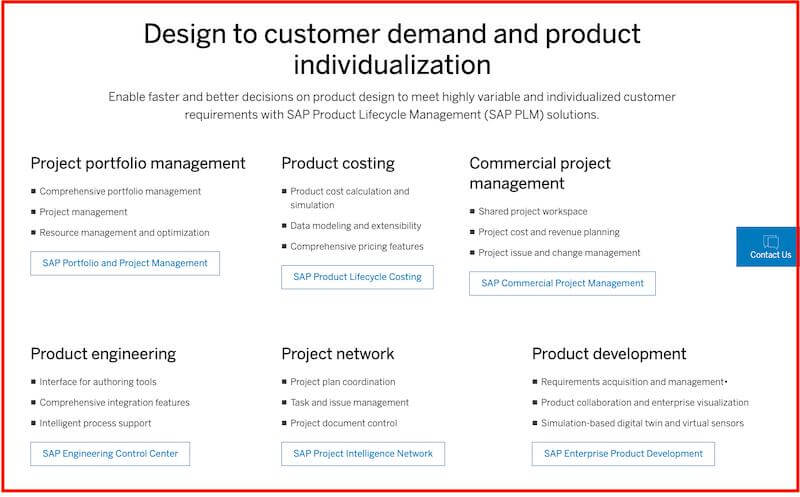 Features like streamlining of project proposals, progress, tasks, and timelines let you monitor all the data from a single place.
Plus, it provides real-time product cost calculations to help you determine costs, target price, and profitability. SAP PLM also supports cross-discipline product engineering that combines all the relevant mechanical, electrical, and electronic design data.
All of the Portfolio Management features, including project management, resource management, and optimization, ensure a streamlined product development.
Other features include embedded analytics for status reports, automated key processes, shared workspace, 3D viewer, and more. It offers multiple features to collaborate through engineering changes, cost, product data, and more for greater control and visibility.
Pricing:
Contact vendor for quote-based plans.
Best for streamlining product development & collaborating with your remote team (Quote-based).

Adam's Take
Want to distribute, store, and manage your product data? PTC Windchill has got you covered. It's a PLM software that provides PDM solutions as well so you can easily transfer, publish, and share information in real-time while visualizing your product data. I like that this software can provide both PLM and PDM features, making it a one-stop solution for managing product data.
Windchill by PTC is a PLM software that provides both product lifecycle management features and product data management (PDM) solutions. The tool helps you distribute, transfer, publish, share information in real-time, and visualize the product data.
The tool is compatible with Linux, Windows, and UNIX and supports open-architecture to integrate with other tools like IoT, CAD, and ERP platforms.
Other features include the ability to view, markup, interact, and collaborate on all forms of digital product data in 2D, 3D, and augmented reality.
Some of its key solutions include:
Data visualization.
CAD & MCAD models.
Cost estimation & analysis.
Outsourcing and project management.
Multiple system data management.
Augmented Reality (AR) and 3D visualization.
IoT-based "Always On" system monitoring.
Bill of material (BOM) transformation tools.
Ability to collaborate and operate from different locations.
You can also access in-depth product-based data, including illustrations, documents, CAD models, technical product information, product specification, among others.
One of its most unique features is the ability to customize the user interface. Customizing the user interface includes keeping frequently used modules at the top for easy access.
Its latest update now offers completely revamped software architecture to help you meet modern industry requirements more easily. For instance, its Creo View 7, an enterprise visualization solution for MCADs, provides model-based definition (MBD) visual comparisons for better management of critical to quality (CTQ) characteristics.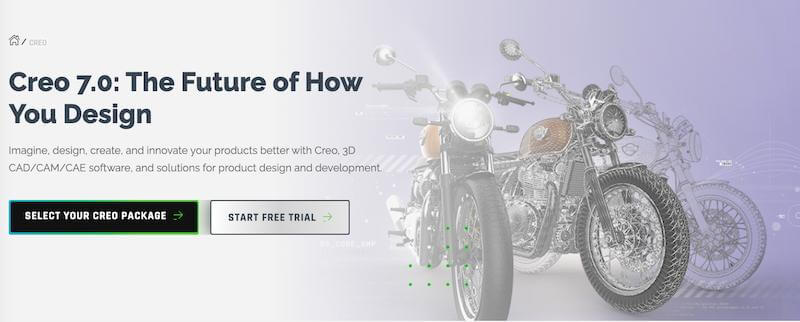 The software offers regular software updates, IT & overhead support, education material, etc.
Pricing:
Get in touch with the vendor for pricing details.
Best for cost and quality management (Quote-based).

Adam's Take
Oracle is one of the leading providers of product lifecycle management software, and their Agile PLM platform is a powerful tool for managing your product value chains and designing new products. It integrates seamlessly with CAD business systems to help you streamline your design processes, as well as manage all stages of the product development cycle from concept to launch.
Oracle Agile PLM is a product lifecycle management tool that helps you manage product value chains and design & launch new products. It also integrates with computer-aided design (CAD) business systems to manage items, parts, products, documents, requirements, engineering change orders, and workflows.
It comes with a customizable dashboard to help you leverage visualizations to study actionable insights. Plus, you get built-in tools based on predictive analytics, AI, machine learning (MI), IoT, and digital assistance to turn data into insights.
Remote work collaboration also gets easy with Oracle Agile PLM. Multiple teams can collaborate on different tasks – on a single dashboard. It also allows the business to sync data through external and internal pools.
Another bonus is that Agile PLM can work on smartphones as well, further helping you work anywhere you want, at any time.
Some of its primary features include:
Innovation management.
Product development.
Portfolio management.
Cost management.
Product master data management.
Configurator modeling.
Closed-loop quality management.
Innovation management entails ideating from various sources for new products, services, or markets. It also provides 360-degree insight into all the ideas, assessed value, cost, and constraints.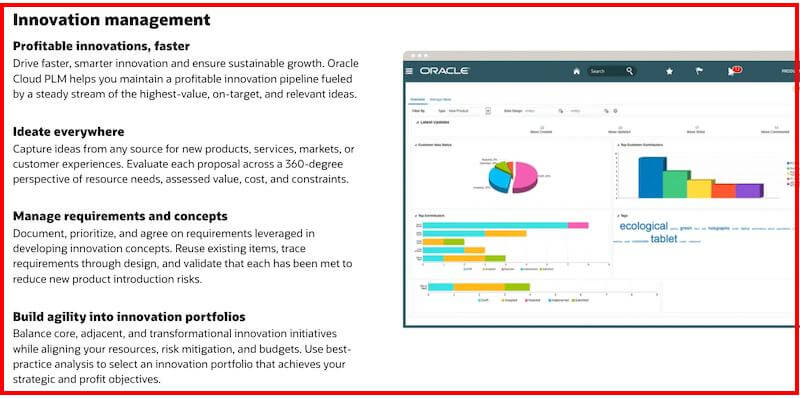 Plus, product development includes developing & launching products, minimizing design costs, enforce product compliance, and more. On the other hand, configurator modeling entails modeling complex products, applying templatized design, etc. It also helps you design, build, and test business logic.
Additionally, you get support and additional tools for every process, including procurement of requirements, prototypes, design, certifications, the retirement of a product line, etc.
Pricing:
Contact the vendor for pricing details.
Best for controlling and managing your finances ($13 per month).

Adam's Take
If you're looking for various customization and endless possibilities, Aras is the right PLM software for you. I recommend this solution as the potential choice for businesses who want a future-proof PLM software that can grow with them.
Aras offers an open architecture-based product lifecycle management software to help you customize the system the way you want. It enables businesses to manage products and execute product launch campaigns.
It works in over 160 countries and helps you manage departments, organize product lifecycles, and develop better business plans.
Aras PLM's key features include: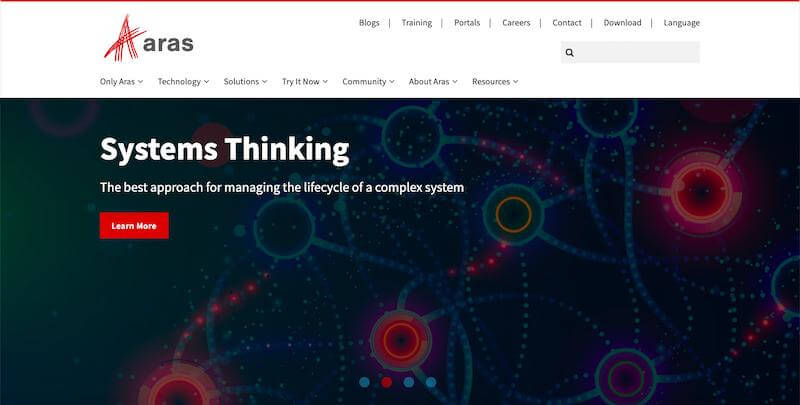 Document management.
Requirements management.
BOM management.
Self-service reporting.
Configuration management.
Project engineering.
Manufacturing process planning.
Automatic and bi-directional data synchronization.
Quality assessment and management.
It also provides features engineering bill of materials (EBOM) and manufacturing bill of materials (MBOM) to help you control your finances. Integration with multiple platforms and software also helps you control and manage the end-to-end financial requirements of your product lifecycle.
Aras PLM also comes equipped with collaborative tools to facilitate swift communication between teams. You can also leverage approval and selection solutions of externally sourced electronic spare parts. Plus, it comes with a document management tool to handle changes made to multiple files and manage all their versions accurately.
Pricing:
Aras PLM provides numerous flexible pricing options based on the number of users.
Here's the pricing table:
| | |
| --- | --- |
| # of Users | Price/User/Month |
| 100,000+ | $13 |
| Tier 100,000 | $14 |
| Tier 75,000 | $15 |
| Tier 50,000 | $16 |
| Tier 25,000 | $18 |
| Tier 20,000 | $20 |
| Tier 15,000 | $22 |
| Tier 10,000 | $26 |
| Tier 5,000 | $32 |
| Tier 2,500 | $40 |
| Tier 1,000 | $48 |
| Tier 500 | $62 |
| Tier 250 | $79 |
| Tier < 250 | |
If you're outside of the US, get in touch with the vendor for other payment plans and terms.
Best for built-in workflow management ($30/month/user).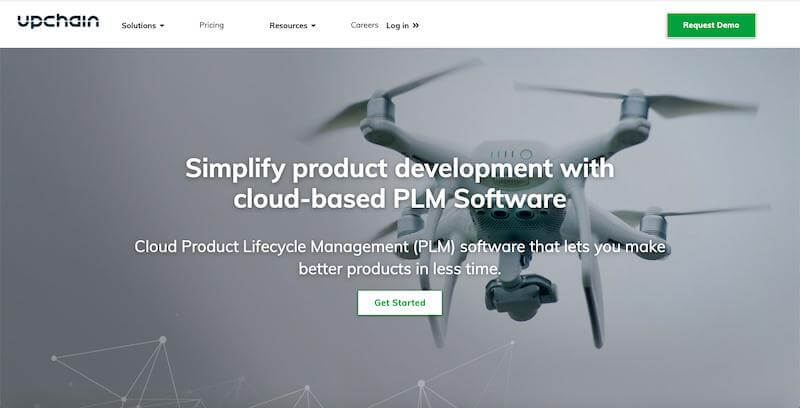 Upchain is a cloud-based PLM solution that helps you simplify product development and collaborate on product designing with your team. It also helps you with engineering production and managing & maintaining processes across the entire supply chain.
You can also collaborate easily by making your product data more insightful and simple to manage and share anywhere in the world. The cloud PLM also lets you make edits, manage changes, view CAD files in 3D, and more. You can also collaborate with all stakeholders on a single dashboard to gain feedback.
Some of its key features include:
BOM management.
Microsoft Office plugins.
Change management.
View CAD files in 3D/2D.
Agile project management. (My top picks for agile project management tools)
Built-in workflow management.
ECR creation and management.
CAD plugins and API Integrations.
Collaborate on a single project dashboard.
Full PDM with check-in/check-out functionality.
Integrations with tools like Outlook also come in handy. It provides full visibility to spot roadblocks, prioritize issues, and secure feedback in real-time.
Other features include role-based permissions for security, the ability to compare file versions, GD&T and design document review, and more.
Additionally, you can import or export your files in numerous file formats, including XML, PDF, Excel spreadsheets, and image files. It also supports integration with EPLAN, AutoCAD Electrical, and Promis.e.
Pricing:
Upchain PLM comes with three pricing plans, including:
Participant: $30 per month/user (For project followers, information seekers, and ticket-raisers).
Team: $70 per month/user (For contributors and feedback-givers).
Professional: $200 per month/user (For project managers and engineers).
Upchain PLM also provides a freemium plan suitable for suppliers, vendors, and shop floor workers. If you want more advanced features or a customized plan, you can contact the vendor for more options.
Best for managing an entire chain of cross-functional quality processes ($965 per user per year).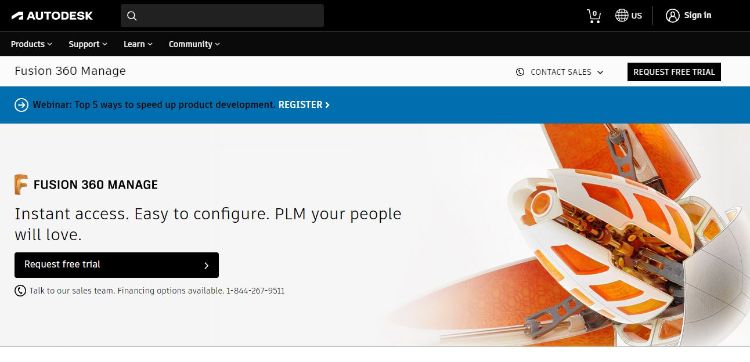 Autodesk Fusion Lifecycle is a cloud-based product lifecycle management tool that helps you create a product information backbone for your projects.
It helps you ideate, design, and automate processes, workflows, product data, and people. And since it's a cloud-based solution, every stakeholder can access the data anywhere, anytime.
Key features include:
Quality management.
Supplier collaboration.
Version, Revision, and Release Management.
Product data management (PDM).
Configure and manage Bills of Materials (BOMs).
Real-time access to all the relevant data.
Graphical dashboards for quick interpretation.
Change management tool to track all the versions of product designs.
Quality management includes coordinating, controlling, and tracking the entire chain of cross-functional quality processes. It also provides built-in integrations with 3D printing tools like the Autodesk design and visualization software, which helps you manage 2D and 3D CAD files. You can also manage all design documentation, including Excel, PowerPoint, PDF, DOC, and more.
It comes with configurable 'New Product Introduction' project templates. These templates help you categorize phase-gate milestones and tasks by business unit, product line, etc.
Pricing: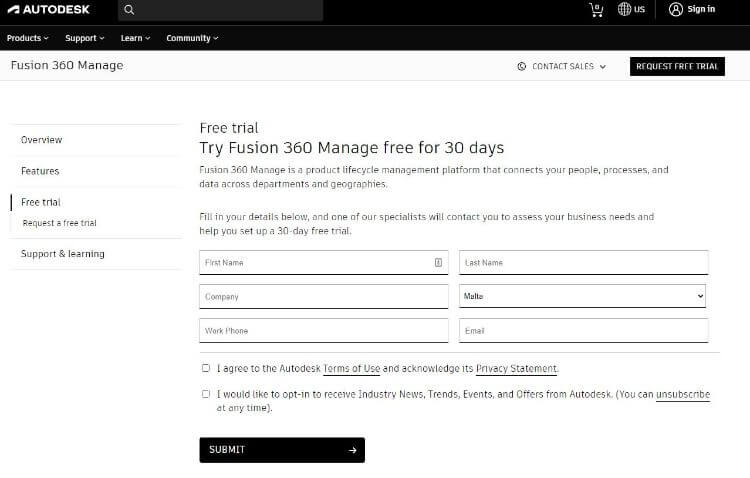 You get a free trial to try Fusion 360 Manage for 30 days. After filling in a form on their website, you will be contacted to learn more about this free trial.
What is Product Lifecycle Management (PLM) Software?
Product Lifecycle Management (PLM) Software helps you monitor the complete lifecycle of a product. The tool manages all the processes in a lifecycle, including ideation, planning, design, manufacturing, service, disposal, and more.
It also works as an information management software that integrates and processes data along with business systems and employees. It enables a business to manage information relevant to a product throughout its entire lifecycle securely and cost-efficiently.
A capable PLM helps consolidate data to build a coherent data structure. Moreover, it enables global businesses to work with remote employees as a single team to design, build, and support products. This is done while recording the lessons learned and best practices throughout the product journey.
With extensive data reporting, PLMs also enables businesses to make data-driven and unified decisions at all product life stages.
Here's a list of some common benefits of using a PLM platform:
Risk reduction.
Increased productivity.
Cost management.
Accelerated time to market.
Revenue that is scalable.
Data sharing and centralization.
Boost in customer loyalty.
What Features Do You Need in Product Lifecycle Management (PLM) Software?
While your requirements may vary depending upon your business, here are a few essential features to look for when selecting PLM software.
1. Security.
Naturally, security is one of the essential features since you're likely to be dealing with lots of important data. Thus, look for a PLM system that offers strong security for the captured data related to your product and offers role-based permissions options.
Moreover, look for the best in class IP protection and least downtime in the market.
2. Closed-Loop PLM.
Make sure to purchase a PLM solution that offers end-to-end PLM features to meet multiple project requirements of your organization. It should be able to track and manage the data of the entire product lifestyle, along with capturing final feedback.
You might want to look for features, including product structure, document management, parts classification, augmented reality, IoT, and more.
3. Cloud-Based.
Look for a SaaS solution that is cloud-based to save time and resources. They are more efficient and easier to implement and let you access them from anywhere. Pre-configured and pre-packaged applications will also help you simplify your process and reduce IT woes.
4. Collaboration.
Collaboration is a vital part of any PLM software. Thus, choose a tool with powerful collaboration and task management capabilities over the cloud to ensure you can safely share data and work with multiple teams remotely.
Also, make sure that the PLM software offers compatibility with smartphones and tablets. The project-based collaboration will help teams work with minor complexities and track their performance in real-time.
5. Regular Updates.
If you want to scale and evolve your business eventually, you need a PLM that offers regular software updates to keep pace with your ever-changing business requirements.
These were some of the standard features to seek in the PLM tool you choose. You should consider other features, including revision control, integration with CAD, product data management, and more.
Main Users of PLM Tools And Top Reasons For Using Such Software
Several businesses around the world use PLM tools to build products. They are used by companies of all sizes, including small-scale businesses, mid-sized companies, and large corporations.
These include manufacturers, educational institutes, healthcare organizations, research teams that perform intensive R&D activities.
Product Lifecycle Management is an essential tool for your enterprise if you're into any or all of these types: manufacturing, engineering design/services firms, healthcare providers, educational institutes that train students in product design.
The primary reasons why companies choose to use PLM software are as follows.
Increase Productivity
Successful businesses are always on the lookout to upgrade their processes and tools to increase productivity. Product Lifecycle Management is one of them, which in turn will help with business in the long run.
Moreover, PLM software helps small teams perform complex tasks swiftly thanks to its powerful collaboration features. The information related to a product or project is saved centrally so that everyone involved in developing it has access regardless of their geographical positions.
PLM software not only automates routine tasks but also ensures that all members are up-to-date about the progress being made since they have real-time access to auditable records of updates made by different team members.
Also, with time tracking features integrated into the PLM solution, you and your team can report accurate time spent on different tasks and activities of the project/product development.
Using enterprise resource planning (ERP) tools, you can better manage your inventory, procurements, and sales. With all the information centralized in one place and real-time update features powered by PLM software, you will be able to respond to market demands faster than before.
Enhance Customer Experience
One of the primary reasons for using PLM software is to enhance the customer experience across multiple channels of communication — whether it is virtual or face-to-face. They will get all information in one place regardless of how they contact you with queries, complaints, suggestions, etc.
This way, the business gains trust from customers which helps in creating a loyal customer base over time. Having a centralized database also lets businesses manage their product portfolios easily when it comes to organizing inventory and tracking order deliveries for inbound and outbound shipments.
The maintenance of product documentation is automated in this way which enhances the customer experience.
Gain Competitive Advantage
The business ecosystem is highly competitive and most businesses, small or large, are looking for various ways to gain a competitive edge over their rivals.
One of them is through Product Lifecycle Management. With PLM software in place, a company will be empowered with the ability to create products faster than before and meet upcoming market demands with high-quality products within budget and on time.
A single version of truth saves you from any duplicate efforts and keeps everyone updated about the progress of a project or product development — thus making it easy for people to work together without wasting time wandering around the information.
Businesses that leverage PLM tools tend to develop products that better cater to customers' needs. This is achieved through collaboration and streamlined processes, thus helping them understand customer requirements more than ever before.
Also, your business will be able to modify existing product features on the go without breaking a sweat which lets you customize products for specific clients' needs.
Reduce Risk While Improving Quality And Releasing New Products
One of the biggest concerns that companies face while developing new products or launching an updated version of an existing product is related to risk mitigation.
Engineers are expected to come up with innovative ways to design products so that they can be produced faster. If it's not going well, then there exists a high chance of revenue loss for a company in terms of time and resources involved in revamping a failed project.
A Product Lifecycle Management software allows engineers to effectively collaborate with peers and share design data (including CAD files, product models, drawings, etc.) on the same platform.
They can access all product-related information including errors and bugs that exist in existing products — thus reducing new incoming issues on a newly developed or redesigned one.
Also, the team can analyze how well a project is designed (in terms of performance and quality) by simulating and testing it even before development begins which helps them make improvements where needed.
This way they can ensure that final products released for sale are safe and superior in quality to previous ones while saving money and time for the business at the same time.
Compliance Management
A lot of products and services businesses deal with abide by industry standards and rules. To stay in line with the law, a company needs to make required changes as directed by regulators from time to time.
A good PLM solution will be able to automate those compliance-related tasks and keep everyone updated about government policies regarding the industry they serve.
Collaboration Across Different Departments/Groups
It becomes all the more important for businesses to collaborate when it comes to developing or redesigning a product.
A good Product Lifecycle Management solution will help employees in various departments/teams within an organization design, develop, and market products faster by providing them access to information on a single platform.
This helps them make better-informed decisions and focus their energy on work that matters — thus saving time and money for the company.
Collaboration is not limited to employees within an organization; you can also invite your business partners into one PLM system which makes collaboration easy while streamlining processes and cutting down redundant tasks.
Streamline Internal Workflows and Processes
With so many departments and teams within your organization working on a single product, it becomes important to streamline the entire process of creating or redeveloping it.
A good Product Lifecycle Management Solution offers you different modules that can be used by employees depending upon their role in the design/redesign process.
Whether it's simply viewing information or collaborating with other team members or editing CAD files — you can automate all those tasks through this system which results in increased efficiency.
Also, thanks to streamlined workflows and minimized redundant tasks; employees can focus better on core activities which helps them provide better services/products to clients resulting in enhanced business growth.
Real-time Project Tracking/Management
Product Lifecycle Management solutions which are real-time offer teams instant reports on product design/redesign projects thereby making it easier for them to make smarter decisions.
For example, when a team is working on creating or redeveloping a product they can see how much time has already been spent on the project, where it is headed, and how close they are to meeting deadlines.
This helps in spotting bottlenecks in the existing workflows before they result in huge losses.
Also, any changes in the existing system will be conveyed instantly by this real-time solution which enables employees to take quick corrective actions that save time and money for the business.
Executive Summary.
All of these PLM solutions help you connect your team, processes, and data across the entire product lifecycle in a single dashboard.
In the end, the software you choose depends on your business requirements, the number of users, budget, and more.
If you're a large enterprise, you might want to go for Autodesk Fusion Lifecycle. For small and mid-sized companies with fewer requirements, Aras PLM and Upchain PLM are more suitable options.
All things considered, the best overall product lifecycle management (PLM) software is Teamcenter Siemens. The tool offers all the features you need in PLM software, including BOM management, document management, publishing, visualization, digital mockups, and more.
Which product lifecycle management (PLM) solution are you planning to use? Let me know in the comments below.
Disclosure: I may receive affiliate compensation for some of the links below at no cost to you if you decide to purchase a paid plan. You can read our affiliate disclosure in our privacy policy. This site is not intending to provide financial advice. This is for entertainment only.