7 Best Press Release Distribution Services of 2023 (Ranked)
Getting your business the press coverage it deserves is no easy feat.
It takes a lot of time and effort to build relationships with reporters and editors to give you the needed attention required to grow.
Similar to guest blogging, your brand name expands through choosing the right sources that show you in the best possible light.
Therefore, a press release distribution service is used to help get the word out about your latest product launch or company milestone.
With press releases being one of the best marketing strategies for digital growth, several digital marketing agencies offer press release distribution as part of their ongoing services.
With many business owners not fully realizing just how vital dialing in on a press release's purpose is, knowing which service offers you the best return on your investment is crucial.
In this post, I will cover the best press release distribution services right now.
This will be based on factors such as:
The distribution reach.
The features you'll get with different services.
The time it takes for the press release to go live.
And many more.
Let's get right into it.
What Are The Best Press Release Distribution Services?
The following are the best press release distribution services as of right now.
Best for releasing your press release to hundreds of sources.
PRWeb allows you to make the most of their distribution network by syndicating your release to their network of sources.
PRWeb offers new and improved tools that make it easy for reporters and bloggers to embed multimedia content in your release to boost digital word-of-mouth.
Whether you're launching a new product, announcing the release of a virtual conference platform, or sharing news about your company, PRWeb can help you get the word out.
PRWeb also includes guaranteed press release distribution across all major search engines, news outlets, social media channels, blogs, and podcasts, providing you with the tools you need to build your content easily.
This is great when it comes to boosting your search engine optimization (SEO) efforts through an increase in backlinks built back to your website.
Key Features:
Use PRWeb's tools to develop a story that will grab the public's attention.
Let PRWeb distribute your press release to targeted media outlets based on specific editorial focus, geographic location, and circulation size.
Use images, videos, and quotations to draw attention to your social media links.
Increase your brand's presence, causing a significant impact on your target audiences' experience of your content across various online platforms.
Pricing:
PRWeb offers the following pricing plans:
Basic: $105 per news release
Standard: $220 per news release
Advanced: $325 per news release
Premium: $435 per news release
Best for sharing engaging material with your target audience.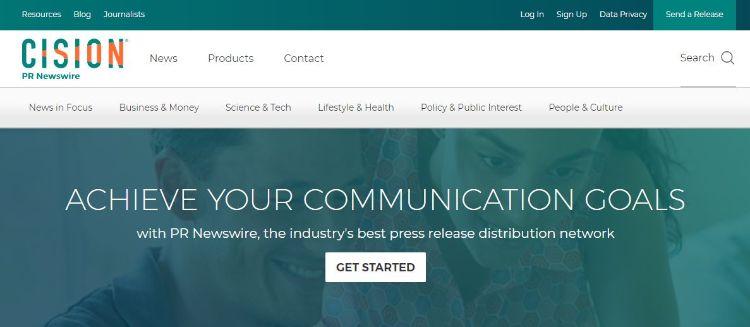 PR Newswire was created to allow you to listen to your consumers, share your narrative with the media, develop interesting material and evaluate the success of your initiatives.
If you want to achieve all that, PR Newswire might be the perfect choice for your business.
Whether you're an experienced PR master or just starting from scratch, PR Newswire will give you the tools to efficiently distribute newsworthy content across the social web, in search engines, and top-tier publications.
With PR Newswire services, you can create powerful content to drive demand, engage readers, increase client connections and boost investor confidence.
In addition to top-tier distribution, PR Newswire offers an impressive suite of branding and measurement tools so you can evaluate the success of your campaigns.
Keeping track of the issues taking shape, influencing conversations, and making the right decisions regarding distribution is easier using their suite of tools.
Key Features:
PR Newswire allows you to connect with and interact with your target audience to build brand awareness and drive revenue.
Build a multimedia newsroom that showcases your organization's top stories, RSS feeds, and press releases.
Use PR Newswire's tools to develop exciting material and identify opportunities for coverage in relevant publications.
When you utilize PR Newswire's industry-leading network to distribute your message, you'll be able to connect with thought leaders and key influencers.
Communication planning and execution are the keys to a successful communications program which is why PR Newswire offers an unmatched suite of planning and measurement tools.
Pricing:
No information regarding pricing is displayed on their website. You'll have to sign up for an account (the signup process is free) to get more information about this.
Best for those wanting to be featured on sites like Google News.
PR Underground makes it fast and easy to distribute press releases, manage media relations and track social engagement.
Whether you want to develop compelling content or reach the right people at the right time, PR Underground can help.
PR Underground makes it easy to create powerful news stories with their press release builder.
These press releases are then distributed via Google News, Bing, Twitter/Apple News/Instaper, and made available on over 80 online news sites.
This means you can quickly create content, distribute it to targeted media outlets and monitor the results.
Build a linking newsroom to host your material in your branded newsroom with links to your releases, photos, and video.
Key Features:
Your press release may show up in Google News for keyword combinations from your headline minutes after it's sent out.
Your press release is sent to 80+ regional online news websites so you can reach a large and diverse audience quickly.
Reach out to the right journalists and influencers with a personalized outreach message.
Distribution isn't the only thing you can accomplish with PR Underground – they also offer media monitoring tools. This allows you to track the metrics regarding how much your press release is shared on social media and what people are saying about it.
You can also view related trends on your press release from all major social platforms, including Linkedin, Twitter, and Facebook.
Pricing:
There are four pricing plans available, as follows:
Basic: $74.99 per release
US National: $419.99 per month
Gold: $129.99 per month
Premium: $209.99 per month
4. 24-7 Press Release.
Best for companies needing more brand exposure.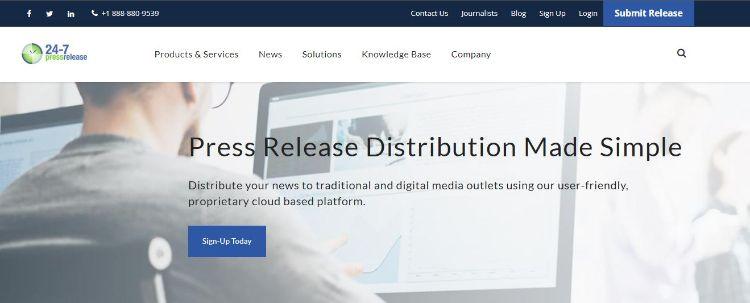 24-7 Press Release's user-friendly, proprietary cloud-based platform is ideal if you want to distribute your news to both traditional and digital media.
You can also use their platform to create media alerts, pitch stories, and track coverage.
They have an extensive network of media contacts in the traditional and digital media spaces, so you're likely to see your release picked up by major news outlets.
Their primary purpose is to serve as a platform for publicizing your company or brand the way you want it.
Having provided press releases for many years, 24-7 Press Release have the experience that comes with time.
For the most part, you will have complete control over what is said and how it is presented.
Your news is also shared with prominent search engines like Google, Yahoo, and others when you use this service.
Key Features:
Their online distribution partners can increase your visibility by posting your narrative for their visitors to read.
Your press release will be live on the 24-7 Press Release Newswire website for as long as you want.
24/7 Press Release not only sends your news to journalists, bloggers, and customers but also offers website owners fresh original material that can be pushed online for more brand exposure.
Pricing:
There are five pricing plans available on Newswire, which are as follows:
Simple Post: $19 per release
Visibility Boost: $49 per release
PR Network PLUS: $89 per release
Integrated Media PRO: $139 per release
Mass Media Visibility: $389 per release
5. EIN Presswire.
Best for going live with a press release within a few hours.
If you're looking for a simple process to create and upload your press releases, then EIN Presswire is an excellent choice to consider.
They allow you to distribute your releases through their wire service and partner with other wire services and search engines.
This makes it easy for journalists and bloggers to find your story. You can also use their platform to track how many people view your release.
It typically takes them around an hour to check releases for distribution during business hours and six hours when it's overnights and during weekends.
If a press release is approved without being scheduled to go live at a future date, they will send it out immediately.
This also means that you have the option to schedule the release for a specific date and time in the future.
Key Features:
Reach millions of people using their wide net of trusted news sites with a single click.
Get published on suitable sites that cover topics closely related to your business.
Connect with journalists and media influencers so you can get the word out about your story.
Inexpensive and cost-effective budget choices allow you to make an impression without breaking the bank.
Pricing:
Basic: $99.95 for news release
Pro+: $399 for ten releases plus 4 for free
Corporate: $999 for 50 releases plus 10 for free
When it comes to the Pro+ and Corporate plans, the free press releases are a special offer happening now, meaning they might not be there forever.
6. Business Wire.
Best for those that want to maximize the power of storytelling in their business.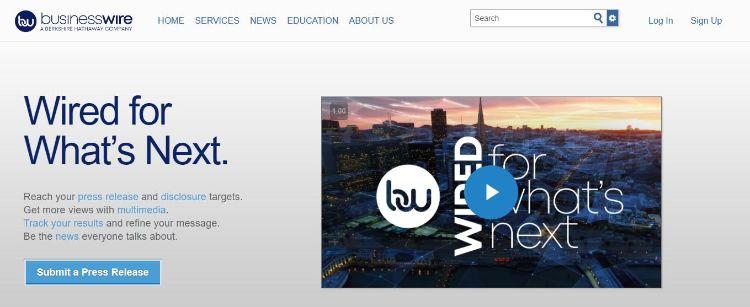 Business Wire is a full-service public relations firm that helps you get the word out about your story.
They have been in the business for many years and have a vast network of contacts in the traditional and digital media spaces.
Business Wire has delivered news to publications and leading online news sources since 1961.
Its distribution service, which includes an up-to-date collection of market-moving news sites and media, is essential to corporate communications, investor relations, public policy, marketing professionals, and more.
Using their patented NX Network high-speed system and partnerships with dozens of international news agencies worldwide, Business Wire enables your most important news to reach the widest audience for maximum impact.
Key Features:
You will be able to meet your business exposure objectives by using their team's expertise in both writing and distributing press releases according to sound business principles.
Being a well-established company with an expert team of press release professionals, they can assist you every step of the way.
They provide a comprehensive range of multimedia services to assist you in telling your story in the best way possible.
Pricing:
They have three pricing plans available, which are intended for logical, regional, and national media coverage. Their prices are as follows:
Local: $475
Regional: $510
National: $940
These prices are based on a 400-word press release.
7. GlobeNewswire.
Best for using multimedia in press releases to get your message across.
GlobeNewswire can help you reach out to media, investors, and customers with specific distribution methods. You may use targeted distribution approaches to raise brand awareness, expand internet exposure, and acquire more media attention.
Translating your message into the language of your target audience allows you to reach them more effectively and gain their trust.
This means that you will increase the likelihood of them doing business with you based on the contents of your press release.
GlobeNewswire's solution was developed to work in tandem with your day-to-day conversations since it's all about being flexible, automated, and intuitive.
Key Features:
Distribution of your press releases with GlobeNewswire allows you to create, distribute, and monitor your news internationally.
You can use their Press Release Distribution service by targeting it for a specific country or individual media types. This will help you cut down on costs while expanding your reach.
Get your story out to more people by publishing a press release on their site, which has been the home of breaking business and financial news over the years.
Use multimedia to boost visibility and engagement and to help you tell your story more effectively.
Pricing:
No pricing is mentioned on the logged-out version of their website. You'll be able to learn more about what they can offer you by creating an account on their site.
Other press release distribution services not mentioned in this article include Send2Press, eReleases, Associated Press, and PR Pro.
What are Press Release Distribution Services?
Press release distribution services are media platforms that allow you to submit your press release and then promote it to news organizations, blogs, social media sites, journalists, newspapers, magazines, etc.
If your goal is to get the word out about your business, allowing people to know what you're up to, press releases might be one of the best ways to do so.
Companies generally use this approach to boost their visibility and credibility.
It's also a great way to acquire media attention. The best press release distribution companies have a broad reach and can help you get your story in front of the right people.
Many press release services are available, but they are not all created equally.
The best ones have a broad reach, are easy to use, and provide comprehensive services that help you tell your story in the most effective way possible.
Let's look at some of the qualities that the best press release services should have.
Qualities of a Good Press Release Distribution Service
These are the following qualities that you should look for before deciding on a press release distribution company for your business.
A Good Reach
The best press release services have a broad reach, so they can help you get your story out to as many people as possible. This means getting your story featured on major newspapers, magazines, and news sites, especially those that cover your industry.
No one wants to read about how great a company is if they are in a different industry and there is no interest in the products or services being offered.
Also, a broad reach increases the chances that other media outlets will pick up your story, giving you more exposure as a byproduct of the initial press release.
Distribution channels
When choosing a press release distribution company, the channels they have access to are essential.
Examples of channels include:
Social media marketing
Online directories
Media outlets and websites
Outbound websites
Most of the time, larger companies that have been around for a while have access to more channels than their competition.
The best way to find out which ones they use is by browsing through their website or asking them directly.
After you've found a company with lots of high-quality distribution channels, it's essential to determine how many press releases can be sent at one time to various media.
If you need a large quantity quickly, you want an option that won't break your budget or put a long waiting period on sending them out.
With many of the top press release services sending content out to channels such as ABC, CBS, Cision, Fox, NBC, and many others, it's essential to know what exposure you'll get from such media.
Ease of Use
The best press release distribution services are easy to use.
This means having a user-friendly interface that makes it easy to submit your press release and track its progress.
In addition, you should also be able to get help if you need it.
The best companies have customer service representatives who can answer your questions and help you with any problems you may encounter.
Press release companies that are difficult to use can be an absolute nightmare.
This is especially true if you're a new business owner who doesn't have experience using services like this before.
Analytics
Having an interface to help you understand the metrics associated with your press releases is essential.
This information can help you improve your strategy and see what's working and what's not.
The best press release services offer comprehensive analytics so you can track how many people are viewing your release, how many are clicking through to your website, and where the majority of your traffic is coming from.
Coming up with the proper optimization for placements, syndication, and finding industry-specific media can be daunting.
Having the right analytics can help you streamline your efforts and make the most of your distribution.
The ability to generate detailed reporting in real-time is helpful for any type of business – including startups, those using press release writing services for reputation management, and anyone in between.
Multimedia and customization
The best press release service is the one that allows you to include multimedia (like images and videos) with your releases. It should also allow you to customize your press release by changing the layout and tweaking the design.
Moreover, some press release distribution services provide their own multimedia tools so you can create videos and images that help promote your story.
This is an excellent feature because you'll know that you are producing high-quality content that will help you stand out from the competition.
Comprehensive Services
The best press release distribution companies provide comprehensive services that help you tell your story in the most effective way possible.
This includes giving pre-written templates, tips for creating a good press release, and potential suggestions for reaching out to various media sources.
They should also help you track the results of your campaign so you can see how well it's performing.
Having access to these services can be extremely helpful, especially if you're new to press releases or don't have a lot of experience using them.
Pricing
One crucial factor to consider when shopping around for a press release distribution company is cost.
The best services offer affordable pricing that isn't going to empty your wallet every time you send out a press release, which means you won't have to sacrifice anything if you're on a budget.
The truth is there are many mediocre companies out there that charge outrageous prices for what they offer. On the other hand, cheap press release distribution services might not provide you with all the features you want.
Finding a good balance can be challenging but not impossible.
You have to shop around and compare your options to know you're getting the best deal possible. Keep in mind that some services charge per word count, so the longer your press release, the more you'll end up paying.
Same day distribution
PR distribution services that can deliver your press release the same day are incredibly beneficial because they allow you to quickly get the word out there.
Using a company that provides immediate services is a great way to gain an advantage over your competition when your news is timely and might save you money in the long run. After all, the sooner you send out a press release, the sooner people will see it and start taking the desired actions.
Blogger outreach
Many media outlets and websites that PR distribution companies have access to are connected to bloggers or other influential people online.
If you can tap into this network using a blogger outreach service, you should take advantage of it by considering the benefits this will bring to your campaign.
Blogger outreach is also beneficial because it allows you to find influencers who might not be included in an average press release distribution campaign.
This means more exposure for your company.
Professional Press Release Writing
Whether you submit one press release or multiple ones, you should never have to worry about it being poorly written.
No matter what type of press release you're sending out, having a well-written one is essential if you want it to be noticed and shared by the media.
The best PR distribution services will provide professional press release writing (or proofreading/proof editing) that allows your message to reach as many people as possible while being correctly written.
In such cases, proofreading might be part of the features you get when signing up, ensuring that your press release is mistake-free before you submit it.
Other types of content creation offered by the press release sites
Some of the top press release sites have started changing their business models from being just a press release distribution service to providing content marketing service.
As a result, some of these services offer other types of content aside from just press releases. This can include:
Blog posts
Infographics
Videos
Webinars
Offering these types of content allows the top PR distribution companies to be more competitive against one another. It also gives you a more comprehensive range of options for promoting your company's cause or brand.
Customer support
It's essential for any business, especially those providing customer-facing services like press release distribution companies, to have 24/7 customer support.
If you're looking at different options and believe you might require assistance at any time, you need to know that your chosen company is there for you.
Having someone there to answer your questions and help you troubleshoot when something goes wrong is a must-have for any business.
National vs. international distribution
Whether you're going national or international, understanding your target audience is critical.
There are a few things to keep in mind when choosing the right service for you:
The language of the press release
The cultural context the press release will be released in
Which countries the service reaches
While national is good in specific situations, international press release distribution might be best to target global audiences or if your company is multinational.
Services that offer this type of distribution have a wider reach than those specializing in national distribution.
They also often have relationships with media outlets in multiple countries, giving your press release more exposure.
However, it's important to note that not all services that offer international distribution have the same reach and functionality. Make sure to do your research and compare the services before selecting one.
The number of press release distributions you will get
While some services might offer unlimited press release distribution, others might have a limit on the amount you can send in a given period.
It's essential to know how many distributions you will be getting with your chosen service to plan accordingly.
If you're planning on sending out multiple press releases, you'll want a service that offers unlimited distributions.
However, if you're only planning on sending one or two press releases, a service that has a limit on the number of distributions might be more economical.
Press Release Distribution FAQs
What is Press Release Distribution?
Press Release Distribution are services used to help better distribute press releases to a multitude of news outlets and reporters.

Overall, bringing press releases to a much larger audience can better cater to your company's success.
What are the 3 significant components of a press release?
– Compelling headline that retains your audiences interest
– Apparent and concise call to action
– Scan-fighting format
Do press releases need to have a quote?
The short answer is no; having a quote in many cases, doesn't add to the story and is not mandatory for creating a good press release. Although, if it adds to the story in a meaningful way you may want to consider adding one.
Wrap Up.
When looking for the best press release distribution service, it's essential to keep in mind the target audience that your press release is aimed at, what type of content you wish to distribute along with it, and how many times you want a press release to be sent out.
Over time, the relationship between your business and the press release distribution company should be built up, ensuring you get the best service possible for your needs.
To recap, the best press release distribution sites right now are:
PRWeb: Best for releasing your press release to hundreds of sources.
PR Newswire: Best for sharing engaging material with your target audience.
PR Underground: Best for making the press release distribution process straightforward.
Whether you have a small business that just launched the latest event management software or own an international third-party logistics company, check out these press release services when planning your next big move.
Have you ever published a press release? How did it go? What do you look for when choosing a PR distribution service? I'd love to hear your thoughts about this in the comments below.
Further reading on AdamEnfroy.com: Press releases are not only used to tell the world about a new product launch. You can also use them to improve your reputation management, influencing what others think about your business.
In addition, they can also help with link-building strategies, ensuring you get tons of exposure from the right sources in your industry.
Editorial Process:
Our reviews are made by a team of experts before being written and come from real-world experience. Read our editorial process here.
Some of the links in this article may be affiliate links, which can provide compensation to us at no cost to you if you decide to purchase a paid plan. These are products we've personally used and stand behind. This site is not intended to provide financial advice. You can read our affiliate disclosure in our privacy policy.