7 Best Property Management Software of 2023 (Ranked and Compared)
Property management has become a big job that takes time, energy, and even money.
We've all seen the real estate guy that goes around from one appointment to another with no time to do much else.
Sprinting from one location to another, he is often seen carrying a takeaway sandwich underneath his sweaty armpit as he tries to get in some food while realizing he is late for his next appointment.
Loaded up on coffee, this property management agent realizes that there has to be another way to make property work for him – and in fact, there is.
And the solution is… property management software.
So, what's the issue with property management software?
With a market size of $96.0 billion in the U.S. and so many different high-quality providers, it can be hard for property managers to choose just the right one for their needs.
There are many different types of property management software on the market today but they are not all the same.
Even if a company says that they have strong property management software, you still need to take the time to research and find out for yourself if it's the right fit for you – after all resource management software all make that promise.
The goal of this article is to give you a complete look at all your choices so that the next time you are looking for property management software, or if it is time to renew your current one, there will be no doubt who will get your business.
After reading this article, you will be able to find out which are the best property management software.
Let's get right into it.
What is the Best Property Management Software?
Here are my top picks for the best property management software on the market today.
Best for managing your property in the easiest way possible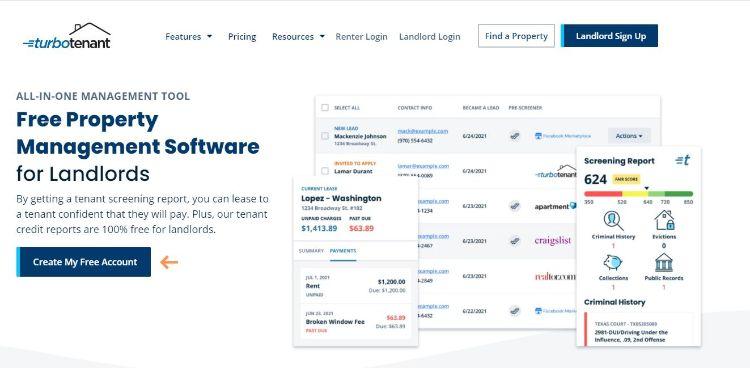 TurboTenant is a highly targeted, easy-to-use tool for property owners to post their rental properties on multiple listing sites.
Post your rental instantly on dozens of websites like Facebook Marketplace, Rent.com, and more. They state that on average, TurboTenant landlords get 22 leads for each property they list.
A robust online application process lets renters apply from the comfort of their couch. You'll get a tenant's credit check back instantly after they apply – you have all the information you need to make an informed decision right away.
No more waiting for the tenant to fill out credit checks after you approve them.
TurboTenant also allows tenants to pay online and submit maintenance requests – all in one convenient place.
Get payment histories, electronic signatures, and notifications instantly sent to your phone or computer when important events happen.
There's no better time to use TurboTenant than now – their starter plan is completely free.
Features
Manage Your Property Online – TurboTenant is the only all-in-one property management software that allows you to manage your rental property from start to finish online so you can manage everything in one place.
Tenant Screening And Credit Reports – Get a tenant screening report, and you can lease to a tenant confident that they will pay. Plus, their tenant credit reports are 100% free for landlords.
Easy To Use – Managing your rental property has never been easier. Their intuitive design makes it easy for you to search for new tenants, collect rent payments online, send notices and reminders, and more.
Rental Application Process – They will manage your rental application process and tenant screening, letting you lease to a qualified tenant in just minutes.
Pricing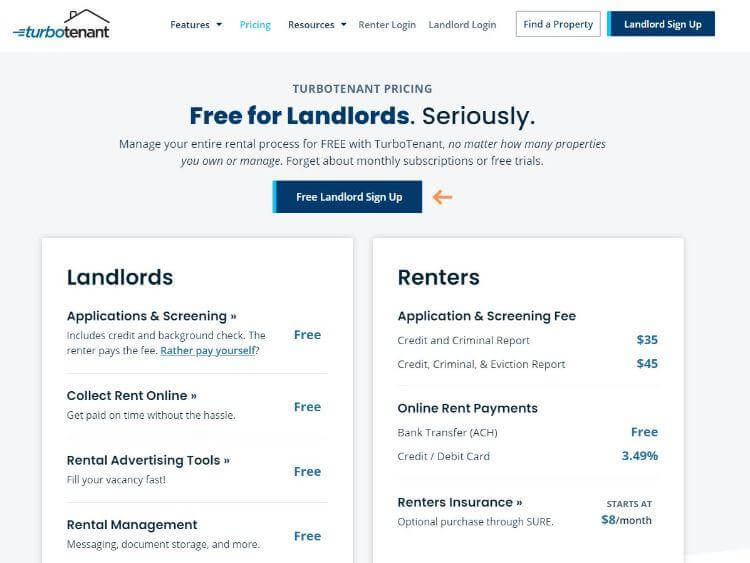 This tool is great for landlords because it is free, easy to use, and you can manage your property from start to finish online.
However, there are optional services that are offered for landlords as follows:
State-specific leases from LawDepot: $29
Add multiple documents and signers: $9
Forms Pack: 32 of the most useful landlord forms: $99
On the other hand, renters have to pay as follows:
Credit and Criminal Report: $35
Credit, Criminal, & Eviction Report: $45
Credit / Debit Card: 3.49%
Renters Insurance: Optional purchase through SURE: Starts at $8 per month
Best for using one platform when it comes to modernizing your business
The team at Appfolio knows that business owners live and die by the success of their relationships with clients, vendors, employees, partners, and investors.
These relationships can be hard to manage when you have a business to run or if you're just starting in business for yourself.
The right project management software tool will help you manage everything from real-estate projects to payroll and that is where Appfolio comes in. AppFolio, the intelligent business management platform from Xero, helps you gain insight into signals that matter so you can make informed decisions.
You'll be able to work smarter and focus on what matters – growing your business.
AppFolio has been created for residential real estate professionals. They help you manage your entire portfolio (even if it is a large portfolio) from marketing and leasing to maintenance and financial reporting.
With AppFolio, you can create a beautiful website that showcases all of your properties, collect rent online, manage resident payments, and more—all on one easy-to-use platform.
Features
Remarkable Service: Dedicated to your success and satisfaction, their customer service team is available 24/7, ready to help you with any questions or concerns.
Powerful Workflows: Digitize, streamline, and automate your property management software with flexible tools and advanced AI. Using this workflow management software, they serve more than 5 million US units, giving their customers connections that are unparalleled in the industry.
Dynamic Technology: The platform is built for stability, scale, and innovation and they're constantly improving it with automatic updates to ensure you have the best technology possible.
Powerful Workflows: Digitize, streamline, and automate your property management software with flexible tools and advanced AI.
Pricing
With pricing options for residential, HOA associations, and commercial property listings, Appfolio has something for everyone.
When it comes to residential properties, the core pricing plan starts at $1.40 per unit per month while the plus pricing plan starts at $3 per unit per month.
The community associations' pricing options start at $0.8 per unit per month.
Finally, the commercial core plan starts at $1.50 per unit per month with the plus plan starts at $3 per unit per month.
Best for those looking for a powerful, customizable, and open platform when it comes to property management
Propertyware is the most powerful, customizable, and open platform designed for performance-minded Single Family and multifamily property management companies.
You decide which information you would like to see, where, and how. You control the display of information and management features so you can easily access what is important to you.
Propertyware gives you the ability to customize and create your customized reports using their powerful report engine, which can be used or distributed to display information just the way you need it.
The homeowner portal is a secure and customizable web-based solution for owners to view their home information, payments made, online rental applications, and more.
Unlike many property management software platforms, Propertyware scales as your business grows with no limits and can easily handle hundreds of thousands of units.
Propertyware has integrated with several third-party vendors to streamline your business processes such as payment processing, virtual tours, CRM's and seamlessly integrates with Propertyware.
Features
Propertyware is the only software that combines all of your real estate data into one easily accessible system. With a simple, intuitive interface, you can quickly search for properties and view the right details in seconds.
You can also manage your entire team's tasks from anywhere using their mobile app.
Industry best-practice training, implementation, and real-time product phone support services are provided by in-house industry experts that are accessible and responsive.
Improve your time management skills while reducing costs with their cloud technology. This is available 24/7 and immediately accessible from anywhere with an internet connection.
You can manage your properties on the go with their mobile app for iOS and Android devices so that you never have to miss an important deadline or tenant communication.
Easily and securely streamline rental and payment processes with integration partners; including accounting software, financials, payments, mortgage services, local government agencies, and more.
Pricing
With three different pricing structures, you are sure to find the best plan for your specific needs.
The basic plan starts at $1 per unit per month, while the Plus plan (which is the most popular) starts at $1.50 per unit per month. The premium starts at $2 per unit per month.
All these plans include a variety of features including customization and reports, marketing, unlimited online training, and other key features.
4. TenantCloud.
Best for finding the right tenants for your property and collective payments online
TenantCloud is a property management software with online rent collection, vacant rental listing, and tenant screening features.
TenantCloud helps you collect payments online after screening tenants that apply to your advertisements of available units.
TenantCloud features an online rental listing that tenants can browse and book from. If set this way, TenantCloud automatically increases the tenant's rent each month at renewal, so you don't have to worry about it.
Tenants can pay rent online which means that rent is collected on the due date or any other day of your choosing. In addition, TenantCloud provides a detailed reporting of tenant history and rent payments.
TenantCloud can collect rent payments in multiple currencies. You can charge your tenants whatever you want, even if it's a different currency to the official one in the country.
In addition, TenantCloud offers tenant screening and background checks for all rental applicants. This includes credit reports as well so you can rest assured you're seeing the whole picture.
With its ease of use, no-fees through TC payment service, and great customer support, Tenantcloud is one the best property management software for finding the right tenants and collecting their payments at a really good price.
Features
TenantCloud gives you all the information about your applicants:
Accept or reject tenants right from your dashboard based on their application.
You can also run a background check with Tenant Clouds Background Reports feature, which provides more information on your tenant's financial history and criminal record.
With TenantCloud's Custom Properties feature you can also tag your properties with custom fields. This is especially useful for more complex rental properties, such as apartments that have something that is more custom-based.
TenantCloud's online rent collection and accounting features eliminate the need to manage paper checks.
Your tenants can pay you online quickly and easily; they can pay rent with a credit card, debit card, or bank account where you get the payment instantly.
Run your business from anywhere on any device with TenantCloud's online property management software features.
Pricing
TenantCloud offers different pricing plans for your needs.
The free plan gives you everything from listings, scheduling software, applicants screenings, and more.
After that, there is the starter plan which at $12 per month gives you everything from the free plan plus a few other benefits including premium leads and more.
Next up is the growth plan which costs $40 per month. This gives you everything in the previous plans, plus your own owner portal distribution management tools, tenant management, and much more.
Finally, if you are a business, you can have a custom plan which brings with it its own custom pricing. In this case, get in touch with TenantCloud for more information.
5. MRI Software.
Best for managing both residential and commercial property
MRI Software is a suite of products offering a comprehensive and integrated set of solutions for commercial real estate owners, operators, and real estate investors.
This is a web-based software solution that allows property managers to efficiently manage all aspects of the tenant lifecycle from lease management administration to financial reporting.
From initial screening through renewal, it's a powerful tool that ensures compliance with federal law and streamlines operations.
Additionally, it gives you the ability to assess lease risk in a user-friendly dashboard format.
By streamlining operations and improving tenant retention with a full range of integrated property management solutions, you can use this software for its attention to detail that allows you to organize data in the way that suits you most.
With MRI software, you'll be able to manage rentals and revenue for all your properties from one place while attracting great tenants with an interactive and informative website.
Such a website can feature a property description, floor plans, virtual tours, relevant amenities, and more.
By being able to perform assessments upfront and having the option to run the right checks to ensure the right tenant comes in, you can screen potential tenants using a variety of factors.
These include credit reports, criminal background checks, and over 600 other pieces of information at the touch of a button.
Maximize the percentage of lease signing with features that allow you to create lease agreements from templates with customizable pages including move-in and move-out forms, cover sheets, security deposit information page, applicant demographics form, and more.
You'll also have the ability to collect rent online using a credit or debit card and maintain accurate records for owner reporting and tax purposes.
Features
Manage all tenant communications with a feature-rich platform so that you can communicate using a variety of methods that work for you
Manage and optimize budgeting and accounting so that you can make decisions based on real-time data.
Reduce tenant turnover with a feature-rich platform that helps you create lease agreements from templates, customize your cover sheet, and gather information upfront for assessments.
Perform assessments for approved applications to help you maintain profitability by avoiding bad tenants.
Pricing
When it comes to the pricing of this product, you will need to get in touch with the company to request a quote.
If you are interested in learning more about commercial real estate check out my post ranking the best commercial real estate loans and rates.
6. Buildium.
Best for those that want to do more than just manage their property
Buildium is the property management software that's more than just managing properties. With Buildium's mobile app, you can take all the necessary actions, from wherever you are.
And with their new Resident Portal feature, residents can pay rent online or submit work orders directly from their phone or tablet – which makes your job even easier.
By streamline operations and improving tenant retention with a full range of integrated property management solutions, Buildium is the best property management software for commercial real estate owners and investors.
Using Buildium's platform, you can screen prospective tenants online, collect rents on your terms and generate detailed financial reports at the touch of a button. Being successful with real estate means always being in control and Buildium helps you do just that.
By allowing you to talk to tenants, vendors, and owners directly from your phone or tablet, you can keep on top of everything.
Features
Screening tools help you find the best tenants, which means that you can quickly and easily give approval to all the right people.
Communicate with everyone from one place. Send messages quickly and easily so that you can get in touch and stay up-to-date with your residents, vendors, and owners.
Buildium is built specifically to meet every community association manager's needs by providing them with a Property Management System (PMS) that helps them deal with all aspects of association management.
These aspects include unit/association governance, bylaws, and rules, covenants, ad-hoc committees to help manage the property/community.
Find better tenants with comprehensive screenings and applications by collecting all necessary information upfront.
Pricing
This software comes with three different packages to choose from. All the packages are designed with the customer in mind when it comes to managing property in the best way possible.
There are three packages to choose from with the Essential starting at $50 per month. This allows you to automate the day-to-day running of your business from one central platform.
The next plan is the growth package, which starts at $160 per month, giving you all the essentials plus a few other useful features to grow your business.
Finally, there is the Premium, which starts at $460 per month and gives you everything you need to scale your business to the next level.
7. Avail.
Best for finding, screening, and keeping tenants for the long-term
Avail is a great cloud-based rental management platform for landlords. The company's mission is to help renters find great places to live and help landlords grow their businesses.
Avail is one of the best ways to find, screen, and manage tenants. It's easy to get started, and you can be up and running in minutes.
Avail offers a full suite of tools for DIY landlords including rental applications, credit reports, background checks, and digital leases that make it easier than ever to find great tenants.
This product allows you to do everything from screening tenants and managing rent payments. With Avail, you can also generate reports so that you will have all your details in one place.
Whether it is screening and approving new applicants or paying out existing residents, Avail makes this process extremely easy and hassle-free for everyone involved.
Landlords can find the perfect tenant faster by using their free rental listing service to post their property online.
They also provide a complete screening package that allows you to review applicants' credit reports and background checks online at your convenience.
They even offer digital leases and automatic rent deposits so you can manage your investment from anywhere in the world.
Your new rental property can be set up and managed in a matter of minutes. Their user-friendly software allows you to create leases, send automatic rent deposits and even collect online payments all from your smartphone.
Features
Don't waste time with complicated spreadsheets and word documents. Their app is the easiest way to manage your rental property.
They'll publish your listing across the web, so you can focus on what matters most: great tenants. Advertise your property on top rental listing sites in just a few minutes.
Schedule showings, ask pre-screening questions, and even request rental applications directly from the app.
Create a rental listing with their step-by-step guide. After that, leads from prospective tenants come straight to your inbox and dashboard.
Pricing
The pricing model on this website is very easy to understand with only two plans available.
There is an unlimited plan which offers free property management software for an unlimited number of units. This plan gives you additional features such as syndicated listings, online rent payments, credit, and criminal screening, and other factors.
If you want more features, then the unlimited plus plan at $5 per month will give you more advanced features such as next-day payments, tailor-made applications, removal of fees associated with ACH, and more.
What is Property Management Software?
Property management software simplifies your business by providing an online database for real estate information.
Many factors, such as making and receiving payments, tracking expenses and budgets, paying bills, and maintaining records can be managed through property management software.
These are some additional factors to consider:
Accurate Property Data Management – Property data takes up a lot of valuable time to maintain and keep accurate. Errors will cost you money in the long run when it comes to managing your assets.
These errors may even lead to lowering property value, which could impact revenue or potential sales. With software that is properly integrated with other systems, many steps are automated which allows users to free up their precious time for more valuable tasks at hand.
Time-Saving Features – This type of software streamlines all the accounting practices one needs to run a property.
The software makes it easy to check and create reports on the financial budget, has its own payroll software, and also makes decisions based on facts instead of assumptions, and even handles maintenance management records online.
Tenant Management – Tenants need attention when they have problems or concerns; address them immediately without losing valuable time by using a tool such as a tenant rent manager.
This specific module will also allow you to keep track of tenants' payments over time which is very important for an effective lease-renewal process.
Property Maintenance – Having an easy way to record any repairs needed for your property helps keep the business running even easier.
This software allows you to create a maintenance schedule, manage vendors for repairs and even send out text or email notifications to tenants in advance about upcoming work that will be done at their location.
Reduce Errors – One of the biggest mistakes property management professionals make is relying on spreadsheets which can cause data entry errors.
Also, having multiple users enter tasks into these spreadsheets leads to possible miscommunication and confusion, which over time can lead to many costly errors.
When using a program like this, one mistake may affect all areas of financial records; something we don't want happening when it comes to our properties.
With modern technology today, the right property management software provides us with more accurate data than ever before.
Property Management Software FAQ
What does property management software do?
Especially in the commercial space, landlords need solutions that make it easier to manage their properties. Property management software does just that by allowing them to track and maintain all aspects of their businesses online. This way they can save time and money.
Property management software is a business tool that can help improve the overall performance of your property and management firm.
The software will keep track of everything from tenant balances, to monthly payroll for employees, to traffic distribution reports. All you need is a platform that can connect all these aspects of the business.
Software platforms are great because they not only manage the property but also have features built-in that make it easier to manage staff, tenants and make better decisions for your real estate portfolio on an everyday basis.
Also having fill-in-the-blank templates means less time spent on repetitive tasks which saves valuable time and money.
Some of the more modern software will also allow you to give virtual tours to your prospects, putting them in an immersive experience as they see what could be their next home.
What software is used in property management?
The answer will depend on what type of property management you're looking for.
For example, if you are managing a rental apartment building or commercial real estate portfolio, then the software will be more involved to replace purchase and sales ledger systems, maintenance records, and accounting systems.
This will allow you to manage the whole business in one place rather than having multiple applications on your computer or cloud-based services.
In addition to this, some programs provide more features that might include market analysis and deal tracking.
If these are the features you're looking for, then the best option would be to use cloud software that provides a mobile app to access all the information you need.
How much does property management software cost?
Property management systems can vary in price depending on your needs and requirements.
Professional property managers usually charge their clients based on rentable square footage, so they will have a more accurate estimate of the budget needed for this type of software and/or services.
A smaller portfolio can use freemium programs which may be free to establish an account but charge a monthly fee or quarterly fee based on usage.
The average pricing depends on how many units are being managed including commercial real estate or residential housing.
Most programs with enterprise-level features are available at a relatively low price point compared to other types of enterprise software. This means that as a property manager, you can manage your business more efficiently without breaking the bank.
How should property managers choose the best property management software?
If you're considering using this type of program for your business, then it's crucial to make sure that it has all the features and functionalities needed to run your business smoothly.
Before purchasing any system or service, ask yourself these questions:
How many units will be managed by this software?
What property types will be managed under this account?
Will I need multiple users with access to the data at once?
Will my staff need mobile access and offline capabilities in case there is no internet connection available at that time?
Will I need to receive automated alerts or notifications about important activities taking place in the business at a particular time?
Is there any maintenance staff involved with this account and will they need access to the scheduling system as well?
What types of rental property management software are right for me?
There are many property management software companies that try to convince you that their software is the best. The truth is that the process to screen tenants, sign leases, deal with setup fees and late fees while trying to offer affordable housing to your tenants is not easy.
The good news is that a property management software solution can take care of the majority of these issues – some software (typically aimed for a small business) can also provide marketing tools to help you rent out your property.
As such, doing your research is crucial when it comes to finding the right solution for your specific needs.
Wrap Up.
In conclusion, property management systems can be beneficial to your business in many ways. While the initial cost and annual fees might seem high, it's important to take into account all of the valuable features these programs have.
Here are my choices for the Best Property Management Software:
TurboTenant: Best for managing your property in the easiest way possible
AppFolio: Best for using one platform when it comes to modernizing your business
Propertyware: Best for those looking for a powerful, customizable, and open platform when it comes to property management
TenantCloud: Best for finding the right tenants for your property and collective payments online
MRI Software: Best for managing both residential and commercial property
Buildium: Best for those that want to do more than just manage their property
Avail: Best for finding, screening, and keeping tenants for the long-term
When you calculate the value of how much time will be saved on daily tasks as well as all the long-term benefits that come with having property management software, then you will find that most programs are affordable for any business, big or small.
Disclosure: I may receive affiliate compensation for some of the links below at no cost to you if you decide to purchase a paid plan. You can read our affiliate disclosure in our privacy policy. This site is not intending to provide financial advice. This is for entertainment only.