13+ Best Remote Desktop Software and Access Tools (2023)
Choosing the right remote desktop software access tools is vitally important you want to remotely access your system and its data. From secure remote desktop applications to file transfer services and VNC, the best remote desktop software can help you meet your goals. In this guide, I ranked and reviewed the 13+ best remote desktop software, along with my top 5 choices, so that you can pick the best one for you.
---
We're reader-supported. When you buy through links on our site, we may earn an affiliate commission.
Want to know the best remote desktop software right now? My choice is Zoho Assist.
Today, modern technology makes it possible to work independently of your location.
Team members easily collaborate and conduct meetings across the world remotely with just a computer, webcam, and some video conferencing software.
And surprisingly, this work from home culture makes everyone more productive and helps provide better results.
Over 86% of employees say they're more productive when they work from home.
However, to do a work from home job, you might need access to a computer in another location. And this is where the many remote desktop software options come into play.
These platforms enable you to manage your work, collaborate with your team, monitor your work, and more. They also help you deliver efficient customer support to users from any part of the world.
Let's get started.
What is the Best Remote Desktop Software?
Here are my top picks for the best remote desktop software to use this year.
Adam's Take
If you're looking for the best remote desktop software, I suggest you try Zoho Assist. It's a cloud-based platform that is suitable for both IT support and customer service use. With various features suited for each different type of user, Zoho Assist is the perfect tool to help you with your work.
Zoho Assist is a cloud-based platform suitable to deliver IT and customer support. It allows an on-demand connection without the installation of software through the direct email invitation. Moreover, it enables users to quickly set up remote computer access inside and outside the LAN for both Windows and Mac.
Best For:
Zoho Assist is best for businesses that want to deliver remote customer support teams.
Key Features:
On-Demand Support: Easily resolve customer issues by ad-hoc or on-demand sessions from a remote location without any prior installation.
File Transfer: It enables file transfer even in the middle of a live session to share updates, security patches, or any file to the remote machine.
Schedule Sessions: Schedule remote sessions at any preferred time across various time zones.
Bulk Deployment: Easily deploy unattended access installer to a large number of remote machines instantly.
User Experience:
With options for remote access and even unattended support, Zoho Assist is one of the most comprehensive remote desktop software solutions available.
Create role-based access and give different levels of control to your team while easily switching between remote and local access with a single click.
Pricing:
It offers a 15 days free trial without any credit card. Monthly paid plans start from around $10 and go up to $24 for remote support while there are two plans ($10-$15) for unattended access.
What I Like/Dislike About Zoho Assist:
Like:
You can install and set it up pretty easily
Offers a freemium plan for essential features
Efficient costing structure based on per seat system
Offers a desktop app for Windows, Mac, and Linux, along with a Chrome extension
Mobile app for iOS and Android are also available
Easily ensure mass deployment of unattended remote access
Ensures file transfer with end-to-end SSL 256-bit AES encryption
Allows you to connect with customers through video and voice chats
You can gain access to any number of monitors connected to the remote machine
Enables you to reconnect to the last session without losing control of the machine
Dislike:
The features of remote access and unattended access are a bit challenging to understand if you've never used them before.
Product Updates:
Guest user invitation allows you to invite anyone to join your session
The File Transfer feature for the iOS agent lets you transfer files between your computer and the remote device without any hassle.
Get started with Zoho Assist.
Adam's Take
Another great remote desktop software is GoToMyPC, which allows you to easily connect to your work computer from home. It's great for working from home to get things done quickly, without having to deal with a lot of lag time. The software is easy to install and you can immediately start using it after downloading it onto your computer.
GoToMyPC is the best remote desktop software on this list. It provides remote access features and allows you to work from home instantly and the desktop software provides easy installation without restarting the computer. Moreover, it connects to the virtual machine within seconds and offers high-quality real-time-in-session performance.
Best For:
With reliable security and 128-bit AES encryption, it's a capable option for professionals who need to work from home regularly. rea
Key Features:
Sound: Hear voicemail or music on the machine you are accessing the virtual computer.
Multi-Monitor Support: Renders full display of all the monitors connected with the computer.
Privacy: Easily make the screen black or lock the remote keyboard to ensure absolute privacy on your machine.
Usage Report: Keep track of all the sessions with crucial details like time, origin, duration of the connection, and type.
User Experience:
This software makes it easy to manage multiple PCs from a single account, so you can easily switch between them
No need to carry a separate laptop for work and home – your desktop is always with you
Assign the right nicknames to your PCs, so you can easily find the one you want to access.
Pricing:
Its Personal and Pro plans cost $35 and $33 per month, respectively. Corporate plans start at $28per month. All of these prices are per computer per month.
What I Like/Dislike About GoToMyPc:
Like:
It comes with mouse share capability to enhance the engagement
Offers the log of a remote desktop user and their timing
Validates and verifies all the data and files that pass through the user's account
Offers affordable pricing
You can easily transfer files through its intuitive drag and drop feature
Renders two-way interaction with the connected machine
Reliably syncs all the data between laptop and desktop
Dislike:
Managing connections with multiple users is not the most straightforward task
Product Updates:
Enabled manual upgrade from trial accounts to paid plans so that people can explore more of the product's features before committing to a paid plan.
Redesigned the login page to provide a better overview of the features and what they can do with GoToMyPC.
Get started with GoToMyPC and take 20% off.
Adam's Take
If you're looking for remote desktop software that can give you an edge in productivity and collaboration, AnyDesk is definitely worth considering. It's got some great features that make it stand out from the rest, and it's definitely worth a try if you're looking for a new remote desktop solution.
AnyDesk is one of the most popular remote desktop software platforms, used by over 100 million users globally. DeskRT is the codec that forms the foundation of AnyDesk, providing it with low latency. Other features include high frame rates, real-time collaboration, encryption technology, and more.
Best For:
It's a reliable solution for IT professionals who are mostly working from remote locations with a slower internet connection.
Key Features:
Own Network: Easily set up your Enterprise Network to take total control of your data and transmit it through end-to-end encryption.
Highly Customization: Easily customize the user interface to make it align with your branding guidelines.
Lightweight: Easily download a light file and install it on the machine with no lags and disruptions.
Bank-Grade Security: Leverages banking-standard TLS 1.2 technology to ensure absolute protection of your computer.
User Experience:
Providing you with a simple address you use to access your computer from anywhere, AnyDesk makes working remotely downright easy.
While it might not come with as many features as other remote desktop tools, AnyDesk's focus on simplicity and ease of use is what sets it apart.
Pricing:
The paid plans start from about $9.90 per month for essentials and go up to $29.90 per month and user.
What I Like/Dislike About AnyDesk:
Like:
Capable of working smoothly on lower bandwidth up to 100kbps
Offers 60 fps for a flexible experience on local or any other network
Provides whitelist trusted machines to control access to your computer
It verifies every connection through RSA 2048 asymmetric key exchange encryption
You can run it on any platform, including Windows, Mac OS, Linux, FreeBSD, iOS, or Android
It offers absolute compatibility with older versions like Windows 7
It's available in over 28 languages
Allows you to transfer files easily and securely through copy and paste feature
You can reboot the machine from a remote location
Easily manage contacts with built-in address book
Comes with a free trial
Dislike:
The software suffers from stability issues at low bandwidths
The mobile device app isn't as capable as the desktop website
Product Updates:
New level of lightweight and simplicity within the UI and therefore user experience allows for AnyDesk to be used more easily and with greater efficiency.
OpenSSL was updated to 1.1.1m in order to provide greater security for users.
4. LogMeIn.
Adam's Take
If you're part of a large business that requires a lot of configuration options for your remote desktop software, LogMeIn is one of the most capable names in the game. With their enterprise-level features, you can be sure that your needs will be met.
LogMeIn is one of the most capable names of the remote desktop software ecosystem. It comes with unique features like advanced configuration options for business users. Moreover, you get plenty of reliable capabilities, including remote monitoring, remote deployment, endpoint management, and more.
Best For:
It is the best remote desktop software suited for large businesses as its paid plans are not feasible for small businesses or individuals.
Key Features:
System Admin Tools: Easily implement business policies and control crucial aspects of the host machine in your native environment.
File Transfer: Leverage drag and drop to instantly transfer files securely.
Powerful Mobile App: Its iOS and Android application offer an intuitive and immersive user experience.
Unlimited Remote Access: Offers unlimited access from any device.
User Experience:
With the ability to have a live chat with an expert and get real-time answers to your questions as you are supporting customers, LogMeIn provides an exceptional user experience.
The software is also very intuitive and easy to use, which makes it a great choice for those who are not tech-savvy.
Pricing:
Its pricing plans start from $349.99 per user per year.
What I Like/Dislike About LogMeIn:
Like:
It comes bundled with 1 TB of cloud storage and LastPass premium subscription to secure passwords in a safe vault
You can gain remote access the unlimited number of users
Allows you to remote print on the nearest printer available
Achieve faster and smoother access to the remote machine
Get access to multiple remote monitors in 1:1
Easily control multiple aspects of the host behavior in your native environment
Allows you to gain access from both Windows and Mac
Provides capable Android and iOS apps for mobile devices
You can gain access to all the stored files for easy collaboration
Provides whiteboard features for drawing on the screen
Dislike:
Offers a lot of sophisticated features that are redundant for the majority of users who just need basic access
Product Updates:
The LogMeIn Antivirus software, which is in version 7.5.1.177, has been updated to include various security improvements.
5. Parallels.
Adam's Take
Parallels is a world-known provider of security solutions for businesses of all sizes. I recommend them as a solution for those that are looking to keep their data secure and centrally located, while still being able to access all the needed functions remotely.
Parallels is another great remote desktop software on this list. It provides flexibility and lets you work from any remote location you want. Moreover, it helps businesses keep their data secure through monitoring, centralizing, and restricting access to business-critical assets while reducing the cost of ownership. It is also capable of easily scaling up the IT infrastructure on-demand to meet abrupt market requirements.
Best For:
One of the best remote access software for businesses that are witnessing brisk growth and need to scale up IT infrastructure in real-time.
Key Features:
Seamless UX: It offers an immersive user experience on Android, iOS, and HTML5 browsers.
Task Automation: Maximize resource utilization through automation of common, repetitive, and even complex tasks by leveraging PowerShell cmdlets and REST-API.
Advanced Access Control: Enforce business policies based on user groups and end user's device types to ensure the security of corporate data.
Multitasking: It allows multiple applications to operate along with the storage of different files. Users can easily switch between different files and applications through native gestures.
User Experience:
If you're looking for a more advanced virtualization solution, Parallels is a great option.
It's more expensive than some other options, but it delivers features and performance that justify the cost.
The interface is clean and easy to use, making it a good choice for users who want a hassle-free virtualization experience.
Pricing:
Its one-year subscription plan costs around $99 a year. You can get a two-year subscription for $189.99 and a three-year subscription for $269.99.
What I Like/Dislike About Parallels:
Like:
Parallels' app runs smoothly even on older machines
Leverage copy and paste functionality to easily transfer files virtual and the host machine
Allows you to launch applications from OS X Taskbar easily
You can instantly switch between virtual and host desktop through a swipe gesture
Coherence mode ensures smoother operation of applications
Offers tech support for all popular operating systems
Its Snapshots feature ensures taking images of Windows VM daily
Enables you to secure USB device compatibility
Dislike:
No support solutions for multimedia and gaming which might be key for some
Product Updates:
Better Graphics Performance so you can use more demanding applications and even play some games.
Lighting fast start-up, resuming, and shutdown of your virtual machine so you can get to work faster.
6. Splashtop Business Access.
Splashtop Business Access remote desktop software is an affordable solution for people looking for a reliable and efficient tool. It offers a simple, fast, and secure remote access to machines without any complications.
Best For:
It's an option worth considering for businesses looking for an affordable and reliable remote desktop solution.
Key Features:
Multi-to-Multi Monitor: This feature allows you to view multiple screens from a monitor or multiple monitors.
Two Users on One Machine: It allows two users to access the same machine remotely.
User Management: You can allow access to specific machines, assign tasks to new users, and give permissions.
Easy Deployment: Leverage your own deployment streamer for hassle-free deployments.
Pros:
Its cloud computing environment is highly secure through data encryption, firewalls, and DDoS mitigation
Comes with a clock defense and intrusion detection mechanism to enforce strong security
Offers faster connect, HD quality, and rich sound
Get unlimited access from any computer, including Linux, Windows, and Mac, along with iOS and Android mobile devices
Remote printing from the remote computer on your nearest printer
Easily drag and drop to transfer files
Ensure faster deployment by creating your personal deployment streamer
Empower the entire team to leverage remote computer access easily
Reboot remotely from the web console or Splashtop app
Two users can gain access to the machine at the same time
Easily enable screen recording
Cons:
To enable multiple user access, you need to have multiple accounts
The wake-up option is not reliable on the desktop option
Some users noticed minimal lags
Pricing:
There are two pricing plans available:
Solo: $60 per year (Limited to 1 user and 2 computers)
Pro: $99 per year (Limited to 10 computers per user)
7. ConnectWise Control.
ConnectWise Control offers two options, including control and support. The software comes equipped with remote control and unattended access capabilities to enhance efficiency and cut additional remote desktop software cost.
Best For:
It is good for small scale or mid-sized businesses that are looking for a powerful remote desktop software. If you require a wide range of third-party extensions, then also it's a great option.
Key Features:
Flexible Plans: It offers multiple plans to ensure every user is able to meet business requirements through a single tool.
No Footprint: Eliminate remote support client from the remote computer after the completion of every session.
Brute Force Attack: Prevent the entry of potential hackers automatically by locking them in the event of repeated wrong password entries.
Server Level Auditing: Easily store recordings and audit logs of every remote session for audit purposes.
Pros:
Offers a wide range of flexible integrations, including Slack, ServiceNow, Outlook, Zopim, ITBoost, Naverisk, Passportal, and Zendesk, among others
Provides powerful security features
It's easy to deploy and set up
It's capable of working on desktop computers, servers, virtual machines (VM), and virtual private servers (VPS)
Renders a highly synchronized remote screen to ensure efficient remote operations
Users can easily access more than one sessions to control and interact with multiple computers and users
Its 'Wake' feature works with the WOL (Wake-On-LAN) feature to allow the machine function in any remote location
Offers a clean and easy to use UI
Its remote screen is scalable and can have a resolution greater than the screen of the original machine for better viewing
Cons:
The subscription is costlier than other available options
Some features are complex to understand at first glance
Pricing:
It offers a free trial for you to explore the product. After that, it provides three pricing plans as follows:
One: $24 per month (paid annually) – 1 user can make 1 connection
Standard: $39 per month (paid annually) – 1 user can make 3 simultaneous connections
Premium: $49 per month (paid annually) – 1 user can make 10 simultaneous connections
8. RemotePC.
RemotePC is a cloud-based remote desktop software that offers a secured connection with AES-256 encryption. Moreover, its drag and drop feature allows you to efficiently execute the tasks even if you are a beginner and have no technical knowledge.
Best For:
It's best for both individuals and small businesses.
Key Features:
Unlimited User License: Offers unlimited users to access the system with unlimited computers.
Create Groups: Make groups of users and quickly move them from one group to another.
Blank Host Screen: This function blanks out the screen of a remote machine to enable absolute privacy during the live session.
Draw on the remote screen: Ensure efficient collaboration by drawing on the remote screen – a perfect feature for architects, designers, and artists.
Pros:
Allows you to add extra users through secure ID and key
You can leverage its alternative helpdesk to deliver direct user support
Easily configure and use all features through its web applications
It's scalable enough to handle multiple computers efficiently
Allows remote printing and file transfers through its intuitive drag and drop feature
Receive and send chat pings between computers
You can also play and listen to audio files from remote machines
Enables you to draw on the remote screen for efficient collaboration
Record remote sessions and save them at the location of your choice
Meets all the regulatory compliance
Cons:
Unable to display multiple monitors in the same window
You might face minimal lags at a few points in the software
Pricing:
It offers five paid plans, as follows:
Consumer: $29.62 (for the first year) – One user licence to access 2 computers
Soho: $44.62 (for the first year) – Unlimited user licences to access 5 computers
Soho: $59.62 (for the first year) – Unlimited user licences to access 10 computers
Team: $224.62 (for the first year) – Unlimited user licences to access 50 computers (7 day, no credit card, free-trial available)
Enterprise: $449.62 (for the first year) – Unlimited user licences to access 100 computers (7 day, no credit card, free-trial available)
9. TeamViewer.
TeamViewer is one of the most popular remote desktop software platforms in the world, with over 2 billion active users. It offers support for a massive number of platforms and provides the capability to access a remote PC from a Samsung smartphone remotely for cross platform access.
Best For:
TeamViewer is best for large enterprises that need to focus on security and can't compromise on the quality of service.
Key Features:
IoT Device Control: Control internet-enabled devices and monitor them from any part of the world.
Device-Agnostic Connectivity: It's a reliable feature for businesses that have BYOD (Bring your own device) culture or CYOD (choose your own device) policy.
Augmented Reality Remote Guidance: Leverage AR tools to gain access to the remote camera of smartphones to have a closer look at devices.
Non-Profit Pricing: It offers non-profit pricing for non-profit organizations and businesses to help them sustain.
Pros:
It offers a free version for individuals, which allows you to test the software thoroughly before committing for an enterprise plan
It provides support for Samsung's DeX technology to enable remote access of PC through Samsung Galaxy Note 9
Offers support for 4K desktops
Comes with a VPN alternative and reliable file sharing feature with mid transfer file access
Get unified experience through centralized management and remote monitoring
Instantly connect, operate, and monitor IoT devices and machines
Leverage smartphone-enabled remote support for round the clock customer services
Comes with GPU to enable hardware-accelerated processing of images
Cons:
The mobile version of the software is not user friendly
One of the costlier options in the market
Pricing:
It offers a free version for individuals with basic requirements. Paid plans start from $50.90 per month and go up to to $206.90 per month.
10. Remote Utilities for Windows.
Remote Utilities for Windows is one of the most capable remote desktop software tools available for free. It comes with a lot of premium features that you would only get in a paid tool.
Best For:
It is best for individuals and small businesses who are looking for affordable yet capable remote desktop software.
Key Features:
Active Directory Support: Allows easy integration of Remote Utilities into the active directory environment.
MSI Configuration: Its inbuilt MSI Configurator efficiently creates a custom Host installer for efficient deployment through the network.
Self-hosted Server: Easily create an end-to-end autonomous solution to provide reliable and robust support to clients.
RDP Integration: Easily manage saved RDP sessions to connect with remote computers through RDP protocol on the internet.
Pros:
It allows simultaneous connection with up to 10 computers
It comes in two parts, namely Host and Viewers, installed on remote and home device respectively
Offers an iOS and Android application to deliver remote access on mobile devices
You can also use the software without installing it on the PC
Control User Access Control (UAC) prompts remotely
You can connect it with a proxy server to connect to configure remote utilities easily
Enables you to connect with peers through a single PC
Cons:
Comes with a separate installer
Requires incredibly fast internet speed to work smoothly
Pricing:
This is a free software.
11. Remote Desktop Manager.
Remote Desktop Manager is an excellent remote desktop software for both individuals and business enterprises. It offers a secure and stable service to control computers remotely. Moreover, it comes bundled with a broad set of capable features and can be set up quickly for instant use.
Best For:
It is one of the most suitable tools for medium and large businesses to run reliable operations.
Key Features:
Account Brokering: Allows you to add broker credentials to prevent the user from knowing actual credentials during the login process.
Console: Its highly capable virtualized consoles include Terminal Server, Hyper-V, and Xen Server ensure a quick overview of the machine condition.
Activity Log: Record every step taken by the user and monitor all live sessions in real-time.
Automatically Launch Connections: Launch secure and reliable connections through direct connections.
Pros:
It offers a simple user interface that is easy to navigate
It comes integrated with multiple protocols, VPNs, and technologies
Powered with an inbuilt enterprise-grade tool for password management
It offers a site license for big businesses to manage a large number of machines
Individual users can leverage the free edition with limited features
Allows you to share admin password throughout the organization easily
You can know user information in real-time
Manage sessions, passwords, machines, and servers through high-quality mobile applications
Launch and access sessions in offline mode
Monitor sessions of all users through the activity log
Manage business-critical data, a high number of entries, and sensitive documents through multiple vaults
Offers a 30-day free trial
Cons:
Sometimes its performance gets a bit slow
Site-level subscription is costly
Pricing:
The single-user subscription costs $249 per year, and a single site plan costs $5,999 per year. You can also contact their sales team if you require further quotes for higher-priced plans.
12. Chrome Remote Desktop.
Chrome Remote Desktop is a cloud-based solution that offers all the essential features required to control a desktop remotely. On top of that, you can use this free remote desktop software from either desktop or mobile devices.
Best For:
It is best for individuals who want a free and simple solution to access their system remotely.
Key Features:
Attractive Features: It's reliable and offers simple remote desktop services, including password management, shared database & vaults, role-based access control system, and more.
Multiple Users Login: Allow other users to log in to the remote machine.
Quick Setup: You just need to have a Chrome browser and Google account to use the software.
Entirely Free: One of the most reliable solutions in the market that is available free of cost.
Pros:
You can create a PIN to enable another user to log in through different machines
Offers a user-friendly and capable interface
Provides a Chrome Remote Desktop app to deliver more intuitive experience through keyboard shortcuts and lesser space for the browser toolbar
It also provides powerful Android and iOS applications to ensure remote access of machines through smartphones
Comes with the reliability and security of Google, including access with the Google Chrome browser
Works with Apple and Android devices
Cons:
Works only with the Chrome browser
You need to have a Google account to access this tool
Offers limited features that may look inefficient for a business
Pricing:
Available for free.
13. GoToAssist.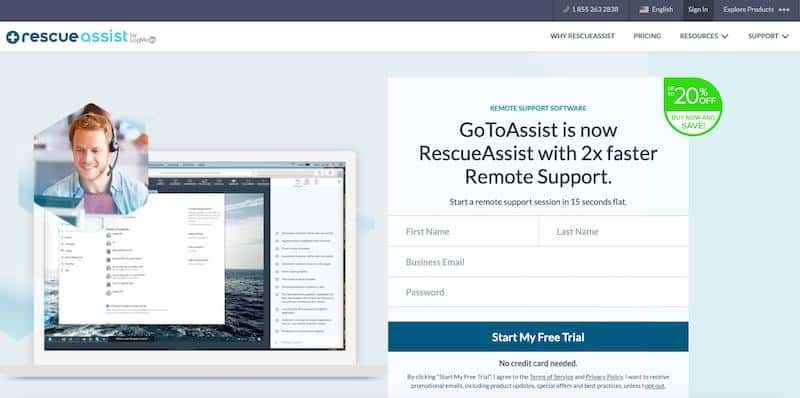 GoToAssist offers secure and reliable solutions for both agents and end-users alike. Moreover, it offers faster and smoother remote access experience to help you stay connected with employees and customers all the time.
Best For:
It's a balanced solution that is capable of catering to the needs of both individuals and small businesses
Key Features:
Annotation Tools: It ensures easier collaboration through drawing, pointing, and highlighting on the remote computer.
Unlimited Live End-User Support: Get unlimited live support and easily transition from a chat or call to online support.
Web Console: Easily start a remote session by merely installing a plugin in your web browser.
Session Reporting: Get detailed information about all sessions, including customer name, session duration, and notes through interactive reports.
Pros:
Securely take control of the keyboard and mouse of remote machines
Receive and send files in an unattended or live support session
It can host up to 8 sessions simultaneously
Allows you to leverage immersive annotation tools to highlight, draw, and point to items on the screen
Efficiently access machine information, including hardware, software, and data to fix issues
Two-way screen share allows both the parties to share their screens
You can instantly transfer the remote session to another team member
Record and download session videos
Allows you to add the second level of security pretty easily
Leverage Single Sign-On (SSO) to efficiently manage a large number of users
Supports remote access on iOS mobile devices
Provides a 7-day free trial
Cons:
Recordings are available in the cloud for only 90 days
Support is available only for iOS 11 or later version
Pricing:
It offers a single subscription plan at $55 billed annually.
14. VNC Connect.
VNC Connect is an easy to use and secure remote desktop software. It offers highly customized plans to meet the budget and business requirements of different users.
Best For:
The cost-efficient and flexible solution offers a plan for every requirement, whether you're an individual or run a large company.
Key Features:
Flexible Session Permission: Easily manage session permission of multiple computers online.
End-to-End Encryption: Comes with 128-bit AES security to protect all the sessions. It also provides 256-bit AES security for Enterprise sessions.
Linux Support: Easily facilitate visual remote access to headless systems and independent machines and computers for a large number of users.
Flexible Deployment: Allows you to deploy, configure, and license easily. VNC Viewer is available free of cost for all the users globally.
Pros:
The user interface is highly responsive and intuitive to use
You can deploy it very easily
Comes powered with 256-bit AES session encryption and multi-factor authentication for robust security
Different pricing plans ensure that you only pay for the features that you need
Offers a free guide on remote working essentials for a beginner
Cons:
No audio support between the two machines
The viewfinder is not stable
Needs to provide more configuration options
Pricing:
The paid plans start from $3.39 per month and range up to $33.49per month billed annually.
15. Goverlan Reach.
Goverlan Reach offers a secure and reliable solution to gain remote access to computing machines. If you're looking for a capable remote desktop software to deliver efficient support remotely, then you might want to try out Goverlan Reach. It provides impressive features, such as remote IT teams support, IT process automation, active directory management, and more.
Best For:
It is best for mid-sized businesses looking to provide support through a remote location.
Key Features:
Scalable: It's efficient and highly scalable with its "pay as you grow" subscription plans.
Real-Time Information: Its real-time query engine, along with fail-over database back-end, pulls out live data before historical data in the event of system unavailability.
Monitor System Health and Resource Consumption: Monitor systems in real-time and identify system health issues to enable preventive maintenance.
Machine Identity: Easily manage domain memberships and machine names online.
Pros:
It offers on-premises credential manager, on-premises enterprise-class solution, and centralized auditing
Allows you to manage your IT environment through features like shadowing Citrix and Terminal Services sessions, on-demand remote access, and performance monitoring
You can leverage multiple user options to resolve issues of customers quickly
Get centralized control of operator actions and client configuration
Ensure centralized auditing of each action taken by the operator
Its flexible subscription license allows you to pay as you expand
Easily install and start using its robust features
Requires minimal hardware infrastructure
Cons:
When multiple agents are online on different versions, it asks to remove the agent on the older version and forces to install the latest version
Offers limited support for server-side technologies
Pricing:
Its paid subscription plans start from $35 per month and go up to $150 per month billed annually. You can also add incident management as an add-on module for an extra $55 per month billed annually.
Other tools not yet reviewed for this list include Dameware Remote Support and RealVNC.
What is Remote Desktop Access Software?
Remote desktop software leverages Virtual Network Computing (VNC) to enable one computer to gain remote access and control of another computer located at a different location through LAN or internet connection.
It uses a client-server model to connect with the computer and use the right software to remotely manage it.
Here's how it works:
Server: It's the remote machine or remote device
Client: The local device that is used to gain control to the server
The client monitor displays the user interface of the server. It enables the user to control the remote machine through mouse and keyboard inputs. The inputs are then executed in the remote machine's environment, and the UI keeps getting updated in the client display in real-time.
You can leverage these remote desktop tools for a variety of reasons, including:
Troubleshooting – IT admins always use remote access software to troubleshoot problems on machines of employees.
Work From Home – People who need to connect to their work environment leverage remote desktop solutions.
Help Desk – Technical support and help desk software often use remote desktop tools to resolve issues at the client-side.
Personal Use – Use your personal computer while you are on the move to gain access to your documents and files.
How Do You Use a Remote Desktop?
The advent of technology gave rise to concepts like remote desktops. Here are simple ways to access your home computer as if you were physically there.
You can choose a same-platform connection or a cross-platform one.
1. Windows to Windows (Same Platform).
For Windows 10 and above, follow the simple steps:
Go to the device you want to connect to
Start > settings > system > remote desktop > enable remote desktop
Note the name
Go to local Windows system
Remote desktop connection > type name of the PC you will connect to > Connect
It's probably the simplest!
2. Mac to Windows.
Here are the steps:
In Windows PC, turn on 'remote connections'
Open system properties and click 'remote tab'
Enable 'Allow remote connections to the computer'
Source: HowToGeek
Install the Microsoft Remote Desktop client app on Mac
You'll see something like this when you try to connect
Source: HowToGeek
Finally, click "Continue."
3. Windows to Mac.
In this case, it isn't possible to use remote desktops. Thankfully, you can use remote desktop tools in such cases.
Here are the steps:
Go to the Mac device and open 'sharing' from the preference panel. Next, select 'screen sharing' and then click on 'Computer Settings'
After that, make sure you select the below box and enter a simple password.
Now, install any of the remote desktop tools. There, enter the IP address of the Mac device and then return to your connection and enter the password created earlier.
Finally, click 'connect.'
You can also connect two Mac devices. In most cases, you can remotely access a desktop from devices like smartphones and tablets as well.
What Should You Look for in Remote Desktop Software?
When looking for the best remote desktop software for you, you should know exactly what you're looking for. Since requirements vary according to the needs and aims of any business, you need to decide what's important for you.
Here are some of the features that you are likely to need:
1. Multi-Window Control.
Many businesses need to cater to multiple clients at once. In those cases, multi-window desktop controls come in handy. That's why it's essential to have a remote desktop tool that provides multi-window control.
2. Chat System.
You might need to relay information in real-time, making chat systems a great addition to remote desktops. It helps you get your point across in a few seconds, and also effectively communicate without needing emails or telephones. It also results in better customer engagement and boosts business in the long-run.
3. Reboot & Reconnect.
The remote desktop should be able to reboot & reconnect every time. This is an absolute must-have, especially in times of technical support.
4. Multi-Monitor Navigation
The multi-monitor navigation feature allows you to access multiple monitors at the same time. It also allows you to flip through any number of screens.
5. Scalability.
There's no guarantee that the two screens you use while on a remote desktop will have the same size. That's where you need scalability. It's essential to be able to adjust the screen as per your preference, irrespective of the relative screen sizes, so that you can work flawlessly.
6. Reporting.
In many businesses where performance is linked to pay, measuring your KPIs and metrics become essential. With the reporting feature, you can measure performance in real-time and keep track of your performance.
7. File Transfer.
You may find the need to transfer files to install a new program, replace an existing one, or copy scripts and commands. With this feature, you can eliminate the need for third-party apps while taking care of your clients.
You might also want to look out for other features like clipboard transfer, restarting in safe mode, two-way desktop sharing, branding, and more.
8. SSO.
Single Sign-On is a great feature to have when it comes to remote desktops. SSO helps you log in using only one password, which eliminates the need for regular updates and reduces security risks. It also saves time and makes things run smoothly.
SSO providers will be able to set up and configure their services for you, so you don't have to worry about the technical side of things.
Executive Summary.
That's a wrap. This guide covered the top 15 best remote desktop software tools to try this year. These tools will help you collaborate with your team from any location in real-time and, at the same time, help you provide customer support to your clients.
However, before making the final purchase, make sure to consider your budget, business requirements, ease of use, and more. To strike a delicate balance between cost, features, and your needs, read all the features carefully and compare them against their subscription price. It will help you figure out an option that gives you the best bang for your buck.
For instance, if you are a freelancer, then I would recommend you to go for something like Remote Utilities for Windows, which is available for free.
And if you are looking for a desktop software solution that offers powerful features and has a proven track record of servicing large enterprises, then you might want to consider options like TeamViewer, AnyDesk, Zoho Assist, and more.
Further Reading on AdamEnfroy.com: If you're looking for other remote tools, check out my reviews of the best webinar software for online conferencing and my picks for the best data recovery software to use this year.
Disclosure: I may receive affiliate compensation for some of the links below at no cost to you if you decide to purchase a paid plan. You can read our affiliate disclosure in our privacy policy. This site is not intending to provide financial advice. This is for entertainment only.