7 Best Screen Sharing Software of 2023 (Ranked and Reviewed)
Choosing the right screen-sharing software is crucial if you want to collaborate with others effectively. From creating various tutorials to simply working on a project together, screen sharing can make your work easier and more efficient. In this guide, I ranked and reviewed the 7 best screen sharing software, so that you can pick the best one for you.
---
We're reader-supported. When you buy through links on our site, we may earn an affiliate commission.
Want my get right to my top picks? The best screen sharing software is Loom and Screenleap.
With more employees working remotely than ever before, screen sharing is now the best way to provide remote instruction and collaborate in real-time.
Screen sharing tools come with advanced features such as video conferencing, whiteboard note-taking tools, screen recording, and audio conference calling.
Let's get started.
What is the Best Screen Sharing Software?
Here are my top picks for the best screen sharing software:
Let's get to the list.
Best Screen Recording Software
Adam's Take
Loom is my #1 pick for the best screen-sharing software because it's simple to use and has a free version that you can use to test the waters. Whether you want to create tutorials or show off your products or services, Loom makes it easy to record your screen and share it with others.
Loom is the best overall screen sharing software and I use it nearly every day when interacting with my team on Slack.
It lets you create asynchronous screen-capture videos and share them using custom URLs. Through the Loom app, you can eliminate the need for lengthy meetings and share thoughts and ideas through screen-capture.
Loom provides you with capabilities such as screen sharing, faster recording and editing, along with easy link distribution. You can opt to record all screen activity or record individual apps. The granular controls help protect your privacy when sharing videos.
Apart from sophisticated editing tools, Loom also allows you to add CTAs and privacy filters for videos. This way, you can ensure that your screen-capture videos are viewed only by authorized participants.
Features:
Loom is usable on Windows and macOS, along with the website-based app that's available via any web browser. For mobile, you can use the dedicated iOS app. There's even a browser extension for Google Chrome which enables single-click recording.
The following is a simple breakup of the many features Loom offers:
Asynchronous video for flexible team communication
Detailed engagement insights and reports
Supports comments and emojis
Multi-speed videos
Screen drawing capabilities
Diverse use cases spanning Sales and Support to Engineering and Design
Integration with apps such as Slack, Jira, and Gmail
Pricing: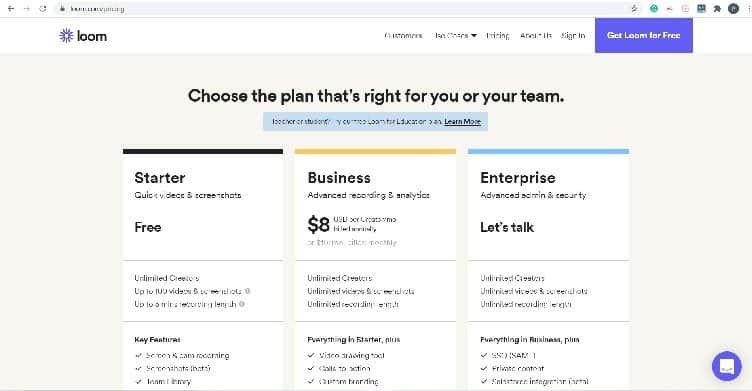 Loom's pricing plans are simple and distributed across three tiers, as explained below.
1. Starter Plan at $0
Unlimited creators
Up to 100 screenshots and videos
Maximum recording length of five minutes
Team library and viewer insights
2. Business Plan at $8/user/month (billed annually)
Everything in the Starter plan
Tools for drawing on videos
Custom branding options
Detailed engagement analytics
3. Enterprise Plan (Custom Pricing)
Everything in the Business plan
SAML-SSO
Integration with Salesforce
SCIM support
Loom also provides a free plan for educators and students, Loom for Education.
The Starter plan is free for up to 5 minutes of video, and you can try out the Business plan with the 14-day free trial.
Best For Occasional Screen Sharing
Adam's Take
If you want to share your screen from various devices and platforms, Screenleap is the simplest and most effective way to do it. I like that it is straightforward to use as this makes it easy for everyone to get started. I also appreciate that it doesn't require any downloads for anyone viewing recorded videos.
Screenleap is a minimalistic screen sharing software that provides seamless viewing from any device. It's compatible with Windows PCs, macOS, iOS, and Android. The tool works across any device and offers installation-free access to screens.
Users can download and install the desktop app or use the tool online. Screen sharing is either by sharing links or entering the 9-digit share code on the website. Using the tool, you can share a full window, a single tab, or an entire screen.
Features:
Screenleap's features make it ideal for small businesses that have limited screen sharing needs. Apart from quick and easy screen sharing, Screenleap offers multiple other features and benefits.
The following is a list of Screenleap essential features:
Multi-device compatibility
Can be used across most standard operating systems
Provide many tools for drawing and annotations
Unlimited number of shares with a paid plan
API for integrating screen sharing with websites
Includes webinar tools
Freemium pricing plans
Pricing: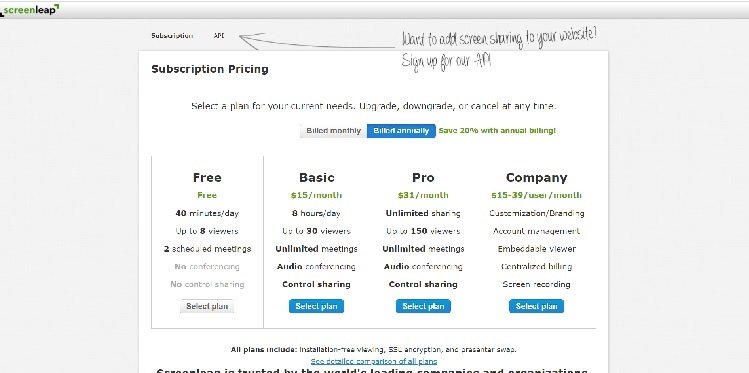 Screenleap has a four-tier pricing plan that's billed monthly or annually. By opting for the annual billing, you save 20% over the monthly billing plans. The following is a brief description of each plan and its benefits.
1. Free Plan at $0
40 minutes of screen sharing per day
Up to eight viewers
Up to two scheduled meetings
2. Basic Plan at $19/month ($15/month on annual billing)
Eight hours of screen sharing per day
Up to 30 viewers
Unlimited number of meetings, audio conferencing, and control sharing
3. Pro Plan at $39/month ($31/month on annual billing)
Unlimited hours of screen sharing
Up to 150 viewers
Unlimited number of meetings, audio conferencing, and control sharing
4. Company Plan at $19-$49 per month ($15-$39 on annual billing)
Brand-specific customization
Screen recording feature
Centralized billing
To get started with the free plan, you can go here.
Best For Web Conferencing

Adam's Take
GoToMeeting is another great screen-sharing tool that lets you efficiently conduct online meetings. You can share your screen with other participants and collaborate on documents and whiteboards. I love its collaboration tools that make working with a team a breeze.
GoToMeeting lets you host online meetings, along with screen share capabilities and team collaboration tools. It's compatible with desktop and mobile devices and provides video conferencing and screen sharing features.
Using this tool, you can share entire screens or individual applications. Free screen sharing can be done via the GoToMeeting app as well as through Google Chrome. Apart from desktop and mobile sharing, the app even allows you to record meetings.
The recording feature is available only if you're on a paid plan. But the free tool includes features such as mobile to desktop sharing, laser pointer tools, and even annotation features. For more advanced capabilities, you can opt for a paid account.
Features:
Apart from video call functionality, GoToMeeting provides you with audio calling up to 250 participants. The software even comes with a Microsoft Office 365 integration, using which you can manage meetings through MS Outlook.
The following is a list of the essential features of this tool:
Secure login with SAML SSO
Local as well as cloud-based recording
Google Calendar Plugin
Real-time recording and transcription features
Desktop as well as mobile access via app or website
HD video streaming
Live adjustment of bandwidth
Pricing:
The pricing plan of GoToMeeting is distributed across three tiers. As with most such services, you can save a lot (up to 16% for this tool) when opting for the annual plans. The following is a simple breakup.
1. Professional Plan at $14/month ($12/month on yearly billing)
Up to 150 participants
Unlimited meetings
Personal meeting room
2. Business Plan at $19/month ($16 on yearly billing)
Up to 250 participants
Everything in the professional plan
Smart assistant and note-taking features
3. Enterprise Plan with Customized Pricing
Up to 3000 participants
Everything in the Business Plan
Downloadable admin reports
Apart from the above, there are a host of other features available with each plan. To get started with GoToMeeting, you can opt for the 14-day free trial.
Best For Large Team Collaboration
Adam's Take
Want a free and easy way to share your screen with others? Cisco WebEx is the answer. This team collaboration software provides screen sharing capabilities for free, making it an excellent option for small businesses or teams that need an affordable solution for collaborating remotely.
WebEx is a team collaboration software that provides screen sharing capabilities for free. It also lets you use several other communication tools such as app integration and video conferencing.
WebEx provides you with all capabilities of Zoom, the significant difference being that WebEx lets you record meetings even on the free plan. If you're planning to create videos for training and onboarding, WebEx is the way to go.
Screen sharing via WebEx is available on Windows, Mac, and iOS as well as Android devices. It works across desktop and mobile and is compatible with advanced security standards such as HIPAA compliance.
Features:
WebEx lets you share entire device screens and even individual app screens. You can share webpages, videos and also chat via the built-in messenger. It even has remote desktop features similar to Teamviewer.
The following are some of the essential features of WebEx:
Ability to record online meetings
No time limit on user meetings
Allows up to 100 participants per session
Permits editing of files in real-time during calls
Whiteboard drawing tools
Noise removal and speech enhancement
Live translation of meetings in up to ten languages
Video layouts and templates
Pricing:
Similar to Screenleap, WebEx pricing plans are divided across four tiers. The following is a breakup of each plan and some of the essential features that come with it. All prices have been mentioned on a per-host basis.
1. Free Plan at $0/month
Only one host
Up to 50 minutes meeting lengths
Maximum of 100 participants
2. Starter Plan at $13.50/month
Minimum one host and maximum 50 hosts
24 hours meeting length
Maximum of 150 participants
3. Business Plan at $26.95/month
Minimum one host and maximum 100 hosts
24 hours meeting length
Maximum of 200 participants
4. Enterprise Plan at Custom Pricing
Unlimited hosts
24 hours meeting length
Maximum 100,000 participants
Best For Encrypted Screen Sharing
Adam's Take
If you're not just looking for a screen-sharing tool but a complete collaboration suite, Slack is an excellent choice. It's got all the features you need to stay connected and work together, including video chat, file sharing, and group messaging. I use Slack for work and find it indispensable for coordinating with my team.
Slack is an online collaboration tool that's ideal for secure computer screen sharing. This conferencing software and messaging tool helps users communicate using text chat and Slack calls. The desktop app enables screen and file sharing as well.
When sharing a screen on Slack, you can draw and annotate on the shared screens. Using the tool, you can even set up shared workspaces where remote teams can collaborate on projects. All data transmitted via Slack is encrypted on-site as well as in-transit.
Features:
Slack lets you collaborate, share files and screens, and hold video meetings. It's suitable for any-sized teams and acts as a complete communication platform. Apart from messaging, voice, and video calls, Slack has many features that help in teamwork.
The following is a list of the many features that Slack provides you with:
Dedicated channels for teams, projects, and topics
Searchable work history
Over 2000 apps and integrations
Ability to automate routine actions using the workflow builder
Enterprise-grade encryption key management
Data protection at every layer of communication
Pricing: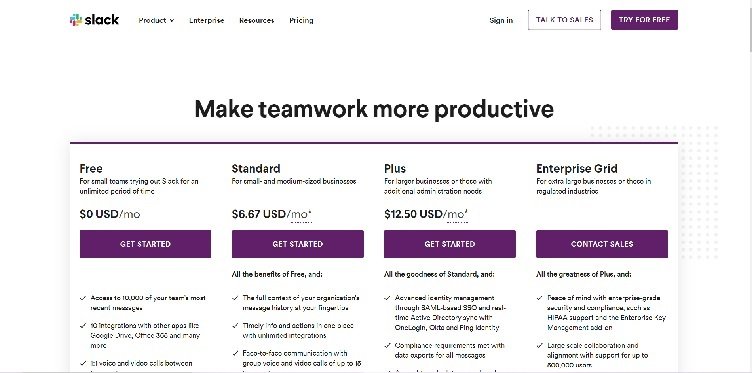 Slack pricing plans have been distributed across four tiers and change according to the team size you need to manage. From small and medium to larger businesses and enterprises, Slack has something for everyone. Following is a glimpse into what each plan offers.
1. Free Plan at $0/month
Access to the most recent 10,000 messages
Up to ten app integrations
One-on-one video and voice calls
Best for small teams
2. Standard Plan at $6.67/month
Unlimited integrations
Conference calls with up to 15 participants
Secure collaboration with external teams
Best for small to medium businesses
3. Plus plan at $12.50/month
Identity management using SAML-based SSO
Data exports meeting all compliance requirements
24/7 support for teams
Best for large businesses
4. Enterprise Grid Plan at Custom Rates
Enterprise key management with HIPAA support
Collaboration with up to 500,000 users
Customized support
Best for enterprise-grade businesses
Best For Cross-Platform Remote Support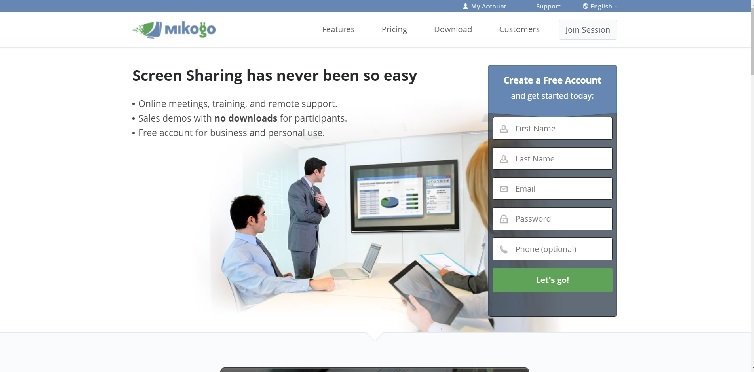 Mikogo is a remote control and screen sharing app that's available across multiple platforms. You can use the tool on both mobile and desktop devices.
Participants in a meeting can join in via any web browser without downloading and installing the app.
Only hosts, i.e., those who are sharing their screens, need to download the app. Mikogo allows individual applications as well as complete screen sharing. You can even host online meetings and training sessions.
The free version of the app allows one-on-one meetings only. Upgrading to the paid plans will let you host multiple meeting participants. Mikogo also lets you view a history of all past meetings and video sessions, along with related information such as date and duration.
Features:
This app's highlight is that it's entirely cross-platform, which means you can use the service across Windows, macOS, iOS, and Android. You can even join in meetings via mobile browsers.
The following is a list of the most significant features of Mikogo:
Presenter switching feature
Remote screen sharing and control
High-quality video conferencing and VoIP
Advance meeting scheduler
Session replayer
Whiteboard and annotation tool
Multi-monitor support up to four screens
File transfer up to 200MB
Individual and group chats
Pricing: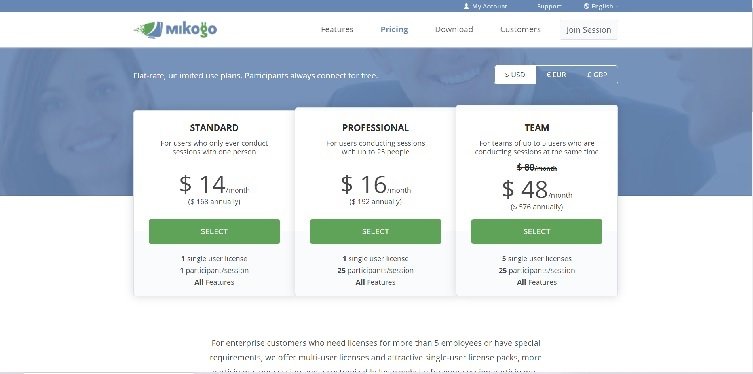 Creating an account on Mikogo is free, though capabilities are limited on the free service. If needed you can upgrade to a paid plan for enhanced features.
1. Standard Plan at $14/month
Single user license
One participant per session
Suitable for conducting sessions with one person
2. Professional Plan at $16/month
Single user license
Up to 25 participants per session
Suitable for group meetings
3. Team Plan at $48/month
Five user licenses
Up to 25 participants per session
Suitable for teams conducting simultaneous sessions
In case your organizational needs aren't met by the above plans, Mikogo offers enterprise plans. To get started with Mikogo, you can start with a free account right now.
Best For Fast And Free Screen Sharing
Chrome Remote Desktop is an entirely free remote control and screen sharing app in the form of a Chrome extension. The app is available for most computers and mobile device platforms. Unlike the other apps on this list, you can use this extension with Linux.
This is a bare-bones app and doesn't offer many capabilities besides screen sharing. Since it's a Chrome extension, viewers and hosts need to install it in their browsers. You can then use a 6-digit pin code to enable remote control and access.
For businesses that are looking for a completely free screen sharing solution, Chrome Remote Desktop is a good option. It lets you host fast and easy screen sharing sessions with a single click.
Features:
Screen sharing
Remote access
Pricing:
To get started with Chrome Remote Desktop, just click here.
What is Screen Sharing Software?
Screen sharing software refers to video tools that allow you to share a computer or mobile screen on another device. Using these tools, you can present information, collaborate on shared files, and even instruct new users on navigating a software package.
Today, over 77% of companies use video conferencing tools that have screen sharing capabilities. These tools allow remote teams to collaborate effectively and enable businesses to launch remote marketing and training campaigns.
How Do You Select the Best Screen Sharing Software?
That covers my list of the best screen sharing software. There are some other options on the market, such as Skype, Join.me, and Zoom. Each tool comes with separate features and capabilities.
You need to keep several factors in mind when selecting a suitable screen sharing software. The following is a list of some essential aspects to keep in mind.
1. The Purpose Behind Its Use.
When selecting a screen sharing software the vital aspect to consider is the exact purpose you need it for. Do you just need to share screen capture videos? Then Loom is your best option.
For greater capabilities such as video conference and remote computer control, you can use GoToMeeting or Cisco WebEx. In short, what you want to do with the tool should determine the exact software you go with.
2. Feature Set.
In case you're not sure about the exact purposes, go for a tool with comprehensive feature sets. Software such as Mikogo and Slack pack-in a vast number of features along with screen sharing. Going with such a tool can be advantageous in the long run.
3. Browser or Download.
Screen sharing apps are usually of two types: ones that need to be downloaded and installed and others that work via browsers. In general, if you're the host, you'll need to install the app. Participants can usually attend via browsers with a shared link or code.
4. Price.
Finally, the budget should always play a factor in your choice of software. While most screen sharing apps have a free plan, these have limited features. For advanced features, you'll have to upgrade and go with a service that offers the best value for your money.
In the next section, I'll try and answer some critical questions related to screen sharing software.
Screen Sharing FAQ.
1. Is screen sharing secure?
In case you're sharing screens with someone you know, for example, an employee at your business, you can expect a degree of security. Sharing screens with unknown or unauthorized persons can lead to data leaks.

Screen sharing data can also be hacked while in transit. If you're sharing sensitive information via screen sharing software, then it's best to opt for a service that offers end-to-end encryption.
2. Do All Screen Sharing Apps Allow Remote Access And Control?
Not all screen sharing software is not remote control software. There are a large number of tools that offer screen sharing along with remote access. You'll have to check out the features page of the tool to understand its capabilities.
Can you share mobile screens?
You can share mobile screens using tools such as Screenleap. You can even take control of another mobile and demonstrate operations using screen sharing apps that allow it.
4. Does Screen Sharing Software Need To Be Downloaded and Installed?
Most screen sharing tools offer desktop apps as well as browser-based interfaces for screen sharing.
5. How Many People Can Participate in Screen Sharing?
Screen sharing software can allow both one-to-one and one-to-many screen sharing. It all depends on the plan you're opting for.
Summary
Globally distributed workforces and client-bases have made screen sharing software extremely important.
Whether you need to onboard new employees and clients or host a business meeting, the following tools can help you out:
Editorial Process:
Our reviews are made by a team of experts before being written and come from real-world experience. Read our editorial process here.
Some of the links in this article may be affiliate links, which can provide compensation to us at no cost to you if you decide to purchase a paid plan. These are products we've personally used and stand behind. This site is not intended to provide financial advice. You can read our affiliate disclosure in our privacy policy.