7 Best Small Business Insurance Companies of 2022 (Ranked)
As a small business owner, there are so many things to consider in the day-to-day operations.
Items such as choosing the right accounting software and ensuring that your payroll software is up to par are definitely important.
However, they do pale in comparison with the importance of having the right insurance policy in case things go wrong.
Irrespective of whether you started your business from scratch, used a business broker to buy an existing company, or even bought into a franchise, you will need to get business insurance that is right for your business.
In this post, I will review the best small business insurance companies based on their:
Consistency and quality of work.
Customer service.
Reputation and brand awareness.
Costs and charges.
Financial stability and history.
After reading this article, you will better understand what type of business insurance suits your needs and where you can find it.
Let's get right into it.
What Are The Best Small Business Insurance Companies?
Based on my findings, the following are the best small business insurance companies in the industry.
Best overall for providing the right insurance coverage.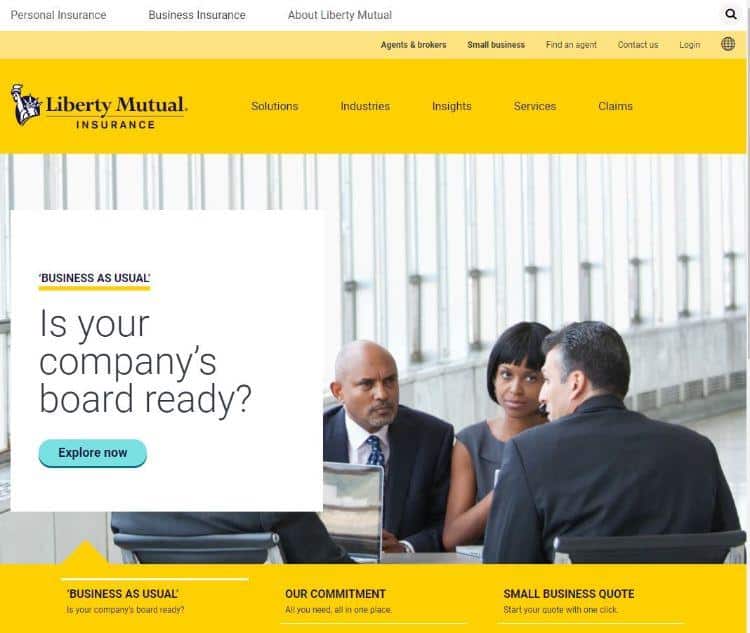 Liberty Mutual understands that businesses must have a stable, adaptable insurer who is always looking ahead as they develop.
As insurance providers, they are always looking for ways to make your business more impactful through insurance.
Liberty Mutual provides expert and attentive care to safeguard your workers, property, and reputation by customizing insurance solutions tailored to your specific demands.
They believe that progress occurs when individuals are secure, which is why they have a wide range of business protection products to choose from.
Whether it's severe weather, cyber liability attacks, product recalls, or anything else, businesses need to be insured for various potential risks, and that is where Liberty Mutual comes in.
Key Features:
Understanding emerging trends helps Liberty Mutual develop products that are essential to your business.
They create their policies while thinking about a post covid economy that changes the daily business landscape.
They seek to make commercial insurance more secure through whatever means necessary.
An insurance agent will be there for you whenever you need help or have a question about your policy.
Best for those looking to insure specific business equipment.
Thimble helps you get covered and stay covered with quick and easy insurance, regardless of your business size.
They provide general liability insurance, property damage insurance, as well as professional and product liability insurance.
If you choose to do so, your coverage will be comprehensive, and it will cover everything you need.
You'll receive all of the features and benefits associated with an A-Rated insurance provider.
Their various policies can protect you from claims for bodily injury, property damage, or other types of commercial damages resulting from any kind of workplace accident.
A general liability insurance policy, which includes business property insurance and other coverage extensions, is included in their business owner's policy (BOP).
Key Features:
They offer commercial property insurance that protects your business property, inventory, and equipment from losses and damage.
Drone insurance helps protect your business from claims that arise from the operation, maintenance, or use of drones.
A general liability policy can protect you from accidents and injuries.
You may also choose to get coverage by the job, month, or year.
Whether the workload increases or slows down, you can then modify, pause, or cancel your insurance coverage at any time.
Best for those that want to protect against cybercrime.
CyberPolicy is one of the best places to visit to compare business insurance rates and purchase multiple coverage policies.
With flexible payment plans and competitive pricing, you'll get fast, accurate, and valuable quotations based on your unique requirements.
They offer a variety of liability and property damage insurance options.
CyberPolicy also helps with professional liability insurance that can help you protect assets against cyber risks and liabilities, so it's something to consider if you work in this type of industry.
Your business can receive the commercial real estate insurance coverage you need, and you'll save money at the same time.
Your business can get workers' compensation insurance and general liability insurance with their insurance.
These are two types of coverage that can protect your company against bodily injuries and property damage for which it may be liable.
This sort of insurance also covers your company from various typical claims that can arise from normal business activities.
If you're interested in accepting credit cards and performing other financial transactions, then you'll benefit from their account insurance.
All it takes to get started is to give them some information about your business.
After that, they'll be able to provide you with a business insurance quote for various types of small business insurance.
Key Features:
CyberPolicy can provide your business with the coverage it needs with a wide variety of insurance options.
You can purchase multiple policies and receive a discount for doing so.
They offer fast, accurate, and valuable quotations based on your unique requirements.
Get the proper cyber insurance protection if you're in an industry dealing with potential cybercrimes.
4. Nationwide.
Best for providing clarity to those unsure which type of insurance to go for.
You may rely on Nationwide to provide superior assistance during difficult economic periods, servicing thousands of small businesses across the United States.
Nationwide offers a customized insurance plan that can provide your business with coverage for workers' comp, general liability, commercial auto insurance, property insurance, and much more.
You'll be able to find the right combination of coverage options tailored to meet your specific insurance needs.
You may also take advantage of discounts when you purchase an integrated collection of policies.
If you're not sure what coverage is appropriate for your firm or haven't considered a business owner's policy, then they can help you learn more.
You can also cover your business against an interruption in income if you have to shut down unexpectedly and even protect your equipment against breakdowns.
Key Features:
Friendly and knowledgeable agents assist you in selecting the coverage that best suits your company.
You can protect your company property against fire, rain, wind, and other natural calamities by purchasing the proper type of business insurance.
You may get business equipment insurance, such as computers and office furnishings, so you ensure you can continue to operate in the event of a fire or theft.
Give your business strength and stability with a policy backed by one of the largest insurance companies in the United States.
5. Progressive Commercial.
Best for getting discounts on your commercial insurance.
Progressive Commercial offers coverage that can protect your business from various potential perils that arise from day-to-day operations.
They can assist you in customizing your commercial insurance premiums to match precisely what you require at the time that you need it.
With the variety of commercial insurance they provide, they can help your business stay afloat if unexpected events occur.
These can include accidents, injuries, property damage, and equipment failures.
Commercial vehicles such as cars, pickup trucks, and other autos are covered, as are larger trucks, including straight trucks, vans, and tractor-trailers.
You can also take out contractors' insurance to protect you while working on another company's property or insure your employees if they need to work outside the office.
By providing all of these services and more, you'll be able to choose from a variety of insurance plans and benefit from lower premiums due to more significant discounts.
From primary general liability to comprehensive business owners' policy, they can help you find the proper protection for your operation.
Key Features:
Progressive Commercial has created flexible solutions that are affordable for the needs of your business.
Each state has its own set of workers' compensation rules that businesses must adhere to, so Progressive Commercials offer tailored coverage to meet the needs of your specific condition.
You can also insure property loss due to natural disasters such as fires, earthquakes, and floods. This is something that not all business insurance providers offer.
6. The Hartford.
Best for those looking for a blend of commercial insurance.
The Hartford is a popular insurance company that provides a blend of commercial insurance options.
To discover specific types of coverage your business needs, The Hartford offers an insurance quiz that can help you assess the risks your business faces and find the best policies for you.
This quiz can help you determine the hazards your business faces and the insurance products that can best protect your business in just three questions.
You can also opt for various customizable insurance plans suited to meet your company's specific needs, including property damage, liability, workers' compensation, and automobile insurance.
Without the correct type of coverage, your company would have to pay out of pocket for damages, medical expenses, and legal fees, which could cripple your business.
The Hartford ensures that this doesn't happen by ensuring you have the right policy in place for your business.
Key Features:
Specific car insurance protects you and your workers if being on the road is crucial to your business.
Assist with covering the expenses of a data breach – in the case of personally identifiable information being lost or stolen
You'll be able to choose from a variety of coverage limits so that you can find the perfect policy for your needs.
7. State Farm.
Best for providing you with ongoing support in your business operations.
State Farm understands that you've taken a tremendous gamble by starting your own company.
With that in mind, State Farm offers several insurance policies to protect your business from any potential losses.
With insurance suited to your needs, they can assist you in safeguarding and advancing your organization to the levels you want.
With insurance rates that are affordable and competitively priced, State Farm provides a solution customized to your company's unique needs.
A local State Farm agent can assist you in selecting business insurance coverage that is appropriate for your needs.
While helping you find the right policy, they can also provide you with continuous support and advice throughout the day-to-day running of your business.
Key Features:
Commercial auto insurance gives you the security of knowing that your business is protected on all fronts.
If you're expanding, State Farm can help protect commercial buildings under construction by providing you with quality coverage for a new business location.
If the unexpected occurs, rest assured that an agent is there to provide you with assistance as quickly as possible.
They also offer commercial liability umbrella policies to protect your company from any unforeseen events that might arise.
Other insurance providers not mentioned in this article include Hiscox and Chubb.
What are Small Business Insurance Companies?
Small business insurance companies are insurance service providers specializing in offering coverage to small commercial enterprises.
These companies provide business owners with the property, casualty, health, and life insurance policies their organizations need for protection against unforeseen disasters.
Small businesses can use this information to help them determine whether or not the company they are looking into buying a policy from is reputable.
Business liability insurance is a policy used to protect a company from lawsuits or liability claims made by clients, vendors, and anyone else with whom your company deals as part of its daily operations.
It's important to note that businesses at high risk of lawsuits should carry more liability insurance than companies with little chance of a suit being filed against them.
Protecting against liabilities can help safeguard a small business from being sued for damages they have caused due to negligence on the job.
You can also decide to purchase personal umbrella policies from some providers, providing additional coverage if you have been named in a claim.
On the other hand, tailored insurance plans ensure that you're safeguarding your business correctly, so you don't have to worry about potential issues down the road.
Keep in mind that small business owners should never purchase a policy from a company that does not specialize in providing insurance to small commercial enterprises and has been doing so for a reasonable amount of time.
Different Types Of Business Insurances To Consider
Various types of coverage will help protect your small business.
Ensuring you have the right type and amount of insurance on hand is crucial to protecting your business's financial interests.
Let's look at different types of insurance you might want to consider.
Products Liability Insurance
If goods sold by your business cause harm to customers or damage their personal property, you could be held liable for any injuries that result from the use of these items.
By purchasing products liability insurance, you can help reduce your company's risk of being sued.
This type of coverage will also protect your business against property damage caused by faulty items.
General Liability Insurance
General liability policies cover the cost of lawsuits brought against you for injuries that occurred on your property (including retail store locations), at work sites, or anywhere else that customers were invited to visit.
Another benefit of this type of policy is that it offers protection against slip and fall accidents.
If a person gets hurt or their property is damaged because you missed a patch in the sidewalk, they could sue your company for negligence.
By having general liability insurance, your business can avoid being held accountable for these types of injuries.
Errors and Omissions Insurance (E&O)
Errors and omissions policies can protect an organization from legal action by providing coverage for claims made against them due to faulty advice or even false information given to customers.
If you run a business that provides professional services to customers, such as an accountant or law firm, E&O policies can help protect against claims made due to workplace negligence.
Property Insurance
Property insurance helps cover costs for property damage arising from natural disasters, theft, fire, and other unexpected events.
Your company's property insurance policy will vary depending on location and what types of buildings your company makes use of.
For example, small business owners who own their buildings will need a different policy than those renting commercial space.
You should use property insurance in addition to general liability policies to ensure that both your business assets are protected against unexpected damages or losses.
Crime Insurance
Another type of coverage that can help protect small businesses is crime insurance, which covers the cost of stolen equipment and money and cash registers.
Crime insurance provides additional support if your company experiences theft or any robbery at work.
This type of policy will vary depending on the specific risks you face as an organization and allows small business owners to find policies customized to their needs.
Workers Compensation Insurance
If employees suffer injuries on the job, workers' compensation policies can help pay their medical bills and offer wage replacement for those unable to work due to injury or illness as a result of workplace hazards.
This type of coverage is required by law in many states.
It offers support when accidents happen at company facilities or during company-sponsored events such as business conferences or product demonstrations.
By having workers' comp insurance, your organization can ensure it is following state laws and is financially protected from lawsuits arising from workplace accidents or injuries.
Umbrella Insurance
When it comes to finding the best small business insurance companies, umbrella policies can be a valuable addition to your protection plan.
This type of policy is designed to protect you against costs that exceed the limits for claims covered by other types of insurance you have in place, such as general liability and property damage/losses.
Umbrella policies can provide added support when dealing with high-risk issues like product liability and professional malpractice.
In some cases, purchasing this type of coverage could mean you'll save money on existing plans because umbrella plans are often very affordable.
Factors To Consider Before Buying Small Business Insurance
When looking for a business insurance company, you should carefully weigh your options to determine which provider can offer you the professional services your business needs.
It's essential to make sure you're getting all of the information you need from your potential providers to ensure they meet your needs and offer protection explicitly tailored to small businesses like yours.
While each business may face different risks based on its industry and location, some common factors can help determine which insurers one should go for.
Let's consider some of these factors.
Their Years Of Operation
A small business insurance company that has been in the industry for years is likely to have a reputation for providing top-notch service.
By selling small business insurance policies for several years, this company has had time to develop relationships with many other organizations and become well known for creating comprehensive coverage plans that offer businesses tailored support.
Given their history of offering reliable services, these companies are often the best choice when it comes to finding high-quality coverage at an affordable price.
Their Focus On Small Businesses
Some insurers specialize in selling policies designed exclusively for small business owners.
Moreover, some of these companies have a history of helping businesses in your industry face unique insurance risks.
Choosing a company that has experience with your specific sector can ensure they have the expertise necessary to create valuable policies explicitly tailored to your organization's needs.
Their Financial Stability
Highly reputable small business insurance companies typically have a strong balance sheet because it allows them to help their customers better when they're in need.
By assessing a potential vendor's reputation in terms of their financial health and how they've paid out to past clients, you can determine whether or not they'll be around if you ever need support from them in the future.
The best insurance providers have held onto their reputations by working closely with clients and earning their trust over time.
Customer Feedback, Complaints, And Compliments
Speaking of reputation, before purchasing a new insurance policy, you should consider customer feedback about the business' quality of service.
One consideration is the number of complaints customers have lodged against the company. When looking at this factor, it's also wise to look at how quickly they dealt with those issues.
By doing so, you can get an impression of how committed they are to addressing client concerns promptly.
Another important consideration is the number of compliments customers have regarding its services and products.
If many people had positive experiences with them, that could be a good indication that you'll have a similar experience.
Availability of online quotes and claims
With so many types of insurance available, online quotes are essential.
You might be looking for business interruption insurance, property coverage, casualty insurance, employment practices liability insurance, insurance of independent contractors, or any other type of insurance.
A policyholders' ability to provide you with a free quote that you can get online is an important metric to consider.
The same applies when making liability claims.
Small business insurance costs can skyrocket quickly when an accident happens.
Therefore, business owners should be able to make a claim as fast as possible.
The quicker a claim is made, the faster you receive a settlement check.
As a result of such speed and efficiency, the more money you will have to run your business.
The Size Of Their Client Base
It's essential to find an insurance company with which you feel comfortable. If something goes wrong, you want to work directly with someone who knows your business well enough to handle your issues.
You can gain insight into the kind of support you can expect by how many people they currently serve.
Suppose they offer services for many businesses in your industry. In that case, that should indicate that the insurance company you're considering has the necessary expertise to solve even complex problems quickly and efficiently.
Combining The Professional With The Personal
Sometimes, owners might reduce small business insurance costs if homeowners, auto, life, or other policies are combined with business insurance.
As a result, owners might reduce deductibles, coverage amounts, and premiums depending on the company providing quotes.
A cost reduction is always welcomed, especially for startups tight on cash.
Some companies might also offer add-ons when you insure additional life-related aspects with the company.
This means that bundling can be an option if you require multiple types of insurance.
Specialty Policies
Some insurers specialize in offering policies like workers' compensation or general liability insurances designed solely for businesses like yours.
These vendors are beneficial when you want to ensure you're getting size-appropriate protection options aimed at small businesses.
While you can get workers' compensation and general liability coverage from a few different types of companies, small businesses insurance agencies specialize in these kinds of policies and will be able to design them specifically with your goals in mind.
Business income insurance is designed to help companies survive temporary setbacks, but small business insurance for this type of risk isn't always available from other types of vendors.
Another great thing about these companies is that they can consider the difference between your company's risk profile and that of larger organizations.
By understanding how each policy helps protect against different risks, you can create custom policies that are much better suited to your small business needs than if you got them from a general insurer.
Access To Industry-Specific Network Discounts
One of the most important things is getting good value for your money regarding insurance policies.
This means paying an appropriate amount based on the benefits provided while limiting unnecessary spending.
Some businesses only have certain types of coverage, while others may go overboard by insuring against as many risks as possible.
When you work with an insurer who has access to the kind of discounts provided by various networks, they can advise you on which additional policies are worth pursuing based on their potential value, not just their cost.
For example, suppose your company finds itself in a low-risk sector according to industry-standard statistics or based on its claims record.
In that case, it may be possible for you to get discounted general liability insurance.
For this reason, you'll want to find an agency that has connections to companies that provide risk mitigation strategies designed for your specific needs.
Endorsements
Endorsements are another way to extend your policy's benefits even further without having to pay for every minor coverage upgrade.
For example, some companies can provide endorsement coverage for products necessary to your line of work.
These wouldn't generally be covered by general liability or workers' compensation policies.
Say that you require marine insurance for some of your company's assets.
Many carriers don't offer this insurance because they've never had any clients in such an industry.
Still, a company that specializes in business insurance might understand why this coverage is necessary to your operations and be able to cover it.
Wrap Up.
Instead of simply choosing the company that offers you the cheapest premiums, consider working with an agency known for providing exceptional customer service or has expertise in your industry.
This could save you time and money in the long run by helping to limit claims, resolve issues quickly when they arise and allow your team to focus on what matters most: growing your business.
To summarize, these are the best small business insurance options available right now:
Liberty Mutual: Best overall for providing the right insurance coverage.
Thimble: Best for those looking to insure specific business equipment.
CyberPolicy: Best for those that want to protect against cybercrime.
Taking your time to choose the right type of insurance coverage can help to prevent significant losses and keep your business running smoothly.
Be sure to consider all the factors we've discussed here to make an informed decision and choose a policy that works best for your needs.
Have I missed out on any high-quality small business insurance company above? Would you recommend any particular provider? Let me know in the comments below.
Further reading on AdamEnfroy.com: Having the right insurance policy in business is crucial. Having a great business idea to start off your business is equally important.
Also, if you'd like to know more about business, check out my post on the best LLC services you can use to form a new business. This post will show you the companies to consider when setting up your organization.
Disclosure: I may receive affiliate compensation for some of the links below at no cost to you if you decide to purchase a paid plan. You can read our affiliate disclosure in our privacy policy. This site is not intending to provide financial advice. This is for entertainment only.