7 Best Small Business Loans of 2023 (Financing Compared)
Many entrepreneurs quickly realize that having an idea to start a small business is not that hard, but once it's running, keeping your business afloat can be challenging.
That's why understanding how to get a business loan might be crucial for long-term business success.
With various potential reasons behind going for a small business loan, these loans can provide the financial stability you need to maintain or even scale your business.
Whether you want to expand your working capital, build credit for the future, or even buy necessary equipment, getting a loan can be the turning point for your business.
But with so many online banks accounts and loan providers available, how do you know which one is right for you?
To help you out, in this article, I've compiled a list of the best small business loans available right now. I've rated these loans based on their:
Financing options.
Loan amounts.
Repayment terms.
And other factors.
For each loan provider, I'll discuss who it's more suitable for so you'll be able to make a more informed decision. Let's dive deep into this topic.
What Are The Best Small Business Loans?
The following loans are some of the best you can get at the moment when it comes to small businesses.
Best overall for making the loan application process straightforward.
PNC Bank makes the application and decision procedure simple.
With no collateral needed and a quick turnaround on getting your money, PNC Bank is perfect for small businesses that need fast, small business financing.
PNC Bank is also perfect for businesses that need to purchase inventory, hire new employees, or cover other immediate costs.
This is true since funding is available quickly once an application is approved.
With a loan amount ranging from $20,000 to $100,000, PNC Bank is an excellent option for small businesses that need a small to medium-sized loan.
Key Features:
Convenient repayment term based on the loan amount required means that each solution is custom created for your needs.
No collateral required when taking out a loan means that your assets are safe.
Loans available in amounts from $20,000 to $100,000, which is an excellent range for small businesses
Your business checking account is automatically debited every month to pay the annual principal and interest.
Best for providing quick funds through a simple application process.
TAB Bank understands that for most small companies, obtaining a loan is required to realize their objectives.
Whether you need a loan to buy equipment, new business vehicles, or anything in between, they provide loans that can cover that.
Quick business funding and a simple application process are two main reasons TAB Bank is one of the best for small business loans.
Flexible terms are another benefit of TAB Bank, with the possibility of consolidating loans or making extra payments, as needed.
You can get prequalified by choosing a few options on their website and ensuring that you have all the necessary documents in place.
After that, you can receive possible loan amounts and terms for your specific needs.
Key Features:
Flexible repayment terms based on annual revenue and loan amount.
The safety of your information is ensured while using 256-bit SSL encryption.
Up to $350,000 loan amounts are available.
Instant checking of pre-approval means that you will get an answer without jumping through hoops.
No effect on credit score when applying for your loan.
Best for providing borrowers with the right business tips for success.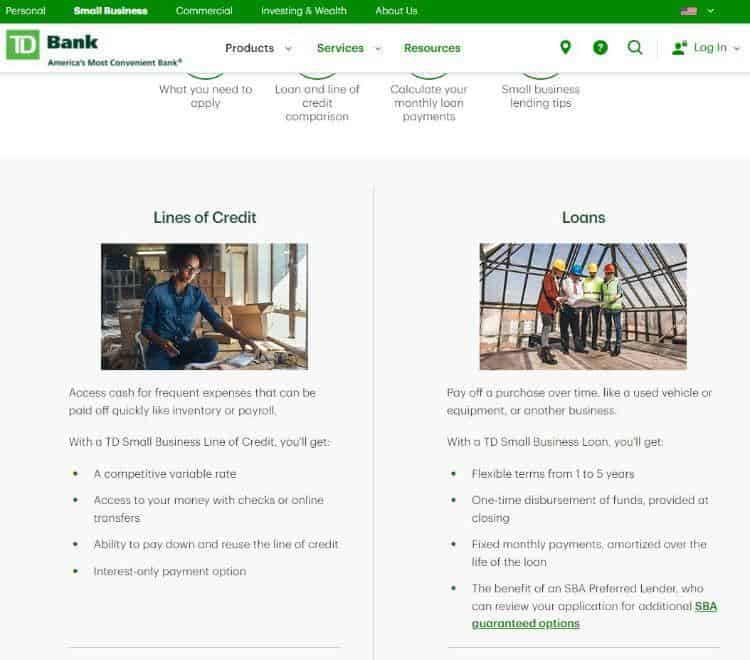 TD Bank small business loans and lines of credit can assist you in managing day-to-day spending or growing your business.
With a loan calculator available to help you estimate your payments, TD Bank is perfect for small businesses that are unsure about the right loan amount needed.
TD Bank also gives small businesses borrowing tips customized towards one's needs.
This is perfect for business owners looking to keep their businesses afloat without the usual headaches.
Their small business lending specialists are on hand with advice on getting the best funding options available.
With a variable rate that's super competitive, TD Bank is also great for businesses that want to keep their interest rates low.
With checks or electronic transactions, you may access your funds when needed without any hassle.
Key Features:
Offering both lines of credit and small business loans, TD Bank is great for businesses that need either or both options.
Get flexible terms of up to five years when borrowing money.
The payments are made monthly and divided into equal portions, which means you'll always know what you owe.
You can apply for any loan under a $100000 amount directly through their online website.
4. Funding Circle.
Best for giving you flexible terms when taking out a business loan.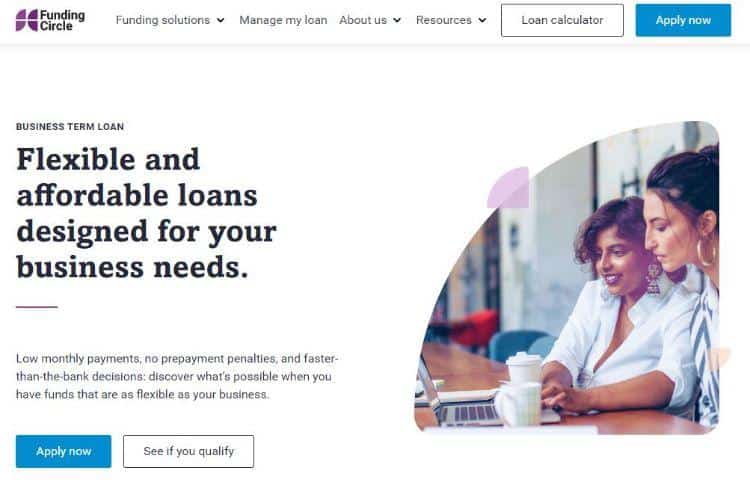 Funding Circle understands that the more you can borrow, the higher your competitive advantage will be in business.
That's why they offer to finance up to $500,000 for small businesses.
With the ability to get funds in as little as three days, Funding Circle is one of the best small business loans for businesses that quickly need such an amount of money.
Their business term loan, which comes with fixed monthly payments and no prepayment penalties, was designed to be as flexible as possible, allowing you to use your cash for almost any business purpose.
Applying for their loan doesn't impact your credit score, and timely repayment even helps your company develop good credit.
With a streamlined process from start to finish, Funding Circle is a great loan option for small business owners that need financing fast.
Key Features:
Quick funding in 3-5 days after your loan is approved.
Terms ranging from six months to up to five years give you the flexibility needed.
You can see if you qualify within a minute of applying, which means that you don't have to wait long to know whether or not you've been approved.
Applying involves a three-step process – they will then reach out to you once your loan has been approved and money is deposited into your account.
5. Triton Capital.
Best for providing a variety of small business loans to suit your needs.
Triton Capital has been helping small companies for nearly a decade, meaning that they know how to handle the unique needs of smaller businesses.
Whether you require short-term financing for equipment or even working capital, Triton offers some of the best small business loans available.
Triton also understands that every business is different, which means that everyone is provided with a payment plan made just for them.
With rates starting at 8.99% for their working capital loans, their financing options are some of the best in the market.
They also provide equipment loans that start from 5.99%, which are quite competitive when it comes to industry rates.
Key Features:
They guarantee the lowest payment price, so your business won't have to be drained when it comes to financing.
Their website loan calculator gives you an idea of what funding would involve in terms of business equipment, software management, and other needs.
Up to $250,000 is available for small businesses in need of financing.
Various financing options are available so you can always find the right fit for you.
6. Credibility Capital.
Best for those looking to borrow up to half a million in funds.
Credibility Capital is a firm that provides long-term loans to businesses at low-interest rates.
They are one of the best small business loans because they don't require you to have a perfect credit score – you might even proceed with having somewhat bad credit.
You can borrow anywhere up to $500,000, with rates starting at 6.99% in interest and ranging up to 60 months.
This means that their bank loans are perfect for businesses that need money fast and take their time repaying them.
Simply fill out an online application and send it to them, and they'll take care of the rest.
Decisions are made rapidly, and funding is accessible in just a few days.
You'll know exactly how much you'll pay back and when you'll pay it back, which allows you to concentrate on expanding your business rather than trying to track numbers.
Key Features:
Having partnered with industry leaders, you can get up to $500,000.
When applying through Credibility Capital, your loan request won't harm your credit score.
With a thorough but relevant process, the company can provide you with the money you need in as little as a few days.
Their loan calculator makes transparency a top priority.
7. OnDeck.
Best for having money in your account by the end of the business day.
OnDeck offers small-term loans that are an excellent choice for individuals seeking money to launch a new business venture, expand on their current one, or make a significant purchase that one can't pay for using business credit cards.
An OnDeck short-term loan is a one-time lump sum of money that may be used as you choose for your business.
You may expect to have your cash in your bank account as soon as your loan is authorized, and you may pay it back on schedule to fit your project timetable.
All of this is possible with a minimal amount of paperwork and a quick, easy application process that you can complete in minutes from the comfort of your office or home.
With a maximum loan amount of $250,000, OnDeck specializes in loans designed for small businesses.
Key Features:
Amounts available are in the range of $5,000 to $250,000
While standard transfers using ACH can take up to three business days, you can get your funds by the end of the business day in some situations when using OnDeck.
Build your business credit by repaying your loan on time and as agreed.
You'll pay the same amount throughout your repayment term, which means that you can plan out your finances in advance.
Other business loans providers not mentioned in this article include Fundbox and BlueVine.
Why Are Small Business Loans Important?
When you start a business, you'll find several financial options available to help you fund your venture.
The right financing can make the difference between a thriving business and one that's struggling to stay afloat.
With various financing options available, small business owners may find themselves trying to choose between multiple small business loans available.
If you're new to managing finances for your business, this can be an incredibly daunting task.
As money is always tight in a new venture, you must identify the type of company that's right for your business when getting a loan.
As a business owner, you might also consider specific loans based on what you need to buy.
Types Of Small Business Loans
There are various types of small business loans that you can apply for as a business owner.
Let's have a look at a few of the most popular types of financing available:
1. Secured business loans.
This is one of the most common types of small business loans, and it's also one of the safest options for the lender.
To secure a loan, you'll need to put up some form of collateral, such as your home or your car.
If you cannot make your loan payments, the lender can seize your assets to repay the debt.
2. Unsecured business loans.
An unsecured business loan doesn't require you to put up any collateral, but it also comes with a higher interest rate than a secured loan.
This type of loan is ideal for small businesses with a good credit score and a healthy financial history.
3. Equipment loans.
If your business needs new equipment to operate, you might consider an equipment loan.
This type of loan is specifically designed to help companies buy the assets they need to grow.
The terms of an equipment loan are typically shorter than those of a traditional small business loan, and the interest rates are usually lower.
4. Business line of credit.
A business line of credit is a revolving loan that allows you to borrow money as needed up to a specific limit. This type of loan is ideal for businesses with unpredictable or cyclical expenses. A business line of credit can also help manage cash flow fluctuations.
5. SBA loans.
If you're interested in a small business administration loan, it's essential to understand your options. You can choose between different types of loans, including SBA 7, SBA 7a, and 504.
The 7a is the most common type of SBA loan used to start a business, but there are also funds available for existing businesses looking to expand their operations.
With these types of loans, your monthly payments are usually fixed, which means that you'll be able to budget accordingly.
6. Microloans
Microloans are small loans that allow entrepreneurs with limited credit or collateral access to the capital they need to launch their business ideas.
Since microloans typically don't require much paperwork, they can be quickly processed within days by lenders and gives borrowers some leeway when they don't have the luxury of time on their side.
7. Merchant cash advances
A merchant cash advance is similar to a traditional unsecured loan, but it's more flexible in how you can repay the debt.
The main difference between a merchant cash advance and a regular loan is that the lender will take a percentage of your future credit card sales as repayment instead of fixed monthly payments.
8. Invoice factoring and invoice financing
If you're a small business that doesn't have excellent credit or a lot of assets, invoice factoring might be a good option for you.
With invoice factoring, the company will advance you a percentage of the total invoice amount (usually 80-90%), so you can continue to operate your business without waiting for payments from your customers.
The company will then collect the total amount from your customer once they've paid their invoice.
This process can take around 30 days, which is why it's essential to factor in that extra time when planning your cash flow.
Factoring isn't for every small business, but it can be an excellent option for companies expanding rapidly and needing quick access to cash.
On the other hand, invoice financing is only available for established businesses with the right credit.
The lender provides you with a certain percentage of your unpaid invoices upfront, so you can focus on running your business while it collects the money from your customers.
You'll be able to repay the invoice amount in full or in installments.
Different providers have different repayment options, so reading the fine print before signing any agreements is essential.
Finding the best small business loans for your company can be a daunting task, but it's essential to do your research before deciding on the one to go with.
The right type of financing can help your business grow and succeed.
Factors To Consider When Choosing A Small Business Loan
It's essential to consider a few factors when choosing a small business loan. Here are a few things you might want to keep in mind:
Competitive interest rates and monthly repayments.
Some business loans have lower interest rates but require larger monthly payments, while other loans might offer low monthly repayments but charge higher-than-average interest rates.
When comparing different financing options, make sure you look at both the interest rate and repayment amounts.
Loan terms.
You also want to think about how long your company will need to pay off the loan before it's considered fully repaid.
For example, some finance companies offer short-term loans that your company will need to repay within a year, while others might provide terms that extend up to 10 years.
Understanding your financing terms is essential because this will help you in your business plan regarding how much money you'll need to pay in interest each month.
The amount you can borrow.
Most small business loans will allow you to borrow anywhere from $5,000 to $500,000. However, some online lenders will offer higher or lower loan amounts depending on the needs of your business.
Borrowing money is always a big decision, but knowing the exact amount needed is essential when you're borrowing for your business.
Collateral requirements.
If your business doesn't own any assets that it can use as collateral (i.e., provide the lender with if it's unable to make monthly repayments), you might want to consider one of the unsecured small business loans mentioned above.
However, if your company owns some valuable equipment or is trying to get a real estate loan that makes the business more valuable, then, in that case, there might be collateral requirements that you have to consider before submitting and getting approval on your application.
Defining what the loan is for.
Not all business loans are created equal. Some loans are specifically designed for purchasing new equipment or expanding a company's operations, while others are meant for companies with less-than-stellar credit scores.
Ensure you know what the loan is supposed to be used for before signing any paperwork.
Sometimes, understanding how a loan can help you save money over the long term is also part of understanding what a loan is for.
Some high yield business savings accounts offer an introductory rate for the first year, and then the rate reverts to a higher level.
Having this information in advance can help you decide whether taking out a loan amount is the right move.
Minimum credit score
Your business credit score is another important factor that lenders might consider when you're applying for a small business loan; this factor usually affects eligibility.
Unlike personal credit scores, which are based on an individual's spending habits, your company's credit score will consider various aspects of your business's financial history.
For example, if you own a restaurant, the lender will want to see information about how many customers you served last month and whether or not those customers typically settle their bills before the due date.
A good company credit score is one with few or no outstanding accounts.
Credit score requirements will vary depending on the type of financing option you're considering.
Having a strong company credit score might be more important than having great personal credit in this type of situation.
For example, some unsecured small business loans require borrowers with outstanding credit scores. Others might require that the company's chief executive officer (CEO) has a personal credit score of at least 600.
Loan security and requirements.
Your business' assets might not be everything small business lenders consider when evaluating your business loan application.
Some companies will also want to know what you'll do if you cannot make monthly repayments on time or in full.
For example, some small business loans stipulate that only certain types of equipment can be used as collateral for repayment.
If you purchase more expensive items such as vehicles or computers after the loan is approved, those items won't be eligible to be used as collateral before the loan is paid off.
Many lenders will approve applications with low credit scores but might require you to pay interest at a higher rate as a result.
Others might approve your loan but ask for additional collateral to reduce the lender's risk. As you can see, different businesses have different processes in place.
By understanding the different types of security and requirements that lenders might have, you can ensure your business is eligible for the financing it needs.
Other factors to consider
Your tax returns and business financials are two other important factors that lenders will consider when you're applying for a small business loan.
If your bank statements are not enough to secure funds, some lenders will ask for quarterly reports instead of monthly updates to make their decision.
It is also important to touch on your creditworthiness one more time.
Your credit history comes in at every step, whether you are trying to get equipment financing or even seeing if you qualify for more competitive rates.
This is why it's crucial to make sure you have a healthy credit score.
In addition to the above places, credit unions might also be a great place to start if you're looking for a small business loan.
Unlike banks, credit unions are not-for-profit organizations, and they usually exist to benefit their members.
This makes it more likely to approve financing for applicants with poor credit.
If you have a nonprofit, they might also be able to offer you a more specific loan for your needs.
Best Small Business Loans – FAQ
What is an origination fee when getting a loan?
An origination fee is a fee that an underwriter or analyst assesses as part of the overall cost of getting a business loan.
It's essentially the price for their time and expertise as they run credit checks, analyze financials, and inspect everything from tax documents to bank statements.
Are personal loans different from business loans?
Yes, they are different from one another, especially when it comes to repayment.
Personal loans are intended for short-term use, often with monthly repayments required throughout the loan's term.
A business loan is usually repaid over a more extended period and can also have complex terms that vary depending on how you use it.
Are working capital, credit scores, and job stability important when taking out a loan?
Working Capital and Credit Score: Traditional banks usually look at the cash flow of a business and its ability to meet debt obligations. They also look at credit score and other factors related to the business owner's personal credit history.
Job Stability: Lenders want to see that the business is stable before approving a loan. They will often ask for documentation such as tax returns, bank statements, and information about the type of business.
What types of businesses are eligible for a small business loan?
Almost any type of business can get a small business loan, though the specifics might vary from one lender to another. Some lenders might be more likely to approve loans for restaurants or retailers, while others might focus on service businesses or technology startups.
It's important to research different lenders to find the most likely to approve your particular type of company.
What is a factor rate?
The factor rate is the fee that a lender charges for every dollar they advance to a small business. For example, if you borrow $10,000 from a lender with a 2.5x factor rate, you will have to pay back $25,000 over the life of the loan.
This fee can be expressed in other ways, such as the annual percentage rate (APR) or interest rate.
Is knowing about a paycheck protection program important when taking a loan?
Yes, it's essential to know about such a program if your business pays out employees' income.
Many lenders offer paycheck protection programs that can help ensure that you continue to receive a steady income stream even if something happens to the business.
This program enables you to keep your employees on the payroll and ensure that you always have the funds necessary to keep your business running smoothly.
What is a lender's credit policy for small business loans?
Lenders have specific requirements for approving a loan, but they usually share several key characteristics.
In general, lenders who offer working capital or other loans will want to see financial statements from at least two years of operation, a bank account showing regular deposits, and information about how you plan on using the funds from the loan.
They may also want to know about your revenue over time as well.
Qualifying for a small business loan can be complex, but it's important to know what to expect.
By understanding the different factors lenders consider, you can put yourself in a better position to get approved and use the funds to grow your business. In some situations, a down payment may also be required to secure a loan.
What is business refinancing and underwriting?
Business refinancing is the act of taking out a new commercial loan to repay an existing business loan. Underwriting refers to lenders' process to determine if you are eligible for a specific type of loan or working capital.
It's essential to understand both of these terms because they will come up frequently when you apply for a small business loan.
Wrap Up.
Picking a loan that's right for your company can be difficult, especially if you're unsure of what lenders are looking for when approving applications.
Understanding the different types of small business loans available to you is the first step to getting approved.
Having funds in your business bank account helps your company pay its bills and cover its expenses so you can continue to grow.
By understanding the requirements and risks involved with different small business loans before you apply, you can be confident that your business will get the financing it needs as time goes by.
To recap, the best small business loans right now are:
PNC Bank: Best overall for making the loan application process straightforward.
TAB Bank: Best for providing quick funds through a simple application process.
TD Bank: Best for providing borrowers with the right business tips for success.
Each type of provider has its unique benefits and drawbacks, so make sure you choose the best one for your company's needs.
Do your research, consult with an accountant or financial advisor, and compare interest rates before deciding.
With the right loan in hand, your small business can continue growing and thriving.
What do you think about this list of the best small business loans?
Did your preferred loan provider make the cut? Let me know in the comments below.
Further reading on AdamEnfroy.com: Once your business is doing well, why not consider investing money to help other companies get started and thrive? You'll be able to earn interest on your money while giving others a helping hand.
If that sounds like something you'd want to learn more about, check out my post on peer-to-peer lending sites. Some of these websites can even earn you a better than average return on your investment.
Disclosure: I may receive affiliate compensation for some of the links below at no cost to you if you decide to purchase a paid plan. You can read our affiliate disclosure in our privacy policy. This site is not intending to provide financial advice. This is for entertainment only.