13 Best Survey Software of 2023 (Free & Paid Online Tools)
Choosing the right survey software is crucial to get accurate and actionable feedback from your target audience. From getting respondents to take your survey to analyzing the results, the best survey software can help you meet your goals. In this guide, I ranked and reviewed the 13 best survey software, along with my top 5 choices, so you can pick the best one.
---
We're reader-supported. When you buy through links on our site, we may earn an affiliate commission.
Today, the need to conduct better market research is more critical than ever as advertising costs keep soaring.
Online survey software offers various options for online businesses, bloggers, Saas, and eCommerce companies alike, including:
Receiving product feedback
Performing market and academic research
Sending a questionnaire to come up with new content ideas
Surveying customers to come up with SaaS product updates
Sending employee satisfaction surveys
In this article, I ranked and reviewed the best survey software based on features, ease of use, analysis tools, depth of survey data, customer support, pricing, and more.
Let's get started.
What is the Best Survey Software?
Here are my top picks for the best survey software.
Best overall survey software ($99 per month)
QuestionPro has survey software options for everyone, from individuals to large-scale enterprises.
This platform offers an easy-to-use online web application complete with pre-built surveys that anyone can customize and use within minutes.
QuestionPro is excellent for reaching out and getting customer feedback; you can even send them rewards for survey completion.
You can get more relevant answers by asking the right questions to the right people. QuestionPro's branching logic lets you tailor each interview to the user and get great feedback quickly.
Key Features:
Select from hundreds of prebuilt surveys, then customize the designs to showcase your brand and increase survey engagement.
Data collection at scale: Quickly collect thousands of responses to make good decisions.
Customer Experience: Use NPS+ and other tools to assess and improve your customer journey.
Analyze responses through a dashboard you control, then share your hard work and results with colleagues.
Get support: QuestionPro's support is highly rated and can be reached 24/7 by email and chat. Dedicated technical support and customer success managers are available depending on the plan.
Pros:
The best free survey software available on the market
An extremely versatile and comprehensive set of features
It has 38 question types and hundreds of surveys available to use
Export your data through CSV, XLS, PDF, PPT, and SPSS
Easily integrate your data with Salesforce, Marketo, etc.
Pricing:
There are three different types of plans available:
Essentials: Free forever
Advanced: $99 per month
Team: Contact them for pricing
Best for ease of use ($99 per month)
SurveySparrow is a survey software for everyone, from individual contributors to large companies.
SurveySparrow offers an easy-to-use online web application where anyone can create surveys and publish them online within minutes.
SurveySparrow is excellent for engaging people with instant polls to find out more about your customers.
You'll have a higher chance of getting answers if you ask more questions. With SurveySparrow, you can get quick feedback for almost any survey.
Survey Sparrow has the right features for effective surveys while being easy to use. With no learning curve, it gives commentary on responses in real time. You can share other media, like images, with your audience simultaneously.
Key Features:
Focus on what matters: Develop strategies, encourage usage, and create loyalty.
Customers' happiness: Assess your customers' satisfaction levels.
Provide a top-notch experience: Create unique customer journeys.
Be in control: Use the dashboard to manage your surveys simultaneously.
Get everyone on the same page: Enlist your staff to help you achieve your objectives.
Pros:
Develop a high-performing culture that drives results.
Gather valuable feedback to take the guesswork out of decision-making.
Smarter, faster, and more engaged employees drive higher results.
Create a customer-focused organization that empowers your people to delight customers every day.
Empower product managers and marketers with valuable insights from data to make better decisions and gain a competitive advantage.
Reach above the call of duty to delight customers and grow your business.
Customize everything by collecting user feedback and creating content on the fly.
Pricing
There are four different types of plans available:
Personal: Starting at $0-$29 per month
Business: Starting at $99-$499 per month (plus an elite solution also available)
NPS: Starting at $0-$299 per month (plus an enterprise solution also available)
360 Assessments: Starting at $79 per month
Each of the plans comes with a 14-day free trial.
Get started with SurveySparrow.
Best for making beautiful surveys on any device ($33 per month).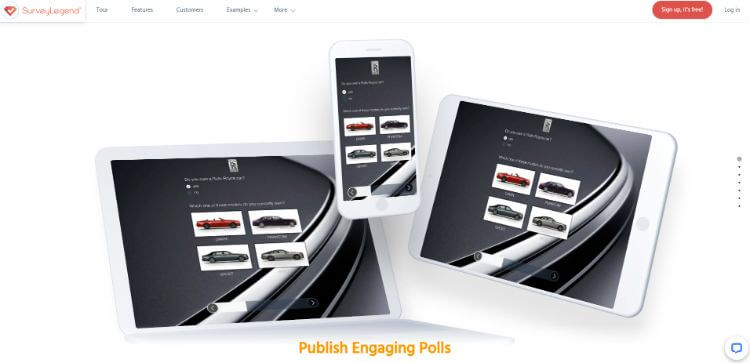 Enjoy a top-notch real-time data analytics experience in an easy-to-use, lightweight, and powerful web-based survey tool. SurveyLegend is a feature-rich application with a simple interface.
SurveyLegend offers a simplified list of features, perfectly balanced with an intuitive interface.
The surveys also load quickly regardless of the device used to access them.
Your analytics comes to life as responses arrive – SurveyLegend was designed with real-time analytics, feedback, and results in mind.
When someone replies to your survey, you can see the data arrive and start interacting with it: filter, search and sort, export, or create beautiful charts and tables using our many available themes.
Reach out to your target demographic, no matter where they are.
You may share your surveys with people via email, social media, and even SMS.
Key Features:
Create beautiful designs: Increase the effectiveness and engagement generated from your surveys.
Collect and analyze in real-time: See what's happening as your target respondents complete them from anywhere around the world.
Get deeper insights: A wide variety of reports are available to dive deeper into the information collected from your surveys.
Use APIs: A variety of APIs and integrations are available for you and use.
An easy-to-learn interface: The tool has an intuitive interface that allows anyone to conduct single or multi-question surveys that are extremely simple to create, distribute and analyze.
Pros:
Creating engaging surveys on your tablet or computer has never been easier.
Create beautiful charts and tables using our many available themes.
Filter, search & sort your results in real-time.
Easily export your data to CSV for further use in Excel, Numbers, etc.
Pricing
The following are the four pricing plans available with SurveyLegend:
Starter: Free Forever
Pro: $15 per month
Business: $25 per month
Legendary: $65 per month
4. SurveyMonkey.
Best For Question Flexibility ($25 per month).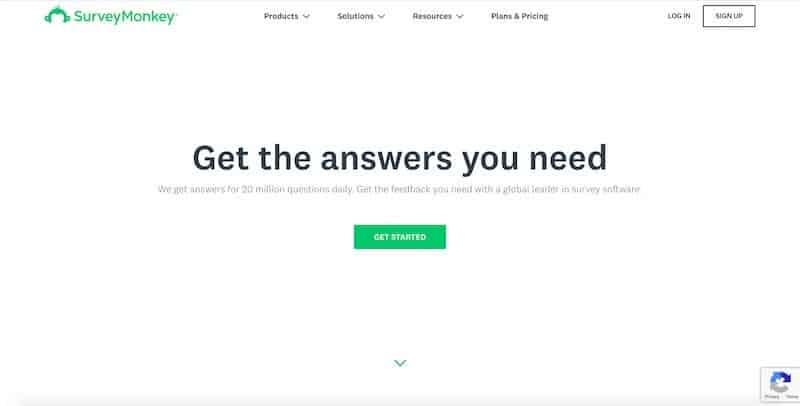 SurveyMonkey is one of the most popular questionnaire tools in the world.
It's an easy-to-use tool that makes survey creation, design, and data collection a breeze.
This survey solution allows you to ask up to 15 questions, including open comments, interactive sliders, and multiple-choice questions.
You can also include questions written by experts in your surveys to make them more effective.
It also offers over 230 templates for different survey types.
Some of them include the following:
Customer satisfaction survey.
Healthcare surveys.
User-friendly research tools.
Employees surveys.
And more.
The templates are suitable for beginners to create online surveys or complex surveys. You can customize survey design, colors, fonts, etc., to align with your brand.
The flexible sharing options also come in handy. The formats in which you can export your data include CSV, XLS, PDF, PPT, and SPSS. You can show off your results in the form of charts and graphs.
Here's how SurveyMonkey works:
First, you create surveys and polls for your target audience.
Share the survey and gather feedback via social media, mobile links, email, and more.
Analyze the feedback using numerous analytical features.
Integrate the result with any third-party business app you want.
Make better decisions for your business based on the result.
Key Features:
Pre-Built Questions – It offers a large pool of questions for your surveys. Its AI engine also offers relevant questions based on your content and brand.
Data Reporting Tools – Analyze the results with graphical charts and in-depth reports. You can also study the data of respondents who answered more than one question. It also changes the display of data reports to suit your needs.
Extensive Support – SurveyMonkey's support is helpful and responsive. You can contact them 24/7 by email; they usually get in touch with customers in under an hour.
Integrations – With hundreds of apps available, SurveyMonkey makes data collection easier. Its integrations with other software give you access to more features and options.
Advanced Features – Keep your surveys fresh with advanced features like logic branching, skip logic, and personalized messages. You can also generate unique URLs for each survey participant.
Pros:
Easily export raw data in a CSV or Excel file.
Its preview functionality gives you an overview of the final version of the survey form.
It also scores your survey form to estimate their success.
You can also send surveys to your customers through SMS.
The templates are mobile-responsive.
Its logic tool redirects users to different web pages based on their answers.
Pricing
SurveyMonkey offers seven pricing plans for both individuals and teams.
Individual Plans:
Basic: Free forever
Advantage: $32 per month billed annually
Standard: $99 per month billed annually
Premier: $119 per month billed annually
Team Plans:
Team Advantage: $25 per month billed annually
Team Premier: $75 per month billed annually
Team Enterprise: Custom Plan
An enterprise plan enables you to take multilingual surveys and apply advanced survey logic.
5. Sogolytics.
User-friendly CX, EX, Online Survey, and Quiz Platform ($25 per month).
Sogolytics is an excellent option for enterprises looking for an affordable survey tool with powerful data analytics.
Sogolytics offers 'survey banks' with plenty of template options and built-in question models.
This ability lets you design a survey form very quickly. After survey designing, it lets you distribute and share your surveys across multiple platforms.
Finally, review and share the results using live reports.
You get survey templates for every market, including customer retention surveys, event surveys, feedback forms, and more.
You can also automate your feedback process by connecting its API to your CRM system. Moreover, the NLP feature (Natural Language Processing) automatically analyzes text responses and serves customers more efficiently.
Moreover, its data analytics tool measures the response sentiment of users to understand user behavior easily. You can also use its Net Promoter Score (NPS) to manipulate your questions to extract precise feedback.
Key Features:
Real-Time Analytics – After publishing your survey, it reflects the user data on its dashboard to help you stay responsive.
Extensive CRM Integration – It offers powerful integration with popular CRM tools, including Zapier, Salesforce, Basecamp, and Slack.
Distribution Options – You can broadcast and distribute surveys globally with several options, including embedded forms, social media invites, and email invitations.
Advanced Analytics – Its comprehensive analytics suite helps you monitor and analyze survey results for better decision-making. It offers a range of visualizations, including heatmaps, trend lines, and word clouds.
Customization Options – You can customize the look and feel of your surveys with custom branding, colors, and fonts.
Pros:
Instantly share real-time report links with team members.
Collect data and export reports to PowerPoint, Excel, or Word easily.
Ensure absolute anonymity to receive honest feedback.
Its multi-language capability helps you reach multiple communities.
Add audio or video to your survey to make it more engaging.
Redirect your survey automatically to preferred URLs.
Pricing
Sogolytics offers four pricing plans:
Plus plan: $25 per month
Pro plan: $66 per month
Premium plan: $99 per month
Enterprise: Custom plan tailored for your business
Apart from the paid plans, you also get a freemium plan for basic features. The Premium plan option offers the 'AutoSave' option to review incomplete surveys.
6. Survey Anyplace.
Great interactive questionnaires for surveys, quizzes, and assessments ($33 per month).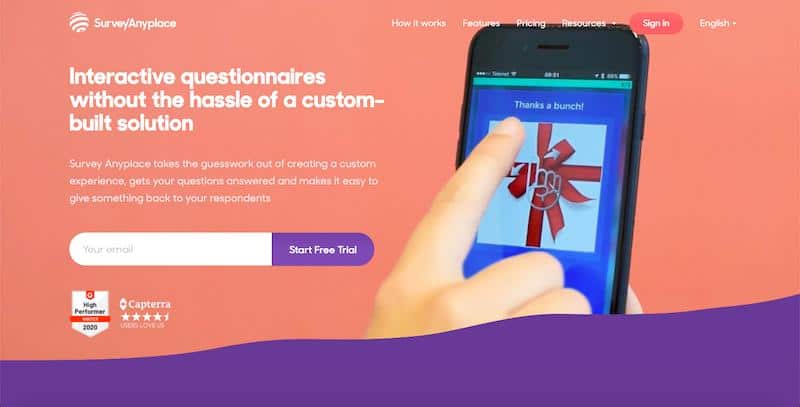 Survey Anyplace creates questionnaires and also provides valuable customer insights to your audience. You also have numerous text choices and options to ask open-ended questions.
You can also ask several questions, including image choices, ranking, and rating questions. You can also include a quiz timer, final score, and leaderboard to improve the engagement quotient.
Survey Anyplace uses three simple steps to create winning surveys:
Make it – Use pre-designed templates and customize them by adding images, videos, and animations. Moreover, incorporate your brand elements like logos, colors, and more.
Get it out there – Share your mobile-responsive surveys on all devices. You can also embed them in your social media platforms, email campaigns, and web app.
Learn from it – Analyze the results graphically using texts, charts, and graphics. Provide valuable responses to your audience, as well.
You can also integrate the survey with Facebook, Webhooks, Zapier, and Google Analytics for powerful reporting.
Key Features:
Pre-designed templates – It offers a bank of 20 stunning, pre-designed templates to take a survey instantly. You can also preview them to check the final draft of the form.
Personal Branding – You can add your brand's logo, colors, and other background details. It also offers 40 attractive backgrounds and an option to embed social media share buttons in your survey.
Interactive Quiz – Its Quiz-focused feature offers pre-written question pools and quiz timers to validate answers and reflect the final score.
Survey Automation – Its Survey Automation feature allows you to customize the surveys according to real-time customer information. It also offers survey scheduling, reminders, and automated responses for further engagement.
Analytics & Insights – With an intuitive dashboard, it provides in-depth analytics and insights about the survey's results.
Pros:
Scratch-offs and discount coupons make your survey more fun and engaging.
Its tabbed editor is easy to navigate.
You can create a complete white-label survey.
Create a restricted enterprise role to keep all the stakeholders accountable.
Easily change and edit question types through a dropdown menu.
Save your original design templates for future use.
Pricing
It offers four paid plans:
Essential – $33 per month
Professional – $ 50 per month
Enterprise – On request
ReportR – On request
There's also a 7-day free version to test out the software. The custom Enterprise plan also provides a full white label option on special requests.
7. HubSpot.
Best enterprise customer feedback software ($800 per month).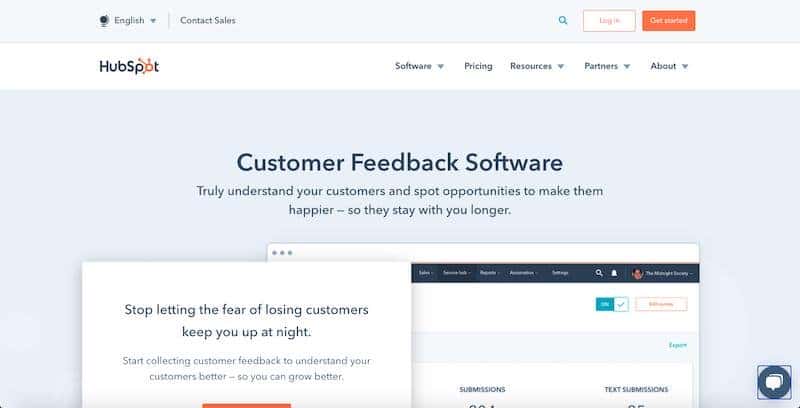 HubSpot's Customer Service Software's survey platform collects qualitative and quantitative customer feedback. It increases your outreach by delivering surveys through emails and by embedding them on your website.
HubSpot will also let you choose the right survey tool for more visibility and better engagement.
You also get plenty of options to enhance your survey experience, such as:
Net Promoter Score (NPS) to measure customer loyalty.
Customer Effort Score (CES) to review whether your customers receive proper customer support.
Customer satisfaction (CSAT) to gauge how satisfied your customers are.
It also offers a user-friendly dashboard to track customer responses under a single umbrella.
HubSpot also lets you spot opportunities to improve customer engagement and review your customers' happiness compared to other industry leaders.
Key Features:
Clone Your Surveys – You can clone an existing survey with all its features and content. It also allows you to edit the content as you want.
Web Position – You can easily slide your survey box position on the web page and check out the preview.
Email Delivery – Select the survey language from a dropdown, name the form, and subject line to send surveys via email.
Share on Social – Share your survey link to social media sites like Facebook, LinkedIn, and Twitter with a single click.
Analyze Results – Get real-time survey feedback in a graphical representation that helps you make informed decisions faster. You can also export your survey results as an Excel or CSV file for further analysis.
Pros:
Upload images of your choice to enhance the theme of your survey.
Select custom colors for the web page to meet your branding guidelines.
Ask follow-up questions based on the responses submitted by users.
You can also customize 'Thank You' responses based on the feedback.
Add multiple pages or URLs in your surveys.
Pricing
The Survey feature comes with HubSpot CRM.
Starter Plan: $45 per month
Professional Plan: $800 per month
Enterprise Plan: $3200 per month
8. Qualtrics.
Powerful online survey software for questionnaires to specific research projects ($1,500 per year).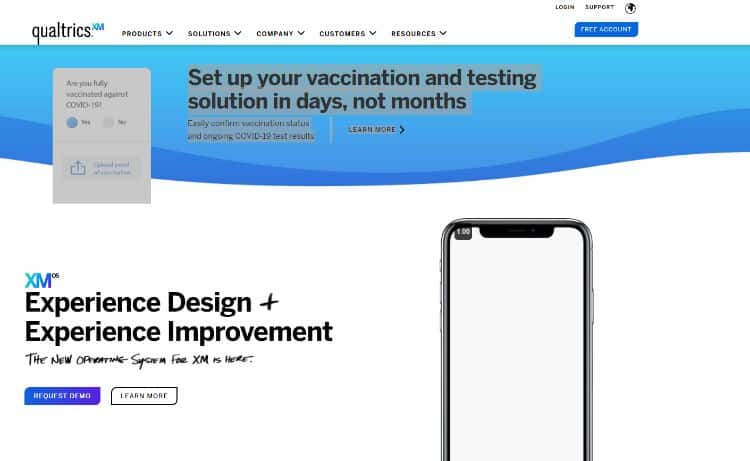 Qualtrics is an excellent option if you are looking for custom solutions to survey customers, employees, and brands.
Its drag-and-drop survey builder lets you create highly customized and intuitive survey forms.
It provides over 50 built-in templates to create stunning surveys easily.
Next, get answers and insights from your customers or increase employee engagement wherever they are.
For instance, you can share your survey link via emails, text messages (SMS), and more.
After receiving the results, you get insights and options to create market segments.
What's more, you can bring all the feedback on one platform by breaking down silos and building a bird's eye view of the customer journey.
You can also improve the quality of insights through high engagement rates and by asking just enough questions.
To help you keep your data secure, it offers enterprise-grade security, monitoring, privacy, and data access controls.
Key Features:
Extensive Integration enables you to send or receive your data without coding. It also offers 16 system-level integrations with tools like Tableau, Jira, Pendo, and others.
360-Degree Feedback – Automate multi-rater user reviews for simpler and faster employee feedback. It also delivers reports to employees while protecting the anonymity of raters with built-in confidentiality tools.
NPS identification – Easily identify unsatisfied customers and segment them based on loyalty. You can also monitor enhancements in products and services to improve your NPS.
Analytics and Reporting– Keep track of customer usage data to improve customer experience. Generate insights through sophisticated analytics tools to fully understand your customers' behaviors.
Automated Alerts – Get notified as soon as an issue arises and take necessary steps to resolve it quickly.
Pros:
Act on real-time website visitors' insights to optimize your audience's experience.
Trigger relevant communications with advanced targeted surveys and intelligent segmentation.
Gauge the impact of your new decisions on organizational KPIs and employee productivity.
Deliver surveys via mobile devices, websites, apps, chatbots, and more.
It provides tools for predictive intelligence and robust statistical analysis.
Pricing:
Qualtrics pricing plans are only available on request. However, online reviews suggest that the prices start from $1500 per year. It also offers a free plan that you can use for an unlimited period.
9. GetFeedback.
Excellent customer feedback tool (Pricing on request).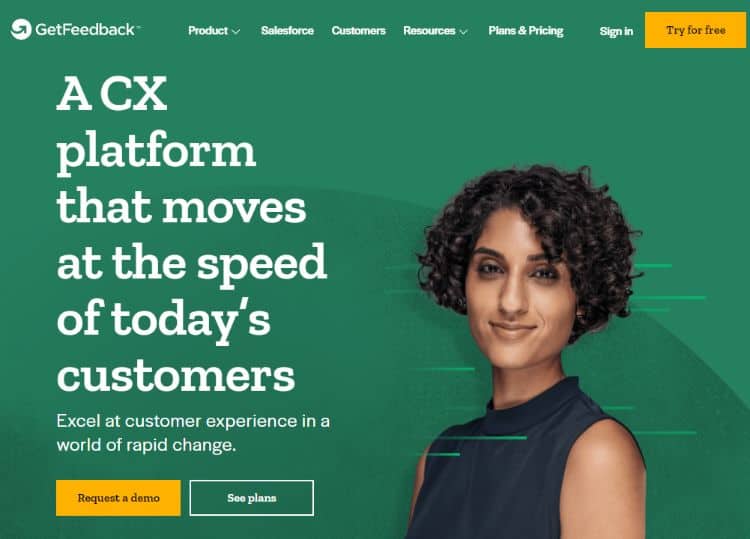 GetFeedback helps you offer excellent customer experiences (CX) by taking real-time user feedback.
It provides an easy-to-use drag-and-drop editor to build engaging surveys and send them to your customers to receive feedback.
The good news is that it takes feedback after every customer interaction in the customer journey – from sales to service.
You can also integrate your GetFeedback dashboard with Salesforce.
This integration helps you:
Automate survey distribution
Assign follow-up tasks
And provide insights to your team
All these functions let you follow up with upset customers and boost brand loyalty. It's a flexible tool that easily adapts to any platform.
Some common types of survey templates offered by GetFeedback include:
Net promoter score surveys

Event & conference surveys
Marketing & product surveys
Employee engagement surveys
Key Features:
Free Templates – It offers 15 free templates to help you create stunning surveys within a few minutes.
Distribution on Multiple Channels- It shares customer-friendly surveys at every touchpoint and gets feedback.
SMS Survey – Engage with customers on the go with SMS surveys. Asks questions one by one without any hassle.
Real-Time Reporting – Monitor survey results in real-time to make quick decisions and timely improvements.
Multilingual Surveys – Create surveys in any language and customize them for different languages for global customers.
Pros:
Embed branded surveys in your live chat conversation to take real-time feedback.
Easily collect feedback by embedding survey questions in an emailer.
It offers detailed guides to implement its features.
It provides detailed analytics to help you gauge feedback and identify trends.
Build intuitive and engaging dashboards to track your key performance metrics.
Filter your reports based on region, users, and products.
Pricing:
It offers two pricing plans:
Corporate Plan – For brands to improve customer experience.
Salesforce Plan – For superior sales experience with Salesforce.
The details of pricing plans are available on a request basis only. You also get a 14-day free trial.
10. Zoho Survey.
A tool for users who want to monitor surveys on a mobile app ($25 per month).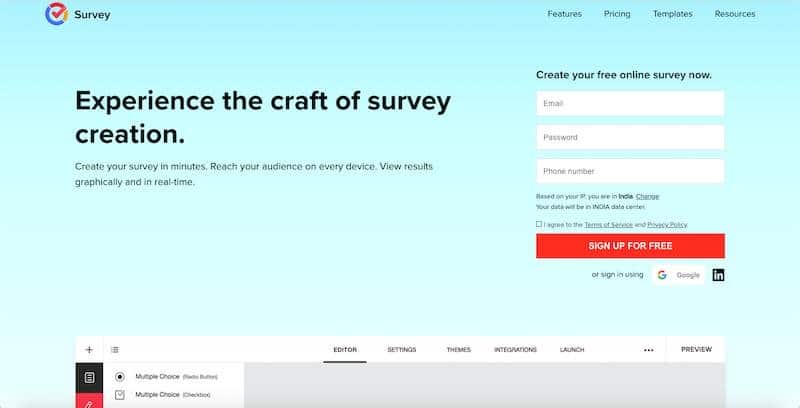 Zoho Survey allows you to create intuitive surveys in minutes and reach audiences on every device platform.
It also offers results in real-time in a graph-based format for easy understanding.
You get 250 expertly-made templates to create your perfect survey.
Some categories include:
Customer satisfaction surveys
Marketing surveys
Company resources surveys
Education surveys
Healthcare surveys
Event surveys
Market researchers surveys
Employee engagement and employee satisfaction surveys
And many more
It also offers over 25 questionnaire types to create unique and multilingual surveys.
Reaching your audience is easy through web links, email campaigns, custom domain links, and more.
Next, collect survey results and embed them on your websites and emails.
Finally, you can analyze reports and make intelligent decisions.
Zoho Survey offers numerous reports, including real-time reports, filtered responses, custom reports, cross-tab reports, etc.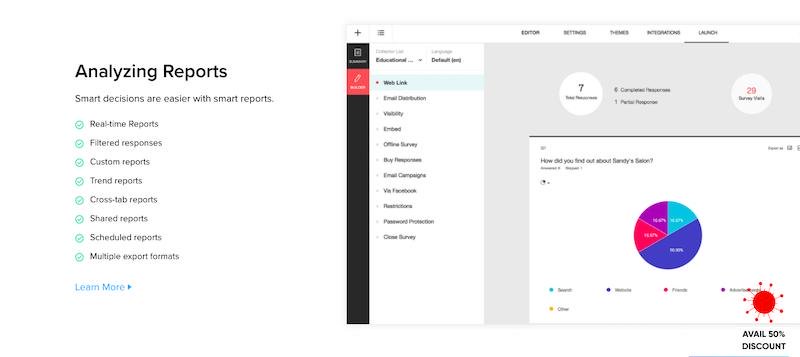 Moreover, it keeps your surveys secure with SSL certification, password protection, multiple-response prevention, and CAPTCHA.
Key Features:
Auto Emails – Automatically trigger emails depending upon user responses. You can also set the responses on which the emails would trigger.
Robust Reporting – Create visual and customizable reports for actionable insights. For an even deeper understanding, it offers integration with Google Sheets.
Buy Response – If you don't have an audience, Zoho will take care of that. Just choose the demographics, and it will collect the responses on your behalf.
Data Security – Zoho Surveys ensures that all your collected data is secure per industry standards. It supports TLS/SSL encryption and two-factor authentication for extra security.
Integrations – Integrate with multiple third-party applications, such as Salesforce, Slack, Google Drive, and more.
Pros:
Collaborate with other users in real-time to get help in creating surveys.
All the surveys are compatible with mobile devices.
Send surveys via web links, emails, QA codes, custom domains, and email campaigns.
You can also collect offline surveys.
Upload your logo, customized end page, and white labeling to create unique surveys.
It offers over 200 templates in multiple languages.
Pricing
Zoho offers four pricing plans:
Free: $0 per month
Plus: $25 per month
Pro: $35 per month
Enterprise: $75 per month
You also get a 7-day free trial of the Enterprise plan.
11. Nicereply.
A great tool to create omnichannel satisfaction surveys ($39 per month).
Nicereply gets real-time feedback using branded one-click surveys. You can customize them and additional questions to the in-built stunning templates.
Furthermore, evaluate surveys based on the 'Customer Effort Score' to identify why and where customers are having difficulty with your products or services.
Use its Net Promoter Score to find your loyal customers and grow more users around them.
After you collect feedback, monitor the causes of bad responses, and improve the issues.
Here's how Nicereply assists you in improving your target audience's experience:
It ensures you never miss a negative rating and reply on time.
Set automated responses to negative feedback.
It helps you take proper actions to retain existing customers.
It offers loads of themes and colors to match your logo and branding. You can use all the customization features without any coding knowledge.
Key Features:
Smart Insights – Its dashboard offers a hawk-eye view of the team's performance using NPS ratings, charts, and trends.
Sharing Surveys – Keep all things in control. Share your survey with specific users at a specific time to gather accurate responses.
Automatically Triggered Surveys – Trigger automatic surveys after every customer interaction, including support chat or purchase.
AI-Powered Insights – Leverage AI-powered insights to uncover customer sentiment in an automated manner and act on feedback quickly.
Data Privacy & GDPR Compliant – All data comply with the General Data Protection Regulation (GDPR).
Pros:
Embed the survey in your email signature or on your official website.
Customize surveys with themes, colors, and logos of your choice.
It integrates with Pipedrive, Salesforce, Zendesk, LiveAgent, Aircall, and more.
Leverage NPS to measure customer loyalty.
Increases the survey response rate by up to 200 percent.
It helps minimize sending emails and maximize responses.
Pricing
Nicereply offers four pricing plans:
Mini plan: $39 per month when billed annually
Start plan: $79 per month when billed annually
Grow plan: $159 per month when billed annually
Business plan: $239 per month when billed annually
You also get a 14-days free trial and a free live demo.
Annual billing helps you save 20%.
If you need more than 2500 responses, you can contact the sales team for a custom pricing model.
12. Pulse Insights.
Suitable for collecting customer feedback (On request pricing).
Pulse Insights gets to the heart of your customer experience by asking contextual questions when it comes time to conduct surveys.
You can also customize your survey form so it looks and feels valuable.
It also offers various customization options to meet your branding guidelines, including themes, colors, and logos.
Pulse surveys also promise to help you ramp up the response rate by up to 10 percent. You can also share your forms across every enterprise channel.
Moreover, it integrates your surveys with other web analytics tools, including A/B testing and CRM.
Pure Insights has three core solutions:
With 360-degree insights, you get analytics data 10 to 20 times faster than other legacy tools.
Guide customers to take the best action after you receive their feedback.
Personalize every customer interaction by gathering individual preferences.
Key Features:
Engage – Guide your customers based on the collected feedback to offer a more personalized customer experience.
Progressive Profiling – Capture interaction at a large scale and personalize customer interaction based on different metrics.
Integrate Feedback – Easily integrate surveys across different touchpoints and platforms.
Actionable Insights – Get insights from your customer feedback and take action to optimize their customer experience.
Monitor Performance – Monitor performance in real-time for better decision-making.
Pros:
Customize your forms through pre-built themes and colors.
Surveys are compatible with devices of all screen sizes.
Embed surveys in email campaigns and other platforms.
Send responses based on the feedback received by the customer.
Pricing
Its pricing plans are available on request.
13. Google Forms.
Free online survey software for personal use and large enterprises (Free).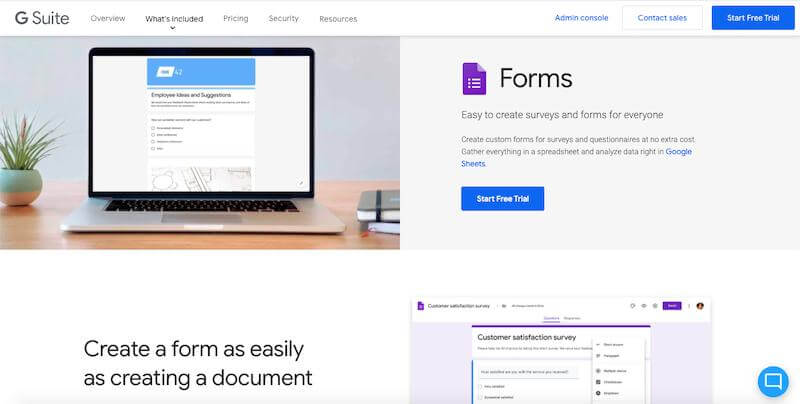 Google Forms is one of the best platforms for a free online survey tool.
Its drag-and-drop user interface lets you create a survey within minutes.
On top of that, you can customize its pre-built templates to design forms to align with your requirements.
You also get access to real-time charts and information based on user responses.
You can also connect the collected data to other Google products.
At the same time, your respondents can also upload a file as a response to your survey.
On top of that, it offers various types of questions, including multiple voices, short answers, and dropdowns.
Key Features:
Extensive Collaboration – Collaboration is one of the more advanced features of Google Forms. You can easily share edit access with any user in the world.
Data Analysis – You can use sheets to create data visualization and pivot tables to make sense of heaps of data.
Simple User Interface – It offers an easy-to-use user interface. Even a beginner can create forms for the survey quickly.
Email Notifications & Triggers – You can set up automatic email notifications, reminders, and triggers for any event or action.
Security – All the data collected through Google Forms is secure and encrypted. It also has a two-step verification system to protect your data from hackers.
Pros:
Anyone can use Google Forms with a Gmail account.
It offers over 12 themes to help you customize the format of your forms.
It also allows you to create a customized 'Thank you' page with a short message.
It offers 24/7 support through email and a live chat option.
All the changes get saved on Google drive automatically.
You can also copy and paste existing questions to create surveys quickly.
Pricing
Google forms are free to use.
What is Survey Software?
Traditionally, organizations used surveys to capture public opinion by analyzing the respondents' answers to a specific set of questions.
Survey tools are applications that enable the collection of feedback from a targeted sample or population via a computer.
This software helps researchers, businesses, and freelancers conceptualize, design, and analyze surveys.
Most survey tools also offer drag-and-drop tools to design survey forms easily.
Their automated functionalities also make the entire process streamlined and easy to track & analyze.
They also offer distinct advantages over manual surveys, especially regarding speed and accuracy.
Some of the best survey tools are SurveyMonkey, SoGoSurvey, Zoho Survey, and more.
What Features Should You Look For in Online Survey Tools?
Every business or individual has different aims when it comes to surveys.
For example, an eCommerce company may want to survey its recent purchasers about a particular product.
Bloggers may want to survey their email list to develop ideas for future blog posts or an online course.
Or a SaaS company could survey their users to understand better which product updates to release.
However, no matter the type of survey, a few features are essential to any online survey software. Here are some of them.
1. Data Analysis.
A good online survey software must allow users to analyze the collected data and draw actionable insights.
For example, SurveyMonkey will enable you to perform sentiment analysis, word clouds, and tagging.
It also provides all other regular data analysis features.
2. Multiple Languages.
While taking surveys, respondents feel the most at ease when they can answer in their language. It can also enhance accuracy levels.
For example, SurveyAnyplace provides a wide range of language options.
3. Third-Party Integrations.
The online survey software that allows third-party integrations is handy when businesses deal with multiple domains.
For example, Nicereply offers integrations with Zendesk, LiveAgent, Pipedrive, Freshdesk, Mailchimp, and other business tools.
4. Randomization.
Surveys can often fall prey to various kinds of biases. For the most accurate results, you must minimize biases in answers.
For instance, Qualtrics lets you do that by randomly displaying all questions, hiding some, and locking some in particular positions.
5. Automation.
Automation helps you spend less time creating questionnaires, designing, and distributing multiple surveys.
You can spend most of the time analyzing and scoring the responses.
The automation from Zoho Survey is a good example.
How Do You Use Survey Software to Create Online Surveys and Improve Customer Satisfaction?
Most online survey tools have standard features and work similarly.
Let's demonstrate how to create a survey form with SurveyMonkey:
First, create an account on the site and click on the 'Create survey' option at the top right side of the page.
You are provided three options to create your survey:
Build it for me – SurveyMonkey will create a survey form for you based on your goals.
Start from template – Pick a ready-to-use survey and customize it to create your final form.
Start from scratch – Build your survey or copy and paste an existing survey you created previously.

If you select the 'Start from template' option, you can choose from a wide range of templates on display.
You can also type your requirements on the text editor provided to get more accurate results and click on the Use this template option.
In the next step, you can name your survey and choose the category for your survey.
After selecting the category, you can create a variety of questions.
Here are some examples:
You can customize and personalize the survey form to align with your brand. You can add your choice of colors, fonts, and company logos.
After that, you can preview the entire survey before sending it to the target audience. It helps you understand how the survey looks on various devices like laptops, tablets, and mobile devices.
Next, choose from a wide range of options to send the survey. Finally, wait for the responses to perform the next set of activities like gathering data, analyzing customer responses, responding, and more.
How to Improve Customer Satisfaction Online
Online customers want everything from finding the perfect product on an e-commerce website to setting up a subscription service.
To keep customers happy, businesses need to provide a top-notch customer experience.
Here are some key factors to consider when improving customer satisfaction online.
Convenient and Easy Checkouts
Customers expect their checkout process to be quick and hassle-free when they make a purchase.
By offering multiple payment options, such as credit cards or PayPal, customers have more flexibility in completing their transactions.
Additionally, ensuring your site is secure with HTTPS encryption will help customers feel safe when entering their personal information.
Clear Return Policies
Return policies are essential for building customer loyalty and increasing customer satisfaction.
Customers should know the process if they need to return something or exchange it for another item.
Make sure your return policy is clearly outlined on your website so customers can easily find it and understand their options if unsatisfied with their purchase.
Timely Delivery
Today's consumers value convenience above almost anything else, which means they expect items they buy online to arrive quickly and on time.
If you can offer same-day or next-day delivery on certain things, you'll go a long way toward keeping your customers satisfied with their purchases.
Additionally, providing updates throughout the shipping process will give customers peace of mind that their package is being tracked and delivered as expected.
Improving customer satisfaction online doesn't have to be complicated; there are simple steps you can take that will make a big difference in how satisfied your customers are with their experiences on your website.
Summary.
That's my list of the best survey software to try this year. Each of the survey tools comes with some standard features and some unique characteristics. However, you need to review your business needs to decide which online survey software is the best for you.
For example, if you're looking for a free tool with basic features, you might want to use Google Forms. It offers robust security and collaboration.
On the other hand, SurveyMonkey is one of the best choices for a paid tool to meet small business and enterprise-level needs. If your business plan is to buy a CRM subscription, you can consider HubSpot since it comes with a powerful embedded survey tool.
Read up on the unique features, analytics, data security, and customization options before purchasing your online survey software.
Which of these top-rated survey software are you planning to use? Let me know in the comments below.
Further Reading on AdamEnfroy.com: For more software reviews, check out my guides to the best email marketing software and best webinar software for your online business.
Disclosure: I may receive affiliate compensation for some of the links below at no cost to you if you decide to purchase a paid plan. You can read our affiliate disclosure in our privacy policy. This site is not intending to provide financial advice. This is for entertainment only.